The 5 Best Steakhouses in Dublin
Steaks are one of the best meat dishes served in almost all countries because of the tenderness and delightful flavors they leave in your mouth.
Whether it's for a date night or a sumptuous way to increase protein into your diet, here are our picks for the best steaks in Dublin.
How much do steaks cost in Dublin?
Steaks can thin your wallet a bit as they are expensive, especially for first-class steaks. The prices, however, vary depending on the serving size and the meat quality.
Take a look at our summary menu and price list below:
| Menu | Estimated Average Price |
| --- | --- |
| Filet mignon | €19.95 - €55.00 |
| Ribeye Steak | €13.00 - €50.00 |
| Sirloin Steak | €17.95 - €37.00 |
| T-Bone Steak | €12.00 - €45.00 |
| Picanha Steak | €18.00 - €30.00 |
| Chateaubriand Steak | €15.50 - €94.00 |
| Porterhouse Steak | €30.00 - €94.00 |
| Sides | €3.00 - €20.00 |
| Drinks | €3.00 - €20.00 |
The Best Steakhouses in Dublin
Steaks are pricey because high quality meat and long preparation is needed to prepare the meat. To make sure that your steak dining is worth your money, we evaluated our listings based on the following:
1. F.X. Buckley Steak & Seafood Monkstown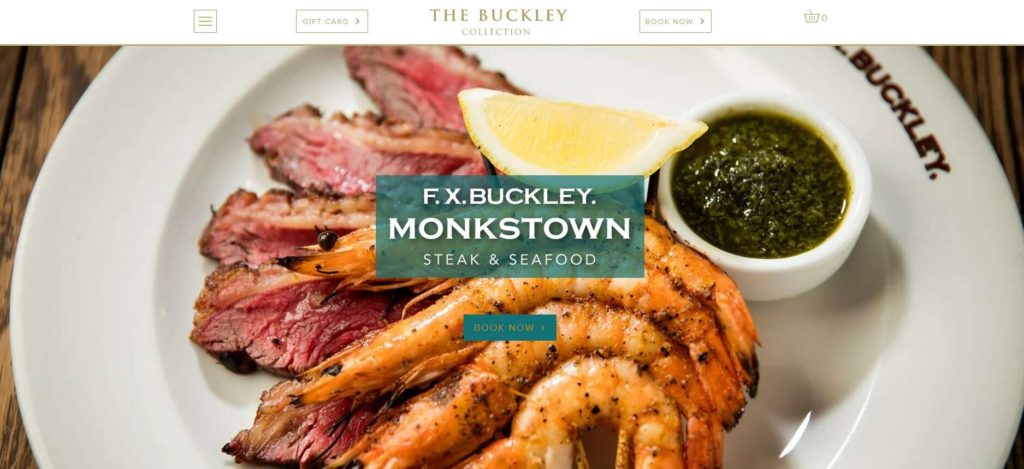 Test
Info
MENU

Irish Grass-fed Heritage Steaks

Fresh Seafood

Lunch, Dinners

Starters

Mains

Sides

Desserts

Wines and Drinks

Sunday Roast

Groups Meals

WEBSITE
https://www.thebuckleycollection.ie/
ADDRESS
3, Monkstown Crescent, Dun Laoghaire-Rathdown, Dublin, Ireland A96 RP44
CONTACT DETAILS
+353 1 284 6187,

[email protected]

OPERATING HOURS

Monday to Thursday, 5:00 p.m. - 10:00 p.m.

Friday to Saturday, 12:00 p.m. - 10:00 p.m.

Sunday, 12:00 p.m. - 9:00 p.m.
| | |
| --- | --- |
| MENU | ★★★★★ (5/5) |
| MEAT QUALITY | ★★★★☆ (4/5) |
| AMBIENCE | ★★★★★ (5/5) |
| CUSTOMER SERVICE | ★★★★☆ (4/5) |
| VALUE AND COST | ★★★★☆ (4/5) |
For those wanting to try premium quality steaks from purely Irish grass-fed cows, F.X. Buckley Steak & Seafood of The Buckley Collection in Monkstown is for you. The food service chain is popular in Ireland for its great food and beverages.
F.X. Buckley's menu is truly first-class with a wide selection of quality steaks, seafood, starters, desserts, and beverages. Customers can choose between the lunch, dinner, group, and Sunday Roast special menu before dining in.
What made this award-winning restaurant a top option for steaks is its use of charcoal ovens at 350 degrees to retain the meaty flavor and the mesmerizing meat tenderness. To add, all the served steaks are 28-day dry aged and larger servings are available on request.
A must-try in its menu is the 12oz F.X. Buckley Rib Eye paired with its mashed potato and red wine juice. The steak quality cooked in medium doneness is superb as seen on the marbling of the meat.
The chateaubriand for two is also a crowd favorite because the texture of the filet is so good that it melts in your mouth. Not to mention, you can add a side and a choice of your own to complement the goodness of the 16oz filler.
However, one issue you might encounter here is the inconsistent customer service quality and cooking. On some days, especially when busy, the staff seem slow with food served cold.
Nonetheless, the expensive food menu prices are nothing compared to the great selection of food in F.X. Buckley's menu and its established quality steak in Ireland.
Serves premium quality meat only
Extensive menu
Has many branches and sister stores for great food
Steaks are cooked in charcoal oven
Unwelcoming staff
Inconsistent cooking
Customer Reviews
Delicious menu
"Lovely restaurant with a great atmosphere; the staff is super attentive and helpful. The menu is delicious and has enough options to satisfy both meat eaters and non meat eaters. The drink menu is one of the best I have seen with fabulous cocktails! Highly recommend for a nice dinner with friends or a date!" – Felicia Czr
Steak meets expectations
"Meatlover as I am, I expected perfection in terms of food. The steak I took was according to expectations. There was also quite good selection of fish and seafood on the menu. The thing that stand out even more than fantastic food was the service. The waiters were top." – Ivo Crnolatac
Tasty cocktails and desserts
"Came on a Tuesday for a graduation dinner, the meal was spectacular. The best steak I have ever had. Service was brilliant, very friendly waiting staff. Cocktails were tasty and the desserts were lovely too. Its a pricey place, but it reflects in the quality of the food. Would 100% recommend." – Jennifer Walker
2. Rustic Stone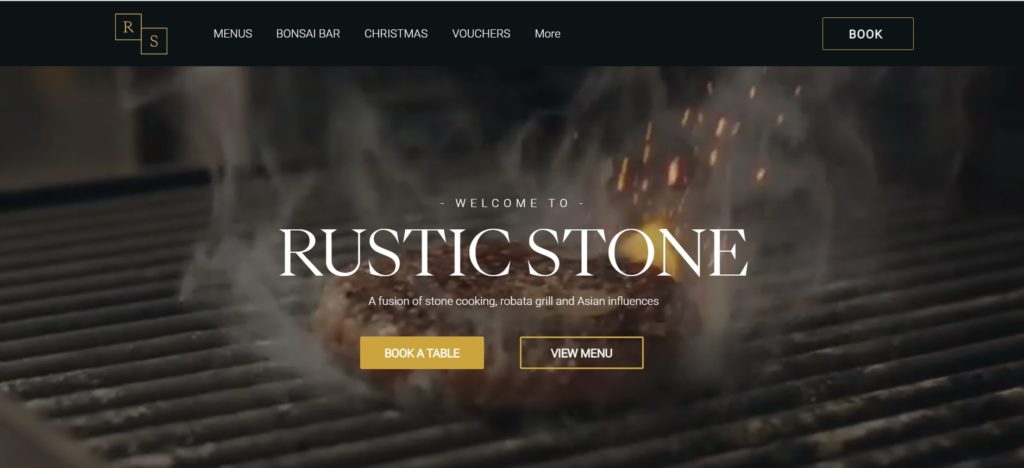 Test
Info
MENU

Steaks

On-the-Stone Steaks

Japanese-European

Raw and Seared

Bento

Vegan

Tempura

Bao

Desserts

Group Menu

Cocktails and Wines

WEBSITE
https://www.rusticstone.ie/
ADDRESS
17 South Great George's Street, Dublin 2, Ireland D02 HD76
CONTACT DETAILS
+353 170 79596,

[email protected]

OPERATING HOURS

Wednesday to Saturday, 5:00 p.m. onwards
| | |
| --- | --- |
| MENU | ★★★★★ (5/5) |
| MEAT QUALITY | ★★★★☆ (4/5) |
| AMBIENCE | ★★★★★ (5/5) |
| CUSTOMER SERVICE | ★★★★☆ (4/5) |
| VALUE AND COST | ★★★★☆ (4/5) |
Equipped with European and Japanese dining fusion experience, Rustic Stone in South Great George's Street offers a great selection of steaks with an Asian touch of preparation and serving.
Our favorite is the 100-gram Ridgeway Wagyu for its quality meat served with steamed egg, cracked pepper, sesame and bonito vinegar. It's a little expensive but the superiority of the beef is very noticeable.
What's so good about the steaks served at Rustic Stone is they are all brushed with Aka miso and sesame. To add, the best seasonal ingredients are used to emphasize the natural meat flavors.
We're also impressed with the very neat and orderly presentation of the dishes that highlight the freshness of the dishes. You can even cook your own steak through its On the Stone menu.
Also, the steaks can also be paired with other popular Japanese food like the Avocado Tempura and Pressed Spiced Cucumber. We even like the very European cocktail and alcohol menu with over a hundred types to choose from!
The restaurant has a house-like environment and is very spacious. The staff are accommodating and friendly, considering the number of guests they're serving.
However, one drawback is the strong cooking odor within the restaurant due to the on-table cooking of guests. The foods are also pricey and the hub is closed from Sunday to Tuesday.
Uses best seasonal ingredients
Allows you to cook own steak on your table
Tasty cocktails
Remarkable European-Japanese cuisine combo
Strong cooking odor on the venue
Closed from Sunday to Tuesday
Customer Reviews
You get what you pay for
"The interior is gorgeous and the restaurant is huge, it stretches over three floors and looks very inviting inside. The staff are super polite, respectful, and professional. The menu is intriguing and there's definitely something for everyone. Be aware that the prices are not cheap at all but you get what you pay for and the food is delicious. If you order steak you have the option of grilling it yourself on hot plates that they bring out for you and if you have the chance definitely do it!! It's a show and an experience. They also have loads of cocktails to choose from. We absolutely loved it here and we are definitely coming back! …" – Indi
Great for dinner
"Great place for dinner. We loved cooking our steak on the heated stone—A cool experience. Staff was very helpful with the menu." – Patrick Coyle
3. Featherblade Steak Restaurant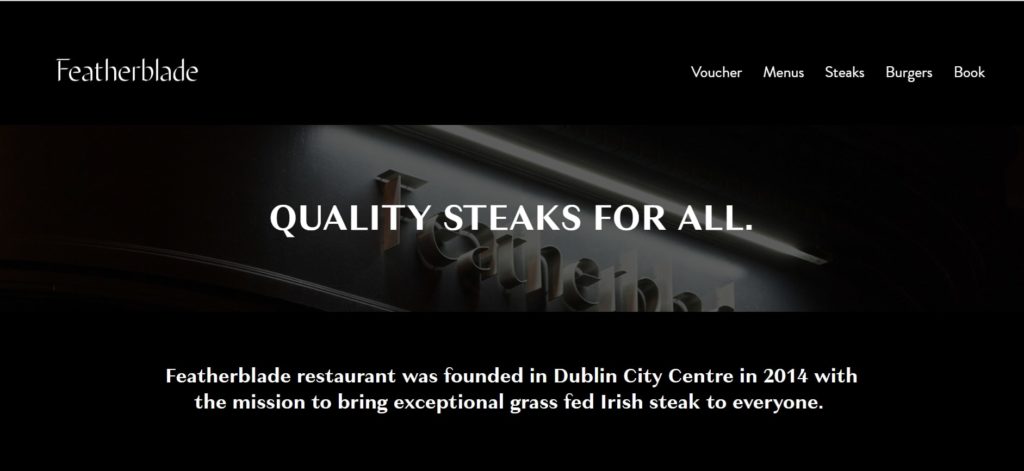 Test
Info
MENU

Irish Steaks

On-Stone Steaks

Starters

Sides

Sauces

Sandwiches

Desserts

Set Menu

Wine

Cocktails

Beer

Non-Alcoholic Beverage

WEBSITE
https://www.featherblade.ie/
ADDRESS
51B Dawson St, Dublin, Ireland D02 DH63
CONTACT DETAILS
+353 167 98814,

[email protected]

OPERATING HOURS

Monday to Thursday, 12:00 p.m. - 3:00 p.m., 5:00 p.m. - 9:00 p.m.

Friday, 12:00 p.m. - 3:00 p.m., 4:30 p.m. - 9:30 p.m.

Saturday, 12:00 p.m. - 9:30 p.m.

Sunday, 1:00 p.m. - 9:00 p.m.
| | |
| --- | --- |
| MENU | ★★★★☆ (4/5) |
| MEAT QUALITY | ★★★★★ (5/5) |
| AMBIENCE | ★★★★★ (5/5) |
| CUSTOMER SERVICE | ★★★★☆ (4/5) |
| VALUE AND COST | ★★★★★ (5/5) |
Open daily since 2014, Featherblade is a go-to steakhouse in Dublin because of its small but scrumptious menu of steak and steak sandwiches with the perfect sides. Truly, this restaurant lives by its tagline of "quality steaks for all."
The most recommended by regulars is the Hangar Steak for its perfect combination of garlicky and spicy seasoning. It's best mixed with the Red Wine Jus sauce to add another strong flavor on the soft meat.
Another well-praised pair for the steaks is the tasty and saucy truffle mac and cheese.
Aside from the Hangar Steak, another best pick here is the Steak Sandwich available every lunch. What makes this a great choice is the fantastic mix of Featherblade steak, caramelized onion, and watercress on ciabatta.
What we also like to enjoy is the wide range of cocktails and non-alcoholic drinks. There's even a drink menu for post-dinner occasions!
What also caught our attention is Featherblade's cooperation with farm workers to ensure the quality of beef they use. Not only does it source fresh Irish grass-fed beef, it's also able to help farmers.
Not to mention, Featherblade is an advocate of sustainability through regenerative farming and avoiding meat produced commercially.
One problem you might encounter when you plan to eat here is the confusing operating hours and the absence of some items in the menu. Still, this is a great place to dine for affordable delicious meals.
Only uses local purely grass-fed beef 
Environment-friendly
Works with farmers to ensure beef quality
Affordable steaks
Confusing operating hours
Incomplete menu on site
Customer Reviews
Perfectly cooked steak
"A friend who now lives in Dublin recommended me this restaurant for their steak. I ordered a medium rare Featherblade steak and I think it's really good. It was cooked perfectly, was soft and tasty when paired with the peppercorn sauce. The prawns on the skewer is an add on. It also tasted good. The lavender gin & tonic was okay, nothing special. The ambience is great, they use a digital menu which I like, and the waiter that time, Dylan, was friendly and attentive. I think the prices are reasonable too. Highly recommended." – Bryan Karl Yuson
Amazing picanha steak
"Amazing quality picanha steak at a very affordable price. Peppercorn sauce was to die for and so was the Basque burned cheesecake. Will definitely be back as I had a tiny bite of their burger as well and it was just out of this world. 5 stars aren't enough!" – Laura Martinez
4. Browne's Steakhouse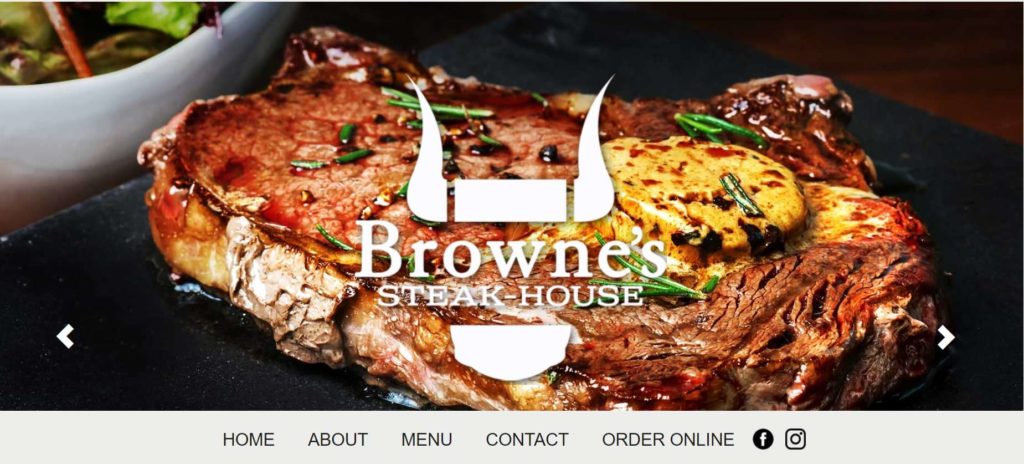 Test
Info
MENU

Irish Steaks

On-Stone Steaks

Starters

Burgers

Chef Specials

Children's Dishes

Beverage and Hot Drinks

WEBSITE
https://brownessteakhouse.ie/
ADDRESS
The Plaza, Main St, Blanchardstown, Dublin 15, Ireland K67
CONTACT DETAILS
+353 182 21551,

[email protected]

OPERATING HOURS

Wednesday to Saturday, 12:00 p.m. - 11:00 p.m.

Sunday, 12:30 p.m. - 9:30 p.m.
| | |
| --- | --- |
| MENU | ★★★★★ (5/5) |
| MEAT QUALITY | ★★★★☆ (4/5) |
| AMBIENCE | ★★★★★ (5/5) |
| CUSTOMER SERVICE | ★★★★☆ (4/5) |
| VALUE AND COST | ★★★★☆ (4/5) |
Located at The Plaza in Blanchardstown, Browne's Steakhouse is a great place for pure Irish steaks because it uses locally sourced prime beef that's dry aged for a minimum of 28 days.
Aside from beef, the steak menu includes domestic lamb, pork, and chicken that are sourced fresh and directly from Ireland's certified farms.
In our opinion, the best deal at Browne's Steakhouse is the 10oz N.Y.C. Striploin cut matched with Creamy Pepper Sauce and baked potato. The meat cut is just fantastic at medium rare doneness, with its tastiness perfected by the pepper sauce.
We like that you can mix and match your steak plate through choosing your own meat, sauce, and sides. You can even upgrade to include big Garlic and Chilli Prawns on your meal!
In case you want a variation in presentation, we recommend trying Browne's Steak on the Stone. This allows you to experience freshly cooked sizzling hot steak and lets you control the doneness.
On top of the perfect steaks are the Chef's Specials for those who want to try great food aside from steaks. In addition, the steakhouse is child-friendly because it has its own children's menu of burgers, fries, and crispy fish chips.
Moreover, you won't run out of drinks with the steakhouse's wide range of hot, cold, and alcoholic drinks.
However, food service is a little slow when dining on-site, and some starters in the menu are unavailable on some occasions. Book early and have a little patience to avoid inconvenience.
Customers can choose steak set (meat, sauce, side)
Child-friendly menu
Offers vouchers
No service charge
Slow service
Some starters are unavailable
Customer Reviews
One of the best
"One the best places in Dublin 15 for food & service. Bree for starters was amazing as was the steak on the stone for mains. The best thing about the place though is the staff and manager in particular. Everybody was so friendly and made us feel welcoming and well looked after for the evening. Will be back soon for sure." – Cian Ryan
Incredible steak
"While it was the only steak I had when I was in Dublin it was incredible. I got the steak that comes out on a hot lava stone and cooks while at your table. It was tender and delicious and the sauce was amazing. Quick and easy service! A bit pricey, but it's delicious steak…" – Earl Dryer
Soft and tender steak
"Came here around 6pm and the place was deserted. Came back again later at night and it's pretty popular. Parking available at the back of the restaurant. Need to cook your own steak on hot stone. Steak was just soft and tender. Monday to Thursday, 20 Euro for the steak.. good deal. Stay for the irish coffee and irish cream." – Nee Shen Ho
5. Boeuf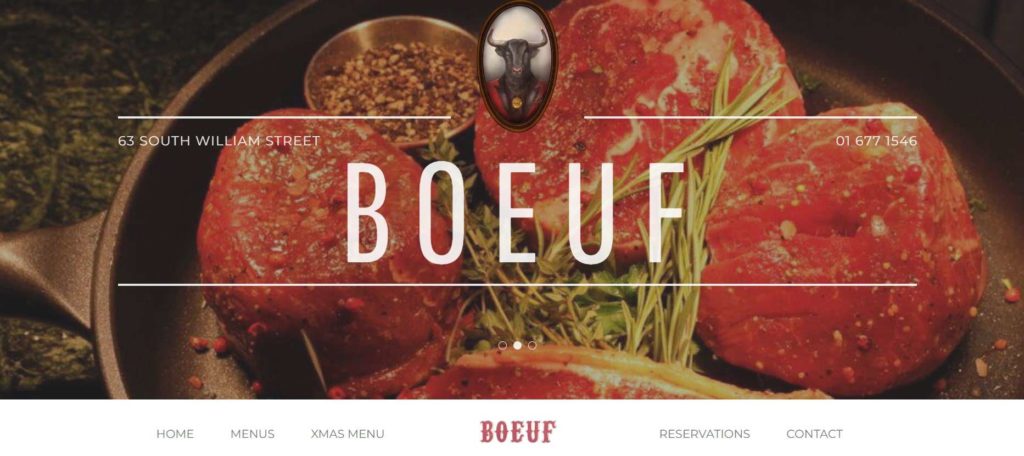 Test
Info
MENU

Irish Steaks

Vegan Steak

Starters

Enhancements

Sauces

Sides

Lunch

Dinner

WEBSITE
http://boeuf.ie/
ADDRESS
63 William St S, Dublin, Ireland D02 CX86
CONTACT DETAILS
+353 167 71546,

[email protected]

OPERATING HOURS

Sunday to Friday, 12:00 p.m. - 10:00 p.m.

Friday to Saturday, 12:00 p.m. - 10:30 p.m.
| | |
| --- | --- |
| MENU | ★★★★★ (5/5) |
| MEAT QUALITY | ★★★★☆ (4/5) |
| AMBIENCE | ★★★★☆ (4/5) |
| CUSTOMER SERVICE | ★★★★☆ (4/5) |
| VALUE AND COST | ★★★★★ (5/5) |
Affordable, delicious, and juicy steaks served on cast iron plates are what Boeuf specializes in at the heart of Dublin. The fun in dining here begins at its starters menu of low-priced breads, wings, and prawns.
When it comes to its signature steaks, we like how affordable they are even if they are prepared according to your liking. Plus, the steaks come with free sauteed French onion crouton and the prices don't go beyond €19.95 for a single serving.
Customers' top steak preference is the 8oz Rib-eye Off the Bone because of the visible marbling of the beef with a fatty center that stores just the right flavor. The Tasting Plate for Two is also our favorite because it contains a cut from all the steaks in the menu.
We like that its menu is vegan friendly with its Vegan Tofu Steak from purely local vegetable ingredients. We also appreciate the simplicity of its menu without limiting customers of great food options.
Location-wise, Boeuf is situated along William Street and is very accessible within the city capital. Another feature that brought it to this list is its services for private occasions of groups and functions.
One minor issue we encountered it's the petite size of the restaurant, with the interiors requiring some improvement. Nonetheless, the affordability of the food makes this place worth trying when you're in Dublin.
Lower steak prices
Good for parties and group gatherings
Vegan-friendly steak
Accessible location
Small venue
Interiors need improvement
Customer Reviews
One of the best
"One of the best steakhouse places in Ireland. They get you exactly grilling degree you want while letting you choose all the sides and toppings you'd like to have with your steak. Leave space for the chocolate mousse at the end. A bit tight place but highly recommended." – Ghassas Zein
Beautifully cooked steaks
"Place was busy and a little rough around the edges so nearly didn't sit but glad we did as this was a delightful little diamond with really delicious steaks. Beautifully cooked and a real surprise find! Very much enjoyed our evening." – Daniel Barker
Extremely well-prepared
"The beef steak was amazing. Extremely well prepared. Everyone of the team let you feel very welcome. The vegetarian steak was also amazing.
Vegetarian options: Amazing well prepared vegetarian meal.
Kid-friendliness: Kid menu is available.
Food: 5/5 | Service: 5/5 | Atmosphere: 5/5" – Lars Skotnica de Labriola
FAQs about the best steakhouses in Dublin
---
Steaks are a good source of protein and are a great type of meat dishes well-loved by foodies across the world.
Quality beef comes at a price, so we listed what we think are the best steak options in Dublin. For more food reviews, check out the best burger restaurants in Dublin!
---