The 4 Best Gaming Chairs in Ireland
Gaming chairs may look like luxury additions to your rig but they're actually must-haves for gamers who play long hours. Whether you're a casual or hardcore gamer, you'll need a list of high-quality gaming chairs to help you get started—and that's what we're here for!
We've narrowed down your choices to give you the best gaming chairs in Ireland for different purposes. In this guide, you'll also find a quick discussion on what to look out for when choosing a gaming chair and answers to questions you might have on the topic.
Before we get started, though, let's talk about prices first.
How Much Do Gaming Chairs Cost in Ireland?
Price and budget is a major factor when choosing a gaming chair. Here's a quick table so you can compare our entries' prices:
| | |
| --- | --- |
| GAMING CHAIR | PRICE |
| Dripex Gaming Chair | €128.43 to €145.95 |
| GXT 716 Rizza RGB Gaming Chair | €329.99 |
| Fullwatt Gaming Chair | €162.89 |
| Kirogi Spider Ergonomic Gaming Chair | €249 |
The Best Gaming Chairs in Ireland
Now that we've laid that out for you, it's time to check our top picks for the best gaming chairs in Ireland!
1. Dripex Gaming Chair
Best Budget Gaming Chair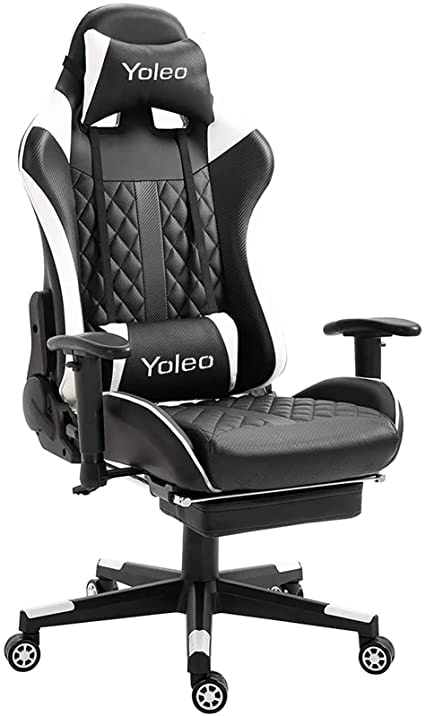 | | |
| --- | --- |
| PRICE | €128.43 (w/o footrest) to €145.95 (w/ footrest) |
| DIMENSIONS | 54 x 54 x 116-126 cm |
| MATERIAL | PU leather |
| RECOMMENDED USER MAX WEIGHT | 136 kg |
For gamers on a tight budget, we recommend this Dripex Gaming Chair. The price is more than reasonable considering its quality.
It has a high backrest that can be reclined up to 155 degrees, which is admittedly limited compared to our other entries, but decent. You also have the option to purchase this chair with a footrest, which you can easily pull out and flip over if you want to nap.
It's also equipped with an adjustable headrest and lumbar support to ensure that your back and neck are comfortable. They're also easily removable in case you prefer to have those taken out.
The chair itself is made with high-quality soft PU leather with a 9cm-thick seating pad of moderate softness that's difficult to deform.
It's also important to note that this chair comes with a BIMFA certification, meaning that its wheels passed a 1,000-mile rolling test. And speaking of wheels, they're also made with nylon mute-rolling castors, which can allow you to move around silently.
Affordable
Adjustable and reclinable up to 155 degrees
Removable headrest and lumbar support
Footrest available
Silent rolling wheels
Limited customer support
Not suitable for bigger frames
Reported peeling after a few months
May be difficult to arrange a return/refund
Limited reclining angles
Footrest sold separately
Customer Reviews
Check out some reviews by customers:
"The chair itself is extremely comfortable and hugs your figure providing even more comfort, the footrest is a genius idea that often gets used when I just want to chill out and play a game. The chair also has a lot of adjustability including the option to rotate the arm rests which is a really nice feature." —Steve Taylor, Amazon
"For the price (easily a third of secret lab chairs) out of the box it felt expensive and worth the money. As I built it it still felt very good quality and exceeded my expectations, the only downside came when I installed the arms as they appeared wonky and not at a 90degree angle like the pictures showed. I told Amazon who contacted the seller and got them to send some new support plates for the arms. This is obviously a pre-reported defect and the new plates came relatively quickly considering they're based in Nanjing. Installed the new plates and the arms look 10x better and the whole chair feels very sturdy and like it will last. I've had many office chairs in the past that have creaked and such but this is not one of them. Very good chair for the money." —Kieran Kitchingman, Amazon
2. GXT 716 Rizza RGB Gaming Chair
Best Gaming Chair for Personalisation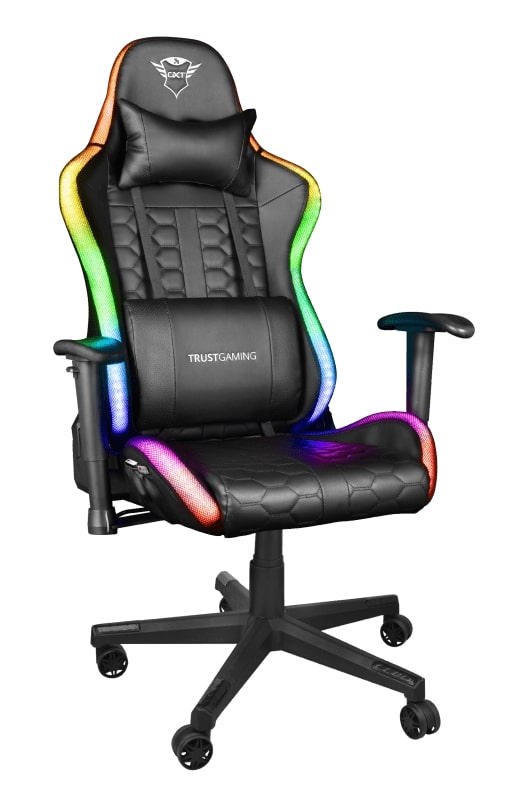 | | |
| --- | --- |
| PRICE | €329.99 |
| DIMENSIONS | 134 x 68 cm |
| MATERIAL | PU leather |
| RECOMMENDED USER MAX WEIGHT | 150 kg |
You can game in comfort and style with the GXT 716 Rizza RGB Gaming Chair, which is notable for its fully-integrated RGB LED-illuminated edges. This is the chair to pick if you're particular about style and personalisation without sacrificing comfort.
With over 350 colours and effects available, you can freely customise your chair's lighting so it matches with the rest of your rig. After all, RGB adds more FPS, right?
Kidding aside, it's powered by a power bank (that comes with the chair). It also includes a wireless remote control so you can easily adjust its colours, settings, and brightness.
The chair is made with PU leather and has a comfortable back support made with moulded foam ideal for long periods of sitting. It also comes equipped with an adjustable and removable neck pillow and lumbar support.
Due to its high price tag, you might want to skip this one if lights and personalisation features aren't your thing. TechStar offers fast free shipping within Ireland and likewise, you can also arrange for a free 14-day return if you aren't satisfied with your purchase.
Has a personalisation feature
Adjustable and reclinable up to 175 degrees
Removable headrest and lumbar support
Free power bank and remote control
Free shipping and 14-day return
Expensive
Wheels unsuitable on other floors
3. Fullwatt Gaming Chair
Best Massage Gaming Chair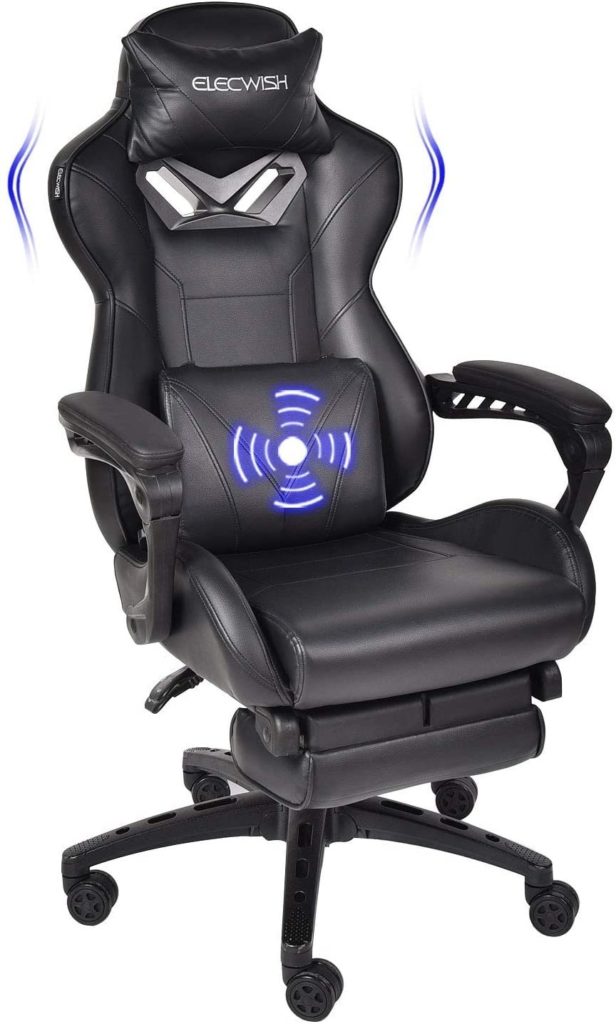 | | |
| --- | --- |
| PRICE | €162.89 |
| DIMENSIONS | 66 x 62 x 120 cm |
| MATERIAL | Ergonomic thick foam padding, PU leather |
| RECOMMENDED USER MAX WEIGHT | 150 kg |
This Fullwatt Gaming Chair's most prominent feature is its lumbar support. Not only is it removable and adjustable, but it also has a built-in massage feature so you can relax after an intense gaming session.
The massage pillow also comes with a long USB lead so you don't have to worry about using an extension cord. And because of its removability, you can also use the massage cushion as a separate product when you're away from the chair.
Made with PU leather, this gaming chair can be reclined up to 150 degrees and has adjustable armrests. It also has a removable padded headrest and a retractable footrest for extra comfort.
In terms of style, it comes in full black, which can be repurposed into a high-end office or studying chair for maximum productivity and comfort. Based on reviews, most users agree that it's easy to assemble within 30 minutes, at least.
Take note that you'd have to keep the box and all of its inclusions to make a warranty claim.
Massage feature available
Adjustable and reclinable up to 150 degrees
Removable headrest and lumbar support
Retractable footrest
Reported limited customer support
Box must be kept to claim warranty
Limited reclining angles
Customer Reviews
Check out what one user has written about it:
"What an amazing chair!! Firstly ignore all negative reviews. I know everyone is entitled to their opinion but on this occasion they are all wrong! Size, perfect. I'm 6 ft and I could fall asleep in it. The recline is incredible. Massaging pillow can be used anywhere, not just on the chair. Long USB lead as well. It is so comfy it is hard to get a turn in it, 3 kids and a wife that actually thinks it is amazing! If you want the perfect chair then just buy this." —Robert Pepper, Amazon UK
4. Kirogi Spider Ergonomic Gaming Chair
Best Premium Gaming Chair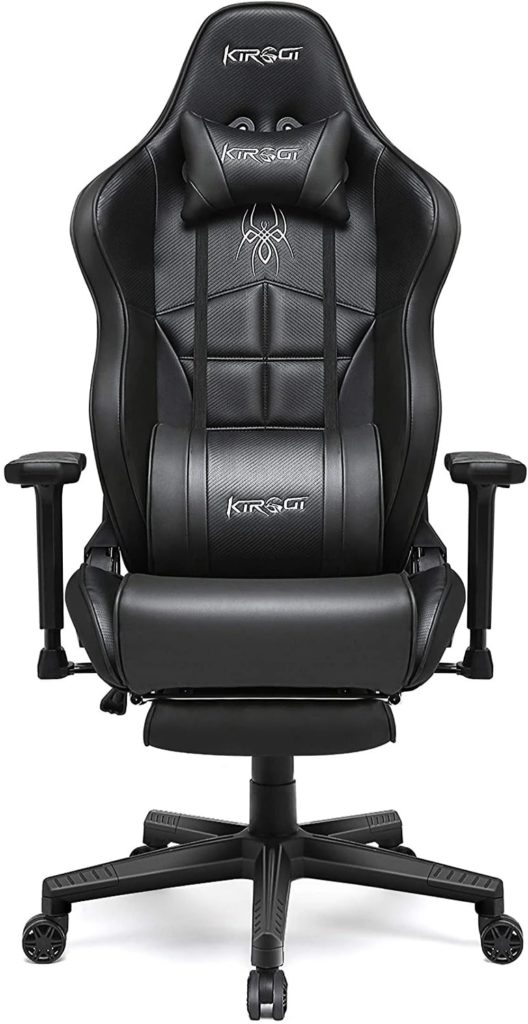 | | |
| --- | --- |
| PRICE | €249 |
| DIMENSIONS | 65 x 55 x 134 cm |
| MATERIAL | Carbon fibre leather |
| RECOMMENDED USER MAX WEIGHT | 160 kg |
This no-frills gaming chair promises nothing but extreme comfort. And for good reason—it's made with carbon fibre "leather", which is a special kind of high-end durable leather meant to withstand the test of time.
Its ergonomic design allows you to recline the backseat up to 180 degrees, perfect for naps between work and play. Its high density foam also means that it's easy to clean yet resistant to the peeling that most PU or PVC chairs can be vulnerable to.
It also has an adjustable and removable neck pillow and lumbar support and as an added bonus, a retractable footrest. The chair comes in different colours, too.
We recommend getting this chair through HouseTech, which is Kirogi Spider's official distributor in Ireland, so you can enjoy free shipping and a 1-year warranty. This means that as a customer, you're also entitled to customer support for assembly and other concerns.
Most screws are also pre-installed so you won't have a hard time assembling the chair. In fact, it's said to only take about 15 minutes to put together!
High-quality material
Adjustable and reclinable up to 180 degrees
Removable headrest and lumbar support
Retractable footrest
Free shipping and 1-year warranty
Easy to install
Relatively expensive
Warranty limited to mechanical parts only
Customer Reviews
Take a look at some users' experiences with the chair:
"Very accurate, good product express shipping. I would recommend this chair is very good quality and well made. Good instructions for assembly! All 5 stars for you. Thanks." —Pia Mavrič, HouseTech
"I'm very satisfied.. [it is] very beautiful and [of] good quality, [e]specially shipping was so fast. [It] arrived in just 5 days, assembling wasn't difficult. I assembled it in just 30-40 minutes. Thank you so much seller, really appreciated." —Fortunata Bernardi, HouseTech
How to Pick the Best Gaming Chairs in Ireland
You may be overwhelmed by the selection above at first—and that's okay. We're here to help you determine the perfect chair for you that you can use in the long run, so we'll go over some basics on selection if you still don't know what to pick.
Here are the most important things to look out for when choosing a chair:
1. Ask yourself what your purpose is
Before anything else, it's important to ask yourself why you're buying a gaming chair in the first place.
Is it for PC or console gaming? How long will I be using it and where will I put it?
Answering these questions at least will help you decide on what features you'd want your chair to have, such as lumbar and ergonomic support, adjustable armrests, and style and aesthetics.
2. Look at the chair's material
A chair's choice of material can make or break your gaming experience. Some high-end gaming chairs use real leather, which is more durable and breathable than its counterparts.
Most premium chairs in the market today use PU leather that mimics the feel and look of genuine leather. It's more breathable than PVC leather, but it can also be prone to cracking and peeling over time.
PVC leather is also vulnerable to cracking but is more durable in comparison to PU leather due to its multi-layer structure. It's more affordable than PVC leather but less breathable.
If you struggle with sweat, fabric or mesh is the best option. They're the most breathable materials but they can also be less durable in the long term.
It's also essential that you look at the material used for its base to see if it can support your weight.
3. Consider your height and body type
An important thing to remember is that not every chair is built to accommodate people of different shapes and sizes.
You have to consider the chair's dimensions such as its seat width and depth, the backrest's height and width, and floor to seat height. Usually, listings tell you the maximum weight the chair can carry, so be sure to look at that, too.
FAQs about Gaming Chairs
---
And those are our picks of the best gaming chairs in Ireland! We hope that we've helped you in choosing one that best fits your needs and budget.
Have you tried other gaming chairs that deserve to be on our list? Drop us a message!
And if after long hours of gaming, you want to lie down to rest your back a little, we have just the thing for that too. Check out our list of the best mattresses in Ireland!