The 5 Best Plumbers in Cork
Looking for a trustworthy plumber to call? You're on the right page, as this has our list of the best plumbers in Cork!
In this article, you'll find the relevant information you need about these plumbers, including their contact details, services, pros, and cons. Scroll down and we'll also answer some FAQs about plumbers in general.
But before any of that, allow us to shed some light on the costs of plumbing services.
How Much Do Plumbers Charge in Cork?
Plumbers in Cork charge an average fee of €45 to €60 per hour. This fee covers basic repairs such as leaks, unclogging, running toilets, and more.
Take note that fees may be higher or lower depending on the service you request. Other expenses may include parts, which are essential for replacement services.
Some plumbers also charge a call-out fee, which is a separate amount covering the plumber's travelling expenses like petrol and parking. Most plumbers also charge a premium for after-hour services or emergency visits.
To give you points of comparison, check out the table below for average costs of common plumbing services. Actual rates may vary.
| | |
| --- | --- |
| SERVICE | PRICE RANGE |
| Basic Repairs | €45 to €60 |
| Call-Out Fee | €70 to €90 |
| After-Hour Fees | €100 to €150 |
| Gas/Oil Boiler Repair | €80 to €100 |
| Radiator Valve Replacement | €130 to €160 |
The Best Plumbers in Cork
Now that we have that covered, let's get right into our list of the top plumbers in Cork.
1.   Foley's Plumbing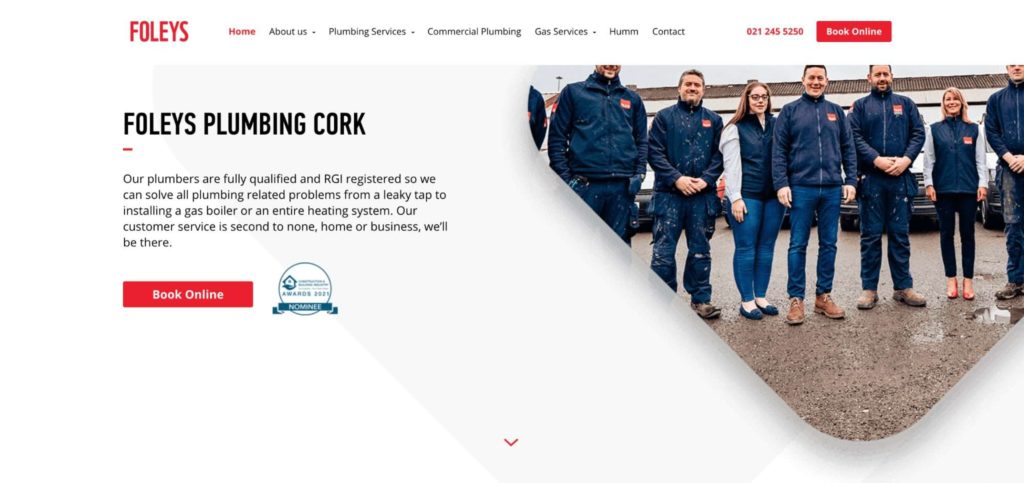 SERVICES
Plumbing system maintenance and installation, heating system maintenance and installation, commercial plumbing, gas plumbing/boiler installation
WEBSITE
https://www.foleysplumbing.ie/
ADDRESS
Unit 29D St. Patrick's Woollen Mills, Douglas, Cork
CONTACT DETAILS
021 245 5250


[email protected]

OPERATING HOURS
Monday to Friday 8:00 am to 5:00 pm
Foley's Plumbing is a full-range plumbing company that services Cork City and its suburbs. Their technicians and engineers have Registered Gas Installer (RGI) qualification, so you can also entrust your boiler issues with them.
Whether you have a leaking shower or a blocked drain, their wide range of services can do the job for you. Their same-day call-out service will also ensure that your concerns are immediately attended to.
While rates aren't available online, you can request a no-obligation quote through their contact numbers or a service ticket on their website. And thanks to their partnership with Humm, you can book now and pay later for your plumbing work.
In case you aren't happy with their services, they will make it a point to fix whatever concern you might have at no additional cost. We also like that Foley's is committed to planting a tree for each boiler installation—a unique initiative that's absent in most plumbing companies.
Unfortunately, emergency after-hour services aren't available at Foley's. Instead, they will refer you to the nearest available time slot the next day in case they can't make it.
Same-day call-out
Wide range of services available
Satisfaction guaranteed
Flexible payment options available
Has a green initiative
Fully qualified and insured
Rates unavailable online
No after-hour call-outs
Closed on weekends
Customer Reviews
Here's what Foley's Plumbing's previous customers have to say about them:
"The Customer Service that we received from Foley's Plumbing has been outstanding. They have been very helpful with giving us advice in relation to an old boiler. They are very efficient and responsive. The lads that completed the work were fantastic, they worked all day causing very little disruption to us (and in these times when we are all working from home, little disruption was greatly appreciated) and the place was spotless when they left. We highly recommend Foley's Plumbing." —Shannon Gadegast, Google Reviews
"Used Foley's Plumbing recently for an issue with my heating. The booking process is very quick and easy, they had someone out the next day to fix my heating. I would highly recommend this company and will use it again if needed. They are professional, friendly and very efficient." —Ciara Bland, Google Reviews
2.   Andrew Turner Plumbing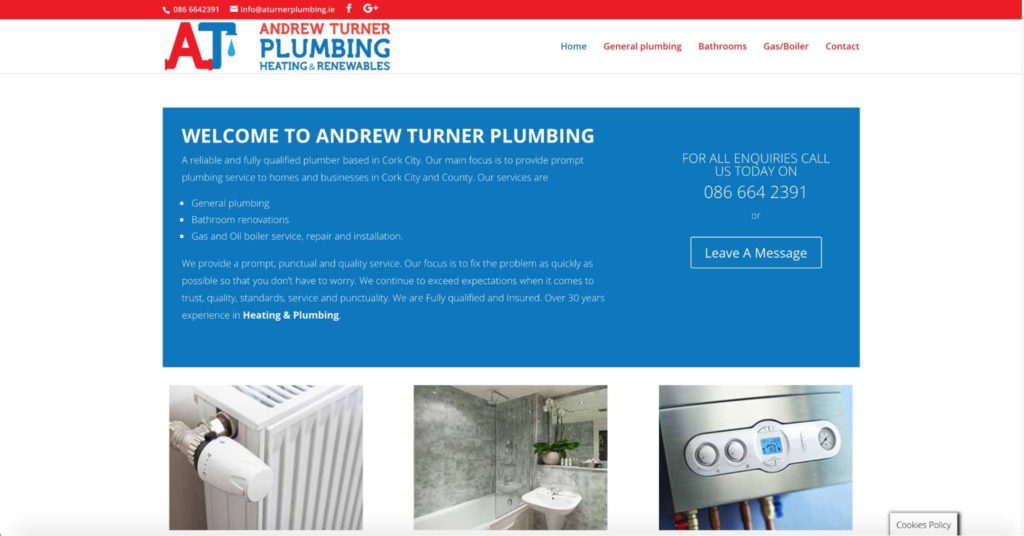 SERVICES
General plumbing and heating repair and maintenance, bathroom renovations/planning, gas boiler installation and maintenance
WEBSITE
https://aturnerplumbing.ie/
ADDRESS
166 West Avenue, Parkgate, Frankfield, Cork City
CONTACT DETAILS
086 664 2391


[email protected]

OPERATING HOURS
Monday to Friday 8:00 am to 5:00 pm
Andrew Turner Plumbing is also a familiar name among residents of Cork. The company has been in the industry for over 30 years now, servicing residential properties in and around Cork City.
Andrew Turner, who is the proprietor of the company, personally carries out the plumbing work in most cases. He specialises in general plumbing, bathroom renovations, and gas or oil boiler services.
You might want to skip this company though if you're looking to have a burst pipe fixed at midnight since they don't do after-hour call-outs. Despite this, they've earned quite a reputation around the city as evidenced by customer testimonials.
We would've liked to see more of their rates and call-out fees online. Still, they're fast enough at providing quotes and services, according to past clients.
Wide area coverage
Wide range of services
Fully qualified and insured
Accepts all major credit/debit cards
No after-hour call-outs
Rates unavailable online
Closed on weekends
Customer Reviews
Here are some reviews by Andrew Turner Plumbing's previous clients:
"Andrew was a pleasure to deal with. Very personable and professional. Serviced the gas boiler and recessed a gas pipe and carried out the works with efficiency. Andrew charged a very fair price for the job and certified the works. He was very neat also and I would highly recommend him." —Will O'Sullivan, Google Reviews
"Excellent. Quick, efficient, professional. Explained everything. Charged a fair price. Could not recommend highly enough. Will definitely use again." —Wesley Harcup, Google Reviews
3.   Ciaran Looney Heating & Plumbing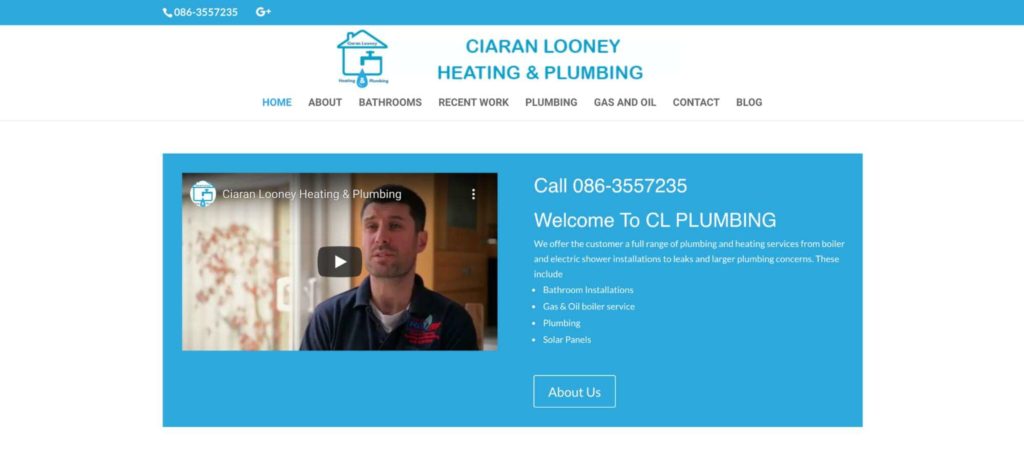 SERVICES
General plumbing repair and maintenance, central heating servicing, bathroom installation, installation of cookers/hobs/stoves/patio heaters, electric shower installation
WEBSITE
https://clplumbing.ie/
ADDRESS
Riverstown, Sallybrook Industrial Estate, Co. Cork
CONTACT DETAILS
086 355 7235
Support ticket available here
OPERATING HOURS
24/7
Ciaran Looney has built a team of skilled and certified plumbers and technicians for over a decade. Since then, he's established a full-range plumbing and heating company that services homes and businesses in Cork City and surrounding counties.
Despite being based in Sallybrook, you can count on them for after-hour emergency call-outs. Fees and service rates are unavailable online, so you'd have to give them a call for more information.
Apart from plumbing and gas boiler services, they also specialise in bathroom installation and renovation services. Their streamlined process offers a fast turnaround time as they do the designing, sourcing, and installation themselves.
Furthermore, if you're looking to reduce costs for hot water, they also offer solar panel installations as an alternative to gas or oil boilers. They can operate under Irish weather conditions as they don't need direct sunlight in order to work.
Wide range of services
Available 24/7
Specialises in bathroom installations
Fully qualified and insured
Rates unavailable online
Travel time not specified
Customer Reviews
Take a look at what some of their previous clients said about them:
"Ciaran Looney has just completed a full heating and boiler upgrade in my rented house in Wilton. I am more than happy with the work done,and Ciaran worked around times when tenants were on night shift and so asleep during the day. This was greatly appreciated. The workmanship was excellent, Caran is always available when contacted by phone and I have always appreciated this. Would highly recommend Ciaran Looney if one is looking for excellent service and workmanship." —Stephen Clifford, Google Reviews
"Ciaran and his team recently completed a bathroom renovation at my house. I found Ciaran and his team professional and showed a very high standard of workmanship. It is a full service in terms of providing all the professionals necessary for the project, ie, tilers, electricians etc and each person was professional and punctual. I would highly recommend Ciaran to others." —Yvonne Mills, Google Reviews
4.   The Cork Plumber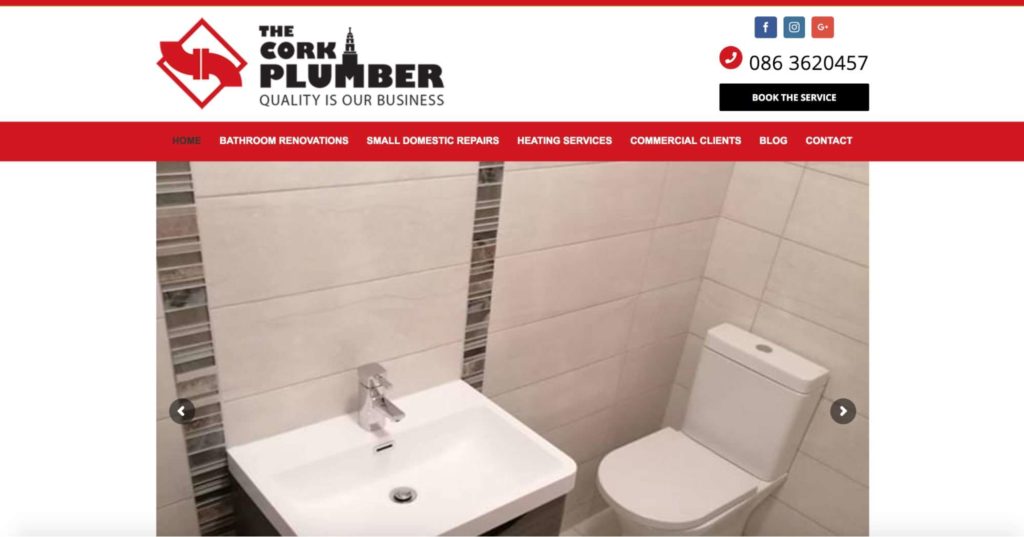 SERVICES
Domestic repairs, bathroom renovations, heating services
WEBSITE
https://thecorkplumber.ie/
ADDRESS
28 The Hermitage, Gurteenroe, Macroom, Co. Cork
CONTACT DETAILS
086 362 0457


[email protected]

OPERATING HOURS
24/7
Next on our list is The Cork Plumber—a family-owned business that provides plumbing and heating services to residents of Cork, Ballincollig, Macroom, Bandon, and other surrounding areas.
You can also rely on them for your emergency plumbing problems, as they're open 24/7. They can handle small domestic repairs such as tap replacements, leaking pipes, radiator replacements, and much more.
They also offer a full-package bathroom renovation service, which you can request for an obligation-free quote via their contact details. For reference, you can check out photos of their past work on their website and Facebook page.
Rest assured that call-outs will be carried out as soon as possible. Otherwise, your assigned plumber will inform you 2 hours prior to your schedule if he's unable to make it, so you can set a rescheduled arrangement.
Wide range of services
Available 24/7
Wide area coverage
Accepts all credit/debit cards
Fully qualified and insured
Rates/after-hour fees unavailable online
Cash not accepted
Customer Reviews
Here's a glimpse of what some of their past clients have to say about them:
"Mick, Rob and Tony carried out a fantastic total renovation of my bathroom. Rob was highly efficient, very hardworking from day one, Tony is an immaculate tiler and Mick has great vision as well as being very professional. Delighted with the job." —Tommy Carroll, Google Reviews
"Mick got me out of a serious spot, I had just bought a new house and needed a plumber literally last minute. We were in a hotel and without his help we would have had to extend our stay for a considerable amount of time. He was on site within a few hours and did a great job. Extremely reliable, professional and punctual." —Paul King, Google Reviews
5.   Cork Plumbing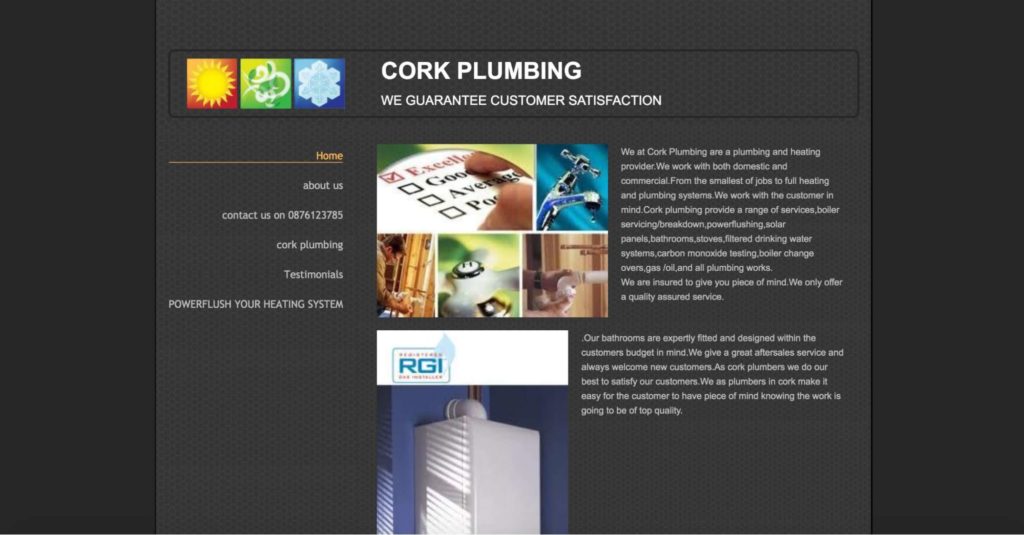 SERVICES
Domestic and commercial plumbing and heating services, gas boiler installation/maintenance, etc.
WEBSITE
https://corkplumbing.com/
CONTACT DETAILS
087 612 3785
Support ticket available here
OPERATING HOURS
Monday to Friday 8:00 am to 5:00 pm
At first glance, Cork Plumbing's website may seem simple and outdated but they have earned many satisfied and loyal return customers over the years. They provide plumbing and heating services for residential and commercial establishments alike.
Serving residents of Cork City and nearby counties, they can do a range of services including small and large repairs, boiler installation and maintenance, to name a few. Other services also include solar panel and water filter system installations.
You can rest assured knowing that their plumbers and technicians are fully insured. Furthermore, they provide their customers with a 5-year warranty on boiler parts and labour in case they're not satisfied.
Like most of our other entries, their rates aren't accessible online. However, you can give them a call so they can provide you with an obligation-free estimate.
Wide area coverage
Wide range of services
5-year warranty on boiler parts/services
Fully qualified and insured
Rates unavailable online
No after-hour call-outs
Closed on weekends
Customer Reviews
Check out some comments by Cork Plumbing's previous clients below:
"Found Shane to be very professional and punctual. They replaced a boiler in my house, they really knew their stuff, he rang with a day and time he would be here and sure enough he was here when he said he would. 100% recommended." —Sinead O Mahony, Google Reviews
"Excellent service from start to finish and not for the first time. Staff are all very friendly and professional and a pleasure to have in your home. The key to good workmen is their attention to protecting and cleaning during and on completion of their work. We will be using again in the future." —Patricia Barry, Google Reviews
FAQs about Plumbers in Cork
---
And those are the best plumbers in Cork! If you've ever tried any of our entries' services, feel free to talk about your experience with us.
Likewise, you can also leave us a line if you think there are other plumbers worthy to be on our list.
Do you have friends and family in need of a good plumber in Dublin? You can also share our list of the best plumbers in Dublin to them.