5 Places to Eat the Best Fish and Chips in Dublin
As a favourite Irish traditional food, finding a shop that serves fish and chips in Dublin will be easy. However, the locals have varied opinions as to where you can find the perfect chipper—we think it's all about the overall mood and not just the food!
For this list, we're jotting down chippers that locals love and tourists will fall in love with. And there are a lot of them in Dublin!
How Much Fish and Chips Usually Costs in Dublin
The price of fish and chips depends on the restaurant, but this table will give you an idea on what to expect. Just note that the price may change without prior notice:
| RESTAURANT | PRICE RANGE |
| --- | --- |
| Leo Burdock | €15.95 |
| Fish Shop | €13.95 |
| Beshoff Bros | €11-20 |
| Presto Chipper | €10.20 |
| Antonio's Fish & Chips | €11-15 |
Best Fish and Chips Shops in Dublin
We are listing down the best restaurants in Cork Ireland based on the following factors:
1. Leo Burdock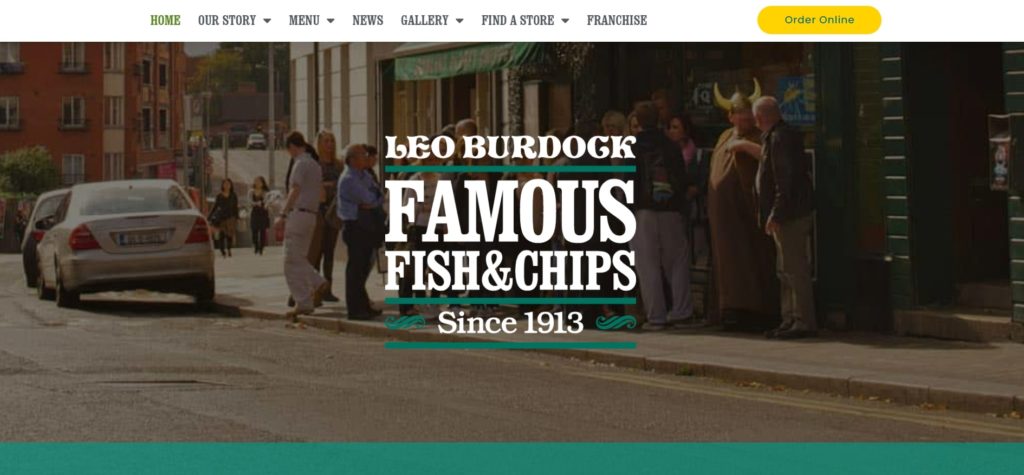 | Test | Info |
| --- | --- |
| WEBSITE | https://www.leoburdock.com/ |
| ADDRESS | 2 Werburgh St, Christchurch Pl, Dublin, D08 HC82, Ireland |
| CONTACT DETAILS | +353 1 454 0306 |
| OPERATING HOURS | Monday - Sunday: 12:30 PM - 10:30 PM |
| | |
| --- | --- |
| Expertise | ★★★★★ (5/5) |
| Location | ★★★★☆ (4/5) |
| Accessibility | ★★★★☆ (4/5) |
| Ambience | ★★★★☆ (4/5) |
| Price (Higher score = better value) | ★★★★☆ (4/5) |
| Quality of food | ★★★★★ (5/5) |
| Reputation | ★★★★☆ (4/5) |
Leo Burdock is Dublin's oldest chipper, so it's not a surprise that the shop has been providing one of the best fish and chips in Ireland! Ask any cab driver for good fish and chips, and they'll lead you straight to Leo Burdock!
The first thing we love about Leo Burdock is its location—very accessible and easy to find. Some regular customers agree with us that the shop is easy to locate so you won't have a hard time searching for it.
Second, we love that despite the long line, the service is quick—so even if you fall in line, it won't take long for you to enjoy your orders. Just make sure to check your orders because sometimes the staff mix them up!
Speaking of orders, Leo Burdock's fish and chips are always served hot so you can taste the authentic flavours in full and experience the flaky texture as well. Sometimes the chips aren't very crispy though, but still very flavourful!
Third, we also love how generous the serving is! We recommend coming in hungry because the fish is huge and there's a hefty amount of chips with it as well.
Just to let you know though—Leo Burdock is only for takeaways, but the staff wrap your food properly and nicely. There's a church park nearby where you can eat it as well, and it's actually a favourite spot among the locals to enjoy their chippies!
And lastly, we also love the friendly staff. They have a lot of stories and recommendations for the customers, and if you have questions, you can ask them anything!
Authentic
Nice takeaway packaging
Generous serving of chips
Fish is always served hot and flaky
Quick service
Friendly staff who recommends places
Reasonable price
Staff gives wrong orders at times
Chips are not crispy
Few options for non-fish dishes
Customer Reviews
Delicious and one-of-a-kind
We asked our taxi driver where the best fish and chips were in Dublin, and he said "There's only one place – Leo Burdock"! We took him up on his recommendation, and we're so glad that we did. Leo Burdock's is takeaway only, so we ate at one of the tables outside Christ Church. Multiple people passing by asked us where we got it, and there was a line out the door when we walked by it after we had eaten! Absolutely delicious, and loved their garlic Mayo to go with it. Definitely won't get anything like this back home in America! — Allison C, Yelp
Authentic and always served hot
From this "Yank's" view point, Leo's is about as authentic as you can get for real fish and chips. Although there are a few options for non- fish people (our daughter had the chicken nuggets), this is strictly fish and chips. You walk up and place your order – this is only takeaway! They wrap up your nice, hot fish in paper and you're on your way.
The coating was nice and crispy and the fish was hot and flaky. Served on a very generous pile of thick, hot chips. It was wonderful! A delicious memory of our trip to Dublin! It is worth finding! — Bret Scott, Google Reviews
2. Fish Shop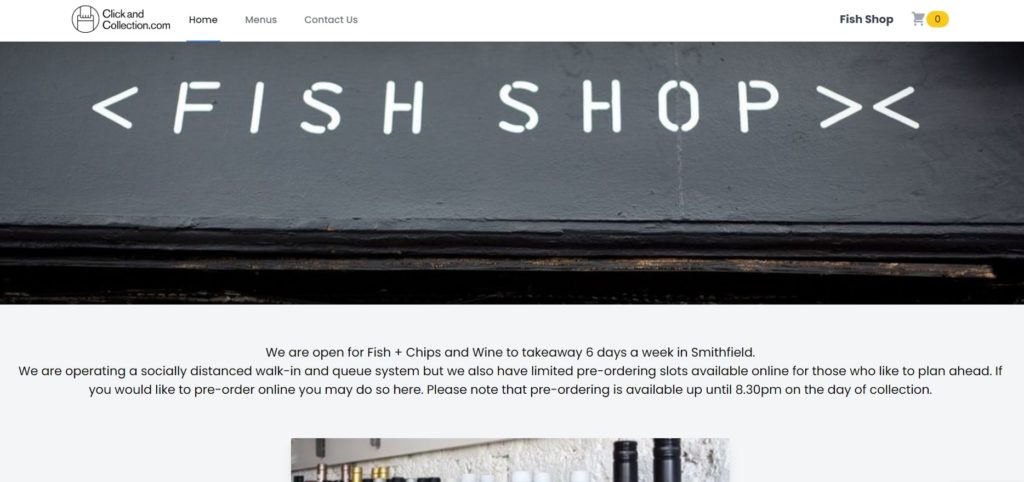 | | |
| --- | --- |
| Expertise | ★★★★☆ (4/5) |
| Location | ★★★★★ (5/5) |
| Accessibility | ★★★★★ (5/5) |
| Ambience | ★★★★☆ (4/5) |
| Price (Higher score = better value) | ★★★★☆ (4/5) |
| Quality of food | ★★★★★ (5/5) |
| Reputation | ★★★★★ (5/5) |
Fish Shop's reputation definitely precedes it. Having been reviewed by local and international newspapers as well as actual customers by word-of-mouth, we're not surprised it's quite popular for locals and tourists alike!
In fact, many Irish we talked to came from different cities—they told us that every time they passed by Dublin, they always made sure to stop over at the Fish Shop. They also said that reservation is really a must because the shop tends to get full!
The shop is located in a nice area which can easily be seen, so people really flock towards it. However, the restaurant is small as well so if you don't want to wait long, make sure you have a reservation in advance.
We also want to emphasise that Fish Shop is a little more upscale than other chippers. You don't need to dress up, but don't expect a super casual atmosphere you can find when you go to other fish and chips shops.
In terms of food, Fish Shop is known for its great appetisers and wide variety of fishes to choose from for your chippies. We love that the servings are generous too so it's really a full meal as well.
And the shop has an impressive wine collection! It's a bit expensive, but if you're willing to splurge a little, you can enjoy your chippies with a good wine.
Huge servings
Chips are perfectly cooked to a crisp
Located close to town
Place is more upscale than regular chippers
Impressive wine collection
Helpful staff
Wide range of fishes 
Has great appetisers
Needs reservation days in advance
Small place
Customer Reviews
Generous portions and efficient service
Visited with my husband after a recommendation from a colleague. We had calamari, hake and plaice. All cooked to perfection, very generous portions and served with excellent chips. Friendly and efficient staff. Small menu done well in a small space – probably the best fish and chips we've had in Ireland. It's out of our way but close to town so will definitely return. — Siobhan, Trip Advisor
Perfect flavour and texture
Incredible light and flaky fish & chips. Has the exact flavour and texture you want, but the environment feels quite a bit more upscale than your typical chippy. Wine list is impressive, and the staff is helpful to navigate it. Highly recommend making a reservation. — Jennifer Gallagher, Google Reviews
3. Beshoff Bros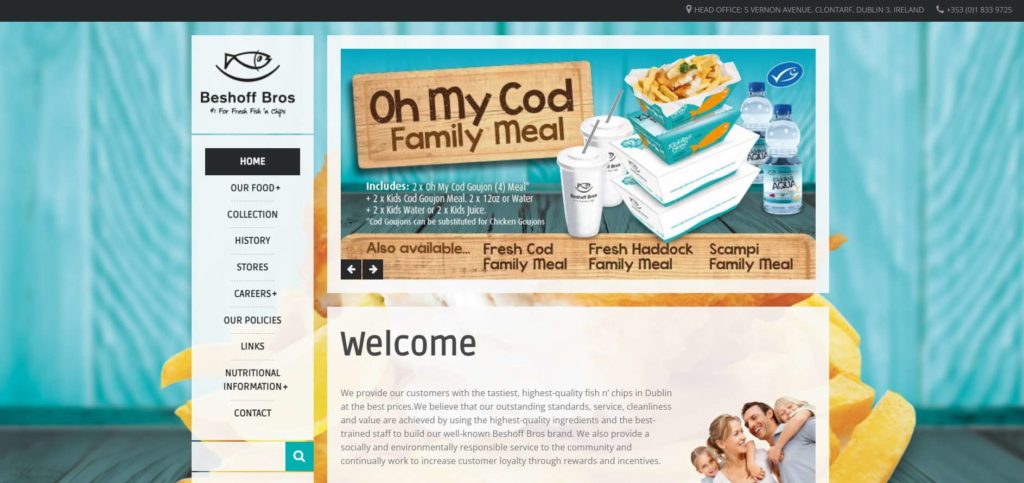 | Test | Info |
| --- | --- |
| WEBSITE | https://www.beshoffbros.com/ |
| ADDRESS | 75 Mespil Rd, Dublin, D04 T8N7, Ireland |
| CONTACT DETAILS | +353 1 660 7463 |
| OPERATING HOURS | Monday - Friday: 12:00 PM - 10:00 PM |
| | |
| --- | --- |
| Expertise | ★★★★☆ (4/5) |
| Location | ★★★★★ (5/5) |
| Accessibility | ★★★★★ (5/5) |
| Ambience | ★★★★☆ (4/5) |
| Price (Higher score = better value) | ★★★★☆ (4/5) |
| Quality of food | ★★★★☆ (4/5) |
| Reputation | ★★★★☆ (4/5) |
What we like about Beshoff Bros is that this fish and chips shop has several branches in Dublin. You can easily visit one that's near you.
Another thing that stands out about the place according to the locals we're able to chat with is that Beshoff Bros is always well-maintained. Any branch is always clean and smells better than a typical chipper.
In addition to this, we appreciate that the staff are very friendly and accommodating. The moment you step inside the shop, you'll be greeted amiably.
We also want to commend the order system—order, pay, and then get it from the counter when it's ready. However, we notice it takes a long time to receive your food, which is okay given the quality of how it's cooked, but still bothersome for the hungry!
Speaking of food, it's obvious with how the chippies taste that the Beshoff only uses the freshest fish and potatoes. The serving size is decent as well so each order will fill you to the brim!
Oh and we love that the shop actually serves gluten-free versions of their food! So if you're health-conscious, you might want to try them—locals say they taste as good as the regular ones.
Just in case you're not very fond of fish, we think you'll be happy to know that the shop also offers other types of food. There aren't very many choices though, but they're still enough to give the non-fish lovers something to enjoy.
Just a warning though—make sure you have euros with you all the time. The place doesn't accept some credit cards, and it'll be inconvenient if you don't have bills with you.
Place is clean and smells good
Offers gluten-free versions
Uses fresh ingredients
Good value for money
Has other food options
Friendly staff
Easy order system
Accessible
Long wait for food
Does not accept credit cards
Customer Reviews
Serves delicious gluten-free version
The place is nice, clean and well kept by the manager. It smells pretty good for a fish & chips restaurant when you go in it. I took the gluten free Hake, I had to wait quite a long time before receiving my food, but I guess that's the price to pay to have fresh gluten free food. Because yes, the fish was really fresh, the breadcrumbs and the chips were too.I really appreciate this place (and these restaurants in general), I actually don't think there is a big taste difference between a gluten free and a non gluten free fish there, their breadcrumbs is great, and I really thank them for that! It's always a pleasure to eat in one of their restaurants.— Florence S, Yelp
Reasonable prices and has several options
Cannot recommend enough for a celiac that likes fish and chips. So many options and the food at this and all of the Beshoff stores is amazing. Reasonably priced given the quality of food that they sell. I know some of the reviews here don't like the location, I have to give 5 stars though for the gluten free accommodation and options. Though I think this location is perfect for casual dining and the staff were lovely when I visited. — Anna Ahern, Google Reviews
4. Presto Chipper

Test
Info
WEBSITE
https://www.facebook.com/PrestosChipper
ADDRESS
8 S Lotts Rd, Dublin, D04 WN77, Ireland
CONTACT DETAILS
+353 1 668 0392
OPERATING HOURS
Monday - Friday: 12:00 PM - 11:45 PM

Saturday - Sunday: 3:00 PM - 11:45 PM
| | |
| --- | --- |
| Expertise | ★★★★★ (5/5) |
| Location | ★★★★☆ (4/5) |
| Accessibility | ★★★★☆ (4/5) |
| Ambience | ★★★★☆ (4/5) |
| Price (Higher score = better value) | ★★★★☆ (4/5) |
| Quality of food | ★★★★★ (5/5) |
| Reputation | ★★★★☆ (4/5) |
What we love about Presto Chipper is its consistency. The locals we talked to agree with us when we say that even though the shop has been in business for a long time, its fish and chips are still cooked the same, therefore still taste the same!
When we talk about comfort food, it means we tend to look for something with a familiar taste. Presto Chipper's chippies are a favourite among those living in Dublin because the familiar taste hasn't waned a bit, and it sometimes even comes with memories too!
Enough about sentimentality though and let's talk about the food itself. Presto Chipper's chippies are always cooked to perfection, and it's because the shop only uses the freshest fish to make sure the quality is never lost.
We love how well-seasoned the batter is and goes so well with the chips. Sometimes fish batter tends to get too oily, but Presto Chipper's aren't, so you'll find yourself finishing the generous serving before you're even aware of it!
We also like that the shop has a wide range of other food options for the non-fish eaters. And the best thing about this is they taste good as well!
The service is worth praising too! The staff are attentive to the needs of the customers and easily attend to your concerns.
The only problem we see is that the place can get really busy. This sometimes leads to orders not getting through so some customers are waiting for nothing and leaves the place dissatisfied with the service.
Efficient service
Uses fresh fish
Has a wide variety of other non-fish food options
Food is always consistently cooked to perfection
Reasonable price
Generous serving of fish and chips
Well-seasoned food
Sometimes orders don't get through
Tends to get really busy
Customer Reviews
Uses fresh ingredients
The chips are incredible and fresh. This chipper is the best for a traditional fish n chips in the whole of Dublin. Definitely worth the price. — Harry M, Trip Advisor
Organised order system and amazing food
I came in late evening after a large show in RDS. There was a long line of people waiting for food. The owner masterfully organised the operations, food came flying out and everything worked perfectly. The food itself was good for a standard chipper and the prices fair. If you are around at night and stuck for food, I think you can be sure to get a tasty and greasy meal here. — Yossi Konjin, Google Reviews
5. Antonio's Fish & Chips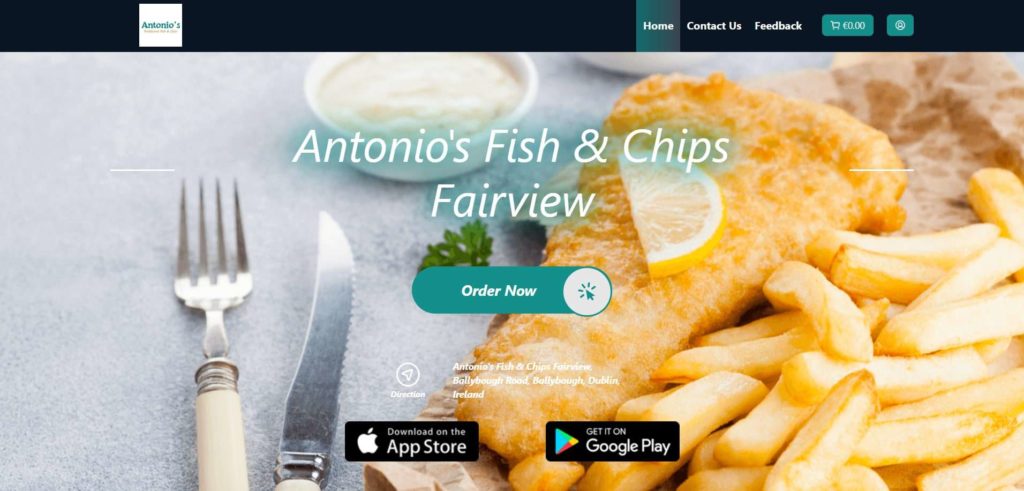 | Test | Info |
| --- | --- |
| WEBSITE | https://www.antoniosfishchips.ie/ |
| ADDRESS | 61a Ballybough Rd, Ballybough, Dublin, D03 XD79, Ireland |
| CONTACT DETAILS | +353 1 567 1513 |
| OPERATING HOURS | Monday - Friday: 4:30 PM - 12:00 AM |
| | |
| --- | --- |
| Expertise | ★★★★★ (5/5) |
| Location | ★★★★★ (5/5) |
| Accessibility | ★★★★★ (5/5) |
| Ambience | ★★★★★ (5/5) |
| Price (Higher score = better value) | ★★★★☆ (4/5) |
| Quality of food | ★★★★★ (5/5) |
| Reputation | ★★★★☆ (4/5) |
Antonio's Fish & Chips is located in an area with plenty of parking space, so whether or not you have a car, it's a prime location for a chipper. In fact, we also love the ambience because the neighbourhood is perfect for a long walk!
Antonio's is a small shop, which makes sense since it's only for takeaway. There's always a long line most especially when it opens late in the afternoon, so we recommend coming in earlier.
In terms of food, we're happy about the generous portions—the fish is huge and there's a large amount of chips that come with it. And if you're a fan of crispy food, Antonio's chippies are known for their friable perfection!
We also think you'll appreciate the sauces because they taste so good with your fish and chips. Customer service is commendable as well because the orders are quickly given to you.
The only thing we think that needs improvement is their website. Some of the customers we talked to love ordering online, and they said sometimes the website doesn't work, which forces them to go to the store and order.
Antonio's Fish & Chips also opens late in the afternoon. So if you're craving for fish and chips during lunch and it's the only one near your place, you have to wait a few more hours to get your hands on those chippers!
Crispy fish and chips
Great customer service
Generous portions
Good value for money
A variety of good sauces to choose from
Fast service
Opens late in the afternoon
Website tends not to work at times for online orders
No dine-in
Customer Reviews
Food's always freshly cooked
I've tried it a couple of times now and the food has been great. The chips taste freshly made and crispy. — Rich Mangan, Google Reviews
Generous servings
The food was delicious and the service was great!! Just what my wife and I were looking for.  Generous portion sizes. — Michael Long, Google Reviews
FAQs about the Best Fish and Chips in Dublin
---
More Must-Visit Places for Foodies in Dublin
---