The 6 Best Dentists in Galway
A bright and even smile can certainly up one's confidence. Aside from having good oral hygiene, dentists can do so much more to help ensure your smile is ready for whatever event.
If you don't have a dentist you regularly go to yet, you're in the right place. In this article, we've listed our top choices for the best dentists in Galway!
Aside from our options, we've also got tips to help you select the right dentist and even some FAQs about tooth care.
But before we head on to our featured dentists, we know you might want to be aware of their treatment fees first. That's why we've first listed those down right below.
Dentist Fees in Galway
You can view the table below to check out the prices of our featured dental clinics' treatments.
Note: See clinic websites for a complete list of treatment prices.
| | | |
| --- | --- | --- |
| CLINIC | TREATMENT | COST |
| Renmore Dental | 10-point examination | €55 |
| | Examination (under 16) | €45 |
| | Routine cleaning | €80 |
| | Root canal treatment (depending on the tooth) | €450 – €695 |
| | Routine extraction | €90 – €140 |
| | Straumann Implant including implant crown | From €2,450 |
| | Full dentures | €800 – €1,500 |
| Galway Dental Clinic | General dental exam | €30 |
| | Hygienist (per visit) | €65 |
| | Routine extraction | From €75 – €95 |
| | Acrylic-based dentures | From €250 – €1,200 |
| | Metal-based dentures | From €650 – €1,500 |
| | Root canal treatment | From €400 – €695 |
| | Dental implant placement/dental implant crown | €1,250 |
| RDent | Examination, diagnosis, & treatment plan | €50 |
| | Scale & polish (hygienist) | €65 |
| | Routine extraction | €90 |
| | Acrylic-based dentures | From €500 |
| | Metal-based dentures | €650 |
| | Root canal treatment | From €350 – €550 |
| Eyre Square Dental | Check-up | €50 |
| | Check-up (child) | €35 |
| | Scale and polish (private) | €85 |
| | Extraction | €110 – €125 |
| | Root canal treatment | €550 – €750 |
| | Implants | From €2,500 |
| | Dentures (plastic) | €400 – €800 |
| | Dentures (metal) | €1500 |
| Gate Dental Clinic | Full examination | €100 |
| | Child examination | €40 |
| | Hygienist Non AGP (Recall, 30mins) | €94 |
| | Root canal treatment | €700 – €950 |
| | Single Tooth Extraction | €175 |
| | Full Denture | €1,650 – €2,200 |
| | Dental Implants | €175 – €4,200 |
The Best Dentists in Galway
Now that we've got that out of the way, it's now time to take a look at our recommendations for Galway's best dentists!
1. Forster Dental Clinic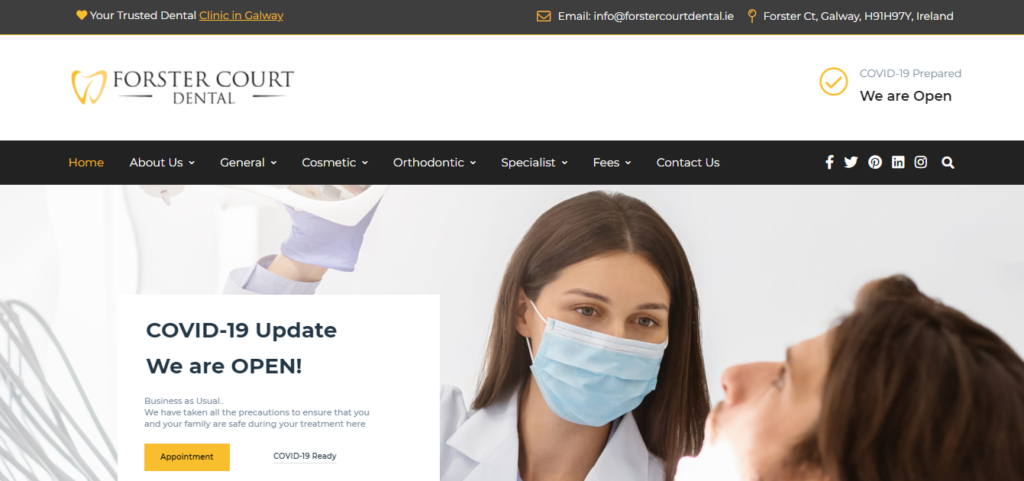 Forster Dental Clinic is one of the most visited clinics in Galway. They have been in operation for over 30 years. The clinic is lead by Dr. Brid McGlacken along with her are highly qualified dental experts.
Over the years they have built a reputation and have become Galway's favorite dentist for families and individuals. This happened thanks to their patience when listening to the patient and their issues.
People prefer to go to Forster Dental Clinic because they provide almost all general dental treatments. Plus, they also have cosmetic and aesthetic treatments that can give you the smile you have always dreamed of.
A reason why people love them is that they have affordable prices. And for its worth, its quality is still top-notch and incomparable. A previous client mentioned that during their session with Dr. Brid, he gave them a detailed explanation of the procedure they need to go through and they said that this helped ease their minds since Dr. Brid ensured that they are in good hands.
Wide range of services
Rates are available on their page
Painless services
Professional and friendly staff
Customer Reviews
Here is a review from one of their previous patient:
"I have ad a number of procedures completed at Foster Court Dental Clinic and I would highly recommend this practice. The staff are friendly and helpful and were happy to check my PRSI entitlements for treatments. The dentist was very clear on what procedures were needed and the treatments were completed hassle-free and very professionally"
Here's another one:
"I have been going to Forster Court Dental for 2 years and they are wonderful. A positive pain-free experience. Before going here I was very nervous about dentists but they put me at ease!"
2. Dr Tony McLoughlin – Renmore Dental

SERVICES
Cosmetic dentistry:

Invisalign, 6-month-braces, Inman Aligner, Align Bleach Bonding, crowns, porcelain veneers, teeth whitening, and white fillings

General dentistry:

10 point dental examination, emergency dental care, extractions/oral surgery, fillings, hygienist, jaw problems, pregnant women, and root canal therapy

Missing teeth:

Dental implants, denture stabilisation w/ implants, teeth in a day, and dentures

Preventive dentistry:

Children's teeth, dental erosion, dental hygiene, fresh breath, healthy diet, mouth cancer screening, sensitive teeth, and smoking cessation
WEBSITE
https://www.renmoredental.ie/
ADDRESS
5 Dublin Road, Renmore, Galway
CONTACT DETAILS
091 757678


[email protected]

OPERATING HOURS
8:00 am to 5:30 pm (Monday – Tuesday)
8:15 am to 8:30 pm (Wednesday – Thursday)
8:00 am to 5:00 pm (Friday)
8:45 am to 2:00 pm (Saturday)
While more expensive than dentures, dental implants provide a more natural-looking and convenient replacement for missing teeth. For such procedures, we recommend Dr Tony McLoughlin whose interest lies in implant and cosmetic dentistry.
Dr McLoughlin has extensive expertise in dental implants, being a member of the ITI Association (International Team for Implantology) and a completer of the Straumann year-long surgical and restorative course in implant dentistry.
Moreover, he can provide patients with implants for a single tooth or an entire set of teeth. Aside from dental implants, Renmore Dental provides dental treatments in general, cosmetic, and preventive dentistry.
For concerns regarding payment, Renmore Dental, Dr McLoughlin's clinic, offers interest-free credit for larger treatment plans. They are located near bus routes and are also near the M6 and M18 motorways to Dublin and Limerick.
Open until Saturday
Clinic is disability friendly and has free parking
Offers credit w/ no interest for larger treatment plans
Closed on Sundays
Shorter operating hours on Saturdays
Customer Reviews
Check out some comments from Dr McLoughlin's happy patients:
"Brilliant experience with our kids at Renmore Dental, so much so that we have recommended Tony to other parents looking for a kid friendly dentist. The girls at reception are all lovely and very accommodating with advice and appointments when required. Thank you especially to Niamh for being so kind and friendly to our girls esp in recent times with all the restrictions in place." -Ciana C
"I couldn't recommend this dentist practice enough. Tony McLoughlin is an excellent dentist. I had 2 wisdom teeth removed on separate occasions by him and he had them out so quick and easily compared to a previous dentist I had. Niamh was especially nice and made me feel at ease when I first came in. I Wouldn't go anywhere else now!" -Saoirse Rooney
3. Dr Niall Cronin – Galway Dental Clinic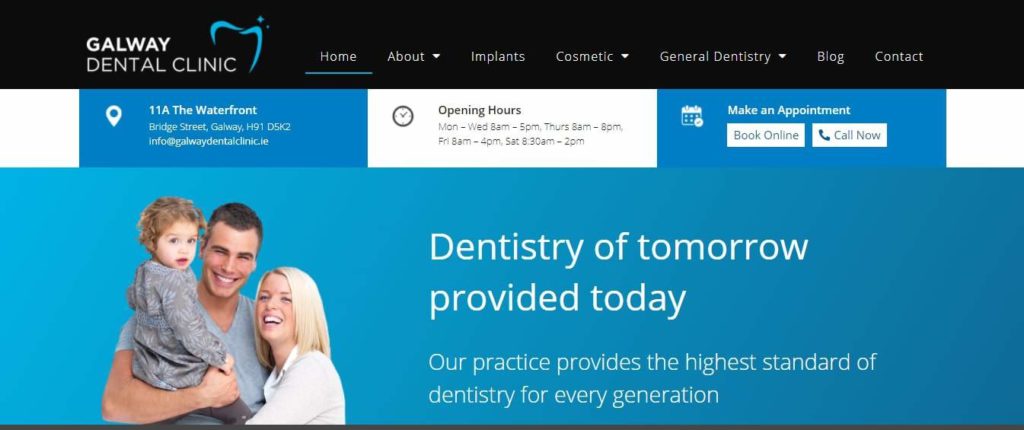 SERVICES
General dentistry:

Family and children's dental, root canal treatment, hygienist, routine checkups, and fillings

Cosmetic dentistry:

Invisalign, teeth whitening, dental implants, dentures, veneers, and crowns
WEBSITE
https://niallcronindental.ie/
ADDRESS
11A The Waterfront, Bridge Street, Galway H91 D5K2
CONTACT DETAILS
091 531 531


[email protected]

OPERATING HOURS
8:00 am to 5:00 pm (Monday – Wednesday)
8:00 am to 8:00 pm (Thursday)
8:00 am to 4:00 pm (Friday)
8:30 am to 2:00 pm (Saturday)
Galway Dental Clinic's Dr Niall Cronin has been treating patients for more than 10 years in Galway. While he regards himself as a family dentist, he is also knowledgeable in other areas of dentistry.
Aside from having a particular interest in cosmetic dentistry, Dr Cronin also has training in endodontics. Hence, patients who suffer from an infected root canal can visit him to save their tooth.
Additionally, he can install dental implants and is even a qualified Invisalign provider. Other treatments patients can avail of in Galway Dental Clinic are dentures, veneers, teeth whitening, cleaning, and wisdom teeth removal.
Dr Cronin is a member of the following dental organisations: Irish Dental Association, Irish Academy of Aesthetic Dentistry, and the International Team for Implantology.
Moreover, they're open as late as 8:00 pm on Wednesdays.
Open until Saturday
Available beyond office hours
Most treatments are tax-deductible
Most affordable tooth extraction on the list
Closed on Sundays
Small dental team
Doesn't offer traditional braces
Customer Reviews
Take a look at some positive comments from Dr Cronin's patients:
"I would highly recommend Niall Cronin Dental. Niall and his team are so professional. They are absolutely amazing with young kids and made my daughter feel so at ease. They make you feel so welcome and they are extremely pleasant to deal with and provide excellent customer care at all times from the moment you arrive." -Audrey Quinlan
"The most comfortable I've ever been with a dentist. He did a fantastic job on my mouth. I would highly recommend him. He's a great dentist and a lovely man. A+++" -Garreth Power
4. Dr Mamoon Rashid – RDent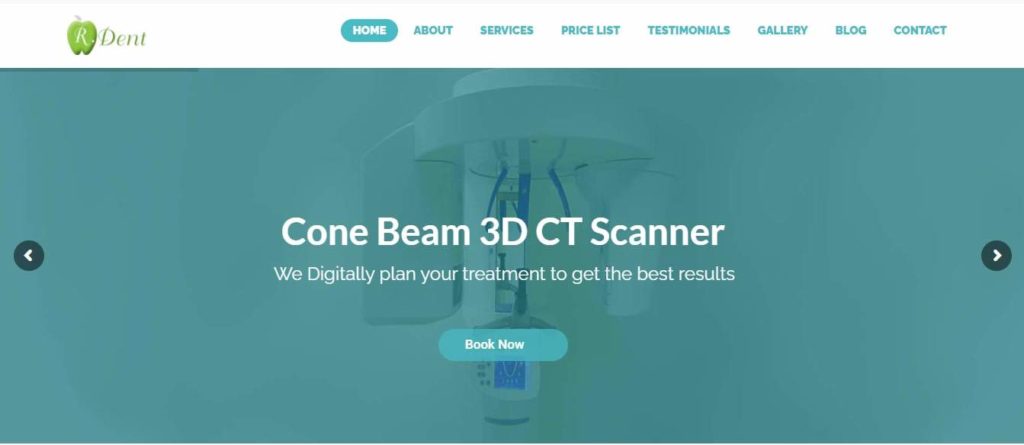 SERVICES
General dentistry:

Preventive treatments, gum, periodontal, and hygiene treatments, root canal treatments, extractions, and dentures

Cosmetic dentistry:

Porcelain veneers, composite veneers, Six Month Smiles braces, opalescence tooth whitening, metal-free crowns and bridges, tooth-coloured fillings, implants, smile rejuvenation and make-overs
WEBSITE
http://rdent.ie/
ADDRESS
Unit 70 Galway Shopping Centre, Headford Road, Galway
CONTACT DETAILS
+353 91 563 792


[email protected]

OPERATING HOURS
9:30 am to 5:00 pm (Monday – Wednesday)
9:30 am to 8:00 pm (Thursday) 10:00 am to 5:00 pm (Saturday)
Usually, location is something that patients consider when choosing a dentist. Because RDent is located inside a mall, patients in need of dental checkups can also do their grocery shopping and other errands right after.
Meanwhile, Dr Mamoon Rashid of RDent is another dentist we recommend. He is a well-rounded dentist, with knowledge in the use of dental implants, veneers, and crowns, as well as treatments in endodontics, cosmetic dentistry, and dental prosthetics.
What's more, Dr Rashid is a provider of Six Month Smiles®—great for people who wish to have their teeth realigned through braces for only a short period of time. Moreover, note that Dr Rashid does not use mercury tooth fillings in his treatments.
Some of the dental treatments RDent offers under general dentistry include preventive treatments, root canal treatments, and dentures. Under cosmetic dentistry, they provide veneers, tooth whitening, smile rejuvenation, and more.
Accepts cheque and card payments
Open until Saturday
Located at Galway Shopping Centre
Available beyond office hours
Most affordable root canal treatment on list
Closed on Sundays
Small dental team
Doesn't offer Invisalign 
Customer Reviews
Below are a couple of reviews from Dr Rashid's patients:
"My initial consultation with Dr Mamoon Rashid and his team was amazing, as I was resigned to always having to worry about the caps on my teeth falling out, along with a regular bill that came with it! I came out very excited as they had recommended their composite veneers, which were priced far lower than what I had imagined." -Michael Coyle
"Dr Mamoon and his team is providing very reliable and excellent service to the people of Galway and surrounding counties. He has been our family Doctor since years and he is brilliant and very professional." -Anwar Malik
"I started going to RDent in November 2019, Dr. Rashid is an amazing dentist who really knows his stuff. All the staff are very professional and friendly. I would definitely recommend RDent to everyone!" -Aisling Lawless
5. Dr Eoin Fleetwood – Eyre Square Dental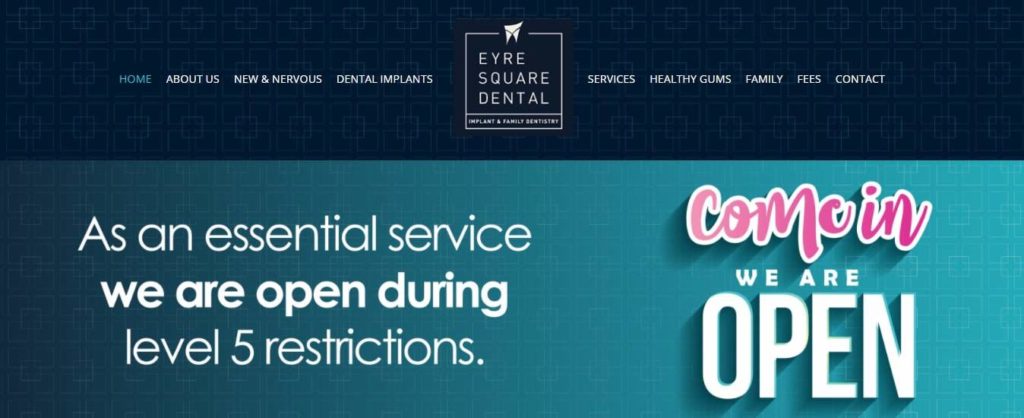 SERVICES
Veneers, crowns, bridges, tooth whitening, root canal, night-guard for jaw pain and snoring, dental implants, dentures, fissure sealants, and hygienists
WEBSITE
https://www.eyresquaredental.ie/
ADDRESS
Unit 301 Eyre Square, Galway
CONTACT DETAILS
091 – 562932 091 – 562940


[email protected]

OPERATING HOURS
8:00 am to 8:00 pm (Monday – Wednesday)
8:00 am to 5:00 pm (Thursday – Friday)
Dr Fleetwood is another dentist with expertise in implant dentistry, having obtained certificates in Restorative and Implant Dentistry in London, and courses at Nobel Biocare's Implant facility in Sweden.
He even acts as a mentor to other dentists with regard to implant dentistry and is a member of the American Academy of Cosmetic Dentistry and the Association of Dental Implantology.
Since 1997, Dr Eoin Fleetwood has been a dentist at Eyre Square Dental, and in 2002, he took over as the clinic's principal dentist. Eyre Square Dental has a large team—aside from Dr Eoin, they have 2 other dentists, 4 hygienists, and 1 dental nurse.
The dental services they offer include tooth whitening, root canal, dental implants, and more. Moreover, we especially like the bespoke night guard they offer to patients who suffer from snoring and jaw pain.
iPod and noise-cancelling headphones available
Large dental team
No extra fees for X-rays and scans
Available beyond office hours
Closed on weekends
Doesn't offer Invisalign
Customer Reviews
See what Dr Fleetwood's patients have to say about him:
"Seamless and painless implant procedure. Professional and caring practice. Dr Fleetwood was wonderful. Thanks to him and his assistants. Front desk team welcoming and helpful. Couldn't recommend more highly. Well done." -Mary Quinn
"Dr. Fleetwood was warm and welcoming, he had a light bedside manner and kept me informed as we went from the examination, through x-rays and we even had a 3D image taken to help find the troublesome tooth and nerve ending. The problem was identified and dealt with efficiently with the minimum of fuss. I left the building feeling that it had been an easy and pleasant experience. I would strongly recommend Eyre Square Dental practise to anyone in the Galway area; everything was first class." -Michael Crowe
6. Dr Brian Delgado – Gate Dental Clinic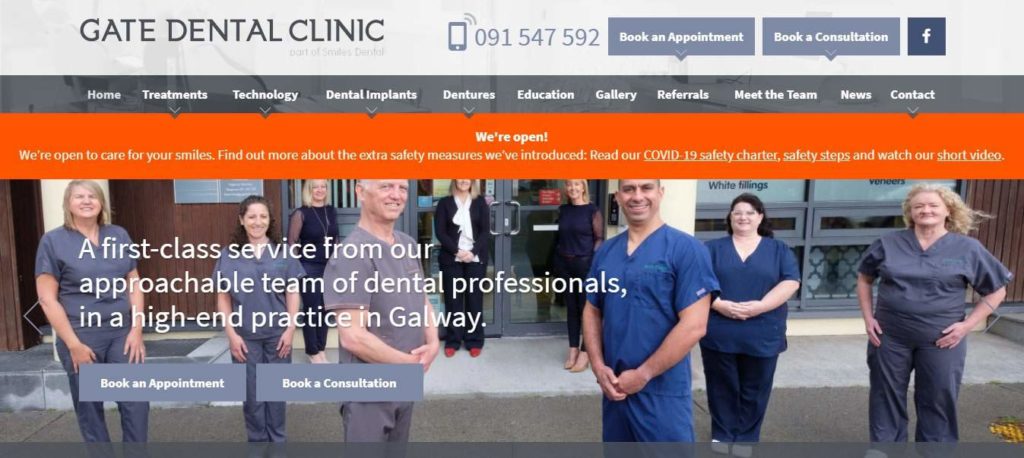 Gate Dental Clinic is another dental clinic with a large team consisting of 4 dentists, 5 dental nurses, and 1 hygienist. Dr Brian Delgado is one of their dentists whom patients have particularly given their 5 stars for his dental treatments.
Not only is Dr Delgado a dentist, but he is also a dental surgeon. He earned his qualification from the University of Wales College of Medicine and has experience working in multiple private practices across Europe before staying here in Ireland.
His expertise covers crown and bridgework, root canal treatments, and also challenging tooth extractions such as third molar removal. In addition, Dr Delgado is an ideal dentist for adults and children who suffer from dentophobia as his expertise also extends to such patients.
Meanwhile, not only does Gate Dental Clinic have a large dental team, but it also features some high-tech equipment such as Cerec technology and Cat Scanner I-Cat 3D Imaging, among others. Also, this clinic won in the Irish Dentistry Awards in 2018 as Best Practice of the Year.
Large dental team
Near Galway Train Station
Dental surgeon on team
Closed on weekends
No service beyond office hours
Doesn't offer Invisalign
Customer Reviews
Take a look at what Dr Delgado's patients have to say about him:
"I've been to Brian a number of times over the last few months, and have also brought my 4 year old daughter to him. From start to finish everything was extremely professional and clear, and more importantly very effective at all times. I have also visited the hygienist in the same premises. I highly recommend Brian and his team." -Ciaran Coyle
"I am eternally grateful to Dr. Delgado for treating me and allowing me to continue my tour of Ireland. From the moment I contacted the receptionist, Jean, I felt relief in knowing they would treat me immediately. This NYC girl will forever appreciate this office for being so helpful." Claudia Fatuzzo
How to Pick the Right Dentist
Check out the following tips to help you narrow down your choices for the right dentist:
1. Type of dentist
This is important if you require a certain kind of treatment.
While dentistry covers several areas such as orthodontics, endodontics, and periodontics, not all dentists have training in the said areas.
For instance, if you're in need of a root canal treatment, you'll need a dentist with expertise in endodontics since they're dentists who specialise in the dental pulp or nerve of the tooth.
2. Location
Pick a dentist whose clinic is near your home or workplace. This will help you consistently follow the subsequent treatments you'll need to undertake.
For example, if your dentist has given you braces, you'll need to return to him or her for adjustments and the like.
3. Clinic hours
Similar to the clinic's location, check to see if the clinic hours are suitable to your schedule. If you're at school or work the whole day, it's best to pick a dentist who extends his or her services beyond 5:00 or 6:00 pm.
You can also inquire about their policy for emergency cases.
4. Experience with anxious patients
If you suffer from dentophobia, ask your prospective dentist about his or her experience with patients similar to you.
Inquire about their options for sedation as well as any gadgets or objects (such as noise-cancelling headphones) that can help you become more comfortable with the treatment.
FAQs about the Best Dentists in Galway
---
And that's a wrap for our list featuring the best dentists in Galway! We sincerely hope our selection has aided you in your search.
And if you know of other amazing dentists that should have been on our list, please give us a call. We'll take a look straight away!
Have a friend in Dublin who's also looking for a dentist? Our choices might help—have them read our list for the best dentists in Dublin!