The 7 Best Cooking Classes in Dublin
Featured Image from: https://www.pexels.com/photo/person-adding-flour-into-a-bowl-6061574/
Looking for ways to expand your culinary abilities? We know the schools that offer the best cooking classes in Dublin and we're rounding them up today.
We know you'd be curious about the fees, too, so we've included those, as well as a few more things we think you should know.
The Cost of Cooking Classes in Dublin
How much is involved in learning how to cook? It depends on the length of the course you want to take.
A two-day course would be significantly cheaper compared to a 12-month cookery course. But if you don't really want to cook for a living and you can learn quickly, a half-day class will do.
Cooking class rates also depend on the facilities, equipment and ingredients you have to use. Here's a table of the average cost of a class/course today:
Average Cost of Cooking Classes in Dublin
| | |
| --- | --- |
| 0.5 Day Class | From €60 |
| 1 Day Class | From €275 |
| 2.5 Day Class | From €750 |
| 5 Day Class | From €1120 |
| 25 Day Class | From €5950 |
| 5 Week Cookery Course | From €5500 |
| 12 Week Certificate Course | From €12900 |
The Best Cooking Classes in Dublin
After careful review, we think these are the places that offer the best cooking classes in Dublin:
1. Sprig Cookery School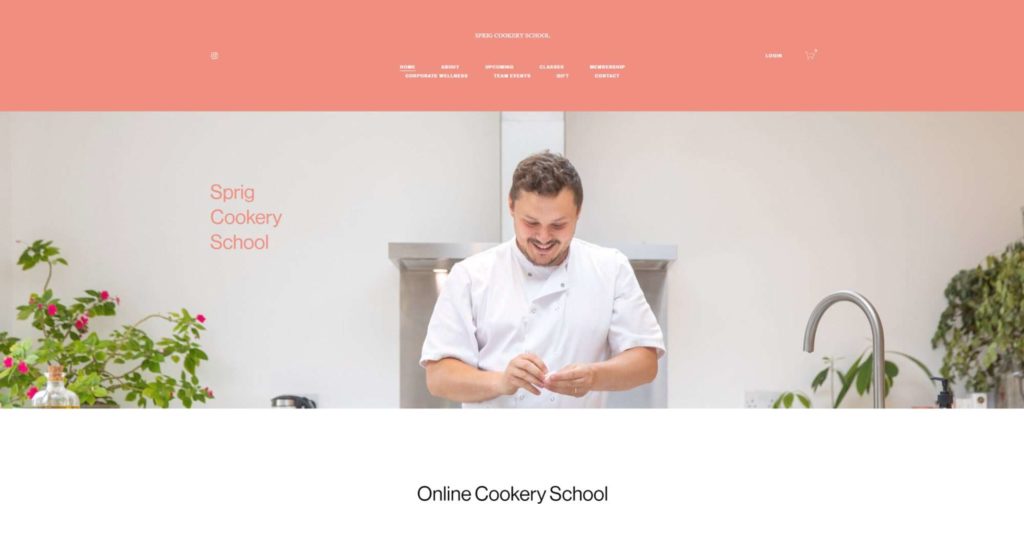 What we like primarily about Sprig Cookery School is that the classes touch on different cuisines around the world. Currently, they are offering French cuisine, Spanish tapas, Irish classics, flavours of Greece and Indian curries.
But then again, they also don't always group the classes according to cuisines. It could be about fish or pasta or vegetables to celebrate World Vegetarian Day.
Sometimes, the classes don't even revolve around how to cook a certain recipe. It could be to teach you a method or a technique, like for instance knife skills—a basic skill needed if you truly want to prepare your own meal.
We admire the thoroughness with which the "topics" have been structured, actually. It's the first reason they made it to our list.
The second reason is, whether you choose to take the classes online or in-person, each class is delivered with step-by-step guidance from the chef. And by online classes, we mean live online classes, not a pre-recorded video of a chef rattling off instructions.
You can ask him anything during the class—there are no stupid questions—which makes learning a lot quicker because it can be dealt with right then and there.
Thirdly, aside from teaching world cuisine, some of the recipes are their very own. You'll be one of the first ones to try (and cook) exclusive recipes created by their talented in-studio chefs.
And don't worry, classes aren't exclusive to experts or private individuals. Their services are open to everyone, whether you are totally inexperienced in the kitchen or you want to use live cook-alongs with pro chefs as an interactive team building or corporate event.
They'll take the hassle out of the experience because they will provide your team with all the ingredients needed for the classes—and with plenty of leftovers too. Some of their clients are even big names like Google, Wix and Arup.
Many different types of cuisine tackled
Live online or in-person options available
Exclusive recipes offered in some classes
Corporate events accepted
Prices include ingredients
Classes aren't recorded
No mention if recipes can accommodate a variety of diets
Customer Reviews
A fountain of knowledge
"Chef Eamon is a fountain of knowledge. His enticing & fun personality makes these classes so unique. I would advise any novice cook or experienced chef to take one of his many classes & learn something new. He is not just super skilled in his field, but his love for food shines through as he takes you through the steps in creating something amazing from the comfort of your kitchen. 5 stars aren't enough for Sprig Cookery & Eamon." – David Fagan, Google reviews
Will be back for more
"I just want to say how much I enjoyed my Meat-Free-Monday class with Eamon @sprigcookeryschool. I am a foodie and love everything food related. Also addicted to cooking and cooking classes.
Eamon is a super teacher, fun, very clear with his instructions, generously shares a wonderful amount of information – the – tips & bits, has an easy vibe and made me feel that I was sitting at his kitchen table and in his home. I even poured myself a glass of wine half way through the demo. Loved the evening, Eamon warmth, kindness and love of what he does shone over zoom. I am and was so impressed. Looking forward to trying out the recipes and will be back for more. Thank you Eamon for a great evening. Margaret." – Maggie Lynch, Google reviews
2. Alix Gardner's Cookery School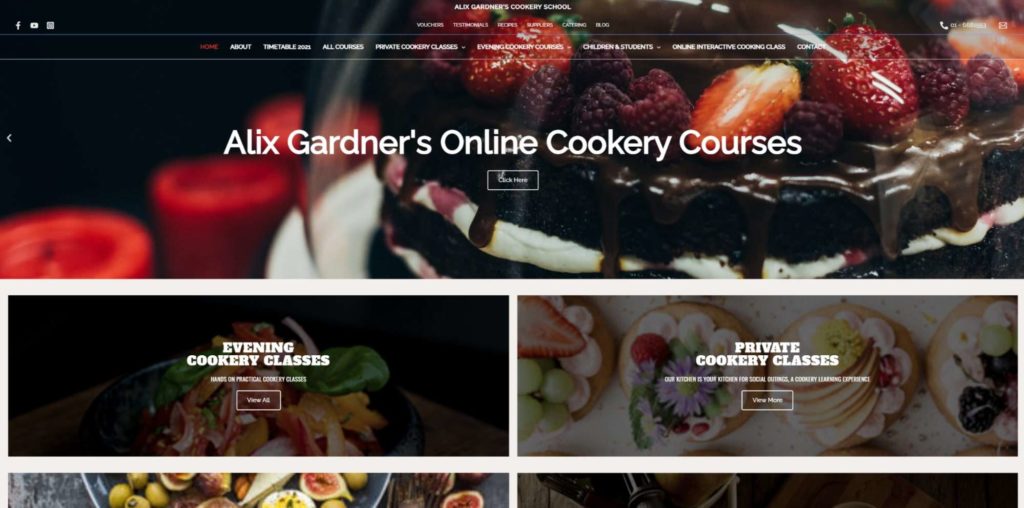 | | |
| --- | --- |
| SERVICES | private cookery classes, evening cookery courses, cookery workshops for children, online interactive cooking class |
| WEBSITE | https://www.dublincookery.com/ |
| ADDRESS | 71 Waterloo Rd, Ballsbridge, Dublin, D04 P659, Ireland |
| CONTACT DETAILS | +353 1 668 1553 |
If you want to learn how to cook for practical reasons—like making your own meals instead of going to the drive-thru or phoning in for a food delivery—we think Alix Gardner's Cookery School is a great option.
This school offers a wide array of practical cooking classes. All you need to do is decide which one works best for you.
Are you gluten-intolerant? They have a class that focuses on gluten-free recipes.
Would you like to bake? They have baking and dessert courses.
Are you a beginner or are you confident in the kitchen? There's the Beginner's Cookery course for novices and there's a course for more advanced cooks.
They even have cookery workshops for children and teenagers, private cookery classes for corporate and team building events, hen parties, traditional Irish cooking for visitors and cooking with friends and family. They have all sorts of classes designed for every possible need it seems.
But what really caught our eye is the Healthy Eating Practical Cooking class. It isn't a hardcore type of healthy eating course—they still use butter, cream and such (we think is realistic)—but it has been designed to use fats, cholesterol, sugar and salt in much smaller amounts than usual.
The recipes for the course also use more pulses, vegetables, nuts, berries and other healthier options. This way, you get to learn how to cook healthy recipes without compromising taste.
Another cooking class we think should be highlighted is the Vegan & Vegetarian cooking course. Yes, not everyone is vegan or vegetarian, but wouldn't you eat more healthy food if it tasted delicious and filling?
We think a lot of people would definitely want to try substituting beef burger for something healthier—if it doesn't taste like cow fodder, that is. The sample menu sounds interesting too: Mushroom, Red Wine and Chestnut Terrine in Puff Pastry, BBQ Jackfruit Burgers, Lemon, Coconut and Avocado Ice Cream and other recipes that sound unique and yummy!
You'll be taught how to experiment with flavours and how to plate so your dishes are not just delicious but also visually stunning. All classes can be in-house or through Zoom and includes ingredients, recipes and refreshments.
We also like that all the courses have sample menus (specific dishes covered in the course) and that the classes have a maximum number of attendees—eight to be exact—in order for the chef to provide individual attention.
They can even accommodate a variety of diets. So, there's no need to worry if you're allergic to nuts, gluten-intolerant or on a GI diet—they'll make the necessary adjustments to the recipes.
Wide array of practical cooking courses
Offers private cookery classes
Corporate and team building events offered
Vegan and vegetarian cooking options
In-house or online class options
Accommodates a variety of diets
Schedules are available online
Online classes are not recorded
No online shop
Customer Reviews
I have learned a lot of skills
"I thoroughly enjoy the Beginners' cookery course. I learned some very useful cutting and cooking skills with Eoin, our teacher, who was extremely helpful and patient with us. We made a variety of dishes such as bolognese, chicken cacciatore, fish pie and beef stir fry.We also learned how to make simple desserts like apple crumble, Eton mess and chocolate brownies. We made brown bread and potato and leek soup. We also learned how to make chicken stock so all in all I feel I have learned a lot of skills and can adapt these to a variety of dishes. Thank you Alix and Eoin." – Siobhan Roche, Google reviews
They ensured we could repeat the meals at home
"I had a most wonderful time on the course. The staff and content (knowledge and food) were well prepared, presented and ensured we could repeat the meals at home or in the future. The comradery of the participants added to the enjoyment. I would hope to attend another course in the future." – Brendan Donohoe, Google reviews
3. Pinocchio Italian Cookery School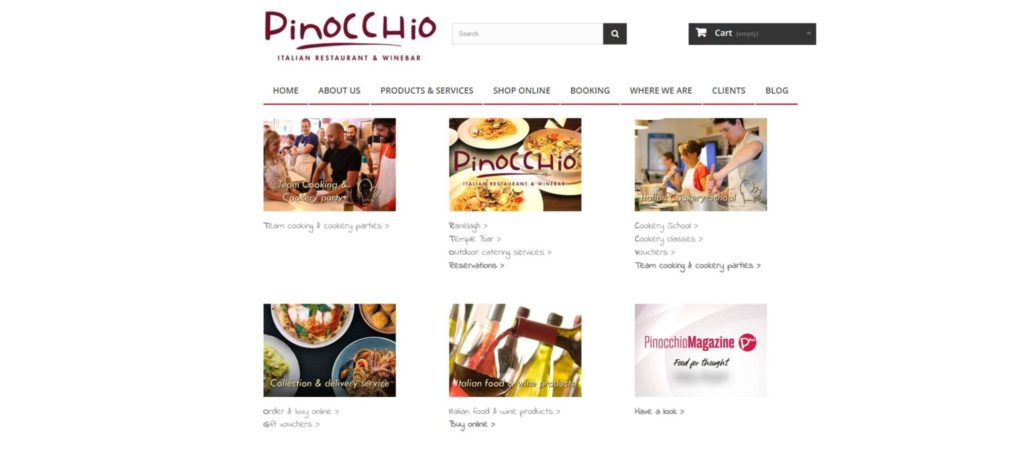 SERVICES
cookery courses, team cooking & cooking parties, live on-line team cooking
WEBSITE
https://www.flavourofitaly.net
ADDRESS
Pinocchio Restaurant in Temple Bar, 1 Pudding Row, Essex Street West, Dublin, Ireland
CONTACT DETAILS
+353 (0)14608800


[email protected]
Pasta and pizza are two of the most popular Italian dishes in the world. But if you haven't been to Italy, would you know if the pizza (or pasta) you're eating tastes authentic?
Well, if you want to learn how to cook honest-to-goodness Italian food, Pinocchio Italian Cookery School will teach you how.
The school has the structure and staff (which are all Italian, by the way) to teach Italian food on both basic and advanced levels.
The courses they offer are practical and familiar too: Italian homemade pasta, pizza, ravioli, gnocchi and more.
However, they don't limit the recipes to only the popular ones. They also teach what Italians eat in winter for instance, during Christmas and other occasions.
This might make you think the classes are limited to private individuals who want to learn Italian cooking—they're not. They also have packages for groups and corporate team events.
We think baking and sharing a huge pizza with your officemates is a fun alternative to a powerpoint presentation-type of team building. Prices start at only €30 per person and can be in-person or live online.
The Italian cookery school is really just one of the ways the owners promote Italy in Ireland. If you want to know more about their culture, you can check out their restaurants (they have two branches), food and wine shop, and travel and tours services.
Italian chefs
Basic and advanced levels catered to
Accepts corporate events
Live online team cooking
Schedules are available online
Has a food and wine shop
Restaurant has 2 branches
No private cookery class
No mention if recipes can accommodate a variety of diets
Customer Reviews
Hand-on approach
"Did the cooking class here today and it's highly recommended! Really friendly staff. The instructor is practically a stand up comedian and the hands-on approach is shared between everyone at a table, so it's great to meet people and do something practical. Brought my mum for her birthday, and will be back for more for sure. And a big thank you to the owner Marco – Pinocchio's is a great part of Dublin!" – Dave Lynch, Google reviews
A really entertaining experience
"Last Saturday I went to the cookery class in Pinocchio restaurant, which is by the way very nice and cozy. We prepared and cooked a "torta della nonna", a "treccia" and "tagliatelle alla chitarra". Giuseppe is so funny! He first showed us how to prepare everything and then it was our turn. At the end we also tasted our food..it was delicious! It was a really entertaining experience and nice to share with other people. Definitely to repeat!" – Claudia Sasso, Google reviews
4. Kevin Thronton's Kooks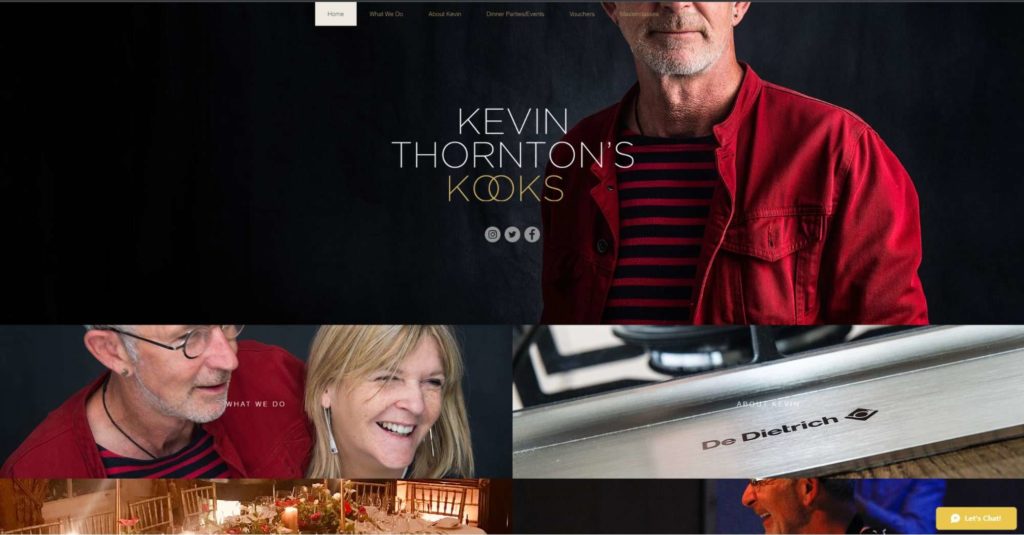 Want to learn how to cook without getting your hands dirty (not yet, anyway)? Kevin Thornton's Kooks has masterclasses that are demonstration-based.
You will watch the chef prepare, cook and present five courses so you'll know how to do it yourself with minimal effort. And it's not just any chef, it's Kevin Thornton.
A 2-star Michelin chef, Kevin Thornton owns the famous Thornton Restaurant, the only Irish resto that has been featured in the World's 50 Best Restaurants. His new venture, Kooks, will give you the opportunity to explore different food experiences outside the walls of the restaurant.
He has taught culinary arts for many years at DIT on Cathal Brugha, and has published his own book Food for Life to express his love and passion for food.
After the demo (which starts at 11am and ends at 4pm), the guests can interact with other guests and will be served the dishes so they can enjoy Kevin's iconic cooking.
At the time we write this, classes for October and part of November are full, but there are still available slots for November 13 and December 24, so if you're interested, you might want to hurry up. He books up fast!
Now, if you think his masterclass style is unique—and we'd agree with you if you do—the other service he offers is also distinctive: bespoke dinner events. If you want to enjoy Kevin's cooking further, you can get him to organise and prepare a 5-course bespoke private (or corporate) dining event for you.
It could be anywhere—your home or your company office. Alternatively, it could also be at Kevin's home: he offers a Private Chef's table for eight people at Ranelagh.
Classes taught by 2-star Michelin chef
Demonstration-based
Schedules are available online
Accepts private and corporate events
Very limited and in-demand slots
No current options for remote demo classes
Customer Reviews
A sense of improving my limited skills
"I had a wonderful day on Saturday. I have been an admirer of Kevin's skill, passion and creative ideas for longer than I care to admit. He has a great enthusiasm for life and this shone through on Saturday. You both made us feel so welcome. I had a sense of improving my limited skills and I wasn't disappointed. I also had fun while learning which is the best way to upgrade your knowledge. I cooked a casserole yesterday incorporating many of the ideas that Kevin had given us. Everyone around the table, including two young children, said that it was my best yet. " – Tony, KOOKS reviews
Came away with so much motivation, new ideas and new appreciation for food
"Thanks so much for an amazing day. I loved it from start to finish. I came away with so much motivation, new ideas, and a new appreciation for food. You created such an amazing, welcoming atmosphere in your home and I will recommend it to everyone. Looking forward to doing another course very soon. -Roisin, KOOKS reviews
5. Picado Mexican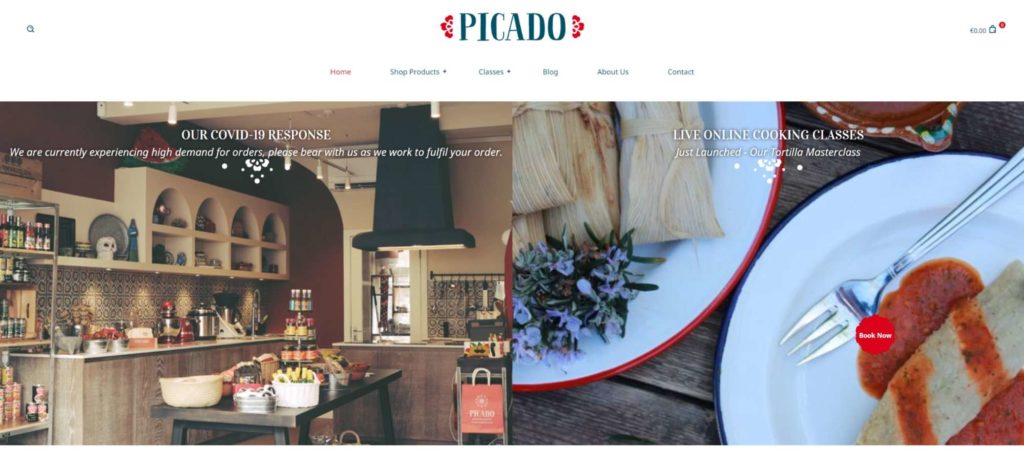 | | |
| --- | --- |
| SERVICES | live online cooking classes, in-person classes, masterclass |
| WEBSITE | https://www.picadomexican.com/ |
| ADDRESS | 44A Richmond St S, Saint Kevin's, Dublin 2, Ireland |
| CONTACT DETAILS | +353 1 479 2004 |
Picado Mexican didn't start as a cooking school—it was an online shop first.
Lily, the Mexican owner, got frustrated with the lack of choices for Mexican ingredients in Dublin. So, she founded "My Mexican Shop" selling adobo paste, chilli, salsa and other Mexican ingredients and food online.
Later, she found a space where she could physically sell these items and at the same time, teach people how to use those ingredients. It was then that Picado Mexican was born.
Lily loves cooking and her kitchen quickly grew to accommodate people who love Mexican food. Now, Picado Mexican is offering cooking classes that center on Mexican dishes.
They have live online cooking classes catering to people of all experience levels. We don't think you'd get bored as every class theme is different (read: taco Tuesdays, midweek dinners, weekend feasts, etc.).
The classes are fun, intimate and relaxed. You can even ask questions during the demo as there's a chat option.
The sessions are recorded too and you can access the recordings for a month. We think this is helpful since we don't always retain all the information that's been passed to us, so a recording should help you remember the lessons.
The online live classes are scheduled and come with one downloadable recipe, the class recording, and a once-off discount you can use to buy items from their online shop.
But if this doesn't cut it for you, you can enroll in the Masterclass Series. There, you will learn structure and techniques in more depth and how to make traditional but complex Mexican dishes.
The Masterclass Series is available as video on demand and includes a downloadable recipe booklet, access to the Masterclass video content for six months, and a discount code for either the shop or future virtual classes. They will also provide access to a monthly Q&A session for the particular course you enrolled in.
So, there's live online cooking classes and the Masterclass series, but what about in-person sessions?
Unfortunately, in-person classes are closed for now because of Covid-19, but we hope they open again soon. We'd love to gather with other folks who love Mexican food as much as we do!
Live online classes
Masterclass series available
Has online shop for ingredients
Free recipes
Access to class recordings (although it's limited)
In-person classes temporarily unavailable
Only Mexican dishes are taught
Schedule of classes not available online
Customer Reviews
Authentic Mexican supplies
"Lily and her colleagues are so knowledgeable. After doing the tacos workshop, I'm hooked and always come back here for authentic Mexican supplies. If you have not been, and thought you have tried Mexican food/Mexican products do yourself a favour and come to one of the workshops" – Seamus McNamara, Google reviews
Absolutely divine
"I was so frustrated by my own attempts to make tortillas that when my husband asked what I wanted for my birthday I said a Tortilla class but little did I know that it would be so much more. Lily (and her able assistant Andreas) taught us how to make a selection of traditional Mexican dishes before getting us to make our own tortillas and then the class sat down together to eat and it was absolutely divine. She's a wealth of knowledge and an engaging raconteur; charming and funny. Extraordinary value money would strongly recommend it." – Seana Foran, Google reviews
6. Emerald Pizza Academy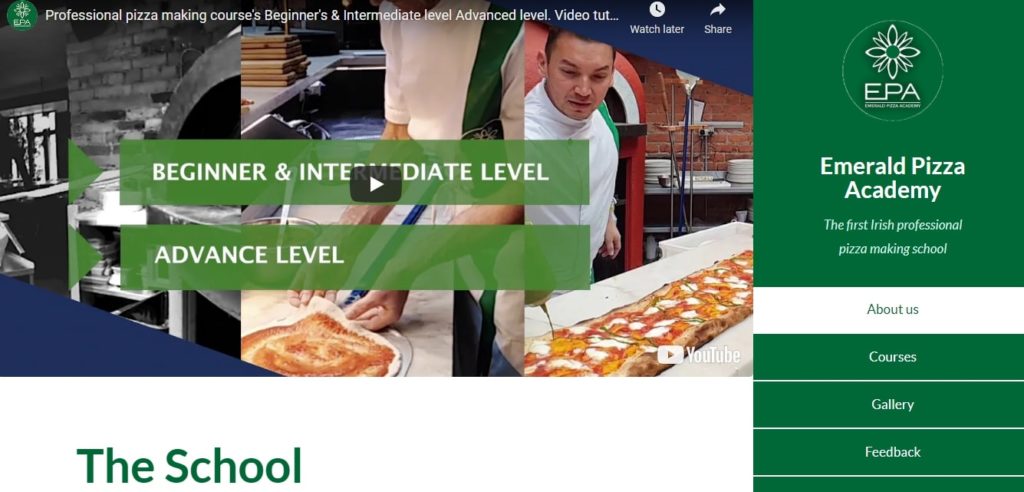 Emerald Pizza Academy is the first of its kind when it comes to professional pizza making and is founded and pioneered by Master Instructor Mihai Hogas. Established back in 2017, they have since then trained their students with making the most out of the use of local ingredients and create the ultimate pizza.
We find their courses very direct and very accommodating when it comes to the skill level of people who would like to apply since they offer both beginner and advanced levels.
Another thing we find notable is that their students get an immersive experience with every class with them since each one is held in restaurants which are Roberta's Restaurant and Dollard & Co. for a better learning exposure.
Clients can also register directly on their website and even have access to videos online completely free of charge to have a better background on the art of pizza making and their approach to it as well.
Overall, their past students commend how knowledgeable and how effective their courses are which guarantees positive feedback after they are done with the said program and apply the taught concepts.
Immersive learning environment
Experienced instructor
Accommodating all skill levels
Online classes unavailable
Customer Reviews
Here are some reviews from their clients:
"What can I say – what an enjoyable and educational week I've had in Pizza Academy last week,My teacher Master Instructor Mihai Hogas couldn't have done more to teach me the tricks of the pizza industry.We've implemented some of them already in our restaurant and our customers are giving us positive feedback already. I have spent some time locating this course and was prepared to go to London to get this training, Thankfully it's at our door step. Master Instructor Mihai Hogas be sure to visit us here in La Serenata in Roscrea and experience your Pizza Academy here for yourself. We can not recommend you enough.With sincere thanks,Iveta." – Iveta Krusta
"Would strongly recommend this course for anyone interested in working in the pizza industry,Master Instructor Mihai Hogas is an amazing chef and a great instructor.His knowledge and experience of pizza is second to none." – Glenn Ryan
7. Saspan/Sospan
SASPAN/SOSPAN came from the Irish / Welsh words for a saucepan. This cooking class has been rooted due to Lisa's family who have lived in Dublin since 2017 as they were originally from Wales. She came from a daughter of a baker and the granddaughter of a butcher and her passion for food was further broaden by studying in France for a year where she discovered the wonderful world of fromage.
Saspan/Sospan offers in-home and online private cooking lessons in South Dublin. You can never go wrong in choosing Lisa and her cooking class in Saspan/Sospan as she has been trained at the French Culinary Institute in SoHo (now the International Culinary Center – renowned as"the Best Culinary School in America").
She also is the co-founder of a successful cookery school—the Montclair Culinary Academy—where she developed and taught many cooking classes for both kids and adults. She also set up a successful summer cookery camp and devised everything from cooking-themed parties to in-home catering.
Immersive learning environment
Experienced instructor
Accommodating all skill levels
Only offers services in South Dublin
Customer Reviews
Here are some reviews from their clients:
"I greatly enjoyed the course and learned a lot about cooking. It was excellent. (Lisa is) very knowledgeable and friendly and a great teacher. Thank you very much." – Sarah R, Dublin
​"We learned how to prepare a full three-course meal rather than just random dishes. I greatly enjoyed the course and learned a lot about cooking. It was excellent. (Lisa is) very knowledgeable and friendly and a great teacher. Thank you very much." – Eoin D, Dublin
​"Five stars! Thoroughly enjoyed this course. It was so hands-on. You felt you were learning to cook. Lisa was excellent at demonstrating and teaching, would highly recommend it." – Gerardine L, Clonmel
What are the things you can get out of a cooking class?
The answer seems obvious: learning how to cook. But you can take home a lot more than skills if you do decide to enroll in a cooking class.
Here are some of them:
1. Familiarity with the jargon
Were there words in recipes you haven't heard before? Things like baste, blanch, deglaze, dredge, mise en place, consomme, tempering, and so on.
You will learn these terminologies in a cooking class, not just to impress your friends, but also so you can understand and know how to do them yourself.
2. Better meals at home
A cooking class enables you to prepare better meals at home. And by better, we mean both delicious and healthy food!
3. Control of ingredients
If you eat out, the food might be delicious, but you can't really be sure what kind of ingredients went in there. For all you know, it might be loaded with MSG, sodium nitrite or artificial colouring.
Being able to cook allows you to control what you want to put in each recipe.
4. Expand your recipe ideas
Everyone who cooks at home experiences that dead end where he asks himself, "What else can I cook? I'm out of ideas!"
So, even if you can cook, enrolling in a cooking class will give you fresh ideas and new cuisines (and ingredients) to explore.
5. Efficiency
Cooking classes will also teach you how to shop, slice, prepare ingredients and cook in ways that save money, time and energy.
FAQs about the Best Cooking Classes in Dublin
---
We hope our list of the best cooking classes in Dublin helped you decide to give learning how to cook a go. If you think we missed a cooking school that should be in this list, shoot us an email and we'll be happy to give our assessment.
We have plenty of other resources for those who want to learn new skills or competencies in a structured setting. For instance, if you're after the best colleges in Dublin for another program or course, we have a list you might want to check out.