The 5 Best Colleges in Ireland
So you're packing your bags and getting ready for the next stage of your life: new classes, new people, and probably a lot of beer. College is a time of growth and broadening your horizons, so you need to find your best fit.
Choosing a school that really fits who you are and who you want to be can be intimidating. Hopefully, our list will help you narrow down your options for the best college experience you can have.
Costs of College in Ireland
| COLLEGE | ANNUAL TUITION AVERAGE |
| --- | --- |
| Trinity College Dublin | €21,003 |
| University College Dublin | €25,203.99 |
| National University of Ireland, Galway | €14,177.53 |
| University College Cork | €8,401.63 |
| Dublin City University | €14,177.53 |
Top Colleges in Ireland
To find the best college for you, you have to consider a number of factors. We assessed schools based on the following criteria:
1. Trinity College Dublin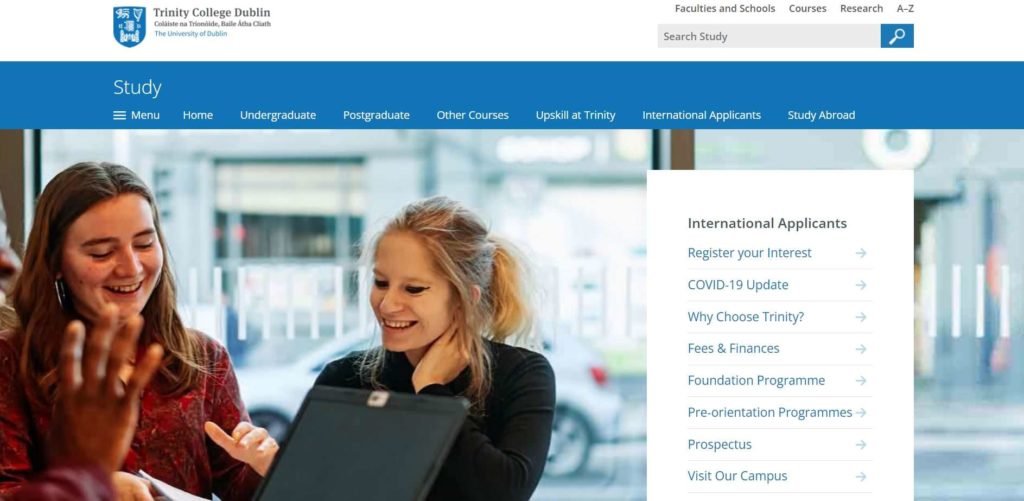 Test
Info
COURSES
Undergraduate, postgraduate, online, and evening and short courses
WEBSITE
https://www.tcd.ie/
ADDRESS
College Green, Dublin 2 D02 PN40
CONTACT INFORMATION

+353 1 896 1000




General admission queries:

+353 (0)1 896 4500




General queries from international students:

+353 (0)1 896 4507
| | |
| --- | --- |
| Location | ★★★★★ (5/5) |
| Renown | ★★★★★ (5/5) |
| Scholarships | ★★★★☆ (4/5) |
| Support Services | ★★★★★ (5/5) |
| Accommodation | ★★★★☆ (4/5) |
Trinity College Dublin is Ireland's oldest university and is recognized in the QS World University Rankings as the 101st top university worldwide in 2021.
The QS World University Rankings also lists TCD at 92nd in the world for Graduate Employability, which is something that a lot of parents will appreciate. It could also settle any fears you have about entering the "real world."
They offer a wide range of courses under three faculties: 1. Health Sciences, 2. Art, Humanities and Social Sciences, and 3. Science, Technology, Engineering, and Mathematics.
Note that the school is particularly acclaimed for their excellence in the fields of Law, Literature, and the Humanities.
They have over 170 clubs and societies for student community life, which they consider not only a pastime but integral to their education.
Their research reputation is also so impressive that the school is the sole Irish member of the highly regarded League of 23 European Research Universities (LERU).
TCD offers on-campus accommodation and access to the Student Union's Accommodation Advisory Service. However, we should note that they do not offer parking for on-campus residents.
Admissions are highly competitive and based solely on academic merit, so if you want to get in, we highly recommend taking your studies seriously.
If you do, you'll join the likes of Oscar Wilde, Samuel Beckett, Rowan Hamilton, and Ernest Walton, who are just some of the alumni who have brought excellence to TCD's name.
Highest-ranked university in Ireland
Excellent graduate employability
On-campus accommodation
Excellent research programs; member of LERU
No parking for on-campus residents
Student Reviews
Trinity has been teaching both of my chosen subjects of Latin and Philosophy since its foundation, over 400 years ago. One of the many reasons that I chose Trinity is because it is Ireland's leading university. Trinity also has a very strong sense of community. Building relationships with my classmates and lecturers and becoming involved in societies was key to my self-development, confidence and academic success. Trinity not only creates world leaders but fond college memories to look back on. -Dearbháil Kent
My experience thus far in Dublin has been nothing short of romantic. Every morning, on my way to class, I pass the location of a photo taken of me on a tour of Trinity when I was five. I have already made loads of friends in my course, and just from hanging out on and off campus. While going out is fun, most weekends I can be found making dinner for the other Dual BA students in the kitchen at my flat. Everyone at Trinity wants you to succeed: your tutors, lecturers, tutorials, peers, etc. are all hoping for you to thrive. -Liam Grugan
2. University College Dublin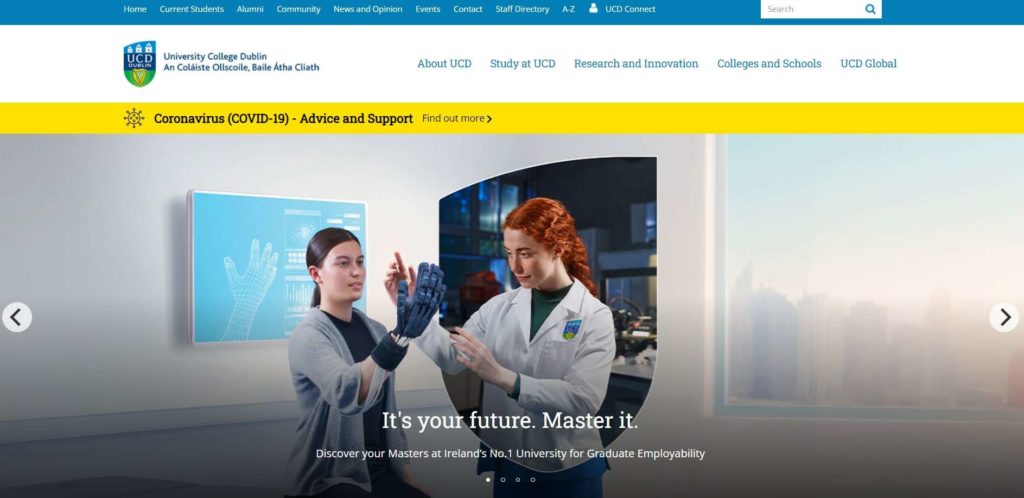 Test
Info
COURSES
Undergraduate, postgraduate, and online courses
WEBSITE
https://www.ucd.ie/
ADDRESS
Belfield, Dublin 4
CONTACT INFORMATION

+353 1 716 7777




Undergraduate admissions:

+353 1 716 8500 (non-EU applicants)
| | |
| --- | --- |
| Location | ★★★★★ (5/5) |
| Renown | ★★★★★ (5/5) |
| Scholarships | ★★★★☆ (4/5) |
| Support Services | ★★★★★ (5/5) |
| Accommodation | ★★★★☆ (4/5) |
The University College of Dublin is Ireland's largest university and is also its most international, with more than 33,000 students from over 144 countries.
First-year retention rate at UCD is 93%, and it has consistently been ranked first in Ireland for graduate employability by the QS rankings since 2018 to 2022.
It is ranked #173 in the QS World University Rankings.
UCD is also a research-intensive university, with its researchers securing €132 million in research grants from national and international funding agencies in the school year 2020-2021 alone.
These research papers are cited by other researchers at a rate that is a whopping 73% more than the world average.
UCD teaches in six different colleges and schools: Arts and Humanities, Business, Engineering and Architecture, Health and Agricultural Sciences, Science, and Social Sciences and Law.
While UCD's excellence spans many fields, it has a special reputation in the field of teaching and education.
They have 70+ active student societies and 55 official sports clubs, which we think is highly important for a student's socialization and education.
They do offer limited on-campus accommodation, with single bedrooms and both private and shared bathrooms. They also have adapted facilities for students with disabilities.
Best graduate employability in Ireland
On-campus accommodation
Excellent research programs
PWD-friendly accommodation
Student Reviews
The semester at UCD was a wonderful experience, and a great way to study abroad as an engineering student. The modules offered to engineering students are unique, and allowed me to go on site visits with my class to different places in Ireland. One of my favorites was a visit to Killiney Beach, which was an enjoyable way to learn about the geology in Ireland. As part of the engineering school, four of six modules I enrolled in were engineering modules. I took classes from different disciplines of engineering, which made for a well-rounded academic semester. This is a fantastic program for anyone looking to make new friends, as there are many societies open for international students to join. Located in close proximity to the city center, as well as other popular sites in Ireland, I had a great time exploring both Dublin and the nature of Ireland. -Carmen
Choosing to study abroad in Ireland, especially at UCD, was the best decision I have ever made. Making new friends, great memories, and having wonderful opportunities in a place I never thought I would live in was life changing in the best way possible. If I never went abroad, I would have never been exposed to such different lifestyles as well as the opportunity to learn a language like Japanese! I went with an open mind and returned with a brighter plan for my future and experiences that will last a lifetime. -Abygale
3. National University of Ireland, Galway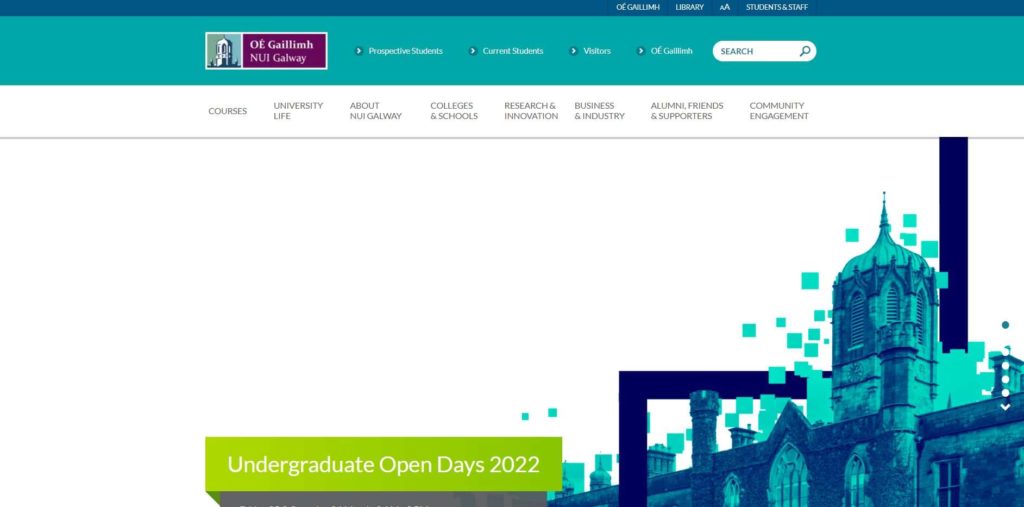 Test
Info
COURSES
Undergraduate, postgraduate, professional, part-time, and evening courses, online courses
WEBSITE
https://www.nuigalway.ie/
ADDRESS
National University of Ireland

Galway,

University Road,

Galway, Ireland

H91 TK33

CONTACT INFORMATION
+353 91 524411
| | |
| --- | --- |
| Location | ★★★★☆ (4/5) |
| Renown | ★★★★★ (5/5) |
| Scholarships | ★★★★☆ (4/5) |
| Support Services | ★★★★☆ (4/5) |
| Accommodation | ★★★★☆ (4/5) |
NUI Galway is another research-led university that is ranked in the top 2% of the QS World University Rankings.
98% of their graduates are employed in pursuing further study within 6 months of graduating. This reassuring percentage can definitely ease your mind for employability issues in your future.
NUI Galway is also among the top universities in fields such as Biomedical Science and Engineering, Web Science, Human Rights, Marine Science, and Applied Social Sciences.
They emphasize inter-disciplinary research and collaborations with industry.
The campus has two university-owned student residences: Corrib Village and Goldcrest Village.
The latter is the newer of the two, with 429 en suite bedrooms spread across 76 apartments. Corrib Village is a gated complex that can accommodate 764 students across 176 apartments.
They have five colleges and schools: 1. Arts, Social Sciences, and Celtic Studies, 2. Business, Public Policy and Law, 3. Science and Engineering, 4. Medicine, Nursing, and Health Sciences, and 5. Adult Learning and Professional Development.
The university also has 110 student societies and even a Disability Support Service for those who need support and reasonable accommodations.
Our main concern from student surveys and reviews is issues with funding and paid student contribution. It's quite difficult to make your research plans come to fruition without proper funding.
Another possible issue is the job opportunities in Galway. A lot of students would rather move to Dublin because of the surplus of job opportunities in the capital.
Great graduate employability rate
Disability Support Service
Research-led
Student Reviews
NUI Galway ranks among the top 1% of Universities in the world. Our prestigious history spans almost two centuries. Our spectacular location boasts the unique landscape and culture of the west of Ireland. Our global network connects us to partners around the world. Our researchers are shaping the future. Our students are shaping their own. -Anonymous
My experience at NUIG was excellent from day one. I was able to take classes that I enjoyed, but more than that, I was encouraged and given the opportunity to experience Irish life and culture. While at NUIG, I was able to immerse myself in Irish day to day life through living with Irish roommates, attending NUIG events, and exploring all the favorite local get-together and activity spots of native students. Outside of Galway, I was grateful for the opportunity to explore the beautiful country that became like my home away from home. -Madeline
4. University College Cork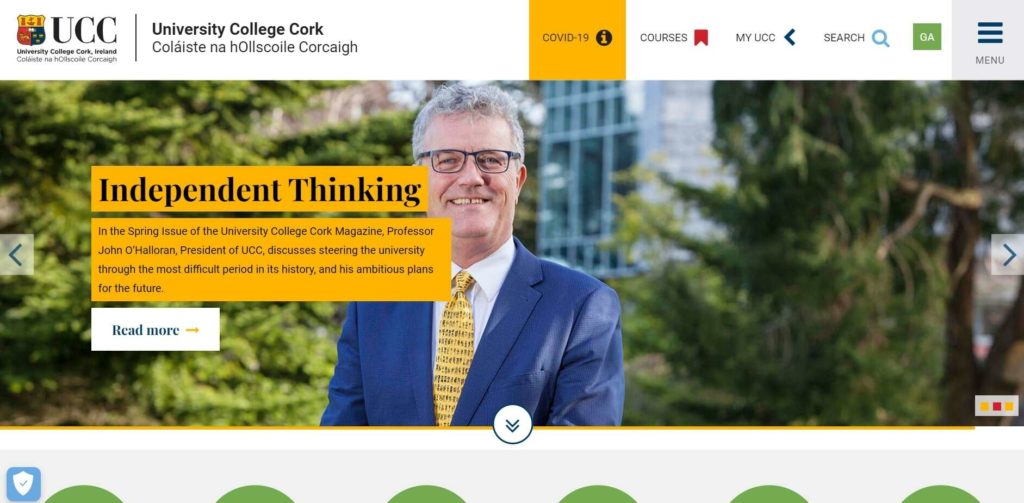 Test
Info
COURSES
Undergraduate and postgraduate courses
WEBSITE
https://www.ucc.ie/en/
ADDRESS
Coláiste na hOllscoile Corcaigh

College Road, Cork T12 K8AF

CONTACT INFORMATION
+353 (0)21 490 3000
| | |
| --- | --- |
| Location | ★★★★☆ (4/5) |
| Renown | ★★★★★ (5/5) |
| Scholarships | ★★★★☆ (4/5) |
| Support Services | ★★★★☆ (4/5) |
| Accommodation | ★★★★★ (5/5) |
The University College Cork ranks number 298 in the QS World University Rankings. The International Faculty indicator is strongest for the school, being ranked at 136 globally.
This puts UCC in the top 2% of universities worldwide, which we believe is impressive for any student looking to secure a bright future.
The students generate €187.50 million for the local economy in expenditure each year, which makes it a world leader for social and economic impact. Specifically, The Times Higher Education ranks it 8th in the world for impact rankings.
UCC has six complexes available for on-campus accommodation, offering single occupancy en-suite rooms with private parking for those who would like to avail of them.
UCC is also the first university in the world to be awarded a Green Flag from the Foundation for Environmental Education. They have a student-led Green Campus Committee that is committed to embedding sustainability in all the university's teaching and learning efforts.
We love this especially for students who are conscious about the environmental state of the world and its future, because it provides an avenue for active participation against climate change.
Although a great deal of students speak of the university fondly, one of the concerns is inadequate funding and lack of support from the university in certain courses such as film and the arts, and some science courses.
For such a prestigious university, we think any student would be disappointed to learn there isn't enough funding for their visions to be realized.
World's first Green Campus
Great social and economic impact
Offers on-campus accommodation
Lack of funding and support in certain fields
Student Reviews
I had an excellent study experience at UCC. I was in a small class which allowed for plenty of discussion and debate. There was a good mix between theory and practical, especially the invaluable work experience where I learned so much. The course was very broad and had plenty of guest lecturers with practical experience that were very insightful. There could possibly be more of a focus on the practical element such as research and what's involved in the running of a programme. -Anonymous
Excellent learning facilities, passionate lecturers, dynamic learning opportunities, excellent staff support, course itself was too costly which caused immense financial pressure -Anonymous
5. Dublin City University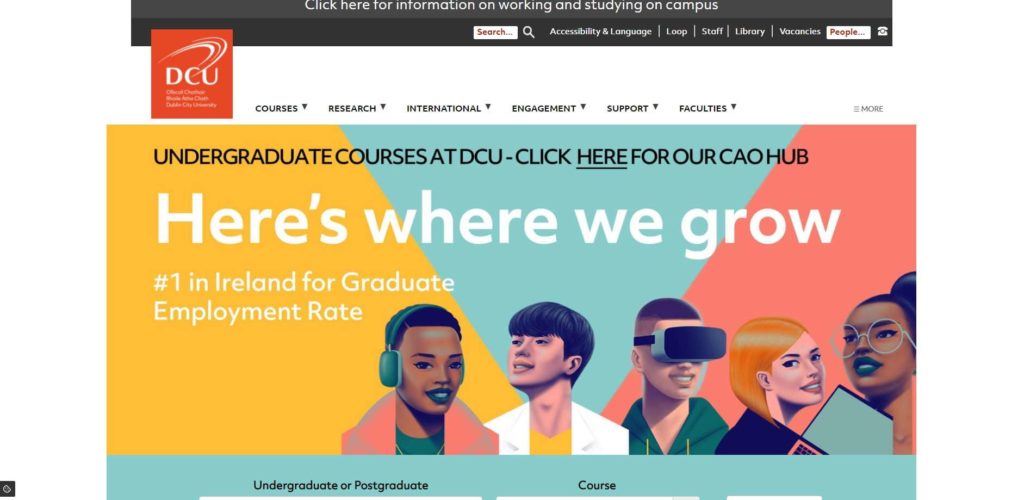 Test
Info
COURSES
Undergraduate and postgraduate courses
WEBSITE
https://www.dcu.ie/
ADDRESS

DCU Glasnevin Campus, Dublin 9

DCU All Hallows Campus, Dublin 9

DCU St Patrick's Campus, Dublin 9

CONTACT INFORMATION

Glasnevin campus:

+353 (1) 700 5000




All Hallows campus:

+353 (1) 700 5800




St Patrick's campus:

+353 (1) 884 2000




Main reception:

+353 (1) 700 5000
| | |
| --- | --- |
| Location | ★★★★★ (5/5) |
| Renown | ★★★★☆ (4/5) |
| Scholarships | ★★★★☆ (4/5) |
| Support Services | ★★★★★ (5/5) |
| Accommodation | ★★★★☆ (4/5) |
Dublin City University is ranked 490 in the QS World University Rankings and 191-200 in graduate employability.
One of the things that we think makes DCU one of the absolute best universities in Ireland is its reputation for being accessible and friendly to students with disabilities.
They are particularly known for their autism-friendliness, but also offer learning and support services for those with blindness, speech and language difficulties, dyslexia, ADHD, and others.
DCU has recently expanded to three campuses: Glasnevin, All Hallows, and St. Patrick's. They have five faculties: Institute of Education, Engineering and Computing, Humanities and Social Sciences, and Science and Health.
There are both single and double rooms because the university acknowledges that each student has different needs.
They provide WiFi, shared kitchen and living areas, parcel collection services, bicycle storage, CCTV cameras, 23/7 laundry facilities, and other amenities.
DCU is a fairly small and newer university, so it doesn't have the same kind of influence and history that other universities have. However, for its commitment to the country's future, we consider it one of the top universities in Irelands. 
Disability friendly
On-campus accommodation
Not as many courses offered as bigger universities
Student Reviews
Amazing University, I love this place so much. There are many clubs and society's where you can find friends, and just enjoy college life. The lecturers are all really nice (in my experience so far), and really understanding regarding extensions to deadlines etc.. The facilities are great and so is the location (quite close to the city centre). Overall I love DCU and i'm so glad I attend this university. -member1165061
I really love DCU because of the relations students have with their lecturers. Everyone is treated individually, everyone can ask for help if needed and I feel like every lecturer really tries their best to make every student feel and do their best -member1250511
FAQs About College
---
Want to narrow your search? We have a guide to the best colleges in Dublin!
Looking for a business school to get your MBA? Here's a guide to the best MBA schools in Ireland and in Dublin.