Top Places to Visit in Ireland
Ireland, which boasts some of the greenest and most magnificent scenery on earth, is bursting with tourist destinations. These locations are so alluring that we think you'll want to check them out at least once!
Top Tourist Attractions in Ireland
Some of the best places to visit in Ireland include bridges, cliffs, castles, markets, mountains, parks, pubs, coastlines, islands, cottages, and the like. Of course, your chosen travel destinations will depend on your preferred budget, environment, activity, food, or goals.
Whether you're from Ireland or a foreigner, it's best to be prepared and avoid the hassle during emergencies. For example, prepare your itinerary, wear the appropriate clothing, bring extra cash, and review your travel, car, and health insurance if possible.
Here are some top Ireland tourist attractions, alongside several travel tips for a fulfilling experience.
Carrick-a-Rede Rope Bridge
Photo source: www.nationaltrust.org.uk
Website: https://www.nationaltrust.org.uk/carrick-a-rede 
Address: County, 119a Whitepark Rd, Ballintoy, Antrim, Ballycastle BT54 6LS, United Kingdom
Contact Details: +44 28 2076 9839, [email protected] 
Opening Hours: Sunday – Saturday: 9:30 AM – 5:00 PM
Fees: Adult – £13.00, Child – £6.50, Family – £32.50, One Adult Family – £19.50
To fully appreciate Ireland's stunning shoreline, head to the well-known Carrick-a-Rede Rope Bridge. The wire rope bridge, which is 20 m long and 1 m broad and sways 30 m above the rock-strewn river, is not for the faint-hearted.
But if you don't have the stomach for heights, crossing the bridge might be daunting, especially when it's windy. For everyone's safety, the bridge is closed during high winds.
Also, tickets must be purchased online in advance, and the price includes on-site parking. Parking costs £10 per vehicle for guests who don't want to cross the bridge.
Keep in mind that Carrick-a-Rede is now firmly on the tourist bus route, and reservations are required to visit. Travel tip: the coaches usually come in the afternoon, so the mornings are typically calmer and the ideal time to visit.
Cliffs of Moher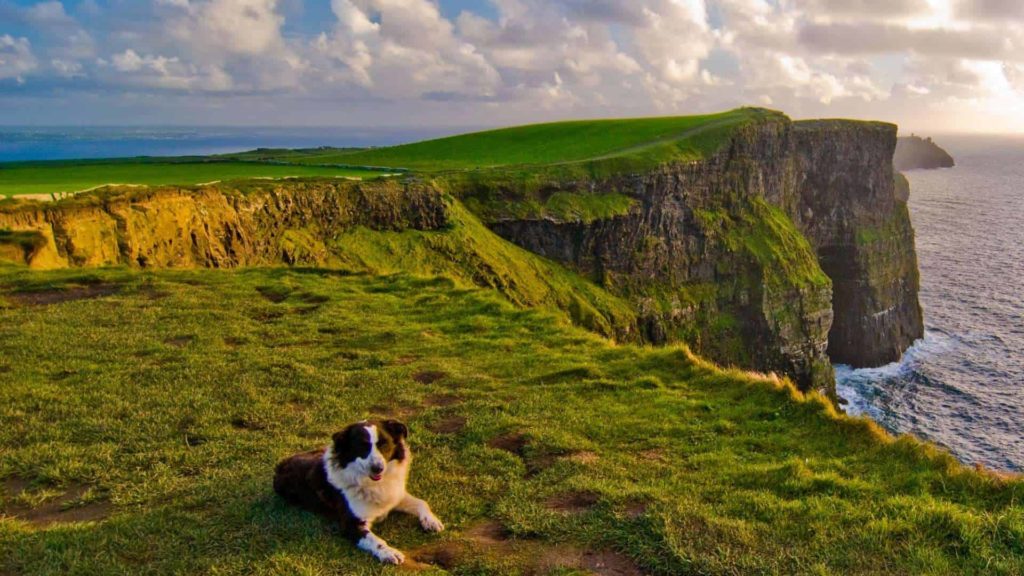 Photo source: www.cliffsofmoher.ie
Website: https://www.cliffsofmoher.ie/ 
Address: Cliffs of Moher, Liscannor, Co. Clare, Ireland V95 KN9T
Contact Details: +353 65 708 6141, +353 87 6566 133, [email protected] 
Opening Hours: Monday – Friday: 8:00 AM – 7:00 PM
The Cliffs of Moher are one of Ireland's most popular attractions because of its breathtakingly magnificent view. As a result, this location is high on many visitors' lists, so be prepared for crowds.
A guided group tour of Ireland is one of the ideal ways to see this site. Alternatively, you may enjoy a road trip which takes 3 to 5 and a half hours from Dublin.
We recommend that tourists spend at least 2 hours there, though many stay a little longer. For a more relaxing experience, go between 11 am and 4 pm when it's not as busy.
If you get lucky and witness the beautiful sunset, don't stare at the sun too long or you might need to visit an eye clinic afterward. But you shouldn't miss when the sky transforms into a kaleidoscope of amber, amethyst, rose pink, and deep garnet red. 
The Rock of Cashel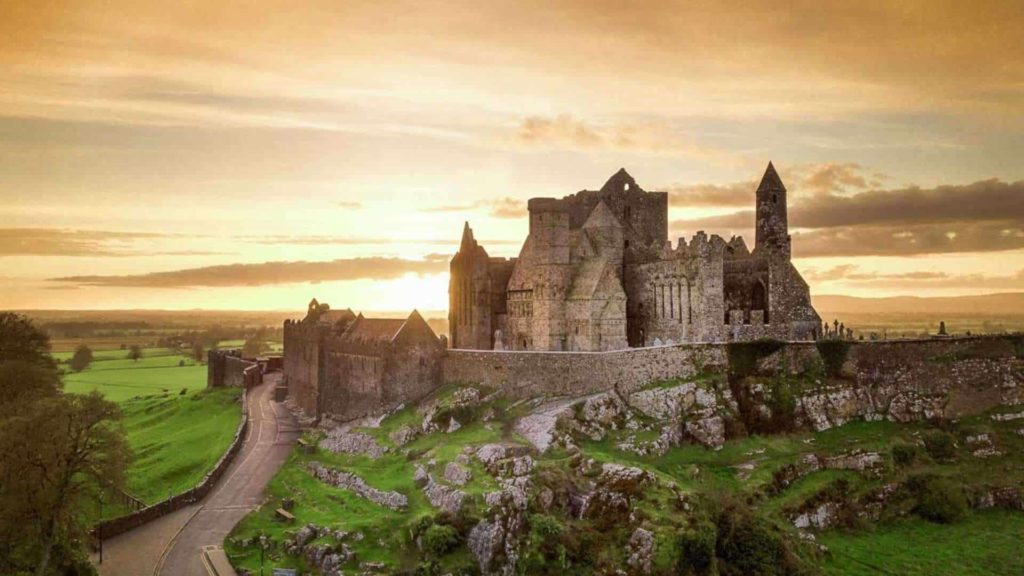 Photo source: www.heritageireland.ie
Website: https://heritageireland.ie/places-to-visit/rock-of-cashel/ 
Address: Moor, Cashel, Co. Tipperary, Ireland
Contact Details: +353 62 61437, [email protected] 
Opening Hours: Sunday – Saturday: 9:00 AM – 4:45 PM
Fees: Adult – €8.00, Group/Senior – €6.00, Child/Student – €4.00, Family – €20.00
If you like Game of Thrones, you'll probably feel enthusiastic about one of Ireland's top tourist destinations, the impressive Rock of Cashel.
The ancient Irish monarchs ruled from this majestic building for over 7 centuries. It's home to the High Cross, a Romanesque Chapel, a castle, a round tower, and a Gothic cathedral – all examples of some of the best medieval architecture.
It generally takes 12 minutes to finish the trail and wou won't likely run into many other people while exploring, making it ideal for walking.
Make sure to wear comfortable shoes, though. If you get injured you may need to visit a the need for a podiatrist after.
The average length of visit is around 1 to 1.5 hours. We suggest you come early because the last admission is strictly 45 minutes before closing.
The English Market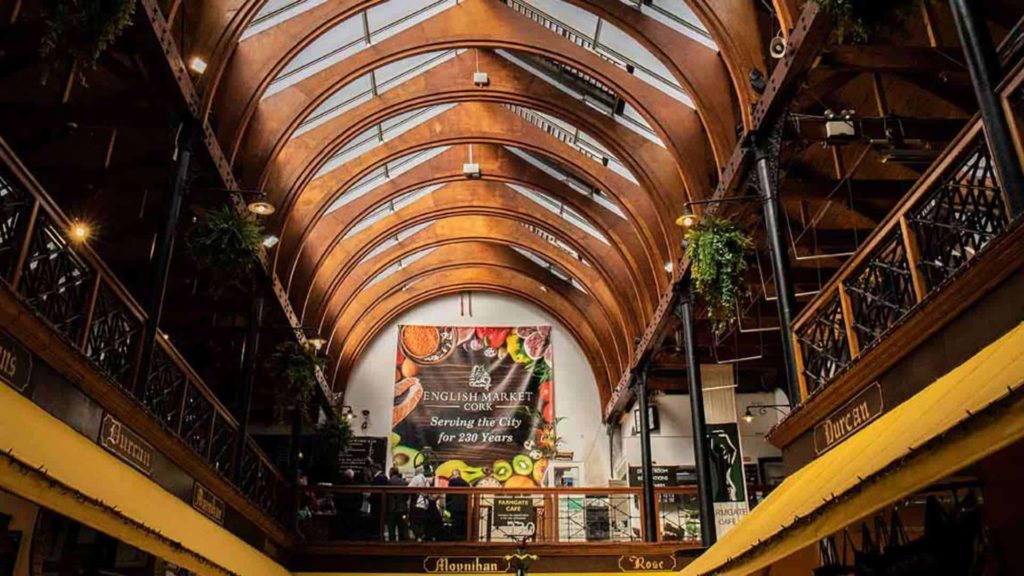 Photo source: www.corkcity.ie
Website: https://www.corkcity.ie/en/english-market/ 
Address: Princes St, Centre, Cork, Ireland
Contact Details: +353 21 427 4407, [email protected] 
Opening Hours: Sunday – Saturday: 9:00 AM – 4:45 PM
With its elaborate columns, vaulted ceilings, and polished marble fountain, The English Market is a genuine beauty.
Many market vendors put up stalls with fresh local produce, including meat, fish, fruit, cheeses, and takeout meals.
You may discover every fresh ingredient you could need for your kitchen here! This is in addition to speciality items like handcrafted chocolates and spices from around the world that would make delectable souvenirs.
Friendly tip: the market has a small number of public restrooms. For your reference, one of them is on the ground floor close to the fish aisle.
Cuilcagh Mountain Park
Photo source: www.cuilcaghlakelands.org
Website: https://cuilcaghlakelands.org/geosite/cuilcagh-mountain-park/ 
Address: 43 Marlbank Road Legnabrocky Florencecourt County Fermanagh Northern, Enniskillen BT92 1ER, United Kingdom
Contact Details: +44 28 6632 1815, [email protected] 
Opening Hours: Sunday – Saturday: 8:00 AM – 6:00 PM
The route of the Cuilcagh Mountain Park offers breathtaking scenery. This is alongside the fascinating geology, wildlife, archaeology, and natural history.
Take note that Cuilcagh is a working farm, so be aware of livestock in the area.
Here, the weather and cloud conditions are constantly changing at a quick pace. It's helpful to bring waterproof clothing, boots, spare clothing, a map, a compass, first aid, food, drink, and the like.
Additionally, the location has weak mobile reception. It might be safer to tell someone where you're going and when you intend to return.
Glenveagh National Park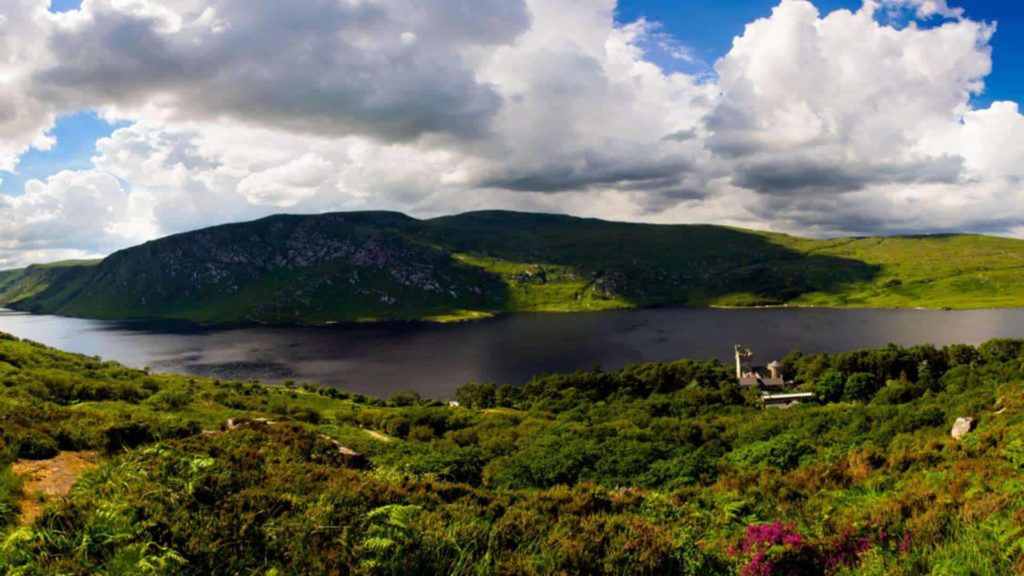 Photo source: www.glenveaghnationalpark.ie
Website: https://www.glenveaghnationalpark.ie/ 
Address: Letterkenny, Co. Donegal, Ireland
Contact Details: +353 1 539 3232, [email protected] 
Opening Hours: Sunday – Saturday: 9:00 AM – 5:00 PM
Fees: Free
Glenveagh, one of the most frequented locations in Donegal, is home to another castle.
Although you're not permitted to use your camera inside the Scottish-style castle, the grounds have beautiful gardens and offer excursions. So if you insist on taking photos, there are still great opportunities outside.
The park is renowned for its sprawling grounds with over 40,000 acres of mountains, glens, lakes, and woods. It draws visitors far and wide to take in the breathtaking natural splendour.
This is a favourite among camping destinations in Ireland. You can even venture into the woods and catch your own food because fishing is permitted in the lakes.
Just so you're aware, vehicles aren't allowed past the visitor centre. Although you may take a shuttle bus to the gardens and castle, we recommend walking at least some part of the way if the weather is good.
Galway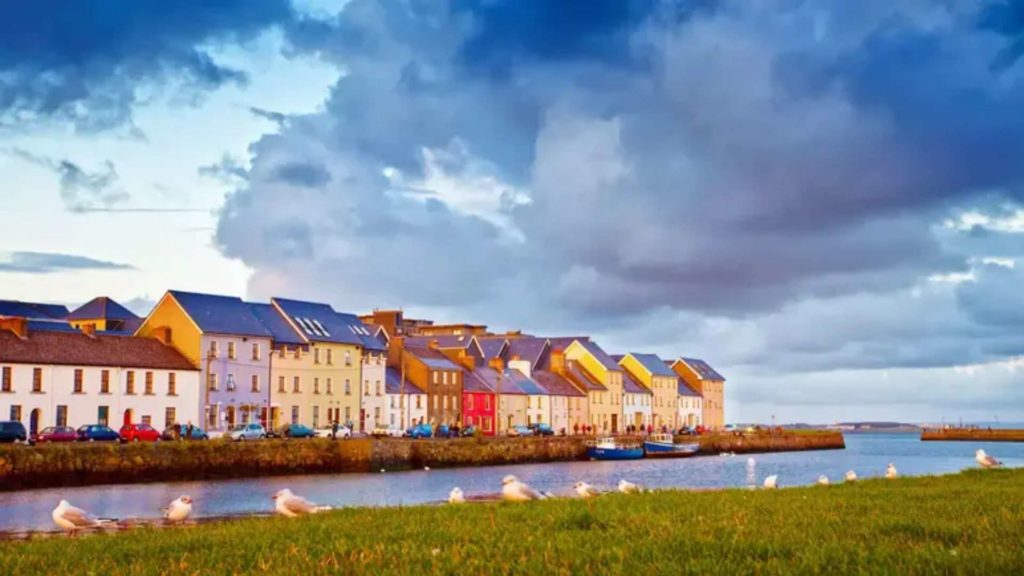 Photo source: www.ireland.com
Website: https://www.galway.ie/en/ 
Address: Galway, Ireland
Contact Details: +353 (0)91 509000, [email protected] 
Galway is one of Ireland's most vibrant cities. Despite its long history, the city is alive with a modern spirit.
While restaurants and cafes provide prime viewing locations for buskers and street theatres, the colourfully painted bars are also filled with live music.
A long walk leads to Salthill, a beachfront suburb on Galway Bay, the source of the region's renowned oysters. This is where remnants of ancient town walls may be seen amongst shops.
Galway has one of the busiest pubs too! You may quickly lose track of time browsing for souvenirs while drinking handcrafted beer on Cross Street. 
We suggest navigating on foot to get around the city best. The central business district has several small streets and pedestrian-only sections, making it simple to walk around.
But if you don't feel like walking, the city's bike-share programme is a practical choice.
Waterford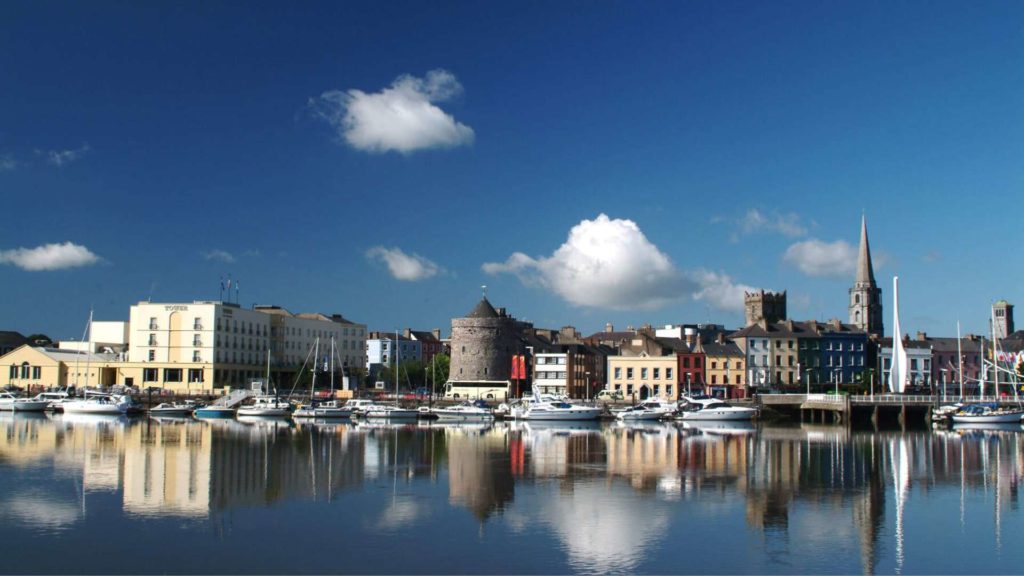 Photo source: www.ireland.com
Website: https://www.ireland.com/en-us/destinations/county/waterford/waterford-city/ 
Address: Waterford, Ireland
Contact Details: +1 212-418-0800, [email protected] 
The medieval city of Waterford is located in a lesser-visited region of Ireland that many tourists often overlook.
Enter the fantastic Medieval Museum to see some rich history. Bishop's Palace, on the other hand, showcases many architectural wonders.
Waterford is also home to some of Ireland's top beaches. On the Copper Coast, visitors to Dungarvan and Tramore may find sea caves and some delectable seafood restaurants.
The area also has a thriving festival scene and fantastic bars and eateries, including Momo, The Gingerman, and Berfranks.

You can also visit the House of Waterford Crystal for exquisite cut glass, or dine at the Granary Cafe for a 'blaa' (a speciality bread roll exclusive to the city).
As a tip, visiting Waterford at off-peak times (during spring and autumn) could save you anywhere between 25% and 40% on your expenses. You'll also avoid big crowds, which is an advantage.
Dingle Peninsula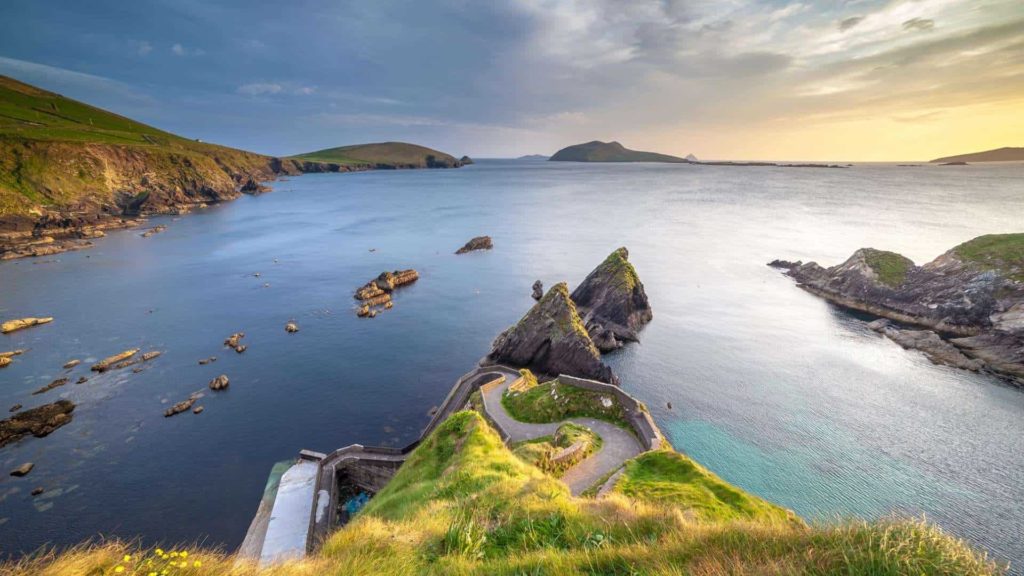 Photo source: www.dingle-peninsula.ie
Website: https://dingle-peninsula.ie/ 
Address: Southwest Atlantic coast of Ireland
Contact Details: +353 (0)66 915 2448, [email protected] 
Opening Hours: Sunday – Saturday: 9:00 AM – 4:45 PM
The Dingle Peninsula, a part of the well-known Wild Atlantic Way driving route, is overflowing with all-natural charm. This is the place for you if you enjoy trekking and wildlife viewing.
Learn about distant coastlines, mountain ranges like Slieve Mish, and immaculate beaches. You may also visit one of the tiny towns or beach communities to experience Irish customs and culture firsthand.
We recommend travelling counterclockwise around the peninsula because the coast views will be on your left. It also takes 4 hours on a bike, so it's much more manageable by car.
Bicyclists should set aside ample time for sightseeing and lunch or rest stops starting early (ideally by 9 am).
Aran Islands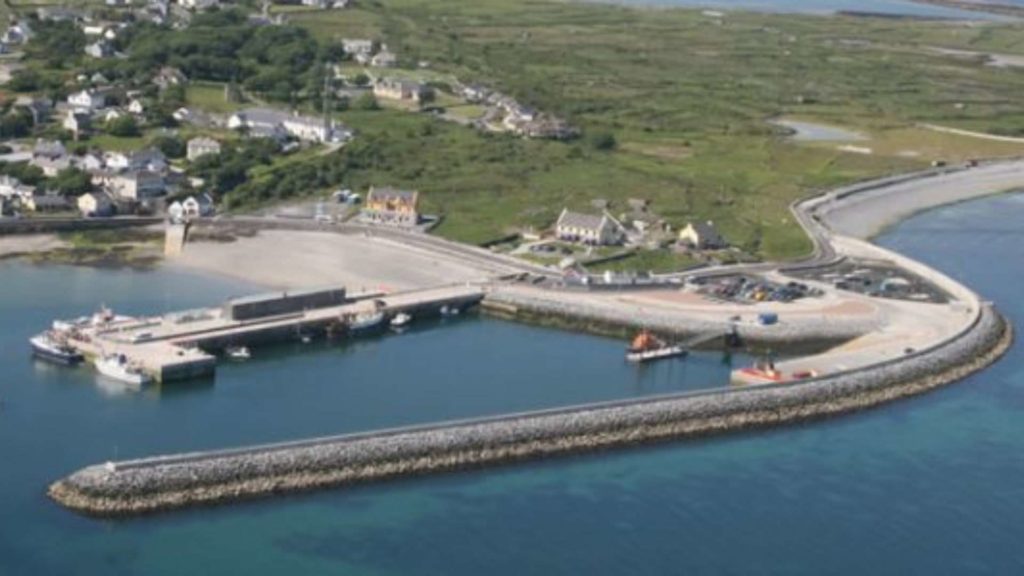 Photo source: www.aranislands.ie
Website: https://www.aranislands.ie/ 
Address: Galway Bay, Western Ireland
At this next destination, prepare to visit old towns, incredibly high cliffs, and prehistoric forts. The Aran Islands are a short boat ride off the coast of Galway.
Inishmore (or Inis Mór), Inishmaan (Inis Meain), and Inisheer are the 3 islands (Inis Oirr) here. The first one, where you take a ferry from the mainland, is the largest.
The site features the most well-known tourist destination on the island as well – the Dún Aonghusa. This is a 3,000-year-old stone fort perched on a hill with commanding views of the region.
However, we advise exercising caution because there are no ropes or rails close to the cliff's edge.
Bring some cash because there aren't many ATMs on the islands, and several establishments may not accept bank cards. For reference, parking is offered in the car park opposite The Harbour Hotel.
Adare Village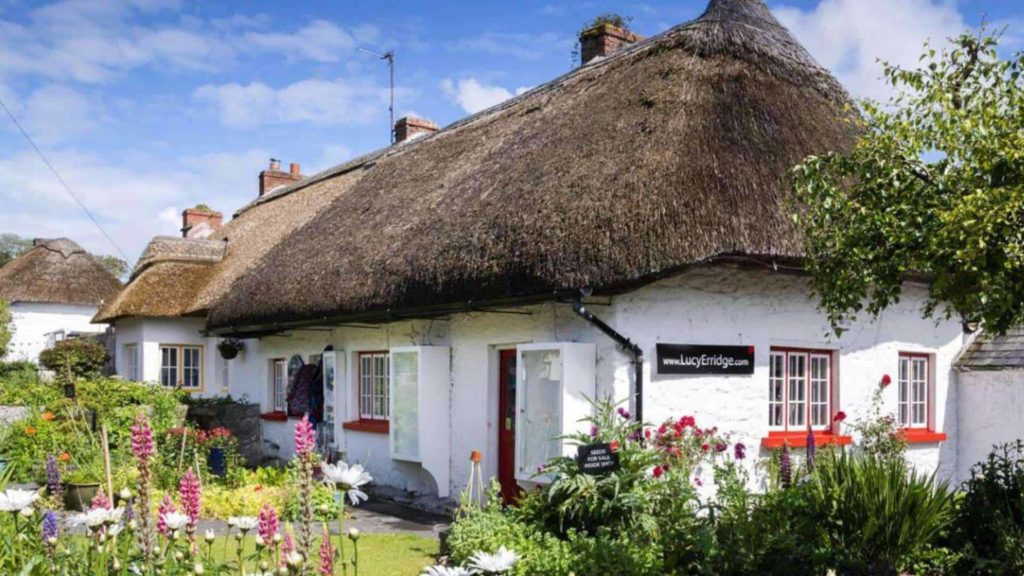 Photo source: www.adarevillage.com
Website: https://adarevillage.com/ 
Address: Adare, County Limerick
Adare, dubbed 'Ireland's prettiest village', is known for its row of thatched cottages. Today, these charming huts are home to upscale restaurants and craft shops while surrounding prominent golf courses for golf enthusiasts. 
Visitors are welcome to drive in and explore the magnificent grounds and castle. It's the ideal day trip for those seeking peace (away from the hustle and bustle of the city) in a tranquil, historic village.
You may reserve a spot on a public tour of Adare Castle at the Heritage Centre. Note that this tour is only available from July 1 through September 30 and lasts around an hour.
The centre has free parking in a sizable parking area, making it the best place to leave your car when you arrive. While you're here, this is the area to learn about the town's past, pick up a map, purchase a few trinkets, or use the restroom.
---
And there you go! We hope you enjoyed our list of the top places to visit in Ireland to fill your day with enjoyable and productive activities!

Stay safe and have a happy trip!