The 4 Best Chiropractors in Limerick
Featured Image Source: https://www.pexels.com/photo/close-up-photo-of-a-man-having-a-neck-pain-7298867/
Are you suffering from headaches, neck, and back pains but don't want to take medications? A chiropractor might help.
Chiropractors treat conditions related to the body's structure based on the theory that the body can heal itself if it's in proper alignment.
So if you want to approach your aches and pains this way, check out some of the best chiropractors in Limerick we've discovered below. We'll also discuss the fees involved to see a chiropractor, what ailments they treat and a few other things you should know.
Chiropractor Fees in Limerick
Is seeing a chiropractor expensive? The cost depends on the type and amount of care each person needs.
The table below should give you a rough idea of the cost.
| | |
| --- | --- |
| Treatment | Estimated Costs |
| Initial consultation | From €50 |
| Subsequent treatments | From €40 |
| Orthotics assessment | From €65 |
| Shockwave | From €70 |
| Back pain treatment | From €45 |
The Best Chiropractors in Limerick
We've picked five of the top chiropractors in Limerick, what treatments they offer and why we think they're one of the best.
1. Clinic Fontana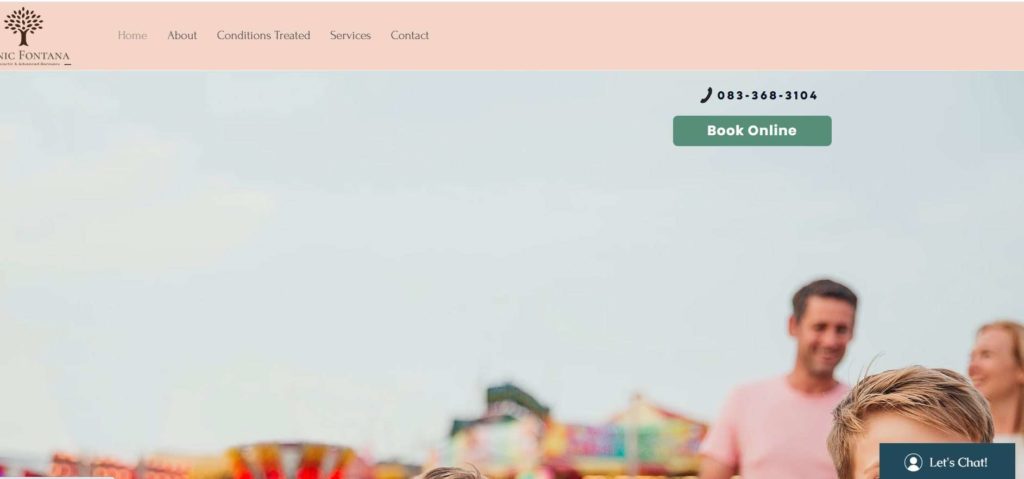 SERVICES
advanced recovery & sports injury rehabilitation, workstation assessment, report of findings & exercises programmes, pregnancy & paediatrics, active release technique, sacro occipital technique, applied kinesiology, posture screen, thermoscan & ultrasound imaging
WEBSITE
https://www.clinicfontana.com
ADDRESS
Castletroy Park Commercial Campus, Regus, Ducart Suite, Castletroy, Co. Limerick, V94 Y6FD, Ireland
CONTACT DETAILS
+353 83 368 3104
OPERATING HOURS
Monday 7am-8pm
Tuesday 6am-8pm
Wednesday 3pm-8pm
Thursday 7am-8pm
Friday 7am-8pm
Saturday 6am-11am
Sunday 10am-5pm
Does your neck and shoulders hurt because of hunching over your screen too long? If that's you, you might be one of the millions of people worldwide affected by what's called "tech neck."
It's a common problem these COVID-19 days. People who work at home often use dinner chairs instead of ergonomic office chairs causing them to tip their heads forward and tuck their chins in.
The result? Headaches and excruciating pain in the neck and shoulders.
If you're seeking relief from this 21st-century affliction, Clinic Fontana might be able to help. They're offering effective solutions to neck and shoulder pains through drug-free, non-surgical methods used in chiropractic.
Just how effective are their treatments? Quite a number of their clients vouched that the clinic has successfully helped resolve their muscle pains.
We think they're a great choice based on the feedback we've received. But aside from that, we've picked them because they don't just focus on the neck and head — they also have a full range of chiropractic services that also deal with pains on the back and chest, pelvic and upper legs, elbows and wrists, ankles and feet.
They even have paediatric and pregnancy services of which Dr. Quentin Fontanarava, a certified chiropractor and owner of the clinic, has a particular interest. So if pregnancy is giving you backaches, we recommend you visit them.
Another one of Dr. Quentin's specialisations is sports injuries. They offer advanced recovery and rehabilitation caused by all kinds of sports-related injuries.
How do they do this? They examine the spine and musculoskeletal conditions to first identify what's causing the problem, and second, to make specific adjustments to correct it.
But that's not to say they only accept the young, athletic type—their service is for people of all levels of physical (un)fitness and age. They treat physical discomforts experienced by older people too like pins and needles, numbness, postural dysfunction and others.
If you want to be seen by one of their chiropractors so your condition can be evaluated and a treatment plan can be formulated for you, they're open all week. They're fully operational despite the COVID-19 situation.
It's also convenient to visit them because they have two branches: one in Limerick and another in Newcastle West.
Full range of chiropractic services
Clinic owner is a certified chiropractor
Sports-related recovery and rehabilitation offered
Accepts patients of all ages 
Accepts patients of all levels of physical fitness
Open 7 days a week 
Fully operational
2 branches (Adare and Castletroy)
Most advanced equipment in Limerick
Some appointments are not available online
Customer Reviews
I feel super nice the minute I left
"Highly recommended! Had such a great experience for my first time at a chiropractic clinic. Dr. Quentin is super professional and really kind, and obviously super great at his work! Definitely coming back! I came to Quentin with tightness and discomfort in my back, and he helped me relieve this pain and discomfort very quickly. I feel super since the minute I left. I would highly recommend Dr. Quentin." – Kyron O Donnell, Google reviews
I am back to full function
"I have always been reluctant to go near a chiro but am so happy I did. I struggled to get up with my lower back pain and after only a few sessions with Quentin I am back to full function, able to enjoy training as always. Highly highly recommend his services. Extremely professional, friendly and insightful." – Pierre Visser, Google reviews
2. Limerick Chiropractic Clinic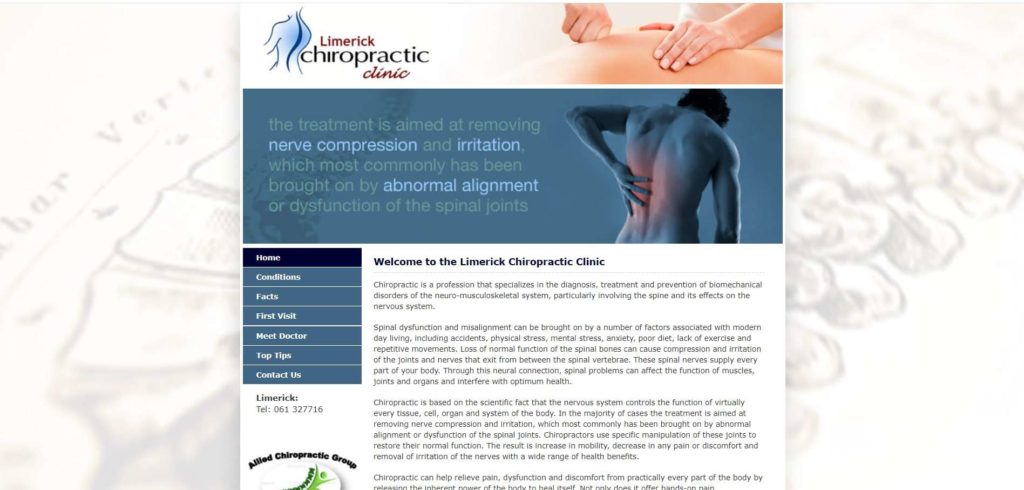 SERVICES
sciatica, body pains, slipped disc, headaches, dizziness, arthritis and joint pain, scoliosis, sports injury
WEBSITE
http://www.catherinecurtin.com
ADDRESS
Larkins Cross, Corbally Road, Clonlara, Co. Clare
CONTACT DETAILS

[email protected]


061 327716
We think Limerick Chiropractic Clinic is one of the best chiro clinics in Limerick because of Dr. Catherine Curtin. We've received a lot of great feedback from her clients saying she provides excellent support and has helped them get through all sorts of pain.
Dr. Curtin took her preliminary education in the USA. She completed her five-year full-time training course as magna cum Laude in 1998 from Life University, Georgia, USA.
She went back to Ireland and worked with another chiropractor to further improve her knowledge in the field. She uses a variety of techniques to treat her patients: SOT (Sacro Occipital Technique), Thompson Drop, Activator among others.
What's more, she incorporates modalities in her treatments for a quicker healing process.
What sort of conditions does she treat? Although not as diverse as the other clinics we've reviewed, it's varied enough: neck and back pain, migraines, headaches, leg and arm pain.
She also treats pain problems resulting from sports injuries, pregnancy and road traffic accidents and accepts patients of all ages. We've even heard of patients bringing in their whole family to her—from babies to grandfathers—for treatments!
Another thing we like about LCC is, they're very clear about what will happen when you go for a visit. It helps dispel any fear or hesitation people might have about it.
During a consultation, you'll be asked a few personal questions including you and your family's medical history. You'll be examined and the results (including what can be done about it, how long the treatment will take and how much it will cost) will be explained to you.
From there, a treatment plan will be tailored for you including advice on lifestyle changes if it's needed, what you should do and what to avoid to help in your recovery.
Unfortunately, you can't just come for a visit as they accept patients only by appointment. Also, since the clinic is located on the upper floor, it might not be easily accessible for disabled people.
Fully-trained chiropractor
Uses a variety of techniques
Incorporates modalities to treatments
Treats sports and accident-related injuries 
Accepts patients of all ages
First visit clearly explained
By appointment only
Clinic not easily accessible for the disabled
Customer Reviews
She has helped me through any pain or ache
"Catherine is a gem! She has helped me through any pain or ache, given sound advice and most importantly fixed all misalignment issues. Her approach is fantastically effective and you always leave feeling great. Thank you Catherine for everything! And Bernie in reception is an absolute sweetheart too. So friendly, warm and approachable." – Ben Kiely, Facebook reviews
Fantastic knowledge and support
"I trust Catherine completely. Fantastic knowledge and support. I have brought my whole family and she has always been 100%, even when my daughter was only a baby and my dad when he was at the other end of age 🙂 Highly recommend this clinic." – Dympna Fitzgerald
3. Limerick Acupuncture & Chiropractic Therapy Centre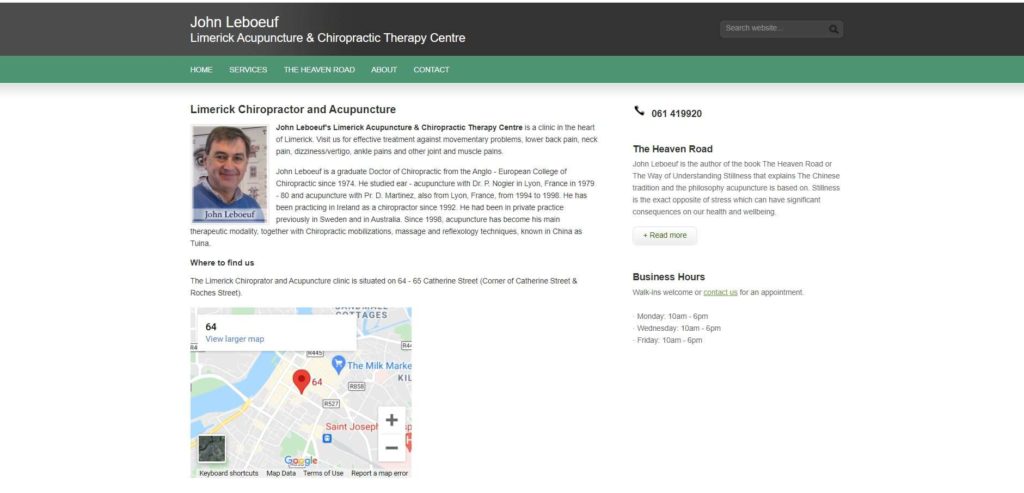 | | |
| --- | --- |
| SERVICES | musculoskeletal injuries, respiratory conditions, addiction, digestive problems, gynaecological problems, mental-emotional stress-related disorders |
| WEBSITE | http://www.johnleboeuf.ie/ |
| ADDRESS | 64 – 65 Catherine Street (Corner of Catherine Street & Roches Street) |
| CONTACT DETAILS | 061 419920 |
| OPERATING HOURS | MWF, 10am – 6pm |
We've reviewed a number of chiropractic clinics in Limerick, but Limerick Acupuncture & Chiropractic Therapy Centre is one of the rare few that offers not just chiropractic but also acupuncture services.
John Leboeuf has trained in Europe for both chiropractic and acupuncture. He's been practicing it in Sweden, Australia and Ireland since 1992, combining acupuncture points in the body and chiropractic in the treatment of neck and back pain.
John believes the nerve points along the spine are the areas particularly effective for a wide range of functional disorders. Things like musculoskeletal injuries, frozen shoulder, sciatica, muscle strains, and joint and ligament sprains.
But those aren't the only conditions he treats. John also offers treatment for respiratory issues (like sinusitis and asthma), digestive problems (like colitis and acid reflux), gynaecological problems (such as painful periods), and mental-emotional stress-related disorders (such as anxiety and panic attacks).
Are his treatments effective? It must be as a lot of his patients are saying he has brought relief to the pain they're feeling.
Another question we often get about this acupuncture-chiropractic combo treatment is, is it painful? According to the website, John only uses the finest acupuncture needles so it's virtually painless.
Curious how much it costs? It's one of the few clinics we've seen with the rates readily available: €60 for the initial consultation, €50 for chiropractic / non-force spinal manipulative therapy, and €30 for concession treatments.
If you want to visit, they're open Mondays, Wednesdays and Fridays from 10am to 6pm. You can call for an appointment, but they accept walk-ins too.
Fully-trained chiropractor and acupuncturist
Acupuncture services also offered
Digestive, respiratory, and gynecological treatments offered
Treatments for mental-emotional stress-related disorders offered
Price of treatments are available online
Walk-ins are accepted
Opens every MWF only
Doesn't mention if patients of all ages are accepted
Customer Reviews
Very professional
"Absolutely beautiful person to deal with your pain relief. Very professional and he listens to every detail about your pain. I would highly recommend Dr John Leboeuf as a pain relief expert." – Eileen O'Grady, Facebook reviews
Doing wonders for my recovering leg
"Acupuncture is doing wonders for my recovering leg! Thanks John" – Claire Mullane, Facebook reviews
4. Advanced Chiropractic and Sports Injury Clinic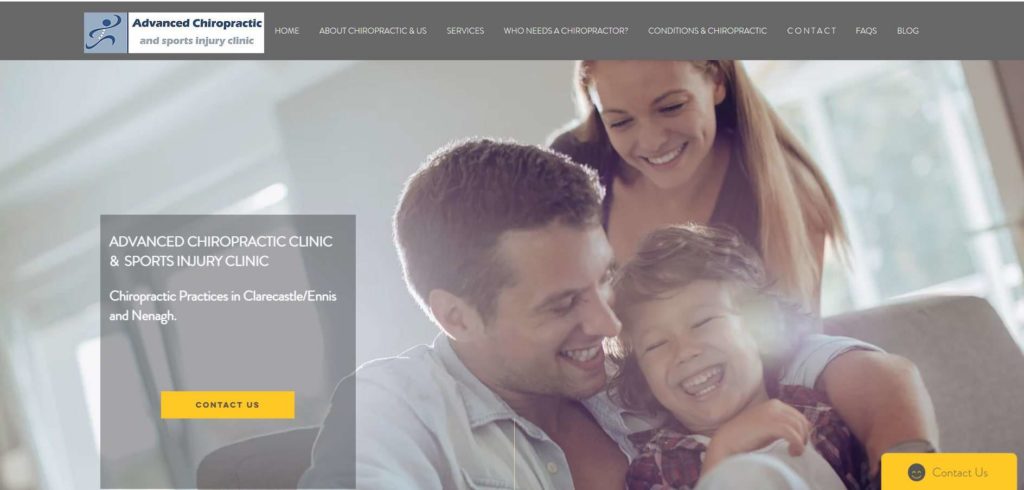 SERVICES
General and advance chiropractic, dry needling and acupuncture, orthotics
WEBSITE
https://www.advancedchiropractic.ie/
ADDRESS
Unit 2 Clareen House, Tyoneh, Nenagh Co. Tipperary3 St. Flannan's Ave, Clarecastle, Co. Clare
CONTACT DETAILS
0656828288 (Clarecastle)
0852178920 (Nenagh)
Advanced Chiropractic and Sports Injury Clinic may be half an hour away from Limerick, but we decided to add it here because their team is composed of highly qualified chiropractors.
For one, Dr. Heather Thompson, the head chiropractor and owner of the clinic, has an honours degree in Kinesiology. Most importantly, she's a doctor of chiropractic, a degree she got from the Canadian Memorial Chiropractic College in Toronto, Canada.
She's been practising chiropractic since 1999 and is a member of the Irish and European Chiropractic Associations.
Another one of their team members, Dr. Heather Godkin, is also a doctor of chiropractic and holds a Bachelor of Science degree from Wilfrid Laurier University in Waterloo, Canada. She has completed both the Canadian Chiropractic Board exams and College of Chiropractors Ontario Ethics Examination.
Experience is a great teacher, but we think formal education in this specific field is nothing to scoff at too. Their high level of education leaves the impression that if you do decide to get their services, you'd be in good hands with them, both literally and metaphorically.
Now, what kind of chiropractic services do they provide? Like the others, they deal with a vast number of general and advanced chiropractic care for cervical sprain, vertigo, osteoarthritis among other conditions.
They also have other non-chiropractic services such as dry needling, acupuncture, active laser therapy and orthotics. However, they seem to have a special focus on sports injuries.
Admittedly, Dr. Thompson has a passion for and a strong background in sports. Yes, you don't have to be an athlete to treat one, but we think an athlete chiropractor can help make athlete patients feel less alone in their frustration of being unable to play.
Needless to say, the clinic accepts patients of all levels of fitness and ages. So if you want to visit for a consultation, just head to either their Nenagh or Clarecastle clinic.
Just make sure to call first as there was no mention about their business hours or if they accept walk-ins.
General and advanced chiropractic services
Dry needling and acupuncture services
Offers active laser therapy
Offers orthotics
Special focus on sports injuries
Accepts patients of all ages
2 branches
No mention of business hours
No mention if walk-ins are accepted
Customer Reviews
Not only professional, but very warm and welcoming
"Absolutely one of the best experiences I have had at the chiropractor. Heather is not only professional but very warm & welcoming to all. I definitely recommend Advanced Chiropractic Clinic! -Christina Rueda Seder, Facebook Review
Brings your body back to full functionality
"There are times in your life when a helping hand goes a long way. You need relief, you need to decompress, your brain feels foggy or you're walking around with a dull chronic pain and this all stems from your body being out of alignment. Your blood flow isn't as powerful and the result is you feel slower, listless, and dull. This is when you need to see a professional chiropractor and this is why you need to see Advanced Chiropractic Clinic in Clarecastle.
The owner Heather Thompson is a goddess!!!! Her hands are like magic and the relief you feel coming out of the office is equivalent to being on a two week holiday. You feel like you are floating. This woman is at the top of her game and no one comes close to the kind of work she does.
Board Certified and trained in Canada she has been in practice in Ennis for nearly 20 years and unlike many other "chiropractors" who claim to be trained Heather takes her profession to a whole new level. Simply put, she is the Michael Jordan of the chiropractic world. Some would say this is an exaggeration but I can assure it is not. There are good chiropractors and there are a lot of bad ones but Heather is without a doubt a whole new level above the rest of the crowd out there.
I rediscovered Advanced Chiropractic after having spent a couple of years looking for them upon returning to Ireland. And thank God I found them, again. Heather's entire purpose is to get you to a stage where you DON"T have to come every week. She brings your body back into full functionality and then you go back when you need it. Her approach is to get you out not back in. You actually experience a bit of euphoria when you leave the office and it tends to last the day. This is normal and this is what you are supposed to feel like.
Folks, I cannot recommend enough for you to get an appointment to see Heather. This is the best money you will ever spend no ifs ands or buts about it. I realize that you might be a bit sceptical but I assure you that you will be more than pleased with your visit. Enjoy this incredible experience!!!!!!!!!!! -Cary Languirand, Facebook Reviews
BONUS ENTRIES
If you want to consider other alternatives to the aforementioned chiropractors in Limerick, here are a few other professionals you can turn to:
1. Pain Relief Clinic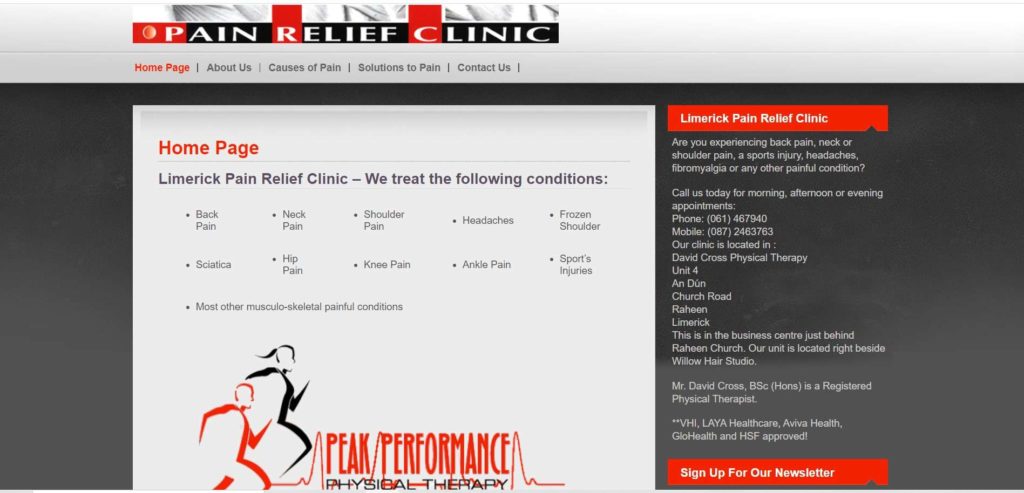 SERVICES
Body pains, sciatica, sports injuries, tension headaches, whiplash, plantar fasciitis, shin splint
WEBSITE
http://painreliefclinic.ie/chiropractorlimerick.php
ADDRESS
David Cross Physical Therapy, Unit 4 An Dún Church Road, Raheen, Limerick
CONTACT DETAILS
Phone: (061) 467940
Mobile: (087) 2463763
Just like its name, Pain Relief Clinic prides itself on providing relief to all sorts of painful conditions: muscle strains, tears and pulls, whiplash, tennis elbow, fibromyalgia, plantar fasciitis, shin splints and more.
They boast of treating even chronic, stubborn conditions. So, if you have a long-standing pain that doesn't seem to go away whatever you do, you might want to pay them a visit.
You'll be taken care of by David Cross, a registered physical therapist with over 10 years of experience in treating painful conditions. His particular interest, though, is in sports therapy.
He has worked with many international and even Olympic athletes and has provided physical therapy services to Munster School rugby teams and the Limerick U21 football team.
But sometimes, there's a weakness that sets in after the pain is gone. Well, we're happy to let you know that David is a qualified strength and conditioning coach and dry needle acupuncturist as well.
Not only will you get rid of the pain, but you'll also get the chance to have your strength back for a healthier, more active lifestyle. That, we think, is a greater goal than simply doing away with the pain.
How much is the treatment? The rate depends on your condition, but don't worry, his treatments are covered by most leading healthcare providers like LAYA, VHI, Glohealth, Aviva etc.
What's more, his treatments are also eligible for MED-1 tax refund at the end of the tax year, so either way, you get to save a bit of money.
Extensive experience in sports therapy

Qualified strength and conditioning coach
Qualified dry needle acupuncturist
Treatments covered by leading healthcare providers
Treatments eligible for MED-1 tax refund
Doesn't mention if walk-ins are accepted
Customer Reviews
I have always felt the benefits immediately
"I have attended the Pain Relief Clinic with a number of injuries over the last few years. Tony gives great attention to detail and I have always felt the benefits immediately. I am very happy with the results and have recommended Tony to many people. Thanks" – Mr. D O'Brien, St. Patrick's Road, Limerick – Website reviews
4 Facts You Should Know About Chiropractic Care
We won't blame you if you're skeptical about chiropractic—we were. In fact, a lot of people are.
Perhaps, it's because chiropractic hovers the thin line that separates standard health care and the alternative approach. Or perhaps, it stems from a lack of information about what chiropractors really do and what happens during chiropractic care.
The information below should help dissipate the stigma around it:
Chiropractors have almost the same amount of training as medical doctors
There's a misconception that since both a masseuse and a chiropractor both work with their hands, they're just the same. That could never be farther from the truth.
Just like a doctor, a chiropractor also has to study pre-medical subjects, pass the board exam, undergo clinical residency and obtain a license before they can practice.
Chiropractic care shouldn't hurt
Another myth about chiropractic care is it hurts. It shouldn't hurt when it's done properly, that's why it's important to see a qualified chiropractor.
Besides, chiropractic care isn't all about adjustments and manipulations. Chiropractors also use exercises, hot and cold treatments, relaxation training, diet and nutrition among other things.
Chiropractic care isn't just for pain relief
Sure, we seek the help of chiropractors when we're having those nasty aches and pains. But chiropractic isn't just about the alleviation of pain — it's also about how pain can be prevented.
A lot of athletes seek chiropractic care regularly
Athletes go through rigorous training which exposes them to all sorts of body pains. But aside from pain relief and rehabilitation, chiropractors can also help them increase their flexibility, range of motion and coordination.
FAQs about the Best Chiropractors in Limerick
---
If, by any chance, you've tried any of the practitioners from our best chiropractors in Limerick list, please share your experience with us!
Not in Limerick? You can find more chiropractors and physiotherapists here: