6 of the Best Bicycle Shops in Cork
Whether you're a casual user or a sports enthusiast, bikes are a great way to exercise and get around the city! With so many to choose from, it's important to find the right bicycle and accessories for your needs.
So put on your helmet and grease those gears as we take a look at the best bicycle shops in Cork!
Top Bicycle Shops in Cork
We assessed the shops based on the following criteria:
1. Cycle Scene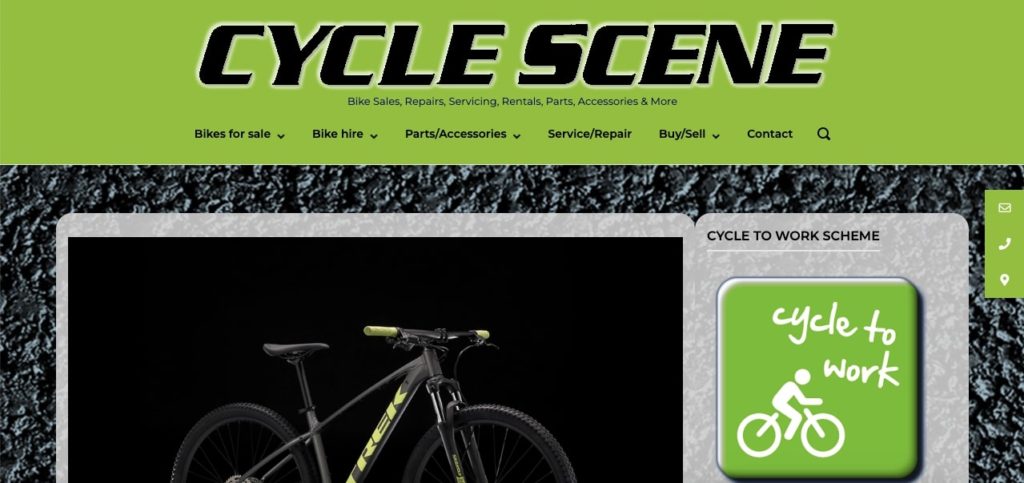 Test
Info
SERVICES AND PRODUCTS

Bike Hire Service, New and Used Parts

Service/Repair, Buying Bikes

New Bikes, Pre Owned Bikes

WEBSITE
https://cyclescene.ie/
ADDRESS
396 Blarney St, Gurranabraher, Cork
CONTACT DETAILS

PHONE: +353 21 430 1183

OPERATING HOURS

Weekdays: 8:30 AM to 5:30 PM

Saturdays: 8:30 AM to 5:300 PM
| | |
| --- | --- |
| Products | ★★★★☆(4/5) |
| Bicycles | ★★★★☆(4/5) |
| Accessories | ★★★★☆(4/5) |
| Services | ★★★★★(5/5) |
| Prices | ★★★★★(5/5) |
| Customer experience | ★★★★☆(4/5) |
| Payment and delivery | ★★★★☆(4/5) |
| Overall satisfaction | ★★★★☆(4/5) |
Although a store that's smaller in scale, Cycle Scene provides customers with the full experience from cheaper options to unique services.
What we think customers will like about their selection is that they offer more relatively affordable pricing. Particularly, they have a good amount of options for pre-owned bikes which are consistently updated.
We like that they also have a wide number of bike types available, from mountain bikes to racing bikes and even hybrid bikes.
If you're looking for a wide selection of bikes under a more affordable budget, we highly recommend checking them out.
On the other hand, we find their newer stocks to be limited but they still include quality brands like Merida and Trek. In the same vein, we would also say that their bike parts options aren't as wide as other stores.
We were very impressed, however, by their unique service offering of bike rentals. This is great for those looking to use bikes on specific occasions without committing to the large price tag.
They offer racing, hybrid and e-bike rentals at different duration packages. Keep in mind that they don't have an online shop so a visit to their store is essential.
All in all, they make an excellent choice for those looking for affordable options, bike rentals and wonderful in person customer service.
Offers a more affordable range of pre owned bikes that have warranties
Unique service of bike hire with different duration plans 
Has different affordable packages for bike servicing 
High praise for customer service
Newer bikes for sale are more limited in brand range
No online shop
Customer Reviews
All Perfect and On Time
Got my road bike serviced there. All perfect and on time. Perfect servicing for a very competitive prize. I do recommend them and I will definitely count on them on the future. -Jose Manuel García Otero
Always Accommodating and Provide Great Service
I've been going to Cycle Scene for five years now. The service is amazing, they are always accommodating, and they are providing a great service. Last year I bought a new bike with the "cycle to work scheme", and I couldn't be happier with the recommendations I got and my new bike! I also bought my lock, lamps, and other pieces of equipment there. Everything has great quality, and I didn't need to replace anything. 100% recommended. Thank you, Diarmuid and team! -Anais Charbonnier
2. The Edge Sports Superstore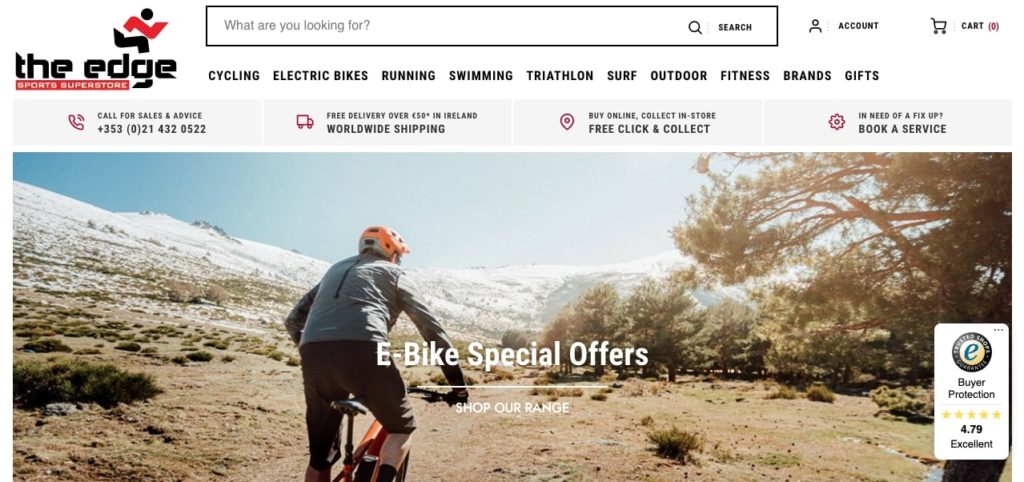 Test
Info
SERVICES AND PRODUCTS

Cycling: Biking, Clothing, Wheels, Tyres, Tubes, Parts, Accessories, Tech

Running, Swimming, Triathlon Surf, Outdoor, Fitness

Workshop Servicing

WEBSITE
https://www.theedge-sports.com/
ADDRESS
Kinsale Road Commercial Centre, 37-38 Kinsale Rd, Ballyphehane, Cork
CONTACT DETAILS

PHONE: +353 (0)21 432 0522

OPERATING HOURS

Monday to Saturday: 9:30 AM to 6:00 PM
| | |
| --- | --- |
| Products | ★★★★★(5/5) |
| Bicycles | ★★★★★(5/5) |
| Accessories | ★★★★★(5/5) |
| Services | ★★★★★(5/5) |
| Prices | ★★★★★(5/5) |
| Customer experience | ★★★★☆(4/5) |
| Payment and delivery | ★★★★☆(4/5) |
| Overall satisfaction | ★★★★☆(4/5) |
The Edge Sports Superstore is the perfect choice for bike enthusiasts and triathletes alike, offering various products for an all-in-one experience.
Since their opening in 2007, they have continuously expanded their selection of brands and services. We think customers will appreciate them for their wide range of brands which includes Cube, Argon 18, Orbea and more.
They also have more luxury brands like Cervelo. We highly recommend checking out their site because a lot of these bikes go on sale, making them quality affordable options.
We also appreciate their convenient features, with customers having the option to shop online then selecting "click and collect" for easy pickup. Take note, their free delivery scheme doesn't apply to bulkier items including bicycles.
The Edge Sports Superstore also has some great technology for those who want to select the best bike for them. They have a CRM Body Scanner, which allows customers to choose the best bike frame size for them.
We really like how personalized they make the shopping experience for their customers.
If you're also a triathlete looking for other equipment and clothing to pair with your bike, they also have a substantial selection to choose from. This includes anti chafing accessories to tri suits and tops.
If you're on the lookout for a personalized yet convenient bike shopping experience The Edge Sports Superstore offers all of this alongside a great selection for triathletes.
Convenient click and collect service 
Wide range of items for other sports, great for triathletes
Has a lot of various bicycle categories and on sale options
High tech CRM Body Scanners
Free delivery does not apply to bulky items including bicycles
Some sales and price reductions are not reflected on the site  
Customer Reviews
Helpful Staff and Has Everything you Need
This is an amazing sports shop . It has everything you need to do with cycling swimming . All water sports needs . Tha staff are very helpful and pleasant – Hetty Kinsale , IRL
Brilliant and Helpful People, Happy with Purchase
Amazing shop! But what makes it brilliant is the people. Helpful, friendly and they don't make you feel rushed. Thank you Linda you are such a sweety. We bought the bike bag we needed and found a front bag that's really difficult to find anywhere else. So happy!! -Darna Weinstein
3. Giant Store Cork
Test
Info
SERVICES AND PRODUCTS

Bikes: Road, Mountain, Cross and Gravel, Electric

Gear, Servicing

WEBSITE
https://www.giant-cork.ie/ie
ADDRESS
Unit 4 West Point Business Centre, Link Rd, Ballincollig Co.Cork
CONTACT DETAILS

PHONE: +353 (0) 21 428 9596

OPERATING HOURS

Tuesday to Friday: 9:00 AM to 6:00 PM

Saturday: 9:00 AM to 4:30 PM
| | |
| --- | --- |
| Products | ★★★★★(5/5) |
| Bicycles | ★★★★☆(5/5) |
| Accessories | ★★★★★(5/5) |
| Services | ★★★★☆(4/5) |
| Prices | ★★★★☆(4/5) |
| Customer experience | ★★★★★(5/5) |
| Payment and delivery | ★★★★★(5/5) |
| Overall satisfaction | ★★★★☆(4/5) |
Offering a good selection of various bike categories and bike gear, Giant Store Cork may be one of the best options out there for quality options.
What we like about them is that the store is run by cycling experts and enthusiasts. Numerous past customers have expressed praise for their friendly and efficient shopping experience.
This makes them the perfect choice for those looking for knowledgeable advice in both beginner bike selection as well as the latest designs and features.
We also appreciate that they host a lot of events and workshops. This makes a trip to their store feel more complete as it goes beyond just purchasing products but diving deep as well into upkeep and features.
In terms of their bike and gear range, we really like that they offer high quality products in different categories. From road to electric bikes, customers will be very impressed with the features and durability of the bike itself.
However, we don't think they have the largest range of products in certain categories. For example, they offer quite a few models under their kids bike category compared to other stores.
If you're looking for a shop with a wide selection to choose from and try out, this may not be the best option.
Nonetheless, Giant Store Cork offers invaluable expertise which can help cyclists at any skill levels. Paired with their high quality bikes, they make for the total package as one of the best bicycle shops in the area.
High praise for the efficient and friendly shopping experience 
Excellent quality features in models and designs
Good selection of bike and rider gear
Have skilled mechanics and cyclists who can service all bicycle brands
Charge of restocking fee in certain cases of returning bikes
Some bike categories are more limited in number of options 
Customer Reviews
Huge Variety in Bikes and Accessories
Great shop with huge variety in bikes and accessories. Staff extremely knowledgeable and helpful. Lovely showroom. Best shop in Ireland if you're looking to buy a bike. Any questions or issues I had were sorted through with the upmost professionalism. One of the only shops I've been to with stock on the showroom floor! -Stephen Gillman
Brilliant Service from Start to Finish
Bought a bike from this shop recently and could not fault them at all. The level of service from start to finish has been brilliant. Would definitely recommend. -Conor Keegan
4. Halfords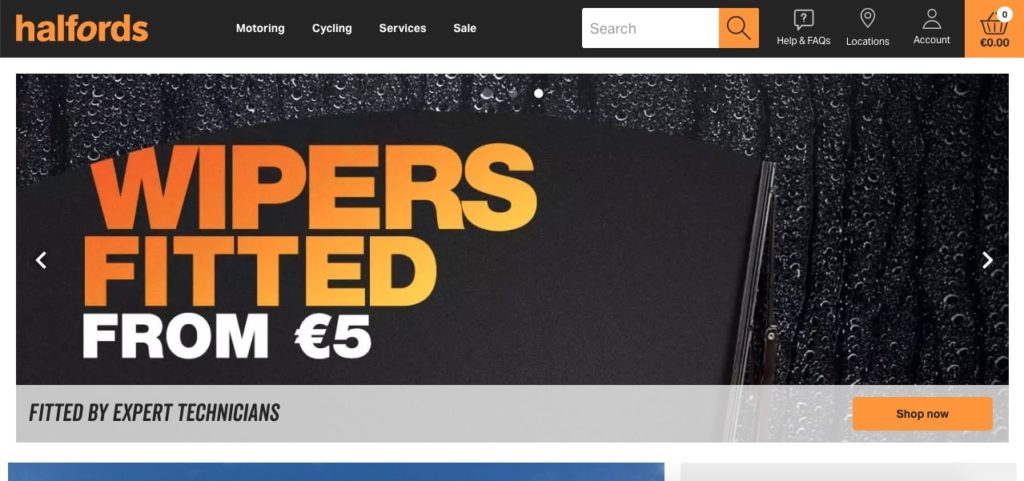 Test
Info
SERVICES AND PRODUCTS

Cycling Products: Accessories, Parts, Maintenance, Clothing, Scooters,

Bike Checks and Single Service Repairs and Packages

Motoring Products, Motoring Services

WEBSITE
https://www.halfords.ie/
ADDRESS
Unit 8, Mahon Retail Park, Co. Cork
CONTACT DETAILS

PHONE: +353 59 912 2025

OPERATING HOURS

Monday to Saturday: 8:00 AM to 6:00 PM

Sunday: 11:00 AM to 6:00 PM
| | |
| --- | --- |
| Products | ★★★★★(5/5) |
| Bicycles | ★★★★★(5/5) |
| Accessories | ★★★★★(5/5) |
| Services | ★★★★★(5/5) |
| Prices | ★★★★☆(4/5) |
| Customer experience | ★★★★☆(4/5) |
| Payment and delivery | ★★★★★(5/5) |
| Overall satisfaction | ★★★☆☆(3/5) |
Halfords is one of the more well-known motoring and cycling stores out there, offering convenient delivery features and other products for the outdoors.
What's impressive about them is that they offer one of the widest selections of bicycles in the area. From brands like Apollo, and Carrera to bike categories like full suspension mountain and folding bikes, they have a large number to choose from.
Additionally, we also like the feature on their website where they show low stock quantity and any applicable restock dates. It makes it all the more convenient for customers.
For those on the lookout for more affordable options, Halfords also has some sales from time to time with even some bikes priced around € 350.
The shop also rounds its selection out by carrying a wide selection of servicing options available. Customers can choose from single services for specific parts, a free bike check as well as three types of packages.
We find it to be a very thorough amount of options to choose from, able to suit a variety of different cyclists' needs. However, take note that some of these servicing packages may be a bit pricier compared to other stores.
Lastly, they make a great one stop shop for those looking for motoring products and services as well as camping equipment.
Halfords is definitely a solid choice for their wide range of bikes, biking items and motoring products. They have some great options as well if you're on the lookout for a customizable selection of bike servicing.
Have a lot of discounts from time to time
Also offers a wide range of motor, camping and leisure products
Very large selection of bike categories
Lots of servicing options for different cycling and motoring concerns 
Slightly pricier bike servicing packages 
Some customer complaints on in store service
Customer Reviews
Tons of Selections
Me and my fiancè bought two hybrid bikes. There were tons of selections, one stop shop for all cycle lovers as they have all the accessories needed. Staff are helpful and friendly, happy to give assistance to customers. Very reasonable prices. -Uge Ursua
Staff were Brilliant through the Whole Process
Went in search of an Electric men's bike which I wanted to purchase through the bike to work scheme. Staff were brilliant through the whole process and couldn't have been more helpful. Great service! Thanks guys -Peter Desmond
5. Bicycle Solutions Ireland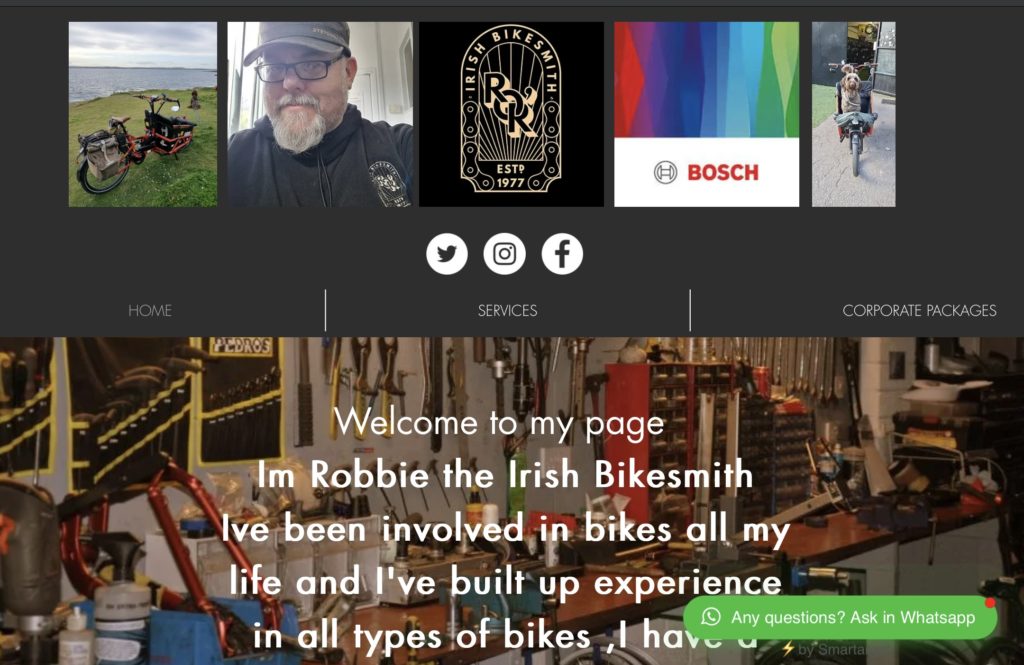 | | |
| --- | --- |
| SERVICES AND PRODUCTS | Adjust  brakes, Adjust gears, Check full bike, Oil chain, Pump tyres, Clean down, Oil cables, Degreasing, Recharging changing cables, Frame polish, Wheel tune spoke adjust, and Full bike report  |
| WEBSITE | https://www.bicyclesolutionsireland.com/ |
| ADDRESS | Ireland |
| CONTACT DETAILS | [email protected] |
| OPERATING HOURS | Monday to Friday: 8:00 AM to 6:00 PM |
| | |
| --- | --- |
| Products | ★★★★★(5/5) |
| Bicycles | ★★★★★(5/5) |
| Accessories | ★★★★★(5/5) |
| Services | ★★★★★(5/5) |
| Prices | ★★★★☆(4/5) |
| Customer experience | ★★★★☆(4/5) |
| Payment and delivery | ★★★★★(5/5) |
| Overall satisfaction | ★★★☆☆(3/5) |
At Bicycle Solutions Ireland, we were left utterly impressed by their exceptional services and unwavering commitment to catering to every cyclist's needs.
From novice riders to seasoned pedal pushers, our experience with their team left no room for disappointment.
When it comes to convenience, Bicycle Solutions Ireland has set the gold standard.
Our encounter with their user-friendly website and seamless booking process reflected their dedication to ensuring a hassle-free experience.
Whether it was a last-minute tune-up or a comprehensive bike fitting, they had us covered with promptness and precision.
Reputation speaks volumes, and Bicycle Solutions Ireland boasts a resounding chorus of satisfied customers.
Our own interactions mirrored the acclaim we had heard. Their knowledgeable staff effortlessly guided us through a wide array of options, proving their expertise isn't just hearsay.
Trust is hard-earned, and they've certainly earned ours.
Cost, often a thorny subject, was approached with admirable transparency. Our wallet didn't wince when we saw their competitive prices.
Bicycle Solutions Ireland offers value that matches their quality, without leaving us feeling like we've been taken for a ride. Our hard-earned money found a home where it was respected and reciprocated.
One of the crowning jewels of Bicycle Solutions Ireland is their personalized approach. Our visit wasn't just another transaction; it was an engaging and collaborative experience.
Their attentive consultants listened to our preferences and requirements, ensuring the final product was a tailor-made marvel. We weren't just sold a bicycle; we were welcomed into a community, which we love.
However, they don't offer promos at the present. We suggest checking their website to find other affordable deals.
Expert guidance
Convenient services
Transparent pricing
Outstanding reputation
Customer Reviews
"Bicycle Solutions Ireland transformed my cycling experience with their expert advice and top-notch service. They listened to my needs and provided a perfect bike fit, making every ride a joy."
"Impressed by Bicycle Solutions Ireland's seamless online booking and quick turnaround. Their friendly staff ensured I got the most out of my budget without compromising quality. Highly recommended!"
6. McCarthy Cycles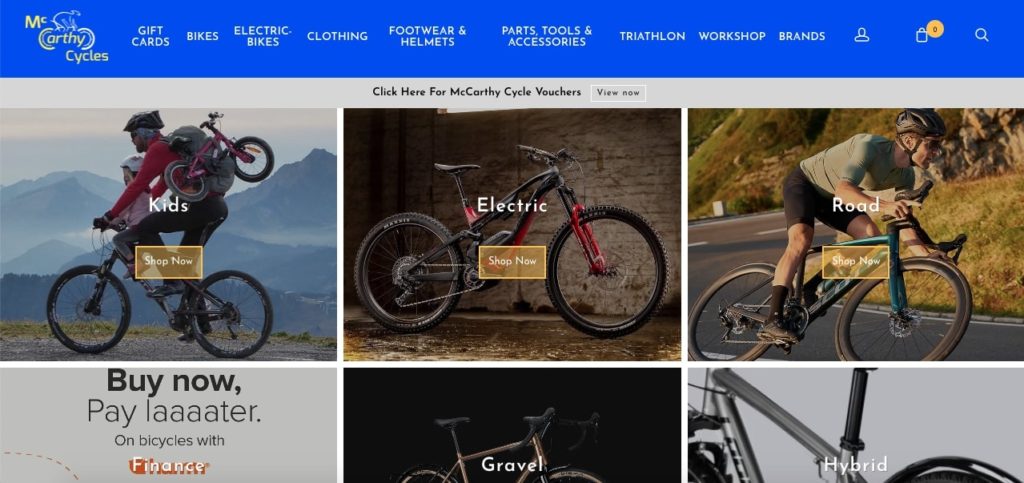 Test
Info
SERVICES AND PRODUCTS

Clothing, Footwear and Helmets

Parts, Tools, Accessories

Triathlon, Workshop

Bikes, Electric Bikes

WEBSITE
https://www.mccarthycycles.com/
ADDRESS
9 Northpoint Business Park, Mallow Road, Cork
CONTACT DETAILS

PHONE: +353 21 421 1807

OPERATING HOURS

Weekdays: 9:00 AM to 6:00 PM

Saturdays: 9:00 AM to 5:00 PM
| | |
| --- | --- |
| Products | ★★★★★(5/5) |
| Bicycles | ★★★★☆(4/5) |
| Accessories | ★★★★★(5/5) |
| Services | ★★★★★(5/5) |
| Prices | ★★★★☆(4/5) |
| Customer experience | ★★★★★(5/5) |
| Payment and delivery | ★★★★★(5/5) |
| Overall satisfaction | ★★★★★(5/5) |
McCarthy Cycles was founded back in 2015. Nowadays, they have a good variety of all things cycling related from biking essentials and even custom builds.
We really like that they carry a balanced selection of men's, women's and kid's bikes. Customers will also like that under each category they have a good amount of different brands, designs and prices available.
If you're purchasing bikes for the whole family, we highly recommend checking out their shop.
However, a lot of their items can get out of stock frequently so it would be best to check the website or inquire with them beforehand if you have any specific model in mind.
On top of their wide product list, McCarthy Cycles also offers help with custom builds. Their staff are bike enthusiasts themselves so they offer solid advice on what types of modifications are doable.
Many past customers have noted their pleasant experiences in discussing with the staff the best options and services to select for their bike. Even for beginners, we like that their customer service makes the whole bike purchasing process approachable.
We think customers will appreciate the three different tiers they have for servicing options. From minor tune ups to thorough inspections, they can address many different concerns you may have in maintaining your bike.
McCarthy Cycles is an all-in-all wonderful option, as a bicycle shop because they offer bikes for all age ranges and services that will delight cycling enthusiasts and triathletes.
Friendly staff who provide consistent communication and detailed information 
Also offers footwear, clothing, parts and accessories
Triathlon section makes it a great one stop shop for athletes
Very thorough and detailed service packages
Have a lot of out of stock products
Returns policy only lasts for 30 days
Customer Reviews
Responded Quickly and in Detail
Really great experience! Had the exact bike I wanted that I couldn't get shipped from the UK to the Netherlands, responded quickly and in detail, and the purchase was really easy. Delivered in around a week and nicely packaged. Highly reccommend this store. Thanks guys! -James Price
Brilliant Mechanics, Friendly and Brilliant Service
Absolutely love the place. Everyone is so friendly, brilliant mechanics and service at McCarthy's. Price is very very reasonable too! They work very hard to ensure your bike is in perfect working order, even those tough unidentified noises are sorted. Really great at looking after you on tight deadlines when you drop your bike in at a moment's notice. Thanks McCarthy's!!! -Conor O Callaghan
FAQs about Bicycles
---
Just like any other vehicle, a bicycle should be well maintained and carefully considered before purchasing. We hope our list helps you explore the best shop options out there for your next bicycle.
If you would like to read more, we also have an article on the best bicycle shops in Dublin.