Is Dublin Good for Shopping?
Looking for a shopping destination that offers both international brands and local flair? Dublin is the answer!
With its unique shopping districts, bustling markets, malls, and talented local designers, Dublin has everything you need for an unforgettable shopping experience.
Why is Dublin good for shopping?
Dublin is good for shopping because it's filled with malls, boutiques, and markets selling various products from different sources locally or abroad.
Shopping is also good in Dublin because of the convenience of nearby hotels, and non-EU residents can enjoy tax-free shopping.
What is the main shopping street in Dublin?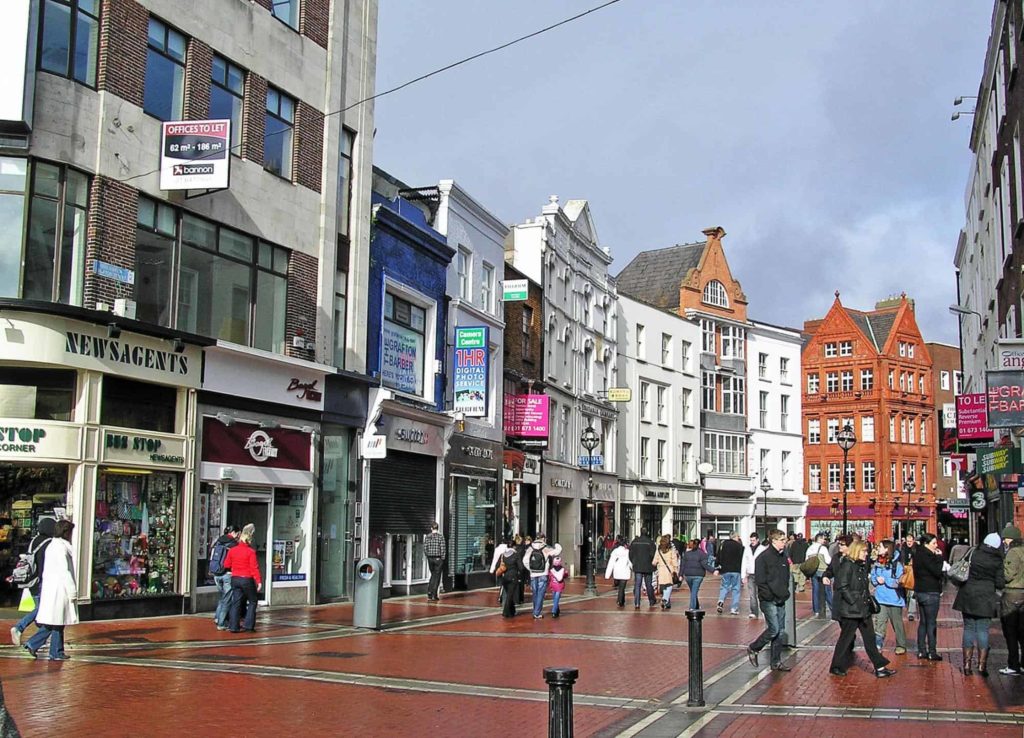 Gratfon Street and Henry Street are the two main shopping centers in Dublin.
Grafton Street is the main shopping center in Dublin because it has everything you need. You can find clothes, fabrics, electronics, gifts, and even food there.
It has a lot of stores that are unique to the area. The street itself is also a popular tourist destination, so it makes sense that many of the stores would be geared toward tourists.
The stores on Grafton Street range from high-end to low-end, so there's something for everyone. You can find anything from designer clothing to kitchen supplies at bargain prices.
Plus, it's close to Trinity College and St. Stephen's Green Park, and is in the heart of Dublin, which attracts a lot of tourists from all over the world.
What's more, the street itself has a lot of pedestrian traffic, so it's great for people-watching and window shopping.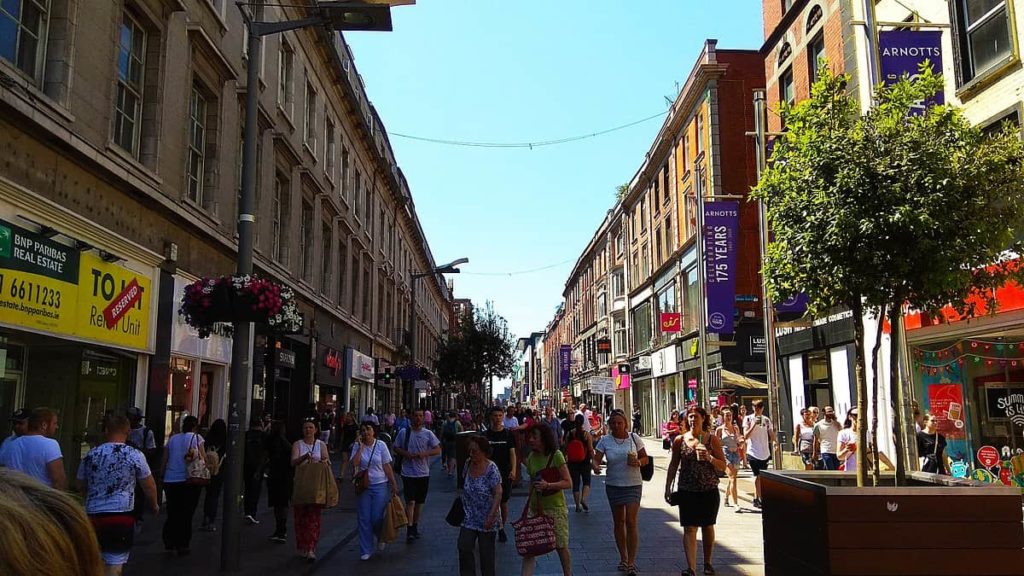 Meanwhile, Henry Street has a convenient location, range of shops, historic charm, and pedestrian-friendly environment with the recent introduction of pedestrian zones.
Not just that, but it's also easily accessible by public transport and is home to a wide range of shops catering to various budgets and styles.
Where can you go shopping in Dublin?
We've compiled a list of shopping districts and centers in this article to guide you where to have the best shopping experience in Dublin. Here are some of them:
1. Stephen's Green Shopping Centre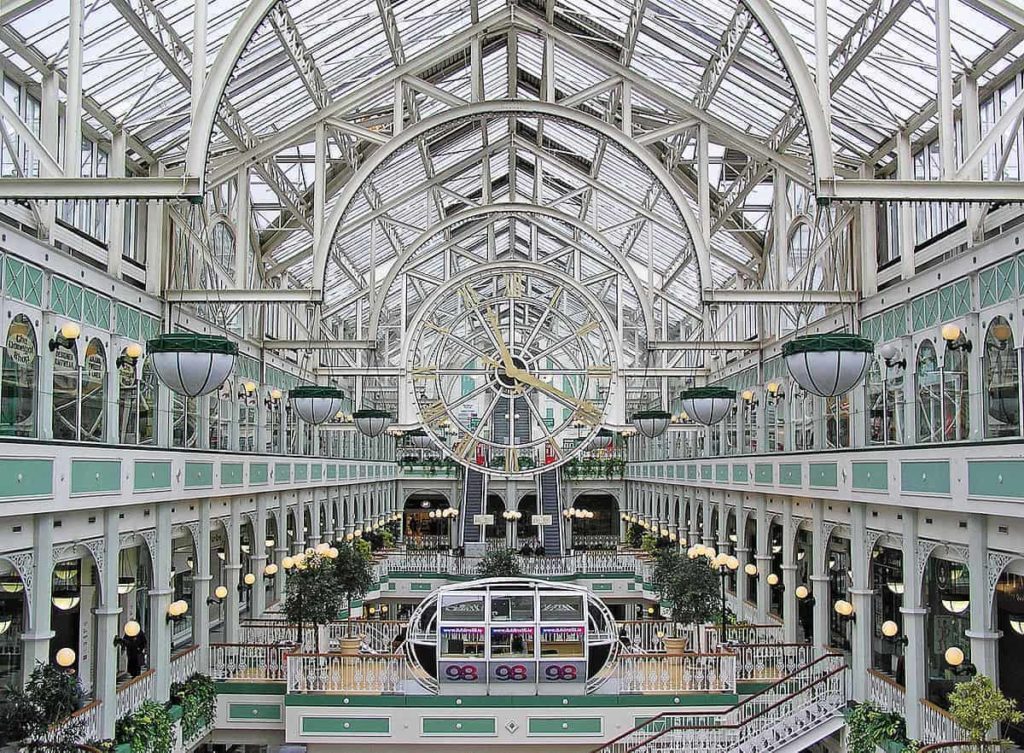 Stephen's Green Shopping Centre is located in the heart of Dublin 2, on the corner of St. Stephen's Green and Grafton Street.
It's one of the best shopping spots in Ireland because of its location. It's very accessible via public transportation or private vehicles.
It's known for its unique architecture featuring a stunning glass roof and a central atrium that creates a bright and airy shopping experience. A mint green shade also dominates the atmosphere of this mall to make shopping a little fun.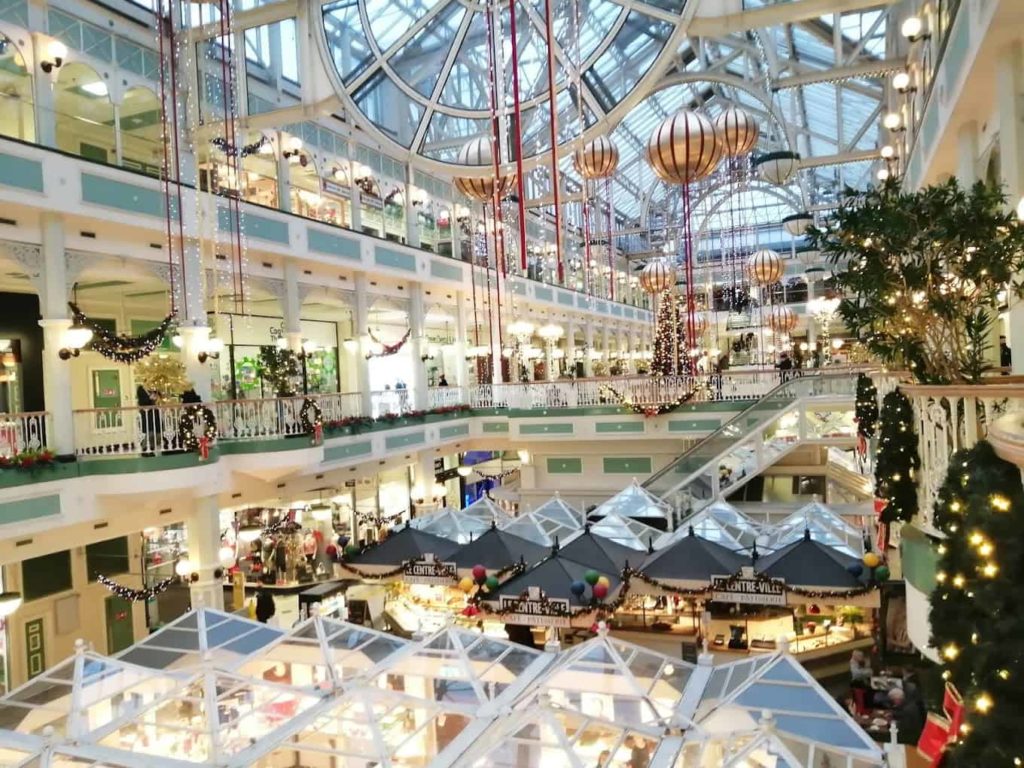 Like other huge shopping malls abroad and in Ireland, the Stephen's Green Shopping Centre houses a number of high-end and luxury fashion brands, household goods and furniture, among others.
Another great reason to shop here is you'll never get hungry or run out of options for dining. This is because its food court is filled with different restaurants and fast food on varying cuisines and rates.
The average budget for shopping at Stephen's Green Shopping Centre will depend on your individual preferences and the types of items you are looking to purchase. A budget of around €50-€100 should be sufficient for a decent shopping experience
For more details on this mall, you can check out its website at https://stephensgreen.com/ 
2. Jervis Shopping Center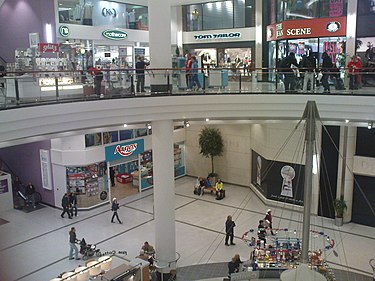 Looks like someone is in the mood for some retail therapy!
If you're looking for a shopping center that's smack-dab in the middle of all the action, then go to Jervis Shopping Centre. It's situated along Jervis Street, which is a bustling shopping district.
In case you want a look of the mall but can't physically go, you can take a look at its website at https://jervis.ie/. 
It's known for its wide range of stores, offering everything from high street fashion to luxury brands, as well as a variety of restaurants, cafes, and entertainment options.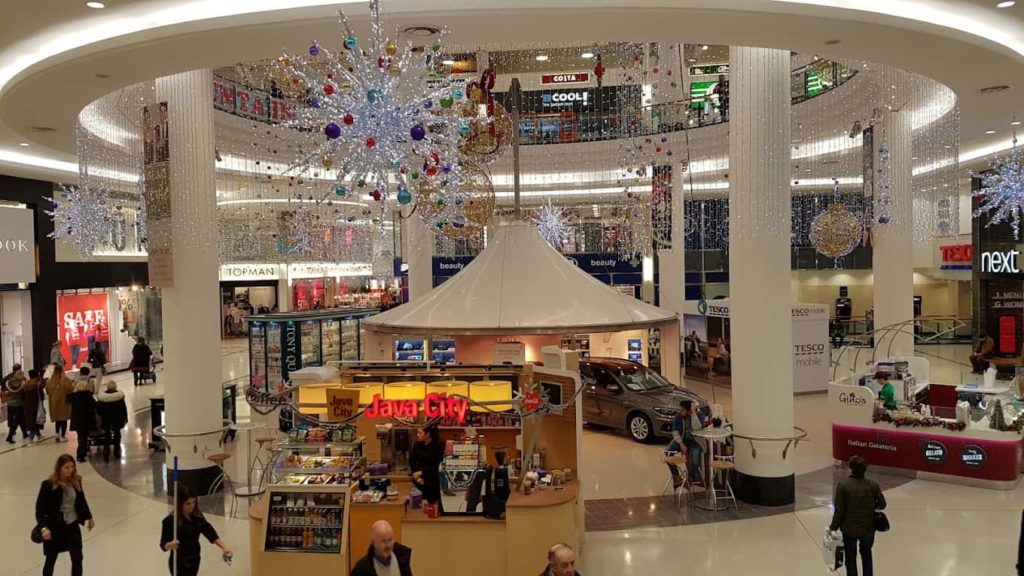 What's more is it's home to one of the largest and most popular cinemas in Dublin, which is located on the top floor of the shopping center. This cinema is known for its state-of-the-art facilities and a wide selection of films.
Just like in other big stores in Dublin, you'll need around €100 to enjoy Jervis Shopping Center. You can add more to that budget if you plan to watch a lot of films here!
3. Moore Street Mall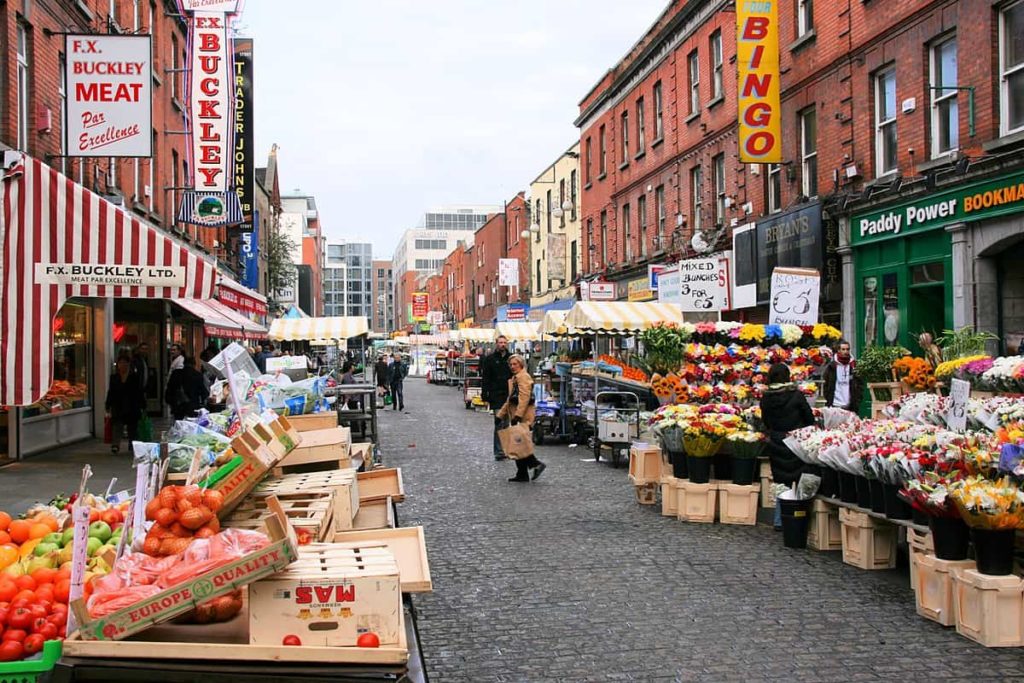 Are you ready to discover the ultimate shopping destination in Dublin? Look no further than the Moore Street Mall.
Located in the heart of Dublin's historic Moore Street, this shopping center is a treasure trove of amazing finds, from fresh produce to designer goods.
For Google, this place is known for its " Polish, Brazilian & African food markets, cafes & buffet restaurants."
It features a unique mix of indoor and outdoor shopping. This allows you to pick up everything from juicy fruits and vegetables to the latest fashion trends, all while enjoying the bustling street atmosphere.
That's not all! If you're a foodie, you'll be in heaven here. The Moore Street Mall is home to some of the most mouth-watering food stalls and vendors in the city.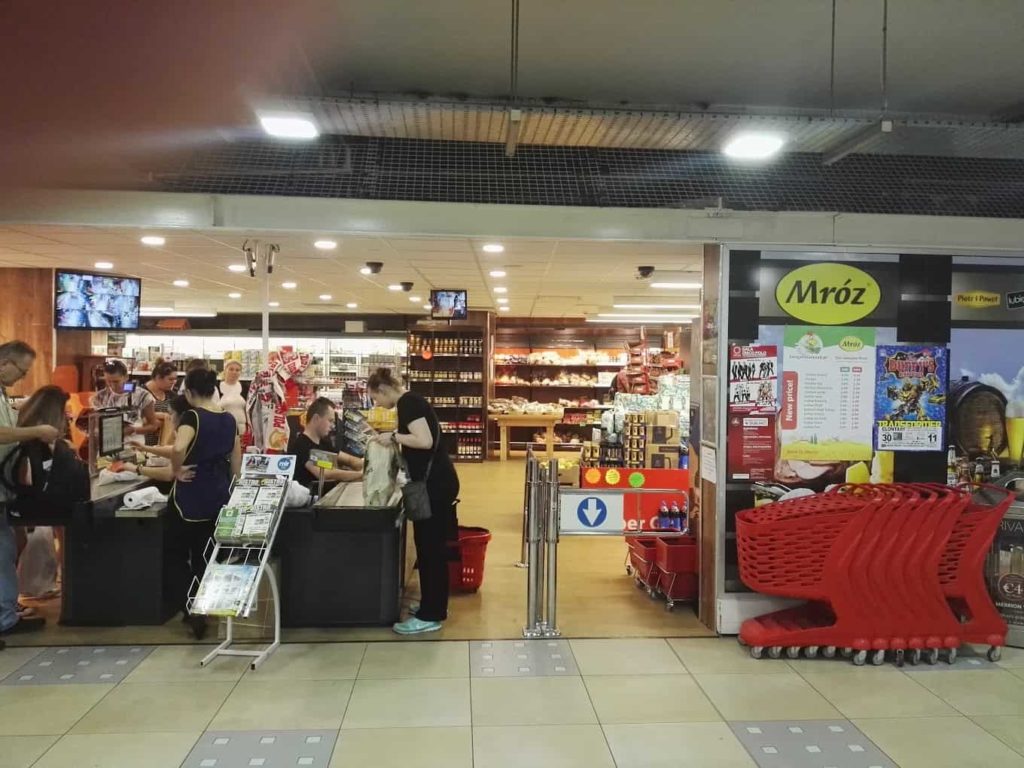 The most special thing here is it's a vibrant cultural hub that celebrates the unique history and heritage of Dublin's Moore Street area.
Here, you'll find a colorful mix of street performers, musicians, and artists showcasing their talents and adding to the lively atmosphere.
So, if you're into anything local, here's the place to be! You'll need around €70 to shop here depending on your shopping style.
4. Dundrum Town Center
A highlight in the bustling suburb of Dundrum, just a short hop from Dublin city center, this shopping mecca is home to over 100 stores, restaurants, and entertainment options.
Whether you're looking for the latest trends in comfort to luxury fashion, quirky boutiques, or delicious eats, you're sure to find it all here.
Dundrum Town Centre is not just a shopping destination, it's an experience.
You can take a break from browsing the latest trends and catch a movie at the state-of-the-art cinema, or unleash your inner child at the indoor adventure park.
And if you're feeling peckish after all that shopping and entertainment, Dundrum Town Centre has got you covered. You can enjoy a wide range of dining options here with various menus.
If you're a heavy shopper, €100 may not be enough, especially if you're into luxury brands. Make sure to check the store schedules before getting there to avoid the hassle.
You may drop by here along Sandyford Road, Dundrum, Dublin 16, or check its complete shops list at https://www.dundrum.ie/. 
5. Ilac Shopping Center
Ilac Shopping Centre stands along Henry Street, just a stone's throw away from O'Connell Street, one of the city's main thoroughfares.
It's easily accessible by public transport, with numerous bus stops and the Jervis Street Luas stop just a short walk away.
As for what you can find at Ilac Shopping Centre, well, the question should be what can't you find here! The shopping center is home to over 80 stores, including fashion boutiques, bookshops, electronics stores, and much more.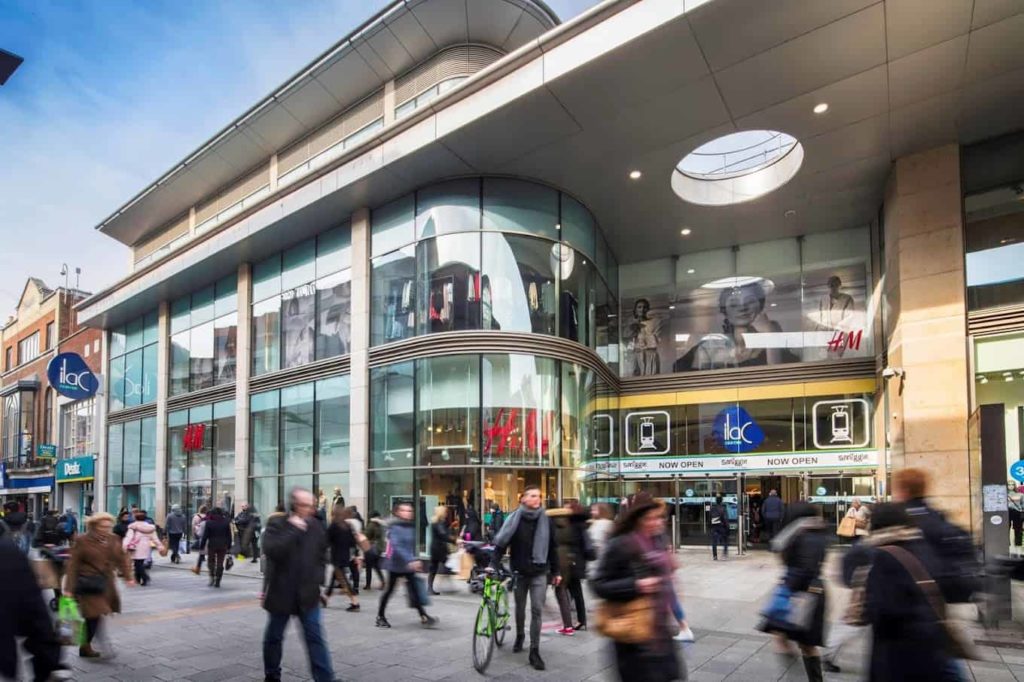 But Ilac Shopping Centre is not just about shopping, but it's a hub of entertainment and cultural experiences. You can catch a movie at the cinema, grab a coffee and people-watch, or check out the latest art exhibition in the Centre's gallery.
It's been around since the 1980s and has undergone numerous transformations over the years, but has always remained a firm favorite among locals and tourists alike.
Ready to shop? You don't need to spend much as long as you shop wisely!
The mall can be checked online at https://www.ilac.ie/ or physically along Henry Street, North City, Dublin 1.
6. Liberty Market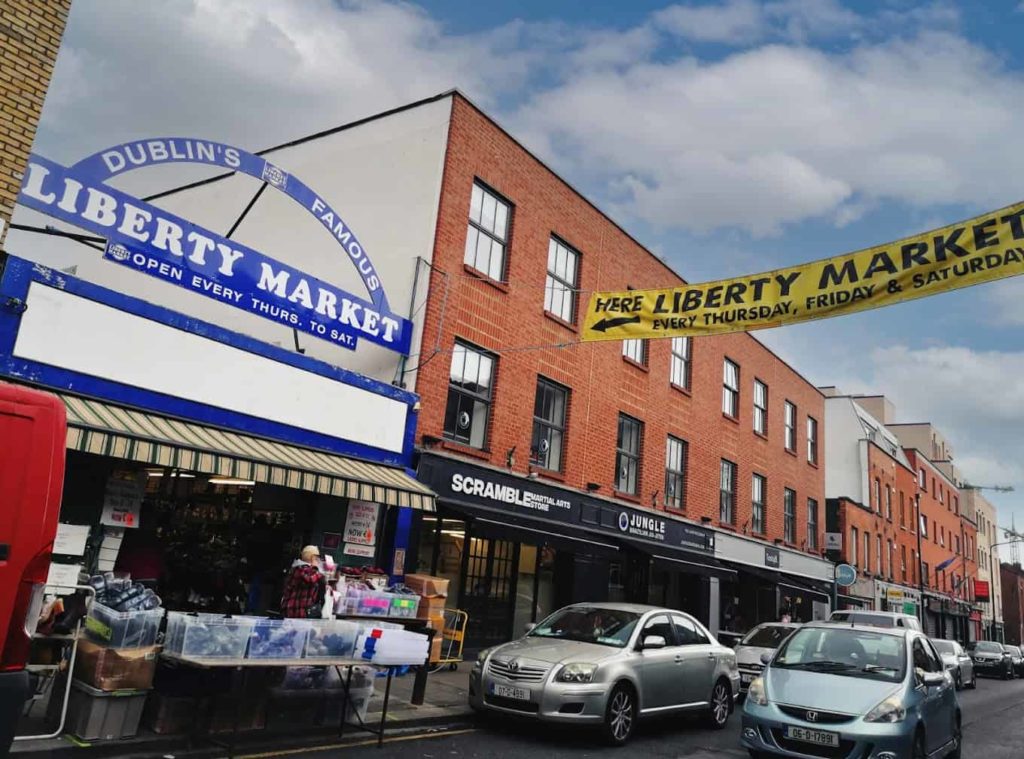 Looking for unique and affordable items made by locals? I think I just found the right spot for you!
Shopping at Liberty Market isn't like going to big malls, it's an experience you can't resist when in Dublin because it's a place of culture and arts which is its top feature.
It's strategically placed along Meath Street at The Liberties area of Dublin and is a popular destination for bargain hunters.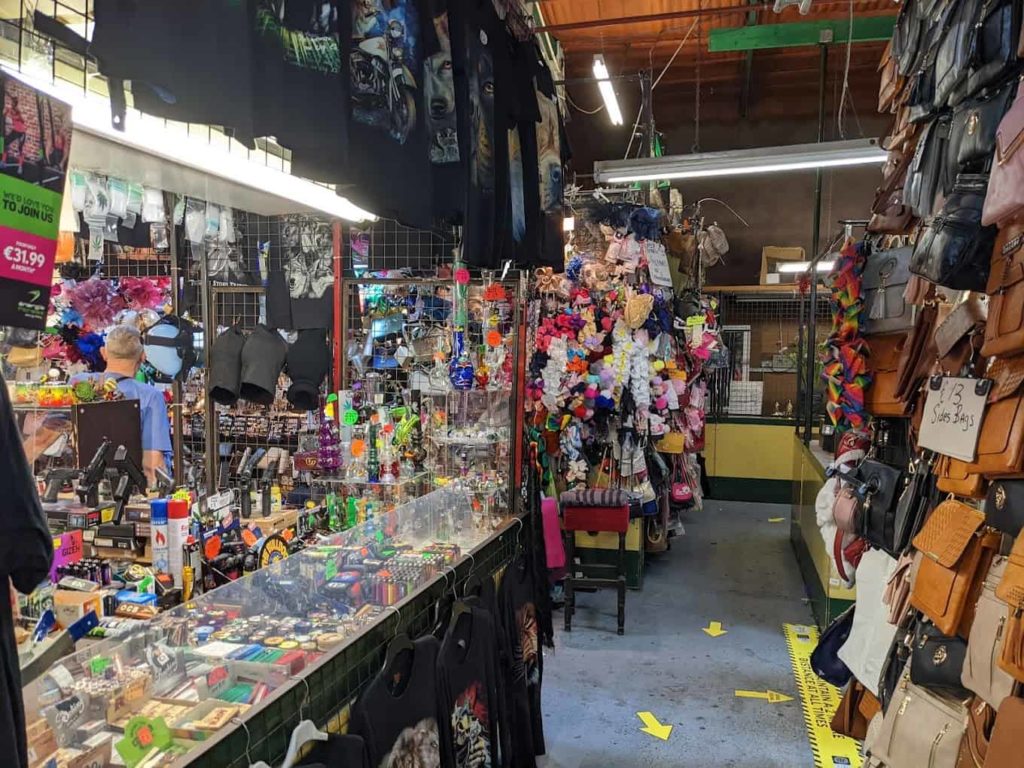 The market offers a variety of goods, including clothing, accessories, household items, and fresh products.
Many visitors to the market enjoy the lively atmosphere and the chance to haggle with vendors for the best prices.
Some of the great finds at Liberty Market include vintage clothing, handmade crafts, and unique souvenirs.
If you are interested in visiting the Liberty Market, I recommend doing some research to find out the current location and opening hours.
As for budgeting, you don't need to bring much if you don;t plan on buying on bulk. As I've said, you can negotiate the price here.
Plan ahead by visiting its site at https://www.libertymarket.ie/. 
7. Liffey Valley Shopping Center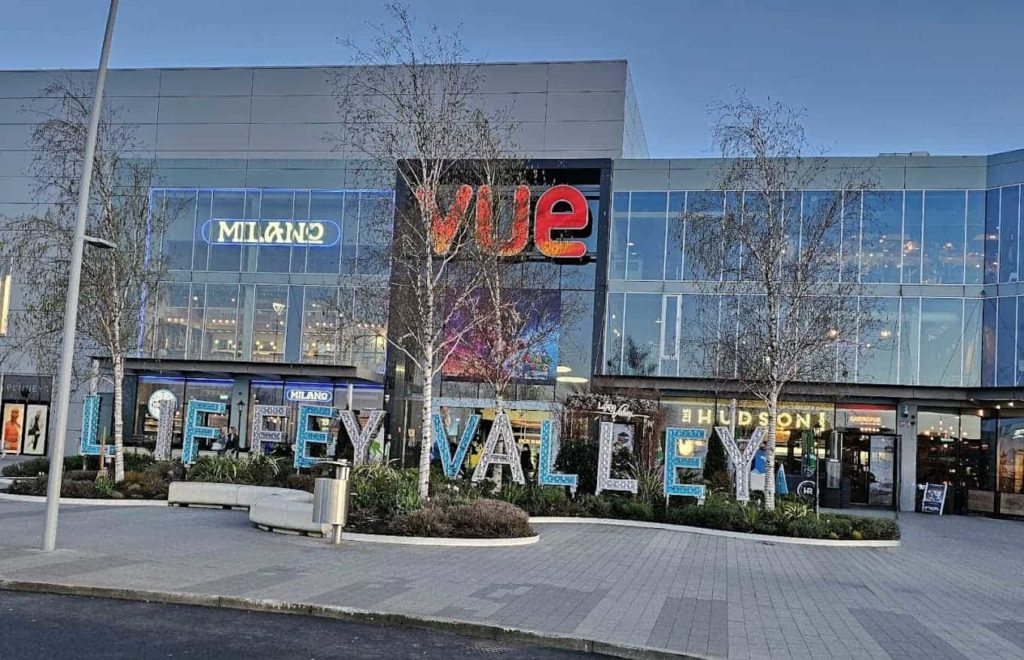 Liffey Valley Shopping Centre is an accessible modern shopping establishment in Clondalkin or just west of Dublin city center.
To get here, you can use your own vehicle or travel via public transportation.
The shopping center is known for its huge size and shop variety.
It has over 100 stores for fashion retailers, electronics stores, home decor shops, and a variety of restaurants and cafes.
Some of the popular stores at Liffey Valley include H&M, Zara, Boots, and Dunnes Stores. There is also a cinema, a bowling alley, and a fitness center located within the complex.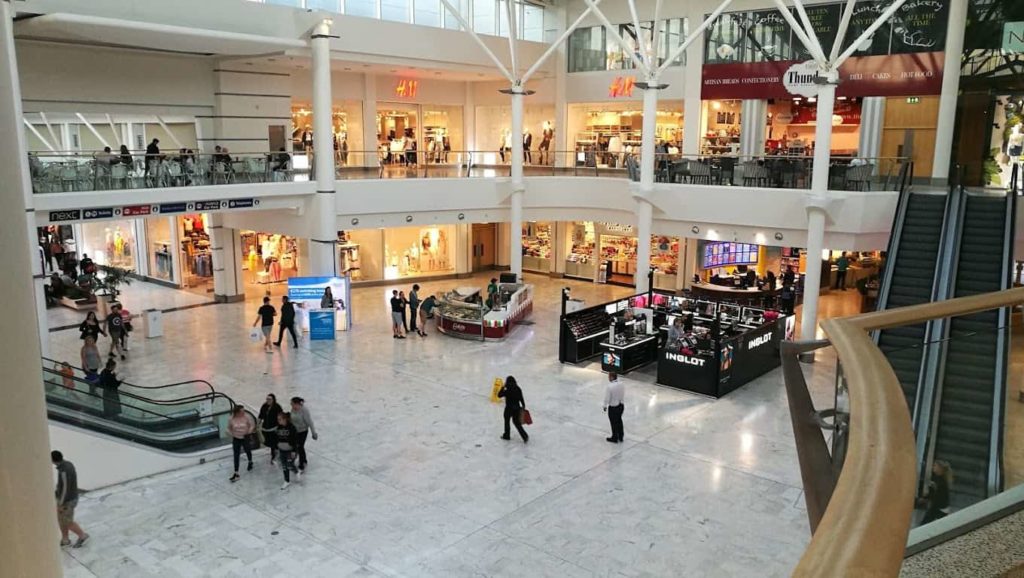 You'll also enjoy, if not get tired, of walking in one of Ireland's biggest malls. You can view its map on its website if you want to plan your trip ahead.
You won't have to worry about when to go here as it's open seven days a week, and parking, from what we've heard, is free of charge.
Again, your budget will depend on your shopping level here,but a hundred euros can definitely cover your wants for a day!
Visit its website at https://www.liffeyvalley.ie/ or visit it along Fonthill Road, Clondalkin in Dublin 22.
8. Blanchardstown Center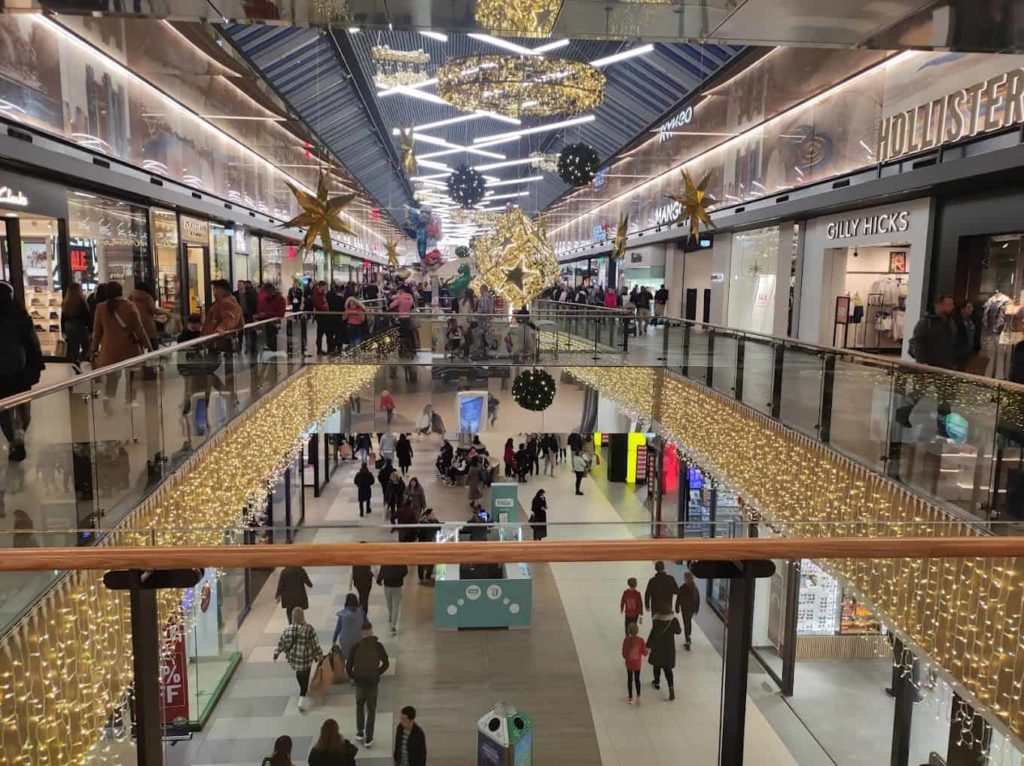 Blanchardstown Centre is one of Ireland's largest and most popular malls because of its location, stores, restaurants, and products sold.
Like other big malls, various clothing brands and a variety of restaurants and cafes are here. Some of the popular stores at Blanchardstown Centre include H&M, Penneys, Zara, Debenhams, Tesco, and many more.
The variety of stores and brands here is what makes this place special.
When you feel like being generous, you can buy gift cards here to spoil your friends and loved ones through shopping.
Also, the mall has a modern design, spacious layout, and a large selection of shops and restaurants.
You can also try doing some activities other than eating and shopping, as the mall features a cinema, bowling alley, and an indoor adventure park.
Additionally, Blanchardstown Centre hosts a variety of events throughout the year, such as fashion shows, seasonal celebrations, and charity events.
For more information, check out its updates at https://blanchardstowncentre.ie/. 
9. George's Street Arcade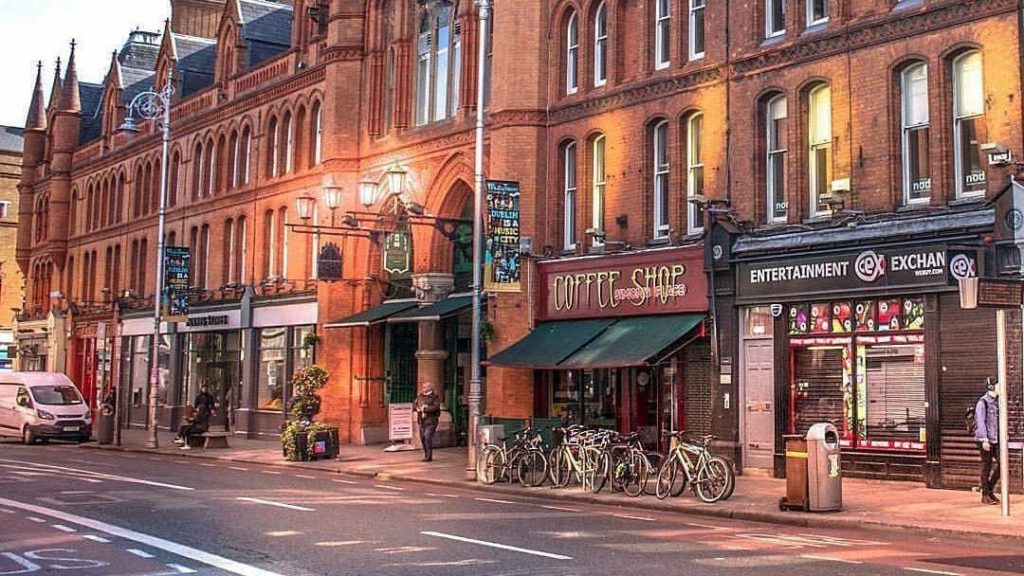 George's Street Arcade is a popular spot and known for its historic indoor market on George's Street South, just off Dame Street and close to Grafton Street.
It's very accessible and is rightly placed in Dublin's shopping districts.
What makes George's Street Arcade unique is its historic architecture and its wide range of independent retailers and traders.
What's good about this mall is it sells almost everything, including vintage clothing and accessories to handmade crafts, jewelry, books, and music.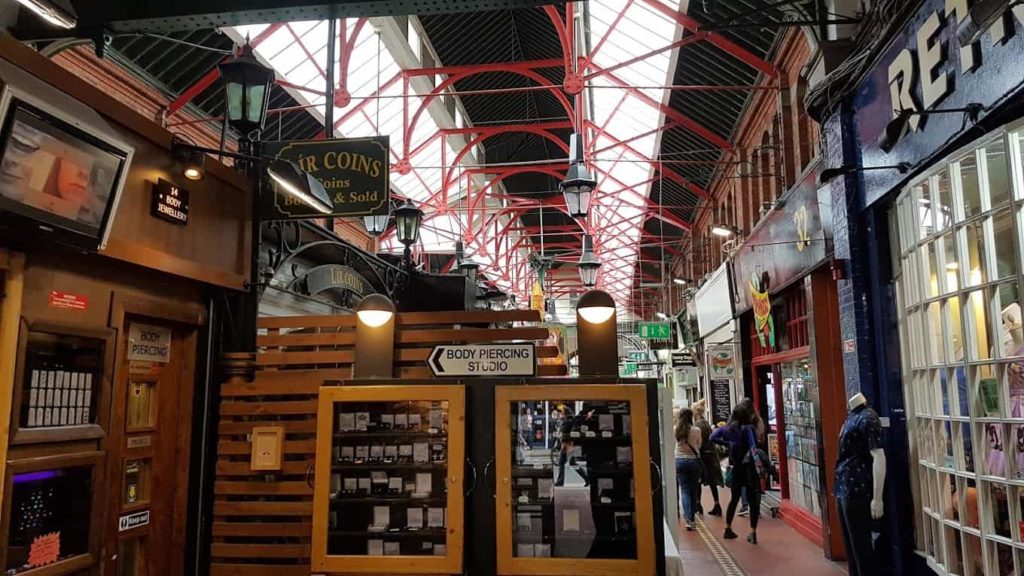 The arcade is also home to a variety of cafes and food stalls serving up international cuisine, including Thai, Italian, Mexican, and Lebanese, among others.
It's a popular spot for lunch, a quick snack, or a cup of coffee, and the atmosphere is lively and bustling.
Another unique feature of George's Street Arcade is its regular events, including live music performances, art exhibitions, and pop-up shops.
The market has a community feel, and many of the traders have been operating there for years, adding to the unique charm of the place.
It's one of the places that we recommend you to visit first when you plan on shopping in Ireland because of its atmosphere. More mall events can be seen at https://georgesstreetarcade.ie/. 
10. Disney Store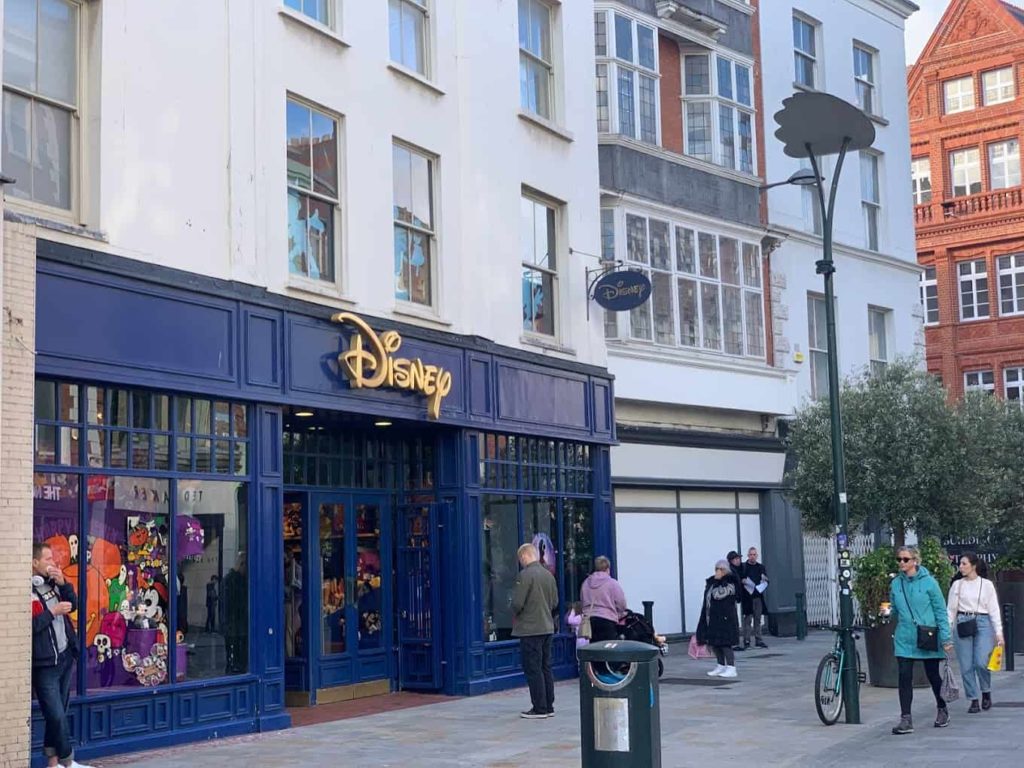 Want to shop as you heal your inner child? We can tell you where to go!
There's actually a place called the Disney Store located in Dublin's Jervis Shopping Centre.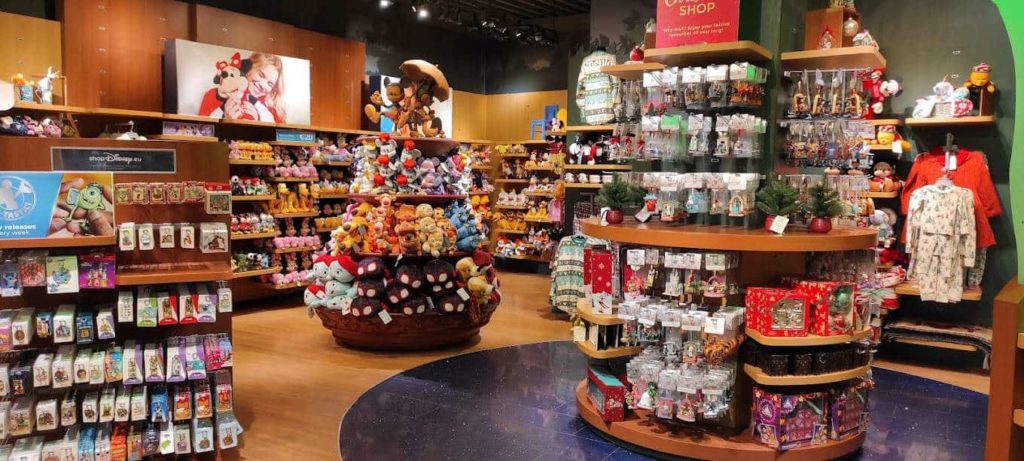 At the Disney Store, you can enjoy a wide range of merchandise inspired by your favorite Disney characters, including toys, clothing, home decor, and accessories.
And if you're a Disney fan, you'll have plenty of options of products inspired by classic characters like Mickey and Minnie Mouse to newer favorites like Moana and Elsa from Frozen.
Plus, all the products sold here are authentic.
The shop is open daily, so don't miss out on the Disney fun! For schedule and product updates, here's a link to check them all https://stores.disneystore.ie/leinster/dublin/D350%20967/. 
Now that you know where to go, you only have a few things to remember. Firstly, plan your shopping ahead to avoid inconveniences. And lastly, shop responsibly and do not overspend.