Kayaking Dublin: Top Destinations for Exciting Water Adventures
Have you ever wondered what Dublin looks like from the water? If you love the water and want to see a different side of Dublin, kayaking is a perfect activity for you.
Kayaking in Dublin is a great way to explore the beauty and diversity of this lively city and county. Whether you choose to paddle along the coast, the canals or the river, you'll see amazing nature, wildlife and scenery.
What are the top destinations for kayaking in Dublin?
If you want to kayak in Dublin, you should visit Dublin Bay, the River Liffey, and the canals. These are the top destinations with views of the city and the coasts, landmarks from a new angle, and a calm and historical atmosphere.
We have compiled a list of our recommend kayaking spots in Dublin for you to check out!
Dalkey Island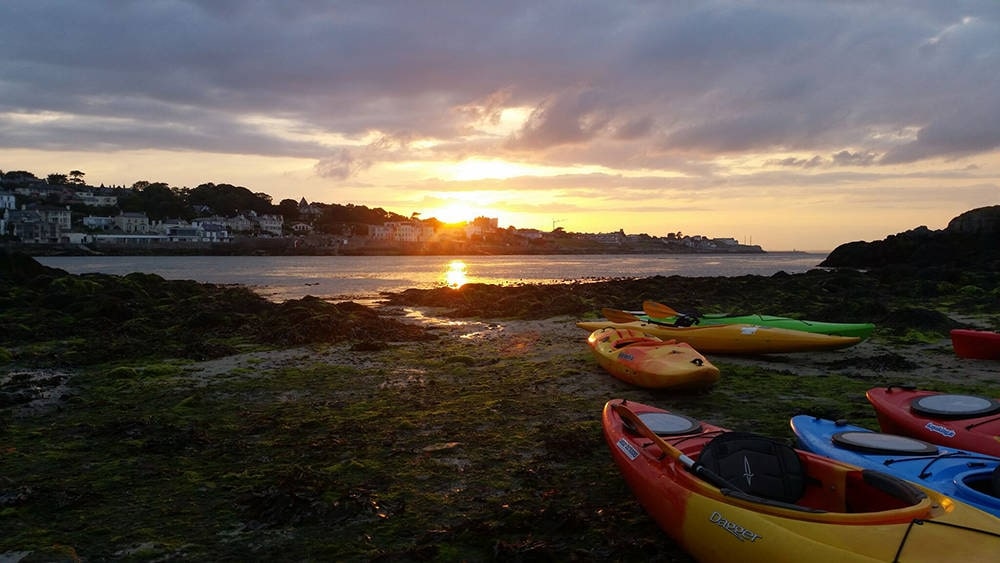 Tour Information
Guiding Agency
Meeting Place
Schedule
Rates
Kayaking.ie
Bullock Harbour, Dalkey
• Daily - 10 AM or 2 PM

• Thursday & Fridays (Sunset Tours) - 5:30 PM

€69
Portobello Adventure
Killiney Beach, Killiney
Saturday & Sunday - 2:30 PM or 5:30 PM
€45
Dalkey is a great place to start your kayaking adventure along the stunning coastline of Dublin. It's a small village, easy to get to by DART from the city center, and it has a beautiful harbor where you can launch your kayak.
As you paddle along the coast, you have the chance to enjoy the views of the city, the hills and the mountains.
One of the highlights of kayaking in Dalkey is visiting Dalkey Island, which is just across the sound from the harbour. The island is uninhabited but rich in history and wildlife.
In the island, you'll see the Martello tower that dates back to 800AD and the remains of St Begnet's church. You might also spot seabirds, seals, rabbits and goats on the island.
Pro Tip:

The best time to go kayaking in Dalkey Island is during the summer months, when the weather is warmer and the water is calmer. You can also enjoy a sunset tour in the evening and see the beautiful colours of the sky and the sea.
River Liffey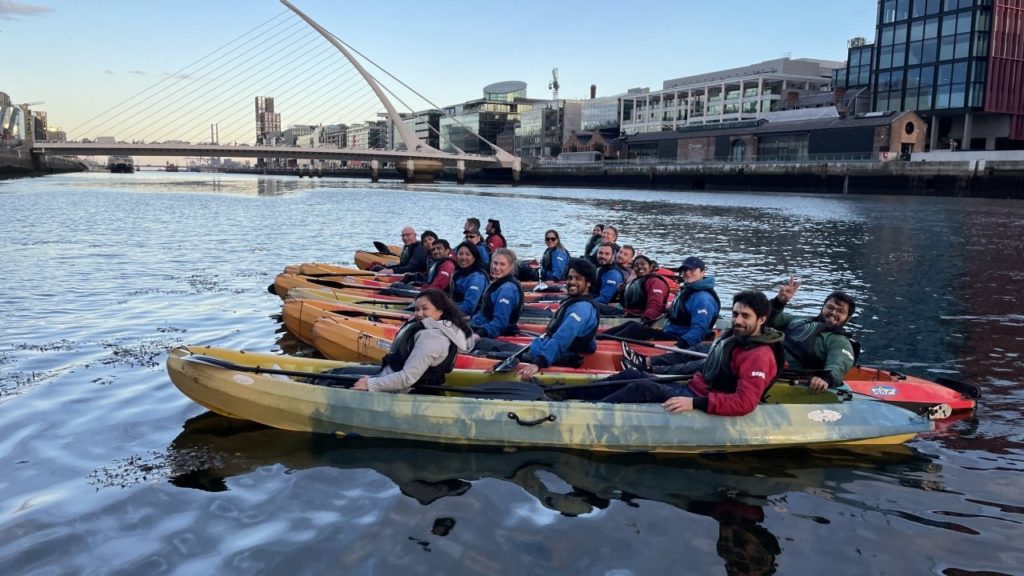 | Tour Information | | | |
| --- | --- | --- | --- |
| Guiding Agency | Meeting Place | Schedule | Rates |
| City Kayaking | Dublin City Moorings | Daily (depends upon availability) | €38 |
Kayaking through the city centre is a great option for those who want to see Dublin from a new angle.
River Liffey is an ideal place to do paddling while admiring the landmarks of the city, such as the Custom House, the docklands and the famous bridges. Under the bridges tour, live musicians will entertain you with their music as you glide past them.
You need to be at least 8 years old and reasonably fit to kayak in the city centre using open-top kayaks that can fit two or three people.
The tours are timed for the tides, so you can kayak under the bridges at certain times of day. You have two options: a 90-minute tour that covers the city-centre or a longer tour that goes up to Islandbridge, where the river is more wild and natural.
Pro Tip:

You should be prepared for some wobbling and veering on the river. To avoid difficulty steering and balancing on the river's currents and rapids, you should follow your instructor's advice and practice your strokes beforehand.
Grand Canal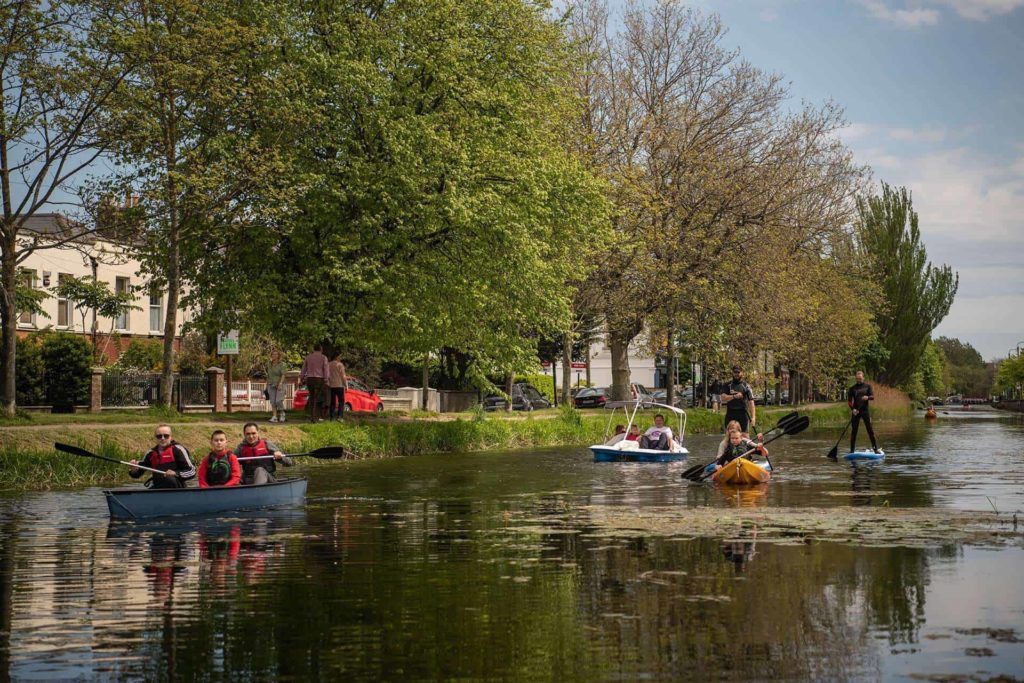 Tour Information
Guiding Agency
Meeting Place
Schedule
Rates
Kayaking.ie
Leixlip
Sunday - 10 AM
€69
Portobello Adventure
Corner Portobello harbour road & Lennox place
Saturday & Sunday - 11 AM or 1 PM
• Single Kayak: €15

• Double Kayak: €25
Do you love kayaking on calm waters? Then you should explore the vast Grand Canal in Dublin, spanning 131km, offering a magnificent water experience.
Your kayaking location depends on how far you want to go from the city centre. You could kayak in the Docklands, where the Grand Canal Basin is more protected from the sea waves.
The Grand Canal has something for everyone, whether you want a short or a long kayaking trip. It's a perfect kayaking venue if you don't want to leave the city.
Pro Tip:

If you prefer a quieter and more relaxing kayaking trip, head to Leixlip. It's just about 20 minutes drive from Dublin and has plenty of parking and amenities.
Howth and Ireland's Eye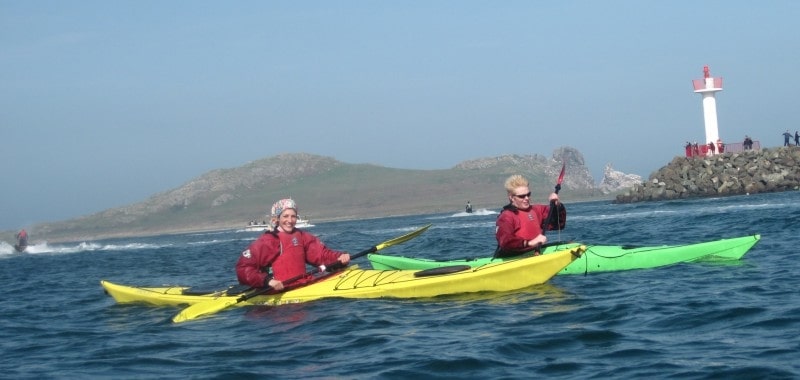 Tour Information
Guiding Agency
Meeting Place
Schedule
Rates
Shearwater Sea Kayaking
RNLI slipway
Depends upon arrangement
• Half Day: €60

• Whole Day: €120

Portobello Adventure
Howth Baily Lighthouse
Saturday & Sunday - 2:30 PM or 5:30 PM
€45
Howth, a lovely fishing village near Dublin, is a terrific destination to explore fascinating sea life and scenery. You might encounter seals, dolphins, coves, caves and birds as you kayak along its cliffs.
Aside from that, you could venture to Ireland's Eye, a small unpopulated island with ancient ruins and a spectacular rock formation called 'The Stack'.
You'll learn about the history and culture of this place, from its old Christian monastery to its rare flora and fauna.
Pro Tip:

There are no changing or toilet facilities at the RNLI slipway where we start our tours. Before check-in, go to the nearest toilets on the East Pier (5 minutes away) and either change in your car or wear your swimwear underneath your clothes.
What guiding companies cater kayaking in Dublin?
Kayaking.ie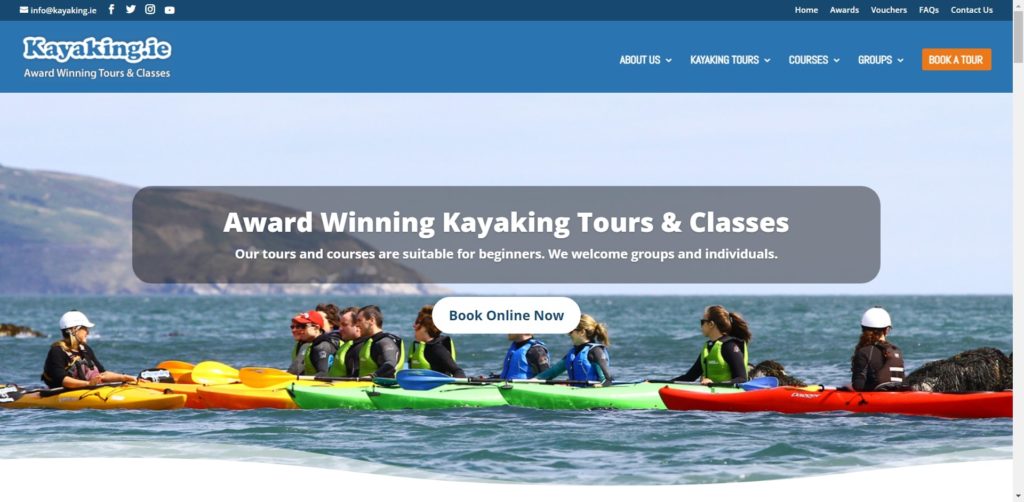 Website: https://kayaking.ie/ 
Address: Bullock Harbour, Dalkey, Co Dublin
Phone: +353 (0) 86 168 4755
Email: [email protected] 
Kayaking.ie have something for everyone, no matter your age or skill level. They're experts in providing fun, affordable and safe kayaking adventures.
They take you to beautiful places full of wildlife, where you can kayak with the seals at Dalkey Island (just 20 minutes from Dublin) or discover the secrets of Dublin's Strawberry Beds along the famous River Liffey.
They use high-quality equipment to ensure that you have a comfortable trip on the water. This is a great way to show you wildlife, plants, and flowers as well as teach you about the rich history and culture.
City Kayaking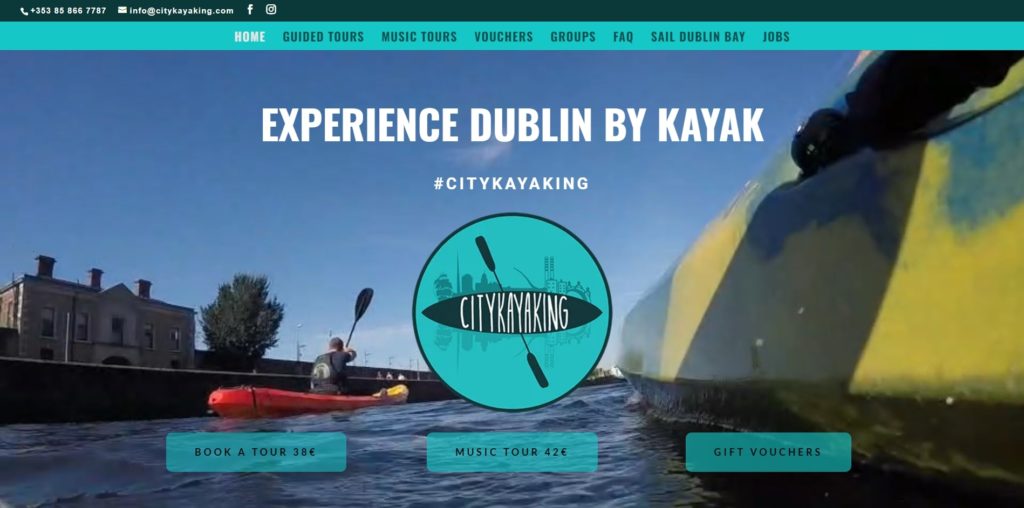 Website: https://citykayaking.com/ 
Address: Custom House Quay, Dublin Docklands, Dublin, Ireland
Phone: +353 85 866 7787
Email: [email protected] 
City Kayaking lets you kayak on the famous river and view the city center landmarks differently. It's based next to the Jeanie Johnston Tall Ship.
They have live music sessions called Music Under the Bridges, which sound even better because of the river's acoustics. The tours are planned based on the tides and are suitable for everyone, no matter how much experience you have.
During the day and in the evenings, you can join their adventure activities on the River Liffey. Each trip lasts ninety minutes, and it's a lot of fun!
Portobello Adventure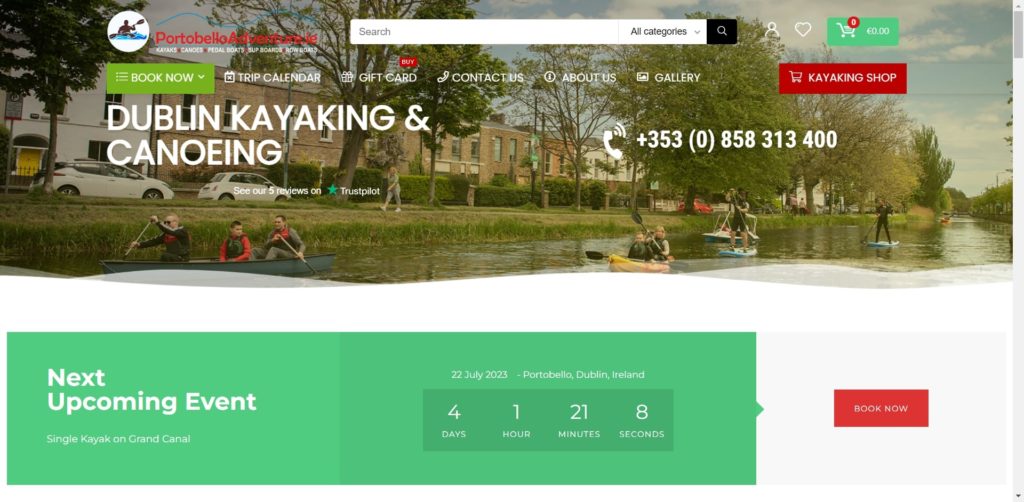 Website: https://portobelloadventure.ie/ 
Address: Portobello Harbour Road and Lennox Place, Dublin 8
Phone: +353 (0) 858 313 400
Email: [email protected] 
Portabello Adventure offers kayak trips in five Dublin locations, including the Grand Canal and the sea. They also provide training courses for different skill levels.
You can choose from one or two-hour-long tours, guided by experienced instructors who will show you the sights and teach you some skills. You don't need any experience, as they use sit-on-top kayaks that are easy and safe to use.
They also provide all the equipment you need, including kayak, paddle, buoyancy aid, helmet, and wetsuit. You just need to bring your enthusiasm and sense of adventure.
Kayaking with Portobello Adventure is suitable for anyone over 10 years old. If you're under 16, you need to be accompanied by an adult on the water. They also have double kayaks that can fit an adult and two younger children, or two adults.
Shearwater Sea Kayaking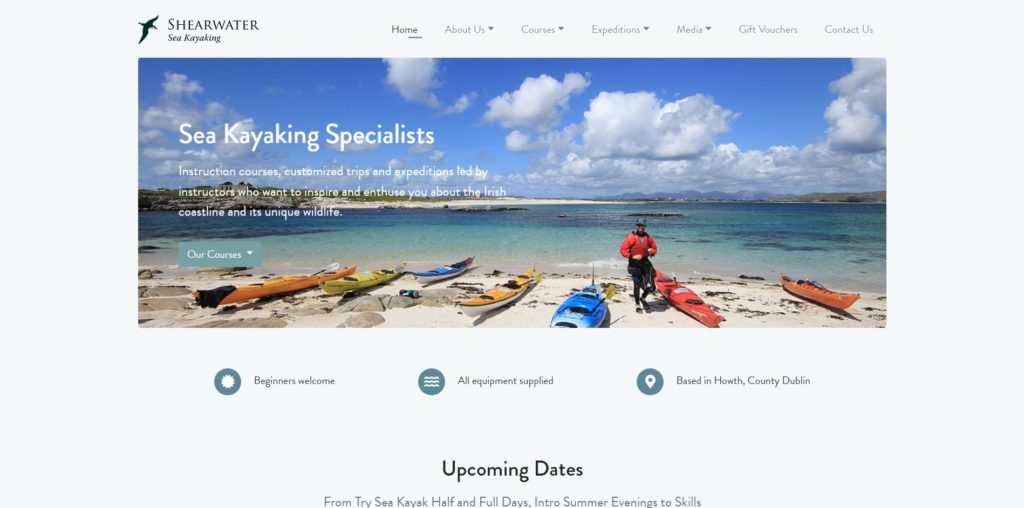 Website: https://www.shearwaterseakayaking.ie/ 
Address: Middle Pier, Howth, Dublin, D13 RX95
Phone:
Sean Pierce – 086 8368736
Eileen Murphy – 087 9885658
Email: [email protected]
Sean Pierce and Eileen Murphy are the founders of Shearwater and they have a passion for kayaking and exploring the Irish coast. They want to share their passion with you and show you the amazing sights and wildlife that you can see from a kayak.
You'll be amazed by the islands, caves, cliffs, and birds that are hidden along the coast of Fingal, just a short drive from Dublin City.
Shearwater can teach you how to kayak safely and confidently, or take you on a guided trip that suits your level and interests. Whether you're a beginner or an expert, you'll find something to enjoy and challenge you at Shearwater.