5 of the Best Hardware Stores in Dublin
The smallest items in our homes can really make a difference. From hanging a new family picture, repairing leaks in the plumbing, to setting up furniture when moving in, hardware supplies are a staple in maintaining any house.
In this article, we took a look at the best hardware stores in Dublin for your next trip for tools.
How much do hardware tools and supplies cost?
There are many types of tools to choose from and beyond that, a wide variety of brands. A hardware store also carries supplies that need to be repurchased more frequently such as bulbs, screws and nails.
In buying these tools, it is important to consider both the condition of your home as well as the frequent repairs it needs. Below is a table showing estimated prices of common hardware products.
| Hardware Tool | Price |
| --- | --- |
| Wrench/Spanner | € 17 to € 30 |
| Drill | € 99 to 200 |
| Drill bit | € 5 to € 25 |
| Hammer | € 16 to € 50 |
| Screwdriver | € 6 to € 30 |
| Tape Measure | € 9 to € 25 |
Top Hardware Stores in Dublin
We assessed the hardware store according to the following criteria:
1. Lenehans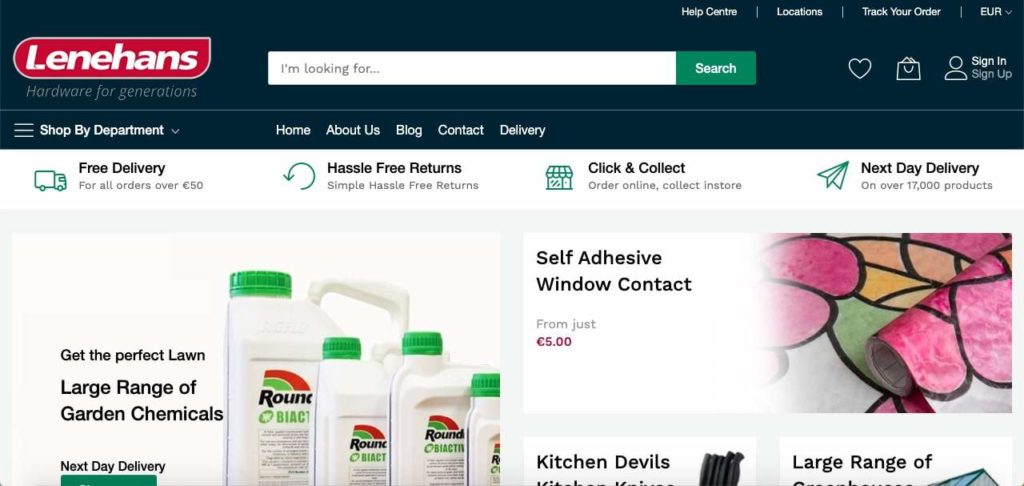 Test
Info
SERVICES
Electrical, Gardening, Tools, Paint and Decorating, Plumbing, Bathroom, Greenhouses, Hardware and DIY, Houseware, Locks and Security
WEBSITE
https://www.lenehans.ie/
ADDRESS
124 Capel St, North City, Dublin 1
CONTACT DETAILS
01 8730466,

[email protected]

OPERATING HOURS
Monday to Saturday: 9:00 AM to 6:00 PM
| | |
| --- | --- |
| Range of hardware items | ★★★★★(5/5) |
| Additional items | ★★★★★(5/5) |
| Accessibility | ★★★★★(5/5) |
| Delivery service | ★★★☆☆(3/5) |
| Online ordering and in–store pick up | ★★★★★(5/5) |
| Customer service | ★★★★★(5/5) |
| Helpfulness | ★★★★☆(4/5) |
| Knowledge | ★★★★★(5/5) |
Lenehans is the store for you if you're looking for a complete shopping experience as they have over 16,000 DIY products. Their longstanding history has also solidified their processes in customer service.
Their quality selection of tools includes spanners, orbit sanders, hammers, and multi-tools. We also like their range of pre-filled toolboxes, which we think is perfect for complete beginners out there.
Additionally, Lenehan has a wide variety of complementary products that can fulfill nearly any homeowner's needs. They have locks for doors and mailboxes, fixtures for the bathroom as well as window fittings and pest control products.
Lenehans is also a well-known supplier of Greenhouses and Greenhouse accessories. It's a great place to visit for any prospective outdoor gardener.
In terms of delivery, we like that Lenehans provides an efficient service. Orders over € 50 are eligible for free deliveries and they do have next day transport for a lot of their products.
We also appreciate that their website provides great resources for home maintenance and cleaning, from articles and how-tos. Customers can easily navigate through them for help in selecting which products to choose then simply check-out for delivery.
It is important to take note that Lenehans has limitations on which products can be returned, like hygienic items and custom made orders, so make sure to read their policy regarding this.
Great selection of power tools and toolboxes 
Has next day delivery
Provide additional resources for home maintenance and cleaning
Greenhouses and Radiators take a longer delivery time
Limitations on product returns
Customer Reviews
Very Helpful Staff
I go to Lenehans whenever I need household things I cannot buy in a supermarket. I was there recently with a small issue I was hoping one of the staff could help resolve and the man I spoke to came up with a simple and cheap solution straight away so I was very pleased. I was back a week later with another issue and again happened to get the same very helpful man. His name is Ben based on my last two experiences I would definitely seek him out if I had a particular issue I wanted advice on. -Marian
A Shop that Has All of Your Needs
Lenehans is a one stop shop for all your decorating needs. Friendly staff with decades of experience makes shopping here a pleasure and they can offer excellent advice if you need it. You can buy everything electrical to decorate your home or power tools wood fixtures etc. needed to do the job yourself! Browse my comprehensive photos of what you can buy inside on Google Maps! – Patricia Gorey
2. Pearse Street Hardware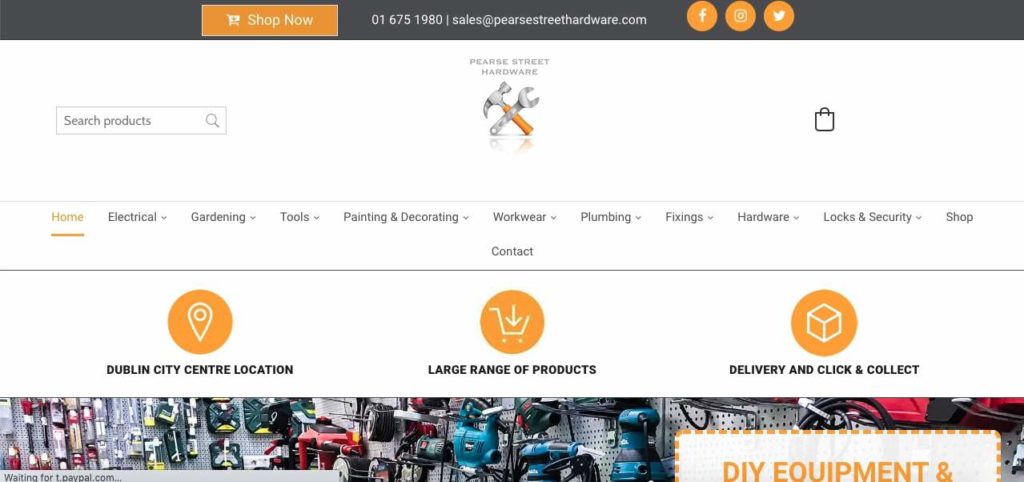 Test
Info
SERVICES
Electrical Items, Gardening Tools, Chemicals and Hoses, Tools, Painting and Decorating, Workware, Plumbing, Fixings, Hardware, Locks and Security, Delivery, Click and Collect
WEBSITE
https://www.pearsestreethardware.com/
ADDRESS
109 Pearse Street, Grand Canal Dock, Dublin 02
CONTACT DETAILS
01 675 1980,

[email protected]

OPERATING HOURS
Weekdays: 8:00 AM to 5:00 PM

Saturday: 9:00 AM to 2:00 PM
| | |
| --- | --- |
| Range of hardware items | ★★★★★(5/5) |
| Additional items | ★★★★★(5/5) |
| Accessibility | ★★★★☆(4/5) |
| Delivery service | ★★★★★(5/5) |
| Online ordering and in–store pick up | ★★★☆☆(3/5) |
| Customer service | ★★★★★(5/5) |
| Helpfulness | ★★★★★(5/5) |
| Knowledge | ★★★★★(5/5) |
Pearse Street Hardware combines a great selection of products that can complement any tools you need. We particularly like their team of knowledgeable and helpful staff as well.
Aside from their selection and staff expertise, we like that they offer both delivery and in-store pick-up options. Orders over € 30 are delivered for free if they are in the Dublin region.
If you would like to pick-up your items, their store is conveniently located near the city center.
We also really appreciate that their staff have extensive product knowledge, willing to help any customer in need of additional information. Numerous feedback praises their item recommendations so it is a great store for those unsure of which tool or brand to select.
For items that are not available currently in-store, they are willing to source it for customers so their array of products are more flexible.
The tools they offer include hand tools, power tools, tapes and levels to name a few.
What's more is that they also have electrical accessories such as bulbs, adapters, sockets and workwear like gloves, boots and vests. We were very impressed by how this range of additional items and supplies are very complementary to their hardware tools.
However, a large amount of their items aren't listed on their website, so you will find a better range in-store than ordering online.
Offer both in-store pickup as well as delivery
Have a key cutting service
Very knowledgeable and helpful staff
Solid range of products
A large quantity of products do not appear online
Closed on Sundays
Customer Reviews
Great Range of Products
This is a great little hardware shop, it could be part of Harry Potters world, every inch of space is used and staff are very helpful. Considering how much the docklands have changed it the last 20 years this place is an oasis of real Dublin in a digital world. I bet they have what you need even if you don't know what you need. – Fiach C
Friendly, Genuine and Helpful Staff
Excellent little shop. You will find everything you need for you DIY projects, painting, plumbing and other small bits. Friendly, genuine and helpful staff. Highly recommended – Maciej P
3. Hardware Ireland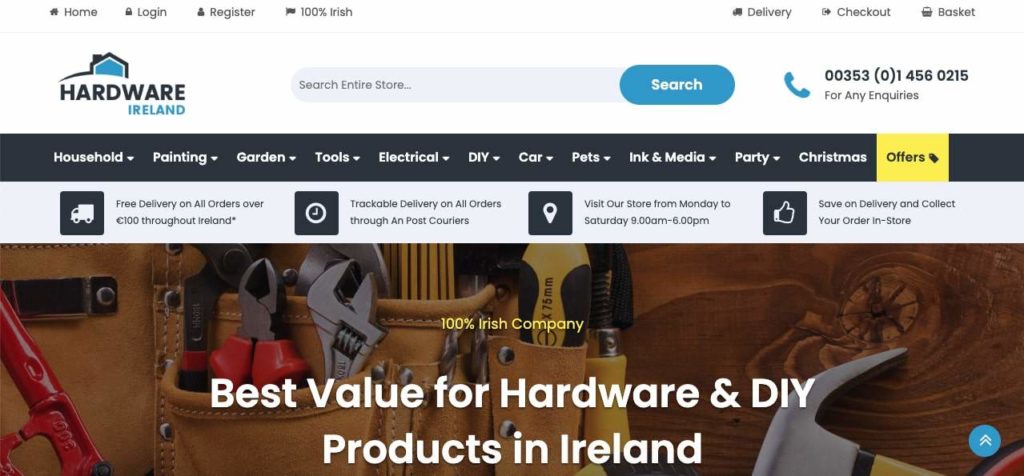 Test
Info
SERVICES
Household Items, Painting Supplies, Gardening Equipment, Tools, Electrical Items, DIY, Car Accessories, Bicycle Accessories, Pet Supplies, Ink and Media, Party Supplies, Christmas Decor, Delivery, In-store shopping
WEBSITE
https://www.hardwareireland.ie/
ADDRESS
Hardware Ireland, 6 St. Agnes Road, Crumlin Village, Dublin 12
CONTACT DETAILS
00353 (0)1 456 0215,

[email protected]

OPERATING HOURS
Monday, Tuesday, Thursday, Friday, Saturday: 9:00 AM to 6:00 PM

Wednesday: 9:30 AM to 6:00 PM
| | |
| --- | --- |
| Range of hardware items | ★★★★★(5/5) |
| Additional items | ★★★★★(5/5) |
| Accessibility | ★★★★☆(4/5) |
| Delivery service | ★★★★☆(4/5) |
| Online ordering and in–store pick up | ★★★☆☆(3/5) |
| Customer service | ★★★★★(5/5) |
| Helpfulness | ★★★★★(5/5) |
| Knowledge | ★★★★★(5/5) |
With 20 years of experience, Hardware Ireland's well-stocked range has proven to please a variety of customers with different needs. This can also be credited to their well thought out process in delivery as well as efficiency in service.
We liked that they carry a wide range of brands that includes Black + Decker, Bosch, Miracle Gro, Ronseal, Stanley, DeWalt and Kingspan. In terms of quality, it is clear that they made sure to curate their products to be the best of the best.
Their range in tool selection matches this range in brand quality as well. From drills to drill bits to levels and hammers, anyone looking to stock up or start their toolbox will be more than satisfied with what they have to offer.
We also appreciate that they have a good quantity of ongoing offers. Customers who are looking for their next bargain might want to check Hardware Ireland out as they constantly update items with price reductions.

They do however have limitations on their use of vouchers as well as their accepted online payments so make sure to take note of their terms and conditions available on their website.
However, in terms of their additional items and services, we were impressed as well by their variety. They have household items, party decorations, key cutting and paint mixing services as well.
Excellent quality of tool brands
Wide selection in additional products and services
Have special offers from time to time
Offer both delivery and in-store pick up
Limitations on vouchers and promotions 
Accept online payments only through PayPal and Sage Pay
Customer Reviews
Pleasant to Deal with
Thank you again for everything, it was quick and easy. I will definitely use your services again and would recommend it to others! It was a pleasure to deal with! – Airis
Delighted with Delivery and Service
I really have to compliment your service. I ordered yesterday evening at approximately 4.30pm and I have received my order today. I am delighted with products and especially the service. We need more Irish companies like this, you set the bar very high indeed! – Darren
4. Expert Hardware: Decwell's DIY Branch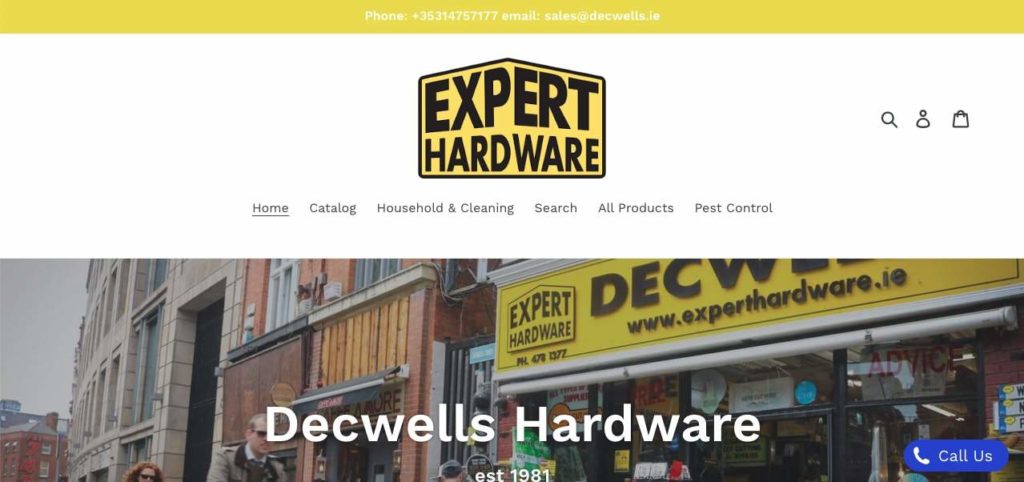 Test
Info
SERVICES
Tools and Safety Equipment, Paint and Accessories, Household and Cleaning, Pest Control
WEBSITE
https://decwells.ie/
ADDRESS
60 South Great George's Street, Dublin
CONTACT DETAILS
+35314757177.

[email protected]

OPERATING HOURS
Monday to Saturday: 9:00 AM to 6:00 PM
| | |
| --- | --- |
| Range of hardware items | ★★★★☆(4/5) |
| Additional items | ★★★★★(5/5) |
| Accessibility | ★★★★☆(4/5) |
| Delivery service | ★★★★★(5/5) |
| Online ordering and in–store pick up | ★★★☆☆(3/5) |
| Customer service | ★★★★★(5/5) |
| Helpfulness | ★★★★★(5/5) |
| Knowledge | ★★★★★(5/5) |
Expert Hardware's unique system and widespread network of stores makes them a standout choice especially at their Decwell's DIY branch. Founded in 2005, they have continuously supported local and independently owned shops.
In terms of range, the Decwell's Branch has adapters, sealants, drill bits, gardening tools switches, pest control, and has household cleaning items to offer.
Their ties to Expert Hardware also widens their access to other categories of items and services such as key cutting, locks and plumbing supplies. It's a good place to visit if you're planning to pick up hardware tools alongside some household essentials.
Their focus on quality and value pairs great with their in-store staff expertise.
Buyer feedback has complimented the reliability of their customer service and what's more is that their location is conveniently located in the city center. If you're looking to get help and advice regarding what type of products to get, Decwell's DIY has you covered.
They also do have online shopping as an option – modes of payment like American Express, Apple and Google Pay, Mastercard, Visa, and Paypal are accepted here. We appreciate that their online experience is as accommodating as their in-store experience.
Keep in mind however, that navigating their website may not be the best option as a lot of items do get sold out. In that case, visiting their physical store may be better.
Good range of additional household essential items
Great staff knowledge and expertise
Located in the city center
Offers a solid selection of hardware tools
Website might be limiting in terms of viewing products
Some items might be sold out
Customer Reviews
Top Quality Shop
Fantastic hardware store. Has most things you'll need. A very wide selection of tools and equipment. Great location as well in the middle of town so it's really easy to get to. Top quality shop. A little bit more expensive than other shops but that's the price you pay for convenience.
-Sebastian Ritzen
Large Selection of Items
This shop is quite small, but they actually offer a large choice of items.I found exactly what I was looking for. -Gael Quinio
5. Weirs of Baggott Street
Test
Info
SERVICES
Household Items and Supplies, Gift Options, Hardware and DIY, Outdoor and Garden, Frenchic Paint, Colourtrend
WEBSITE
https://weirsofbaggotst.ie/
ADDRESS
21 Baggot Street Upper, Dublin 4
CONTACT DETAILS
01-6685229,

[email protected]

OPERATING HOURS
Weekdays: 9:00 AM to 6:00 PM

Saturday: 9:30 AM to 6:00 PM
| | |
| --- | --- |
| Range of hardware items | ★★★★☆(4/5) |
| Additional items | ★★★★★(5/5) |
| Accessibility | ★★★★★(5/5) |
| Delivery service | ★★★★★(5/5) |
| Online ordering and in–store pick up | ★★★★☆(4/5) |
| Customer service | ★★★★★(5/5) |
| Helpfulness | ★★★★☆(4/5) |
| Knowledge | ★★★★★(4/5) |
Weirs of Baggott Street offers a variety in selection for customers wanting to redecorate their home, and a few other unique product categories that will appeal to many. They are the largest seller of Frenchic Paint and Colourtrend but have expanded to include over 10, 000 in other home needs areas.
In terms of their hardware and tools section they have adhesives, power tools, security items like locks, lightbulbs and supplies like nails and screws. We like that for each category their selection is very expansive, differing in sizes and mediums.
We also really like the other items they have to offer. These include garden tools, barbeque systems, celebration cards, candles and, especially, a wide array of paints.
This is the perfect store to visit if you're looking for household and renovation supplies.
Their store also offers delivery as well as a "click and collect" service. Both options are great as orders over € 70 have free nationwide delivery and "click and collect" orders have a quick preparation time.
Keep in mind that their refund policy does not allow an exchange for a list of items which include sale items and earrings. You may visit their site for the full list.
Have same day Dublin delivery with orders placed before 12:30 PM
Excellent selection for additional items
Great variety in depth in hardware tools selection
Quick preparation for "click and collect" orders
Limitations on items allowable for returns
Closed on Sundays
Customer Reviews
High Quality Product Range
It has a great range of products, all high quality brands. The website and online buying experience is second to none… same day delivery in Dublin is huge. Looking forward to see the product range grow. -Brian Carroll
Great Customer Experience
The whole team at Weirs of Baggot Street provided a great customer experience!
I really appreciated the phone calls to update me about the order status as well as the handwritten note! As of June 16th, their offers for Weber BBQs are very competitive (free cover & delivery) and I definitely recommend shopping at Weirs! – Maximilian Roth
FAQs about hardware stores
---
We hope you found this list helpful in choosing which Dublin hardware store to visit the next time you need some tools. If you would like to read more, we also have an article on the best handyman services in Dublin.