5 of the Best Furniture Stores in Galway
Furniture can really jazz up and bring personality to a new space or room. They provide both an aesthetic and functional element, which is why it is important to carefully think about which pieces to buy for your space.
In this article, we take a look at some of the best furniture stores in Galway to help you explore your options.
How much does furniture cost?
There is a variety of different types of furniture out there – from sofas to dining tables to drawers to chairs.

People do have an option to buy used furniture at lower costs. However, it would be difficult to evaluate its depreciated quality as well as the cost needed to maintain or repair it.
New furniture, on the other hand, is more costly. The higher the quality it is in terms of design, features and materials, the more expensive it will be.
Below is a table showing estimated costs of different furniture types.
| Furniture Piece | Estimated Average Price |
| --- | --- |
| Fabric Sofa | € 749 to € 2,800 |
| Dining Table | € 210 to € 1,700 |
| Bookcase | € 79 to € 1,000 |
| Office Chair | € 130 to € 1,500 |
| Outdoor Lounge Sets | € 850 to € 2,300 |
| Mattress Removal | € 20 to €45 |
Top Furniture Stores in Galway
We assessed the furniture stores according to the following criteria:
1. Harvey Norman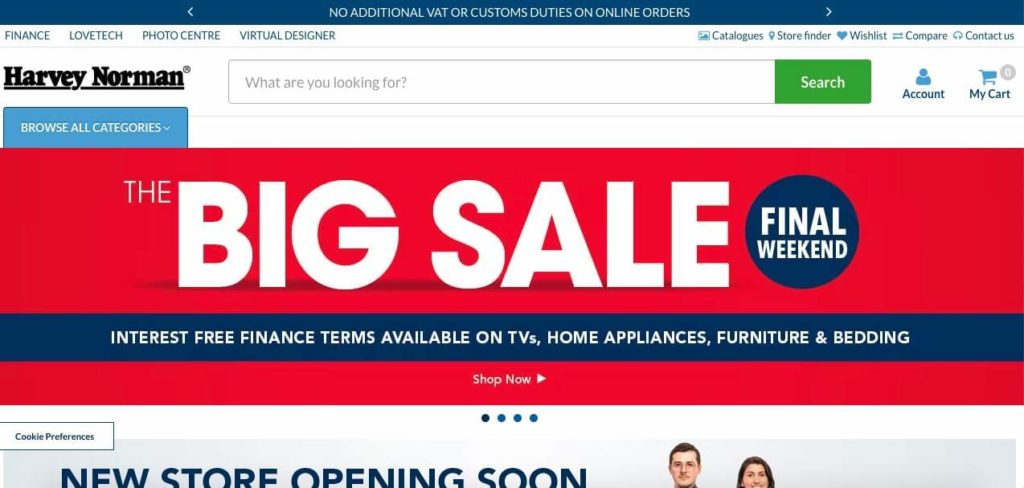 Test
Info
SERVICES
Furniture, Mattresses, Bedroom, Sofas, Homeware, Appliances and Devices, Smart Home Technology, Delivery, Installation Center, Photo Services, Recycling, Games and Toys, Health, Style and Grooming
WEBSITE
https://www.harveynorman.ie/
ADDRESS
Unit 12, Gateway Shopping Park, Bóthar Stiofáin, Knocknacarra, Co. Galway
CONTACT DETAILS
(091) 332 000,

[email protected]

OPERATING HOURS
Monday to Wednesday, Saturday: 9:30 AM to 6:00 PM

Thursday to Friday: 9:30 AM to 9:00 PM

Sunday: 11:00 AM to 6:00 PM
| | |
| --- | --- |
| Additional items and services | ★★★★★(5/5) |
| Payment options | ★★★★★(5/5) |
| Range of Products | ★★★★★(5/5) |
| Design | ★★★★★(5/5) |
| Price | ★★★★☆(4/5) |
| Customer service | ★★★★5(4/5) |
| Friendliness | ★★★★★(5/5) |
| Delivery | ★★★★☆(4/5) |
It's probably easy to see why many would consider Harvey Newman an all-in-one store for appliances, gaming, and of course furniture for all household needs.
They incorporate variety in all of their elements, from having in-store and online shopping, 17 branches across Ireland, and a wide number of brands to choose from.
We were impressed by their selection in furniture which includes bed frames, bedroom furniture, dining furniture, children's furniture, storage, and outdoor furniture. It really carries the complete package if you're looking to have your home furnished head to toe.
For any pieces you purchase, they also have a care guide available online which we really appreciate. Take note, that Instore purchases require a 20% deposit and have a cancellation policy valid for 48 hours.
We like that online purchases are more flexible with the policy, having a 14-day window from the moment of purchase and an additional 14 days from the time of cancellation.

Harvey Norman payment methods accommodate Visa, Mastercard, Cheques and finance options like Flexi-Fi.
What is most impressive about purchasing from Harvey Newman, is that unlike other furniture stores, their selection of products other than furniture is appropriate for those looking for a one-stop-shop to house items.
They have items for grooming, baby care, gaming consoles and other tech items. Their staff have particularly knowledgeable support for appliances available at the store.
We would like to note that a deposit greater than 20% is required for custom orders. Storage fees will also be charged for items undelivered past four weeks.
Coordinates well for deliveries
Flexible cancellation policy with online purchases
Amazing range of available products
Provides a care guide for furniture
Accept finance options
Required deposit larger than 20% for custom orders
48 hour cancellation policy for in-store purchases
Customer Reviews
Beautiful Shop and Nice Staff
Kyle was so helpful, professional and kind. Kyle helped me over the phone and in store. I was so well looked after. The person at the desk walked me over to where Kyle was, which I thought was a lovely touch. There is a feeling the staff are well treated and have a bit of banter together. Beautiful shop. Highly recommend it– A
Great Service and Clean Store
One of the best Harvey Normans I have been in. Great staff and service. Very clean and modern with all the latest technology. They even have a great cafe upstairs which serves very nice coffee. Highly recommended. – Stephen Murphy
2. EZ Living Furniture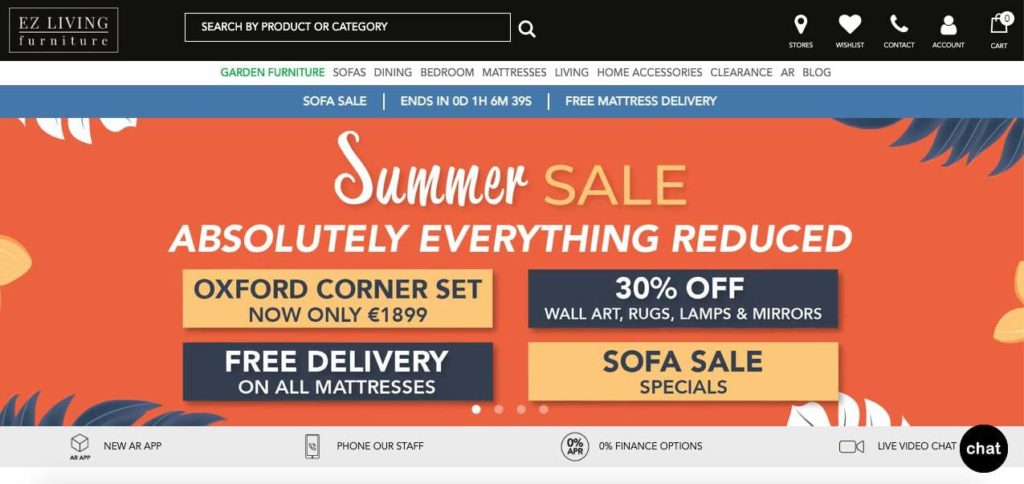 Test
Info
SERVICES
Garden Furniture, Sofas, Dining, Bedroom, Mattresses, Tables, Stands, Office Furniture, Home Accessories, Delivery, Recycling
WEBSITE
https://www.ezlivingfurniture.ie/
ADDRESS
Unit 10, Liosban Industrial Estate, Galway
CONTACT DETAILS
0818 222 272,

[email protected]

OPERATING HOURS
Weekdays: 9:30 AM to 6:00 PM

Weekends: 12:00 PM to 6:00 PM
| | |
| --- | --- |
| Additional items and services | ★★★★★(5/5) |
| Payment Options | ★★★★★(5/5) |
| Range of Products | ★★★★★(5/5) |
| Design | ★★★★★(5/5) |
| Price | ★★★★★(5/5) |
| Customer service | ★★★★☆(4/5) |
| Friendliness | ★★★★★(5/5) |
| Delivery | ★★★☆☆(3/5) |
EZ Living Furniture is a solid option if you're looking for a dedicated furniture store that has a quality selection. They purchase directly from the manufacturer which allows them to have low and affordable prices.
Their price promise ensures that they monitor the price of competitors and allow customers to bargain for a similar item at cheaper rates. We were very impressed by this policy because it really goes to show how the store wants the most affordable options for their customers.
We do however advise to check the conditions on the website if you want to avail of this price matching service.
Their selection of products is very varied as it includes furniture for the bedroom, dining room and even the garden. We also appreciate that they provide helpful guides on how to choose which piece of furniture would be best for you.
This is also reflected in their curation of lookbooks where you can check sample rooms they have arranged. It really helps the customer visualize what a piece of furniture would look like if it were in a group and makes it easier if the buyer wants to purchase the entire set.
Lately, they have also opened an in-store remote shopping service where customers can explore EZ Living's selection all from the comfort of their own home.

This, as well as their augmented reality app, really aid in imagining what a piece of furniture would look like in a customer's space.
There has been some customer feedback regarding some confusion with the pick up arrangements of items. That said, it's best to make sure to coordinate well with the store and be aware of their operating hours.
More affordable items and try to match cheaper prices
Have recycling and mattress disposal
Offer 0% finance options
Provide a remote shopping and AR feature
Delivery times limited to weekdays from 8:00 AM to 4:00 PM
Some past customer feedback on difficulty with item pick-up
Customer Reviews
Top Class Service
Just wanted to drop you a line to thank you, David and the rest of your team there. I collected the bed from the depot on Saturday and it's perfect. The guys there – I'm sorry I never got their names – were particularly helpful as well. Little glitches can always happen, such as happened with this delivery, but it's the way a company and its people deal with those glitches which can set it and them apart. Your service was top class. I will order and collect another of the same bed this coming Saturday, which probably says it all. – John G.
Pleasant Customer Service
I am so delighted with the customer service I received in your store in Galway this week. Initially, I bought a very expensive king size mattress from you two years ago and I was having trouble with it so I returned to your store and spoke with one of your staff – Paul Ryan who originally sold it to me. He took my complaint seriously and within a very short space of time had fixed the issue. He was a gentleman to deal with and he had excellent knowledge of his department. He is certainly someone I would return to, to purchase again from. I will be very eager to recommend your store to anyone in the future. – Tracy H.
3. Meubles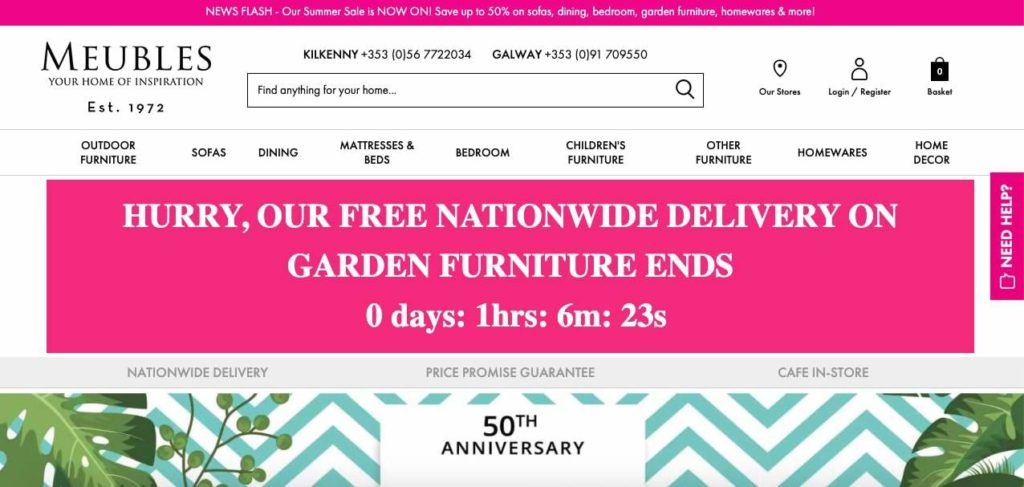 Test
Info
SERVICES
Outdoor Furniture, Sofas, Dining, Mattresses and Beds, Bedroom, Children's Furniture, Living Room Office, Homewares, Cafe
WEBSITE
https://www.meubles.ie/
ADDRESS
Unit 23, Briarhill Business Park, Ballybrit, Galway
CONTACT DETAILS
+353 (0)91 709550,

[email protected]

OPERATING HOURS
Weekdays and Saturday: 9:00 AM to 6:00 PM

Sunday: 11:00 AM to 6:00 PM
| | |
| --- | --- |
| Additional items and services | ★★★★★(5/5) |
| Payment Options | ★★★★☆(4/5) |
| Range of Products | ★★★★★(5/5) |
| Design | ★★★★★(5/5) |
| Price | ★★★★★(5/5) |
| Customer service | ★★★★★(5/5) |
| Friendliness | ★★★★★(5/5) |
| Delivery | ★★★★☆(4/5) |
Meubles has some vibrant and well-themed furniture collections for those looking to add a pop of charm into their rooms.
Their furniture selection has a great amount of choices for children's furniture including bunk beds and bedside tables. Their dining furniture is also superb, with options for different table styles and chair designs.
We really appreciate how their selection looks colorful and filled with some unique alternatives.
Another great thing about their store is that they offer homeware and decor from a variety of brands such as Kuhn Rikon, Mindy Brownes and Artko. They have more distinctive items which are perfect for those looking to accent their furniture space.
We like that Muebles has three choices for receiving your items which include in-store pick up, courier and a home delivery service. For in-store pick up, they can have your homeware ready in five hours and 7 hours if it's furniture.
They do price match if a buyer finds an identical item at a cheaper price so make sure to bring the required proof to their customer service.
Furniture removal and disposal is also available in the store at standard prices. We like that it is a complementary service if you're giving your space a full makeover, taking in a new piece and getting rid of an old one.
Take note, bar stools and children's furniture are delivered disassembled, so you may need assistance if you're thinking of purchasing these through the delivery service.
Have three options for delivery
A wide range of colorful furniture and homeware
Price match for cheaper and comparable items
Has an in-store cafe
Bar stools and children's furniture is unassembled upon delivery
Close early at 6:00 PM for all days
Customer Reviews
Good Selection
Good selection of furniture and accessories at a range of prices. They also sell kitchen ware, bedding and towels. There is also a very nice cafe here with a wide choice on the menu. – Maria Kearney
Fun and Well–Made Variety of Products
Modern furniture and accessories with some refreshing off beat colours that's well made, reasonably priced. Great service in store and really efficient friendly delivery guys. – Jacquie Cooney
4. Cash Factory Furniture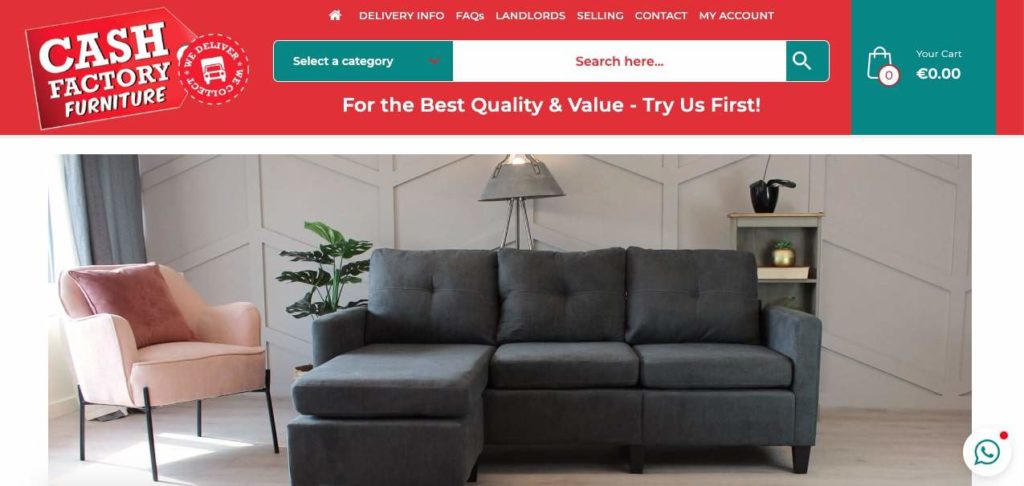 Test
Info
SERVICES
Sofa, Kitting Out Services, Living Tables, Dining Furniture, Bedroom, Mattresses, Office Furniture
WEBSITE
https://www.cashfactory.ie/
ADDRESS
Riverside Commercial Estate, Tuam Road, Galway
CONTACT DETAILS
091 760 750,

[email protected]

OPERATING HOURS
Weekdays and Saturday: 9:00 AM to 6:00 PM

Sunday: 2:00 PM to 6:00 PM
| | |
| --- | --- |
| Additional items and services | ★★★★☆(4/5) |
| Payment Options | ★★★★★(5/5) |
| Range of Products | ★★★★★(5/5) |
| Design | ★★★★☆(4/5) |
| Price | ★★★★★(5/5) |
| Customer service | ★★★★☆(4/5) |
| Friendliness | ★★★★☆(4/5) |
| Delivery | ★★★★☆(4/5) |
Cash factory is the perfect store for you if you're looking for both new and second hand furniture options. Starting in 2009, the company has expanded to two stores since and has also grown in sales, stock and even some unique services.
Their selection includes sofas and furniture for the office, dining room, living room and bedroom. We especially like that the prices are some of the most affordable in the market which is in addition to their collection of used furniture.
Unlike other furniture stores, they do offer a distinct service for landlords out there. We like that they provide a kitting service for furnishing rental spaces and it's great because they can fully furnish the space with their variety in products while still keeping the total cost relatively low.
As for their delivery, they are able to transport the items nationwide with two courier options, An Post and Cash Factory themselves. If you are thinking of delivering through Cash factory, make sure to check their website as different delivery zones have different corresponding rates.
For other claiming services, they do have a free in-store pick up as an alternative, which we appreciate.
Additionally, they also sell mattresses and have a mattress removal service, charging €25 per mattress. This is a great option for those either looking to buy a completely new bed frame and mattress or replace and dispose of their old model.
It is important to take note that some items on their website are more limited in options such as their options for office chairs so make sure to check before going.
Some of the most affordable prices in the market
Offer a selection of both new and used furniture
Have a kitting service for rental spaces
Provide nationwide delivery
Pre-owned items do not come with a guarantee
Shorter operating hours on Sunday
Customer Reviews
Great Sales Service
In one word….. YES. Great sales service from Ann in the Cork shop always kept us in formed as to how our order was doing. 2 wardrobes, 1 chest of drawers and 2 bedside lockers. Well worth paying for them to be assembled. Damian and Chris were gents and professional about their job. Left the place spotless. – Stephen Walker
Fast Delivery
The service is friendly, prices and quality are excellent. Delivery was fast. I recommend the store and I plan to buy more furniture. – Yasmine Maluf
5. The Furniture Emporium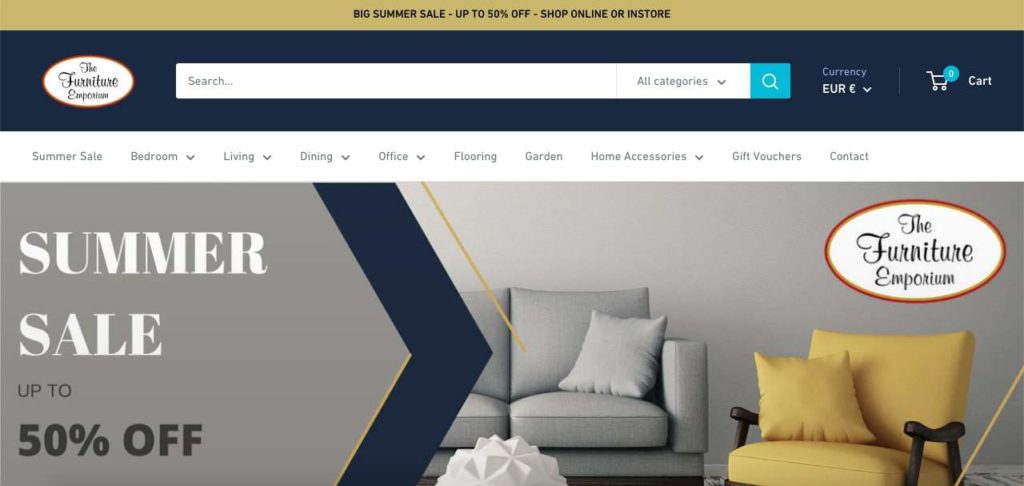 Test
Info
SERVICES
Bedroom, Coffee Tables, Rugs, Cushions, Armchairs, Sofas, Dining Furniture, Office Furniture, Garden Furniture and Accessories, Home Accessories, (Chair, Sofa, Bed and Mattress Removal), Nationwide Delivery
WEBSITE
https://thefurnitureemporium.ie/
ADDRESS
The Furniture Emporium Unit 10, Oranmore Business Park, Oranmore, Co. Galway
CONTACT DETAILS
+353 91 788 076,

[email protected]

OPERATING HOURS
Weekdays and Saturday: 10:00 AM to 6:00 PM
| | |
| --- | --- |
| Additional items and services | ★★★★★(5/5) |
| Payment Options | ★★★★★(5/5) |
| Range of Products | ★★★★★(5/5) |
| Design | ★★★★☆(4/5) |
| Price | ★★★★★(5/5) |
| Customer service | ★★★★★(5/5) |
| Friendliness | ★★★★★(5/5) |
| Delivery | ★★★★★(5/5) |
The Furniture Emporium earns top marks from us for their excellent customer service and quality of products to choose from.
Their furniture selection offers a range from bedside lockers, fun themed children's chairs, dressing tables, dining sets and office desks. We were very impressed by how cohesive the different pieces were as well as the quality of their different set options.
If you're looking to buy furniture sets instead of individual pieces, this is a great store to check out! They are also an excellent choice for flooring options and decorative pieces for your garden.
What's more is that they offer a 30 Night Mattress Trial. This trial helps customers decide the perfect mattress for them and we really like that they allow customers to exchange or return the mattress to try a different one after their prescribed period.
We do encourage you to take a look at the terms of this trial as there are fees, quality controls and limitations to the days you need to notify them of your decision.
As for their delivery, we find their fees to be very affordable as they are based on different price brackets. However, they do sometimes use third party couriers for some orders.
We do advise to check the website ahead of time as some categories have a smaller selection of items such as their outdoor furniture and office chairs.
Offer very cohesive furniture sets
Great options for accent items such as decorative pieces
Affordable delivery fees
Have a 30 Night Mattress Trial
Closed on Sundays
Small selection of some items like outdoor furniture
Customer Reviews
Great Quality and Quick Delivery
I bought a day bed about two months ago. It was great quality and I love it. Ordering off your website was quick and easy, as in in my 50's and not great on ordering online. I had a question about what kind of mattress suited the bed so I rang and was talking to a delightful woman who was very helpful. Delivery was also quick. I would definitely order something again. – Kathleen Burke
Best Shopping Experience
Best shopping experience ever. They deliver on time. Prices are economical.It's a big place and you can find everything to home. I would recommend this place to everyone. – Anula Ciara
FAQs about Furniture
---
We hope this article helped you in considering some options for the best furniture stores out there in Galway. If you would like to check out more of our articles, we also have one on the best office chairs in Ireland.