5 of the Best Upholstery Services in Limerick
Upholstery can completely change the quality of your furniture and is a great way to accent your different pieces. With the numerous fabric options out there, where does one even start?
In this article, we take a look at some of the best upholstery services in Limerick, who can help bring a unique look to your sofas and chairs.
How much does upholstery cost?
One of the main factors that affect upholstery prices is of course the textile being used, whether it's provided by yourself or the company you've partnered up with.
Other factors include, labor hours needed and the complexity of the furniture being upholstered. We listed below a table containing both price estimates for common textiles used for upholstery as well as prices of upholstery services.
| Test or Procedure | Average Estimated Price |
| --- | --- |
| Leatherette | €34 |
| Foam Seat Pads | € 4 to € 16 |
| Reupholstery 2 Seater Sofa | € 837 |
| Reupholstery Armchair | € 575 to € 957 |
| Reupholstery Dining Chair | €96.00 |
Top Upholstery Services in Limerick
We assessed the upholstery services according to the following criteria:
1. Murray's Upholstery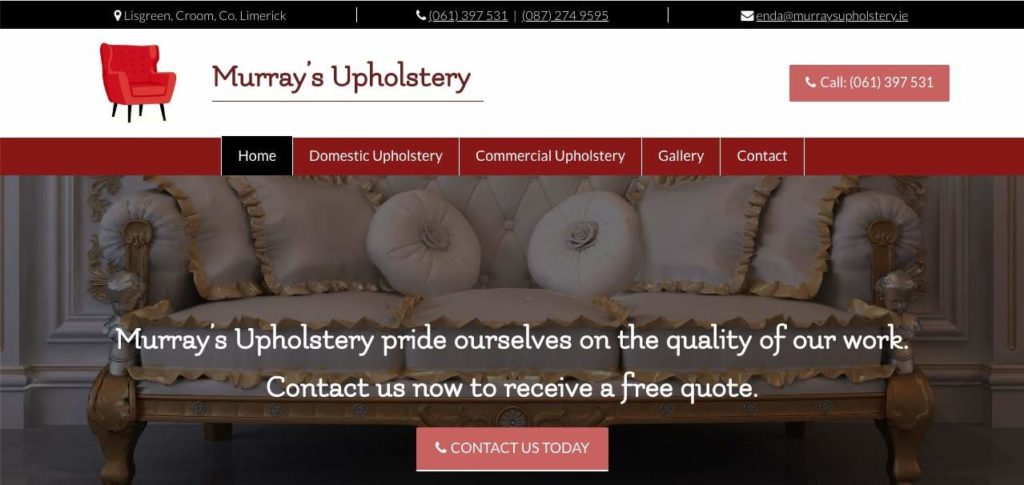 | Test | Info |
| --- | --- |
| SERVICES | Domestic Upholstery, Commercial Upholstery |
| WEBSITE | https://www.murraysupholstery.ie/ |
| ADDRESS | Lisgreen, Croom, Co. Limerick |
| CONTACT DETAILS | (061) 397 531, (087) 274 9595 |
| OPERATING HOURS | Weekdays: 8:00 AM to 5:30 PM |
| | |
| --- | --- |
| Previous works | ★★★★★(5/5) |
| Range of services | ★★★★★(5/5) |
| Upholstery | ★★★★★(5/5) |
| Additional services | ★★★★☆(4/5) |
| Suppliers and partners | ★★★★★(5/5) |
| Customer feedback | ★★★★★(5/5) |
| Satisfaction | ★★★★★(5/5) |
| Staff approach | ★★★★☆(4/5) |
Murray's Upholstery has been around since the 1980s, providing services to a variety of clients located in different areas, from Limerick all the way to the general Munster area.
If you are looking for an upholstery service with a solid foundation of experience, they are a great choice. They've worked for a diverse client range including the East Clare Golf Club and the University of Limerick.
We were very impressed by their gallery of past works as most of them include intricate designed furniture. Specifically, they have exemplary results with tufted upholstery and chairs with irregularly shaped frames.
For those with more curved and complex-shaped furniture pieces, Murray's Upholstery may be the right fit for you.
Murray's offers two main types of upholstery, both domestic and commercial. For their domestic category, we are impressed by their re-upholstery quality and range, as they work with many types of pieces including piano stools and large sofas.
They even make sure to check the frame of the concerned piece to ensure that the quality of the end product is as if it is brand new. We like that they don't skip on the details.
For their commercial upholstery category, what we liked is that there is a great depth of options to their services. For example, they can provide french polishing and cushion matching to any business who requires it.
Worked with different types of clients from airports to hotels
Recommended for intricately designed furniture
Offers both domestic and commercial upholstery
Has services for more specific types of upholstery including marine upholstery and orthopaedic chairs
Closed on weekends and operating hours end at 5:30 PM on weekdays
Not as much information on their website for their delivery service
Customer Reviews
High Quality Workmanship
Great service.Very helpful advice offered and high quality workmanship. -Mick Buckley
A Thorough Upholstery Service
Everything you need for your upholstery needs, great service -Jamesie Foley
2. Irish Hide Designs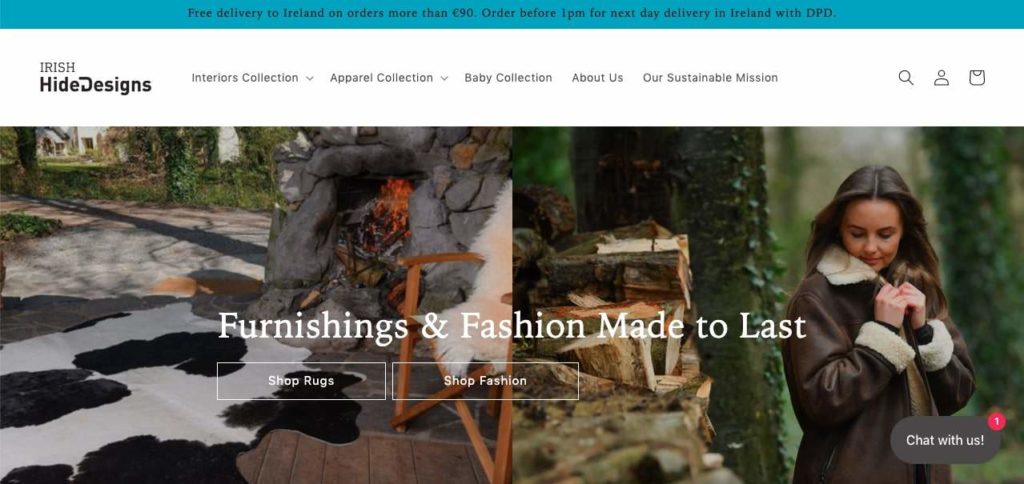 | Test | Info |
| --- | --- |
| SERVICES | Specialist Leather/Sheepskin Upholstery Service, Ottomans, Rugs, Footstools, Beanbags, Interior Accessories, Vintage Furniture, Apparel |
| WEBSITE | https://irishhidedesigns.com/ |
| ADDRESS | Sleepy Hollow, Raheen, Lisnagry, Co. Limerick |
| CONTACT DETAILS | +353 86 270 0644 |
| OPERATING HOURS | Open 24 Hours |
| | |
| --- | --- |
| Previous works | ★★★★★(5/5) |
| Range of services | ★★★★☆(4/5) |
| Upholstery | ★★★★☆(4/5) |
| Additional services | ★★★★☆(4/5) |
| Suppliers and partners | ★★★★★(5/5) |
| Customer feedback | ★★★★★(5/5) |
| Satisfaction | ★★★★★(5/5) |
| Staff approach | ★★★★★(5/5) |
If you're looking towards upholstery options for leather and sheepskin, Irish Hide Designs is your best choice for a high quality service.
Although Irish Hide began back in 2016, their experience as a family business dates as far back as the 1800s. We do like that their rich and vast experience in fellmongering allows them to be highly knowledgeable and skillful in providing customers with advice.
Additionally, due to their reputation for high quality, they have been featured in the likes of The Irish Times and Irish Examiner.
What we can also appreciate about their services is that they make sure they source their materials ethically. The hides and leather come from the Wild Atlantic Way and they make sure to use by-products instead from the food industry.
Taking a look at their products, another highlight of theirs are the look and feel of the materials. Many customers have praised not only the quality, but also the aesthetic that their products bring into a room.
If you're looking for more unique types of upholstery, they're the perfect place to check out.
We like that their upholstery and customization service is quite flexible. If you have a look or design in mind, do not hesitate to call and discuss with them any of your requests.
Some limitations we do see is that these materials can run quite costly but also understandably so. Make sure to check out their site beforehand to look at the range of prices they offer.
Open 24 hours
Extensive and qualified background
High quality of materials and source them ethically
Flexible upholstery and customization service
Services can be more costly
Limited options to leather and sheepskin
Customer Reviews
Great Attention to Detail and Quality
Incredible quality products. Derek made a wonderful fleece blanket for my disabled daughter. The warmth and pressure relief has changed her life. Derek's attention to detail and quality is second to none. Can't recommend highly enough. Very fast, efficient and personal service. -W D
Imbues Passion for his Craft
Derek offers exceptional personal service, imbues passion for his craft, and injects soul into on line purchasing of exceptional Irish products. Make sure you have a chat with him before you buy ! Definitely will purchase again. Well done to all the team at Irish Hide Designs. -Adrienne Regan
3. O'Doherty Upholstery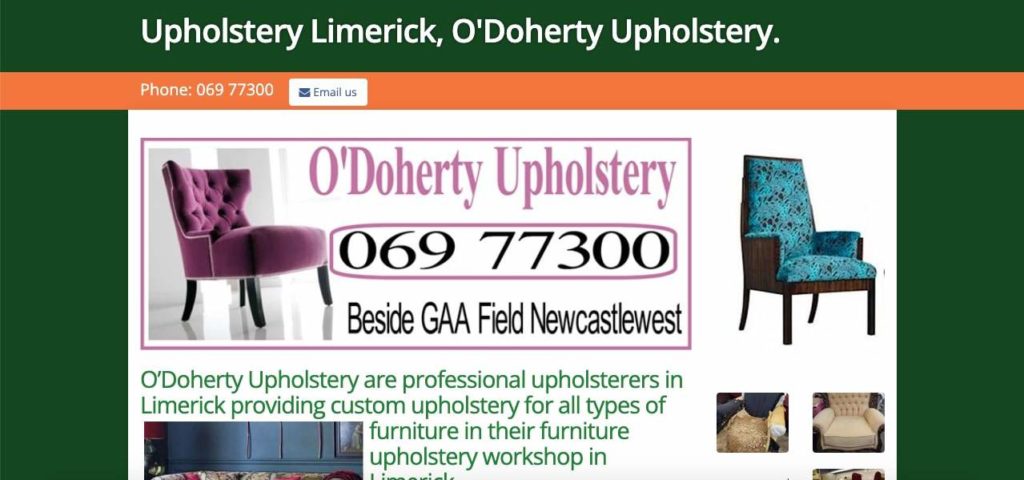 | | |
| --- | --- |
| Previous works | ★★★★★(5/5) |
| Range of services | ★★★★☆(4/5) |
| Upholstery | ★★★★★(5/5) |
| Additional services | ★★★☆☆(3/5) |
| Suppliers and partners | ★★★★★(5/5) |
| Customer feedback | ★★★★★(5/5) |
| Satisfaction | ★★★★☆(4/5) |
| Staff approach | ★★★★★(5/5) |
A furniture repair shop located at Newcastlewest, O'Doherty is a versatile choice when it comes to upholstery services.
They have over 30 years of experience and a wide portfolio to prove it. We like that their extensive background comes in handy for many different types of furniture frames and styles.
We find their craftsmanship to be second to none as they are very skilled in using traditional upholstery techniques. This makes them great candidates for those who want their antique pieces to be upholstered.
We also like that in these cases, they can provide solid advice for restoration and cleaning especially for older types of furniture.
Aside from this, O'Doherty also works with commercial upholstery. They even have an extensive and unique past client list, working for dentists, cinemas to nursing homes.
If you're looking for a commercial upholstery service provider, O'Doherty is an excellent and all-around choice.
What we can also appreciate about them is they have a good range of upholstery fabrics, from more traditional to more modern options. Paired with their extensive background and knowledge, O'Doherty can advise and provide the best textile for different customer requests.
While we do highly recommend them for working with antique furniture, their services do go beyond this, as they can work with different pieces, from dining chairs to patio furniture.

Work with all types of furniture
30 years of experience
Great stock of upholstery materials
Also provides commercial upholstery
Limited information on terms and conditions
Need to contact for price quote
Customer Reviews
Brought my Couch Back to Life
Cant thank David enough for fantastic job he done on my couch.He brought life back into a 8year old couch absolutely stunning job thank you so much -Kathriona Bannon
Great and Friendly Staff
Great place ,friendly staff and do a great job -Gerard O Shaughnessy
4. Cover All Furniture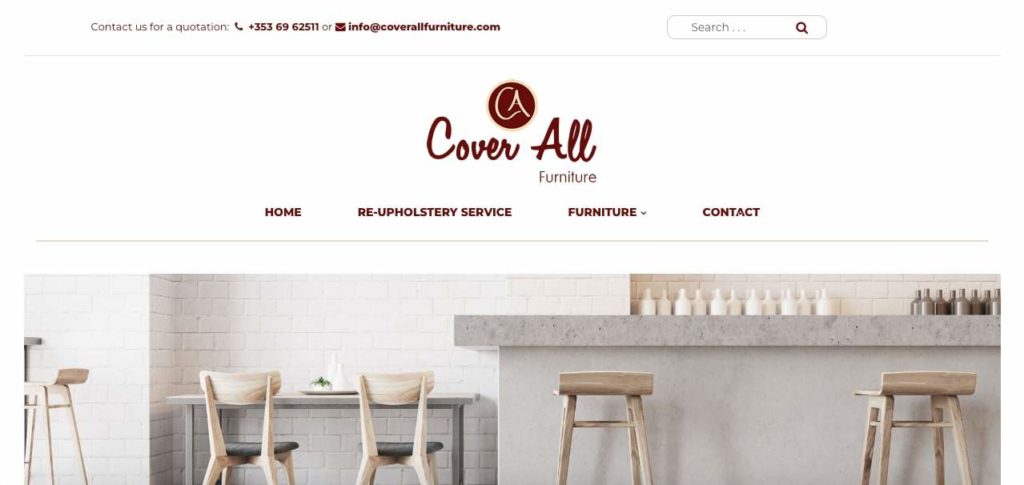 Test
Info
SERVICES
Re-upholstery Service, Furniture Shop
WEBSITE
https://www.coverallfurniture.com/
ADDRESS
Station Road, Newcastle West, Co. Limerick
CONTACT DETAILS
+353 69 62511
OPERATING HOURS
Monday to Thursday: 9:00 AM to 6:00 PM

Friday: 9:00 AM to 7:00 PM

*Lunch breaks: 1:00 AM to 2:00 PM
| | |
| --- | --- |
| Previous works | ★★★★★(5/5) |
| Range of services | ★★★★★(5/5) |
| Upholstery | ★★★★★(5/5) |
| Additional services | ★★★★☆(4/5) |
| Suppliers and partners | ★★★★★(5/5) |
| Customer feedback | ★★★★★(5/5) |
| Satisfaction | ★★★★☆(4/5) |
| Staff approach | ★★★★★(5/5) |
Founded in 1980, Cover All Furniture has an extensive process that allows them to give customers a thorough and satisfying service.
They have both onhand pieces and bespoke services, ensuring that these are all overseen by proficient craftsmen. We like that they are highly skilled and knowledgeable, making them a great choice if you're looking as well for consultations.
What we also like about Cover All is that their procedures are very detailed and thorough. To start with, they provide consultations and even free estimates.
Following this, they have a good service for color matching as they have a wide range of color samples to choose from. We were very impressed that these steps allow for a fully customized service.
This also carries over to their re-upholstery service, providing customers with a range of fabrics to choose from as well as being adaptable to different furniture designs. We also like that they can provide replacements for covers and foam to fully round out the whole process.
Their stock of items on their site is also quite large in terms of different furniture types. They feature high wooden stools to even durable models for outdoor furniture.
If you are interested in checking these out in person, we also like that they have a showroom to display their available selection.
For those who would like private consultations, especially for more custom pieces, make sure to call ahead as they only do so through appointments.
Thorough and detailed process
Great at color matching
Extensive collection of furniture from stools to tables to outdoor furniture
Also have cover and foam replacements
Closed on weekends
Need appointment for private consultations
5. Mairéad O'Doherty Interiors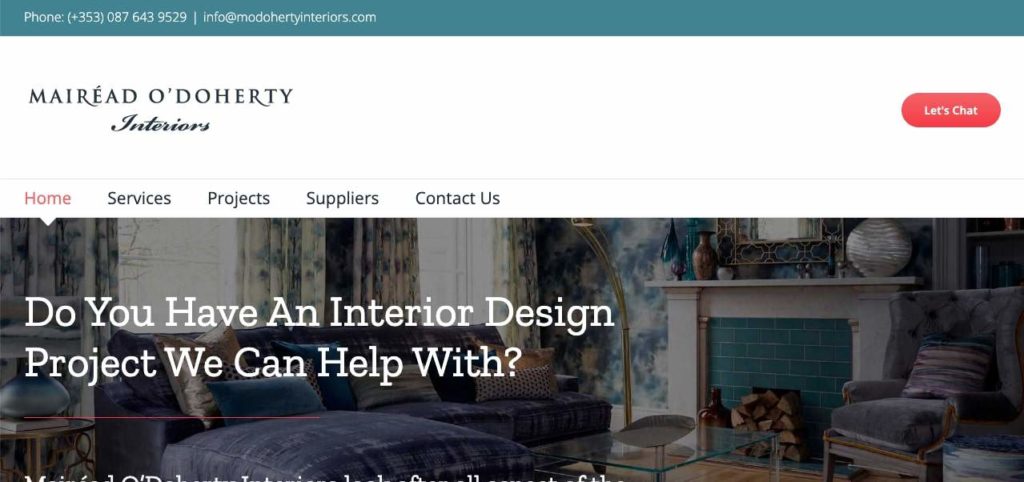 | Test | Info |
| --- | --- |
| SERVICES | Full Interior Design, Commercial Interior Design, Curtains and Blinds, Poles and Wallpapers, Fabrics and Upholstery, Lighting, Cushions |
| WEBSITE | https://modohertyinteriors.com/ |
| ADDRESS | Cloontemple, Ballingarry, Co. Limerick |
| CONTACT DETAILS | (+353) 087 643 9529 |
| | |
| --- | --- |
| Previous works | ★★★★★(5/5) |
| Range of services | ★★★★★(5/5) |
| Upholstery | ★★★★☆(4/5) |
| Additional services | ★★★★★(5/5) |
| Suppliers and partners | ★★★★★(5/5) |
| Customer feedback | ★★★★★(5/5) |
| Satisfaction | ★★★★★(5/5) |
| Staff approach | ★★★★★(5/5) |
Mairéad O'Doherty Interiors is your definite go to if you're looking to match your upholsteries and fabrics to full interior makeovers.
They specialize in interior design and some of the works they feature includes working for the Fitzgerald Woodlands House Hotel and the Revas Spa Adare. We find their works to be very cohesive and atmospheric.
Their portfolio shows that their work makes the room feel themed yet stylish. We like that they do not shy away from different materials, colors and textures.
They are a great choice if you're looking to add some personality and boldness to your rooms.
Additionally, they have a great list of options for suppliers especially in the fabric and wallpaper category. Some of these include Skopos Fabrics and Clarke and Clarke.
We like the curation of different suppliers they have, as it makes it easier for the customer to narrow down options and sources.
What we can further appreciate about Mairéad O'Doherty Interiors is that their consultation and coordination ensures that the project is tailor fit to the shopper. They make sure all decisions on pieces are run through by the customer's approval before moving ahead.
If you want someone who is very involved with choosing the right fabrics and textiles for your space, Mairéad O'Doherty Interiors may be your best bet.
Keep in mind however, that this may not be the best option for more straightforward and singular upholstery services, as their strengths lie more in cohesive and top to bottom interior design.
Extensive commercial upholstery work in hotels
Portfolio shows works that are stylish, with bold colors and different textures
Great range of suppliers
Can manage logistics to source products
Services might be more costly
Not the best choice for a straightforward upholstery project
Customer Reviews
Understood the look I Wanted
Top class from start to finish, understood the look I wanted and gave it the wow factor , couldn't be happier , would highly recommend -Tralee Culinary Gangsters Croi
FAQs about Upholstery
---
Whether it is to freshen up the look of your furniture or restore its cushioning, we hope that our list helped you explore the different upholstery services out there. If you would like to read more we also have an article on the best furniture stores in Ireland.