5 Best Places to Get Fried Chicken in Dublin
The Irish love their comfort food—traditional recipes that they can cook in the comfort of their homes and shared at their tables.
However, once in a while they do love to indulge in more sinful comfort food like burgers, fried potatoes, and of course—fried chicken!
How Much Fried Chicken Costs in Dublin
This table shows the estimated range of how much a customer might spend in some of the top fried chicken restaurants in Dublin. These rates might change any time though without prior notice.
| RESTAURANT | ESTIMATED PRICE |
| --- | --- |
| Mad Egg | €20-40 |
| Chimac | €20-30 |
| Hillbilly's | €10-20 |
| Cluck Chicken | €10-20 |
| Hot Chix | €10-20 |
Best Fried Chicken Places in Dublin
We're reviewing the best fried chicken restaurants in Dublin using the following factors:
1. Mad Egg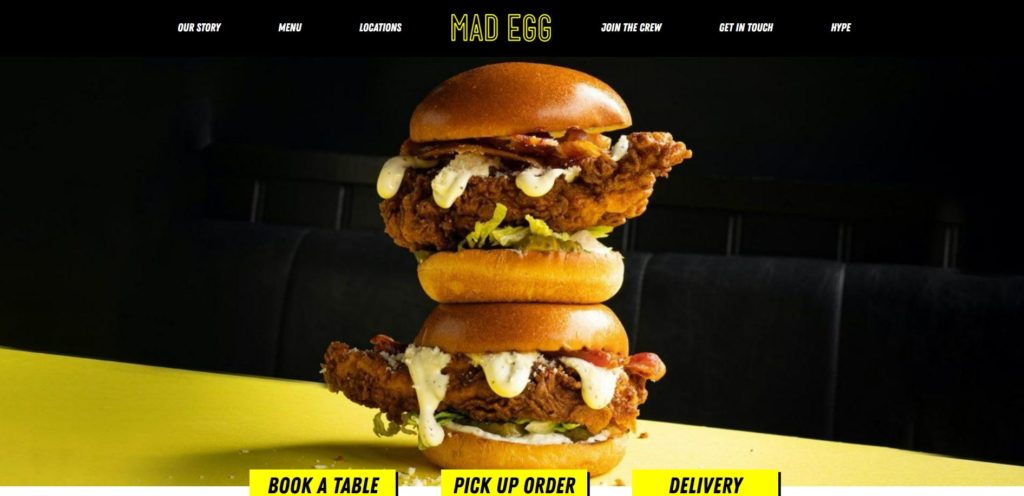 Test
Info
WEBSITE
https://www.madegg.ie/
ADDRESS
2 & 3 Charlotte Way, Camden Pl, Camden Street Lower, Saint Kevin's, Dublin 2, Ireland
CONTACT DETAILS
+353 1 912 3492
OPERATING HOURS
Sunday - Wednesday: 12:00 PM - 9:30 PM

Thursday - Saturday: 12:00 PM - 10:00 PM
| | |
| --- | --- |
| Quality of food | ★★★★☆ (4/5) |
| Location | ★★★★☆ (4/5) |
| Accessibility | ★★★★☆ (4/5) |
| Atmosphere | ★★★★☆ (4/5) |
| Local reputation | ★★★★☆ (4/5) |
| Food options | ★★★★☆ (4/5) |
| Overall service | ★★★★★ (5/5) |
| Dine-in | ★★★★★ (5/5) |
| Takeaway and delivery | ★★★★☆ (4/5) |
When we talk about Mad Egg, the first thing that comes to mind of its customers is its chicken burgers. This fried chicken restaurant in Dublin is known for its savage chicken burgers, and no one has ever recovered from it—in a good way!
According to the restaurant's loyal customers, what they love the most about the chicken burgers is the chicken itself. It's juicy on the inside and crispy on the outside—plus, it's bigger than a typical chicken so it'll definitely make you full!
We also heard customers boasting about the chicken tenders, and how savoury they are—and we agree! The goujons are moist and super tender, and it has several options for dips that you can adjust the taste based on your preference.
Another thing we love about Mad Egg is that it also has other options for food—so if your companion isn't fond of chicken, he or she can choose other options from the menu. It's a little pricey though, but the quality of the food is worth the money.
And they serve really good desserts as well! We love that you have something to cleanse your palate after eating such a savoury chicken meal.
We admire the service as well—the staff are approachable and attentive, while the manager roams around to ask if the food is great. The orders arrive fast, so the waiting time isn't very long.
And just in case you don't feel like going out, Mad Egg has delivery options. The delivery is quick and hassle-free, so you'll get your chicken in no time.
In terms of atmosphere, we love that Mad Egg has a light and friendly ambience. The customers can just relax while eating their food without pressure.
Mad Egg tends to get busy though, so sometimes it can get a little chaotic inside. We also want to warn you about the mix-ups in orders during this time because the staff tend to do that because of so many customers.
Generous servings
Clean restaurant
Friendly manager
Approachable and attentive staff
Savage chicken burgers
Juicy and crispy fried chicken
Several options for chicken dips
Good ambience
Has some other food options like pasta
Quick service
Food always served hot
Not too greasy chicken
Serves dessert
Offers takeaway and delivery
A little pricey
Mixes up orders on busy hours
Soggy fries
Customer Reviews
Moist and tender chicken with light breading
Honestly the best fried chicken I've ever had. Not even a huge fan of fried chicken, but the chicken was so moist and tender, and the breading was light and flaky. Loved the soy sauce chilli tenders. The fries are also excellent with the chicken salt. — Coleen S, Trip Advisor
Helpful staff and quick service
We went there for lunch and the staff greeted us nicely and told us how to order by scanning the QR code on the table. We ordered chicken tender, hot chicken sandwich and fries with cheese and bacon. The service was quick and the food was great as well, the portion was medium to large. The chicken on the chicken tender and the sandwich was juicy as well.— Lukas Natulus, Google Reviews
2. Chimac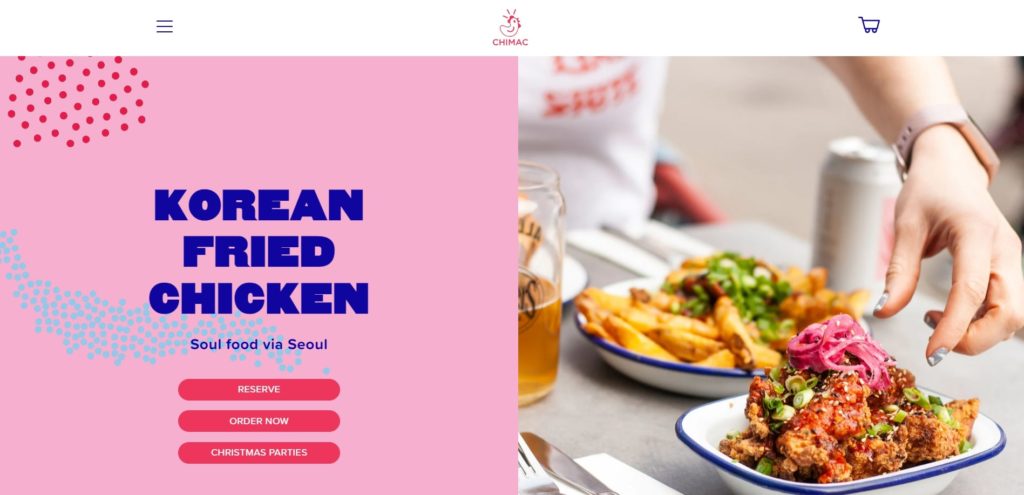 Test
Info
WEBSITE
https://www.chimac.ie/
ADDRESS
76 Aungier St, Dublin 2, D02 XR70, Ireland
CONTACT DETAILS
+353 1 405 4960
OPERATING HOURS
Sunday - Wednesday: 12:30 PM - 9:00 PM

Thursday: 12:30 PM - 9:30 PM

Friday - Saturday: 12:30 PM - 10:00 PM
| | |
| --- | --- |
| Quality of food | ★★★★★ (5/5) |
| Location | ★★★★☆ (4/5) |
| Accessibility | ★★★★☆ (4/5) |
| Atmosphere | ★★★★☆ (4/5) |
| Local reputation | ★★★★☆ (4/5) |
| Food options | ★★★★★ (5/5) |
| Overall service | ★★★★☆ (4/5) |
| Dine-in | ★★★★☆ (4/5) |
| Takeaway and delivery | ★★★☆☆ (3/5) |
If you're looking for a specific type of fried chicken, we recommend trying Chimac in Dublin. The restaurant serves Korean-style chicken, and if you're a fan of the crispy batter, then this is the restaurant to go!
Another thing we love about Chimac is its delivery process. In fact, when we asked some customers, they told us they opt for delivery at times because it makes no difference—the food quality is retained despite the distance!
This is because the food ordered through delivery is always well-packed. These customers can attest even that when the food arrives in their houses, the chicken and fries are still crispy and warm!
The only problem we see for delivery and takeaways is that sometimes the staff forget to pack all the orders. This can be a disappointment to customers, especially if the order that's not included are the ones they crave for the most.
In terms of price—Chimac's is a budget-friendly chicken place. For a restaurant that has several options for Korean food including some unique items on the menu you can't find anywhere—this is a real treat!
The dine-in experience is fantastic as well! The place can accommodate large groups and there's the helpful and warm staff who make you feel welcomed the moment you step inside.
We notice though that Chimac doesn't seem to run out of customers. If you're not too fond of crowd or hate waiting, visit during the non-peak hours.
Korean-style chicken
Professional and helpful staff
A lot of side dishes
Reasonable price
Has takeaway and delivery options
Welcoming atmosphere
So many options for food (Korean)
Unique menu
Clean store
Fast service
Can accommodate large groups
Has options for vegetarians
Always full
Missing orders on takeaways
Not enough sauce for chicken if ordered via delivery
Customer Reviews
Fantastic Korean fried chicken and a varied menu
Well, if you love Korean fried chicken you should absolutely go to Chimac. A menu with a very nice variety but everything we tried was absolutely delicious. Bacon cheese fries are a must try! We had nuggs with K-BBQ and the K-BBQ burger and everything was super delicious. Great prices and lots of food! We were three and this was more than enough! Highly recommend it! — Carolina Macedo, Google Reviews
Generous size and reasonable price
My 2nd time trying. I got medium wings with K-BBQ sauce. Portion size was generous for the price, €8.50 for 8 pieces of drumlets/wing. The sauce had a spicy tang which I liked, slightly too sweet but overall taste is above average. I'd like to try the Korean hot sauce next time. The wings weren't evenly coated but this is easily remedied by dipping in the extra sauce at the bottom of the dish. The plates are small which makes eating slightly inconvenient but this is just me nitpicking. All in all my craving for korean fried chicken was satisfied and so I am grateful — Ashley Hsu, Google Reviews
3. Hillbilly's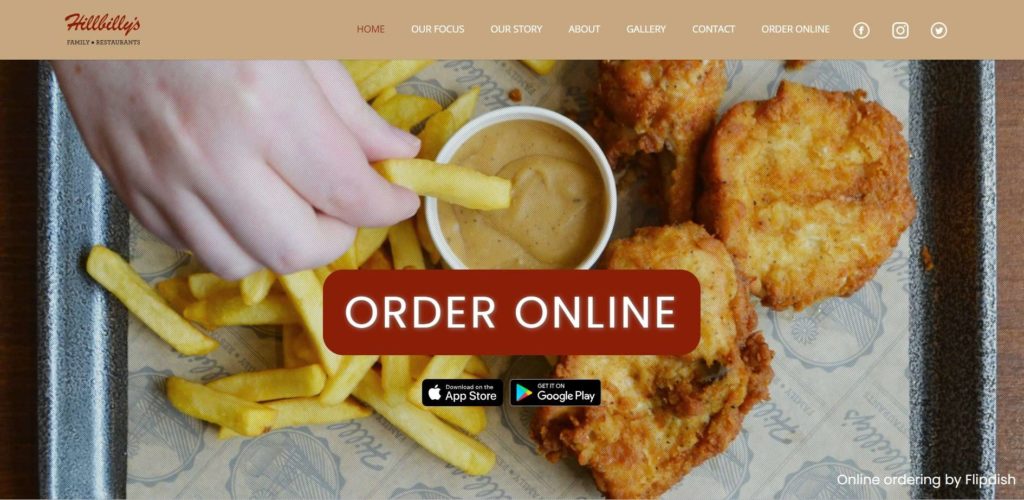 | Test | Info |
| --- | --- |
| WEBSITE | https://www.hillbillys.ie/ |
| ADDRESS | 17 Fairview, Clontarf, Dublin, D03 H4F3, Ireland |
| CONTACT DETAILS | +353 1 853 1088 |
| OPERATING HOURS | Monday - Sunday: 12:00 PM - 12:00 AM |
| | |
| --- | --- |
| Quality of food | ★★★★☆ (4/5) |
| Location | ★★★★☆ (4/5) |
| Accessibility | ★★★★☆ (4/5) |
| Atmosphere | ★★★☆☆ (3/5) |
| Local reputation | ★★★★☆ (4/5) |
| Food options | ★★★★☆ (4/5) |
| Overall service | ★★★★☆ (4/5) |
| Dine-in | ★★★★☆ (4/5) |
| Takeaway and delivery | ★★★★★ (5/5) |
Talking about Hillbilly's doesn't mean we're talking about its savoury fried chicken—we're also talking about their special gravy sauce. A visit at this fried chicken place won't be complete without the full order of fried chicken and gravy!
What we love the most about Hillbilly's is that the fried chicken is always cooked perfectly—just the right amount of crispiness and juiciness. We also love that it's always served hot meaning it's really freshly cooked and not reheated.
Don't forget to try the gravy! Hillbilly's boasts about their gravy—and charges extra for it as well—and it's because it's not similar to regular gravy and is one of the place's specialties!
It also offers other types of food, which is good news to those who are very picky. Just don't expect large servings on some food options so you won't get disappointed!
We love that the restaurant has reasonable prices for their food. In fact, it also has deals on certain days—like buy one, get one snackboxes on Tuesdays—which the customers love.
We also appreciate that the place is quite accessible to anyone—it's located right next to a bus stop! The area's quite a bit rough though, so the ambience isn't that relaxing.
Just in case you don't want to go out, another advantage is that Hillbilly's has an app you can download for delivery. The app is easy to use so you'll be able to order in no time.
Has an app for ordering online
Regular schedule of business hours
Good location
Well-cooked chicken
Place is spotless-clean
Reasonable pricing
Buy one, get one deals on snackboxes (Tuesdays)
Amazing gravy
Lovely staff
Food is always served hot and fresh
Fast delivery
Charges extra for gravy
Small servings for some food options
Loud background music
Customer Reviews
Better than popular fast food chicken
My best friend, brought me to this place today as a treat, his wife said a lot better that KFC, I wasn't sure, but by Jesus she was right, the chicken was gorgeous and delicious, the chips was delicious, right the curry sauce you get in a tub, was a bit thick and lumpy, but I didn't go there for the sauce, I left with a happy smile on my face, will be going back for sure — James A, Trip Advisor
Tasty chicken with the best chips
Very tasty chicken with proper chips. Also, in my honest opinion I'd say their gravy/dip is way better than a very famous Chicken shop brand I've been to recently — really thick just how it should be — Darren Simon, Google Reviews
4. Cluck Chicken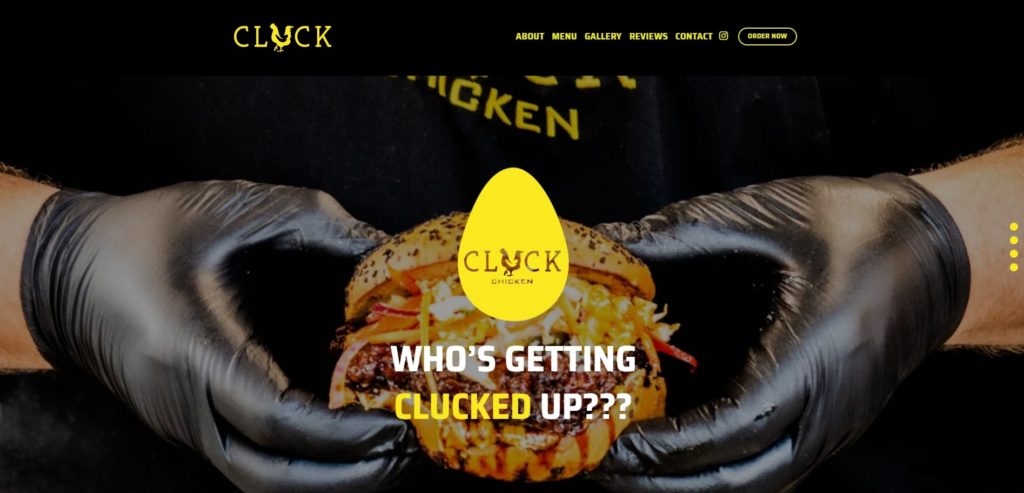 Test
Info
WEBSITE
https://cluckchicken.ie/
ADDRESS
22 Greenhills Rd, Walkinstown, Dublin, D12 K7F4, Ireland
CONTACT DETAILS
+083 166 9121
OPERATING HOURS
Wednesday: 5:00 PM - 9:00 PM

Thursday: 5:00 PM - 9:30 PM

Friday: 4:00 PM - 10:00 PM

Saturday: 3:00 PM - 10:00 PM

Sunday: 3:00 PM - 9:00 PM
| | |
| --- | --- |
| Quality of food | ★★★★☆ (4/5) |
| Location | ★★★★★ (5/5) |
| Accessibility | ★★★★☆ (4/5) |
| Atmosphere | ★★★★★ (5/5) |
| Local reputation | ★★★★☆ (4/5) |
| Food options | ★★★☆☆ (3/5) |
| Overall service | ★★★★★ (5/5) |
| Dine-in | ★★★★☆ (4/5) |
| Takeaway and delivery | ★★★★★ (5/5) |
If you ask us what Cluck Chicken has to offer more than its superb fried chicken meals—we'll tell you it's the outside dining experience! The customers literally will eat outside, and to us, that just adds to the experience.
Cluck Chicken has a trailer container where you can order your food, and there are tables and benches surrounding the trailer where you can sit down and eat. This is why we think it's perfect for families or large groups of friends—plenty of space for everyone!
According to some customers we met, they really bring their friends here and their families. Everyone can just enjoy nice food and a nice conversation outside on a good day—which is a perfect pastime when you're with comfort people.
It's kid-friendly and pet-friendly as well because it's outdoors. You don't have to leave your fur friends at home and can bring them with you.
The food is amazing as well! Their fried chicken is perfectly well-seasoned and cooked to perfection, and the best thing we love—it's not greasy at all!
The portions are huge as well! We're actually quite surprised by how large the serving is—so if you're not a heavy eater, you'll probably won't get to finish your meal.
We also want to commend Cluck Chicken for having such an efficient order system for dine-in, takeaway, and delivery. This makes the line and waiting time more organised and efficient, which is convenient to all customers!
The only problems we see are non-food related. One is that the place isn't ideal if the weather is bad or during cold months, and the other is the difficulty in finding a parking spot during peak hours.
Great location
Lovely and professional staff
Lots of space for big groups
Good portions
Flavourful chicken
Food is always served warm
Quick service
Efficient order system for takeaways
Chicken's not greasy
Pet-friendly
Irregular and limited business hours
Difficult to find parking on busy hours
Not ideal if the weather's bad
Customer Reviews
Good set-up in a huge space—perfect for large groups
More and more of these small, pop-up eating spots have appeared around Dublin since lockdown, either in a horse box or shipping container. Hopefully Cluck is here to stay, quality food, fast service and portions that will have you rolling out of the car park. Good setup, order, given a beeper that goes off when food is ready and you go up and collect. Picnic benches are a good addition instead of sitting in a cramped car stuffing your face as we have been for months, will definitely go back! — Mackel Mullzy, Google Reviews
Lovely staff and good location
Some of the best fried chicken you can get in Dublin, lovely staff, great little location. Haven't been disappointed in my many visits here. The specials each month are great too— Ireland's Grub, Google Reviews
5. Hot Chix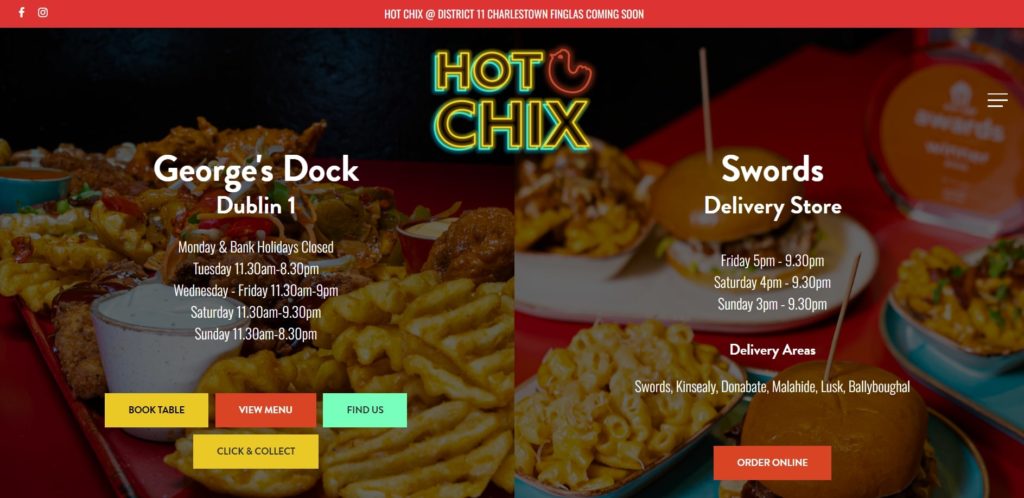 Test
Info
WEBSITE
https://hotchix.ie/
ADDRESS
Unit 3, George's Dock, Mayor Street Lower, International Financial Services Centre, Dublin 1, D01 RP89, Ireland
CONTACT DETAILS
+353 1 211 8922
OPERATING HOURS
Tuesday & Sunday: 11:30 AM - 8:30 PM

Wednesday - Thursday: 11:30 AM - 9:00 PM

Friday - Saturday: 11:30 AM - 9:30 PM
| | |
| --- | --- |
| Quality of food | ★★★★☆ (4/5) |
| Location | ★★★★★ (5/5) |
| Accessibility | ★★★★★ (5/5) |
| Atmosphere | ★★★★★ (5/5) |
| Local reputation | ★★★★☆ (4/5) |
| Food options | ★★★★★ (5/5) |
| Overall service | ★★★★☆ (4/5) |
| Dine-in | ★★★★☆ (4/5) |
| Takeaway and delivery | ★★★☆☆ (3/5) |
Some people prefer American-style comfort food, and Hot Chix is that fried chicken place in Dublin that serves southern-style western food! It kinda reminds us of diners in America—a casual friendly atmosphere that offers good music and good food.
Speaking of good food, we love that the place offers a variety of food choices like mac and cheese, waffle fries, burgers, chicken, and a variety of drinks. So if you're with someone who's very picky with food, he or she can still eat something.
The portions are huge as well—so you're getting your money's worth! If you're a small eater, you might not even be able to finish your meal.
Their chicken is amazing—the chicken tenders are cooked so perfectly it's a balance between crispy and juicy. It's not oily too so the seasoning is not overpowered by grease, and you can taste how flavourful it is!
The best thing about eating at Hot Chix for us though is the ambience. You'll get to enjoy your food while enjoying the beautiful view.
The service is great as well—speedy and efficient for dine-in, takeaway, and delivery. Just a warning though—sometimes the orders via app are mixed-up, and you might find yourself getting the wrong order (this isn't a regular occurrence though).
We also want to praise the staff for being attentive to customers. They're always on standby, ready to attend to the customers' concerns.
Lastly, we love that Hot Chix has an extensive list of beverages you can enjoy with their food. Just ask for ice because the restaurant serves their beer warm. 
Huge portions
Comfort American-style food
Casual atmosphere
Near station
Amazing staff
Good view
Good value for money
Really flavourful and perfectly cooked chicken
Extensive food choices
Speedy service
Great lunch deals
Beers are warm
Some orders via delivery app are mixed-up
Customer Reviews
Best venue for American-style comfort food
I had some buffalo tenders and bacon waffle fries and goodness that joint was good. My first thought was "what do the Irish know about fried chicken?" Apparently a lot lol. Service was really fast and food was cooked and seasoned perfectly!— Taylor Minus, Google Reviews
Generous servings and lovely staff
Chicken tenders are always awesome, but Hot Chix blew it out of the water with great + speedy service, a nice balcony, and chicken that was so flavorful and juicy. We got regular, sesame, and Nashville Hot, every flavour was super good. Only shame was that we couldn't finish it all! Highly recommend it! — Liz, Google Reviews
FAQs About Fried Chicken in Dublin
---
When you find yourself craving fried chicken, remember that Dublin has some of the best shops for you to try—and they're just a call away. We also think you might want to try the Best Fish and Chips in Dublin if you're craving for a more traditional fried dish!