5 of the Best Electricians in Cork
Proper equipment maintenance makes all the difference, especially in something as dangerous and technical as electricity. Therefore, it's important that we find the best experts to face these problems.
In this article, we took a look at the best electricians in Cork to aid in all things systematic and mechanical.
How much do electrician services cost?
Electricians usually have an hourly rate to price their services. However, for larger projects, they usually base the cost on labor and resources needed to finish the job.
Below are some price estimates for different services electricians offer.
| Service | Average Estimated Prices |
| --- | --- |
| Broken Light Fixture Replacement | € 50 to € 100 |
| Light Fixture Installation | € 50 to € 175 |
| Socket | € 70 to € 250 |
| Replace Fuse Box | € 300 to € 1200 |
| Bathroom Fan | € 80 to € 200 |
| Rewiring | € 3,000 to € 17,000 |
Top Electricians in Cork
We assessed the electricians based on the following criteria:
1. 021 Electrician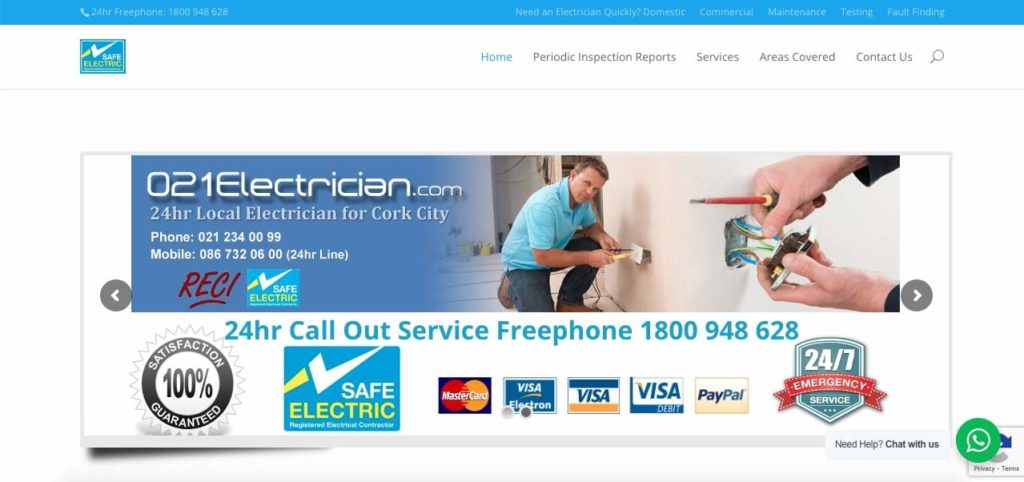 | Test | Info |
| --- | --- |
| SERVICES | Domestic, Commercial, Agricultural Wiring, Fuseboard Rewiring and Upgrades, Fault Finding and Repair, P.A.T. Testing, R.E.C.I Testing & Certification & Periodic Inspection Reports, Fire Alarms Installation and Maintenance, Telephone and Data Communications, CCTV and Intercom Systems, Appliance Installation, Electrical Maintenance, 24Hr Emergency Call Out Service |
| WEBSITE | http://www.021electrician.com/ |
| ADDRESS | Donnybrook Commercial Centre, Unit 4, B1, Donnybrook, Cork |
| CONTACT DETAILS | 1800948628 |
| OPERATING HOURS | Open 24 Hours |
| | |
| --- | --- |
| Background | ★★★★★(5/5) |
| Range of services | ★★★★★(5/5) |
| Domestic | ★★★★★(5/5) |
| Commercial | ★★★★★(5/5) |
| Efficiency | ★★★★★(5/5) |
| Customer feedback | ★★★★★(5/5) |
| Coordination | ★★★★★(5/5) |
| Overall satisfaction | ★★★★★(5/5) |
021 Electrician is one of the best candidates for fast and reliable electrical services out there.
What initially stood out for us is their impressive background and expertise. As a Registered Electrical Contractor of Ireland (R.E.C.I ), they have over 20 years of experience, working with fully qualified electricians for all of their projects.
We also really like that the range of services are applicable to a variety of situations. If you just moved into a new home and need help with different system installations, 021 Electrician can help with CCTV systems and fire alarms.
Moreover, they have an excellent periodic inspection report service which is especially great for business or home owners looking for safety approvals with their wiring.
With 021 Electrician's list of services, customers don't need to look for different providers for different concerns. We find it very convenient that they can inquire about most of their electrical problems all in one place.
What probably separates 021 Electrician from other similar services, is the fact that they also provide a 24/7 emergency service.
Numerous client feedback has praised this feature as dependable and efficient, with some cases reporting that 021 Electrician was at their doorstep within 25 minutes.
We like that they can provide a fast yet reliable job when facing more urgent concerns.
However, take note that their coverage only includes Cork City Center and the surrounding nearby suburbs. If customers are also looking for price quotations, they would need to contact them beforehand.
Provide a 24/7 emergency service
Accept various modes of payment
Great range of electrical services
Can also provide a periodic inspection report
Need to contact further for pricing
Coverage of services limited to Cork City Center
Customer Reviews
Quick and Reliable
This is one phone number that you will want to store on your phone. I needed and electrician urgently on a bank holiday weekend, my own electrician was away so I found these guys on Google. They were at my doorstep within 30 min and repaired the fault within ten minutes. -John Hayes
Excellent Emergency Service
My elderly neighbour called into me in a panic one night recently as she was getting a smell of burn from her fuse box and the power had gone. I called 021Electrician at 10:30 on the Sunday night, they were there within 25 minutes and had power back on within a half an hour. A fantastic service and a number I'll be keeping and sharing! -Michael O'Mahony
2. Roclec Electrical Services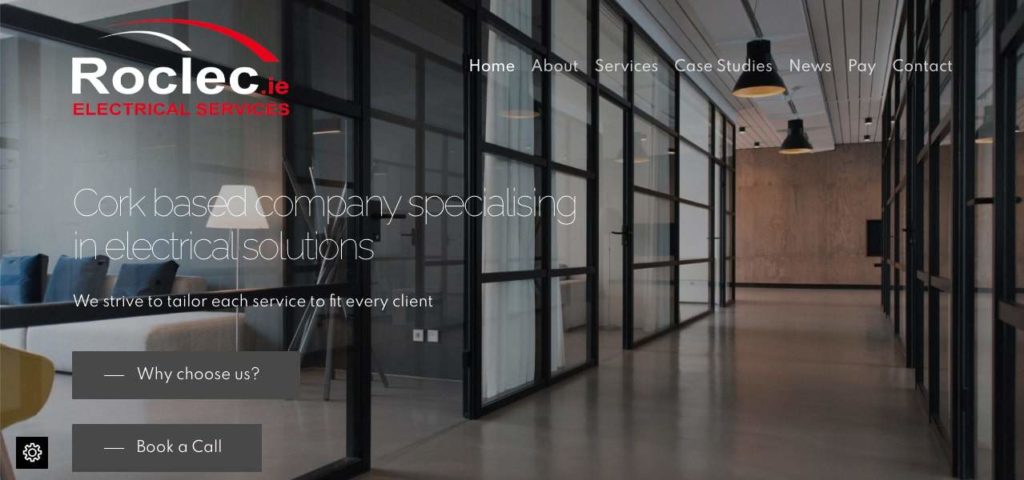 | Test | Info |
| --- | --- |
| SERVICES | Residential and Domestic, Commercial and Industrial, Facilities Management, Green Energy |
| WEBSITE | https://roclec.ie/ |
| ADDRESS | Unit 12A, Tramore Commercial Park, Tramore Road, Cork |
| CONTACT DETAILS | 021 431 7350 |
| OPERATING HOURS | Open 24 Hours |
| | |
| --- | --- |
| Background | ★★★★★(5/5) |
| Range of services | ★★★★★(5/5) |
| Domestic | ★★★★★(5/5) |
| Commercial | ★★★★★(5/5) |
| Efficiency | ★★★★★(5/5) |
| Customer feedback | ★★★★☆(4/5) |
| Coordination | ★★★☆☆(3/5) |
| Overall satisfaction | ★★★★☆(4/5) |
With a diverse previous client base, Roclec Electrical Services is a great choice for those looking for high quality electrical services, especially for larger projects.
Even though they are a great choice for more sizable companies,we like that Roclec Electrical accommodates a variety of customers. From private residential to industrial businesses, they are flexible enough to work for different structures.
Aside from this, what we find to be a great strength of Roclec Electrical Services is their expertise to support the electrical services. They can provide solid advice on complex designs and project management.
They really are a great choice when it comes to the full package of planning and executing electrical systems and maintenance.
Taking a look at their previous work, they have shown to be quite adaptable in terms of different customer needs. They have previously worked on shopfitting for a family business to electrical maintenance in risky industrial areas.
If you are searching for a great choice in terms of an electrician who can be versatile no matter what request, we highly recommend them.
What makes them unique is that their range of services, aside from catering to the more commercial and industrial, includes helping customers with Green Energy.
Roclec can help provide information and resources on them which sets them apart from their competitors.
However, do take note that one-on-one consultations with them require a booking beforehand, so make sure to check their website for the calendar.
Can help with customers looking for Green Energy solutions
Accommodates all sizes of projects
Excellent expertise especially in areas of design and project management
Very thorough and exhaustive procedures
One to one consultations require booking
Some customers indicate difficulty in contacting
Customer Reviews
Completed Work in a Timely Manner
Thanks to Roy and Sean for work recently carried out at my house. I had an electric shower installed, an oven and some other electrical work. Roy helped me out greatly by getting to me at short notice and completing the work in an timely manner. It's important to have trades people you can rely on and Roylec did not let me down. I would recommend this company for your electrical work and am happy to have them in my list of contacts for any future work that may arise. -Barbara Graham
Great Experience with Wiring and Industrial Applications
We have used Roclec both for wiring in our workshop and on site in industrial applications. One of these installs was an ATEX environment. Roclec sized, sourced and installed the correct components first time. We look forward to working with Roclec again. -Danny and Jessie
3. Foleys Plumbing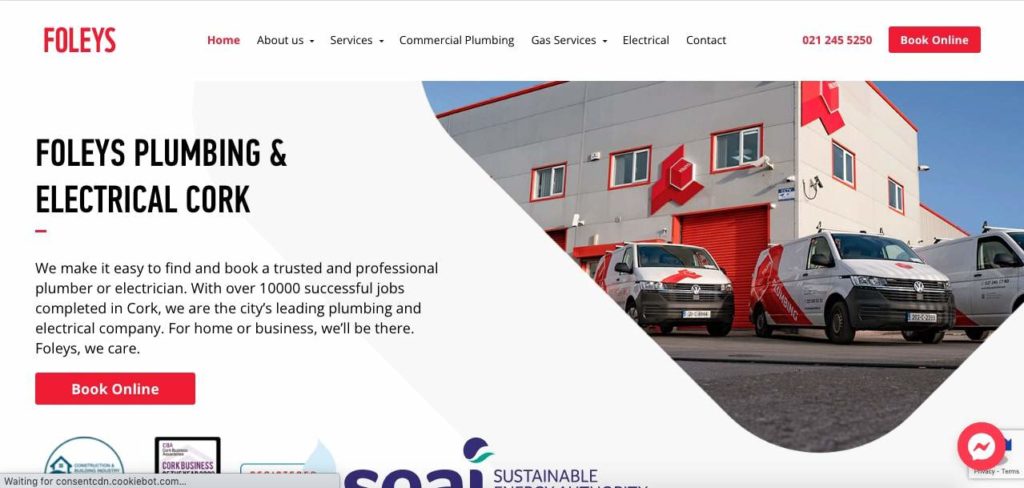 Test
Info
SERVICES
Electrical Services, Heating Systems, Commercial Plumbing, Gas Services
WEBSITE
https://www.foleysplumbing.ie/
ADDRESS
Unit 1, Lee Park, Sitecast Industrial Estate, Pouladuff Road, Cork
CONTACT DETAILS
021 245 5250
OPERATING HOURS
Monday to Thursday: 8:00 AM to 5:00 PM

Friday: 8:00 AM to 4:00 PM
| | |
| --- | --- |
| Background | ★★★★★(5/5) |
| Range of services | ★★★★★(5/5) |
| Domestic | ★★★★★(5/5) |
| Commercial | ★★★★★(5/5) |
| Efficiency | ★★★★★(5/5) |
| Customer feedback | ★★★★☆(4/5) |
| Coordination | ★★★★☆(4/5) |
| Overall satisfaction | ★★★★☆(4/5) |
Don't let its name fool you because Foleys Plumbing offers a wide range of services. They also offer qualified electricians, making them ideal for any household's needs.
They have extensive experience having completed over 10,000 jobs. They are also decorated with seals and awards of approval for their works in gas installation and plumbing.
What we like about Foleys Plumbing is that they can work for establishments, home properties or commercial projects. So if you fall under any of these categories, you can be assured that Foleys has the right experience to approach any of your requests.
Foleys Plumbing has some great options for more minor electrical services like installing smoke detectors or alarms to wiring electrical showers and heating controls.
We also like that they can work on more urgent solutions. Specifically, they can help customers with emergency electrical repairs and maintenance, benefiting customers who are in riskier situations.
Additionally they can also provide advice for energy efficiency solutions. So even though they are labeled as Foleys Plumbing, we appreciate that they have a great depth to their electrical services.
What is probably most advantageous in contacting them however, is that you can get a lot of different maintenance services under their one roof. They also have great plumbing and services for heating systems.
However, they are not available on weekends and close earlier compared to other electrician services. Make sure to check their schedule in advance if you are interested.
Good previous experience previously completing over 10,000 jobs
Can work for businesses, homes or commercial properties
Offers plumbing, electrical and heating system services all-in-one
Has a good range for different electrical services
Closed on weekends
Previous customer difficulties with price quotation
Customer Reviews
Professional to Deal With
Very professional in doing their job. I required both plumbers and electricians to install smart heating in our home. Very tidy & don't leave a mess after their work. I've dealt with Foleys Plumbing & Electrical twice already . Best thing of all they arrive when whatever date you book them. You get a reminder email a day before they arrive and a phone call on the morning before they arrive. Highly recommended. -JP roche
Electric Shower Fitted in One Day
Fantastic people to deal with. Fast and efficient top top Company 5 star service . Got an electric shower fitted in the one day plumbed and electric completed. Works just beautifully. -P Corrigan
4. Quick Electrician Cork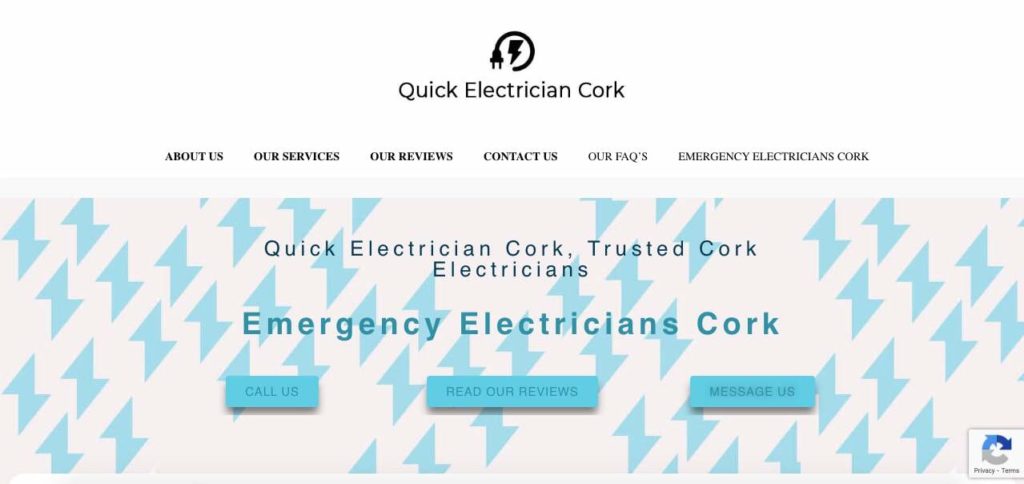 | Test | Info |
| --- | --- |
| SERVICES | Emergency Electrician, Repair Work, Water Heaters, Fuse Boxes, Rewiring, Security Lighting, Outdoor Lighting, Garden Lighting, Sockets, Fixtures, Periodic Inspections, Shower Installations, Appliance Installations |
| WEBSITE | https://www.quickelectriciancork.com/ |
| ADDRESS | 30 Roche's Buildings, Richmond Hill, Cork |
| CONTACT DETAILS | +353 87 225 3983 |
| OPERATING HOURS | Open 24 Hours |
| | |
| --- | --- |
| Background | ★★★★★(5/5) |
| Range of services | ★★★★☆(4/5) |
| Domestic | ★★★★☆(4/5) |
| Commercial | ★★★★☆(4/5) |
| Efficiency | ★★★★★(5/5) |
| Customer feedback | ★★★★★(5/5) |
| Coordination | ★★★★★(5/5) |
| Overall satisfaction | ★★★★★(5/5) |
With a more curated list of available services, Quick Electrician Cork is a customer favorite amongst many for their helpfulness and reasonable costs.
They can work for multiple city locations from Ballincollig to Farranree and they only carry out their tasks through fully RECI registered workers. Also, they apply this keen eye for quality right down to the materials they use, making sure they only use the best available.
We like that even with their background and resources, they make sure to not skip over any details for high standards.
What is great about Quick Electrician as well is that they have a great range of services for property maintenance and installation.
Although they do work for both residential and commercial situations, they specialize in appliance installations, garden lighting and security. This is especially great for customers who want top down maintenance and more DIY related tasks all from one service provider.
Quick Electrician does also offer more local emergency electrician services and periodic inspections. If you are in need of a service that will get these done efficiently, we highly recommend them.
We also greatly appreciate that they make sure to clean up after all of their projects. Many customers have praised this aspect of their services, because combined with their efficient workflow, it makes for a job that feels fully thorough from start to finish.
Customers also note that their prices are quite reasonable, so if you're looking for services that are more affordable, you may want to consider them.
However, Quick Electrician is more limited in providing more complex types of electrical services compared to other providers. They would be better fit in a quick and smaller scale situation.
Helpful and professional 
Great for smaller more DIY type projects
Reasonable prices
Great quality work and offers clean up after
Not the best option for larger scale projects
More limited list of available services
Customer Reviews
Carried out the Work Promptly and to an Excellent Standard
I needed some small jobs done, which included replacing inside lights and switch, replace an outside light and replace bathroom fan heater, and contacted Quick Electric Cork to do the work. Electrician was there the following day and carried out the work promptly and to an excellent standard. He was very helpful and pleasant to deal with. The overall cost was reasonable too. He cleaned everything up when he finished and left everything spotless. Excellent job all round. I am a very happy customer and have no hesitation in recommending Quick Electric Cork to anyone who needs work done. -Pat
Tidy and Polite
People have been complementing my new kitchen lighting ever since it was installed. The Electrician crew were also very tidy and polite, showed up on time and got the job done in good order. -Niamh O'Shea
5. Power Electrical
| Test | Info |
| --- | --- |
| SERVICES | Periodic Inspection Reports, Solar PV, Installations, Fuse Board Upgrades, Lighting, Alarm Systems, Network Points, Intercom Systems, Door Entry Systems, Access Control, Lighting Upgrades, Volt Supply and Distribution, Requiring, Earthing and Bonding, Smoke and Heat Detectors, Sockets |
| WEBSITE | http://powerelectrical.ie/ |
| ADDRESS | 82 Ballyhooly Rd, Montenotte, Cork |
| CONTACT DETAILS | 021 202 1166 |
| OPERATING HOURS | Weekdays: 9:30 AM to 5:30 PM |
| | |
| --- | --- |
| Background | ★★★★★(5/5) |
| Range of services | ★★★★★(5/5) |
| Domestic | ★★★★★(5/5) |
| Commercial | ★★★★★(5/5) |
| Efficiency | ★★★★★(5/5) |
| Customer feedback | ★★★★★(5/5) |
| Coordination | ★★★★★(5/5) |
| Overall satisfaction | ★★★★★(5/5) |
Power Electrical began in 2004 and it is quite evident to see how much they've grown the quality of their work to excellent standards.
We also like that they take great precaution in ensuring the qualifications and expertise. They make sure that their team of electricians are up to date with current regulations and requirements.
Power Electrical is also fully insured and registered with Safe Electric and the Electrical Contractors Safety and Standards Association (E.C.S.S.A.).
Customers can be assured knowing that their services spare no expense when it comes to accreditation and knowledge.
Power Electrical mainly divides their list of services between domestic and commercial. We found that within each of these categories, there is a great depth and range to the different offerings they had.
For their domestic services, we like that they have a great variety of options available for installing and maintaining different types of appliances. They can help customers with electric underfloor heating to landscape lighting and outdoor sockets.
In terms of their more commercial services, this quality of having a great range also carries over. In particular, we like that they can help you with various systems and upgrades like emergency lighting, intercom systems and security lighting.
Uniquely, they also offer services for Solar PV so if you are considering this as an energy source option, Power Electrical has the knowledge and know how to help you.
We do however note that their operating hours are limited to weekdays so it is something to keep in mind when carrying out a specific request and schedule.
Highly qualified team of electricians
Customer feedback praises their efficiency
Offers services for Solar PV
Great depth of commercial services
Shorter operating hours and closed on weekends
Need to contact them for further information on each service
Customer Reviews
Great Energy Efficient Solutions
We recently had our house renovated and Adrian completely re designed the lighting throughout our home. The transformation was incredible. We can really see the savings on our bill with the new energy efficient solutions that were suggested. Would highly recommend Power Electrical!" -Diarmuid Murphy
Thoroughly Delighted with the Results
We recently needed to have our house re wired and although daunted at the prospect, we are delighted with the results. Adrian recommended all of the lighting throughout the house and gave us ideas which we would never have thought of. My home looks like something out of a magazine! I am thoroughly delighted with the result. Cannot recommend Power Electrical enough. -Ann O'Riordan
FAQs about Electricians
---
We hope this list helped you figure out the right electrician for your technical projects and concerns. If you would like to read more, we also have an article on the best electricians in Waterford.