Top 6 Printers for Business Cards in Ireland
Business cards are important tools for businesses and employees everywhere.
Today, we'll go over the best business card printers in Ireland. Here's a list of our top picks including some FAQs, average prices, and criteria on how we chose our top selections.
How much do business cards cost in Ireland?
Lots of factors can affect the price of business cards in Ireland.
First, business cards are usually ordered in bulk. On the average, companies can offer from 50 to 5,000.
Second, the specifications of the business card can add to the price. This includes the business card's size, finish, orientation, and thickness, among other options.
For example, a pack of 50 55mm x 85mm business cards can cost between €12.50 to €45.74 without any delivery fees.
Top Printers for Business Cards in Ireland
As there are so many options to have business cards made in Ireland, we've narrowed it down to these based on the following:
1. Digital Printing Ireland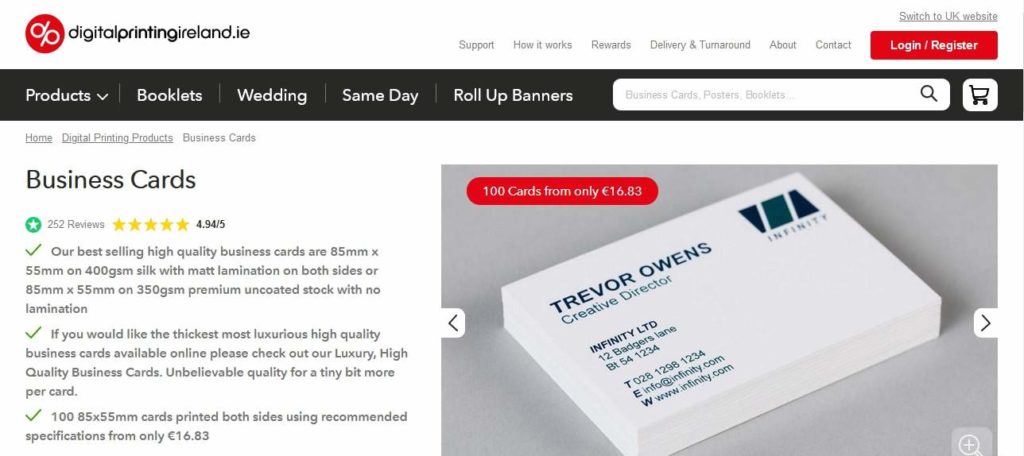 | | |
| --- | --- |
| Criteria | Ratings |
| Customizability | ★★★★☆ (4/5) |
| Pricing | ★★★★★ (5/5) |
| Quality | ★★★☆☆ (3/5) |
| Delivery | ★★★★☆ (4/5) |
With 20 years of experience in the printing industry, Digital Printing Ireland provides a variety of products. A shorter timeline among all the other entries in this list, but their service quality speaks for itself.
We found their business card ordering process to be fairly easy to follow. However, there's a catch: they don't offer an in-house design service.
This means you'll have to either do your own design or hire a third-party to design the cards for you. That would add to your costs and trouble.
When it comes to quality, they've been consistently improving. Some orders had quality issues such as bent edges, unusual packing, damage during transit, and print errors.
This can also be said of their delivery too. Most of the customers approved of the fast turnaround time even after them redoing some batches due to one or more printing errors.
However, there were some customers who were charged extra fees. This was even after paying for a next-day premium due to the shop not finishing the order by then.
Even so, their prices fall within the average for Ireland despite having a discount that only applies onto the price of the order. That's still worth noting.
Can take orders of up to 5000 cards
Large variety of customization options
Have business cards made up to a week in advance
Discount only applies to the price of the order
Cannot help with designing the cards before printing
Customer Reviews
Production fault addressed
"There was a production fault with my initial order. They were very quick to rectify the issue and were very easy to communicate with. Would definitely use it again!" – Sarah P.
Consistently great service
"These guys are best in the business, lightning fast, and at great prices. I use them all the time for my business from business cards, to stickers, to flyers, to specialized cards for my products. They go above and beyond even when I send the wrong type of files. They couldn't be nicer and work with me to achieve the best results. I recommend them to other crafters and supporting the Irish is very important to me." – Laura Prints
2. Baldoyle Print Ireland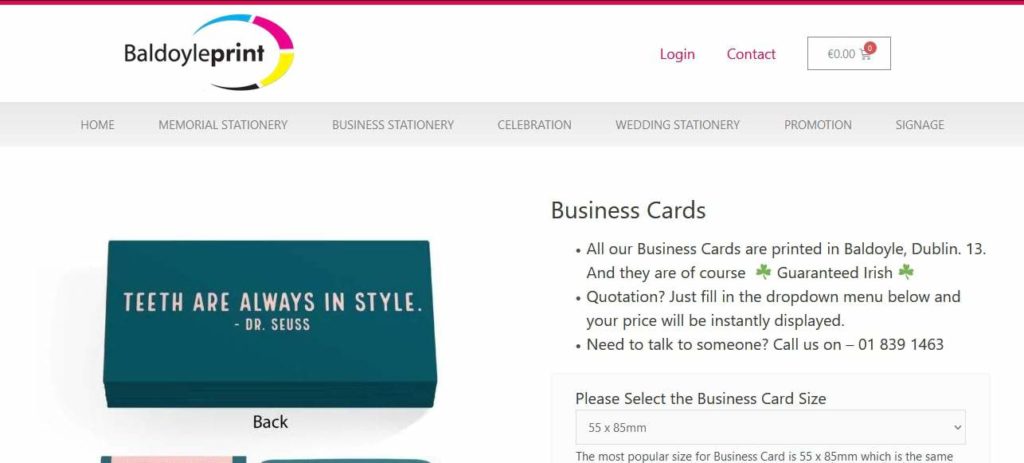 | | |
| --- | --- |
| Criteria | Ratings |
| Customizability | ★★★☆☆ (3/5) |
| Pricing | ★★★☆☆ (3/5) |
| Quality | ★★★★★ (5/5) |
| Delivery | ★★★★☆ (4/5) |
When it comes to business cards, Baldoyle Print Ireland is also a great place to have them made.
We like that the cost of having your cards printed with a design on hand is within average when you choose them. However, it will become more than that if you use their in-house design service.
Aside from the cost, they only produce a limited set of cards compared to the others on this list. We dislike that fact as you may want them to make a different set from what they offer.
We think that it is good that they include an online quotation service. However, you would have to wait for an additional 1 business day before placing an order.
When it comes to their delivery, they will offer an extra charge if they have to deliver it a day after an order has been placed. If it's not a rush, we think that the lead of within 2 business days is great.
Despite this, previous customers we polled said they were fully satisfied with the quality they receive from Baldoyle Print. Some of them were impressed at how consistent their service was.
All-in-all, we think they can provide great business cards if you don't mind the limited options and extra lead times for quotes.
In-house design service
Online quotation
Limited options for business card size
Limited options for business card thickness
Extra business day for each quote
Customer Reviews
Great service overall
"Nice people, great to deal with, 1st class product, can not speak highly enough of them, will definitely use them again." – Alan Comerford
Remarkable service over 20 years of printers
"The quality and attention to detail of Baldoyle Print's work is absolutely stunning. Their work is truly outstanding. John, Caroline and the team are an absolute pleasure to work with. Having worked with many, many printers over the last 20 years, I couldn't possibly recommend Baldoyle Print more highly." – Barry White
3. Print Ready Ireland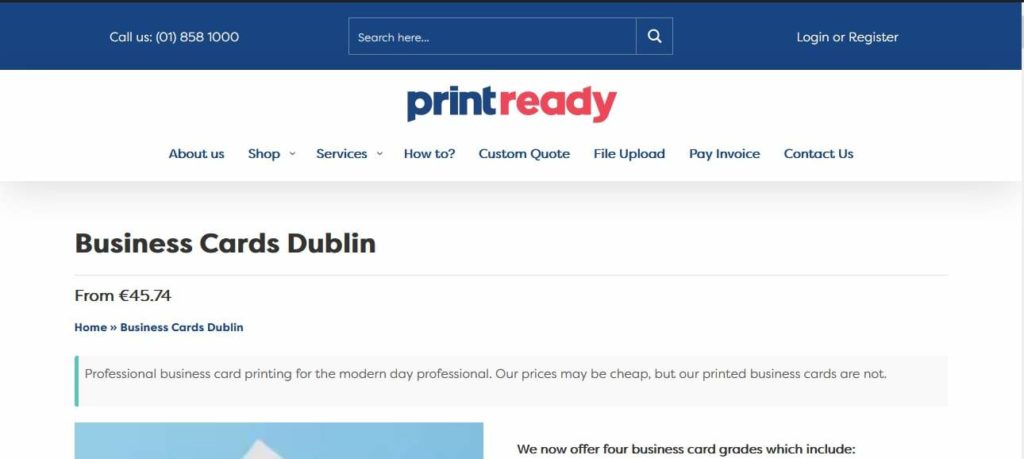 | | |
| --- | --- |
| Criteria | Ratings |
| Customizability | ★★★★☆ (4/5) |
| Pricing | ★★★☆☆ (3/5) |
| Quality | ★★★★☆ (4/5) |
| Delivery | ★★★★☆ (4/5) |
Print Ready Ireland is a unique printing service company for two reasons.
First, they can offer trade printing services to customers. We like this because customers can have them make stuff for them to sell using wholesale devices.
Second, we think it is great that they have several initiatives that make them more environmentally friendly.
Aside from those, let's check out how they handle their orders of business cards.
From their order form, you can choose from a limited set of business card options. As it starts from €45.74, it may be on the higher end compared to the other companies on this list.
If you want a different type of business card, we think that having a custom quote option on their website is good. It will take an extra business day for them to return one, which can be a drawback.
We find it great that there's an in-house design service, regardless of the extra charge on top of your order for it.
Even so, it is great that they offer pick-up services at their physical office. Unlike the other companies on this list, they can offer a delivery timeframe of 24-hours or 48-hours.
Despite the higher-than-average price and several issues, lots of their previous customers would still recommend them as their go-to service.
Pick-up delivery options available
Trade printing services available
Initiatives to become more environmentally-friendly
Limited options when filling out their form
Slightly higher price range per order
Customer Reviews
Cards for staff were made great
"Very good printers. I ordered 6 lots of business cards for all our staff. They made all the changes we asked them to. Very patient. Very good designers also. Print quality is really good and being able to deal with them in person." – Richard
Overall service rocks
"I've been using Gary for all my printing since I started my business. He and Print Ready have always delivered the goods. Their printing is excellent but their customer service is better. Very easy to deal with. 100% recommend them for your printing." – First Class Driveways and Patios
4. Hunt Office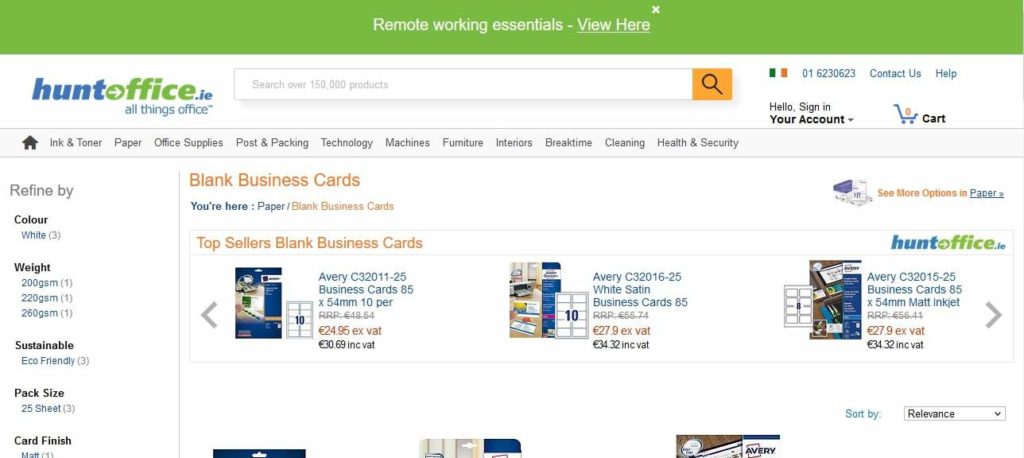 Test
Info
WEBSITE
https://www.huntoffice.ie/business-cards.html
ADDRESS
Unit 5 - Desmond Business Park, Station Road, Newcastle West, Co. Limerick, Republic of Ireland
CONTACT DETAILS
Phone number (domestic): 01 6230623

Phone number (international): +353 1 6230623

Email: [email protected]

OPERATING HOURS
Monday to Friday: 9:00 AM - 6:00 PM

Saturday and Sunday: Closed
| | |
| --- | --- |
| Criteria | Ratings |
| Customizability | ★★☆☆☆ (2/5) |
| Pricing | ★★★★★ (5/5) |
| Quality | ★★★★★ (4/5) |
| Delivery | ★★★★☆ (4/5) |
Hunt Office Ireland, unlike the other entries on this list, is an office supply company. We find that to be a good thing, since they can even provide materials for their customers to create their own cards.
However, we think that it is quite limiting that they only offer a few options for ready-to-print business cards.
Even so, what irks us about their service is that there will be a slight delay in order processing if you're a new customer or you're switching payment methods with them.
Another pain point is that large orders can incur significant extra delivery time.
Still, we find it cool that they can deliver within the next working day if the order has been placed by 4:30 PM. Past that, it will take the standard 24 to 48 hours.
What's limiting about them is that they only accept both inquiries and orders during their opening hours. They do have a return and refund policy, but they won't accept it due to damage in delivery.
We find it great that their previous customers within and outside Ireland are praising them for their service and quality despite these.
Can provide all the materials needed to create business cards
Discounts available
Accepts orders within and outside Ireland
14-day return and refund policy
Delay in processing orders from new customers or customers using different payment methods
Cannot accept returns due to damage on delivery
Phone inquiries only available during weekdays
Limited choices on the types of business cards available
Customer Reviews
Great product quality
"Brilliant product, the cards went through my printer with complete ease, no jams. The software to create the design is good and daily easy to use. So convenient as you only need to print business cards when you know you need more rather than ordering in bulk and potentially risking the design or information on the cards getting outdated. The only downside is you can't choose the dimensions of the cards yourself, you could cut the business cards but there is no guarantee they would be exactly the same size. Other than that, you have complete creative control." – Cathal B.
Great experience from start to finish
"I had great difficulty and delays getting my order delivered but Paudie was very attentive and understanding of my frustration. He communicated clearly and followed through to ensure I received what had been ordered." – Educogym Baggot St.
5. Printing.ie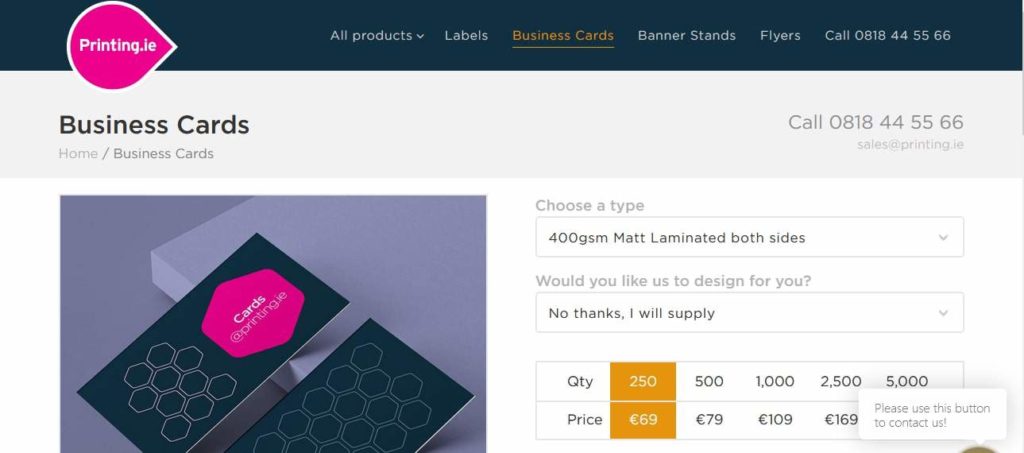 Test
Info
WEBSITE
https://www.printing.ie/product/business-cards/
ADDRESS
38 New Street, Killarney, County Kerry, V93 FCX2, Ireland
CONTACT DETAILS
Phone number (domestic): 0818 44 55 66

Phone number (international: +353 64 66 76100

Email: [email protected]

OPERATING HOURS
Monday to Friday: 9:00 AM to 5:00 PM

Saturday and Sunday: Closed
| | |
| --- | --- |
| Criteria | Ratings |
| Customizability | ★★★☆☆ (3/5) |
| Pricing | ★★★★★ (5/5) |
| Quality | ★★★★☆ (4/5) |
| Delivery | ★★★★☆ (4/5) |
Printing.ie is another great place for having business cards made in Ireland.
From their form on the website, there aren't many options to go on as it's set to their recommended options for their clients. Despite this, they do have an in-design service as an add-on.
We think that contacting them through phone or email for a custom business card order may seem more of a hassle because of the extra time to ask for a quote and placing the order itself.
Even so, they're one of the few services on this list that allow you to have a pallet delivery or pick-up option for their orders. Any pallet deliveries, however, would need 3 days of lead time.
Anyway, we like that they can ship orders within Ireland, UK, and mainland Europe.
However, we think that their process of having an order reprinted may take too long. Since they're asking you to submit information aside from paying for the reprint, this may take as much or more time than its first print.
Even so, lots of their customers recommend them. Some of them even said that their turnaround time is great and they consistently keep on their deadlines.
Pick-up option available
In-house business card design available
Pallet delivery available
Accepts orders within Ireland, UK, and mainland Europe
Unable to submit a custom order through their website
Reprint may be charged to you on a case-to-case basis
Customer Reviews
Consistent service through the years
"Stephen and the staff at Printing.ie have provided us with print and design services since 2007. They are a really creative design team with a huge choice of printed material to suit our needs. Exceptional turnaround time. I would recommend it to anyone starting a new business." – Niall Thompson
Great cards and great service
"Just to confirm that we received the cards today. They look great and we are very happy with them and the service from Printing.ie. Fast, efficient and good value – we couldn't ask for more" – Tom from Lightbox Digital
6. IE Printing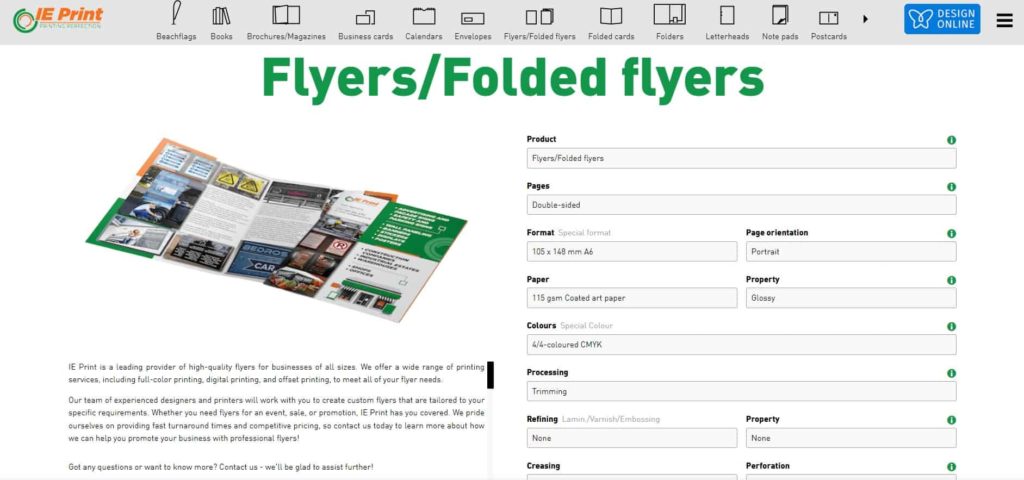 Test
Info
SERVICES
Printing products

Photo products

Textile products

Catering supplies

Advertising equipment

Large-format

Packaging

Promo products

Office supplies

Gift products

WEBSITE
https://ieprint.ie/
ADDRESS
IE Print, Mullingar, Ireland
CONTACT DETAILS
0873509797 / [email protected]
OPERATING HOURS
Monday to friday 9am to 5pm
| | |
| --- | --- |
| Criteria | Ratings |
| Customizability | ★★★★★ (5/5) |
| Pricing | ★★★★☆ (4/5) |
| Quality | ★★★★☆ (4/5) |
| Delivery | ★★★★★ (5/5) |
IE Printing is a shop that provides clients with a versatile range of printing products and services that is ideal for both commercial and personal purposes.
We like that they have high-end printers employed and updated at all times to ensure that clients won't only get their products and orders in a quality fashion but also in fast turnaround times as well.
Furthermore, their website adequately states what types of products and items they can accommodate printing along with a simple image for each to better help clients visualize the style of the said end-product.
Note though that rates of their services aren't readily available on their website, but clients can fill out their online form or reach out to them for more information on this.
Overall, with their reliable and experienced team of professionals employed, latest and well-maintained facilities and printers, we highly recommend them to clients in the area looking for such quality services.
Variety of printable items available
Fast turnaround times
Experienced personnel employed
Rates of their printable items aren't readily available
FAQ About Business Cards
If this article helped you out in getting you ready for work, check out our guides on employment lawyers and life coaches to help you out even more.