Suicide Statistics Ireland
Key Insights
From 1955 to 1995, Ireland's overall suicide rate rose from 3.7 to 17.9 per 100,000 people
Males suicides have always outnumbered female ones
Males in Ireland are prone to choosing more violent forms of self-inflicted harm
Death by self-inflicted gunshot wounds are more common in older age groups
Women are more likely to drown, overdose or poison themselves
Suicide by hanging accounts for 90% of methods used in European countries
In 2001, Ireland ranked ninth in the European Union rankings for suicide deaths with a rate of 13.5 per 100,000 population
In 2012, Ireland still ranked among the top 20 countries in Europe for suicide rates
From 2013 to 2018, self-inflicted harm by intentional drug overdose increased by 77%
Ireland ranked 22nd highest for all ages of 33 countries in Europe in 2018
The suicide rate dropped significantly to 8.5 per 100,000 in 2016
Ireland is 61st in world ranking at 9.6 per 100,000 people in 2021, based on data released by the European Commission in 2021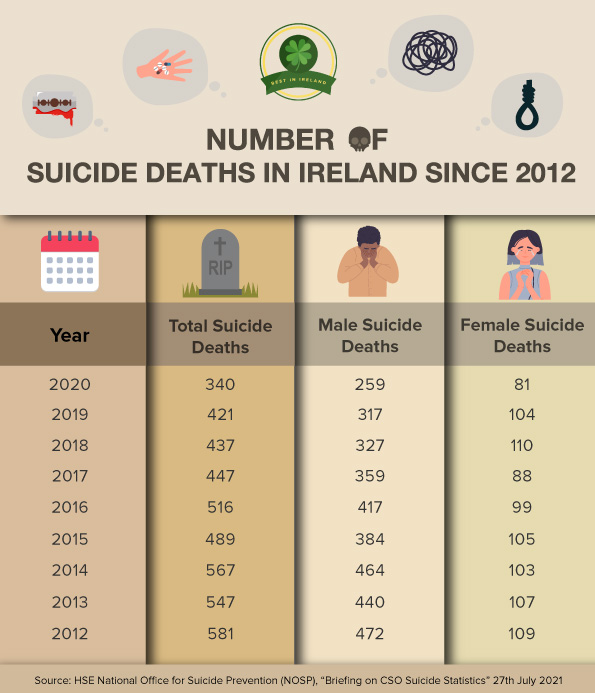 Ireland Sees A Problem
Based on a report from the World Health Organization (WHO) in 2001, Ireland's overall suicde rate was approximately 12 per 100,000 people. These results ranked Ireland in ninth place in the entire European Union.
The release of this alarming yet insightful data prompted the government of Ireland to urgently improve the mental health and state of living of its citizens. Ireland implemented national strategies to prevent suicides by understanding its root causes and providing adequate real-world solutions for its citizens.
After a decade of these systems in place, Ireland made improvements to its ranking, but it still placed among the top 20 countries in Europe for suicide rates. They were also in 17th place in suicides among the youngest age bracket studied, which was between 15 to 24 years old.
However, in 2020, statistics gathered by the Central Statistics Office (CSO) in conjunction with The National Suicide Research Foundation (NSRF) showed that the overall suicide rate is seeing a downward trend. From the initial rate of 13.5 per 100,000 population in 2001, the numbers have since dropped to 8.5 in 2016.
The progressively downward trend can be pinpointed as starting in 2002, which is due to the government and non-governmental organizations' involvement in proactively reducing the suicide rate. However, despite these measures, there were still anomalies in data that reveal that there is still much work to be done.
When looking at data from 2012 to 2020 gathered by the CSO, several spikes in self-inflicted deaths are still a cause for concern. Although officially deemed anomalous by the fact finding bodies, 2009 saw 552 deaths while 2011 revealed 554 suicides.
Throughout the years, one piece of information has remained consistent throughout the years. This is that male suicide deaths continously outrank female suicide deaths significantly.
In 2021, Ireland was able to lower its global ranking to 61 in the number of self-inflicted deaths per year based on data released by the European Commission.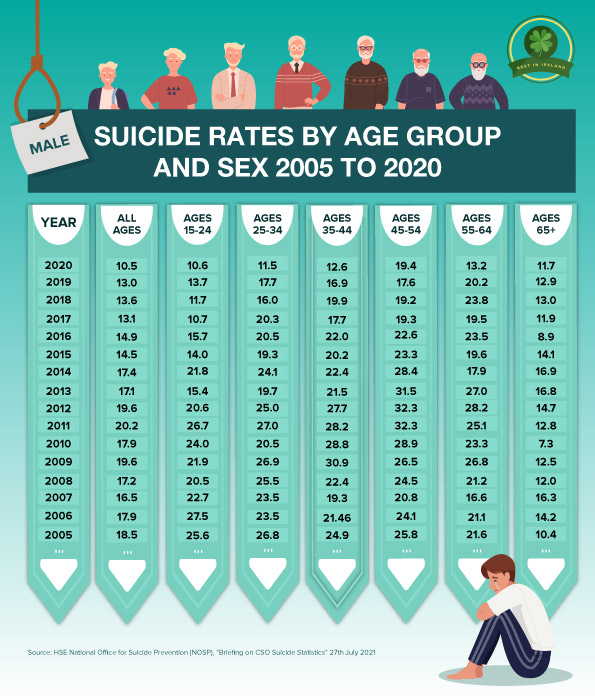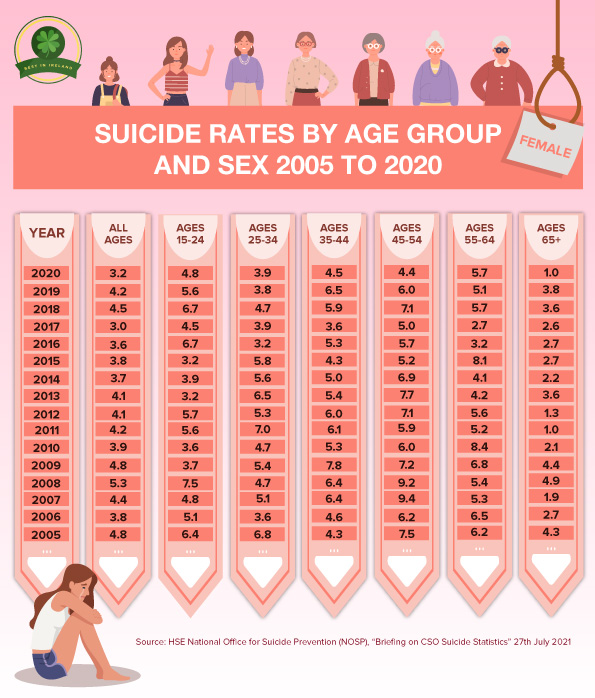 Is the Data Accurate?
However, it should be noted that the NSRF believes the decline as presented by the CSO may not accurately reflect "true" data. It is believed that delays in the government's process of reporting suicide deaths may be the cause.
In Ireland, coroners are responsible for officially and legally determining a person's cause of death as a suicide. An investigation is performed, at which point the findings are also submitted to the CSO to be registered.
Moreover, the yearly data for suicides is revised in three stages, namely the "Provisional" (Year of Registration), "Official" (Year of Occurrence), and "Late Registrations".
According to the National Office for Suicide Prevention (NOSP), suicides that are registered late can significantly affect the current data summaries. For example, in 2012, late registrations increased the findings by as much as 81 additional deaths.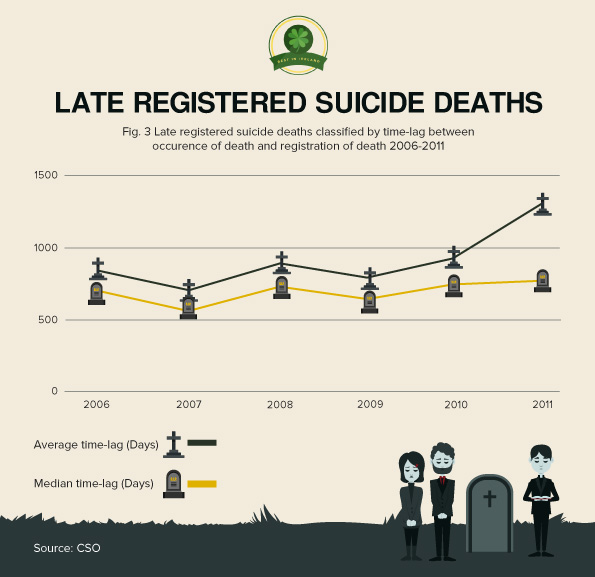 Therefore, several organizations in Ireland are continually and independently gathering data. One such resource is the National Self-Harm Registry Ireland (NSHRI) which is operated by the (NSRF) and funded by the NOSP.
What makes the NSHRI data unique is that they gather their information from hospital emergency wards that treat self-inflicted wounds resulting in death. They also gather data on unsuccessful suicide attempts to help them figure out the common methods and causes of self-inflicted harm.
The NSHRI is the first national registry of suicide cases of its kind and can supplement the government's data and provide more up-to-date information that can offset late registrations from the CSO.
Methods of Self-Inflicted Harm
According to a study conducted nationwide in Ireland in 2001 by the Department of Public Health and corroborated by the NSRF, the most common method of suicide thus far is hanging. This was particularly more common in males of the lowest aged bracket studied, which is between 15-24 years old.
The same study also reveled that the use of a firearm was more prevalent in older age groups, which also saw a decrease in suicide by hanging. Other causes of self-inflicted harm include drowning and overdose on medication, both methods that are more preferred by women.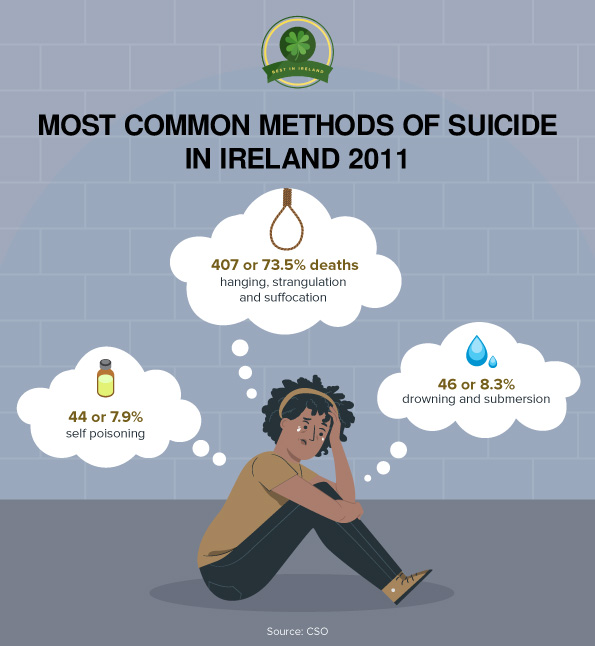 However, studies from 2018 by the NSRF revealed that unsuccessful attempted suicides told a different story. Intentional drug overdose was the most common method accounting for 62% of attempted suicides in that year alone.
The NSRF's study revealed that the increase in drug-related self-harm cases began presenting more commonly in 2013, with self-cutting coming in second, accounting for 30%. Both methods were dominantly preferred by men.
On the other hand, hanging saw the least unsuccessful attempts, which coincides with the data that it's the preferred method for suicide. However, it also reveals that a majority of women were beginning to attempt hanging, with a 30% increase in 2017 alone.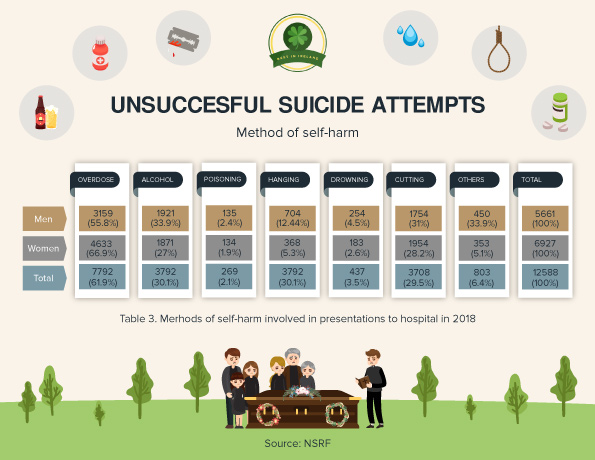 Causes
Several key factors have been identified that can trigger an individual to inflict self-harm in Ireland. These are unemployment, mental illness, and alcohol consumption.
According to the Department of Epidemiology and Public Health of University College in Cork, these factors have remained consistent since 1968. This is largely due to the rapid and extensive social and economic change experienced by the country.
Ireland has rapidly evolved from a largely rural and highly religious society into a modern, urbanized, and secular population. This accelerated evolution of beliefs and lifestyles has likewise affected the economy, creating a larger gap between rich and poor, which may have a direct correlation to the factors mentioned above.
According to data gathered by the CSO, suicide rates only began to climb in the mid-1970s. This itself suggests some interesting paths theorists can take.
One theory from Émile Durkheim, a French sociologist, suggests that "social deregulation" can explain the societal factors that caused fluctuations in suicide rates. This occurs when the constantly changing laws and removal of government power directly affect the economy, ultimately resulting in mass unemployment.
A study conducted by Dr. Siobhan Lucey and her colleagues from the University of Cork examined the rates of suicide in Ireland from 1968 to 2000. Their studies showed that gross domestic product and crime were the primary causes for female suicide deaths, numbering over the males in the same category.
However, they discovered that women were less likely to commit suicide due to unemployment, in which men scored higher. Further studies by the NSRF and data from Eurostat support this theory.
For example, in 2012, there was a decrease of 16% in unemployment and a decrease in suicide rates to 11.8 per 100,000 population. The same trend can be observed in 2016, suggesting that unemployment is the leading cause of suicide rates in Ireland.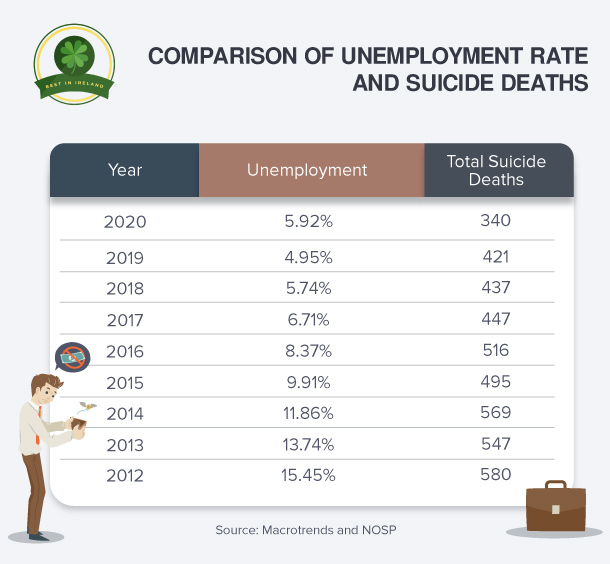 With various people losing their jobs, other factors such as alcoholism and crime contribute to the mental wellness of individuals, increasing the risks of suicide.
However, this unemployment does not appear to be the sole cause of suicide because data from 2002 to 2008 suggests that suicide rates did not decrease even though the unemployment rate was low.
Data from the ​​NSHRI annual report in 2014 suggests that more than half of the individuals who committed suicide that year had problems with alcohol abuse.
According to a WHO report published in 2004, people who suffer from alcohol abuse are up to eight times more likely to unconsciously inflict self-harm, particularly in males, whether it's due to impaired judgment or alcohol poisoning.
Alcoholism is seen, either directly or indirectly, as one of the leading risk factors for suicide rates in Ireland in males aged 15-24 years old. Its effects are magnified even further when people are unemployed, thereby increasing their chances of suicide.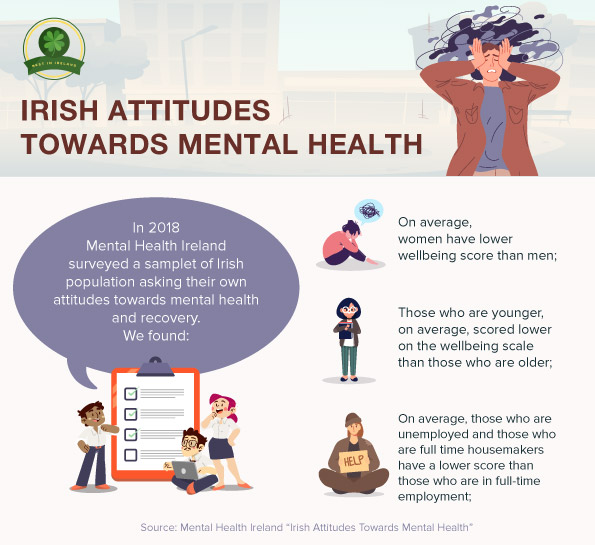 Mental health has also been a great concern in Ireland. The Health at a Glance Report published by the European Commission in 2021 stated that Ireland has one of the highest rates of mental health illness in Europe, ranking 3rd out of 36 countries.
Furthermore, it was reported that in 2016, 18.5% of the population was suffering from a mental health illness such as anxiety, depression, or alcohol abuse.
Although the report shows that mental health illness was more prevalent in women, the study indicates females were more likely to seek counseling or professional help. This is considered as the cause for a lower result of mental illness-related suicides in women.
Seeking consultation for mental health issues has shown positive results in reducing self-inflicted harm, both in and outside of Ireland.
Dublin,for example, had one of the lowest suice rates in 2016-2018, with an average of only 3.85 per 100,000 people. This may be partly due to the emergence of more quality psychiatrists and psychotherapists in the area who can counsel its residents.
Males, on the other hand, are less likely to seek help, which suggests their higher percentages of suicide deaths. This is not an uncommon trend – New Zealand, one of the world's happiest countries, also reports that males are more reluctant to address their mental health and are more likely to commit suicide.
Prevention
Ireland is one of the few EU countries that have a specific suicide reduction plan in place. This nationwide strategy is named Connecting for Life 2015-2024, a joint project in collaboration with the NOSP, Health Services, and local non-government organizations.
Most of the work is focused on creating better awareness and understanding of mental wellness and self-inflicted harm. Moreover, the National Strategy to Reduce Suicide 2015-2024 also focuses on specific age groups that are at particular risk and those that have already attempted to commit suicide.
With these two main strategies in place, Ireland hopes to build a stronger foundation of services and community for people to help prevent suicide.
The NSRF also provides a wealth of resources to help those suffering from mental illness or those contemplating suicide to reach for help. These include dedicated organizations such as Samaritans, Your Mental Health, Aware, Childline, and Pieta.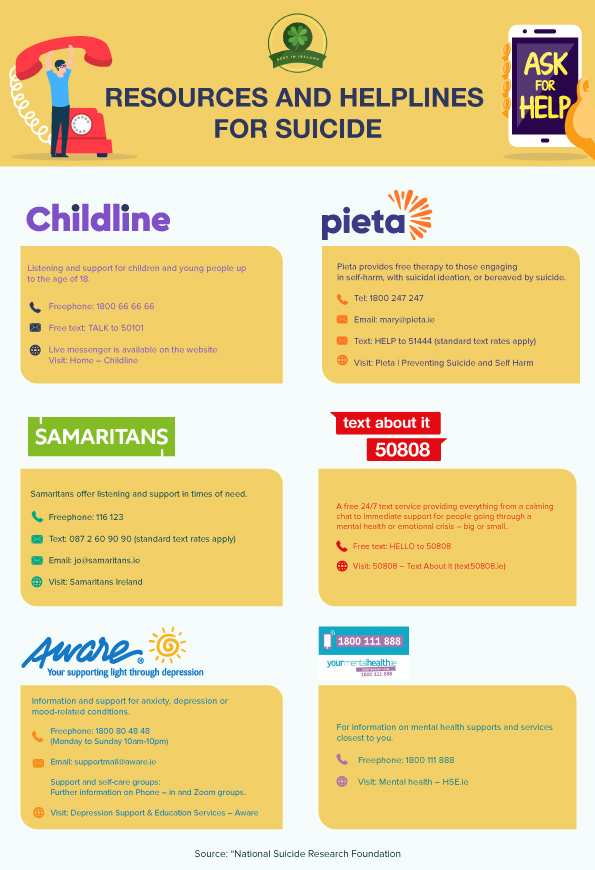 ---
Sources:
Arensman, E. et al. "Suicide among Young People and Adults in Ireland: Method Characteristics, Toxicological Analysis and Substance Abuse Histories Compared". DOI: 10.1371/journal.pone.0166881
Biddle, L. et al.: "Information Sources Used by the Suicidal to Inform Choice of Method". Journal of Affective Disorders 2012, 136(3), 702–709.
Cullen, P. (2018). "Ireland Has One of the Highest Rates of Mental Health Illness in Europe, Report Finds". The Irish Times. 22 November 2018. https://www.irishtimes.com/news/health/ireland-has-one-of-the-highest-rates-of-mental-health-illness-in-europe-report-finds-1.3707073
Departments of Public Health. Suicide in Ireland: A National Study. 2001. Departments of Public Health. https://www.drugsandalcohol.ie/5723/1/Suicide_in_Ireland.pdf.
European Commision. Health at a Glance: Europe 2020 State of Health in the EU Cycle. https://ec.europa.eu/health/sites/default/files/state/docs/2020_healthatglance_rep_en.pdf
Eurostat. Suicide Death Rate by Age Group 2011-2018. October 12, 2021. Table. https://ec.europa.eu/eurostat/databrowser/product/view/HLTH_CD_ACDR2.
Eurostat. Suicide Death Rate by Sex 2011-2018. October 12, 2021. Table. https://ec.europa.eu/eurostat/databrowser/product/view/HLTH_CD_ASDR2
Griffin E. et al.: "National Self-Harm Registry Ireland Annual Report 2014".2014. The National Suicide Research Foundation.
HSE National Office for Suicide Prevention (NOSP). Briefing on CSO Suicide Statistics
27th July 2021. July 27, 2021. National Office for Suicide Prevention. https://www.hse.ie/eng/services/list/4/mental-health-services/connecting-for-life/publications/nosp-cso-july-21.pdf
HSE National Office for Suicide Prevention (NOSP). Briefing on Eurostat Suicide Comparisons
27th July 2021. July 27, 2021. National National Office for Suicide Prevention. https://www.hse.ie/eng/services/list/4/mental-health-services/connecting-for-life/publications/nosp-eurostat-july-21.pdf
Lucey, Siobhan et al.: "Socioeconomic Change and Suicide". Crisis 2005 Vol. 26. 90–94.
https://nsrf.ie/wp-content/uploads/journals/06-05/SocioEconomicChange&Suicide.pdf
Mental Health Ireland. Accessed 3 November 2021.https://www.mentalhealthireland.ie/research/
National Self-Harm Registry. National Self-Harm Registry Ireland Annual Report 2019.
https://www.nsrf.ie/wp-content/uploads/2021/04/NSRF-National-Self-Harm-Registry-Ireland-annual-report-2019-Final-for-website.pdf
National Office for Suicide Prevention. National Suicide Strategy. Accessed 3 November 2021. https://www.hse.ie/eng/services/list/4/mental-health-services/nosp/preventionstrategy/
National Suicide Research Prevention. Finding Help. Accessed 3 November 2021. https://www.nsrf.ie/finding-help/
Suicide and Self harm Data. National Office of Suicide Prevention. Accessed 3 November 2021.
https://www.hse.ie/eng/services/list/4/mental-health-services/nosp/resources/suicide-and-self-harm-data/suicide%20data.html
Suicide Statistics. Central Statistics Office. Accessed 3 November 2021. https://www.cso.ie/en/statistics/birthsdeathsandmarriages/suicidestatistics/