Ireland's Finest Artisan Food Makers You Can't Miss
What if we told you that Ireland is not only a land of stunning landscapes, rich culture, and friendly people but also a paradise for food lovers?
Yes, you heard that right! This island has amazing artisan food makers who craft yummy products from local and traditional ingredients.
You can find everything from cheese and chocolate to bread and beer, and meet the passionate people behind them. Here are some of the best Irish artisan food producers you need to try on your next adventure!
St Tola Goat Cheese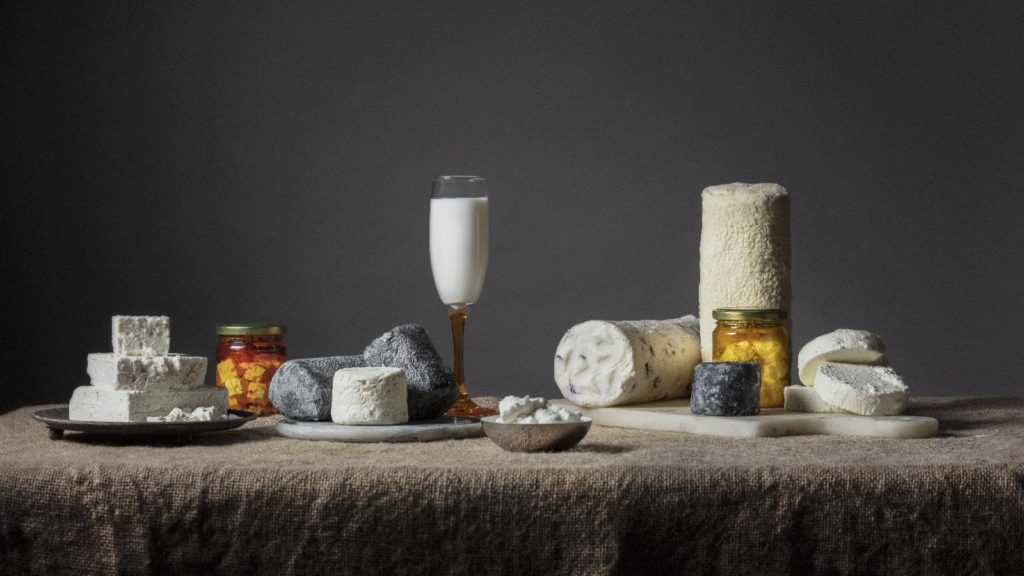 Website: https://www.st-tola.ie/
Address: Gortbofearna, Ennistymon, Co Clare
Phone: +353 65 68 36633
Email: [email protected]
What do you get when you combine fresh goat's milk, artisanal cheese-making skills, and a stunning landscape? St Tola Goat Cheese, of course!
It's not your average cheese: it's a gourmet brand, pleasing food lovers for 40 years. They make a range of cheeses, from soft and creamy to hard and smoky, using their farm's raw and pasteurized milk in the Burren UNESCO Global Geopark.
St Tola is part of the économusée network, which means you can learn about their sustainable farming practices, see how they handcraft their cheeses, and of course, taste some samples before you go.
Pro Tip:
Book a tour of the family farm to meet friendly goats, learn about farming and cheesemaking, and taste delicious cheeses. Private and public tour options available based on group size and preferences.
St Tola has a great collection of recipes that use their award-winning goat cheese and other fresh ingredients. Check out the 'Healthy Recipes' on their site and get inspired by their mouth-watering dishes.
Wilde Irish Chocolates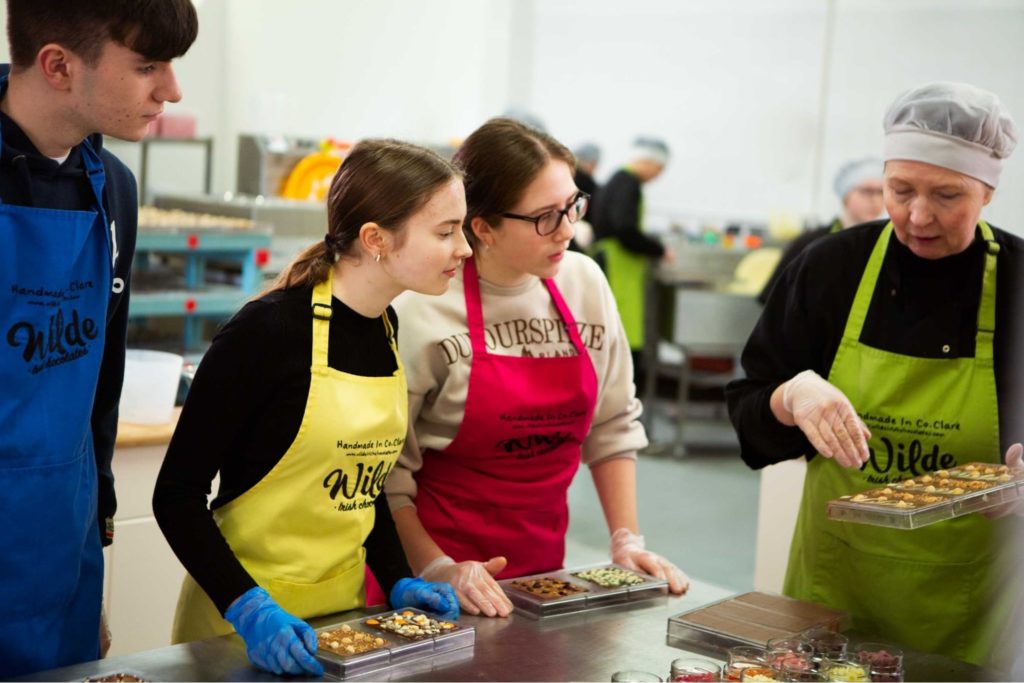 Website: https://wildeirishchocolates.com/
Address: Unit 6, Enterprise Centre Tuamgraney, Co.Clare
Phone: (061) 922080
Email: [email protected]
Opening Hours: Open daily – 10 AM to 5 PM
Wilde Irish Chocolates is a chocolate lover's dream come true. Located near the beautiful Lough Derg, this chocolate factory has been making mouth-watering treats for over two decades.
Patricia Farrell, the founder and chocolatier, uses only the finest ingredients, eco-friendly packaging, and local suppliers to create her delicious creations.
From bars and slices to spreads and hot chocolate sticks, there's something for every chocolate lover. And if you want to see how the magic happens, you can visit the factory, take a tour, taste some samples, and even make your own chocolate bar!
Pro Tip:
Start your day with a visit to St. Cronan's Cathedral and enjoy a peaceful moment by the Croaghrum River. Then, head to Wilde Irish Chocolates for a delightful chocolate factory tour and tastings.
Grab lunch at Nuala's Restaurant & Pub or enjoy a picnic at Tuamgraney Green, followed by a scenic walk to Reddan's Pier and the Community Woodland for a complete Tuamgraney experience.
O'Flynn's Gourmet Sausages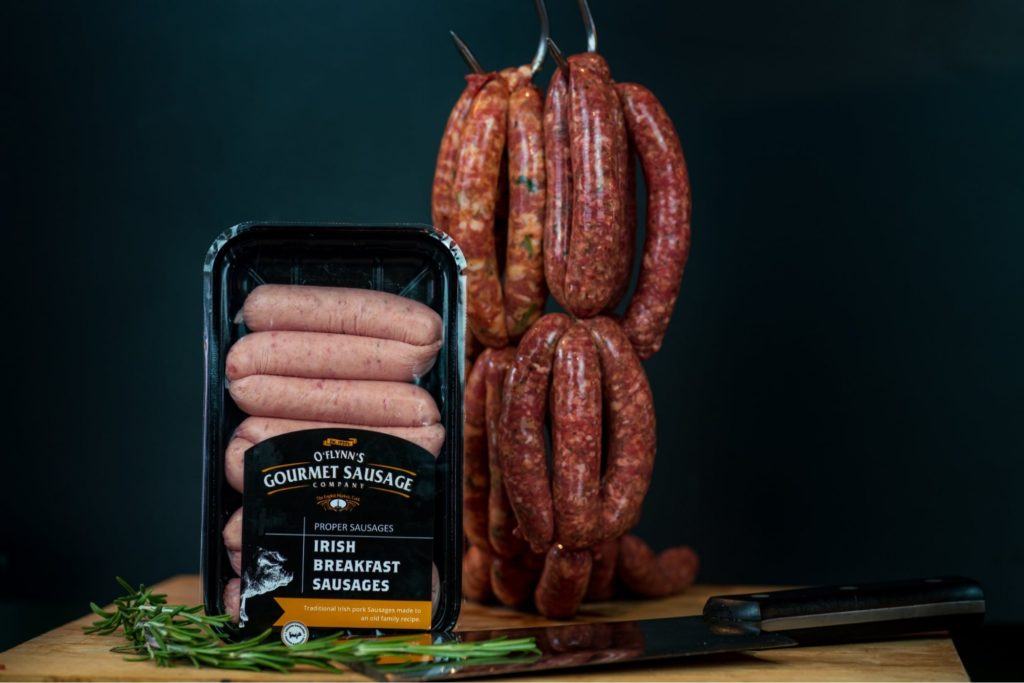 Website: https://www.oflynnsgourmetsausages.ie/
Address: University Hall Industrial Estate, Unit 14, Sarsfield Rd, Wilton, Cork
Phone: +353 21 427 4422
Email: [email protected]
O'Flynn's Gourmet Sausages are more than just a food business – they're a Cork institution! Since 1921, this family-run stall has been making mouth-watering sausages with a mix of traditional and innovative recipes.
Whether you crave the classic Cork Boi Sausage or want to try something exotic like the Sweet Italian, you'll find a sausage to suit your taste buds at O'Flynn's.
Their sausages are made with the best local ingredients and are available in many shops across Ireland, as well as their flagship stall in the English Market.
Pro Tip:

O'Flynn's Gourmet Sausages can cater for any event with their delicious menu like Sausage Sandwiches, and House Fried Potatoes. Contact them today and let them create the perfect package for your event.
Walsh's Bakehouse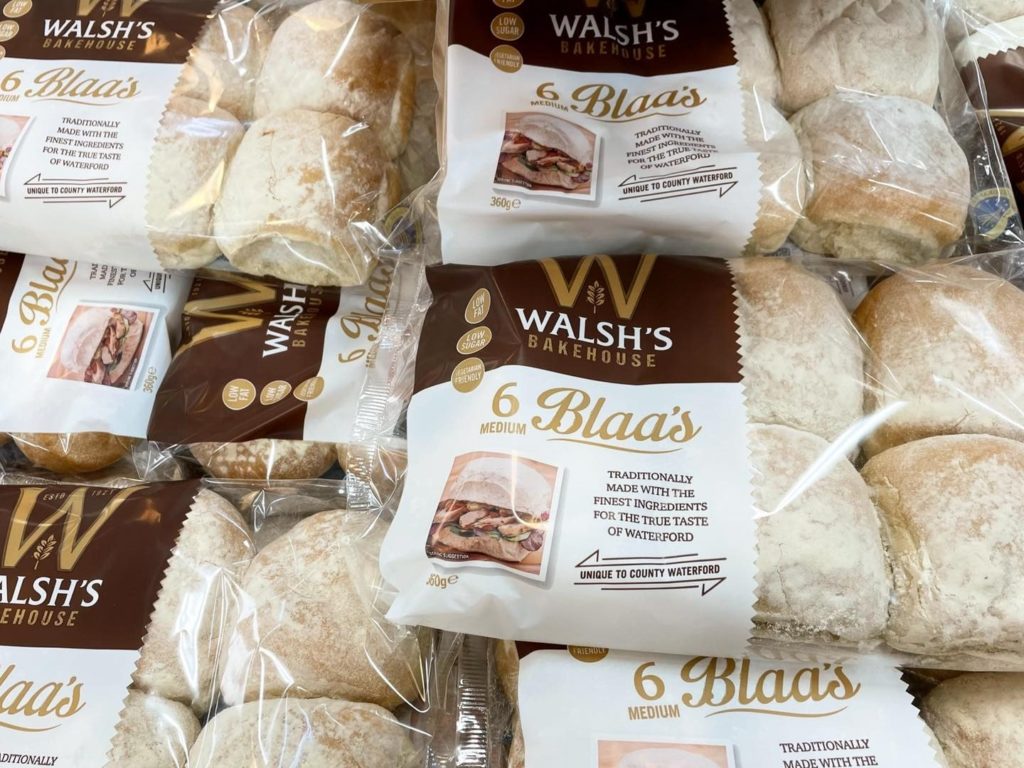 Website: https://walshsbakehouse.ie/
Address: Unit 1 Block 5, Lacken Road Business Park, Kilbarry, Waterford
Phone: +353 51 378 080
Email: [email protected]
Operating Hours: Monday to Friday – 9 AM to 3 PM
If you ask anyone from County Waterford, they'll tell you how much they love their blaas. These fluffy white rolls are soft, sweet, and irresistible, and they're a specialty of the south-east region.
They're so special that the European Commission has given them Protected Geographical Indication status, which means only blaas made in Waterford can be called blaas!
One of the best places to get your blaa fix is Walsh's Bakehouse, where the Walsh family has been baking them (and other delicious treats) since 1921.
They deliver all over Ireland, but in Waterford alone, they sell about 12,000 blaas every day – that's one for every four people in the city.
Pro Tip:

Blaas are perfect for any meal of the day, from breakfast to dinner. Here are some of our favorite ways to enjoy blaas:
For breakfast, fill your blaa with bacon, black pudding and a fried egg for a hearty start to the day.
If you want a meat-free alternative for lunch, try a grilled portabello mushroom blaa with roast peach, salad leaves and sun-dried tomato mayo.
Try a southern fried chicken blaa with a crispy chicken breast, cos lettuce, sliced tomato and mayo for dinner.
Achill Oysters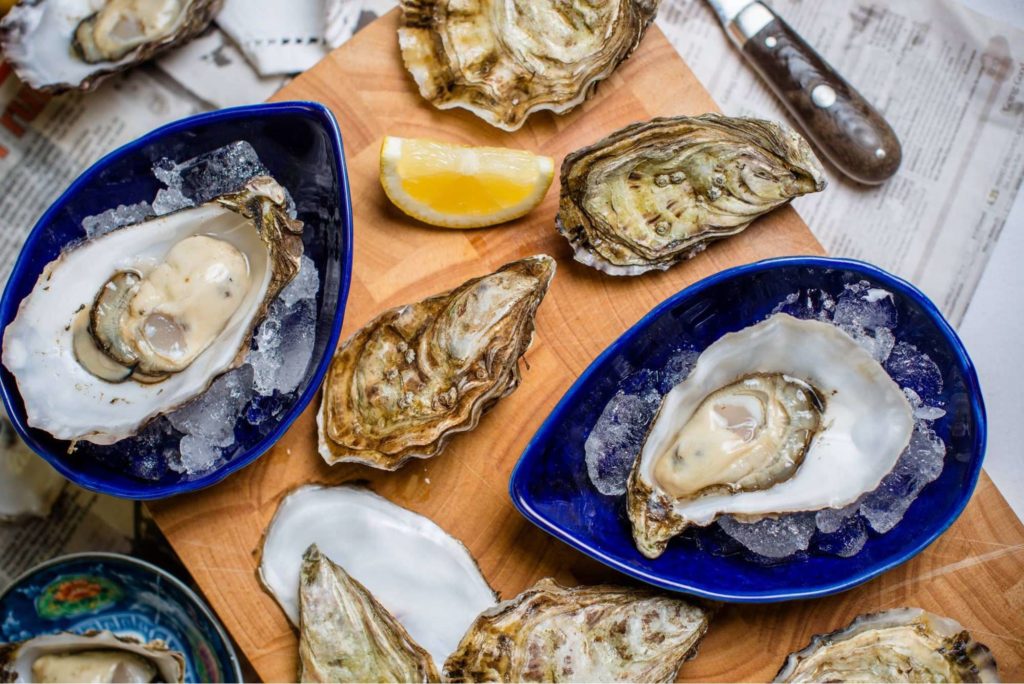 Website: https://achilloysters.com/
Address:
Office & Dispatch Centre: Barefield, County Clare
Primary site: Saile, Achill Island, County Mayo
Phone: +353 (0)98 37 017
Email: [email protected]
Achill Oysters are not just any oysters, they're the best oysters in Ireland. Why? Because they are grown with care and passion by a family of oyster farmers who have been doing this for five generations.
They grow their oysters in a sandy bay with Class A certified waters, rich in Atlantic nutrients and peat bog minerals. They also shake the bags regularly to give their oysters a deep cup shape and a high meat content.
Before delivery, they purify their oysters in saltwater, along with other local shellfish like lobsters. You can trust Achill Island to provide you with fresh, healthy, and tasty oysters that will delight your palate.
Pro Tip:

Enhance the flavor of your oysters by making a delicious beer reduction.

Simply simmer a can of beer until it reduces to half its volume, then add dark brown sugar to create a syrupy consistency. Drizzle a teaspoon of the reduction over each oyster and savor the delectable combination.
Achill Island Sea Salt
Website: https://achillislandseasalt.ie/
Address: Bunacurry, Achill, Co. Mayo
Phone: +353 98 47856
Email: [email protected]
Achill Island has a long history of making sea salt from the clean and clear water of the Atlantic Ocean.
Kieran O'Malley and his family have revived this tradition and are making sea salt with a unique flavour that reflects the island's natural beauty. Their sea salt is a great way to spice up any meal and is loved by chefs all over the country.
Achill Island Sea Salt is a pure and natural product made from sea water that they collect from the ocean around the island. They don't use any chemicals or additives, so you can enjoy the real taste of Achill Island in every bite!
Pro Tip:

Explore Ireland's only sea salt visitor center at Achill Island Sea Salt, where you can take a self-guided tour to discover the secrets behind their award-winning sea salt production and explore a gift shop featuring unique Irish products.
Nobó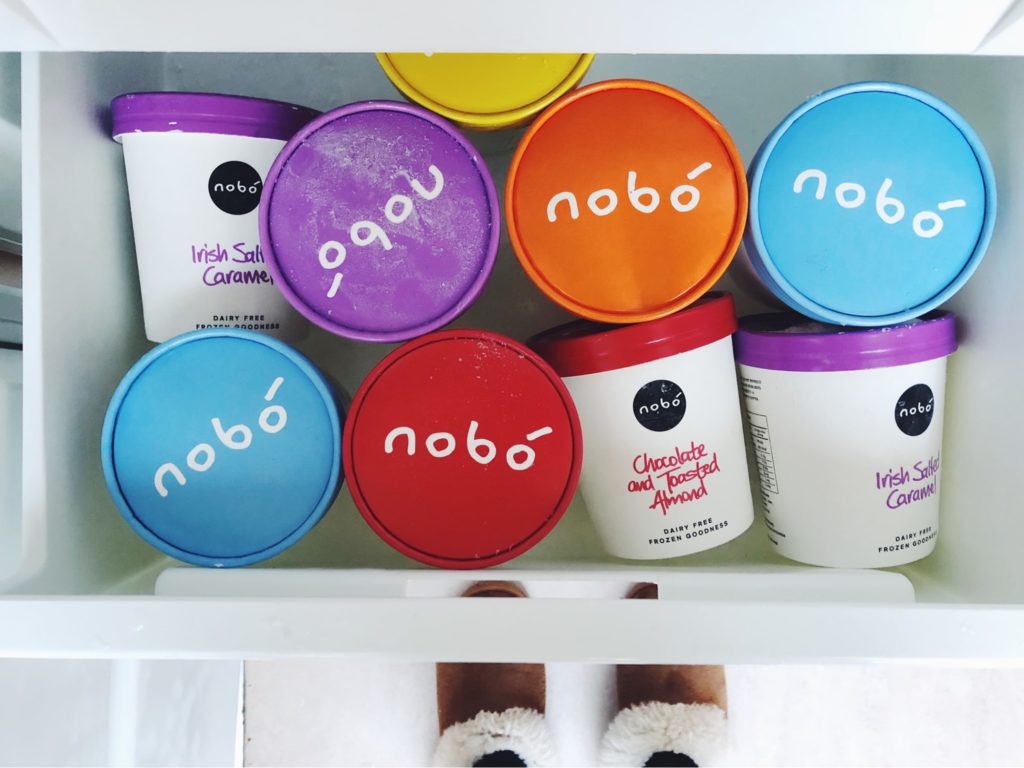 Website: https://www.nobo.ie/
Address: The Nobó Treathouse, 47 Dunville Avenue , Dublin
Phone: +353 (0)1 533 1926
Email: [email protected]
Would you believe you can enjoy delicious treats without dairy, guilt, or compromise? That's the vision of this plant-based food business that makes ethical and healthier alternatives to ice cream and chocolate.
With ingredients from top suppliers, they craft their products in small batches, prioritizing sustainability. They began in their Dublin home kitchen, reinventing the classic treat as Frozen Goodness, an ice cream alternative.
Now they have a range of amazing treats that have taken Ireland by storm. This is not just food, this is kindness to yourself and the planet.
Pro Tip:

Looking for Nobó products outside Dublin? No problem!

You can order Nobó Chocolate online or find it in stores across Ireland, Canada, and Amsterdam by checking their Stockist page. Call ahead to ensure availability as some flavors may sell out quickly.
Goatsbridge Trout Farm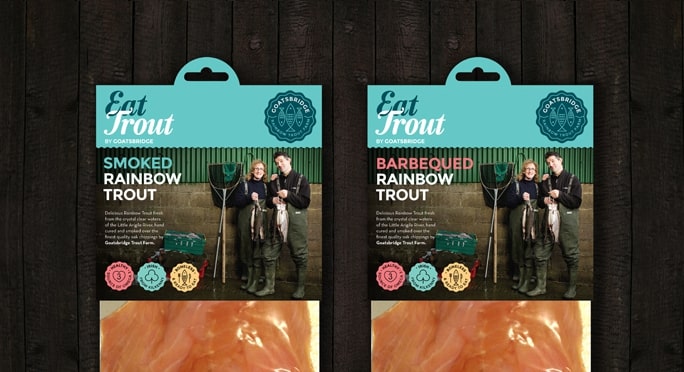 Website: https://goatsbridgetrout.ie/
Address: Jerpointchurch, Thomastown, Co. Kilkenny
Phone: +353(0) 56 7724140
Email: [email protected]
One of the best places to experience this is Goatsbridge Trout Farm, where the Kirwan family has been raising rainbow trout for three generations.
They use the clear and pure water of the Little Arrigle River to produce high-quality fish that are prized by top chefs in Ireland. You can visit their farm in County Kilkenny and see for yourself how they care for their fish and the environment.
They also offer tastings of their delicious products, including trout caviar and fresh, smoked and barbecued trout.
Pro Tip:

To make the most of your trout, try these amazing recipes from their recipe page. Whether you want a simple or a fancy dish, you'll find something to suit your taste and skill level.
Man of Aran Fudge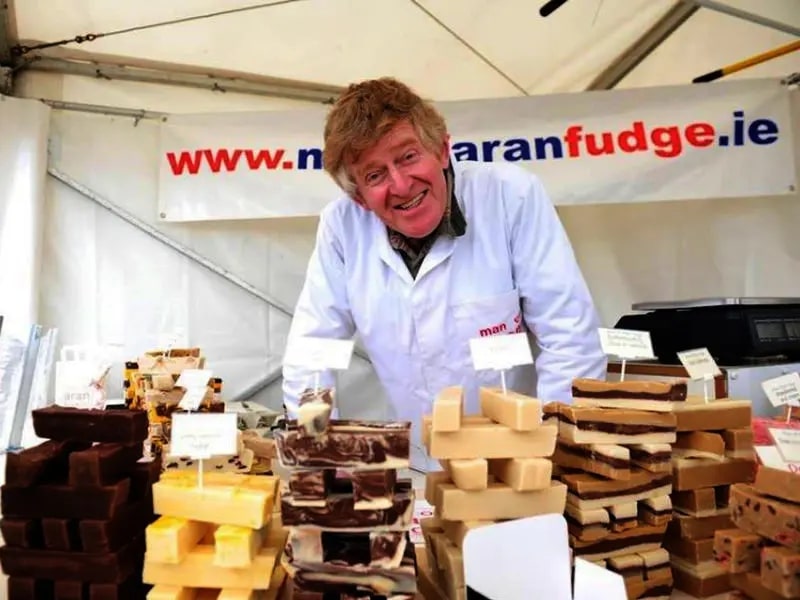 Website: https://manofaranfudge.ie/
Address: Bayview, Killeany, Lower Kilronan, Co. Galway
Phone: +353 86 256 6542
Email: [email protected]
Man of Aran Fudge is more than just a delicious treat – it's a taste of nostalgia and joy. Tomás Poil, the founder, grew up on the Aran Islands, where his granny used to send him homemade fudge when he was away at school.
He never forgot the sweet and creamy flavour of pure butter fudge, and he wanted to share it with the world. That's why he started making fudge in 1996, using real Irish butter and fresh cream, just like his granny did.
Now he has over 24 flavours to choose from, each one bursting with quality and goodness. Try some today and see why Man of Aran Fudge is the best fudge you'll ever taste!
Pro Tip:
For optimal enjoyment of our fudge, eat it fresh.
If you want to save some, store it in a cool, damp place away from strong smells, keeping the Peppermint Choc Chip flavor separate.
Freezing is not recommended to maintain its creamy texture.
Jinny's Bakery & Tea Rooms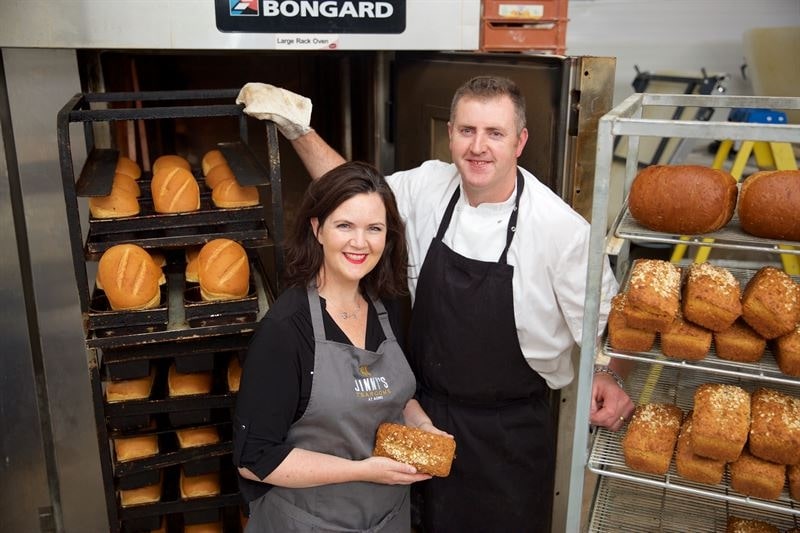 Website: https://jinnys.ie/
Address: R207, Drumduff North, Drumshanbo, Co. Leitrim
Phone: 071 9641033
Email: [email protected]
At Jinny's Bakery & Tea Rooms, you'll find a mouthwatering array of baked goods made with natural ingredients and lots of love.
Sinead Gillard, the founder and owner of Jinny's, grew up in a family of hospitality experts in Co. Leitrim, and she always had a flair for baking. She started her own bakery in 2003, using her childhood nickname as the brand name.
Her breads are wholesome and hearty, with flavours like Irish Stout, Treacle, and Porridge Oat. Her cakes are moist and scrumptious, with classics like Carrot, Lemon, Coffee, and Banana.
You can order them online, find them in food shops across Ireland, or visit their cosy Tea Rooms on site.
Pro Tip:

Enjoy the beauty of Acres Lake with a full picnic basket service from Jinny's. Explore the 600m floating boardwalk and the 6.5km walking/cycling trail along the Shannon Blueway, connecting to scenic loop walks for a perfect day out.
Ballycross Apple Farm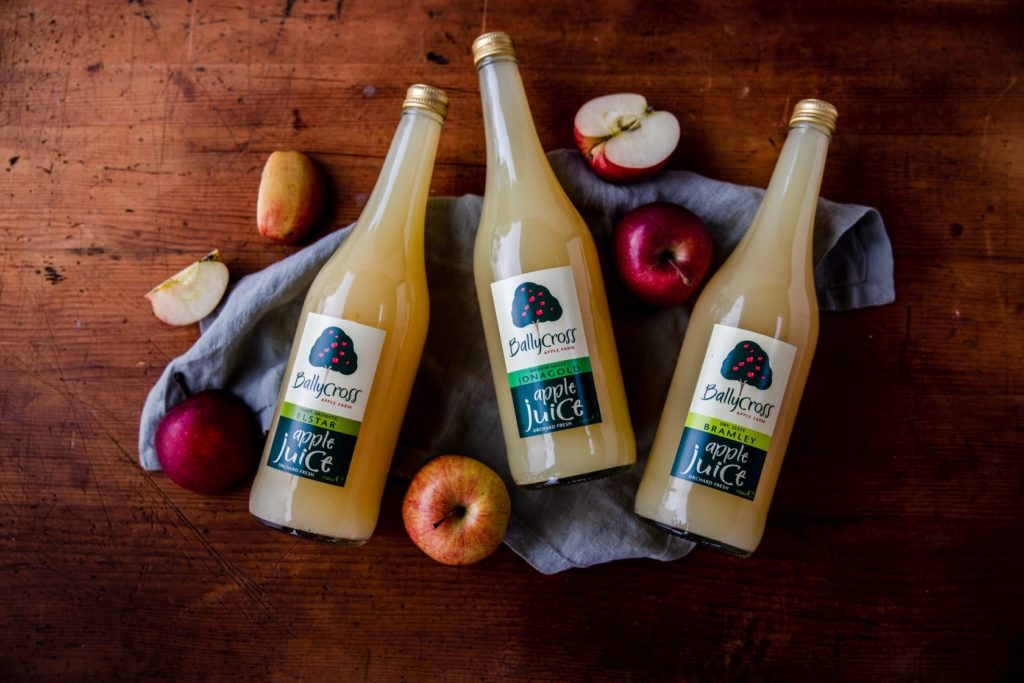 Website: https://www.ballycross.com/
Address: Apple Farm, Ballycross, Bridgetown, Co. Wexford
Phone: +353(0)53 913 5160
Email: [email protected]
Operating Hours: Saturdays, Sundays, and Bank Holiday Mondays – 12 PM to 6 PM
Apple lovers rejoice! Ballycross Apple Farm offers delicious artisan juices made solely from their apples, without any added sugar, water, or preservatives, allowing you to indulge in the distinct flavors found in their single or blended varieties.
It's also a great opportunity to visit their beautiful farm and have a fun day with your loved ones where you can explore the orchards and buildings, shop for juice, have a yummy lunch and a refreshing drink at their café.
Ballycross Apple Farm is not only tasty, but also trustworthy. They're a quality-approved business that follows high standards of food hygiene and traceability.
Pro Tip:

When you visit the farm, make sure to dress warm and wear appropriate shoes. Raincoats, wellies and walking shoes with a good base grip will help you explore the farm and the trails comfortably.
Woodcock Smokery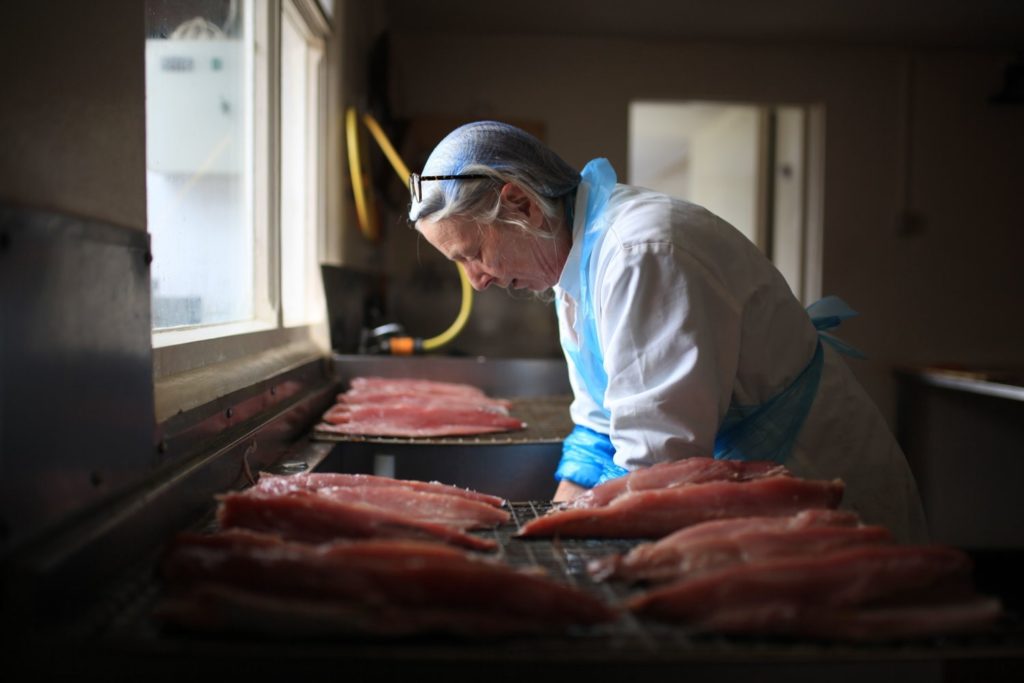 Website: https://www.woodcocksmokery.com/
Address: Gortbrack, Castletownshend, Skibbereen, West Cork
Phone: +353 28 36232
Woodcock Smokery is a treasure trove of artisan food in West Cork's countryside. Here, Sally Barnes smokes wild fish with sea salt, hardwood smoke, and traditional methods.
She's been doing this for over 40 years and she knows her stuff. She loves Ireland's food culture and she wants to keep it alive. Her smokery is a dream for foodies and anyone who wants to learn more about this old skill.
Pro Tip:

Immerse yourself in the art of smoke-curing wild fish at The Keep at Woodcock Smokery. Afterward, indulge in a delicious tasting board lunch featuring a variety of delectable creations made right at the smokery.
Rívesci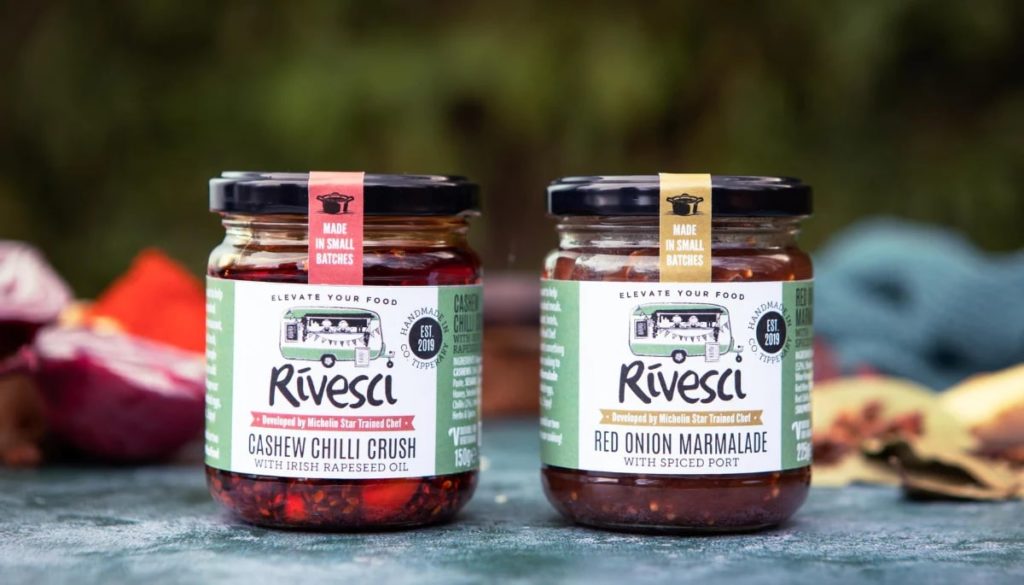 Website: https://rivesci.ie/
Address: 80 Irishtown, Burgagery-Lands West, Clonmel, Co. Tipperary
Email: [email protected]
Operating Hours: Thursday to Sunday – 8:30 AM to 3:30 PM
Rívesci's sauces are a treat for artisan food lovers. From a food truck to a condiment brand, Rívesci makes delicious and original sauces that spice up any dish.
Their cashew chilli crunch won them a Great Taste Award and became a must-have for any brunch lover. It adds a kick to any meal like eggs, sourdough sandwiches, stir fry, pizza (yes, really!) and so much more.
Rívesci uses only the finest ingredients, such as Irish rapeseed oil and Irish sea salt, in their cashew chilli crunch.
Rívesci made their debut in September 2019 at Clonmel Applefest, where they served freshly cooked dishes from their vintage 1976 caravan.
Pro Tip:

Are you a fan of Chicken Stir Fry? Elevate your Chicken Stir Fry by adding Cashew Chilli Crush – as seen in Kevin Dundon's recipe.
Wild About Foods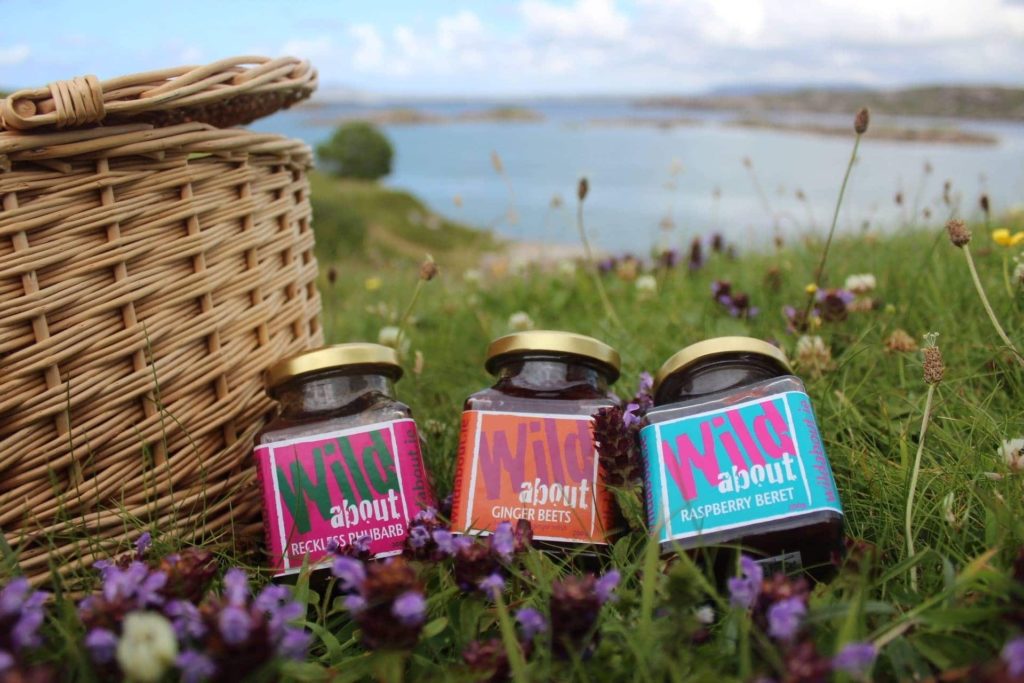 Website: https://www.wildabout.ie/
Address: Tus Nua Farm, Craan, Wells, Gorey, Co. Wexford
Phone: +353 (86) 8122952
Email: [email protected]
If you're looking for a Local Food Hero that makes low-carbon, low-sugar, sustainable foods from seasonal produce, you'll love Wild About Foods.
They grow their own ingredients on a permaculture farm in County Wexford and also support local farmers and foragers.
Their products change with the seasons and the harvests, so you can enjoy a variety of dressings, syrups, chutneys and snacks that celebrate Irish nature and culture.
Wild About Foods is an award-winning producer that cares about the environment, the community and your health. You can order online or find them in good food shops.
Pro Tip:

Try their nettle syrup with some sparkling water for a refreshing and healthy drink. You won't regret it!
The Burren Smokehouse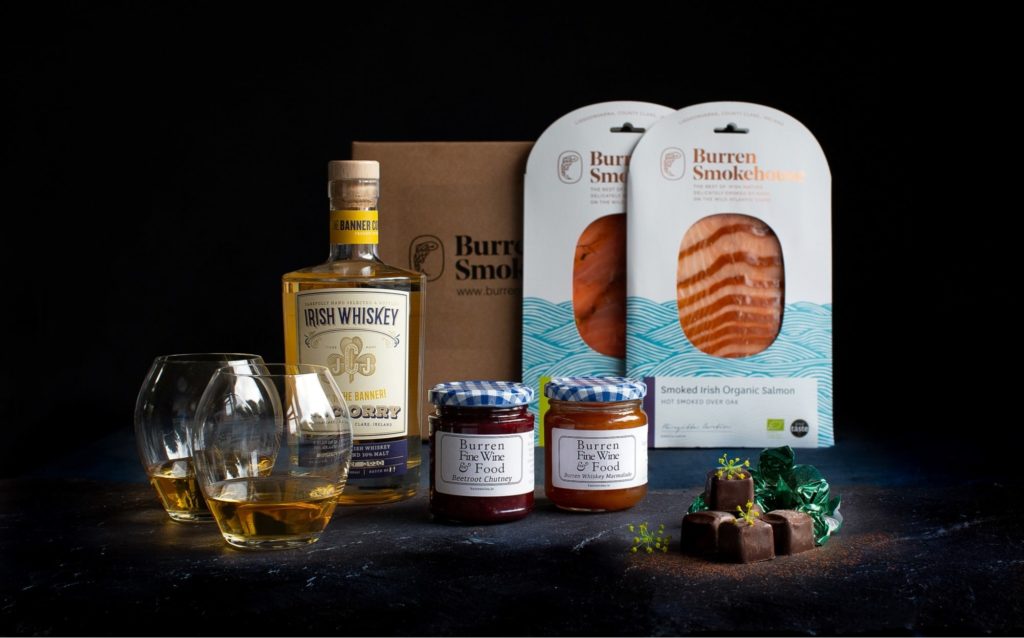 Website: https://www.burrensmokehouse.com/
Address: Kincora Rd, Rathbaun, Lisdoonvarna, Co. Clare
Phone: +353 65 7074432
Email: [email protected]
This family-owned business, The Burren Smokehouse, has been making award-winning smoked salmon, trout, and mackerel since 1989, using organic fish from the wild Atlantic waters.
You can see how they do it at their visitor center, where you can also learn about the history and culture of Irish salmon. And of course, you can taste and buy their delicious products at their shop, along with other local artisan goodies.
The Burren Smokehouse is a must-see for any foodie who appreciates quality, sustainability, and tradition.
Pro Tip:
Explore the fascinating history and culture of Irish salmon at the Taste the Atlantic – Irish Salmon Visitor Experience, a fully interactive exhibit that combines ancient artifacts and modern technology.
Pair your smoked fish with a dry white wine that has some body and character. Gewuerztraminer from Alsace is a great choice, as it matches the intensity and flavor of the smoked salmon.