The 6 Best Wart Removal Clinics in Ireland
Do you have an annoying wart? If so, we suggest getting it removed for aesthetic purposes or to stimulate an immune response to fight viruses – or both!
If you have multiple skin problems, you may want to talk to the best dermatologists in Dublin, Cork, Limerick, Waterford, and the like first for a comprehensive consultation.
But if you're especially looking for the best options in the country in general, we've got you covered. Let's go over how we chose them first, though.
How much does wart removal in Ireland cost?
The prices of wart removal services in Ireland vary. This depends on the type of wart, its position in the body, the clinic location, and any additional sessions you might need.
Here are the estimates for your initial reference:
| SERVICES | ESTIMATED COSTS |
| --- | --- |
| Consultations | From free to varying amounts |
| Wart Removal | Around €65 to €370 |
| Additional Treatments | Around €275 for 3 treatments (bundle) |
How We Picked the Best Clinics for Wart Removal in Ireland
We assessed wart removal clinics based on the following criteria:
1. Akina Laser and Beauty Clinic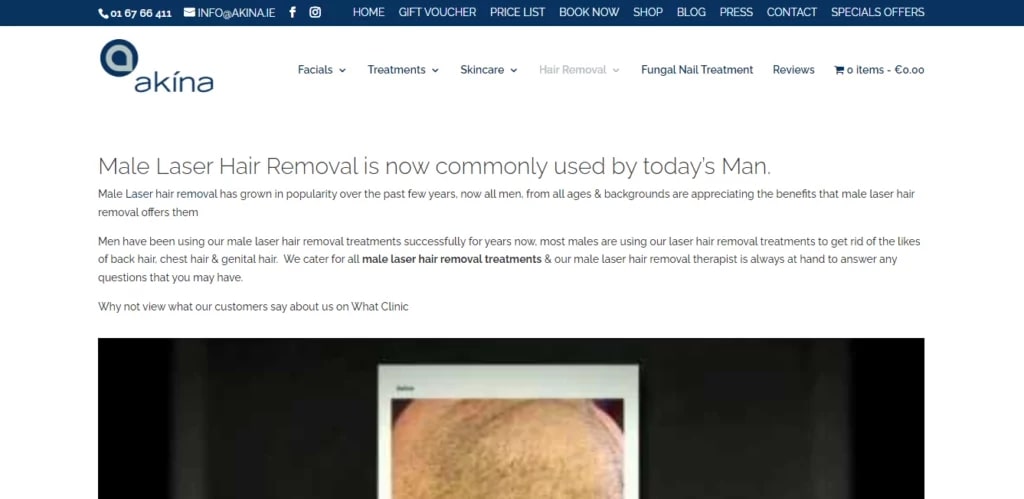 Test
Info
SERVICES

Wart Removal, Alumier Facials, Dermlux Flex, Environ Facials, Microdermabrasion

Venus Freeze, Laser Vein Removal, Fungal Nail Treatment

Laser Genesis Skin Rejuvenation, Jane Iredale Makeup

Advanced Nutrition Program, Skin Tag Removal

CST Treatment, Hair Removal, Male Laser Hair Removal

Waxing, Electrolysis

WEBSITE
https://www.akina.ie/
ADDRESS
50 Leeson Street Lower, Saint Kevin's, Dublin 2, D02 XK26, Ireland
CONTACT DETAILS

PHONE: 01 6766411

EMAIL: [email protected]

OPERATING HOURS

Monday: 10:00 AM - 7:00 PM

Tuesday - Thursday: 10:00 AM - 8:00 PM

Friday: 8:30 AM - 7:00 PM

Saturday: 10:00 AM - 5:30 PM
| | |
| --- | --- |
| COST | ★★★★☆ (4/5) |
| BOOKING SYSTEM | ★★★☆☆ (3/5) |
| SERVICES | ★★★★☆ (4/5) |
| SCOPE | ★★★★☆ (4/5) |
| QUALITY | ★★★★☆ (4/5) |
| COMMUNICATION | ★★★★☆ (4/5) |
| AVAILABILITY | ★★★★☆ (4/5) |
| LEVEL OF CARE | ★★★★☆ (4/5) |
Akina Laser and Beauty Center is one of your go-to experts for all things beauty enhancement. They also rank highly among our recommendations for wart removal in Ireland.
It costs €105 for them to remove warts. Although a tad more expensive than several other options, we believe this is still a fair price as it's on par with many other clinics.
We like that the clinic has a lot of knowledge about treatments, which gives clients a lot of options for reaching their cosmetic goals. You can also rely on them for facials, nail care, waxing, skin tag removal, and other services.
We also like that if you aren't sure what you want, they can give you friendly and professional advice on how to move forward.
Other former customers we talked to also appreciated how accommodating and helpful their customer service was.
Plus, they offer laser hair removal for male clients too! This, in our opinion, is a fantastic strategy to accommodate different clientele.
But a few customers also encountered some mix-ups with their appointments. We believe it's preferable to send them a follow-up for confirmation the day before your treatment to save time and stress.
If interested, Akina Laser and Beauty Center is open most days, except Sundays.
Provides numerous beauty treatments
Also caters to men
Offers practical advice 
Available 6 days a week
May need to confirm appointments more than once
Costs slightly higher than others
Customer Reviews
Punctual and professional
"Eavanna is punctual and professional. The clinic is lovely with a friendly atmosphere. Highly recommend." – Rhiannon Coyne
Cosy and amazing
"Great staff, nice and cosy place. Amazing treatment." – Beatriz Souza
2. Medixclinic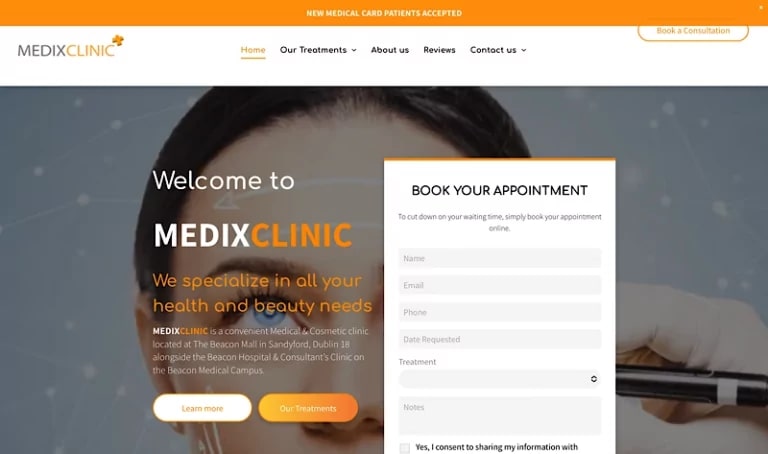 Test
Info
SERVICES

GP Services, Minor Surgeries, Cosmetic Surgeries

WEBSITE
https://www.medixclinic.ie/
ADDRESS
Suite 7, The Mall, Beacon Court, Sandyford, Dublin 18, Ireland
CONTACT DETAILS

PHONE: +353 (1) 6874077

EMAIL: [email protected]

OPERATING HOURS

Monday - Friday: 9:00 AM - 5:00 PM
| | |
| --- | --- |
| COST | ★★★★☆ (4/5) |
| BOOKING SYSTEM | ★★★★☆ (4/5) |
| SERVICES | ★★★★☆ (4/5) |
| SCOPE | ★★★★☆ (4/5) |
| QUALITY | ★★★★☆ (4/5) |
| COMMUNICATION | ★★★★☆ (4/5) |
| AVAILABILITY | ★★★★☆ (4/5) |
| LEVEL OF CARE | ★★★★☆ (4/5) |
MedixClinic is yet another reliable wart removal clinic in Ireland. They provide a range of services with a focus on health and beauty.
We believe that the clinic's ability to provide both physical health operations and aesthetic treatments sets them apart. For us, this makes them a well-rounded choice.
It's nice to invite a male companion so they can get their needed treatments as well.
They have several services for them, such as liposuction and circumcision.
But when compared to other clinics, the prices for their services look a bit higher. Yet, given that they have a wide range of specialisations, we think this may be justified.
We also found that the doctor running MedixClinic is a graduate of the Bachelor of Medicine and Surgery programme in Tanta, Egypt. His more than 40 years of experience give us peace of mind too!
For us, it's fantastic that this doctor has global-based knowledge and abilities that could improve his treatments and insights.
Nevertheless, there's a client we talked to who had a problem with his communication skills. Though we think there isn't that much of a language barrier to be concerned about, this might be a consideration for some.
Should you want to give the clinic a try, make sure to reach MedixClinic any day except on weekends.
More than 4 decades of experience
Provides both beauty and health treatments
Does several male procedures
Has an international background
Communication skills may still be improved
Unavailable on Saturdays and Sundays
Customer Reviews
Professional and informative
"Very happy with the service and results, Dr Elsayed and his assistants are very professional and very informative as well as know what they are doing." – The One (Elmano)
Patient and welcoming
"Dr Hegazy is a gem. He is patient, professional, helpful and friendly. Leanne is always welcoming and trying her best to book you in as soon as possible. I've always been receiving the best service I could ask for. Bless them all." – Reyhaneh Hashempour
3. The Adare Clinic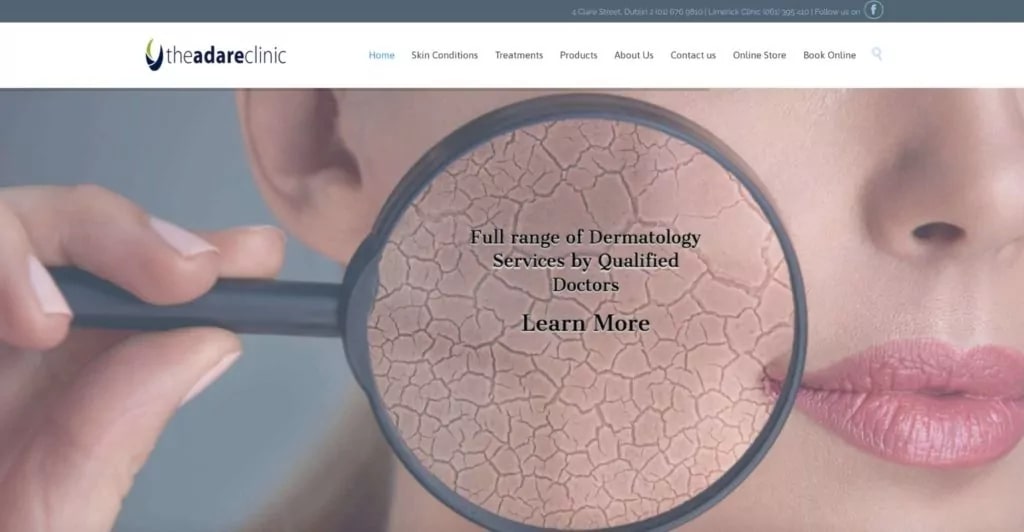 Test
Info
SERVICES

Wart Removal, Consultation & Diagnosis

Medical & Aesthetic Treatments

Mole Screening & Removal, etc.

WEBSITE
https://www.theadareclinic.ie/
ADDRESS
Unit 2, Harvey's Quay, Limerick
CONTACT DETAILS

PHONE: (061) 395 410

EMAIL: [email protected]

OPERATING HOURS

Monday - Friday: 9:00 AM - 5:00 PM
| | |
| --- | --- |
| COST | ★★★★☆ (4/5) |
| BOOKING SYSTEM | ★★★★☆ (4/5) |
| SERVICES | ★★★★☆ (4/5) |
| SCOPE | ★★★★☆ (4/5) |
| QUALITY | ★★★★☆ (4/5) |
| COMMUNICATION | ★★★★☆ (4/5) |
| AVAILABILITY | ★★★★☆ (4/5) |
| LEVEL OF CARE | ★★★★☆ (4/5) |
If you're looking for a highly credible wart removal clinic in Ireland, we think you'll like The Adare Clinic. Amazingly, only medical professionals with interests in dermatology and cosmetic surgery make up their staff.
We love that you can have a more efficient time during your visit because they seem to cover most skin needs.
They diagnose and treat a wide range of skin diseases, including warts, psoriasis, skin cancer, fungal infections, acne, and many more.
Otherwise, those looking for a pampering session may look into their chemical peels, dermal fillers, and mole removal, to name a few.
However, we have a few issues with their booking policy. It seems that the clinic requests credit card information for their new clients right off the bat.
We feel this might make some people apprehensive about them at first. It's best to reach out to their staff for clarifications before giving out any sensitive information.
After all, we heard that their staff is friendly and pays attention to details, so they can help you by giving good advice.
You may also want to keep their strict cancellation policy in mind. Clients who cancel bookings on the day of the appointment will be charged €80.
For more information, you may reach The Adare Clinic, but they may work shorter hours on Thursdays and are closed on weekends.
Their team has excellent credentials
Offers many skin procedures
Provides numerous beauty treatments
Accommodating and knowledgeable staff
May ask for credit card info early in the process
Stringent cancellation policy
Opens late ron Thursdays
Customer Reviews
Super
"Super service, excellent doctors and glad I made my appointment with them." – Ian Cairns
Great service
"Exceptional service: Polite and friendly staff, very knowledgable and experienced doctor(Joachim) who pays close attention to the issue and more importantly pleasant environment." – Sai Surya Pavuluri
4. Carrigtwohill Dermatology Clinic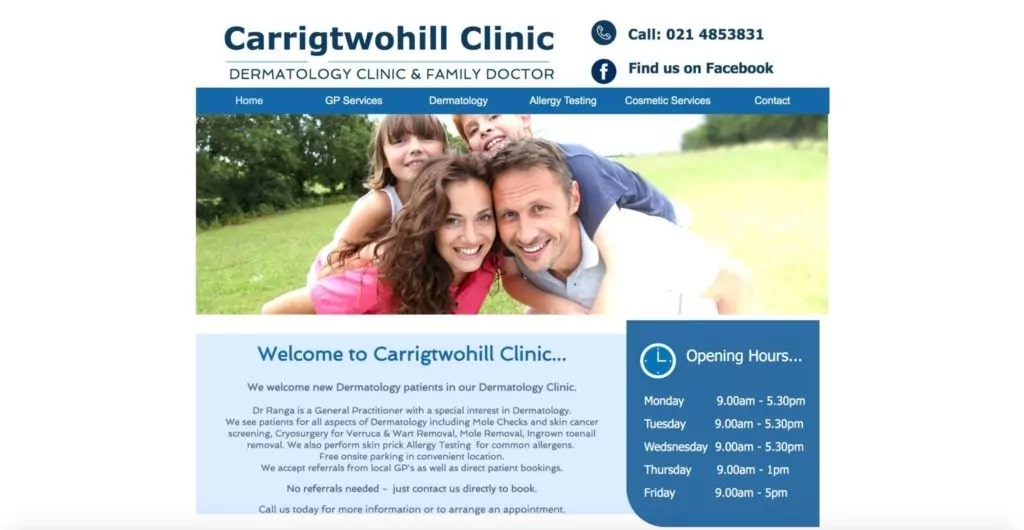 Test
Info
SERVICES

Wart Removal, Treatments for Different Problems

Mole Checking/Skin Cancer Screening

Minor Surgeries

WEBSITE
https://www.dermatologycork.ie/
ADDRESS
Carrigtwohill Clinic, Unit 10 Business & Shopping Centre, Carrigtwohill, Co. Cork
CONTACT DETAILS

PHONE: 021 485 3831

EMAIL: [email protected]

OPERATING HOURS

Monday - Wednesday: 9:00 AM - 5:30 PM

Thursday: 9:00 AM - 1:00 PM

Friday: 9:00 AM - 5:00 PM
| | |
| --- | --- |
| COST | ★★★★☆ (4/5) |
| BOOKING SYSTEM | ★★★★☆ (4/5) |
| SERVICES | ★★★★☆ (4/5) |
| SCOPE | ★★★★☆ (4/5) |
| QUALITY | ★★★★☆ (4/5) |
| COMMUNICATION | ★★★★☆ (4/5) |
| AVAILABILITY | ★★★★☆ (4/5) |
| LEVEL OF CARE | ★★★★☆ (4/5) |
If you're searching for a general practitioner and a dermatologist for wart removal in Ireland, Carrigtwohill Clinic is among our best picks.
We like that people can go to this clinic for anything from mild to serious skin problems.
In fact, some of their services include treatment for common skin issues such as acne, eczema, rosacea, and impetigo. They also carry out minor procedures like laceration healing, wart, cyst, and skin tag removal, as well as haemorrhoid excisions.
Should you want to keep your skin in check and reduce your risk of skin cancer, we applaud that they perform mole screening, biopsies, and dermoscopies too.
We think this makes them a good clinic for you and your loved ones to go to for various concerns.
However, they only offer dermal fillers and anti-wrinkle injections for cosmetic treatments. You may want to look into other clinics for more beauty options.
Notably, they just started seeing patients who had made an appointment through their website or other platforms. Yet along with this, walk-ins aren't accepted.
If you want to visit Carrigtwohill Clinic, we advise booking during regular business hours. This way, they can still respond to your queries before you reserve a slot.
Has a GP and dermatologist
Can address numerous skin problems
Able to perform skin cancer checks
Accepts online bookings
Limited cosmetic procedures
Doesn't take walk-ins
Customer Reviews
Very good
"Very good doctor and knows what he is doing. Went to several Irish dermatologist and there were far behind in training, treatment and patient support." – Julio Hernandez
Helpful and brilliant
"I have been a patient with Dr Ranga for years and all I can say is Dr Ranga and his team are so helpful and brilliant at what they do ,always greet you with a smile, try and fit you in where ever they can… Great for women's health, general medicine, and dermatology… Highly recommend." – Lisa Lou
5. The Skin Cellar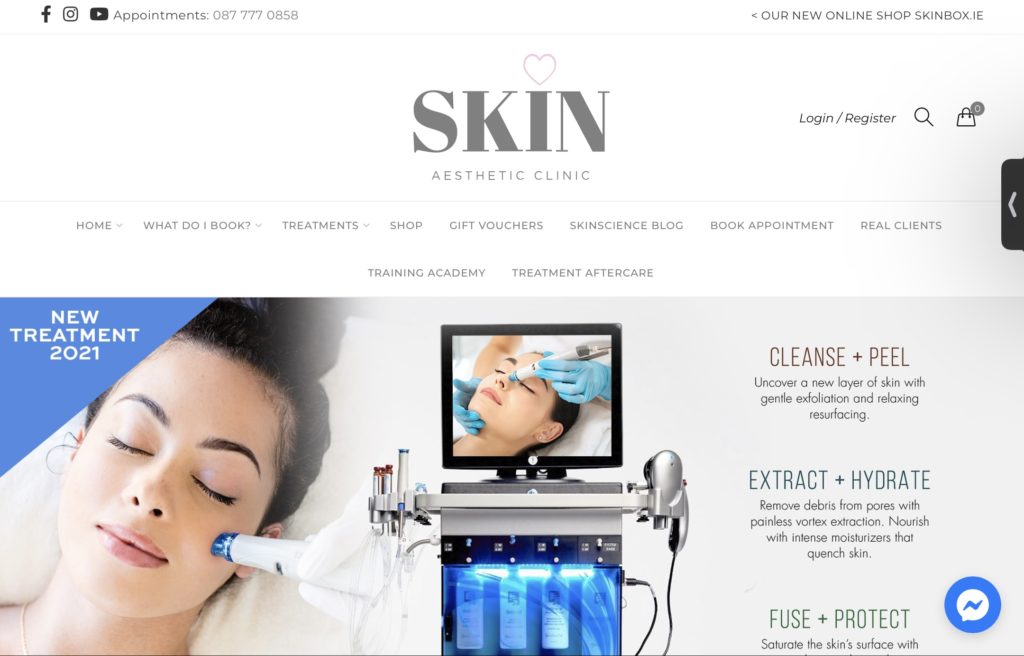 SERVICES
Hydra Facial, Chronos Filler Facial, and Microneedling
WEBSITE
https://www.theskincellar.com/
ADDRESS
Crescent Quay, Wexford, Ireland
CONTACT DETAILS
Mail:

[email protected]


Phone: 0877770858
OPERATING HOURS
Monday Closed
Tuesday 9:00 am – 6:00 pm
Wednesday 10:00 am – 7:00 pm
Thursday 10:00 am – 7:00 pm
Friday 10:00 am – 9:00 pm
Saturday 9:00 am – 4:00 pm
Sunday Closed
| | |
| --- | --- |
| COST | ★★★★☆ (4/5) |
| BOOKING SYSTEM | ★★★★☆ (4/5) |
| SERVICES | ★★★★☆ (4/5) |
| SCOPE | ★★★★☆ (4/5) |
| QUALITY | ★★★★☆ (4/5) |
| COMMUNICATION | ★★★★☆ (4/5) |
| AVAILABILITY | ★★★★☆ (4/5) |
| LEVEL OF CARE | ★★★★☆ (4/5) |
In an era where flawless skin is the ultimate accessory, The Skin Cellar stands as the definitive champion in wart removal. Our journey with them left us in awe, as their exceptional services truly redefine excellence.
When it comes to services, The Skin Cellar raises the bar immeasurably high.
Their team of adept professionals navigates the intricate world of wart removal with surgical precision, making each visit a seamless experience.
Our confidence was immediately boosted as they personalized their approach, ensuring our individual needs were met with utmost care.
Convenience takes center stage at The Skin Cellar. Our busy lives demand solutions that adapt to our schedule, and this is where they shine.
Appointments are a breeze to secure, with flexible time slots that accommodate even the most hectic routines. The ease of scheduling allowed us to prioritize self-care without compromise.
The name of The Skin Cellar reverberates with a reputation that echoes far and wide. Raving testimonials and success stories aren't merely words; they're a testament to their unwavering commitment to perfection.
In our own experience, the results spoke volumes louder than any praise we had heard. It's no surprise they're a trusted choice in wart removal.
Let's address the elephant in the room: cost.
The Skin Cellar has remarkably shattered the misconception that premium services equate to astronomical prices.
With their competitive pricing, we found ourselves pleasantly surprised by the affordability of their top-tier services.
Unfortunately, they can get fully booked quickly. We advise booking an appointment ahead of time.
Flexible appointments for busy lives
Trusted and raved-about by many
Premium services without the premium price
Customer Reviews
"Flawless experience with The Skin Cellar! Their precision and personalized approach made wart removal a breeze. Highly recommended!"
"The Skin Cellar's reputation is well-deserved. I'm thrilled with the results and the cost-effectiveness. They've set the bar high!"
6. The Laser Centre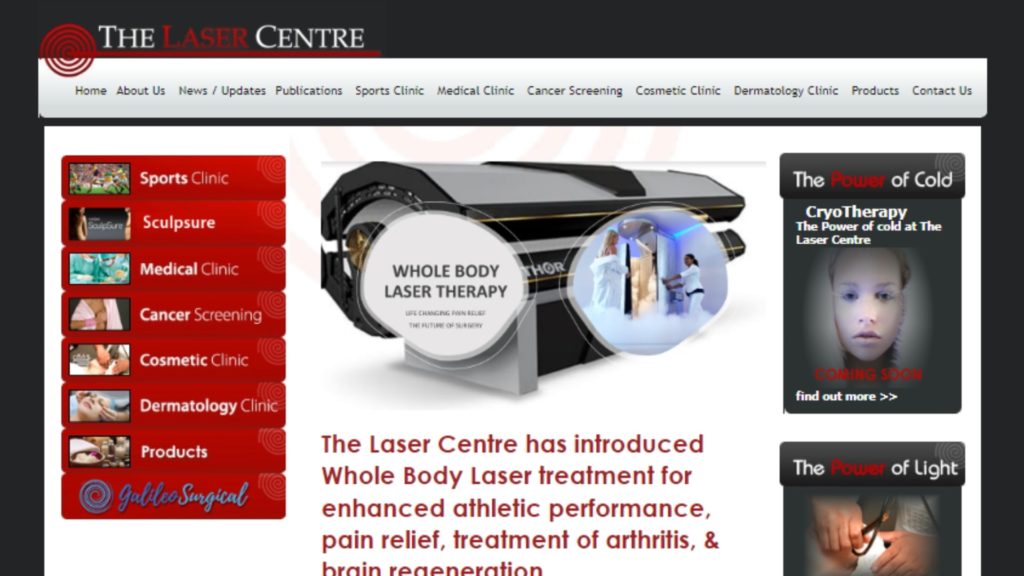 Test
Info
SERVICES

Medical Clinic, Cancer Screening

Cosmetic Clinic, Dermatology Clinic

WEBSITE
http://www.lasercentre.ie/
ADDRESS
14 Hume St, Dublin 2, D02 FP26, Ireland
CONTACT DETAILS

PHONE: +353 1 676 3251

EMAIL: [email protected]
| | |
| --- | --- |
| COST | ★★★★☆ (4/5) |
| BOOKING SYSTEM | ★★★★☆ (4/5) |
| SERVICES | ★★★★☆ (4/5) |
| SCOPE | ★★★★☆ (4/5) |
| QUALITY | ★★★★☆ (4/5) |
| COMMUNICATION | ★★★★☆ (4/5) |
| AVAILABILITY | ★★★☆☆ (3/5) |
| LEVEL OF CARE | ★★★★☆ (4/5) |
The Laser Centre is another one of our favourite clinics who can offer quality wart removal in Ireland.
Firstly, we applaud their great attention to detail. Their staff usually explains everything well, so patients can see why their laser therapy is safer than other treatments that use liquid nitrogen.
This shows us that they care about the clients' comfort, so they can be in their best physical and mental condition before any treatment.
In addition, we commend that they have several clinics that include sports, medical, cancer screening, cosmetics, and dermatology – they have among the most comprehensive services we've seen in the city!
Apart from providing minimally-invasive treatments, it's also good to know that they recycle 99% of their waste. We believe they set a good standard for other modern health clinics.
Nonetheless, The Laser Centre's schedule isn't clearly visible on their online pages. We suggest getting in touch with them directly so you can book a treatment at a time that works best for you.
Though on rare occasions, they may be late for a booking. We think this may be inevitable due to the nature of their work, but it's still smart to communicate with them regularly to make a healthy compromise.
Conveniently, their location offers ample parking space, so your appointment will be more hassle-free.
Many clinics and services available 
Prioritises client safety and comfort
Environmentally-friendly clinic
Informative and helpful staff
May be tardy for an appointment at times
Cannot view their schedule online
Customer Reviews
The best
"Best place, amazing staff, fair prices and good results!" – Elaine Rodrigues Cazetta
So good
"I had to give a 5 star when I saw the 3 star. For muscle injuries or shin splints this place was unbelievable. That was 10 years ago. I was out for 4 months and was back running in a day. All the staff were so friendly and accommodating. Patrick Leahy is a genius. Even though I was there for a sports injury I asked him about a spot on my nose that I always felt subconscious about. He took it off with the laser for me there and then. What a gentleman. I don't write many reviews, but I saw a 3-star review and I couldn't let that stand knowing how good this place is." – Eoin Everard
FAQs About Wart Removal in Ireland
---
There you go! We hope you liked our review of the best clinics offering wart removal in Ireland. May you find the most suitable option and gain more confidence!
If you want to find more health and beauty-related services, start with our review of the best laser hair removal clinics in Dublin to learn more!