The 5 Best Wart Removal Clinics in Dublin
Do you have a bothersome wart? If so, we advise having it removed so it won't spread or cause pain and you can gain more confidence.
If you have some skin issues and live in another city, you may want to check out the top dermatologists in Cork, Limerick, Waterford, and the like beforehand.
But if you're only looking for wart removal in Dublin, we've got you covered. Let's talk about how we chose them first.
How much does wart removal in Dublin cost?
Wart removal services in Dublin range in price. This depends on the kind of wart, where it's located on the body, where the clinic is, and whether you require any extra sessions.
The estimates for your first reference are as follows:
| SERVICES | ESTIMATED FEES |
| --- | --- |
| Consultations | From free to varying amounts |
| Wart Removal | €65 to €370 |
| Extra Treatments | €275 for 3 treatments (bundle) |
How We Picked the Best Clinics for Wart Removal in Dublin
We assessed the clinics based on the following criteria: 
1. D2 Medical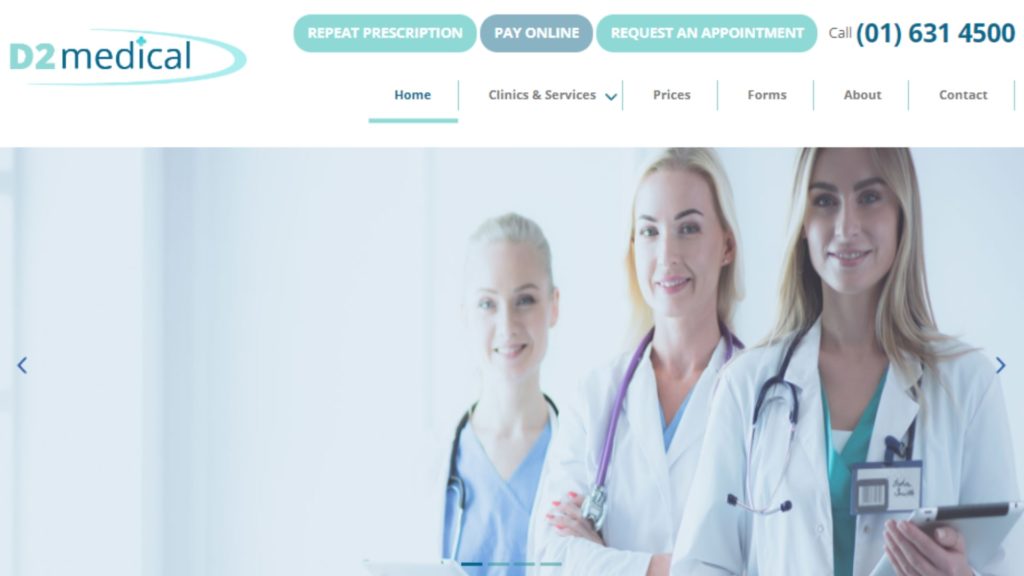 Test
Info
SERVICES

Cryotherapy & Wart Removal

Other Clinical Services

WEBSITE
https://d2medical.ie/
ADDRESS
4 Fitzwilliam Square E, Dublin 2, D02 FE06, Ireland
CONTACT DETAILS

PHONE: +353 1 631 4500

OPERATING HOURS

Monday - Friday: 8:30 AM - 6:00 PM
| | |
| --- | --- |
| COST | ★★★★★ (5/5) |
| BOOKING SYSTEM | ★★★★★ (5/5) |
| SERVICES | ★★★★☆ (4/5) |
| SCOPE | ★★★★★ (5/5) |
| QUALITY | ★★★★☆ (4/5) |
| COMMUNICATION | ★★★★☆ (4/5) |
| ACCESSIBILITY | ★★★★☆ (4/5) |
| LEVEL OF CARE | ★★★★☆ (4/5) |
D2 Medical is one of our favourite clinics for wart removal in Dublin because of their numerous medical services. We believe they're ideal for people who need multiple services in one place.
Their consultation fees start at €70, while their cryotherapy for wart removal costs €100. We think this is reasonable, given that the prices are within the average in the city.
In addition to removing warts, they offer general family practice, STD testing, blood tests, services for birth control, vaccinations for babies, and more! Everyone in the family can be accommodated by them, in our opinion.
We also appreciate their spacious office space. Being among the largest in all of Dublin, it seems that they can make many patients feel at ease with their location.
Conveniently, they have a big parking space outside too. We're impressed that this works for cars, motorcycles, and bikes, among other vehicles.
If interested, you may reach D2 Medical 5 days a week, except on Saturdays and Sundays.
However, note that there are instances when they may be unresponsive via phone call, which could delay your desired appointment.
Provides numerous medical services
Large and accommodating office space
Reasonable prices
Parking is good for most vehicles
Might be unable to reply at times
Unavailable on weekends
Customer Reviews
Welcoming experience
"Went there for a consultation and blood test and the appointment was easy to book. Receptionist Niamh is the most friendliest and welcoming receptionist you will ever meet. The whole process was easy and the prices are reasonable comparing to other places. I would def recommend" – M O
Friendly and professional
"I highly recommend Dr Ryan and all the team at Fitzwilliam Square – D2 medical clinic. I've been attending here for over 10 years now and the reception team in particular are at all times friendly, efficient, discreet and professional. Even during Covid, the team remained calm and helpful during what was no doubt a stressful time for them. I always feel like I'm in good hands when I attend this clinic which makes such a difference. Thank you!" – Jennifer O
2. The Adare Clinic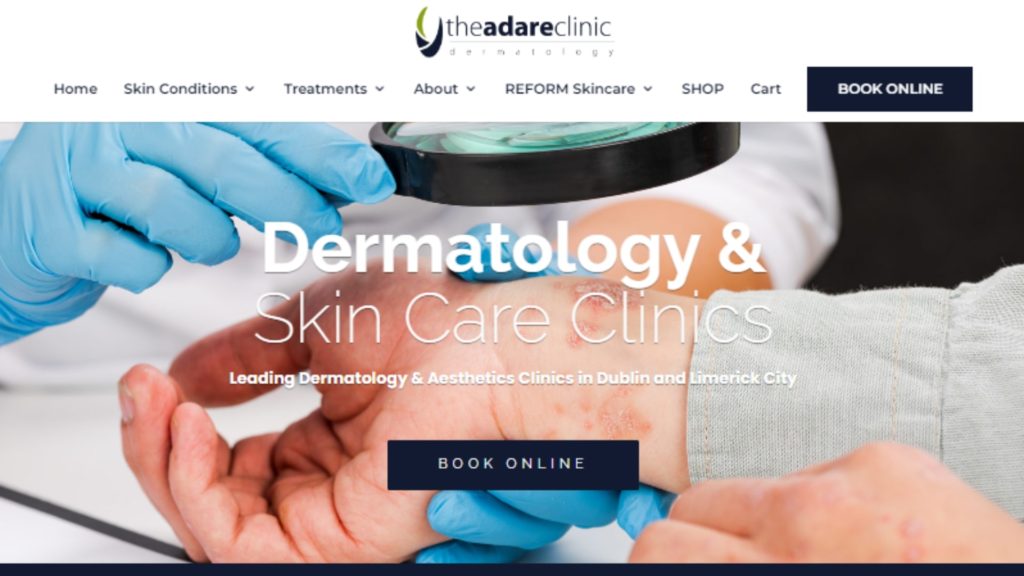 Test
Info
SERVICES

Wart Removal, Skin Treatments

WEBSITE
https://www.theadareclinic.ie/
ADDRESS
4 Clare St, Dublin, Ireland
CONTACT DETAILS

PHONE: +353 1 676 9810

OPERATING HOURS

Monday - Wednesday: 9:00 AM - 6:00 PM

Thursday: 10:00 AM - 7:00 PM

Friday: 9:00 AM - 1:00 PM
| | |
| --- | --- |
| COST | ★★★★☆ (4/5) |
| BOOKING SYSTEM | ★★★★☆ (4/5) |
| SERVICES | ★★★★☆ (4/5) |
| SCOPE | ★★★★☆ (4/5) |
| QUALITY | ★★★★☆ (4/5) |
| COMMUNICATION | ★★★★☆ (4/5) |
| ACCESSIBILITY | ★★★★☆ (4/5) |
| LEVEL OF CARE | ★★★★☆ (4/5) |
The Adare Clinic is one of the best clinics to think about if you want to get wart removal treatment in Dublin.
We find it handy that besides wart removal, this clinic is an expert in managing many skin conditions. This includes skin cancer, melanoma, acne, psoriasis, atopic dermatitis (eczema), and so on.
In addition, The Adare Clinic has great accessibility. They have offices in both Dublin and Limerick, so we think it's easy for you to make an appointment.
To save more money, we're glad that they also provide discounted packages now and then. But this could only be applicable to the more basic skin treatments, should you want to get those alongside wart removal.
If you want to visit at a later time, we suggest going to their office on Thursdays since they open and close an hour later on this day.
Just note that this clinic operates a strict booking policy. Cancellations must be made 48 hours ahead of time, and if you want to make another appointment, you'll have to pay €100.
Still, we think this policy is a little ironic, since their doctors may sometimes be late to their appointments.
Also, make sure to communicate your preferences well. Several of their staff may have a tendency to upsell other products. 
Handles many skin treatments
Available in Dublin and Limerick
Easy to book an appointment
Later closing hours on Thursdays
Occasionally a bit late to bookings
Some staff may tend to upsell
Customer Reviews
Very pleased
"I had a full consultation with Alejandro today and treatment for a specific skin condition. Alejandro explained everything to me in fine detail with advice on necessary follow up skincare. I am very pleased with all of this and II look forward to a mid Summer review of my condition." – Pat Timmons
Exceptional
"Exceptional service: Polite and friendly staff, very knowledgable and experienced doctor(Joachim) who pays close attention to the issue and more importantly pleasant environment." – Sai Surya Pavuluri
3. Akina Laser and Beauty Clinic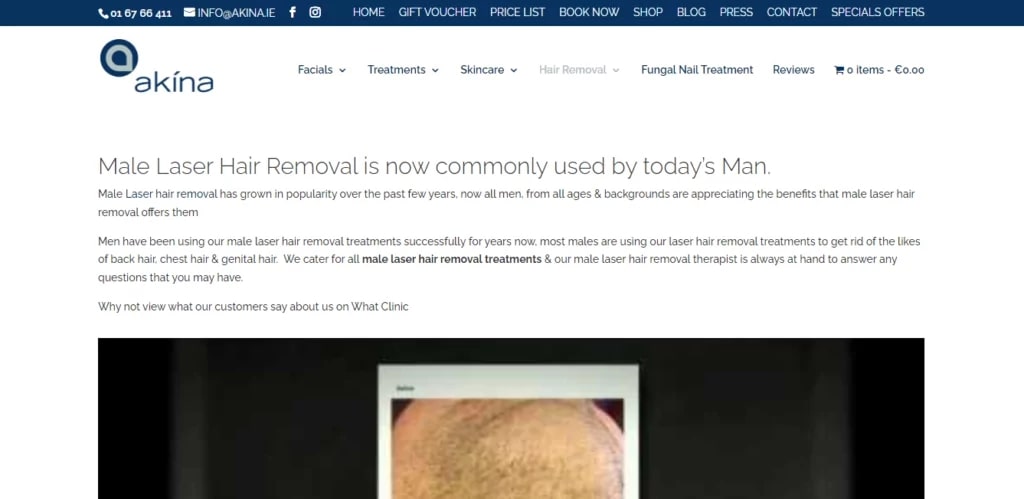 Test
Info
SERVICES

Venus Freeze, Laser Vein Removal

Hair Removal, Waxing, Electrolysis

Skin Tag Removal, CST Treatment

Laser Genesis Skin Rejuvenation

Wart Removal, Alumier Facials

Advanced Nutrition Program

Dermlux Flex, Environ Facials

Male Laser Hair Removal

Fungal Nail Treatment

Jane Iredale Makeup

Microdermabrasion

WEBSITE
https://www.akina.ie/
ADDRESS
50 Leeson Street Lower, Saint Kevin's, Dublin 2, D02 XK26, Ireland
CONTACT DETAILS

PHONE: 01 6766411

OPERATING HOURS

Monday: 10:00 AM - 7:00 PM

Tuesday - Thursday: 10:00 AM - 8:00 PM

Friday: 8:30 AM - 7:00 PM

Saturday: 10:00 AM - 5:30 PM
| | |
| --- | --- |
| COST | ★★★★☆ (4/5) |
| BOOKING SYSTEM | ★★★☆☆ (3/5) |
| SERVICES | ★★★★☆ (4/5) |
| SCOPE | ★★★★☆ (4/5) |
| QUALITY | ★★★★☆ (4/5) |
| COMMUNICATION | ★★★★☆ (4/5) |
| ACCESSIBILITY | ★★★★☆ (4/5) |
| LEVEL OF CARE | ★★★★☆ (4/5) |
One of our best go-to clinics for all things beauty enhancement is Akina Laser and Beauty Center. For this reason, we recommend considering them for your wart removal in Dublin.
Firstly, they charge €105 to have warts removed. We think this counts as a fair price because it's only around €5 more than average.
We like that the clinic is knowledgeable about various treatments too, which gives clients a lot of options for reaching their cosmetic goals.
If you decide to be a regular, they can also take care of your nails, waxing, and skin tag removal, among other things.
Moreover, they do laser hair removal for men as well! This is a great way to serve a variety of customers, in our opinion.
Some previous clients also told us that they liked how accommodating and helpful their customer service was.
Nonetheless, a few clients had some scheduling conflicts. To lessen your worry, we feel it's best to email them for a follow-up the day before your treatment.
Akina Laser and Beauty Center is open most days, excluding Sundays, if you're interested.
Offers many beauty treatments
Communicates well with clients
Also caters to men
Open most days of the week
May need to confirm appointments more than once
Costs just a little more than others
Customer Reviews
Lovely and friendly
"Eavanna is punctual and professional. The clinic is lovely with a friendly atmosphere. Highly recommend." – Rhiannon Coyne
Amazing treatment
"Great staff, nice and cosy place. Amazing treatment." – Beatriz Souza
4. The Laser Centre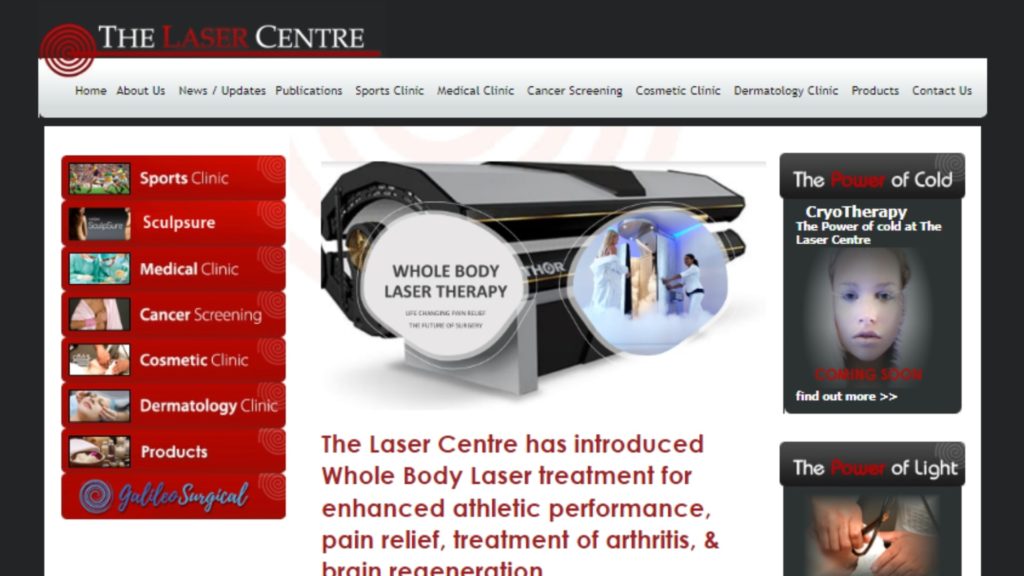 Test
Info
SERVICES

Cosmetic Clinic, Dermatology Clinic

Medical Clinic, Cancer Screening,

WEBSITE
http://www.lasercentre.ie/
ADDRESS
14 Hume St, Dublin 2, D02 FP26, Ireland
CONTACT DETAILS

PHONE: +353 1 676 3251
| | |
| --- | --- |
| COST | ★★★★☆ (4/5) |
| BOOKING SYSTEM | ★★★★☆ (4/5) |
| SERVICES | ★★★★☆ (4/5) |
| SCOPE | ★★★★☆ (4/5) |
| QUALITY | ★★★★☆ (4/5) |
| COMMUNICATION | ★★★★☆ (4/5) |
| ACCESSIBILITY | ★★★☆☆ (3/5) |
| LEVEL OF CARE | ★★★★☆ (4/5) |
Another one of our favourite medical clinics in Ireland that can do quality wart removal is The Laser Centre.
First off, we like their wart removal online booking form. It asks the client all of the possible times and days of the week he or she is available so they can adjust to that schedule.
We also applaud them for having a number of clinics for sports, dermatology, medical care, cancer screenings, cosmetics, and more – they offer some of the most comprehensive services we've seen in the city!
Plus, they recycle 99% of their waste and offer procedures that cause the least amount of damage. In our opinion, they set a high bar for other modern medical facilities.
They also have convenient parking available at their location, which will make your visit go more smoothly.
Nevertheless, there are currently no easy payment plans offered at The Laser Centre. We advise planning your budget beforehand to avoid any hassle later.
And though this happens infrequently, they could be late for some bookings too. It's advisable to reach them through their phone number and email to send a follow-up when necessary.
Lots of clinics and services available 
Eco-friendly clinic
Available parking space
Straightforward contact form
May be late for an appointment sometimes
Doesn't provide payment plans
Customer Reviews
Good prices and results
"Best place, amazing staff, fair prices and good results!" – Elaine Rodrigues Cazetta
What a great place
"I had to give a 5 star when I saw the 3 star. For muscle injuries or shin splints this place was unbelievable. That was 10 years ago. I was out for 4 months and was back running in a day. All the staff were so friendly and accommodating. Patrick Leahy is a genius. Even though I was there for a sports injury I asked him about a spot on my nose that I always felt subconscious about. He took it off with the laser for me there and then. What a gentleman. I don't write many reviews, but I saw a 3-star review and I couldn't let that stand knowing how good this place is." – Eoin Everard
5. Medixclinic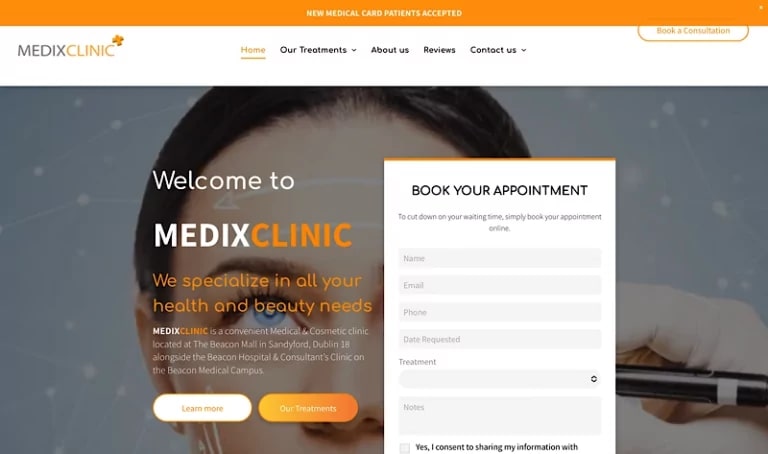 Test
Info
SERVICES

GP Services, Minor Surgeries

Cosmetic Surgeries

WEBSITE
https://www.medixclinic.ie/
ADDRESS
Suite 7, The Mall, Beacon Court, Sandyford, Dublin 18, Ireland
CONTACT DETAILS

PHONE: +353 (1) 6874077

OPERATING HOURS

Monday - Friday: 9:00 AM - 5:00 PM
| | |
| --- | --- |
| COST | ★★★★☆ (4/5) |
| BOOKING SYSTEM | ★★★★☆ (4/5) |
| SERVICES | ★★★★☆ (4/5) |
| SCOPE | ★★★★☆ (4/5) |
| QUALITY | ★★★★☆ (4/5) |
| COMMUNICATION | ★★★★☆ (4/5) |
| ACCESSIBILITY | ★★★★☆ (4/5) |
| LEVEL OF CARE | ★★★★☆ (4/5) |
For us, MedixClinic is yet another trustworthy wart removal facility in Dublin. With a focus on health and beauty, they provide a variety of treatments.
They seem to be a well-rounded option too. We think that the clinic stands out since they have procedures for both physical health and aesthetic treatments.
The doctor here also has more than 40 years of experience, so we feel confident in his skills. It's great that this doctor has global-based knowledge, which we believe may give an additional perspective to his medical advice.
Not only that, but they also provide a range of treatments for men to widen their reach.
Still, their prices are a bit higher than those of other clinics. Nonetheless, we think this is justifiable considering their numerous specialisations.
Although, a client we talked to shared having a problem communicating with the doctor. Though we don't believe there's a significant language barrier here, this might be an issue for a few.
If you want to give the clinic a try, you may reach MedixClinic any day except on weekends.
Over 4 decades of experience
Does both beauty and health treatments
Capable of several male procedures
With foreign roots and international background
Communication may still be improved
Closed on Saturdays and Sundays
Customer Reviews
Happy with the service
"Very happy with the service and results, Dr Elsayed and his assistants are very professional and very informative as well as know what they are doing." – The One (Elmano)
Professional, helpful, and patient
"Dr Hegazy is a gem. He is patient, professional, helpful and friendly. Leanne is always welcoming and trying her best to book you in as soon as possible. I've always been receiving the best service I could ask for. Bless them all." – Reyhaneh Hashempour
FAQs About Wart Removal in Dublin
---
You're all set! We hope you enjoyed reading about our top wart removal clinics in Dublin. May you find the best service and end up wart-free!
If you want to learn more about other health and beauty-related treatments, start by reading our review of the best laser hair removal clinics in Dublin!