The 5 Best TV Repair Shops in Limerick
Television troubleshooting isn't always the easiest, especially if you're not adept in handling electronics. It's best to leave it to the experts – and to help you with that, we just have the thing for you here.
In our list of the best TV repair shops in Limerick, you'll find services, contact details, and answers to frequently asked questions.
Before any of that though, let's talk about repair rates first.
How Much Do TV Repair Services Cost in Limerick?
TV repair costs will depend on the issue at hand, your chosen shop's labour or call-out fee, and additional parts if applicable.
We've gathered data from several shops to give you estimated costs on common TV repair services below. Note that actual prices may vary.
| | |
| --- | --- |
| SERVICE | ESTIMATED COSTS |
| Call-out/Inspection Fees | €40 – €60 |
| Screen Repair | €100 – €300 |
| Backlight Repair | €80 – €120 |
| Bulb Replacement | €50 – €100 |
| Power Supply Board Repair | €50 – €200 |
The Best TV Repair Shops in Limerick
Now that you know what to expect in terms of fees, let's proceed to our best picks of the top TV repair shops in Limerick!
1.   Dokortelecom Service

SERVICES
TV onboard/backlit repairs, PC/laptop repairs, PlayStation and Xbox repairs, PC screen replacements, data recovery and backup, virus removal
WEBSITE
https://www.doktortelecom.ie/index.html
ADDRESS
Unit 2A, Watch House Cross Shopping Centre, Kileely Road, Limerick
CONTACT DETAILS
087 36 90 032


[email protected]

OPERATING HOURS
Mon to Fri: 10:00 am to 6:00 pm
Sat: By appointments only
From TVs to gaming consoles, Dokortelecom Service can diagnose and repair any electronic issue that you have. So if you have multiple devices that need fixing ASAP, they're the ones to call.
We love that they operate on a "no fix, no fee" policy for all services. This also means that you won't have to worry about paying a cent just for diagnostics.
For TVs, they mostly specialise in LED and smart TV repairs. Some issues that they've dealt with in the past are screen repairs, LED backlit repairs, and mainboard/power repairs.
Rest assured that they only use high-quality and genuine parts for replacement jobs, at least from what we've seen.
That said, they may not provide you with the service you're looking for if you have a fairly old TV model like tube TVs. That's probably the only real downside here.
Anyway, while they aren't based at the city centre, their location at Watch House Cross Shopping Centre means that there are plenty of shops and parking space available.
They can also accommodate customers on Saturdays by appointment, so make sure to give them a call beforehand!
No fix, no fee policy
Uses genuine parts
Free initial diagnostic service
Can fix different electronics
Saturdays open by appointment
Convenient location
Rates unavailable online
Not suitable for old TV models
Customer Reviews
Take a look at what some of Dokortelecom Service's past clients have to say about them:
"I've had a few different product repaired here. Always great work, great quality, and affordable. Even some of the Chinese products with no brand was no trouble for him to repair. Very nice guy and easy to deal with.. Highly recommended!" —Roy Flanagan, Google Reviews
"The best technician that I've encountered. I had a problem with my laptop that the previous three services couldn't solve , brought it here and not only it was fixed but it was done quickly, professionally and affordably. The owner is an absolutely pleasant person with a tonne of knowledge who knows what he's doing. Without a shadow of a doubt if I have any other electronics problems I will be back." —Kacper K, Google Reviews
2.   Leahy TV Services

SERVICES
TV repairs, DVD/VHS/BluRay repairs, satellite and aerial installation, TV wall mounting
WEBSITE
http://www.leahytv.ie/
ADDRESS
Eyon, Murroe, Co. Limerick
CONTACT DETAILS
(01) 381 410 or (087) 272 5306


[email protected]

OPERATING HOURS
Mon to Fri: 9:30 am to 6:30 pm
Sat: 10:00 am to 2:00 pm
Leahy TV services easily earns a spot on our list for a couple of reasons.
First, they've been in the business since 1986, repairing all sorts of TV models including LCD TV, plasma screens, and even tube TVs. They can also repair other devices such as DVD, VHS, and BluRay players.
While they charge customers an initial diagnostic fee of €30, this amount will be subtracted from repair costs should you decide to move forward with their services. We also like the fact that you can conveniently purchase a new TV from them if repair costs aren't economical.
A quick note of caution: just be wary of potentially inflated and unnecessary repair costs because they're always a possibility in shops with such setups. We didn't see anything to suggest it of Leahy, but we like caution, so it would be helpful to get a second opinion to know if prices are justified or jacked up.
Apart from that, we couldn't find much else to complain about. They'll also dispose of your TV through the WEEE recycling scheme—rest assured that your old TV won't leave any electronic waste once its lifespan is through.
Beyond these services, they can also install satellite dishes, TV mounts, and free-to-air boxes. Truly, they're a one-stop shop for all TV-related needs!
Wide range of TV-related services
Open on Saturdays
Services Limerick and surrounding areas
Recycles old TVs
Has a diagnostic fee
No fixed repair costs
Customer Reviews
Check out what clients had to say about Leahy TV Services:
"Great customer service. Would highly recommend!" —Jamie Eaves, Google Reviews
"I think the gentleman who repairs tellies is quick, reasonable with prices and is also very kind.i can easily recommend him and his service." —Jotef73, Google Reviews
3.   Currys PC World

SERVICES
Electronic sales, TV installation and repairs, etc.
WEBSITE
https://www.currys.ie/
ADDRESS
Unit 2b Parkway Retail Park, Dublin Road, Limerick
CONTACT DETAILS
1890 400 001


[email protected]

OPERATING HOURS
Mon to Fri: 9:30 am to 7:00 pm
Sat: 9:30 am to 6:30 pm
Sun: 11:00 am to 6:00 pm
As a major appliance retail company, you'll know that Currys PC World also provides reliable after-sales services for purchases made from their shop.
But people often forget that they also provide repair services for many kinds of electronics including TVs, computers, and household appliances. We've found that there are many perks that come with their repair service, and this is precisely why we had to include them here.
First, you can visit their store at Parkway Retail Park for a free consultation. Alternatively, you can also ask them to pick up your TV from your home if bringing it in-store is a hassle.
They're also a major supplier of spare parts, which means that they can fix your TV as quickly as possible. They even operate on a "no fix, no fee" policy, so you don't have to worry about incurring unnecessary labour costs if they're unable to fix your TV.
Oh, and they accept TV repairs 7 days a week, with a 3-month guarantee waiting for you once they've repaired your TV.
The biggest problem we're seeing here is that the wait may be relatively longer considering that they also service other appliances from many customers, not just TVs.
No fix, no fee policy
Open 7 days a week
3-month guarantee
Home pick-ups available
Free consultation
Long business hours
Limited availability
Rates unavailable online
Customer Reviews
Here are some good reviews about Currys PC World:
"Great staff and a great selection. I had an issue with an Item (not faulty but didn't suit) and the girl behind the till today resolved the problem. Ordered me a replacement to suit. The staff are very approachable and knowledgeable, will be buying my electrical goods here in future." —Gerald O'Reilly, Google Reviews
"Found staff (Gabi) very helpful and knowledgeable during my visit. His advice and assistance encouraged me to make a purchase." —Mike Walsh, Google Reviews
4.   Satcity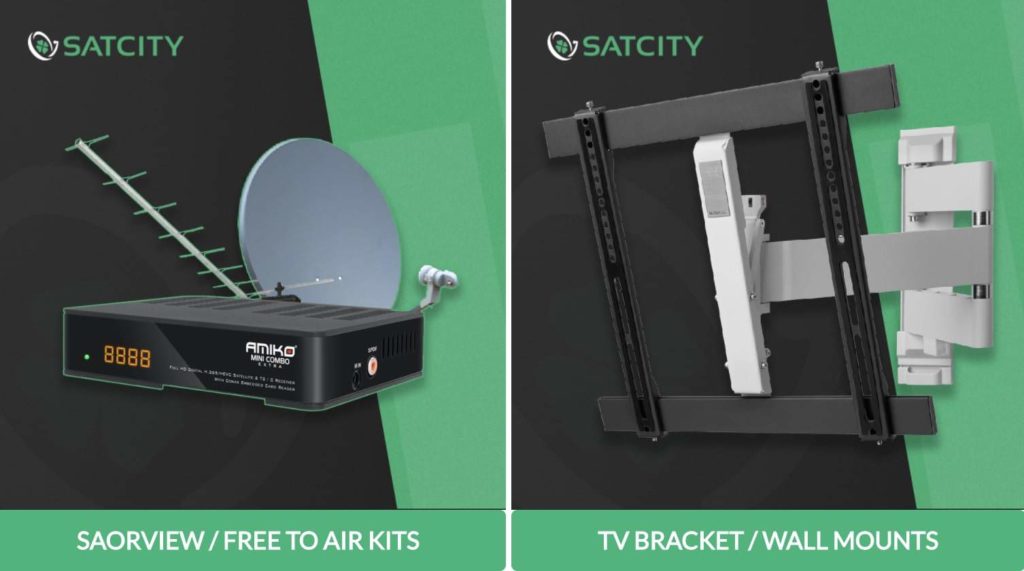 SERVICES
Distributor of TVs/satellite dishes, TV repair and installation, wall mount installation
WEBSITE
https://sat-city.ie/
ADDRESS
12 Lower Gerald Griffin Street, Limerick
CONTACT DETAILS
(085) 145 5629


[email protected]

OPERATING HOURS
Tues to Sat: 10:00 am to 5:00 pm
While Satcity mostly specialises in satellite and free-to-air box installations, they can also install and fix digital TVs. Furthermore, they're a distributor of satellite dishes and digital TV equipment.
They have an extensive range of TV parts including cables, connectors, bolts, and plugs, to name a few. Having these products on hand means that they can easily find part replacements for TV repairs.
Their team of engineers are available for call-outs and can accommodate residents of Limerick and nearby areas. Alternatively, you can also head out to their shop at downtown Limerick for a free consultation.
While repair services start at €50, their lack of fixed rates means that they'll have to inspect your TV's issues upon the initial call-out.
They're also closed on Mondays but this can be offset by the fact that they're open on Saturdays—perfect for those who are busy on weekdays.
Central location
Free consultation
Has an online shop for equipment
Long weekend hours
Rates unavailable online
Closed on Mondays
Customer Reviews
Here's a glimpse of what some of Satcity's previous customers have said about their services:
"Had a satellite installation…the service provided was excellent..it was friendly, efficient and professional..thank you." —John O'Leary, Google Reviews
"Booked on Monday, installer came on Wednesday and all done in 30 mins. Polite and professional service. 2 month warranty. Highly recommend." —John Mcgann, Google Reviews
5.   Pallaskenry TV and Satellite

Pallaskenry TV and Satellite is primarily an installation provider for free-to-air TV boxes but unknown to others, they actually repair TVs too.
More often than not, the majority of picture problems involve faulty signals with their satellite dishes, particularly those with cable services. So if you're having issues with that, then you'll be glad to know that they specialise in repairing and aligning satellite dishes.
They also offer a variety of services for all your TV needs, including mounting, multi-room connection, and even wifi extensions. And it's precisely their versatility in handling TV-related concerns that made us put them on our list.
It would've been very helpful for prospective clients to see their call-out rates from the get-go on their site, though. Still, customers have been raving about their fast response, so go ahead and give them a call today if you want to get a quote.
Specialises in satellite repairs
Wide range of related services
Services Limerick and nearby areas
Rates unavailable online
Closed on weekends
Customer Reviews
Check out some reviews by people who used Pallaskenry TV and Satellite's services below:
"Excellent service, very professional… very responsive… absolutely delighted… highly recommended Ian for all your tv and satellite jobs…" —John Mckenna, Google Reviews
"Cant recommend Ian enough. Mounted 65inch tv on the wall and sorted my satellite dish. Very professional service." —Donal Madden, Google Reviews
"Great job today ian, that satellite was bothering me for as long as i can remember, needed to be done and no better man for the job ! The signals are perfect now and the dish is not an eyesore anymore." —John O'Brien, Website Testimonials
FAQs about TV Repair Shops in Limerick
---
And those are the best TV repair shops in Limerick! Just give these shops a call, and they'll fix your TV in no time!
Tried the services of other shops that aren't on our list? Drop us a line and we'll check them out ASAP.
If you have friends in Galway who need their computers repaired, you can send them our list of the best computer repair shops in Galway!