The 6 Best Recruiters in Dublin
Sending your resumes without much luck? Working with a recruiter can fast track the process by matching your skills and experience with a suitable position.
Whether you're a healthcare or finance professional, read on to find out what the best recruiters in Dublin can offer you. We'll also cover each recruiter's strengths and weaknesses, some FAQs, and much more.
You might also be wondering if you need to shell out a certain amount to avail their services. We'll discuss that first in the following section.
How Much Do Recruiters Charge in Dublin?
In Ireland, there are no placement fees involved when you choose to work with a recruiter.
Instead, companies and employers hire recruiters to source candidates. For every successful applicant, recruiters earn a percentage from the new hire's salary to cover their finder's fee.
This doesn't mean that employers directly take away part of your salary to pay the agency. Instead, they only use your salary as a baseline to get a certain percentage.
For permanent hires, this usually ranges from 10% to 20%. Some fees may go higher or lower depending on the difficulty of finding a suitable candidate for the job.
The Best Recruiters in Ireland
Let's proceed to our picks of the best recruiters Dublin has to offer, organised by specialty!
1. RECRUITERS
Best IT Recruiter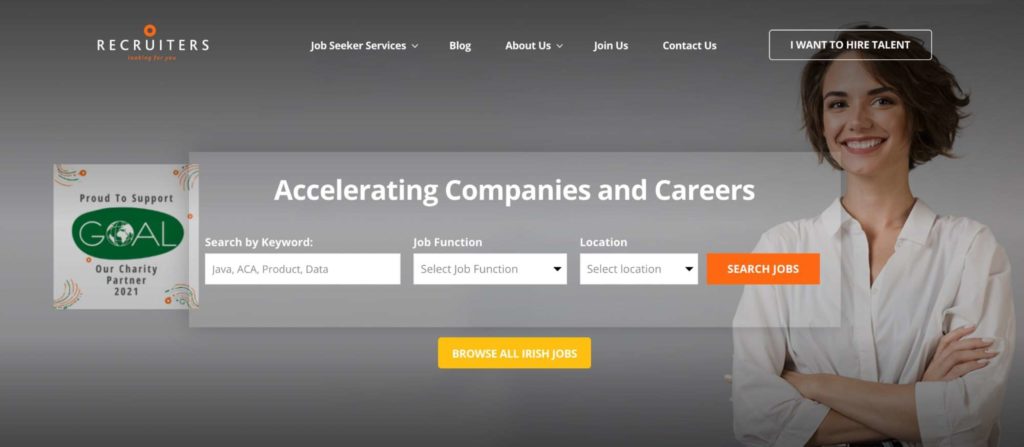 Calling all IT professionals: If you're on the lookout for a job, try RECRUITERS—an award-winning agency that specialises in the technology industry. They provide opportunities for those looking for permanent or temporary/part-time work.
Apart from IT jobs, they also have vacancies in other fields such as sales, finance, marketing, and more. Take note that their area coverage is limited to Dublin, so you might want to skip this one if you're looking for opportunities nationwide or abroad.
Finding a job using their database is pretty straightforward. Once you've found a job you'd like to apply for, you only need to fill in your name, email address, your CV—and they'll take it from there.
Otherwise, you can also use their CV drag-and-drop tool if you haven't spotted an opening that you like. You can expect a member of their team to get back to you once they've found a match, and give you interview advice as necessary.
Part-time jobs available
Convenient CV drag-and-drop tool
No placement fee
Remote jobs available
Other industries available
Closed on weekends
Limited to Dublin only
Customer Reviews
Check out some reviews by people who used RECRUITERS' services below:
"RECRUITERS would be the only recruitment firm I would ever go to again, if needs be.
Highly professional, with exceptional addition to detail and a rare and refreshing personal touch, I was delighted with their work in helping me secure a fantastic role. From the first contact when I called Louise in relation to the role, I was made to feel valued as a candidate. Louise made time to speak to me on the phone and then to arrange a meeting to help both of us understand how we could be of value to one another. My experience here was the best I've had when dealing with a recruiter and I would have no hesitation recommending RECRUITERS to candidates." —Ciarán Lennon, Google Reviews
"I would 100 percent recommend recruiters for anyone looking to find their next position. I personally dealt with Owen Cotter (one of their senior recruiters) who couldn't have been more helpful or professional with his guidance and advice. He also had extremely strong knowledge of the industry I worked in (Telecommunications). First class service from start to finish." —Chris Crook, Google Reviews
2. GemPool
Best IT and Data Center Recruiter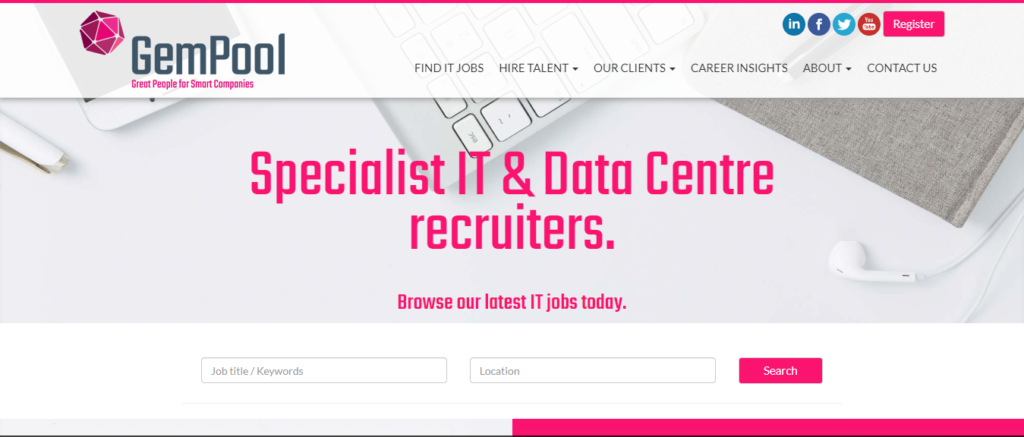 Recruitment agencies, such as GemPool, act as a middleman between a company and job seekers. Companies with job vacancies approach them in order to help them fill these slots with the most suitable employees.
As the leading tech recruitment consultants, they screen and filter through a number of applicants, which in turn, may also help them find their dream job. They ensure to use their skills, knowledge, support, and insights at every stage of the recruitment and selection process.

We believe that GemPool is the right company to approach when in need of qualified candidates. The reason for this is they have different kinds of consultants such as PHP and Ruby On Rails Recruitment Consultant, NET and Mobile Recruitment Consultant, Frontend Development and UX/UI Recruitment Consultant, Diversity, IT Infrastructure Recruitment Consultant, and IT Recruitment Consultant.
We recommend them because they are one of the only companies that offer tailored services. They take their time understanding your needs before reaching an agreement that will suit your requirements.
All consultants and other workers have an IT background and can thus understand the technical scope of your vacancy
Caters to entire Ireland
Has articles about Career Insights on their page
Operating Hours is not stated on their website
3. FRS Recruitment
Best Multidisciplinary Recruiter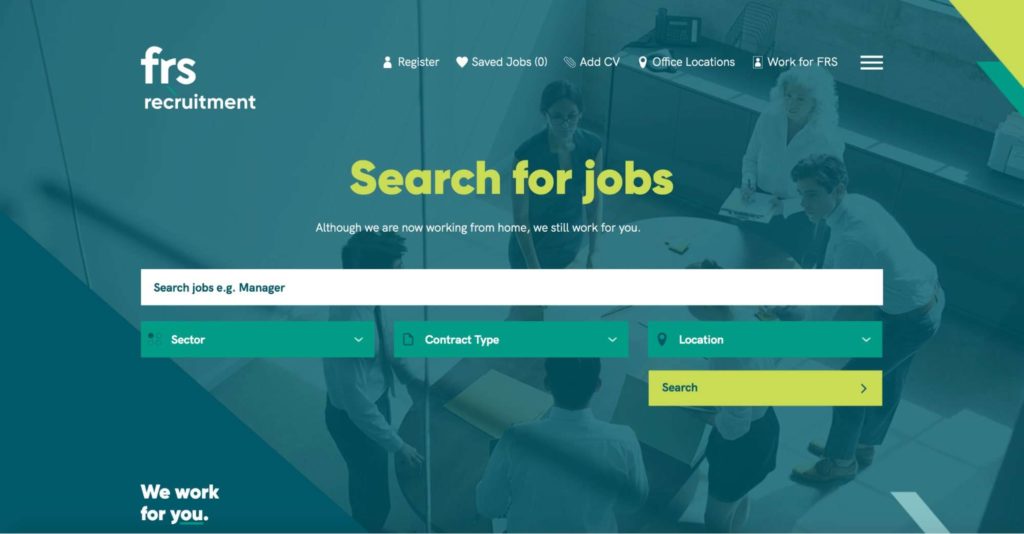 If you're just starting out and want to explore different industries, FRS Recruitment can help you with that. They earned our title of the best multidisciplinary recruiter due to the wide range of opportunities available across different fields in their listings.
You also have the option to choose from among full-time, part-time, and temporary positions. Majority of the industries looking for temporary staff are industrial and commercial companies, by the way, with positions available nationwide.
For temporary positions, you can work from 10 to 40 hours a week, offering you the flexibility if you have other projects. You're also eligible for holiday pay, which is calculated based on the number of hours you've worked.
Their quick-submission tool allows you to send your CV with no hassle. You also have the option to sign up on their website in order to get job alerts, tips, updates, and more.
Wide range of industries available
No placement fee
Multiple offices across Ireland
Ideal for industrial/commercial temporary work
Closed on weekends
Limited jobs abroad
Customer Reviews
Applicants generally recommend FRS Recruitment's services. Some examples include:
"I recently worked with Charlene Cooke at FRS. The process of being placed in a role as senior clinical psychologist was made very easy by Charlene and her colleagues. Charlene was at the other end of the phone when needed and ensured a smooth transition in the role. I experienced Charlene as warm, professional and knowledgeable. She was very responsive and linked me in with relevant FRS colleagues as needed. Margaret Irwin, payroll administrator, responded to all queries in a very timely and helpful manner. I would recommend FRS Recruitment for any psychologist looking to transition into another role." —Philomena Mccarthy, Google Reviews
"Maria, was exceptionally helpful and professional in all our dealings. She would call to check in to see if I had found something else or if my needs have changed. I would definitely recommend Frs and Maria to anyone and use them again in a heartbeat." —Tola Omotola, Google Reviews
4. Keane McDonald
Best Legal Recruiter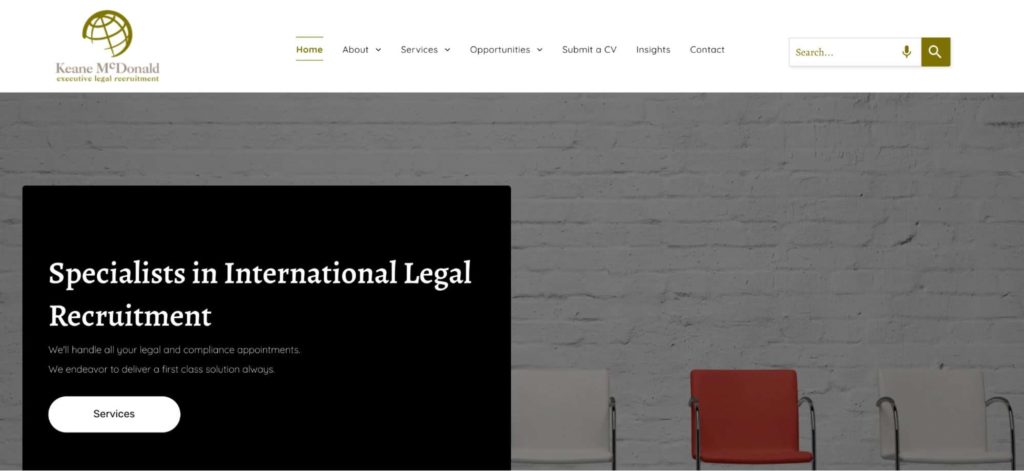 Most recruitment firms present opportunities in related industries despite having a specialisation. Not Keane McDonald though—they're the only recruiter on our list that strictly provides job listings in their specialisation, which is convenient for those in the legal field.
They categorise their listings into 3 parts: partner opportunities, private practice legal jobs, and in-house legal jobs. While most opportunities are based in Dublin, they also have some openings in London, Sydney, and Melbourne—cities where they have offices.
Every month, Keane McDonald rounds up a list of new and available opportunities on their website. Otherwise, you can also request to join their closed LinkedIn group for the latest vacancies in Dublin.
Sign-ups are not required, as you can simply use their quick-submission tool that only needs your name, email address, and CV. From there, a consultant will get in touch with you within a day or two.
Highly specialised recruiter
No placement fee
Opportunities abroad available
LinkedIn group open to applicants
Closed on weekends
Not suitable for part-timers
Customer Reviews
Keane McDonald has built a strong reputation throughout the years as evidenced by these reviews:
"I worked with Mia on a senior appointment for my firm. Mia was excellent, sharp and managed the candidates and me excellently throughout the process. She was respectful of the candidate's and very professional. I would recommend Mia to anyone." —David Fitzgerald, Google Reviews
"Mared and Yvonne are fantastic to work with and very professional. Highly recommend them." —Eoin McDonagh, Google Reviews
"Amazing company to work with, very professional people. Would recommend." —Pebble Brands, Google Reviews
5. Principle
Best Human Resource Recruiter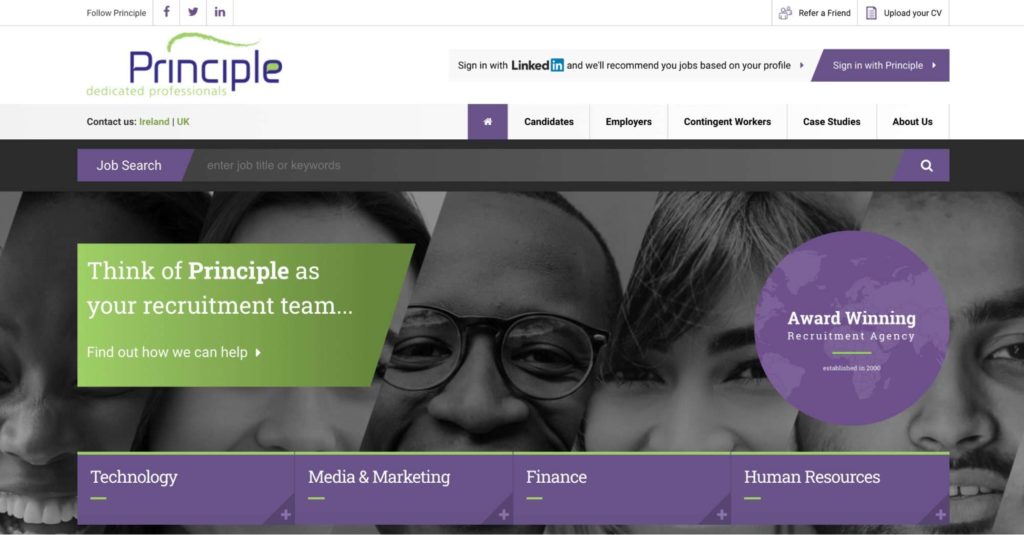 For HR professionals, Principle could help you find your next big break. Under this specialisation, they host full-time and contractual roles such as payroll, employee relations, and learning and development specialists.
Apart from HR openings, they can also accommodate different professionals in media, technology, and even pharmaceutical industries. Simultaneously, they're also hiring more recruiters for their own team, which you can read more about on their website.
Applicants need to sign up in order to submit their CV and proceed with their application. As another option, you can also sign in via your Linkedin account, which a member of their team can also use to contact you for updates and job alerts.
Principle also has offices in London. So if you're looking to relocate to the UK eventually, they might have something for you, too.
No placement fee
Other industries available
Can be linked to your LinkedIn account
Opportunities in London available
Part-time jobs available
Limited listings abroad
Closed on weekends
Customer Reviews
Principle HR has also built an excellent reputation throughout the years:
"I can't recommend Principle HR enough. From first contact to signing my contract I was helped with every step in such a straightforward and detailed manner. Emma the recruiter treated me as if I was her only client and her interview prep with me was second to none. Having dealt with other Recruitment companies in the past I can confidently say Principle HR is the best out there. Anyone looking to change jobs I advise to use Principle HR as your first and only choice!" —Keith Lawlor, Google Reviews
"I had an excellent experience with Ed Bennett from Principle HR. He was very supportive throughout the process, though I was unable to clear the interview. Very friendly and professional at the same time. Definitely recommend Ed as a recruiter and hope to work with him in future. Keep up the good work!" —Malbika Hazarika, Google Reviews
6. One Agency Recruitment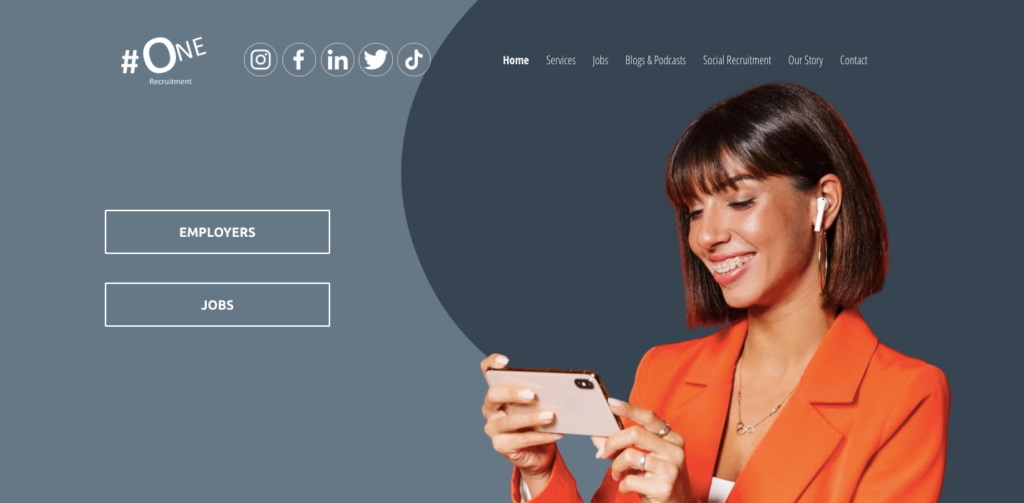 Since 2019, One Agency Recruitment, founded by Kevin Thomas and Leonard Morrissey, has been providing their recruitment services.
We are amazed by their goal as it doesn't only benefit them but also benefit people in need of jobs these days.
After their significant market research in the recruitment sector and studying the impact of social media on each generation, their passion allowed them to become industry rule breakers by modernizing the recruitment process through the use of social media and digital marketing, as well as offering competitive rates.
Their company strategy is centered on the customer experience and the goods we provided. Even they are just new, their business concept has been proven and tested over the course of our first three years and are now scaling up.
Their services were able to influence a variety of industries, including logistics, technology, sales, customer service, retail, engineering, construction, childcare, and more.
Has 9% placement fee
80% interview success rate and 90% interview attendance
Has a diverse range of industries
Opportunities in Ireland
Customer Reviews
Here are some reviews of their clients:
"Dealing with One Agency Recruitment was amazing. Without a doubt the best agency I dealt with. I can't recommend them enough. From the first phonecall they were very professional. When preparing me for the interview they provided first class information on the company and made me feel extremely comfortable and confident before I interviewed. Their communication with myself and company was brilliant. They communicated everyday with me to provide updates. Without their help I wouldn't of passed the interview process. Thanks to one agency I now have the job of my dreams." – Darragh Byrne, Google Reviews
"would like to Share my experience with One Agency recruitment after Kevin contact me on LinkedIn for a position that he thought I was a good fit for. He has always been very friendly and helpful. He also helped me on a preparation for a interview with excellent tips and I have to highlight the confidence boost he gave me! Rs. I don't need to say that I got the job and I'm really grateful that our path have crossed. Kevin showed up just in the right time for my career development and I definitely recommend his Agency!!" – Bruna Conti
"I have recently been placed in a new role by One Recruitment and I have only good things to say about their service. I felt supported throughout the interview process and all my questions in relation to the role were answered as priority. Once I started my new job, Kevin, the recruiter across my placement, very kindly checked in to see how I was getting on and once again offered his support. One Recruitment have helped secure my new advantageous role and I am grateful to them for their help." – Emma Louise Murphy
FAQs about Recruiters
---
And those are the best recruiters in Dublin! We hope that we've helped you get started on your job search.
Tried the services of other recruiters that's not on our list? Drop us a line and we'll check them out as soon as we can.
If you think we failed to cover your industry, you can also refer to our list of the best recruitment agencies in Ireland for more options. That's if you're willing to go beyond Dublin, if course.