The 5 Best Pubs in Dublin
Famous for its booze, there's no way you can skip a night out at the pubs in Dublin. After a day of sightseeing, you're going to want to cap off a great adventure with a refreshing pint, but with so many pubs left and right, where do you begin to look?
Luckily for you, we've rounded up a list of the best pubs in Dublin that you should definitely make time to visit. Our review includes a comprehensive analysis of their customer service, ambiance, and more.
How much do pubs charge in Dublin?
You may be curious to see how much you'll need to set aside for a fun night out at one of Dublin's top pubs.
A pint of beer will start at around €4 for a classic glass around town. But as of late, they can go as far as nearly €9 a glass.
Meanwhile, a gin and tonic starts at around €5, around €6 for a glass of wine, and €4 for vodka. Even so, keep in mind that the price will depend on the kind of drink that you're getting as well as the pub you're at.
The Best Pubs in Dublin
Before we head on to our entries, let's quickly go through the criteria that we used during our selection process.
1. The Long Hall

Test
Info
WEBSITE
https://www.facebook.com/longhallpub/
ADDRESS
51 South Great George's Street, Dublin 2, D02 DV74, Ireland
CONTACT INFORMATION
+356 7973 3851
OPERATING HOURS
Monday–Thursday: 12 NN–11:30 PM

Friday–Saturday: 12 NN–12:30 AM

Sunday: 12:30 PM–11 PM
| | |
| --- | --- |
| Ambiance | ★★★★★ (5/5) |
| Selection | ★★★★★ (5/5) |
| Customer service | ★★★★☆ (4/5) |
| Value | ★★★★★ (5/5) |
A local favorite and a piece of Irish history, The Long Hall has been in business since 1766, serving booze for over 250 years!
The pub takes you back in time to the 19th Century Victorian era with its breathtaking interiors. They feature high ceilings decorated with shiny chandeliers, leather stools, and multiple antique decors.
Though not much has changed since their last major renovation in 1881, they're still the talk of the town and frequented by locals for their extensive range of drinks.
Speaking of their selection, they offer a good variety of beers, whiskeys, cocktails, and more. They also offer a number of tasty snacks that pair well with their drinks such as burgers, pizzas, and hotdogs.
Did you know that some of their barmen have been at The Long Hall for over 35 years? We think this definitely speaks volumes about how passionate and cared for the employees are.
Actually, clients that we've gotten in touch with praised their barmen for excellent service. Despite a busy night, they still get your orders through and in a timely manner.
All said, we recommend The Long Hall if you want to enjoy a fun night out watching sports or simply hanging out with your friends over a pint of good ole beer.
Speaking of sports, The Long Hall is also known for hosting live watch parties. We think this will surely be a good time to mingle with fellow fans, too.
But here's the hitch: while their popularity is definitely a good thing, it also means that they're often full. Hence, you may want to arrive early to be able to get some seats.
Open daily
Barmen have 35+ years of experience
Offer food
Hosts live watch parties for sports games
Customer Reviews
Attentive, professional staff
"Lovely olde worlde pub still retaining the grandeur and atmosphere of days gone by. Friendly attentive professional staff serving creamy pints and wide variety of drinks in pleasant surroundings. Where hospitality comes naturally Slainte." – John Waters
Excellent service
"A very popular, bustling, atmospheric, traditional Irish Pub. Excellent service and the staff were spot on. A "must visit" pub if you're looking for a warm welcome and a bit of craic." – Claire Bulmer Bulmer
2. The Brazen Head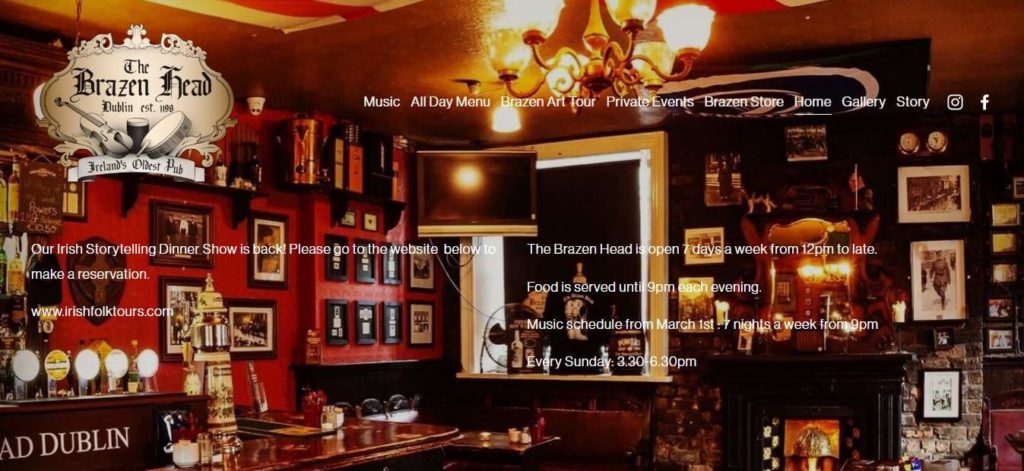 | Test | Info |
| --- | --- |
| WEBSITE | https://www.brazenhead.com/ |
| ADDRESS | 20 Lower Bridge St, Usher's Quay, Dublin, D08 WC64, Ireland |
| CONTACT INFORMATION | +353 1 679 5186 |
| OPERATING HOURS | Monday–Sunday: 12 PM–11:30 PM |
| | |
| --- | --- |
| Ambiance | ★★★★★ (5/5) |
| Selection | ★★★★☆ (4/5) |
| Customer service | ★★★★★ (5/5) |
| Value | ★★★★☆ (4/5) |
The Brazen Head is one of the oldest pubs in the country that dates back to 1198. Originally an 11th-century coach house, don't be surprised if you see people simply admiring the interior design while enjoying the live music.
We think that the live music definitely adds to the charm and ambiance of the pub.
Aside from that, they also serve a number of dishes up until 9 PM. These include spicy chicken wings, fish and chips, toasted brie sandwiches, smoked salmon salad, and more.
We've gotten in touch with a number of their customers, and many recommended their Guinness stew as well as their fish and chips. So, you may want to take note of that if you plan of visiting The Brazen Head.
Because they're quite a popular tourist spot, it can be a challenge to get seating if you stop by later in the evening. Don't fret; they offer reservations and even host private events.
Hence, if you're ever looking for a quaint yet beautifully adorned location for your next party, you may want to reserve one of their spaces.
Even with a ton of customers on the daily, many have commended their attentive staff. So, we don't think customer service should be any cause for concern.
Did we mention that they also host live watch parties for sports games? We think this is a great opportunity to enjoy a cold pint of beer while cheering for your favorite team, right?
Speaking of beer, we also liked that they have a wide selection of Irish beer along with other decently priced drinks such as lager, cider, stout, and more.
Open daily
Has live music
Offer private event bookings
Accepts reservations
Hosts live watch parties for sports games
Customer Reviews
Great flavorful food and service
"A historical pub with lots of energy and good vibes! Great flavorful food and service. I ordered the savory Beef Stew and washed it down with a pint of Rockshore Irish Ale. I'll definitely be visiting this pub again when I return to Dublin." – D. Fischer
Highly recommend
"Been here a few times now when friends and family have been over, always a very good experience. The Guinness is great and decently priced. The food is very very good, especially the chicken burger!! Live music on all the time as well, has a very traditional feel to it when I'm sure it's full of tourists. Quirky place made up of smaller rooms. Highly recommend." – Richard Burton
3. The Palace Bar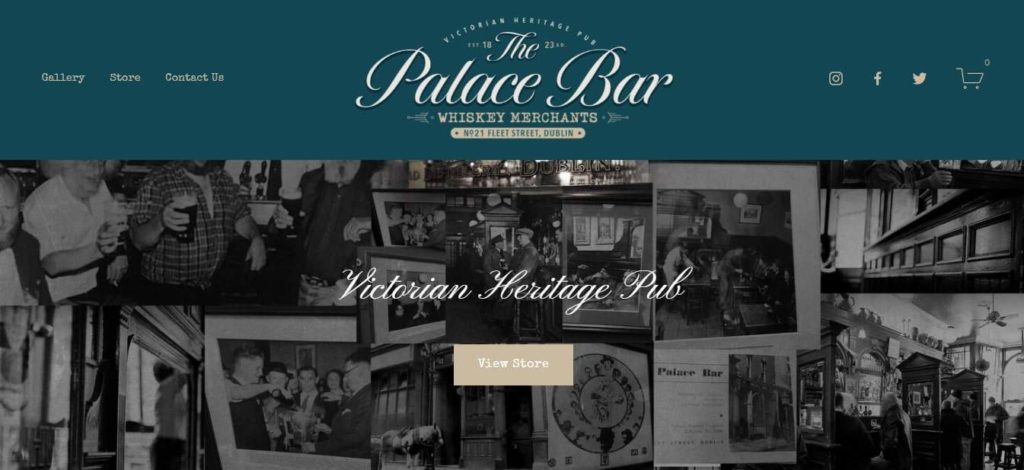 Test
Info
WEBSITE
https://www.thepalacebardublin.com/
ADDRESS
1 Fleet St, Temple Bar, Dublin 2, D02 H950, Ireland
CONTACT INFORMATION
+353 1 671 7388
OPERATING HOURS
Sunday–Thursday: 12 PM–11:30 PM

Friday–Saturday: 12 PM–12:30 AM
| | |
| --- | --- |
| Ambiance | ★★★★☆ (4/5) |
| Selection | ★★★★☆ (4/5) |
| Customer service | ★★★★☆ (4/5) |
| Value | ★★★★☆ (4/5) |
Since opening its doors 189 years ago, The Palace Bar is a hidden gem that has retained its Victorian-style decor and ambiance. But what it's really well-known for is their whiskey bar upstairs!
From 17-year-old redbreast casks to 20-year-old single malts, you're definitely in for a treat here with their fine selection of over 100 variants of Irish whiskeys.
Hence, The Palace Bar is definitely a pub you should check out if you're a whiskey fan or looking to get into trying it out. But if you're unsure of what to choose, their bartenders can give you some recommendations, too.
Speaking of their bartenders, many of their clients have cited meaningful conversations that they've had with them regarding their whiskey expertise. We like that you can both enjoy and learn more about the whiskey being served.
We think it's also important to keep in mind that they're often quite busy. That said, we've heard a few complaints regarding long waiting times.
Given their popularity, you may want to schedule your visit accordingly. However, they are considerably less touristy compared to other pubs given that they're a tucked pub.
They also have a number of assorted sandwiches on their menu. Since they don't elaborate much about this on their website, you may want to inquire if you're interested in having a snack while enjoying your drink.
They're a more old-school kind of pub that has a number of booths and standing rooms. Even so, we think that The Palace Bar is a unique pub that will surely give you a traditional Irish whiskey experience.
Open daily
Has a whiskey bar
Has over 100 kinds of whiskey
Hidden gem
Customer Service
Pints were top-notch
"We made both a day and a night time visit to The Palace Bar. Both times the service was great and the pints were top notch. The inside of the The Palace Bar is wonderful as well. It is a nice step back in time in an increasingly modern city." – Nathan Appel
Nice spot to relax
"Nice spot to relax with a pint away from the tourist spots further down the road. Locals have a sup here so the bar can be busy. Nice pint of Guinness." – Col C
4. The Temple Bar Pub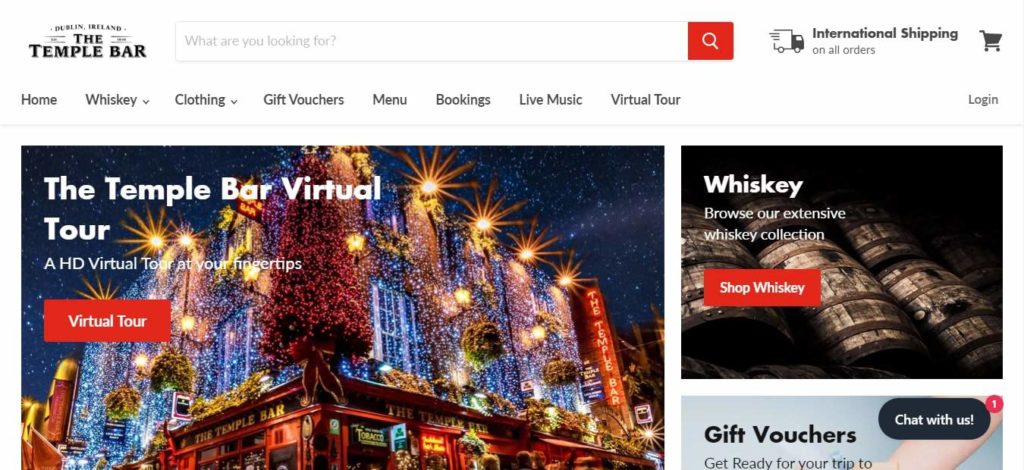 Test
Info
WEBSITE
https://thetemplebarpub.com/
ADDRESS
47-48, Temple Bar, Dublin 2, D02 N725, Ireland
CONTACT INFORMATION
+353 1 672 5286
OPERATING HOURS
Monday–Wednesday: 10:30 AM–1:30 AM

Thursday & Sunday: 10:30 AM–1 AM

Friday & Saturday: 10:30 AM–2 AM
| | |
| --- | --- |
| Ambiance | ★★★★★ (5/5) |
| Selection | ★★★★★ (5/5) |
| Customer service | ★★★★☆ (4/5) |
| Value | ★★★★☆ (4/5) |
If you're stopping by Dublin, you wouldn't want to miss this The Temple Bar Pub! Well, you probably wouldn't be able to, considering it's famous for its bright red brick exterior and nightlife scene.
Open since the 1840s, The Temple Bar Pub is recognized as a lively pub that has a great selection of drinks, a fantastic choice of local artists that play live music, and a breathtaking ambiance.
Speaking of their drinks, did you know that they have the biggest whiskey collection in Ireland? With 450 kinds of whiskeys available, you'll definitely be spoiled for choice.
Aside from that, they also have a selection of draught beer, sparkling champagnes, and fine wines to choose from.
If you're not one for alcoholic drinks, they also sell coffee, which we think will pair well with a number of items on their food menu. They serve a number of platters, gourmet pizzas, seafood dishes, gourmet sandwiches, and snacks.
Oh, did we mention that they host a variety of local artists? You can check out their schedule here in case you're interested in seeing a particular performance.
Hence, we think that The Temple Bar Pub isn't just a great place to have a pint but also to simply get together with good company and enjoy the tasty food and live music.
Since they operate with a no reservation policy, you're going to have to arrive early or on a day that won't be too busy. This is because they're known to be packed, which might negatively impact your experience.
Open daily and until late
Has live music
Has over 400 kinds of whiskey
Offers food
Customer Reviews
Totally recommend
"A must in Dublin. Food was really good and the Guiness as well, but the main aspect that makes it a nice evening is the live music. Also the staff was really friendly. An absolutely lovely atmosphere. The real pub experience. Totally recommend it as a foreigner." – Sascha Cantos
Loved this bar
"Loved this bar! Live music, great atmosphere and friendly staff. After having a Guinness from tap I can never have one in a can again! So many places to tuck into, it was way bigger than I expected. A must to visit while in Dublin!" – Aleeta S.
5. John Kavanagh The Gravediggers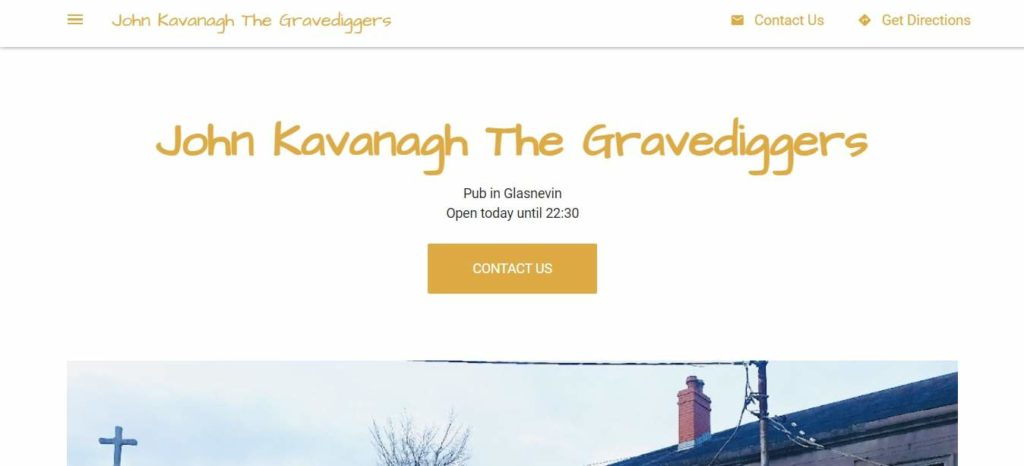 | | |
| --- | --- |
| Ambiance | ★★★★☆ (4/5) |
| Selection | ★★★★★ (5/5) |
| Customer service | ★★★★☆ (4/5) |
| Value | ★★★★★ (5/5) |
If you don't mind enjoying a cold beer next to the cemetery, then you might want to check out John Kavanagh The Gravediggers. A pub in Glasnevin that's been in business since 1833, The Gravediggers is frequented by locals for their affordable and tasty food and drinks.
Like many pubs, they won't be complete without a hearty menu. As a family-run business, The Gravediggers serve hot homecooked meals such as beef stew, coddle, and Irish spring rolls, which are actually a few of their most talked-about dishes.
Their drinks, on the other hand, are stellar, too. Many customers that we've spoken to raved about their Guinness which has actually been awarded the best in Ireland.
Though their exterior may not be so much of a sight, their interior is cozy and intimate with a fireplace crackling. Plus, we hear that their staff are incredibly friendly professionals who aren't shy to share their recommendations with you.
We think this definitely gives a lot of character to the pub. No wonder it's a local favorite and a Glasnevin gem.
Keep in mind that they don't accept reservations and they're only open until 10:30 PM daily. Hence, you may want to schedule your visit on a day that won't be so packed
We were also quite bummed that they only accept cash. So, prepare your wallets beforehand since there aren't any other payment methods available.
Open daily
Offers food
Holds the title for Ireland's best Guinness
Closes at 10:30 PM daily
Cash only
Customer Reviews
Delicious food
"Delicious food (we had the coddle and beef stew) and great Guinness. Everyone was really friendly and cordial, our waitress was very nice and asked us genuine questions (we just moved to Dublin). Definitely coming back!" – Lauri Castaño
Best Guinness I had in my life
"The best Guinness I had in my life, simple as that. Also a quite place to have a good conversation, a fireplace cracking the whole night, friendly staff, and the location itself breathes history. Grand." – Márvio Jáder Testoni
FAQs about Pubs in Dublin
---
There you have it, folks: our top picks for the best pubs in Dublin! We hope you try out our recommendations and have a blast while you're at them.
While a night out is fun, it's always safe for your health to not go overboard. To help you take better care of yourself, check out our Dublin healthcare recommendations here: