5 of the Best Real Estate Agents in Dublin
A home is an important necessity and therefore is also a large investment to consider. In case you're planning to buy or sell one, having the help of a real estate agent is a huge advantage.
In this article, we explore the best real estate agents in the Dublin area to aid in your property pursuits.
How much do real estate agency services cost?
There are two different types of estate agent fees. These professionals usually charge a percentage commission on a property while other agents do offer fixed fees.
It is important to take note however, that some agents can have hidden costs like those for floor plans and marketing. Below is a table of estimated prices.
| Fee Type | Estimated Price Range |
| --- | --- |
| Fixed Rate | € 999 to € 2500 |
| Percentage Fee | 1% to 3% |
| Solicitor's Conveyancing Fees | € 1000 to € 2500 |
| Building Energy Rating Certificate | € 150 to € 300 |
| Advertising | €300.00 |
| Outlays | €200.00 |
Top Real Estate Agents in Dublin
We assessed the real estate agents according to the following criteria:
1. Brock Delappe Estate Agents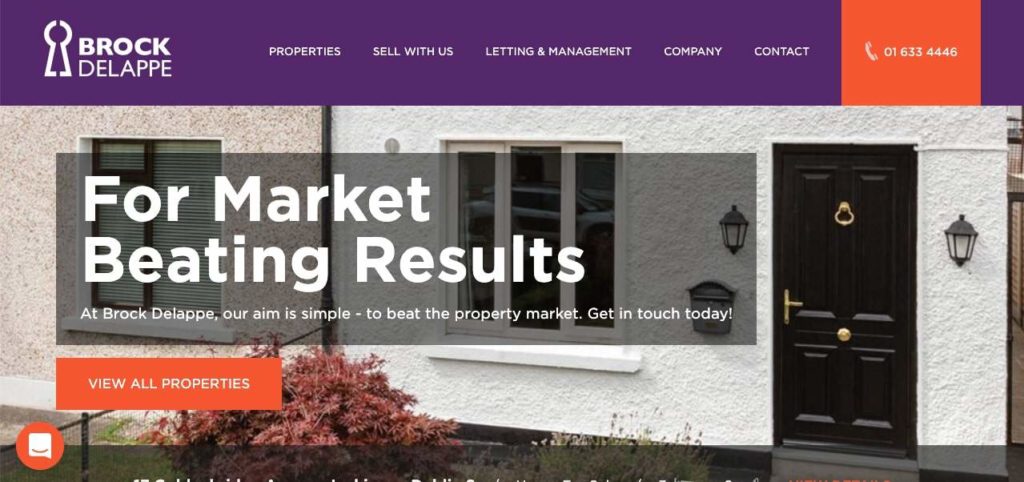 | Test | Info |
| --- | --- |
| SERVICES | Properties, Sell with Us, Letting and Management |
| WEBSITE | https://www.brockdelappe.ie/ |
| ADDRESS | 21 Tyrconnell Road, Inchicore, Dublin 8 |
| CONTACT DETAILS | (0)1 633 4446 |
| OPERATING HOURS | Weekdays: 9:30 AM to 5:30 PM |
| | |
| --- | --- |
| Range of services | ★★★★☆(4/5) |
| Buying property | ★★★★☆(4/5) |
| Other services | ★★★☆☆(3/5) |
| Background | ★★★★★(5/5) |
| Coordination | ★★★★★(5/5) |
| Buyer/Seller feedback | ★★★★★(5/5) |
| Attitude and approach | ★★★★★(5/5) |
| Overall satisfaction | ★★★★★(5/5) |
Brock Delappe Estate Agents was established in 2004. Since then, the company has grown to solidify a strong value for innovation for their customer service.
What initially strikes us about them is their knowledgeable team, with each member offering their own fields of expertise. Some have backgrounds in property economics and negotiation, while others in the lettings market and banking.
This makes them a great choice if you're looking for an agency that can offer you great advice on a wide amount of topics.
In terms of their list of properties for sale, we found them to have a good offering of available apartment options and mid-sized homes.

The price range of these homes generally falls around the € 400,000 to € 500,000 range and most of them have 1 to 3 bedrooms.
If you're looking for smaller property options, Brock Delappe Estate Agents have an excellent selection to choose from.
In addition to this, they offer property sales, letting and management services. We find them to be very experienced and knowledgeable when it comes to these offerings, right down to the small details.
They can help customers with subcontractors, property presentation and even the financial aspects of property management.
They are a great choice if you're looking for hands-on guidance with management, sales and letting.
However, take note that their properties for sale are better suited for those looking for small to midsize options. Those looking for an array of larger property choices may have to look elsewhere.
Knowledgeable and widespread team
Good range of apartment options and mid-sized homes
Have property sales, letting and management services
Courteous and responsive customer service
May be more limiting for customers looking for larger sized properties
More limited options for certain Dublin areas
Customer Reviews
Courteous and Helpful
We engaged with Brock Delappe on numerous occasions during our house buying journey, including viewings of various properties and they were the agent for the house we ended up buying. They were always so courteous and helpful throughout and always came back to queries promptly. Sean especially was so helpful during the purchase of our house, always accommodating our requests for access to the property and keeping on top of things towards closing. I was impressed by the consistent prompt communication and their willingness to accommodate us throughout. -Maude Bhrolchain
Responsive, Professional, Accommodating
We were purchasing an apartment that was being sold through Brock Delappe Estate Agents in Dublin 8. We found them to be very responsive, professional and accommodating each time we needed to make contact with them or needed to gain access to the property for various reasons. Brittany, Sean and Shane – we got to know each them through their attentiveness to our requests. Each email was responded to immediately. Very impressed by them and I'd definitely recommend them to potential vendors. A great team with endless patience and respect for the purchaser and the vendor. -Breda Walsh
2. Estate Agents Dublin – MTS Property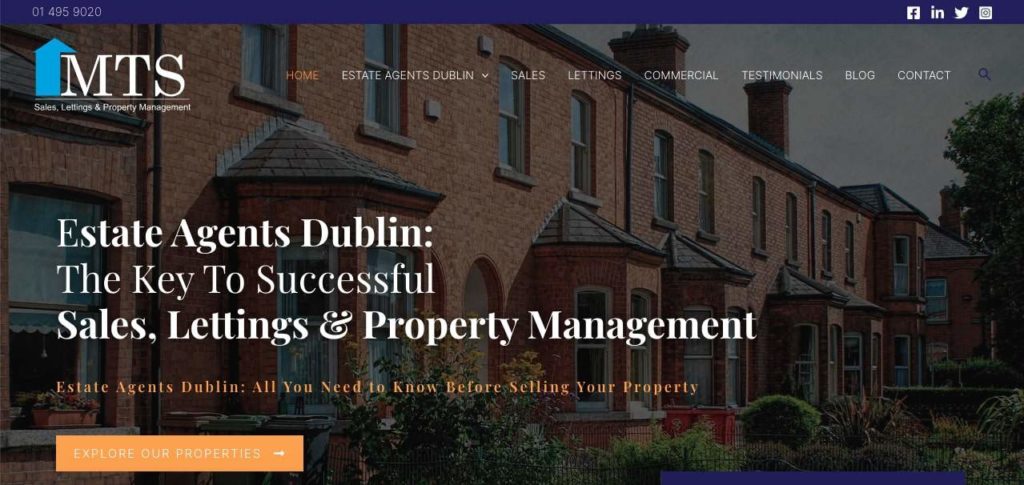 | Test | Info |
| --- | --- |
| SERVICES | Real Estate Agents, Property Sales, Letting Agents, Property Management, Property Valuations |
| WEBSITE | https://www.mtsproperty.com/ |
| ADDRESS | 1 Orwell Road Rathgar, Dublin 6 |
| CONTACT DETAILS | 014959020 |
| OPERATING HOURS | Weekdays: 9:00 AM to 5:30 PM |
| | |
| --- | --- |
| Range of services | ★★★★☆(4/5) |
| Buying property | ★★★★☆(4/5) |
| Other services | ★★★★☆(4/5) |
| Background | ★★★★★(5/5) |
| Coordination | ★★★★★(5/5) |
| Buyer/Seller feedback | ★★★★☆(4/5) |
| Attitude and approach | ★★★★☆(4/5) |
| Overall satisfaction | ★★★☆☆(4/5) |
With a wealth of experience in estate selling and letting, MTS Property is an excellent choice. What we like about them is how they make sure to approach their processes efficiently and professionally.
Many customers have praised how quick this company is in dealing with any requests or property issues. This is also in line with how responsive they are in coordinating with you.
Speaking of their procedures, though they are known to be quick and efficient, we also like that they still make sure that each step is taken care of with great detail.
For example, in their sales process, they begin with the valuation then proceed with advertising, all the way through to the agreement and paperwork. For the valuation step, they even respond to requests within 48 hours.
We also find their rates to be quite reasonable with 3% rental fees, 1% sale fees and 3% for management fees. They also have no upfront advertising costs and we think customers can appreciate that transparency.
Their selection for property lettings is quite good, and they have great options for 1-bedroom apartments. Uniquely, they also have options for commercial properties which is great for individuals looking for workshop or office spaces.
However, in terms of properties for sale, we find them to have quite a limited selection. Moreover, some customers have given feedback on issues in discussing repairs with them.
Efficient processes
Great and reasonable price structure
Offers thorough property management and letting services
Have a good selection of letting and commercial properties
Some customer experiences with issues in repairs
More limited options for properties for sale
Customer Reviews
Best Estate Agents We've Worked with
My three friends and I have rented a property through MTS Property for the past year. Having rented in Dublin for the past 10 years I have to say they've been the best estate agents we've worked with. Any issues we had with the house were always dealt with very quickly. I found Louise and everyone in the office forthcoming and most importantly honest. I would have no hesistation in recommending MTS and the team there, when looking to buy or rent a property. -Brendan Doyle
Gave us Great Advice
Engaged MTS to lease out an apartment in Dublin. Was surprised and delighted with their efficiency and professionalism. Dealt with Louise who was just fantastic at her job. Gave us great advice, recommended a superb tradesman (Peter) who transformed the property to a very desirable standard. Delighted with their work, within 10 days property upgraded and new tenants in situ!! Amazing work. Thank you all. -Jacinta Dillon
3. Castle Estate Agents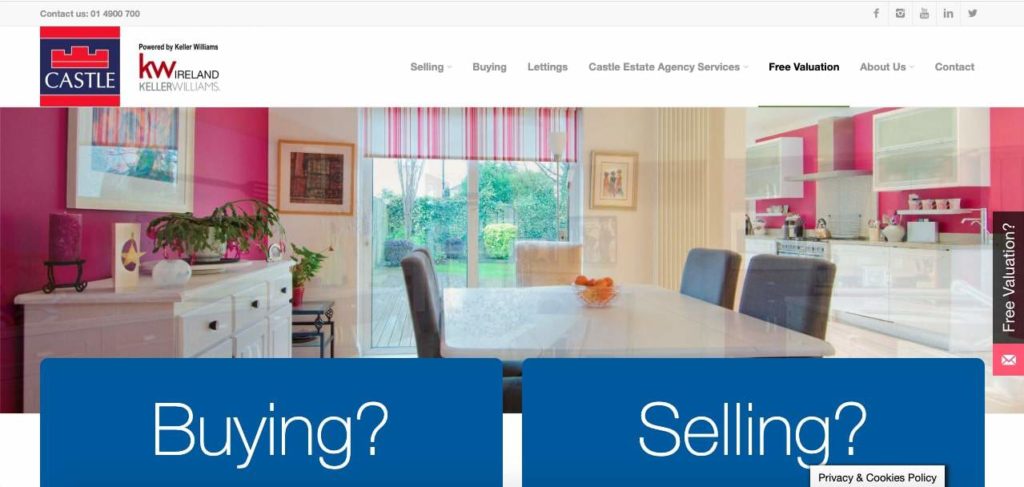 | Test | Info |
| --- | --- |
| SERVICES | Property Sale, Residential and Commercial Lettings, Free Valuations for Fair Deal Scheme |
| WEBSITE | http://www.castles.ie/ |
| ADDRESS | 39 Ravensdale Park, Kimmage, Dublin 12 |
| CONTACT DETAILS | 01 860 3270, 01 4900 700 |
| OPERATING HOURS | Weekdays: 9:30 AM to 5:00 PM |
| | |
| --- | --- |
| Range of services | ★★★★☆(4/5) |
| Buying property | ★★★★☆(4/5) |
| Other services | ★★★★☆(5/5) |
| Background | ★★★★★(5/5) |
| Coordination | ★★★★★(5/5) |
| Buyer/Seller feedback | ★★★★☆(4/5) |
| Attitude and approach | ★★★★☆(4/5) |
| Overall satisfaction | ★★★☆☆(4/5) |
Castle Estate Agents aimed to shake up the traditional approach of other estate agents. They stand out as having great knowledge of the changing industry which can be a great asset for customers looking to have an awareness of the market.
Something else that sets themselves apart, are their flexible terms and features. Their property sales service, for example, has a "no sale no charge" policy as well as free marketing and advertising.
We find these to be great assets and can be attractive features to a wide amount of customers looking for those extra perks.
Speaking as well of their property sales, they do offer free valuation to begin the process. They also offer periodic reports, providing customers with information on buyer viewings.
On the other hand, their lettings services are also quite comprehensive. What we find impressive about this in particular is their handling of the tenancy procedures and screening.
They also have a recommended tenants database, which can expedite the search for suitable residents and thus makes the process more convenient.
We like how they place an emphasis on this aspect of the letting process, since this step in particular can be quite cumbersome and tricky.
However, we would like to point out that some customers have expressed a difficulty in contacting them. Also, we recommend checking out their listings on the site as the prices can run a bit more expensive compared to other agency options.
Good knowledge of the industry
Flexible terms, for example no sale no charge policy
Supportive technology
Have an expansive buyers and tenants database
May be difficult to contact at times
Selection of properties can be slightly more costly
Customer Reviews
Very Responsive and Helpful
Myself and my husband just bought our first house with the help of Audrey. She was amazing from start to finish. She always responded to emails quickly and was so helpful, we had a lot of questions as first time buyers and she was always willing to help or point us in the right direction. She facilitated all communication between us and the previous owners and she was genuinely excited for us and the previous owners. We would highly recommend Audrey and if we ever plan on selling in the future she'll be our first call. -Kate Hall
Made the Process so Easy
We recently purchased our first home with the help of Audrey Power. Audrey made the process so easy, she is exceptional at her job and we always received a fast reply to our (many) questions, going above and beyond to get all the info she could! 🙂 Audrey is friendly, polite, professional and extremely helpful and following our experience I would highly recommend Castle Estate Agents to a friend. -Adam Nestor
4. Conerney Estate Agents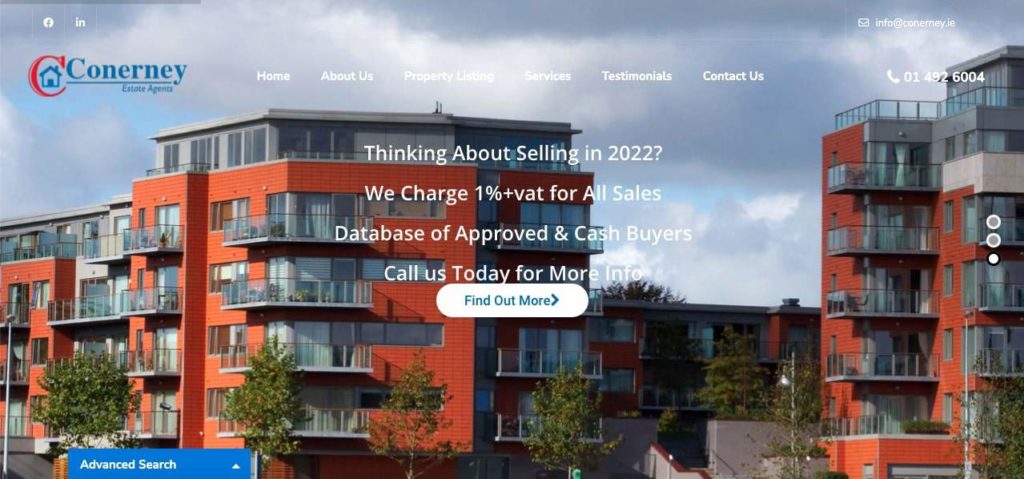 | Test | Info |
| --- | --- |
| SERVICES | Property Management, Letting Service, Sales Service, Commercial Service, Problem Tenants |
| WEBSITE | https://conerney.ie/ |
| ADDRESS | 4 Main Street, Rathfarnham, Dublin 14 |
| CONTACT DETAILS | +353 1 4926004 |
| OPERATING HOURS | Weekdays: 9:30 AM to 5:00 PM |
| | |
| --- | --- |
| Range of services | ★★★★☆(4/5) |
| Buying property | ★★★☆☆(3/5) |
| Other services | ★★★★☆(4/5) |
| Background | ★★★★★(5/5) |
| Coordination | ★★★★★(5/5) |
| Buyer/Seller feedback | ★★★★★(5/5) |
| Attitude and approach | ★★★★★(5/5) |
| Overall satisfaction | ★★★★★(5/5) |
Established as a family run business, Conerney Estate Agents has a great reputation amongst their clients as a trustworthy and responsive agency.
We find that they have a very customer focused attitude when it comes to their approach, which allows them to interact well with their clients.
What stands out to us as well is their property management service, which only costs € 50 + VAT per month.
This service is very comprehensive, as they ensure to oversee proper rental collection, coordination between the tenant and landlord, as well as maintenance and emergency issues.
This is an excellent option especially for landlords as Conerney Estate Agents can really zoom in on even the smallest property details. This ensures that everything is running smoothly.
Next, we also like how they offer a service for rent arrears. They can expertly assist landlords with any problems they have regarding the collection of rent.
We like this unique service because it showcases Conerney Estate Agents' extensive experience and background in administration and coordination. Customers can be assured that they can provide key guidance and advice to hopefully settle any issues.
In terms of their property listings we like how they provide a wide range of prices and environments. However, do take note that certain categories of properties are more limited in selection, like duplexes and offices.
Customer feedback praises their approachability and professionalism
Affordable and comprehensive property management
Uniquely offer problem tenants services
Great price range of property offerings
Properties for sale in certain areas are more limited
Some categories in property listings are more limited in options like duplexes and offices
Customer Reviews
Fast and Reliable Transaction
Conerney is the best House Agent from my purchasing experience. I bought a property from Conerney House Agent recently and the transaction was made with a fast, reliable pace. I believe Conerney's house agents are fully professionalised people and are always willing to help. The agents working there were very patient with all my queries and answered them with knowledge. The agents also gave lots of advice of all the pros and cons of the property I have bought. I really appreciate the help and support that I got from Conerney's house agents. -Dan Li
Responsive and Extremely Approachable
Superb Estate Agent! I am a first time buyer with my partner and we were so lucky to have Jason help us along the entire process. Always available via phone or in person, extremely approachable and down to earth. Officially homeowners now and Jason had a large part to play in that becoming a reality for us. I couldn't recommend highly enough! Your are in safe hands if you choose Conerney Estate Agents! -Samuel Baxter
5. Delaney Estates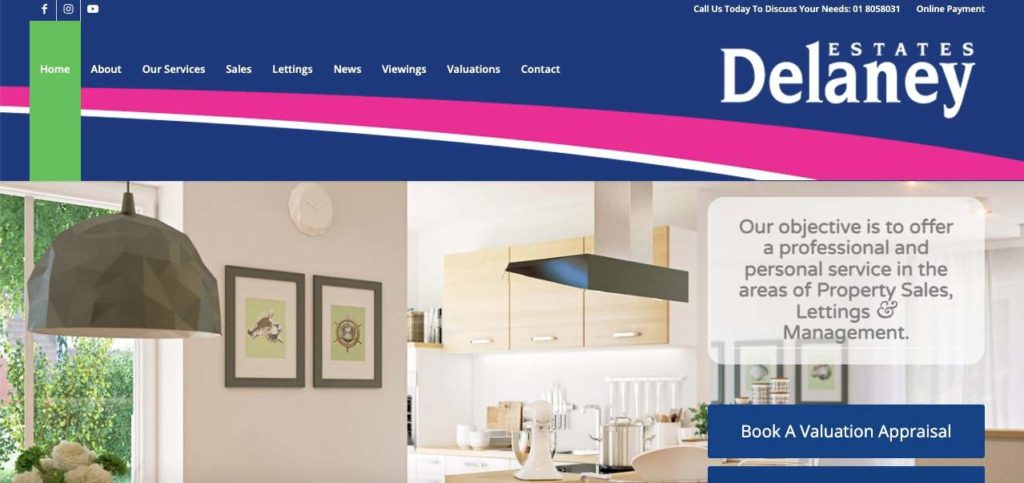 Test
Info
SERVICES
Property Selling, Property Letting, Management Service
WEBSITE
https://www.delaneyestates.ie//a>
ADDRESS
50 St. Brigid's Road, Artane, Dublin 5
CONTACT DETAILS
01 8058031
OPERATING HOURS
Monday to Thursday: 9:00 AM to 5:30 PM

Friday: 9:00 AM to 5:00 PM
| | |
| --- | --- |
| Range of services | ★★★★★(5/5) |
| Buying property | ★★★★★(5/5) |
| Other services | ★★★★★(5/5) |
| Background | ★★★★★(5/5) |
| Coordination | ★★★★★(5/5) |
| Buyer/Seller feedback | ★★★★★(5/5) |
| Attitude and approach | ★★★★★(5/5) |
| Overall satisfaction | ★★★★★(5/5) |
Delaney Estates' excellent background in property transactions and dealings really shines through in terms of the advice and experience they have to offer.
Each member of their team has relevant expertise and experience. From banking, to liaising, to the property industry, we are very impressed with how widespread their knowledge is.
This really does pay off as most customer feedback compliments how pleasant the experience was due the team's competency and interpersonal skills. They are a great choice if you're looking for more guidance on property sales or lettings.
We also like their very hands on approach when it comes to valuation. They make sure to tailor it to best fit your situation and we appreciate how sensitive they are when it comes to probate valuations.

Moreover, they can make sure that your house is clean and tidy before a presentation. They also provide a no obligation rental appraisal as well as helping in the legalities like leases and inventories.
We really like how involved they are with the different processes and it makes them the perfect candidate especially for first time homeowners.
Keep in mind however, that a lot of their properties for sale are POA so you would really need to check the space out before even knowing the price.
Well-founded background of team
Hands on approach for valuation
Great interpersonal skills
Property letting, selling and management services are very detailed
A lot of their property options are POA
Closed on weekends
Customer Reviews
Communicative, Professional and Helpful
We have just completed a sale through Delaney Estates … and they are without doubt an excellent company to deal with! Extremely professional and helpful all the way through the process. The communication was excellent and they helped and advised with any problems that occurred! We regularly received e mails from Aisling, Avril and Ruth with updates. We would be delighted to recommend Delaney Estates and team to anyone thinking of selling or buying a property…!!! -Anne Kenny
5 Star Service
I used Delaney Estates for my recent sale and I would highly recommend them. Avril was the agent who managed my sale and I found her excellent. She kept me informed throughout the process, she was very competent and seamlessly managed any hiccups that arose along the way. 5⭐ service. -Anna Cassidy
FAQs about Real Estate Agents
---
It can be a daunting task to buy or sell a home, but we hope that our list helped you explore the different real estate agents who can help you out. If you would like to read more, we also have an article on the best property management companies in Dublin.