The 9 Best Physiotherapy Clinics in Dublin
Do you have a debilitating health condition or injury that causes pain and affects your mobility? Don't suffer in silence– visit one of the best physiotherapy clinics in Dublin so you can get back quickly to your normal lifestyle.
In this comprehensive guide, we won't just feature the clinics, but will also share information on the costs and answer the most commonly asked questions. If you're ready, let's get started!
How Much Does Physiotherapy Cost in Dublin
Good health comes at a cost. So before we discuss what each of the best physiotherapy clinics in Dublin can offer, check out the price comparison of their rates below.
This should manage your expectations on the costs involved and help you decide which of the clinics offer services at rates that fit your budget.
PHYSIOTHERAPY CLINICS
RATES
Archview Physiotherapy Pain & Sports Injury Clinic
Standard Physiotherapy (30 mins) €65
Double Physiotherapy (60 mins) €130
Physiotherapy Home Visit (45 mins) €100
Physio-Led Yoga (30 mins Private) €65
Phone consultations €25
Video consultations €40
ReBalance Physiotherapy
Physiotherapy Session €60
Online Physiotherapy Consultation €50
Portobello Physiotherapy Clinic
Standard Physiotherapy (30 min) €60
Double Physiotherapy (60 min) €120
Student Physiotherapy (30 min) €50
Physiotherapy Sports Massage (30 min) €60
Video / Phone Appointment (30 min) €50
Peak Physio
Physio Session (30 min) €60
Physio Session (45 min) €75
Online Physio Session (30 min) €50
5 Physio Sessions €275
Iona Physiotherapy
Physio Session €70
Appointment by video link €65
RESYNCPHYSIO
Contact for more information
Sutton Cross Physiotherapy
Pay Online:
€50 Treatment
€65 Treatment
€85 Local Home Visit
The Best Physiotherapy Clinics in Dublin
Choosing a service provider is not just about going for the cheapest one. So, in this section, we'll take a closer look at each of the best physiotherapy clinics in Dublin.
We'll discuss what they can offer and why they're the best in the city.
1. Archview Physiotherapy Pain & Sports Injury Clinic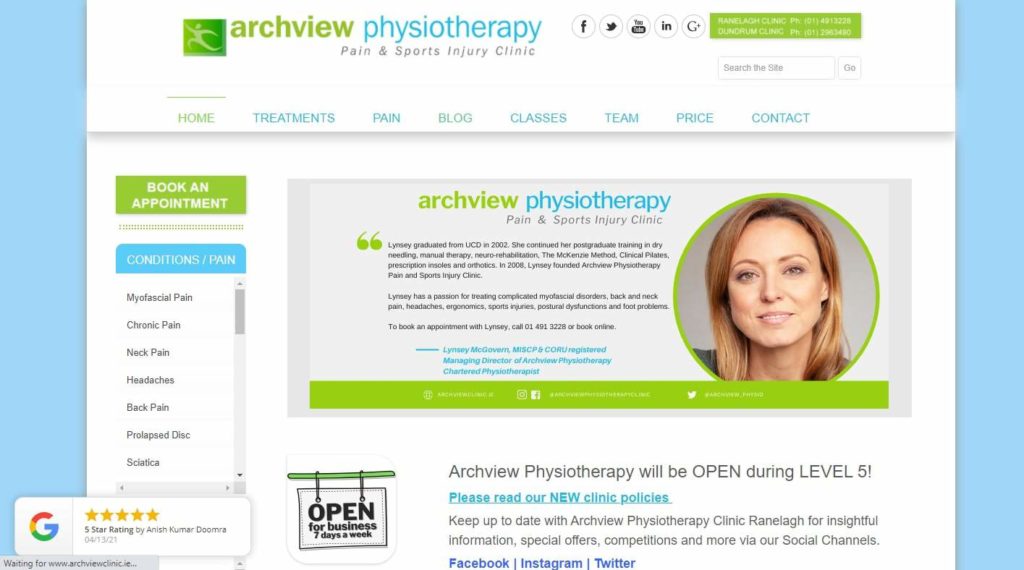 One of the most trusted clinics in Dublin is Archview Physiotherapy Pain and Sports Injury Clinic, which has been operating since 2008. It has two branches in the city — one in Ranelagh and the other in Dundrum.
It has a team of four physiotherapists, three physical therapists, two massage therapists, and a sports therapist. With its large team, it can accommodate more customers, not to mention that it's open 7 days a week unlike other clinics.
Aside from physiotherapy, it also offers physical therapy, sports therapy, clinical pilates, massage therapy, personal training, and dry needling. One of their approaches for treating sports injuries is kinesio-taping, which is a relatively new method that not all clinics implement.
Although they provide phone and video consultations for a low price, such services are only available with selected therapists. Also, compared to others we've researched, they have limited special offers or discounts.
Nevertheless, they're still worth your time and money as you can expect quality services for good prices.
Comprehensive range of services
Large team to accommodate more customers
Clinics in Ranelagh and Dundrum
Offers home-visit physiotherapy sessions
Open 7 days a week
Limited discount offers for returning customers
Phone and video consultations available with selected therapists only
Customer Reviews
Here are some of the comments from their past clients:
"I started physio with Edwina when I ended up on crutches due to severe sciatica pain in the very late stages of my pregnancy. During the six sessions and just prior to my due date I experienced huge improvements from Edwina's treatment. The physio treatment resulted in me being 100% recovered in time for my due date and baby's smooth arrival. Thank you so so much! Kind Regards, Jean" -Jean Santry
"I have just had a couple of sessions with Eileen to help rehabilitate my stiff neck and shoulders.I have an ongoing issue for 5 years.(Alyssa who is my chiropractor in Archview recommended I see Eileen. Alyssa by the way is amazing and a credit to her profession. She has improved my spine dramatically and the pain I used to feel on a daily basis is becoming a thing of the past)Eileen too is top of her game, she is dedicated to helping me get better. She is so knowledgeable when it comes to the muscles and how they work.She has done some fantastic dry needling, massage and stretches on me.I have seen 3 physios before finding archview and she stands out way ahead of them all.Also the stretches Eileen has given me to do at home are perfect for me.I look forward to continuing my treatments here as I have finally found the right therapists and I dont need to look any further ..it only took me 5 years of trial and error!!" -Shelley Bartley
"I have been going to Edwina for several months now trying to deal with an old shoulder and neck injury that I never properly dealt with. Between many dry needling sessions, soft tissue massages and advice and demonstrations of exercises, this 4 year old injury is starting to show real progress. Edwina is wonderful to work with and keeps in touch with you outside of your appointment, sending on exercise demonstrations, etc. Can't recommend her highly enough!" -Bronagh Foley
2. ReBalance Physiotherapy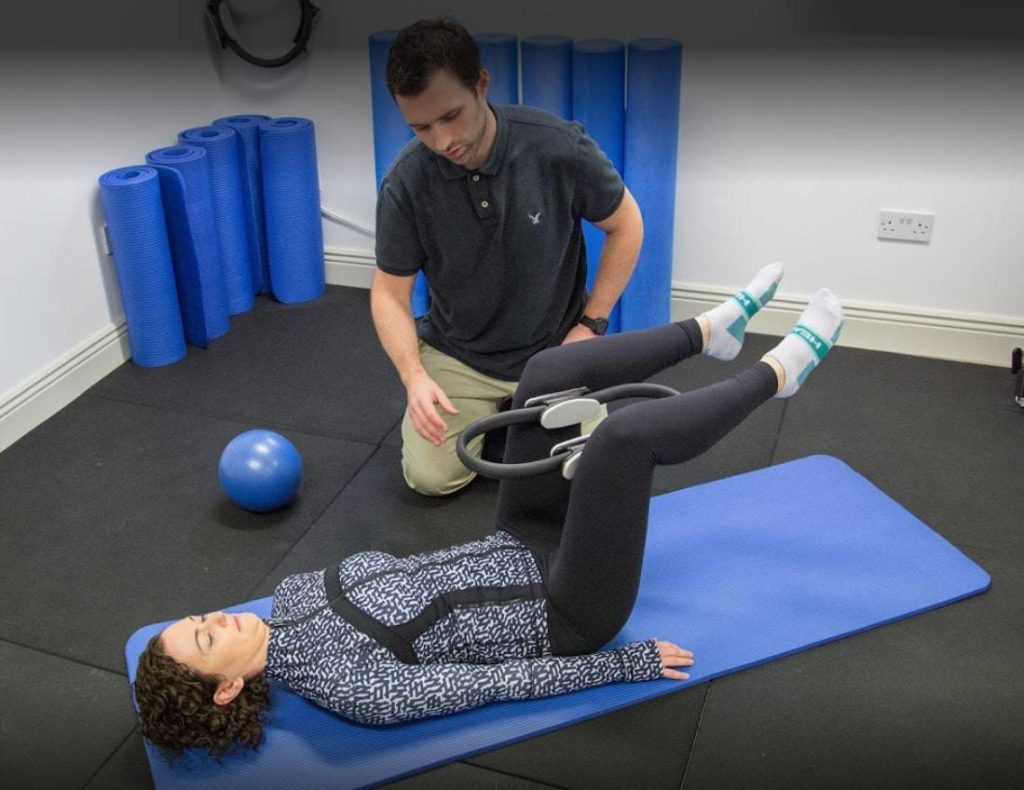 SERVICES
Sports Injury Rehab
Back & Neck Pain
Deep Tissue Massage
Dry Needling
High Performance Rehab
Shockwave Therapy
Pilates
Online Physic
Orthotics
Vestibular Rehab
WEBSITE
https://www.rebalancephysiotherapy.ie/
RATES
Physiotherapy Session €60
Online Physiotherapy Consultation €50
ADDRESS
3 Mount Street Lower, Dublin 2
CONTACT DETAILS
(01) 441 0100


[email protected]

OPERATING HOURS
8:00 am to 8:00 pm (Monday-Friday)
Located beside Merrion Square, ReBalance Physiotherapy is an innovative practice that provides exceptional care by combining the latest medical research with its physiotherapists' extensive experience.
Besides all the usual services, it also offers specialised services such as shockwave therapy and vestibular rehab. In fact, it was the first clinic in Dublin to offer shockwave therapy for muscular injuries, tendinopathies, and other conditions.
Its clinic houses treatment rooms, a Pilates studio, and a strength and conditioning gym. However, they're just a small team with two physiotherapists, so capacity may be limited.
If you want to try them out, you must set aside free time during the weekdays because they're closed on weekends. The good thing, though, is that it has longer operating hours of 8:00 am to 8:00 pm from Monday to Friday.
For those who really can't squeeze in the consultations in their busy schedules, they also offer online physiotherapy consultations and Pilates.
Further, what we love about ReBalance Physiotherapy is that it is environmentally conscious and does its part in reducing its carbon footprint through various policies.
Clinic has treatment rooms, pilates studio, and gym
Offers specialised services such as shockwave therapy and vestibular rehab
Online physiotherapy and pilates available
Environmentally conscious company
Only two physiotherapists available
No weekends
Customer Reviews
Check out some of the testimonials from their past customers:
"I recently had my first session with Dalton who took his time to truly listen and understand my problem. Very knowledgeable, professional and approachable. He clearly explained all the exercises to me and they were also sent to my email, which is very handy. Overall, a very positive experience. I highly recommend it!" -Paulina Kwasna
"I received physio assessment and treatment with Rebalance. This was a really comprehensive service that was client centred all the way through. Would recommend to a friend" -HannahDevlin93
"I find the human factor one of the best things in this place. This is not a place where people just give you appointments after appointments for money but I feel they do care about your well-being, in my appointments I learn things that help me improve my posture and therefore avoid pain and gradually decrease the appointments intervals until I am ready to go on my own and coming back only when necessary. This has had a huge positive effect on my migraines for example." -Ailem Garcia
3. Portobello Physiotherapy Clinic
SERVICES
Manual therapy
Joint manipulation
Joint mobilisation
Myofascial release therapy
Sports massage
Dry needling
Orthotics
Laser therapy
Mechanical traction
Transcutaneous electrical stimulation
Personal training
Corporate physiotherapy
Rehabilitative exercise
Pilates
WEBSITE
https://www.portobellophysio.ie/
RATES
Standard Physiotherapy (30 min) €60
Double Physiotherapy (60 min) €120
Student Physiotherapy (30 min) €50
Physiotherapy Sports Massage (30 min) €60
Video / Phone Appointment (30 min) €50
ADDRESS
36 Lennox Street, Portobello, Dublin 8, Ireland
CONTACT DETAILS
01 476 3330
01 476 3331


[email protected]

OPERATING HOURS
8:00 am to 9:00 pm (Monday-Thursday)
8:00 am to 6:00 pm (Friday)
Portobello Physiotherapy Clinic is strategically located near the city centre in South Dublin. Their team provides an extensive range of services, including specialised and modern ones such as laser therapy and transcutaneous electrical stimulation.
Aside from four physiotherapists and a sports massage therapist, they also have an in-house nutritionist and health coach which is not that common for similar clinics. The role of their nutritionist is to design personalised meal plans and provide one-on-one coaching to help clients keep their health in check.
Another unique thing about Portobello Physiotherapy Clinic is that it specialises in treating performing artists such as dancers and professional musicians. So if you're one, you can go to this clinic that understands your unique medical needs and can help you avoid injuries while practicing.
Their team also doesn't just cater to individual clients, but also to businesses. They have corporate physiotherapy services where they conduct seminars and on-site physiotherapy and pilates sessions.
However, this corporate service is only limited to Dublin businesses. They're also closed during weekends unlike others that are open at least 6 days a week, but also have longer operating hours.
Offers even specialised services like laser therapy
Offers seminars and on-site physiotherapy and pilates sessions for business clients
Experts in the common injuries or health issues of performing artists
Has an in-house nutritionist and health coach
Closed during the weekends
Corporate physiotherapy services are only available for Dublin businesses
Customer Reviews
Below are some of the reviews from their past clients:
"Top class Physiotherapy clinic. I can highly recommend Brendan Ho as an extremely professional and thorough Physiotherapist.
Brendan has been superb in his assessment and treatment plans. I felt very happy with my progress under his care. I have been recommending him highly to all my friends and colleagues." -Grainne Mc Dermott
"I've been to Portobello Physio Clinic over the past few years to deal with hypermobility in my joints and on each occasion the therapist has exceeded my expectations. They are great value for the amount of care and attention to detail you receive. I recently worked through some shoulder rehab with Brendan and I'm feeling all the benefits now that we've finished the course. He made a big effort to assess what I wanted from the program and encouraged me to push myself and set high strength targets. He is a wealth of knowledge and very professional and polite. Well done Portobello Physio!" -Anna Siberia Hickson
"Very happy with my experience here. I went about a neck injury that would flare up at random and leave me in pain for days, and am now (after only four sessions!) pretty much pain free and haven't been bothered by my neck in weeks. Brendan was very friendly and approachable, and all of the exercised he assigned me were very useful. Hopefully I won't have to use them again, but I'd happily recommend Portobello Physio." -Shóna O'Keeffe
4. Peak Physio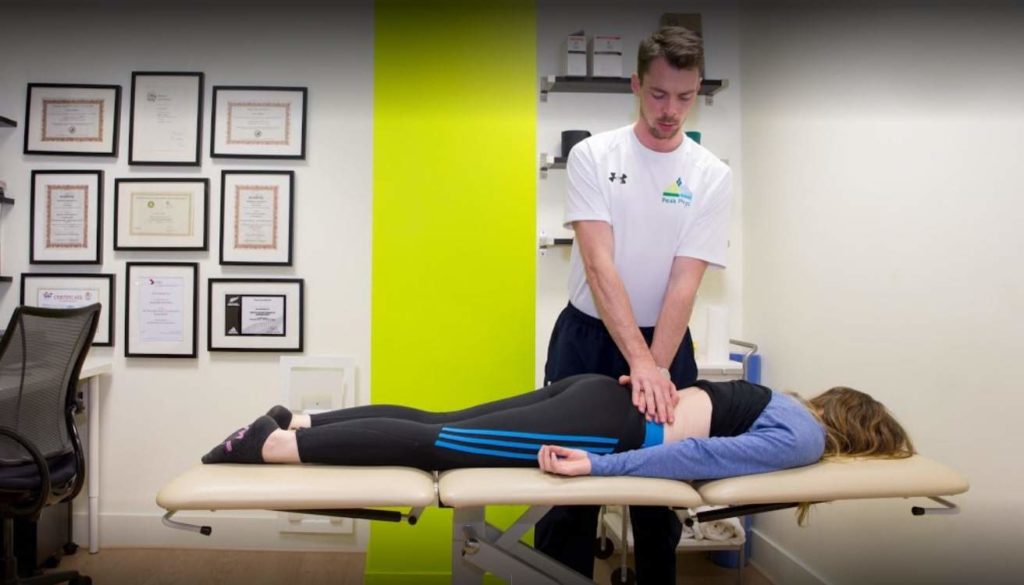 SERVICES
Shockwave therapy
Sports injuries
Dry needling
Deep tissue massage
Online consultations
Physio Guided rehab
Biomechanical assessment
Running analysis
Sports Profiling
Pilates
Yoga
Ante and Postnatal pilates
WEBSITE
https://www.peakphysio.ie/
RATES
Physio Session (30 min) €60
Physio Session (45 min) €75
Online Physio Session (30 min) €50
5 Physio Sessions €275
ADDRESS
160 Shelbourne Rd, Dublin 4, D04 FW28, Ireland
CONTACT DETAILS
01-6670111


[email protected]

OPERATING HOURS
7:00 am to 8:00 pm (Monday-Friday)
10:00 am to 3:00 pm (Saturday)
If you're looking for a young and innovative practice, Peak Physio is the right one for you. It offers a wide range of physiotherapy treatments, yoga and Pilates classes, as well as performance services.
They even have a specialised clinic for specific conditions including plantar fasciitis, achilles tendonitis, and tennis elbow. Peak Physio can accommodate a lot of clients with their team of five physiotherapists and a Strength & Conditioning coach available from Monday to Saturday.
It also has three clinics in Dublin, particularly in Ballsbridge, City Centre on Clarendon Street, and Rathfarnham.
Another thing that we like about this clinic is that it offers modern biomechanical assessment and running analysis using the latest tech. They can also do sports profiling to improve athletes' performance and identify areas of weakness that may predispose them to injuries.
For some clients though, the maximum session duration of 45 minutes is not enough and shorter compared to other clinics with physio treatments lasting for up to an hour. Despite this, many clients are returning because of its discounted package rate of €275 for 5 physiotherapy sessions.
Three clinics in Dublin
Specialised clinic for plantar fasciitis, achilles tendonitis, and tennis elbow
Modern biomechanical assessment and running analysis
Offers sports profiling services
Discounted package for 5 physio sessions
Shorter appointment/session time
Customer Reviews
Here are some of the testimonials shared by their past clients:
"Sarah did a fantastic job identifying and resolving issues with my knee and designed a tailored exercise program to pinpoint and strengthen problem areas. The entire Peak team and online classes are very helpful. When I showed up, I could barely walk downstairs but am now back to running without pain. Excellent functional therapy." -M Mazzoni
"Completed 10 classes of beginners Pilates with Sarah. Zoom worked really well, Sarah great teacher, very clear. Pilates easier than yoga and great for stretching. Learnt a lot of useful exercises." -Maie Kilcullen
"Petra is an incredible physiotherapist. I have had so much improvement in my running and less pain in general. Everyone at Peak Physio is so kind and incredibly responsive to emails and phone calls. Highly recommend this physio practice." -Rachel Picard
5. Iona Physiotherapy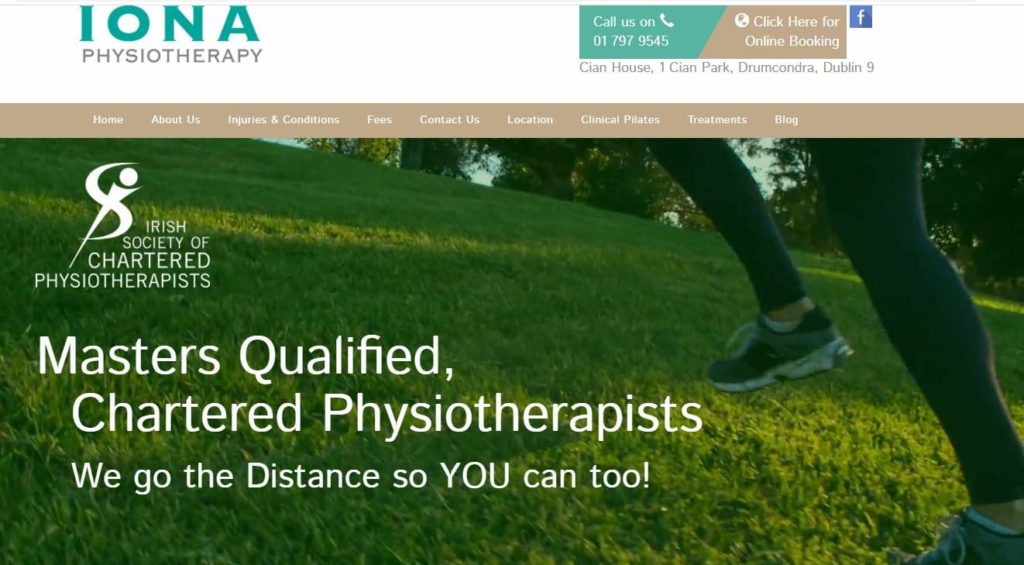 SERVICES
Manual Therapy
Exercise
Taping and Strapping
Orthotics
Clinical Pilates
Sports Physiotherapy
Ergonomics Interventions
WEBSITE
https://ionaphysio.com/
RATES
Physio Session €70
Appointment by video link €65
ADDRESS
Cian House, 1 Cian Park, Drumcondra, Dublin 9
CONTACT DETAILS
01 797 9545
OPERATING HOURS
8:00 am to 9:00 pm (Monday, Wednesday and Friday)
7:00 am to 9:00 pm (Tuesday-Thursday)
9:00 am to 2:00 pm (Saturday)
Iona Physiotherapy is another reputable clinic in the city. Although it's just a small team, it sets the bar high and only employs physiotherapists with a Masters qualification.
Since 2001, it has been servicing Drumcondra, Glasnevin, and surrounding areas. Its team of four physiotherapists provides all the usual manual therapy, sports physio, pilates, and taping/ strapping treatments.
What's unique about them is that they also offer ergonomics interventions. They conduct workplace assessments and workshops to educate and ensure that the environment causes minimal physical strain as possible.
It also offers online Pilates sessions and limits the class size to 7 people to ensure a more interactive experience. Their rates for both online classes and regular therapy sessions are more expensive than other clinics, but it's totally worth it based on the great reviews from their past clients.
Once you've booked a session with them, make sure that you show up or at least inform them ahead of time if you need to cancel. They charge a €40 penalty for cancelled appointments with less than 24-hour notice.
All physiotherapists have Masters qualification
20+ years of operations
Offers online Pilates sessions, with class size limited to 7 participants
Provides ergonomics interventions
Slightly more expensive
€40 penalty charge for cancelled appointments with less than 24-hour notice
Customer Reviews
Check out some of the comments from their past clients:
"Great physio. Ciara is very professional and helped me to very quickly overcome some back pain. I was given great support and tips for immediate recovery and also long-term to prevent further issues. Very knowledgeable and caring. Couldn't recommend this clinic enough!" -Niamh Quinn
"I have just finished a course of treatment in Iona Physiotherapy for elbow and arm pain. Ciara very quickly identified the root cause of the problem and over the weeks assigned a number of exercises to deal with it. She could not have been more professional, clearly has tremendous knowledge of current developments and it was very encouraging to see the improvement as the sessions progressed. I am delighted with the work done by Iona Physiotherapy and would have no hesitation in recommending them." -Gabriel Kirwan
"I visited David a few weeks ago with a sprained ankle. He thoroughly assessed my ankle and determined the extent of my injury. Based on his assessment David put together an exercise program to aid the recovery and to start strengthening the muscles. With a follow up visit the exercise program was adjusted to align with the improved flexibility and confidence I had gained back in my ankle. I have to say the recovery went very well and I would highly recommend David. Thank you!" -Joerg Kern
6. RESYNCPHYSIO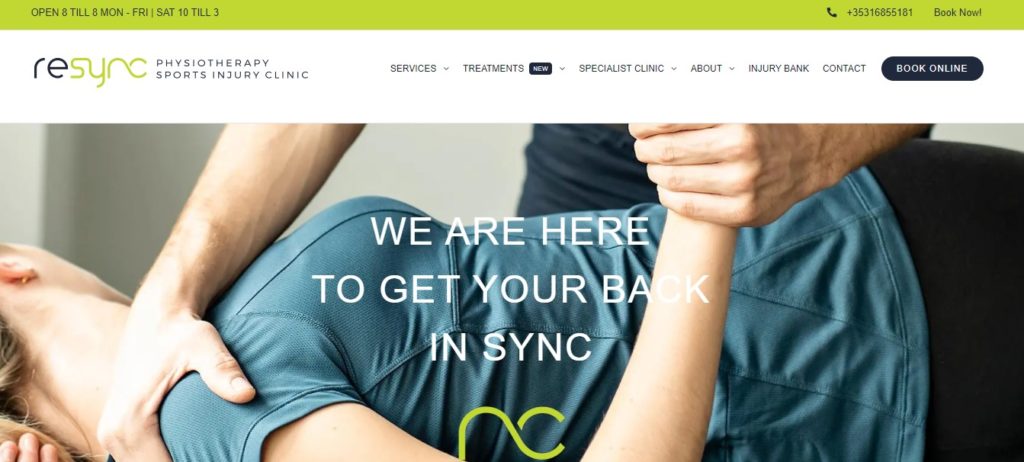 RESYNCPHYSIO is a clinic that offers top-tier physiotherapy treatments for you and is guaranteed to resolve your injury. With over 24,000 treated patients, they are among the certified and multi-awarded clinics in the area.
They have a specific treatment for individuals of all ages and will surely take the time to discuss with you the best methodology for your case. Furthermore, rest assured that you get excellent value for your money since you pay as you visit them.
The clinic is comprised of a team of highly accommodating and professional physiotherapists who know their way around the field. Their extensive knowledge on the field ensures that you are in safe and amazing hands and expect that your condition will be treated in the most efficient way possible.
We recommend this clinic for your injury that is in need of physiotherapy treatment due to their commitment to safe and quality services that are centered specifically on what you need and how you need it.
290+ 5 Star Ratings on Google
Staff educated to Masters Level
Discounts for those needing long term treatment
Full Strength and Conditioning Suite
Big on building strength to reduce pain
Slightly more expensive than others
Cancellation charges
7. First Physio Plus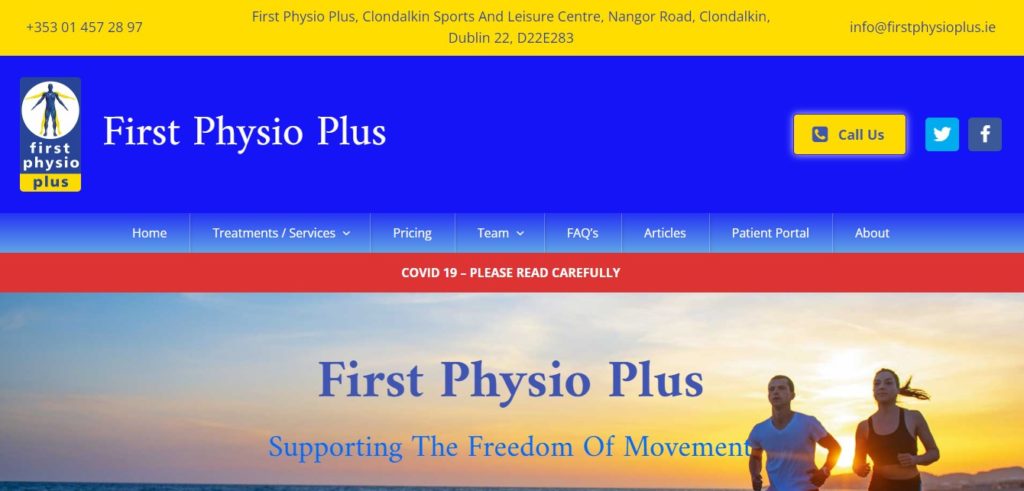 SERVICES
Neck and Back
Sports Injuries
Elderly CAre
Orthotics
Massage/Dry Needling
Nutrition Services
Pilates
WEBSITE
https://firstphysioplus.ie/
RATES
https://firstphysioplus.ie/pricing/
ADDRESS
Clondalkin Sports and Leisure Centre, Nangor Road, Clondalkin, Dublin 22, D22E283
CONTACT DETAILS
+353 01 457 28 97
OPERATING HOURS
Monday 9:00 AM – 7:00 PM
Tuesday 9:00 AM – 7:00 PM
Wednesday 9:00 AM – 7:00 PM
Thursday 9:00 AM – 7:00 PM
Friday 9:00 AM – 7:00 PM
From their name itself, First Physio Clinic was the first physiotherapy clinic in Clondalkin. Over the years, they have gained a reputation as being one of Ireland's premier physiotherapy clinics.
Given their range of services, we believe that they can help you get better faster. If you go inside their clinic with bad body pains, you will definitely go out feeling like a whole new person.
Their therapists do not waste time and go straight to the issues you are experiencing. Afterward, they will give a detailed explanation of the services you will need to get rid of the pain.
What we love about them is how they always guide their clients in the step-by-step process of the procedure. And how their prices are more affordable than other clinics.
Unfortunately, it was not explicitly mentioned in their website that they offer physiotherapy.. Rather, they have similar services that may also stop the pain you are feeling.
Ample free parking just off the N7 close the M50 Red Cow interchange
All therapists are members of the Irish Society of Chartered Physiotherapists (MISCP)
Customer Reviews
Check out some of the comments from their past clients:
"I've nothing but positives to say about First Physio Plus. I booked an appointment here as I was having back, leg and foot pain from working in a physical job which requires heavy lifting and long hours on my feet wearing safety boots. My therapist was the lovely Aisling who had me feeling great after just two physio sessions. Apart from being extremely friendly and easy to talk too, Shes second to none at her job and really gave me first class physio treatment and knowledge on different streches & exercises going forward to keep in good physical shape. I highly reccomend anyone with body aches and pains to book an appointment here. I'll be back again in the future for some deep tissue massage therapy. Thanks again to all at First Physio Plus."
"Was treated by Michael and couldn't speak more highly of him. Was recommended by a friend. I went for treatment on my L5 as I've had back trouble for years, but what he did was correct my whole body stance with one session and I've haven't felt this good in years. Would HIGHLY RECOMMEND"
8. Sutton Cross Physiotherapy
Another one on our list is Sutton Cross Physiotherapy.
Who wouldn't want to live a pain-free long life, right? With Sutton Cross Physiotherapy, you will be amazed for they seem to have all of your physiotherapy needs.
Their goal for their clients is to get you back to doing what you love as soon as possible, without pain. That is why their primary focus is on musculoskeletal issues, movement issues, postural issues, and injury prevention.
This clinic had employed experienced physiotherapists who are trained to deal with the concerns that you have in your body such as a painful knee, back pain, incontinence, sore feet, sore shoulder, golf injury, osteoporosis, vertigo, or if you just want to get stronger. They treat and manage spinal pain, soft tissue injuries, sports injuries, and prevention, in addition to offering Pilates and Healthy Bones classes.
In addition to that, these concerns are being dealt with by their three Chartered Physiotherapists with a combined experience of nearly thirty years. They all have a primary degree in physiotherapy from an accredited university and participate in mandatory professional development.
We are impressed by the years of their experience treating thousands of patients just like you because they have the knowledge to get you back to doing what you love. Whether it's returning to work, resuming your sport, or simply being able to enjoy life a little more now and in the future.
You can say that you are in safe hands for all of your physiotherapy needs.
Wide range of services
Ample free parking in the vicinity
Limited operating hours on some days of the week
Customer Reviews
Here are some reviews from their past clients:
"I was extremely happy with the service here. Mariola was lovely, put me at ease and did a great job. The "set up" regards covid was very professional too. I would highly recommend" – Carolyn Byrne
"Delighted to share my experience of this clinic. Lesley has recently helped me with my back pain and sciatica. She explained my issue and gave me a clear pathway to my recovery. Even a little blip was no problem: a quick email with advice on how to ease the pain had me back out walking again. I really feel I can manage this long standing issue now with my exercise programme and also feel well supported should I have any further problems" – Aileen MaGuire
9. SPARC South Dublin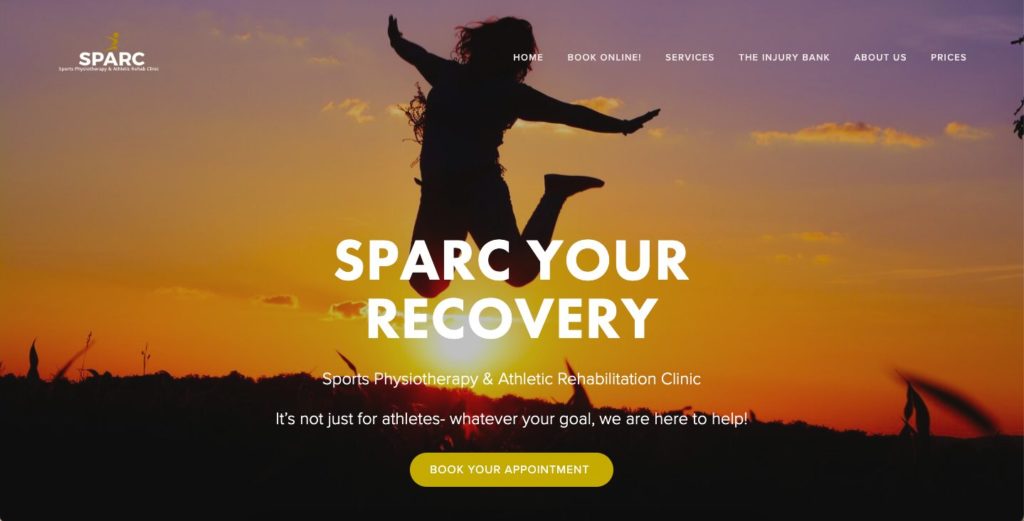 SERVICES
Post Op Physiotherapy
SPARC: Groin-Hip-Hamstring
Shockwave Therapy
Escape Pain
SPARC:ID
Golf Performance Programme
Clinical Pilates
Chartered Physiotherapy
Performance Rehabilitation
Consultancy
Youth Development
Manual Therapy
Athlete Rehabilitation Centre
Exercise Therapy
Work-Related Injuries
Dry Needline
WEBSITE
https://www.sparc.ie/
RATES
www.sparc.ie/prices
ADDRESS
SPARC Rathfarnham-Knocklyon: Ballyroan Crescent, Rathfarnham, Dublin 16
SPARC Greystones: Eire Og Greystones Gaa club, Mill Road, Killincarrig, Greystones, Co Wicklow
SPARC Sandyford: Naomh Olaf Gaa club, Holly Avenue, Stillorgan Business Park, Sandyford
CONTACT DETAILS
01 4936399
OPERATING HOURS
Mon-Fri 7am-9pm
Saturday 8am-1pm
We've got another physiotherapy clinic to recommend for any type of injuries you might have, and it's called SPARC.
The team at SPARC are mainly Musculoskeletal and Sports Physiotherapists, but they also have a Performance Nutritionist aboard.
What we find nice about them is that they have both an in-clinic and a virtual clinic.
Their virtual clinic makes use of technology that allows them to assess, treat and deliver their rehabilitation remotely. We think this is a great temporary option for those who don't live close to a SPARC clinic and can't visit right away.
We also like the wide array of physiotherapy services they have at the clinic. They have different types of therapy, as well as consultancy, clinical pilates, and performance rehabilitation, to name a few.
If you're an athlete, we think that SPARC is the perfect choice for you since they specialise in sports therapy.
What we think is great about them is that while they specialise in sports therapy and athetic rehabilitation, they can still cater to those who aren't athletes. They have ways to help everyone, no matter their goal!
It gives us the confidence to highly recommend SPARC to you because of the hundreds and hundreds of positive feedback we've read about them.
They even have an average rating of 5 stars out of 5, and we think that's very telling of how excellent their service is!
Wide range of services
Free car parking available on site
Long operating hours
Customer Reviews
Here are some reviews from their clients:
"SPARC facilitated me with a short notice full assessment appointment for an ankle injury. I was anxious to seek their professional advice in advance of going on holiday. Alex met me on arrival and immediately put me at ease. He assessed the issues with my injury and gave me clear instructions on exercise plan. He demonstrated the exercises in the on-site gym and I repeated them. A exercise program link was emailed to me. A very positive experience. Follow up appointment booked. Thank you"
"Absolutely super service in Sparc. Top class physios at all times. Highly recommend them for both sports and general physio needs."
FAQs About the Best Physiotherapy Clinics in Dublin
---
Seeing a physiotherapist for the first time? Make it a pleasant experience by choosing from one of the best physiotherapy clinics in Dublin that made it to our list.
Meanwhile, if you think a chiropractor can help you feel better, you might want to check out our guide to the best chiropractors in Dublin.