The 6 Best Osteopaths in Dublin
Osteopaths help treat a range of ailments and injuries. Hence, if you suffer from either migraines, arthritis, sports injuries, back pain, pregnancy discomfort, seeking one of the best osteopaths in Dublin may be what you need to obtain relief.
Fortunately, you're in the right place as we're featuring just that. This article will discuss our options for the county's best osteopaths, what's good and not-so-good about them, their fees, where to find them, and more.
We've also included a couple of FAQs and tips which can add to your knowledge about osteopaths in one way or another.
Osteopathic Treatment Fees in Dublin
You can compare our featured clinics' osteopathic treatment fees in the table below.
CLINIC
TREATMENT
COST
Dublin Osteopathy
Adult:
– Initial consultation
– Return consultation

€80
€70
Child:
– Initial consultation
– Return consultation

€80
€60
Castlewood Clinic
Consultation
Need to contact
Osteopathic Life Clinic
Initial consultation
Additional treatment
Follow up (child)
€80
€50
€40
NCR Osteopathy
New patient
Follow up
Cancellation fee
€80
€65
€25 (if less than 24 hours notice)
Active Osteopathy
Adult:
– Initial consultation
– Return treatment

€80
€65
Child:
– Initial consultation
– Return treatment

€60
€60
Dublin City Osteopath
Osteopathy:
–      Initial consultation & treatment

€70 (45 mins)
Osteopathy:
–     Follow up visit

€65 (30 mins)
Returning patient new injury
€65 (30 mins)
The Best Osteopaths in Dublin
Without further ado, let's head straight to our top options for Dublin's best osteopaths!
1. Damian Gargan – Dublin Osteopathy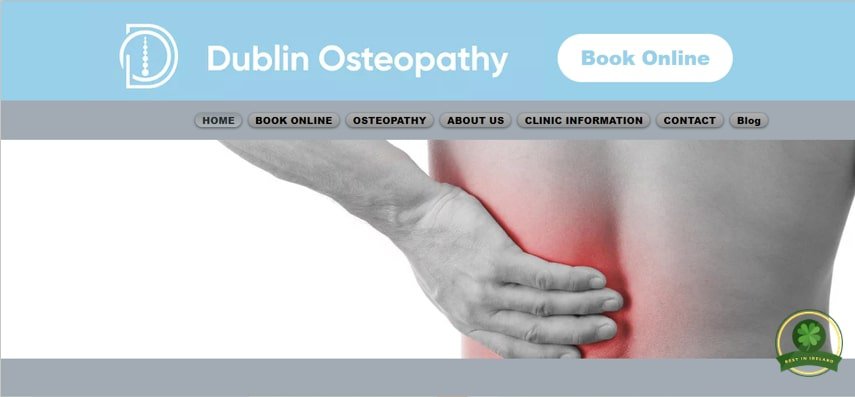 SERVICES
Osteopathy
WEBSITE
https://www.dublinosteopathy.com/
ADDRESS
Suite 12 Morrison Chambers, 32 Nassau St, Dublin 2
CONTACT DETAILS
01 679 8589


[email protected]

OPERATING HOURS
9:00 am to 9:00 pm (Monday, Thursday)
9:00 am to 6:30 pm (Tuesday – Wednesday)
8:00 am to 5:30 pm (Friday)
10:00 am to 2:00 pm (Saturday)
Damian Gargan is one of Dublin Osteopathy's three osteopaths, all of which are members of the Osteopathic Council of Ireland.
His academic qualifications include a double degree in osteopathy and applied science taken from the Royal Melbourne Institute of Technology University in Australia.
As for his clinical experience, he practised for 2 years in Melbourne where was able to treat elderly patients and those with chronic pain syndromes. He has also treated patients with back pain, migraines/headaches, as well as other more general pains.
Some of the techniques Damian uses to treat his patients are manipulation, soft tissue, functional, and indirect techniques.
Moreover, he also has experience as a lecturer which we believe is an advantage for his patients as doctors with teaching experience are more likely able to explain medical terms and treatments in a simple and easy-to-understand way.
Dublin Osteopathy has long clinic hours on Mondays and Thursdays, so for those who only have extra time in the evenings, this is another reason to see Damian for treatment.
In addition, if you're in a wheelchair, stairs won't be a problem since the building where Dublin Osteopathy is located has a lift.
Open until Saturday
Available beyond office hours
Lift available for wheelchair-bound patients
Closed on Sundays
Child and adult initial consultation fees are the same
Customer Reviews
Some of Damian Gargan's patients have experienced pain relief after seeing him for treatment. Take a look at their experiences below:
"Damien is amazing! I always leave Dublin Osteopathy pain free and feeling 'straighter'. Instant pain relief. I am a nurse with almost chronic/constant lower back pain and I have been going here for more than two years. I am a regular massage goer but nothing suffices like a visit to Dublin Osteopathy. Highly recommended. Damien is well known in Dublin as an excellent osteopath. Many thanks!!" -Adam Gaine
"I have been treated for over 5 years now by Damian Gargan and I can say he is second to none. Never met a better osteopath!" -Elena G. de C.
"I have had chronic neck pain for over twenty years, so I have attended several different types of therapists, with varying results. It is only since I have started to attend Dublin Osteopathy, that I have seen a marked improvement. I have been going there for about four years now, and they are great. Although I still have some neck pain, the number of visits that I have to make have reduced from twice a week to once every few months. This is brilliant. Damien went out of his way to get to the route of the problem, and it worked. Couldn't recommend them more highly." -Fiona Kinsella
2. William Hauxwell – Castlewood Clinic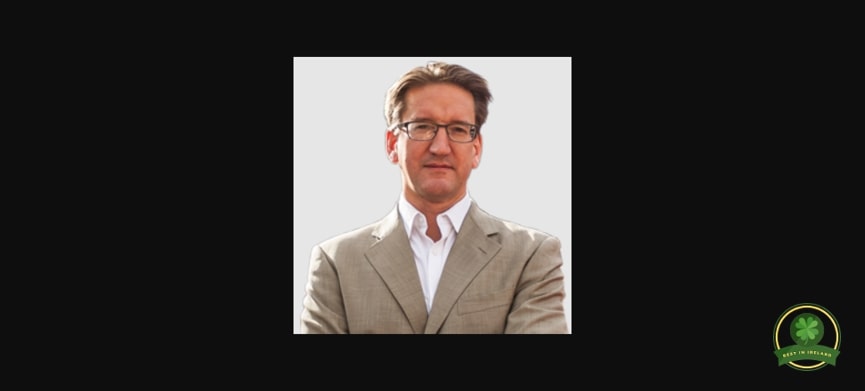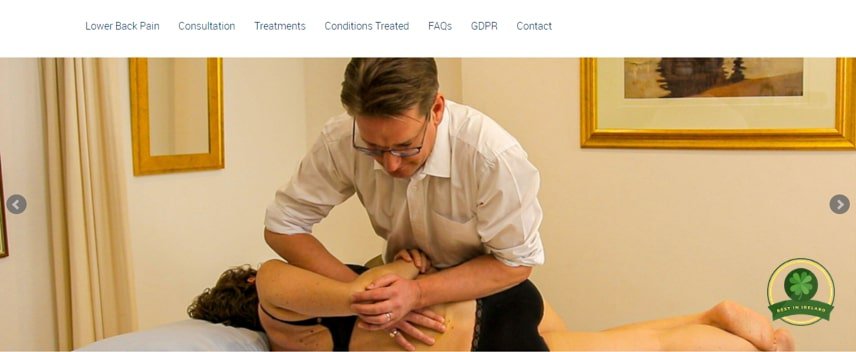 William Hauxwell treats an extensive list of conditions and ailments. These include arthritis, bursitis, sports injuries, muscle strains, colic, birth trauma, pain in the shoulder, back, neck, knee, jaw, among others.
However, William specialises in treating lower back pain. He utilises a technique he has spent the last 16 years perfecting—a technique that involves manipulation of the large joints in the pelvis where, according to William's belief, lies the root cause of the problem.
Furthermore, he is also an osteopathic lecturer. He teaches the above-mentioned technique and has also taught clinical osteopathy both in the country and in the UK.
William has over two decades worth of experience as an osteopath. Aside from that, William is also a cranial osteopath and a pain-relief acupuncturist.
Unfortunately, though, his clinic hours are limited to weekdays and only as late as 6:00 pm which might be a disadvantage for some patients.
Specialises in treating lower back pain
Offers acupuncture services
Offers cranial osteopathy
Closed on weekends
Treatment fees not found on website
Customer Reviews
William's plenty of 5-star reviews from his patients is another proof of his expertise in osteopathy. Read a couple of them here:
"I came for back pain on one side (I'd been having pain since 3 years), and William Hauxwell understood the issue straight away and could handle it successfully in just 3 sessions, totally worth it! Marie." –Marie-Laure PFLANZ
"I was suffering from locked joints in the upper back which restricted me in daily life. After a few days in hospital, orthopedist visits & physiotherapy – i discovered William's practice. After just a few sessions the symptoms have decreased. Really good initial assessment to find out what is really wrong. Great, knowledgeable treatments. Highly recommended." -Andre Kohler
"I would like to thank William for all his help, i have had back issues on and off for years and its only now after visiting William i have had relief. Highly recemmend." -Trevor Hayden
3. Nicholas Flood – Osteopathic Life Clinic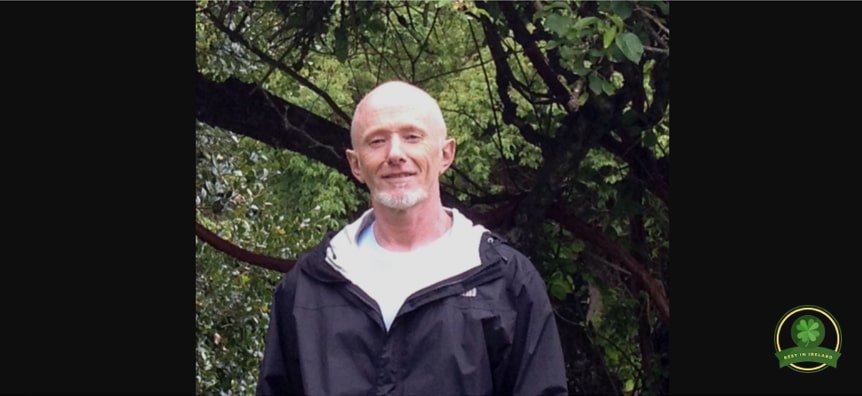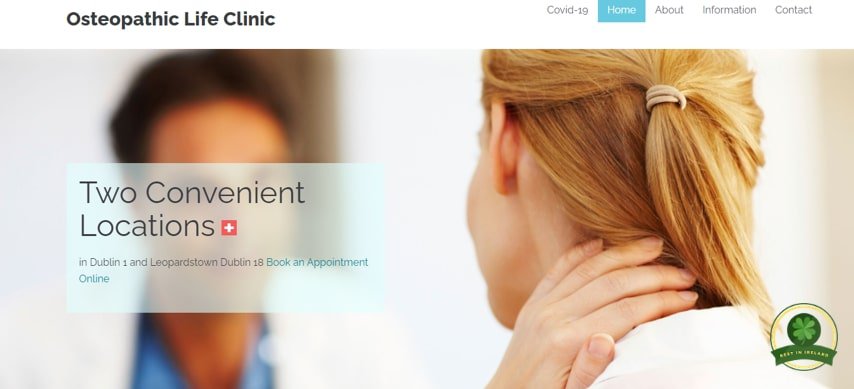 | | |
| --- | --- |
| SERVICES | Osteopathy and naturopathy |
| WEBSITE | https://osteopathiclifeclinic.com/ |
| ADDRESS | No. 12 Upper Gardiner Street, Dublin 1 Glencairn Medical Centre, Leopardstown Valley, Ballyogan Rd, Dublin 18 |
| CONTACT DETAILS | 087 669 7474 |
| OPERATING HOURS | 9:00 am to 9:00 pm (Monday – Friday) 11:00 am to 2:00 pm (Saturday) 11:00 am to 2:30 pm (Sunday) |
Nicholas Flood of Osteopathic Life Clinic obtained his degree from the British College of Osteopathic Medicine in London (BCOM).
Aside from osteopathic training, Nicholas is also trained in naturopathy. Thus, if you're someone who prefers natural medicine and healing, this could be another reason to visit him.
Moreover, he also specialises in cranial osteopathy. Currently, he continues his postgraduate training in this area at the Sutherland Cranial College.
Meanwhile, the conditions Nicholas treats in his clinic are pain in the lower back, neck, shoulder, knee, and foot, headaches, and coccydynia.
Moreover, he also provides treatments for pregnant women and women who have just given birth. Some of the ailments mothers can seek treatment for include indigestion, sacroiliac pain, and gastrointestinal reflux.
What's more, Nicholas has another clinic located at the Glencairn Medical Centre in Leopardstown, allowing him to reach other patients here in Dublin. His clinic also has long hours and is open 7 days a week.
Wide service coverage
Dublin 1 clinic is a 10-min walk from 2 DART stations
Free parking space at Dublin 18 clinic
Open 7 days
Long clinic hours
No mention of disability-friendly features of clinic
Only Dublin 1 clinic has street parking
Customer Reviews
Based on the first review below, Nicholas also treats infants, and in the next review, his patient praised him for his knowledge and help:
"I attended Nicholas yesterday with my 4 month old who has been having issues with reflux and general discomfort for the past 3 months. Nicholas has a lovely manner. He was so gentle and calm when handling my baby (which having been to a few different pediatricians and other baby specialists isn't always the case). Nicholas checked him from head to toe and offered advice across a range of areas to help him; diet, physical exercises and massage. We never felt rushed during the consultation and left feeling very positive about the whole experience." -Gill O'Connor
"Great Osteopath! Nicolas will help you. Very knowledgeable and spent well over an hour with me. I have had bad health for a long time and went to him with very bad vertigo among other things. Nicolas looks at the bigger picture and takes a whole health approach. He advised me on a number of things, showed me exercises to do and gave me nutritional advise. I would highly recommend him." -Claire Kiernan
4. Dr Sacha Pakkiri – NCR Osteopathy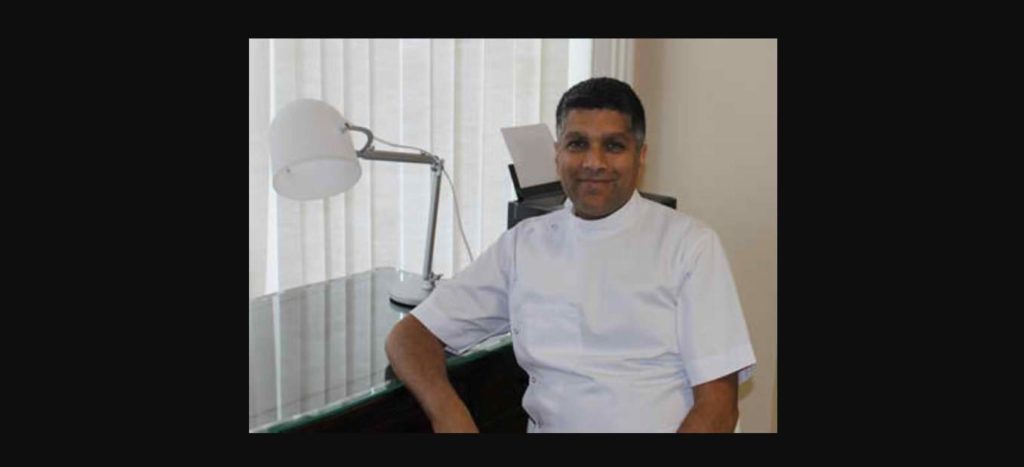 SERVICES
Osteopathy
WEBSITE
http://www.ncrosteopathy.ie/
ADDRESS
398 North Circular Road, Dublin 7, D07 ER26
CONTACT DETAILS
0872866598


[email protected]

OPERATING HOURS
10:00 am to 6:00 pm (Tuesday, Friday, Saturday)
10:00 am to 9:00 pm (Wednesday)
In terms of credentials, Sacha Pakkiri has got an extensive list.
Aside from a degree in osteopathy taken from Middlesex University, he also has a degree in human biology and a masters degree in biomedical research science, both earned in Kings College, University of London.
Moreover, his postgraduate training includes cranial osteopathy and craniosacral therapy, and more. He also served as a lecturer and tutor of osteopathy and as a clinic supervisor.
Sacha treats patients of all ages. For adults, he treats patients suffering from slipped discs, migraines, osteoarthritis, frozen shoulders, lumbago, and a variety of body pain, to name a few.
Furthermore, he can help mothers with prenatal and postnatal care, pregnancy pains, as well as symphysis pubis disorder. For children and infants, Sacha handles conditions such as colic, developmental delays, growing pains, glue ear, and so on.
And if you suffer from sports injuries, he is an ideal osteopath due to his background as a gym instructor and a sports therapist.
He has both a sports therapy and gym and fitness instructor diploma and treats tennis elbow, runner knee, and golfer's elbow, among other sports-related ailments.
However, the main con we've found as regards Sacha is his clinic hours. Although he is open on Saturdays, he is closed on Mondays, Wednesdays, and Sundays.
To compensate for short clinic hours, he is open as late as 9:00 pm on Wednesdays.
Clinic is 10-min walk from Drumcondra train station
Treats a wide range of conditions
Has background in sports and fitness
Only open 4 days a week
Parking can be an issue
Customer Reviews
By reading client reviews, you may find another person who has the same ailment as you. Below are 3 of Sacha's patients who've found relief from their conditions after his treatments:
"Sacha has assisted in pregnancy related issues. My first time ever to use a osteopath service and found Sacha very intuitive, all exercises he has directed me to practice is making my day to day movement easier again. Very happy to be pregnant and happier to be relieved from minor nuisance pain." -Tanya Doyle
"Having suffered with a recurring whiplash injury and having been prescribed anti-inflammatories and muscle relaxants on numerous occasions by my GP, Sacha at NCR Osteopathy was recommended to me by a friend. I can honestly say, that from the first session there was some improvement without the aid of medication. After 4 sessions with Sasha back in 2018 I continue to carry out the exercises he gave me on a daily basis and I have not had a flare up since." -Caroline Keane
"Sasha is a great Osteo who pays attention to his patients and strives towards making them better in the long term rather than just temporarily fix your ailments. Would highly recommend." -Joey Ingersoll
5. Leticia Maza – Active Osteopathy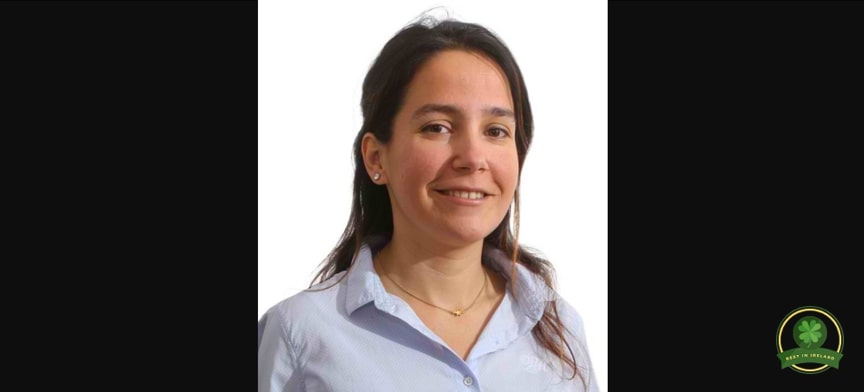 Osteopathic treatments involve physical contact and patients may be required to undress. Hence, if this is an issue for you and you're more comfortable with a female osteopath, you can check out Leticia Maza of Active Osteopathy.
What makes Leticia an ideal osteopath for women is her background in paediatrics and obstetrics osteopathy. She has a masters degree in the said medical field taken from the Osteopathic Care for Children in London.
Moreover, she also has a diploma in Chinese traditional medicine in acupuncture earned from the University of Hong Kong. She not only studied acupuncture in Hong Kong but also worked at OT&P, an Australian Council of Healthcare Standards accredited expatriate clinic.
Pregnant women and those who've given birth can visit Active Osteopathy for issues with back pain, sciatica, general aches and pains, scar tissue, as well as birth preparation and pelvic floor rehabilitation.
Meanwhile, breastfeeding difficulties, digestive issues, torticollis, asthma, chronic ear infections, and scoliosis are just some of the ailments treated at the clinic for infants and children. Likewise, she also handles other common complaints such as sports injuries and various pains.
Online booking available
Female osteopath
Initial consultation fee for children is lower than for adults
No info on clinic features such as parking, wheelchair access, etc.
Closed on Sundays
Customer Reviews
Active Osteopathy's patients have both positive reviews for Leticia Maza and her osteopath partner:
"Leticia is incredibly knowledgeable, professional and caring at all times. She is passionate about helping people and I would highly recommend her." -Eman El-Abbasy
"Great little clinic in Dunville Avenue, Ranelagh, I go there to see my GP and my Osteopath. I suffer from Arthritis, ostepathy helps me to keep mobile. Depending who is available I see Sean or Letitia." -Mark Dorking
"I suffer from back and neck pain on a regular basis and was referred to these guys from someone who spoke very highly of them. I was greeted with care and received great treatments in my several visits to the clinic. I would recommend these guys to anybody who like me suffers from consequences of a prior back injury or even just stress affecting the neck and shoulders. They have helped me enormously!
Great professionalism!" -Fabs Giordano
6. Dublin City Osteopath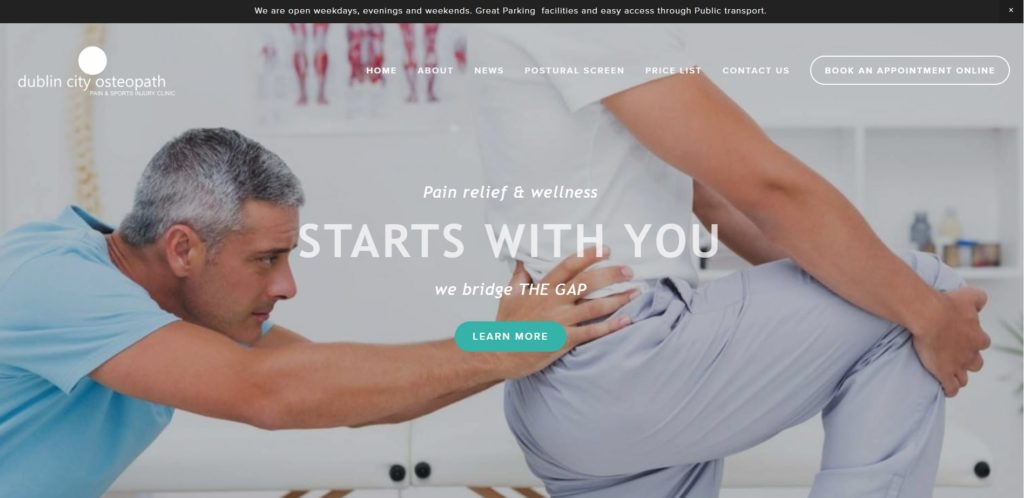 SERVICES
Osteopathy
WEBSITE
https://www.dublincityosteopath.com/
ADDRESS
95 Baggot Street Lower, Dublin 2, D02 HE14, Ireland
CONTACT DETAILS
Phone: +353-87-126-0384
OPERATING HOURS
Monday – Saturday: 08:00 AM – 09:00 PM
Sunday: 10:00 AM – 04:00 PM
Peter Best established Dublin City Osteopath, which offers osteopathic treatments and therapies. We were immediately impressed by his over 24 years of clinical experience, which we believe makes his services more reliable.
We found it impressive that he combines traditional physical therapy with the principles and techniques of osteopathic manual therapy.
In our opinion, his diverse combination of techniques allows them to cater to different patient needs.
We also believe his registration with the Osteopathic Council of Ireland and several major health insurance companies adds to his credibility.
It's also convenient that they have an online booking system where you can secure your appointment immediately.
We also appreciate that they are transparent with their rates, which allows consumers to budget ahead.
Unfortunately, their clinic has no accessibility features, which disappointed us. We liked, however, that their clinic is easy to reach with public transportation.
Overall, we think Dublin City Osteopath is one of the best osteopaths in Dublin as they utilize numerous techniques to cater to every client's needs.
Years of experience
Open seven days a week
Registered with the Osteopathic Council of Ireland
Diverse combination of techniques
Online booking system
Clinic has no accessibility features
Only one office location
Customer Reviews
Skilled professional
'I attended Peter for treatment. He is a very skilled professional. He can spot where the issue is and get you on the road to recovery quickly. Very genuine and caring person too so you're in safe hands." -Paul H.
Passionate about his craft
"Peter is exceptional and really passionate about what he does. I have been to so many different physio therapists over the years and Peter has been the only one to be able pinpoint the issue I'm having with my back and put together a comprehensive plan to resolve the issue. Recommended 110%." -Kirsty M.
How to Pick the Right Osteopath
The following tips are some of the things you may need to keep in mind as you search for the right osteopath:
1. Gender
For some patients, the gender of their osteopath is an important consideration because as we mentioned earlier, osteopathic treatment involves physical contact.
Also, patients may be required to undress down to their underwear during consultations, that's why many osteopaths remind their patients to bring other types of clothing, such as a tracksuit.
2. Clinic hours, location, etc.
Just like with any other service provider, you'll need to think about other concerns aside from the one providing the service.
For instance, does your prospective osteopath's clinic hours align with your schedule? If you're working, you'll need to check if he or she extends her services beyond office hours or on the weekends.
As regards location, to make your treatments less of a hassle, it's a good idea to check if the clinic is near your residence. Also, inquire about parking space—do they have their own parking space? Is it free or paid?
And if you're a regular commuter, make sure the clinic is near public transportation.
3. Cancellation policy
When you book a consultation, don't forget to know for certain the clinic's cancellation policy. How many days or hours do they give to cancel an appointment with them without incurring fees?
And if you do cancel late, know how much you'll be paying.
4. Osteopathic Council of Ireland
It's also a good idea to check if a certain osteopath is a member of the Osteopathic Council of Ireland since osteopaths have to meet certain requirements to become a member of the OCI.
These qualifications include having an honours degree in osteopathy, 1,000 hours supervised tuition, no previous criminal convictions, and more.
FAQs about the Best Osteopaths in Dublin
---
And that's a wrap for our list of the best osteopaths in Dublin! We hope this article has put you a step closer to finding the right osteopath that'll provide you relief.
And if you know of other great osteopaths in Dublin that should have been included on our list, feel free to give us a message. We'll check them out straight away!
When was your last dentist appointment? If you don't know any dentists here in Dublin yet, you can check out our top picks for the best dentists in Dublin!