The 6 Best Opticians in Dublin
Eyes are the window to the soul, but they're so much more than that. Most of us rely on them for everything: for work, for play, and everything in between.
Thus, eye health care should be a top priority. To keep your vision in top form, we made a list of the top opticians in Dublin.
Optician Costs in Dublin
Opticians offer a wide range of products and services, and oftentimes stores do not display their prices, so all we can provide are estimates for the most common service: the eye exam.
However, according to our research, the minimum for a standard eye examination should be €20. That said, prices in Dublin can go as high as €50.
Top Opticians
We assessed these opticians according to the following criteria:
1. Gill Opticians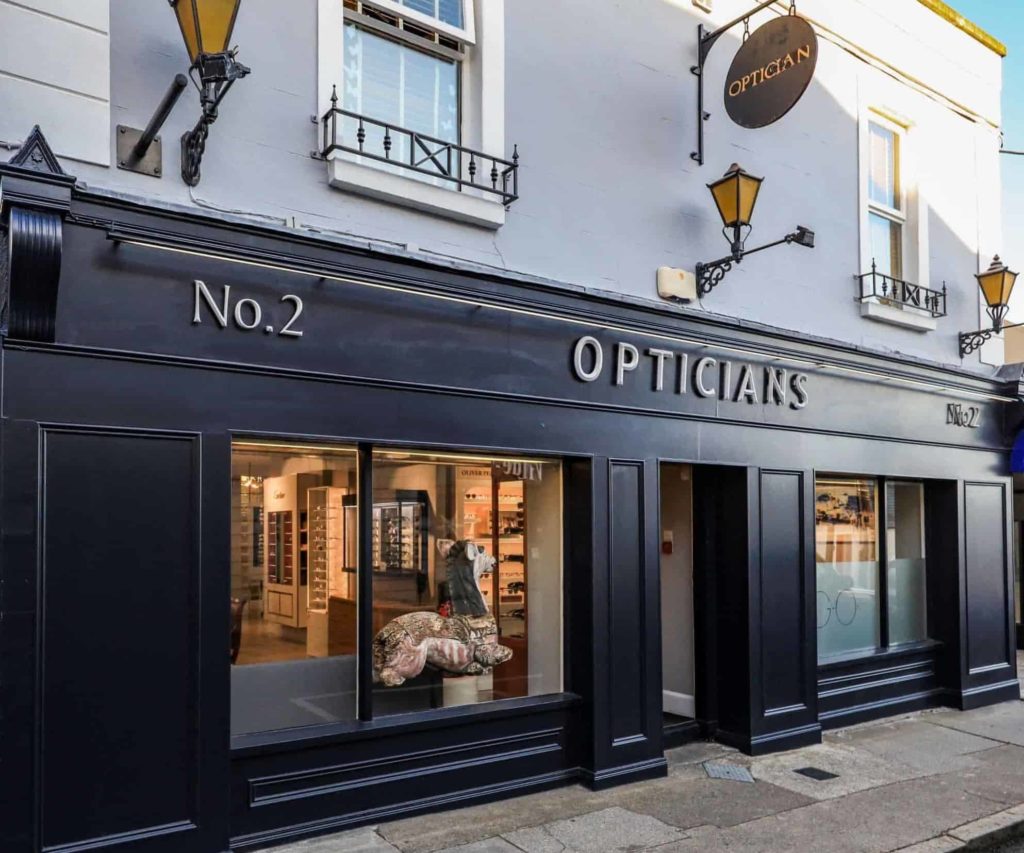 Test
Info
SERVICES
Eye examinations, Optical Coherence Tomography (OCT), visual field analysis, contact lens fitting, myopia control, eye exams & consultations, and frame consultation.
WEBSITE
http://gillopticians.ie/
ADDRESS
Gill Opticians, 2 St Patrick's Rd, Dalkey, Co. Dublin, A96 XT82, Ireland
CONTACT INFO
Telephone: +353 1 285 3227

FAX: +353(0)1 285 6099

OPERATING HOURS
Monday - Saturday, 9:00 AM - 5:30 PM
| | |
| --- | --- |
| Convenience | ★★★★★ (5/5) |
| Pricing | ★★★★☆ (4/5) |
| Service | ★★★★★ (5/5) |
| Customer Satisfaction | ★★★★★ (5/5) |
Located in the beautiful seaside Heritage Village of Dalkey, Gill Opticians is your one-stop shop in everything related to eye care and products. Easily accessible by DART they are 2 minutes walk from Dalkey train station. Established in 1977, Gill Opticians has been providing excellence in eye care for over 45 years.
Gill Opticians prides itself primarily for its eyecare. Every eye examination is dedicated 45 minutes to insure that you receive the most thorough eye examination available. Gill Opticians offer retinal scanning within their standard eye examination. Other services available include visual fields mapping, contact lens fitting, driving eyesight reports. Using the most advanced technologies and expertise Gill Opticians screen for glaucoma, macular degeneration and all other optical related pathologies during their eye exams. Gill Opticians has Irelands only Zeiss Visufit 1000 for taking facial measurements to ensure that your lenses are accurately glazed into your new glasses in their in-house lab.
Gill Opticians stock the best range of world renowned independent eyewear brands in Ireland. They are the exclusive suppliers of Cartier eyewear and also carry fashion household brands Celine, Tom Ford and many more.
Gill Opticians is Ireland's number one partner of Zeiss lens company. Using their unique Zeiss Visufit 1000 Facial measuring device they can produce and supply the best lenses in the world.
Prevention is better than cure: The first myopia control clinic in Ireland was opened in 2021 by Gill Opticians with the goal to reduce myopia progression with children. Using exercises, lenses and contact lenses Gill Opticians can reduce the progression of myopia which means that the patients prescription does not get ever more powerful but also to reduce the risks macular degeneration, glaucoma, and other retinal problems in later life by up to 50%.
Their trained staff are specially gifted in frame selection and style consultancy. During frame consultancy your prescription, style, face-shape and skin colour tone are considered resulting in the perfect pair of glasses for your face and needs.
5 Star recommendation – Gill Opticians is Irelands only opticians with complete 5 star Google recommendations. With their excellence in eyecare, unrivalled stock, quality of lenses and unbeatable customer service it is no surprise that Gill Opticians is No 1 on our list of Best Opticians in Ireland.
Amazing sunglasses ranges.
Best glasses range in Ireland.
Bespoke frames.
Zeiss premium quality lenses.
Full tint spectrum selection wall.
In-house lab (they create their own lenses).
45 years of experience.
Do not stock cheap glasses.
Customer Reviews
Thorough and professional
"Very thorough and professional with a wide range of frames and options to choose from. It's reassuring to get my eyes checked and know my sight, retina and eye health are compared to previous visits for changes over time. The team are helpful and very friendly. A pleasure to deal with and customer service excellent as always. Thanks Jamie, Anna and team." – Ronan Murray
Wonderful staff
"For close on two decades my family and I have attended Gill Opticians. From the earlier days with Paul (father)and now with Jamie (son), for sure the apple doesn't fall far from the tree ! Jamie and his wonderful staff are a sight for sore eyes (pardon the pun) – I can highly recommend the experience of visiting this family enterprise. Like me you will also become a lifelong member. Thank you Jamie and your great staff. Continued success." – John Nason
2. Mac Nally Opticians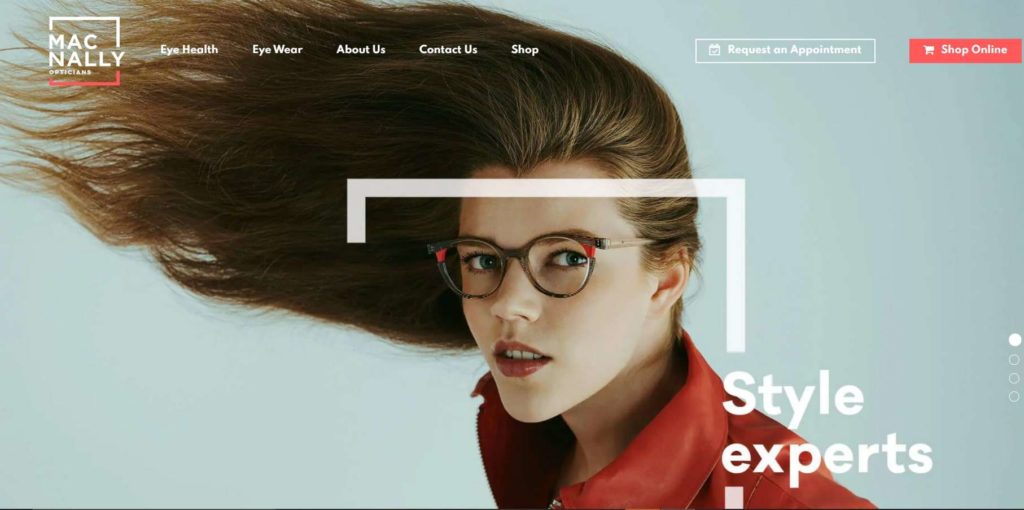 | | |
| --- | --- |
| Convenience | ★★★★☆ (4/5) |
| Pricing | ★★★★☆ (4/5) |
| Service | ★★★★★ (5/5) |
| Customer Satisfaction | ★★★★★ (5/5) |
Mac Nally Opticians is right in the heart of Dublin on Stephen's Green, making it quite convenient to get to for all your eyewear needs.
Adding to this is the fact that the service is available on their sleek and simple website, where you can buy eyewear, request an appointment, book an exam, and even consult with specialists.
According to their team, they have something for everyone whether you're after fashion or functionality. In fact, they are the exclusive Irish provider of some of the world's best designer brands like Caroline Abram.
One thing about Mac Nally is it's all top-shelf stuff, so you can expect the price range to be quite high. We would personally prefer a bit wider of a range of options to accommodate more people.
We do also wish there was a bit more variety offered for accessories such as lid wipes, eye masks, and eye drops. There is currently only one brand offered, Scope.
That being said, however, they are well stocked for frames, sunglasses, and contact lenses from a number of high quality brands.
Their team of seven lab technicians, specialists, and stylists is also well-trained and attentive, which we believe is a must. Clients from our surveys have praised them for their professionalism and expertise.
Convenient location
Useful and accessible website
Wide range of frames and glasses
Only carries high-end brands
No range for accessories
Customer Reviews
3 eye tests and 3 pairs of glasses from the team at Mac Nally's over the last 6 years, I always receive outstanding customer service from start to finish, their professionalism guarantees a flawless experience and I wouldn't consider anywhere else for my eye test or glasses. A great range of frames too. I always look forward to visiting! -Andrew Conion
5 star service, we had driving license eyesight report done at MacNally Opticians. Polite and professional team, thank you for Saturday appointment ☘️It took 15 min from start to finish. -Yana Dzyubinska
3. Gilna Opticians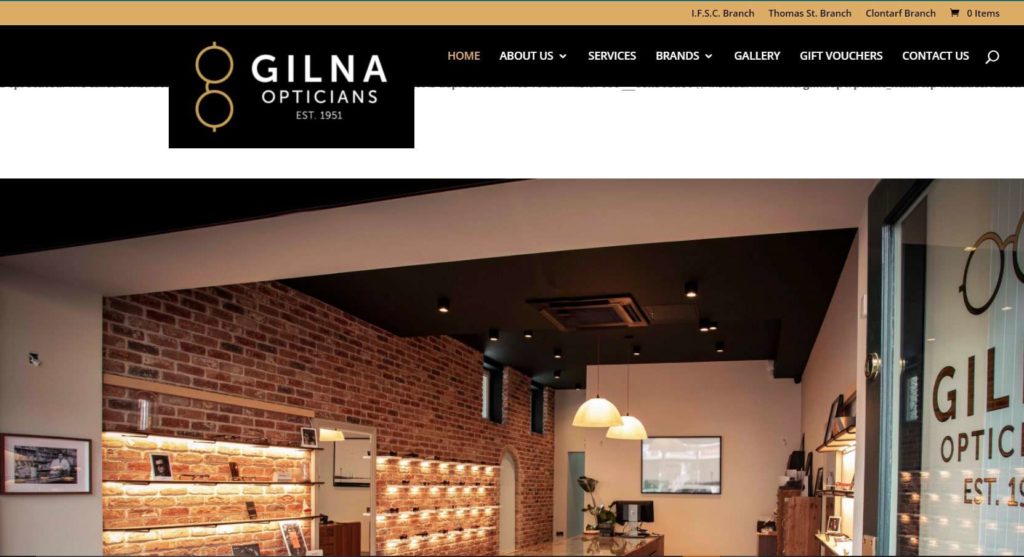 Test
Info
SERVICES
General eye exam, OCT scan, contact lens fitting, repair service
WEBSITE
https://gilnaopticians.ie/
ADDRESS

Thomas St. - 31 Thomas St, The Liberties, Dublin 8, D08 RC78, Ireland




IFSC - Mayor Street Lower, International Financial Services Centre, Dublin 1, Ireland




Clontarf - 2 Vernon Ave, Clontarf, Dublin 3, D03 R248, Ireland

CONTACT INFORMATION

Thomas St. - 01454 2852 / [email protected]




IFSC - 01791 8891 / [email protected]




Clontarf - 01833 7836 / [email protected]

OPERATING HOURS

Thomas St. - Monday-Friday 9:30-5:30 & Saturdays 9:30-5:00




IFSC - Monday-Friday 10:00 – 5:30




Clontarf - Monday – Saturday 8:30-5:30
| | |
| --- | --- |
| Convenience | ★★★★☆ (4/5) |
| Pricing | ★★★★☆ (4/5) |
| Service | ★★★★★ (5/5) |
| Customer Satisfaction | ★★★★★ (5/5) |
Gilna Opticians has been serving Dublin on Thomas St. since 1951. They have since expanded to two more locations in the IFSC and the coastal suburb of Clontarf.
Having three locations makes it a lot easier for clients to reach them from wherever they may be in Dublin.
Having a location in the city's financial district also means they have packages for corporate eyewear for medium to large companies. We recommend checking with your employer to see if you have any discounts to claim, actually.
They have a number of services listed on their website: a general eye exam, an OCT scan, contact lens fittings, repair services, VDU reports for driver's licenses, colour vision tests, and ocular prosthesis.
Gilna Opticians offers a standard variety of brands, which we find to be just fine. These brands do, however, offer a wide range of prices, which we love because it means more budgets are accommodated.
They also have customer service that is known to be super-efficient, which is perfect for people on the go with busy schedules. That's certainly what we found for ourselves on a visit.
Their website is a little awkward to use, however, which we find a little frustrating. After all, it's a lot more tempting to request an appointment on a website that is friendlier to its users.
Three locations across Dublin
Efficient customer service
Packages for medium to large companies
Good price range for frames and sunglasses
Customer Reviews
Perfect place excellent service. I went to get eye report for driving license. Got appointment by phone and they didn't make me wait at all. Prices are good. Got the license with no problem. Their website is a bit awkward but service is good -Benjamin Marsh
Superior service from this opticians. I needed a quick eye test for my drivers license, I popped in to book and they saw me straight away and were really lovely to deal with. -Shane Horkin
4. Dixon Hempenstall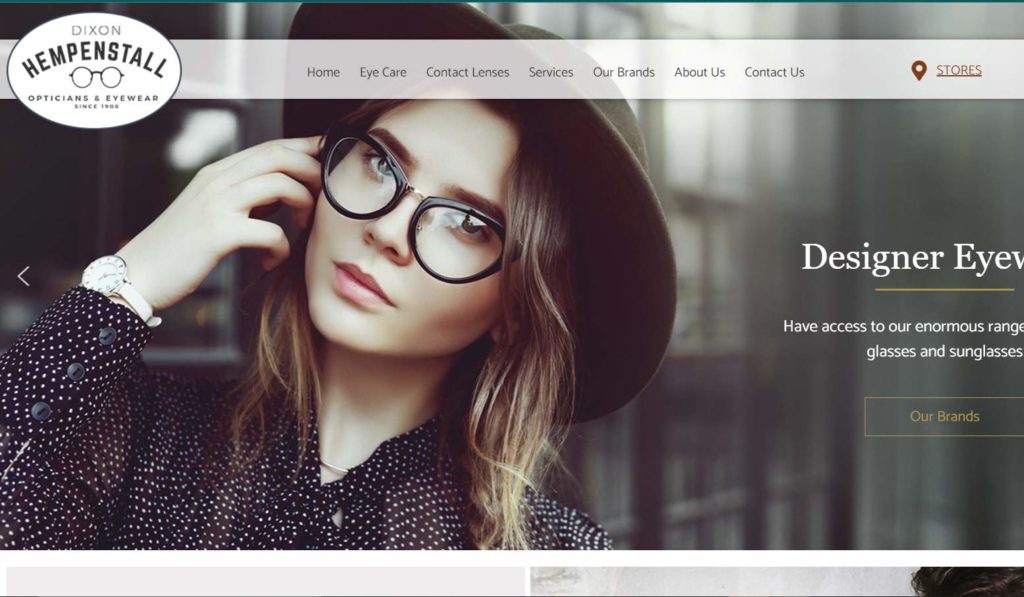 Test
Info
SERVICES
Eye examination, myopia control, contact lenses, retinal imaging, prosthetic eyes
WEBSITE
https://www.dublinopticians.ie/
ADDRESS
14 Suffolk St, Dublin 2, D02 HN83, Ireland
CONTACT INFORMATION



Suffolk: 01 677 1334

Tallaght: 01 4598117

OPERATING HOURS
Monday-Friday 9:30AM-6PM
| | |
| --- | --- |
| Convenience | ★★★★★ (5/5) |
| Pricing | ★★★★☆ (4/5) |
| Service | ★★★★★ (5/5) |
| Customer Satisfaction | ★★★★☆ (4/5) |
Dixon Hempenstall is a family-run Irish-owned company that dates all the way back to 1908, which means they have a wealth of experience serving Dublin.
The opticians and optometrists at their store are all specialists when it comes to contact lenses, in particular. If you have any qualms about switching to contacts, they're more than qualified to answer any questions.
They also have a very informative website that details certain eye health-related issues, their causes, and their suggested remedies. We like this because you can come in well-informed about your possible condition even before your eye exam.
They have a general eye exam for every patient that they tailor for your specific needs. They perform OCT scans, binocular assessments, peripheral visual field analyses, and intraocular pressure measurement.
Dixon Hempenstall offers a variety of fashionable brands for frames as well. While it isn't as large a range as what you'll find at a few others, we're still fans of the variety offered, with both classic and trendier brands represented.
We should note, however, that an eye test is required to have your basics logged in their database – even if you're only coming in to get new frames or sports goggles.
We find this a little inconvenient, because it means paying for the eye test regardless of whether or not you want or need it.
Contact lens specialists
Informative website
Very experienced
Eye test required before purchase
Customer Reviews
Flawless prescription, frustrating service. My glasses arrived damaged partially caused by not being packaged adequately, got into them today and they did fix them but they still feel flimsy, they should be flawless.
There's no real incentive for repeat custom especially when the competition is so plentiful and offer better value to the customers.
Sales tactics and aftercare are inadequate, its annoying because my vision has never been better but there approach can be improved. -Caominh O'Canabhain
Can't recommend these guys highly enough. Really great to deal with, they even suggested a new type of lense than I was used to. Result is perfect. I can see properly. Thank you Pete and the team. -Philip Ryan
5. Vision Express Opticians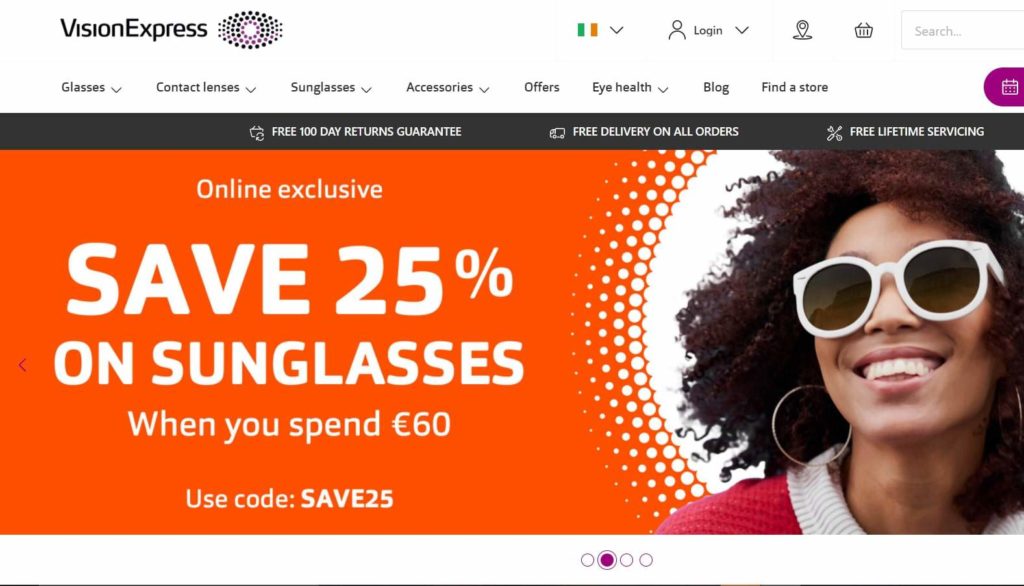 Test
Info
SERVICES
Eye tests, OCT scan, repair services
WEBSITE
https://www.visionexpress.ie/
ADDRESS
24 Henry Street Dublin 1, County Dublin

D01 P642




Malahide Road, Clarehall Shopping Center

Dublin 17

D17 N971




Fonthill Road, Clondalkin Liffey Valley Shopping Centre

Dublin

D22 E302




Navan Road, Blanchardstown Shopping Centre, 118/119

Dublin

D15 X304




Belgard Square East, Blessington Road 204

Dublin

D24 P8DW

CONTACT INFORMATION
Henry Street - 01 8732477

Clarehall Shopping Centre - 01 9203 083

Liffey Valley Shopping Centre - 01 6239 222

Blanchardstown Shopping Centre - 01 8222 066 Tallaght - 01 4598 722

OPERATING HOURS
Monday 09:00 - 18:00

Tuesday 09:00 - 18:00

Wednesday 09:00 - 17:00

Thursday 09:00 - 18:00

Friday 09:00 - 18:00

Saturday 09:00 - 18:00

Sunday 12:00 - 18:00
| | |
| --- | --- |
| Convenience | ★★★★☆ (4/5) |
| Pricing | ★★★★☆ (4/5) |
| Service | ★★★★★ (5/5) |
| Customer Satisfaction | ★★★★☆ (4/5) |
Vision Express Opticians is another store with a few different locations in Dublin: Henry St, Clarehall Shopping Centre, Liffey Valley Shopping Centre, Blanchardstown Shopping Centre, and Tallaght.
We like that this means it is easier to get to a branch from wherever you are, particularly if you are out shopping for other items in any of these shopping centres.
Each of these stores offers the following services: eye test and screening, contact lens check up and free trial, OCT 3D eye scan, children's eye tests, repair services, and lens add-ons like blue light filter and polarised glasses.
Visions Express also has the biggest range of brands of frames, sunglasses, and accessories on this list. They're all well-known and fashionable brands, so we love the range they have to offer.
The price range they offer is also quite wide, with glasses from as low as €30 and sunglasses from €20. Plus, we love that you can save on frames with vouchers on their website – and who doesn't love a good discount?
They also offer a free 100-day returns guarantee, free delivery on all orders, and free lifetime services. Their eye test, however, will run you about €30, which we do find a bit steep for an eye test.
We should note, however, that prices in Dublin can go quite high.
The eye test is also reserved for those who buy frames from them, which we don't love. That means that whether or not you need new frames, to get your test results you need to buy a pair.
Visions Express is also available all over the world, which makes it accessible even when you're out of the country. Just note that because of this, they do tend to have a lot of clients, making the stores quite busy at peak hours.
Many locations all over Dublin and the world
Wide price range for frames and sunglasses
Discounts online
100-days return guarantee
Free delivery on all orders
Eye tests only available to those buying frames
Can get quite busy
Customer Reviews
I've been going to the Henry St. Branch for a number of years now and I can't fault them. The Optometrists are excellent (Deirdre O'Donnell picked up an issue with my optic nerves and referred me on to A&E a year or so back and am very thankful for that). The Sales Staff are equally as good and offer great customer service, nothing is too much trouble. Very professional but all in a friendly, relaxing atmosphere. Special mention goes to Ann Prendergast & Mark for their assistance this time around. – Christina Noctor
I had an excellent experience with everyone I dealt with at Vision Express in Henry Street. The shop staff were incredibly knowledgeable, helpful and patient whilst I was choosing my new glasses. The optometrist who saw me was brilliant as she took her time to explain in some detail, some of the observations she had made during the examination and it was simply on a different level to anything I had previously experienced at an opticians. With a great range of glasses and such excellent service, I cannot recommend it highly enough. -Thomas Schmid
6. Mairead O'Leary Opticians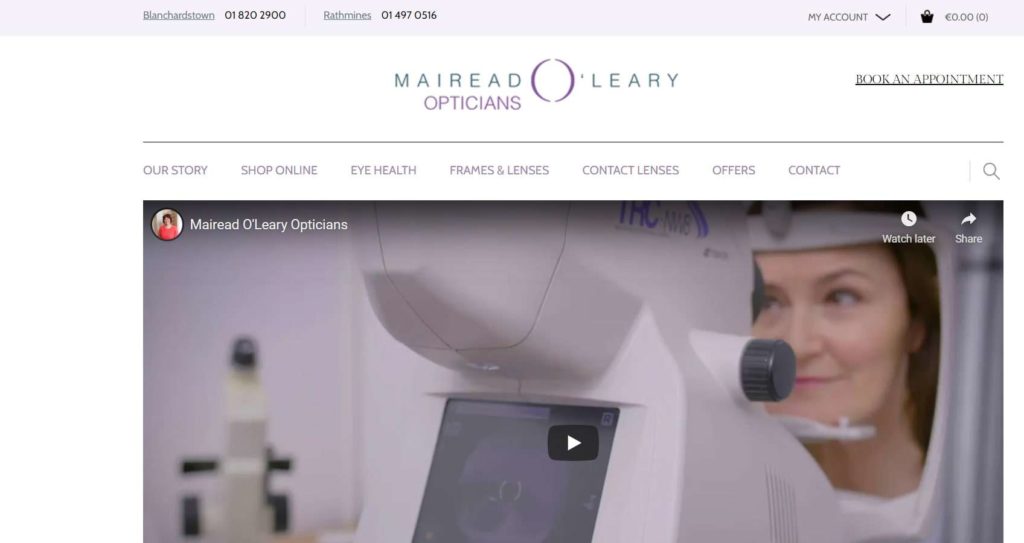 Test
Info
SERVICES
Eye tests, OCT scan, repair services
WEBSITE
https://maireadoleary.ie/
ADDRESS

Blanchardstown - Blanchardstown Centre, Dublin 15 Yellow Mall, Level 2




Rathmines - Swan Centre, Rathmines, Dublin D06 TP90 Between McDonalds and Dunnes

CONTACT INFORMATION

Blanchardstown - 01 820 2900




Rathmines - 01 497 0516

OPERATING HOURS
Blanchardstown

Monday-Tuesday, Friday-Saturday 9:30AM-6PM

Wednesday-Thursday 9:30AM-9PM




Rathmines

Monday-Saturday 9:30AM-6PM
| | |
| --- | --- |
| Convenience | ★★★★☆ (4/5) |
| Pricing | ★★★☆☆ (3/5) |
| Service | ★★★★★ (5/5) |
| Customer Satisfaction | ★★★★☆ (4/5) |
Mairead O'Leary has been providing eye care in Dublin for over 33 years. They have two locations: Blanchardstown and Rathmines.
They offer standard and enhanced eye examinations. The latter includes an OCT scan, digital fundus photography, visual field screening, and a wider range of glaucoma testing.
They also offer corporate-services for colour vision, driver sight testing, and safety spectacles.
We find this to be pretty standard for most opticians, so nothing to either gush over or complain about here.
One thing we found noteworthy is that you and your family may claim a 10% discount on all purchases if your firm nominates Mairead O'Leary as the preferred supplier for VDU screening, though.
They have a smaller range of brands to choose from, and we wish there was more variety offered. We're also not fans of the online shop, where you have to request more information to even view the price of a frame.
We find this to be quite inconvenient. It's a lot more efficient to browse the store with a general price range in mind when you can actually see the item's prices.
Customer service, however, is top-notch, with our surveys and research turning up happy clients who say they feel quite cared for.
10% corporate discount for you and your family
Two locations
Inconvenient online store
Small variety of brands for frames and sunglasses
Customer Reviews
Mairead O Leary is easily the best Opticians I've experienced in my life. I've had eyesight issues my entire life and I turned 60 so been to quite a few in my day. Mairead herself is completely professional and particularly empathetic as I recently lost vision in one eye and she takes great care of her clients. Staff on the front desk are very helpful too. A shout out to Sandra.
So good I send my family & friends there. Couldn't recommend this spot highly enough. -Breda Eiffe
I have been with Mairead O'Leary Opticians for decades and appreciate the personal, professional service they always offer. The staff are top class – always willing to find the right glasses within my price bracket – and especially helpful to my daughter who requires special assistance. I appreciate their annual reminders to have an eye test and their help in claiming VHI and Social Welfare benefits. I can recommend them unreservedly. -Dublin Evelyn
FAQs about Opticians
---
Have more general health concerns? Here's our list of the best doctors in Dublin.
We also have a list for the best eye clinics in Cork if you're in that area instead!