The 5 Top Colleges in Cork
College life is fun but it also can be stressful at times too, so make sure that when choosing a college pick one that fits your needs best!
In Cork, Ireland, there are some colleges that offer a wide range of courses, making them among the top colleges in Cork.
Can't decide where to enroll yet? This list might just be worth checking out!
How much does enrolling in a college cost in Cork?
Enrolling in a college in Cork, Ireland will cost you at least €5,000 per year. The exact amount of your tuition depends on the school and program you choose.
| Courses/Program | Estimated Annual Tuition Fee |
| --- | --- |
| Liberal Arts and Social Sciences | €6,000.00 |
| Engineering | €7,000.00 |
| Finance and Accounting | €6,500.00 |
| Health and Sciences | €7,500.00 |
| Computer Sciences | €6,500.00 |
| Data and Analytics | €6,500.00 |
| International Studies | €6,500.00 |
The Best Colleges in Cork
When enrolling in a college in Cork, it's important to consider your course of study, the fees, courses accreditation, and the overall environment. Here's what we checked on this list:
1. University College Cork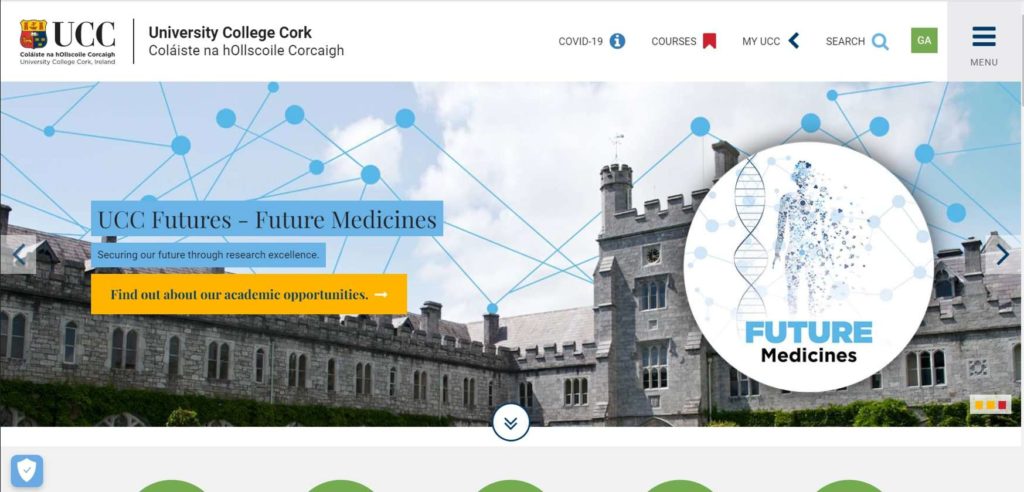 Test
Info
COURSES

Arts

Celtic Studies and Social Sciences

Business and Law

Medicine and Health, and Science

Engineering and Food Science

Adult Continuing Education

WEBSITE
http://www.ucc.ie
ADDRESS
College Rd, University College, Cork, Ireland T12 HW58
CONTACT DETAILS

Phone: +353 214 903000

[email protected] (each college and office have their own email addresses)

OPERATING HOURS

Not specified
| | |
| --- | --- |
| COURSES | ★★★★★ (5/5) |
| FACILITIES AND EQUIPMENT | ★★★★★ (5/5) |
| ACCESSIBILITY | ★★★★★ (5/5) |
| SUPPORT SERVICES AND SCHOLARSHIPS | ★★★★★ (5/5) |
| REPUTATION | ★★★★★ (5/5) |
University College Cork is among the best colleges in Ireland, and it's not hard to see why. That said, we listed down four reasons why we think UCC is a great place to study.
First, UCC is among the top 1.1% of universities worldwide, according to QS World University Rankings 2019. Getting into a school of this type makes you a great candidate for employment in the real world.
Second, UCC has been an education institution for 170 years, giving it a lot of history and experience under its belT. It has a solid foundation for providing high-quality education to students now and in the future.
What's more, this school is active in research, too. with more than 4,200 collaborations with research entities across the globe. Not only that, but it has secured over a billion worth of research funding investment since 2005!
UCC also offers extensive courses ranging from business to music production and everything in between—making it easy for students to find something that fits their interests and goals!
The only limitations we found here are that it doesn't offer an astronomy degree and it has no European Studies postgraduate program.
Still, we considered it one of the best as it has many programs in almost all fields. Surely, you" have a place here as long as you qualify to become one of its students!
Among top 1.1% of universities worldwide
170 years as education institution
Active in research
Extensive courses range in many fields
Doesn't offer astronomy degree
No European Studies postgraduate program
Customer Reviews
Majestic campus
"Majestic campus full of rich history, culture, and beauty. I highly recommend taking a walking tour around the campus admiring the peaceful sounds of the river while learning about the "Queens college Cork" established in 1849 being rejected by the Catholic clergy for the first half century. Crawford Observatory built in 1880 to study life beyond earth is pretty epic looking." – Luke Ratterman
Center for excellence
"University College Cork, a center for excellence. Creates a home for international students. Makes effort to assist the international students to have a swift transition and settle in the community. Always checking on them, not just on the academic section, but general well being. I will choose this school a million times and wouldn't think twice to recommend to someone…" – Loveth Chidimma Ani
2. Munster Technological University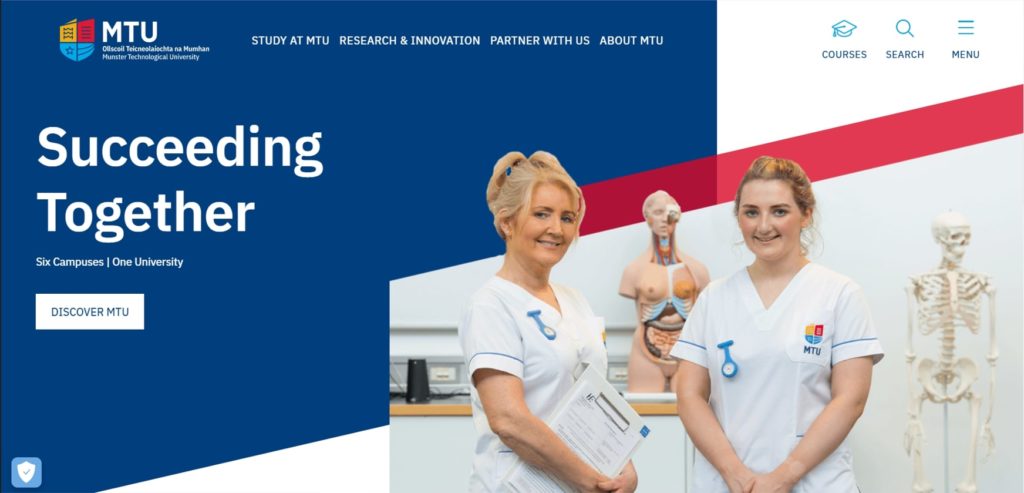 Test
Info
COURSES

Business and Accounting

Engineering

Biosciences

Biomedical

Computer Systems

Arts

Theater

Architecture

Design

Music

Sports

Tourism

Communications

Full Time and Part-Time Courses

WEBSITE
https://www.mtu.ie/
ADDRESS
Rossa Ave, Bishopstown, Cork, Ireland T12 P928
CONTACT DETAILS

Phone: +353 214 326100

OPERATING HOURS

Monday to Friday, 8:00 a.m. - 10:00 p.m.

Saturday, 8:00 a.m. - 5:00 p.m.
| | |
| --- | --- |
| COURSES | ★★★★★ (5/5) |
| FACILITIES AND EQUIPMENT | ★★★★★ (5/5) |
| ACCESSIBILITY | ★★★★☆ (4/5) |
| SUPPORT SERVICES AND SCHOLARSHIPS | ★★★★☆ (4/5) |
| REPUTATION | ★★★★★ (5/5) |
Located in Bishopstown, Munster Technological University is really an institution to consider when you're planning to study college in Cork.
We like that it has full time and part time courses. This college offers a wide range of options for students who are interested in pursuing a career in arts, business, computing and engineering.
There are also opportunities for students to take part in exchange programs with other universities across Europe.
Also, it has a good range of arts courses. Munster Technological University offers a wide range of arts courses including history, English literature and modern languages such as French and German.
The university also has an extensive collection of art exhibitions on display throughout the year that students can visit free of charge.
On top of all of these are vibrant student communities for having many student societies that run throughout the year including drama groups, sports clubs, music groups and chess clubs among others.
There are also opportunities for students to participate in community events such as volunteering or working with charities.
Another thing we like is that it offers international opportunities. This college has a large number of international students from over 100 countries around the world, making it one of the most diverse universities in Ireland.
As for minor drawbacks, we included the uncategorized courses on its website and the absence of Asian studies courses. Don't worry, the courses it offers are easily searchable.
Has full time and part time courses
Good range of arts courses
Vibrant student communities
Values inclusion and sustainability
Uncategorized courses on website
No Asian studies course
Customer Reviews
Various programs
"Very helpful staff at CIT. Various programs are offered and International students are welcome. There's quite a number of students from the Erasmus program. Students can find accommodation easily. There's plenty of places to eat inside the campus that offers delicious meals and with low prices. There are student societies that are fun to join and one gets to meet other students from different programs." – B M
Opens doors
"My experience at Cork Institute of Technology Ireland opened the doors of my intellectual profundity and wider horizons. CIT is sure." – Mr Valentine
3. Griffith College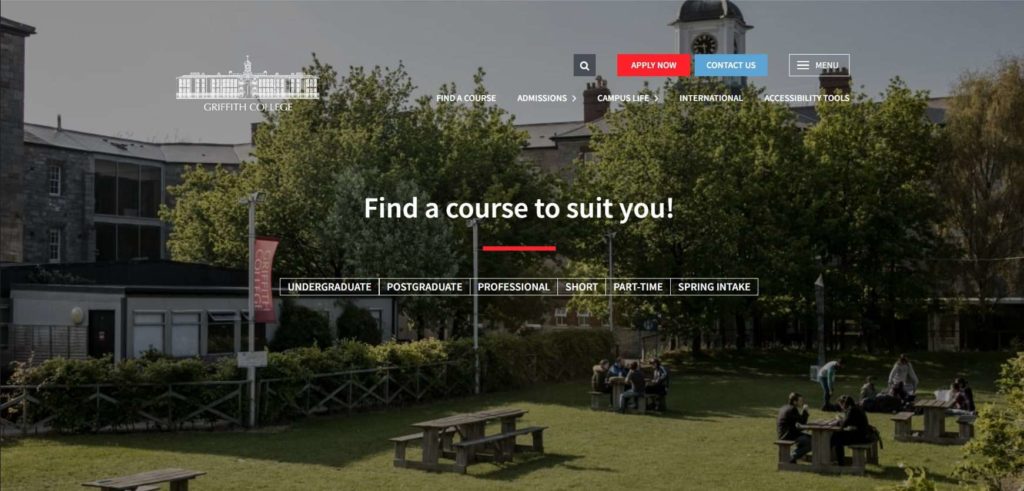 Test
Info
COURSES

Apprenticeships

Business

Computing

Counseling and Psychotherapy

Creative Arts and Screen Media

Design

Engineering

Business

Languages

Accountancy

Journalism and Media

Law

Music, Sciences

Teaching

Music and Drama

WEBSITE
https://www.griffith.ie/
ADDRESS
Wellington Road, Cork, Ireland T23 FC92
CONTACT DETAILS

Phone: +353 214 507027

OPERATING HOURS

Monday to Thursday, 9:00 a.m. - 10:00 p.m

Friday, 9:00 a.m. - 5:00 p.m.
| | |
| --- | --- |
| COURSES | ★★★★☆ (4/5) |
| FACILITIES AND EQUIPMENT | ★★★★★ (5/5) |
| ACCESSIBILITY | ★★★★★ (5/5) |
| SUPPORT SERVICES AND SCHOLARSHIPS | ★★★★☆ (4/5) |
| REPUTATION | ★★★★☆ (4/5) |
If you're looking for a college that is ideal for a flexible schedule because you want more time for other matters, you might want to go here.
Griffith College is located in the city center, close to all of Cork's major attractions. The college is conveniently located, so you won't bother taking a long ride if you just live around Cork.
Another thing we love here is it offers comfortable accommodation with modern facilities and amenities. The college's halls of residence include facilities that are amenable for preparing your own meals and doing your laundry.
Not only that, but it also offers night courses for international students who live far away from Cork but still want to study there. Like we've said earlier, this college values your time so you have more room to study on your own.
We also like that students have access to a wide range of legal courses that fit into their busy schedules—most of them are part-time and can be taken online or at night , meaning you don't have to relocate your life.
Another reason that brought this school to this list is that it's welcoming to international students.
However, there are no medical courses here and the engineering programs are in its Dublin campus. Your experience won't be compromised, though. as there are still many options in its Cork campus.
Located in city center
Offers comfortable accommodation
Has night and online courses
Many legal courses (mostly part-time)
No medical courses
Engineering courses are in Dublin campus
Customer Reviews
Interesting experience
"Truly interesting experience of learning into an International institution where you can find absolute knowledge and fun at the same time. I am glad that I was part of GCC and could be able to gain knowledge and experience with such an amazing faculty and people in the college." – Krittika Rane
Blended teaching
"The best decision for my post graduate studies! A really interesting course that is exactly what I need to advance my career and build on my education. Griffith has provided me with a chance to fit my education around my work commitments with a blended teaching modality!" – Stephanie McCarthy
4. Cork English College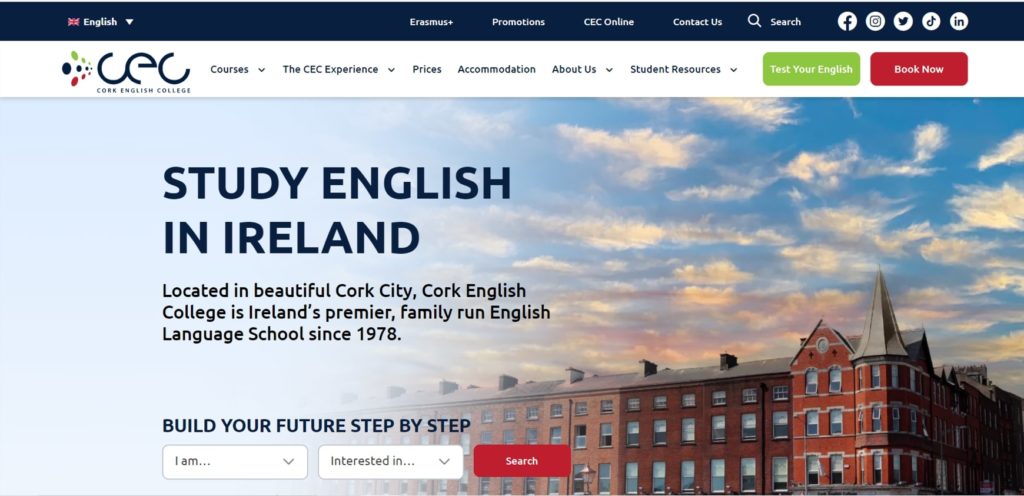 Test
Info
COURSES

General English

Exam Preparation Courses

Evening Courses

Business English

Self-Study Courses

Virtual Courses

Teacher Courses

WEBSITE
https://corkenglishcollege.com/
ADDRESS
St Patrick's Brg, Victorian Quarter, Cork, Ireland T12 AX93
CONTACT DETAILS

Phone: +353 214 551522

OPERATING HOURS

Monday to Friday, 8:30 a.m. - 5:30 p.m.
| | |
| --- | --- |
| COURSES | ★★★★☆ (4/5) |
| FACILITIES AND EQUIPMENT | ★★★★☆ (4/5) |
| ACCESSIBILITY | ★★★★★ (5/5) |
| SUPPORT SERVICES AND SCHOLARSHIPS | ★★★★☆ (4/5) |
| REPUTATION | ★★★★☆ (4/5) |
Want to get better at speaking the English language in different settings? Then Cork English College might just be an option for you.
For us, Cork English College is one of the top colleges in Cork because of its helpful programs that can help you to pass admission tests in top universities and even in other qualifications.
What's more, this college has extensive teacher training courses. Whether you're new to teaching or have been in the field for years, there's a course here to help you improve your skills.
The main reason we included it here is it specializes in English courses. Be it for business or a simple English summer program, it can help you!
Moreover, we find its flexible courses very convenient. You can choose from a wide variety of subjects from business English and academic English to Cambridge exams and IELTS preparation classes.
Another convenient fact here is there are virtual courses and self-study courses that also focus on the use of English language. To know which one is best for you, you can test your skills on its website before proceeding to booking a course.
However, unlike bigger colleges, the courses here are more on the English language and are short-term. It's best for those needing refresher or are preparing for some exams.
Helpful exam prep programmes
Extensive teacher training courses
Flexible courses
Specialized in English courses
More on English courses
More on short-term courses
Customer Reviews
Professional teachers
"CEC is the best experience for students. I'm sure This is one of the easiest ways to practice and improve your English. You find here: high professional teachers, very good teaching methodologies, friendly and welcoming team, interesting activities and etc.
Don't lose your time. Let's study English with CEC!" – Людмила Сербін
Useful activities
"Cork English College is an amazing school that have excellent teachers and lots of extra activities which are really useful to learn and improve very fast.
They also have an e-learning platform and a grammar app which are very helpful if you want to study by your own…" – Pamela Abarca Rivera
5. Cork College of FET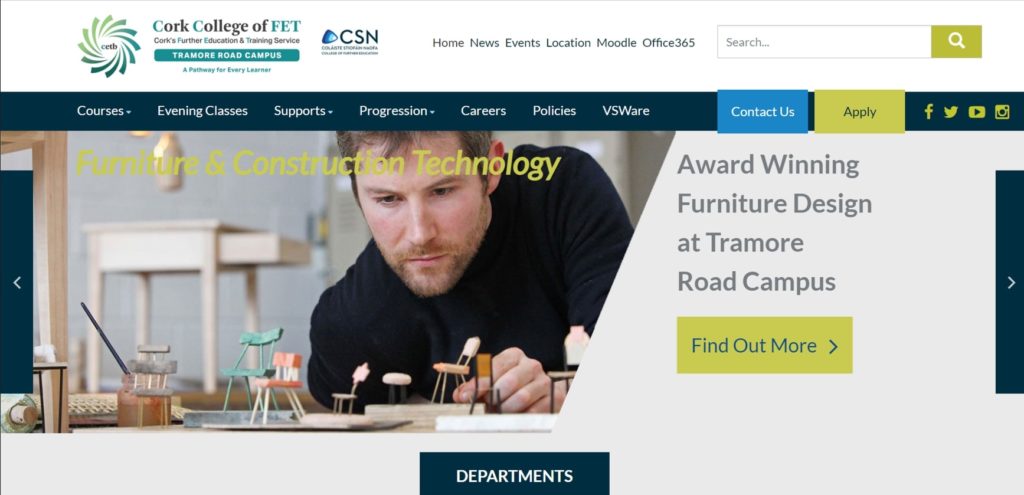 Test
Info
COURSES

Back to Education Initiative

Art

Craft & Design

Construction

Applied Sciences

Creative Media Technology

Environment & Horticulture

Health & Social Studies

Performing Arts

Sport

Recreation & Outdoor Education

Tourism

Hospitality & Food

WEBSITE
https://www.csn.ie/
ADDRESS
Tramore Rd, Ballyphehane, Cork, Ireland T12 AC91
CONTACT DETAILS

Phone: +353 21 4961020

OPERATING HOURS

Monday to Friday, 9:00 a.m. - 5:00 p.m.
| | |
| --- | --- |
| COURSES | ★★★★☆ (4/5) |
| FACILITIES AND EQUIPMENT | ★★★★☆ (4/5) |
| ACCESSIBILITY | ★★★★☆ (4/5) |
| SUPPORT SERVICES AND SCHOLARSHIPS | ★★★★☆ (4/5) |
| REPUTATION | ★★★★☆ (4/5) |
Are you looking for a college that offers you a variety of performing arts courses and programs to choose from. If so, then Cork College of FET is the one for you.
The first reason why Cork College of FET is one of the best colleges is because it has a good performing arts education program. All of its teachers are trained professionals who know what they're doing.
Another reason is its fitness and physical education course that's one of a kind and can help prepare students for life after college.
Not only will they learn how to stay fit while still having fun at school but they will also learn how to make healthy choices when eating out with friends or family members!
We also find its construction course a great experience through the hands-on teaching which helps prepare students for jobs after graduation. This covers both basic carpentry and furniture design which is a demand for booming infrastructure projects on residential.
Not only that, but we also find its Emergency Services course very helpful. In just a year of this course, students can learn how to respond and handle emergencies in the workplace and be more aware of their surroundings.
Take note that this college has no engineering and medical degrees offered. It's not a big deal, considering that you can be an effective first-aid and emergency responder with its emergency course training.
Good for performing arts education
Good fitness and physical education
Comprehensive construction course
Helpful Emergency Services course
No engineering courses
No medical courses
Customer Reviews
Helpful staff
"Unsure of what your future holds , uncertain what to do after your leaving cert , Wanting to work at something you love ..PLC Colleges are the way to go ..Tramore road Campus is one of the best around , do yourself a favour and check out their Prospectus to see what's on offer and then pop in to talk to the very helpful and friendly staff .. 10/10" – Feárgus ODonoghue
Nice atmosphere
"This college has a really nice atmosphere and I have to say it was a pleasure to teach the students there. They are all very focused and willing to ask questions etc T Teachers seem to be popular and interested in Students welfare evidenced by the counselling facilities available." – Brian O'Byrne
FAQs about the best colleges in Cork
---
While it may seem like an expensive choice due to high tuition costs and an expensive living environment, Cork is a good place to study because of its beautiful, quiet, inclusive, and safe environment.
You can also take a look at some of Ireland's best colleges if you want to explore more.
---