The 6 Best Kids Dentists in Dublin
Bringing your child to the dentist early on is better for their oral health and can help you save more money over time. However, going to the dentist can be a stressful affair for both kids and parents alike.
This is why it's important to find a dentist with experience handling kids. Well, good thing you're reading this because we've already listed down the best kids dentists in Dublin!
In this article, you'll see the clinics where they practice, their rates, perks, and downsides, among other essential info.
And to get you started, we've first outlined first how much dental services may cost you.
How Much Do Kids Dentists Cost in Dublin
To prepare you financially, we've laid out the costs ofsome of the common dental treatments for kids our featured dentists offer.
SERVICE
COST
Portobello Dental Clinic
Dental examination
Hygienist visit
Inhalation sedation
€40 – €65
€60 – €80
€120
Dublin Orthodontists
Dental examination (children under 16 and students)

Orthodontic procedures
– Mild case
– Moderate case
– Complex case
Free


Approx. costs:
€215 (12 monthly payments)
€180 (18 monthly payments)
€180 (21 monthly payments)
Killiney Dental
Dental examination (incl. small X-rays)
Scale and polish (child under 12)
Extraction (child under 12)
€25
€40
€50
Dr Margaret Tuite
Dental examination (Dr Tuite)
Dental examination (associate dentist)
Recall (check-up)
Hygiene session (30 min)
Simple extraction
Complex extraction
€150
€80
€80 – €100
€80
€80 – €150
€150 – €250
Swords Dental
Dental examination
Examination w/ scale and polish
Baby tooth extraction
€50
€90
€100
KBM Dental Clinic
Check-Up
Scale & Polish
Fissure Sealants
Tooth Extraction
Fillings
€30
€30
€30
€50 – €70
€40 – €70

The Best Kids Dentists in Dublin
Now that you're more aware of various dental fees, let's head on toward our top picks for Dublin's best kids dentists!
1. Dr Daisy McCarthy – Portobello Dental Clinic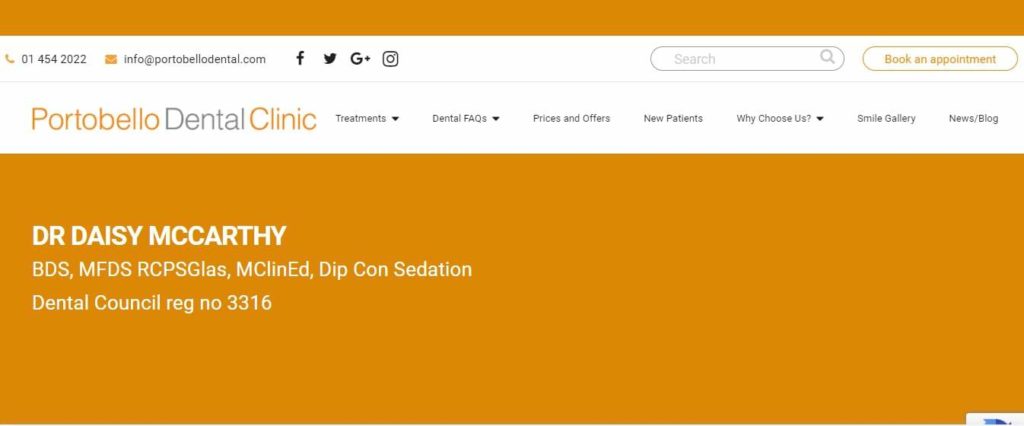 SERVICES
General, cosmetic, orthodontics, and preventative dentistry Dental phobia (sedation) and no teeth solutions

Click here for a complete list of treatment fees
WEBSITE
https://www.portobellodental.ie/
ADDRESS
34 South Circular Road, Portobello, Dublin 8
CONTACT DETAILS
01 454 2022


[email protected]

OPERATING HOURS
8:00 am to 8:00 pm (Monday – Thursday)
8:00 am to 5:00 pm (Friday)
9:00 am to 2:00 pm (every 2nd Saturday)
Because seeing the dentist can be a scary experience for your child, we recommend Dr Daisy McCarthy, Portobello Dental Clinic's dentistry expert for children. Aside from being a tutor in dentistry, she also has experience working with young anxious patients.
As a dentist with a particular interest in sedation treatment for children, Dr McCarthy provides dental treatments for kids under inhalation sedation.
Through inhalation sedation, children can have their teeth fixed in a more relaxing and less anxious way. This service is priced at €120.
Meanwhile, if you're unsure of what dental treatment your child needs, what's great about Portobello Dental Clinic is that they have a treatment coordinator who'll advise you for free.
They also have a large team—6 dentists, 3 dental hygienists, 3 dental nurses, coupled with clinic and treatment coordinators to help you with any dental treatment you require.
Free consultation with treatment coordinator
Operating hours up to 8:00 pm
Broad range of services
Offers a pay as you go plan
Customer Reviews
Take a look at what their patients have to say:
"I am so glad I found the Portobello Dental Clinic and have no hesitation in recommending them to my family and friends. Everyone at the Portobello clinic is professional and friendly and the follow up phone call after treatment, to inquire how I was feeling was much appreciated." -Lorraine
"I had a wisdom tooth removal yesterday with Dr. Daisy McCarthy and had the best dental experience ever! I had some really bad dental experiences in the past so I decided to go with conscious sedation this time. Dr. Daisy explained everything and made sure that I really don't remember one single thing of the procedure. Not even 24 hours have passed since the procedure and I barely feel any discomfort. She's a miracle worker 🙂 I would definitely recommend this clinic to anyone with dental fear and anxiety." -Vania Turk
2. Dr Claire O'Sullivan – Dublin Orthodontists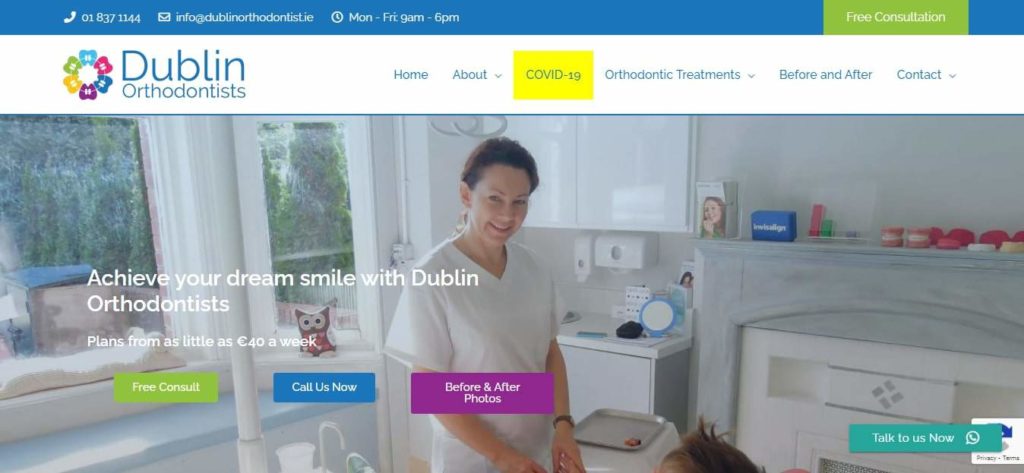 SERVICES
Orthodontic treatments:
Adult, teens, and kids braces, clear braces, 6-month smile, Invisalign, orthodontic retainers, and functional appliances

Click here for examples of orthodontic payment plans
WEBSITE
https://dublinorthodontist.ie/
ADDRESS
College Gate Clinic, 123 Ballymun Rd, Glasnevin, Dublin 9, D09 W523
CONTACT DETAILS
01 837 1144


[email protected]

OPERATING HOURS
9:00 am to 6:00 pm (Monday – Wednesday, Friday)
9:00 am to 7:00 pm (Thursday)
If your child has crooked or misaligned teeth, orthodontics is the branch of dentistry that treats this. For this, check out Dr Claire O'Sullivan, a registered specialist orthodontist with more than 25 years of experience.
Having formerly worked under the HSE, Dr Sullivan has a wide range of experience treating patients in orthodontics. Moreover, her interest lies in the utilisation of braces in children as they grow older.
And if you're child doesn't like the look of traditional braces, Dr Sullivan offers Invisalign, or clear plastic retainers in place of braces. Invisalign can treat teeth crowding, bite problems, as well as teeth gaps.
We also recommend Dr Sullivan for affordability since Dublin Orthodontists offers free consultations for patients who are students or those under 16 years old. But if you're neither of the two, you can still get a consultation for a fee of €50.
Offers Invisalign invisible braces
All breakages of appliances are fixed for free
Interest-free flexible payment plans
Free consultation
Customer Reviews
Below are some great sentiments from their patients:
"My son just got his braces off and he's very happy with his new smile. Thanks girls." -Jeanette brunswick Brunswick
"Very helpful and professional staff, always very clean. Claire has been so understanding throughout my treatment and herself and her team have done the absolute best for me during my treatment and I'm very pleased with my smile now. I would highly recommend!" -April Thompson
"Both of my sons went to Claire O'Sullivan orthodontist. They were very happy with her work and with the finished product! She doesn't give up until the problem with the teeth are corrected. The staff are always great to deal with. There are a lot of orthodontists in the locality, some recommended to me, but I would recommend Claire over any of them! Thanks guys." -Celine Sterritt
3. Dr Rosemarie Maguire – Killiney Dental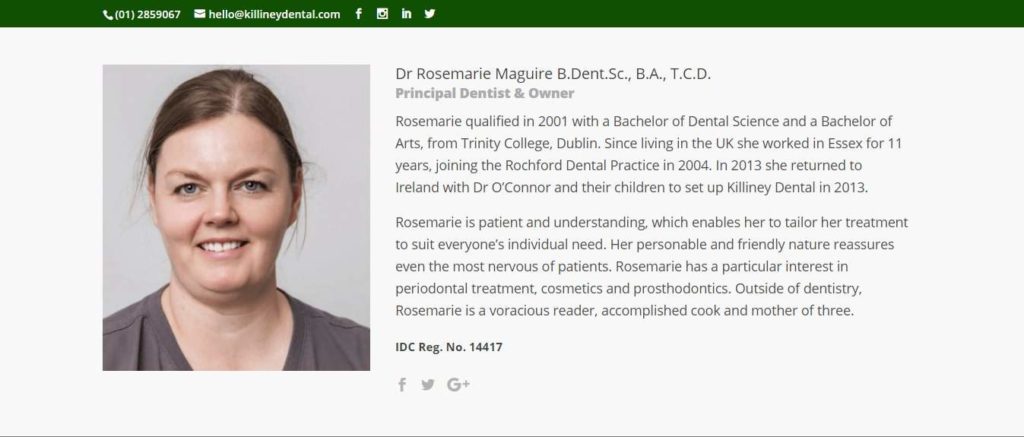 SERVICES
General, cosmetic, preventive, and children's dentistry, teeth whitening, dental braces, and dental implants

Click here for a complete list of treatment fees
WEBSITE
https://killineydental.com/
ADDRESS
112 Churchview Road, Killiney, Co. Dublin, A96 CF68
CONTACT DETAILS
01 2859067


[email protected]

OPERATING HOURS
9:00 am to 6:00 pm (Monday, Wednesday, Thursday)
9:00 am to 9:00 pm (Tuesday)
9:00 am to 5:00 pm (Friday)
By appointment (Saturday)
Dr Rosemarie Maguire of Killiney Dental is on our list for a number of reasons. Firstly, parents, especially moms, would be delighted to know she's a mom as well (to 3 kids all under 7) and can, therefore, understand how to keep kids calm.
She also has experience with thousands of children after working in the NHS for 17 years as a general dentist. Furthermore, her particular interests include family dentistry and periodontal treatment, among others.
As a limited offer of Killiney Dental, you can bring your kids (under 5 years old) to Dr Maguire for a free consultation. Killiney Dental is also a child-friendly clinic, with buggy access and changing tables, coupled with colouring books plus in-surgery TVs.
What's more, if you're worried about not being able to bring your child to Dr Maguire in the daytime due to work, their Tuesday operating hours are up to 9:00 pm. This is specifically to accommodate working parents and children in school.
Child-friendly facilities
Free Wifi
Operating hours up to 9:00 pm
Flexible payment plans
Annual family reminders for routine check-ups
Closed on Sundays
Cancellation fee is cancelled in less than 24 hours
Customer Reviews
See what their happy patients have to say about their services:
"Definitely recommend it! Me and my 4 year old son really enjoyed Killiney Dental. They are a friendly and very professional team. The atmosphere is very welcoming and relaxing. I think the best I have to say is: my son left there saying he wants to be a dentist!" -Filomena Parreira
"Such a calm and relaxing environment, I have no more anxiety about going to the dentist, lovely staff, thanks for everything." Robyn and Lukey
"An amazing dentist all round. The staff are so friendly and welcoming. The place is spotless. I haven't a bad thing to say about Killiney dental. Best dentist in Dublin." -Ryan O'Connor
4. Dr Margaret Tuite – Dr Margaret Tuite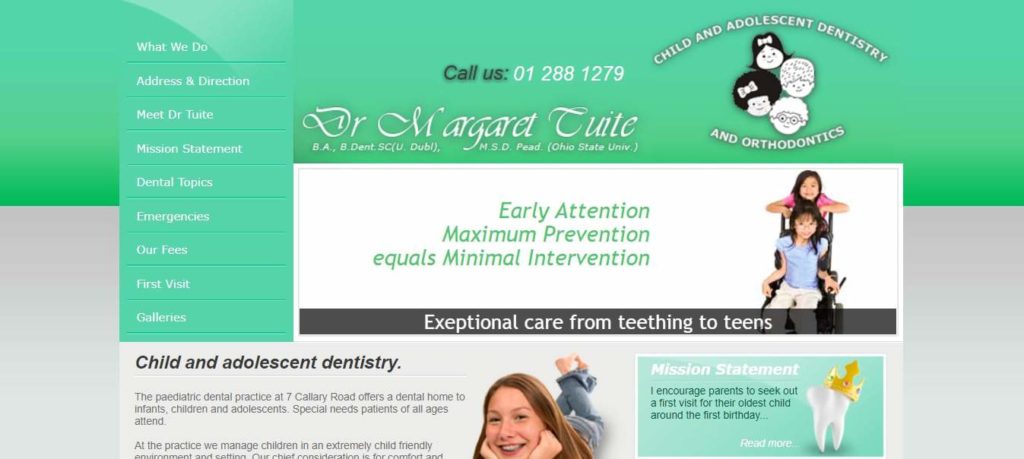 SERVICES
Routine dental check-ups, restorative treatment, orthodontic treatment, and on-site general anaesthetic

Click here for a complete list of treatment fees
WEBSITE
http://www.childrensdentistry.ie/
ADDRESS
Callary Rd, Mount Merrion, Blackrock, Co. Dublin
CONTACT DETAILS
01 288 1279


[email protected]

OPERATING HOURS
8:30 am to 5:00 pm (Monday – Friday)
If you're looking for a dental clinic that focuses solely on children, Dr Margaret Tuite provides that. Dr Margaret Tuite is a paediatric dentist offering oral care services such as orthodontics, extraction, X-rays, and more for kids ages 0 to 16.
What's more, she also extends her services to special needs patients, regardless of age.
A graduate of Trinity College Dental School and Ohio State University, Dr Tuite is also a multi-awarded dentist with over two decades' experience in child dental management.
Another noteworthy feature of Dr Tuite's clinic is its operating theatre suite where various methods of sedation are utilised to ensure successful dental treatments for children.
Also, parents need not worry because such anaesthetic treatments are conducted by a team composed of a consultant paediatric anaesthesiologist and two nurses.
As expected of a pediatric dentist, Dr Tuite's clinic is, of course, kid-friendly. Kids can have fun in the clinic's colouring station and create a picture to add to the art gallery.
However, with the lack of flexibility in Dr Tuite's clinic hours, parents and kids alike would just have to adjust to this by making time.
Services special needs children
Anaesthetic team
Child-friendly clinic
Closed on weekends
Short operating hours
Expensive dental exam fee
Customer Reviews
Below are a number of rave reviews from their patients:
"My son Joseph age 6 has autism, staff made us feel at home with everything being so calm and our own private room. Joseph was put to sleep for his dental work and was so looked after. Everything went well and he woke without pain . Everything was so clean and all the staff wore face masks and hand gels in every room. Private parking too. We also got a next day call to see how he was. I would recommend them every time. And thanks again." -Jennifer
"We had an amazing journey with Dr Tuite. Our son had a very complicated orthodontic situation along with anxiety about dentists. Our local dentist in Westmeath recommended Dr Tuite as the best person to deal with the situation and he was so right. It's 3 years since his first visit and he now has a wonderful straight smile and told me he would miss going to Dr Tuite regularly! Amazing result both physically and emotionally thanks to the professionalism, compassion, skill and experience of Dr Tuite and her team." -Martin Rogers
5. Dr Lyndsey McTavish – Swords Dental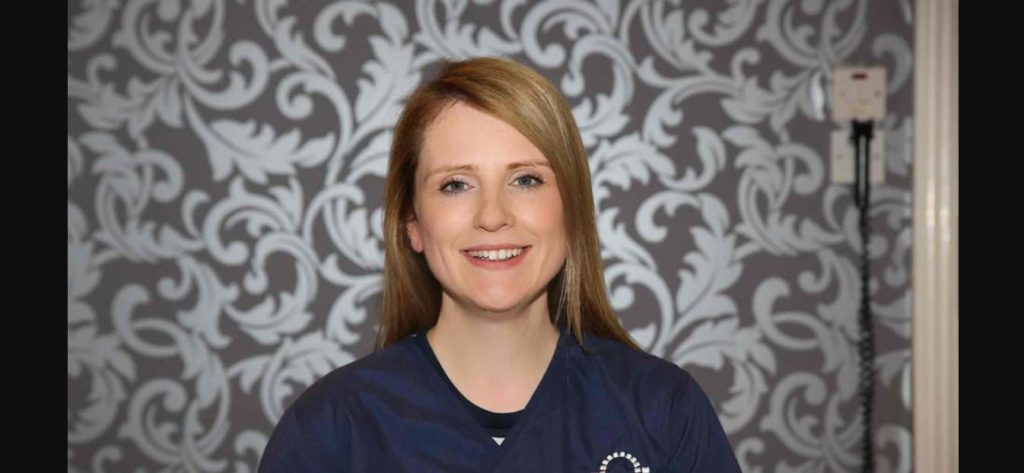 SERVICES
Check up, dental hygienist, sedation, nervous patients, white fillings, extractions, dentures, children's dentistry, teeth whitening, implants, crowns, and bridge

Click here for a complete list of treatment fees
WEBSITE
http://swords-dental.ie/
ADDRESS
No. 66, Main Street, Swords, Co. Dublin
CONTACT DETAILS
(01) 840 1001


[email protected]

OPERATING HOURS
9:00 am to 5:30 pm (Monday)
8:30 am to 7:00 pm (Tuesday)
8:00 am to 5:30 pm (Wednesday, Thursday)
8:00 am to 4:30 pm (Friday)
9:00 am to 1:00 pm (Saturday)
We recommend Dr Lyndsey McTavish of Swords Dental as another great dentist for kids who are scared of going to the dentist.
Dr McTavish As a member of the International Society of Dental Anxiety Management with a diploma in conscious sedation, parents would be glad to know she's an expert in her field.
Aside from being Swords Dental's child dentist (and a mom as well), she handles all sedation procedures which include premedication, inhalation sedation, and IV sedation.
Some of the things Dr McTavish can help your kids with include the installation of fissure sealants, diagnosis and prevention of tooth wear and erosion, and diagnosis of problems such as tooth crowding and missing adult teeth, among others.
Operating hours up to 7:00 pm
Another clinic in Balbriggan
Dentist is a dental phobia expert
Closed on Sundays
Shorter operating hours on Saturdays
Dental exam is second-most expensive on list
Customer Reviews
Check out what Dr Lyndsey's patients have to say about her:
"Great dental clinic. Lyndsey with her assistant providing excellence service. My son was in pain and Swords Dental were the only place where they get a job done. Thank you very much!! 100%" -Michal Reges
"Fantastic dental surgery. Great friendly service. Brought my daughter who was a very anxious patient and got sorted in 2 visits. Dr Lyndsey is truly brilliant at her job. Can't recommend enough." -Noel Smith
"The wonderful Dr Lyndsey Mc Tavish took this very nervous patient. I had sedation, slept through my treatment. My best trip EVER to the dentist . Thank you Dr Lyndsey. I'll be back." -Maureen Breen
6. KBM Kids Dental Clinic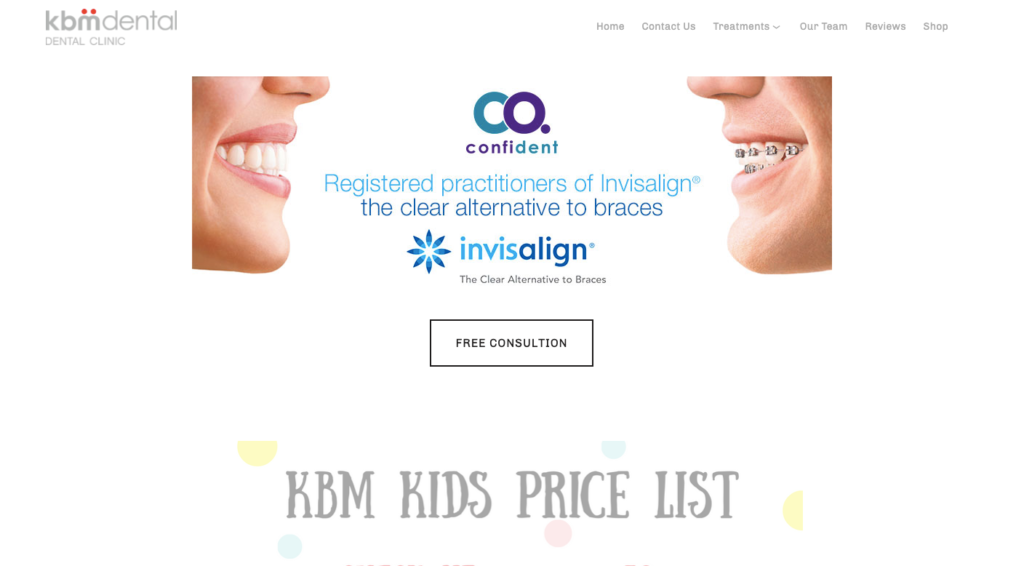 SERVICES
Cleaning and Prevention, Teeth Whitening, Fillings, Crowns, Bridges, and Veneers, Extractions, Dentures, Implants, Invisalign Braces, Night and Snore Guards, Endodontics and Facial Aesthetics
WEBSITE
https://www.kbmdental.ie/kbm-kids
ADDRESS
Unit 2 Grange Road Office Park, Grange Rd, Rathfarnham, Dublin 16, D16 K160, Ireland
CONTACT DETAILS
(01) 495 7844


[email protected]

OPERATING HOURS
Sunday: Closed
Monday: Open 24 hours
Tuesday: 8:00 AM – 5:00 PM
Wednesday: 9:00 AM – 6:30 PM
Thursday: 8:00 AM – 7:30 PM
Friday: 8:00 AM – 4:00 PM
Saturday: 9:00 AM – 2:00 PM

It is easier said than done to get children to clean their teeth. As any parent knows, they are constantly bombarded with advice on how to best care for our children's dental hygiene.
Trying to convince a child that they need to clean their teeth to prevent plaque is clearly futile, so if you want to win the teeth-cleaning battle, KBM Kids Dental Clinic will be there for you.
They provide a wide range of dental services for your kids from Check-Up, Scale & Polish, Fissure Sealants, Tooth Extraction and Fillings.
Inconsistent operating hours
Customer Reviews
Below are a number of reviews from their patients:
"Have fully switched dentists over to KBM after having the most easiest and greatest experience with Siobhan the receptionists and with Dr. Rebecca; who makes you feel very comfortable in the chair, I highly recommend." – Jack Furlong
"I had not been near a dentist for over 30 years so I wS not looking forward to this experience. I was advised by a medical consultant that decaying teeth have a adverse impact on the heart. So off I go seeking a dentist close to where I live. Enter KBM Dental. What a wonderful experience. All my worries were soon dissipated. Dr. Rebecca and her team were excellent, professional, helpful and reassuringly with advice and treatment. What was I worried about!!! I am now undergoing a course of treatment. I would highly recommend Dr. Rebecca and KBM Dental." – Tim Lyne
How to Choose the Right Dentist for Your Kids
Aside from qualifications, below are some factors you need to consider to help you select the right dentist for your child:
1. Child-friendly facilities
Because most kids find it scary to visit a dentist, having a clinic with kid-friendly amenities such as toys, books, art supplies, and TVs can help lessen their fear.
Also, these things can keep your other kids entertained while their sibling is receiving dental treatment.
2. Time and location
If you're a working parent, it's best to choose a dentist who extends his or her services beyond office hours so you can accompany your child. Because kids are active, make sure to also inquire if they're open for emergency cases.
Likewise, it's also a good thing to pick a dentist whose clinic is near your house, so you can quickly bring your child for any emergencies
3. Online reviews and referrals
Through reviews, you can have a glimpse of other parents' experiences with a particular dentist. Of course, you should also ask parents you personally know for their recommendations.
4. Parent-dentist
Some parents are more at ease knowing that the dentist treating their child is also a parent. If this is you, one way you can ascertain this info is by clicking the About Us or Our Team section of a dental clinic's website.
FAQs about the Best Kids Dentists in Dublin
---
And that concludes our feature on Dublin's best kids dentists! We hope our choices have brought you a step closer to finding the right dentist for your kid's oral care needs.
Do you know of other great dentists in Dublin that should have landed on our list? Please contact us, and we'll check them out ASAP!
Know someone in Waterford who needs dental treatment? You can help them by checking out our list featuring the best dentists in Waterford!