The 7 Best HVAC Service Providers in Dublin
Imagine having a home or a business without a proper HVAC system—uncomfortable, we know. So if your HVAC system is on the fritz, you definitely need to get it fixed ASAP.
Hence, today's article will feature the best HVAC service providers in Dublin to help you get whatever air conditioning, ventilation, and heating services you need.
We're also giving you other info such as answers to some FAQs and tips to help you choose the right HVAC company.
Ready to see our top picks? First, let's take a look at some facts about HVAC service costs.
HVAC Service Costs in Ireland
In terms of air conditioning units, the costs are dependent on a number of factors, such as efficiency rating and size, according to Trusted Services Ireland.
Also, expect commercial applications to be pricier than those made for residential use.
Another factor that can affect the cost of air conditioning installation is the absence of existing ductwork and the capability of the building's electrical system.
As regards heat pump installation, air-source heat pumps cost between €8,500 to €14,500. Meanwhile, ground source systems range from €12,500 to €23,500, according to Electric Ireland.
You'll need to consider the age and size of your property, levels of insulation and thermal efficiency, the number of rooms and radiators, among others.
The Best HVAC Service Providers in Dublin
Without further ado, let's get right to our selections for Dublin's best HVAC service providers!
1. Thermodial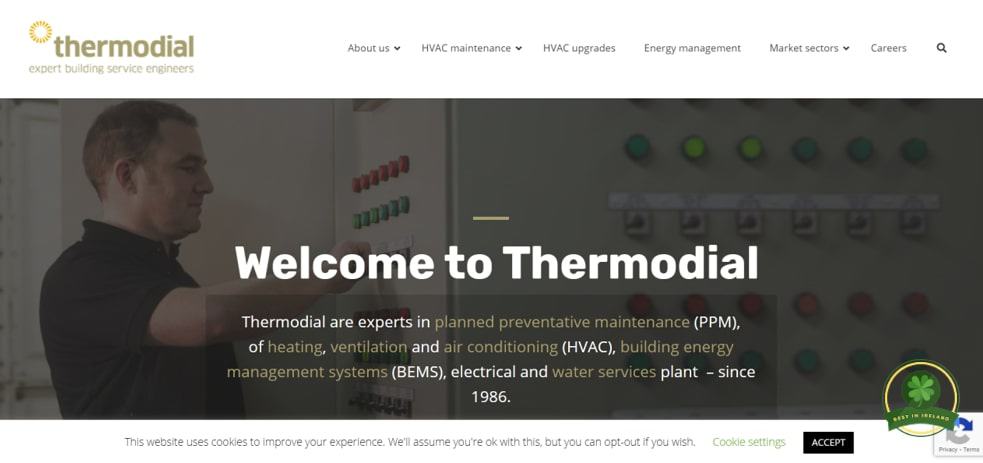 | | |
| --- | --- |
| SERVICES | HVAC PPM, ventilation service and maintenance, BEMS & controls service and maintenance, heating maintenance, air conditioning service and maintenance, water services maintenance, HVAC upgrades, and building energy management |
| WEBSITE | https://www.thermodial.ie/ |
| ADDRESS | Centre Point Business Park, Oak Rd, Dublin 12, D12 C9T2 |
| CONTACT DETAILS | +353 1 409 7696 |
Thermodial was founded in 1986 by 3 engineers. On their website, you'll find info on their large team which comprises HVAC service engineers, contracts managers, among other staff.
In terms of qualifications, they are registered with the following: F-Gas Registration (FGR), Register of Electrical Contractors, Ireland (RECI), Safe Electric, Register of GAS Installers, Ireland (RGII), and the National Irish Safety Organisation (NISO).
Thermodial specialises in providing HVAC maintenance services. This includes maintenance of ventilation, water, heating, air conditioning, building energy management (BEMS) and controls, as well as HVAC planned preventive maintenance or PPM.
This doesn't mean that they don't offer installation services, though. You can also contact them for HVAC upgrades, ranging from boiler upgrades to VRV systems (Daikin).
Another great thing about them is that they provide an all-year-round 24/7 callout service, so they're largely dependable should you encounter any problems with your HVAC systems.
Offers 24/7 callout services
Large team
Experience with multiple sectors 
No portfolio on website
No mention of finance options 
2. Shiva Air Conditioning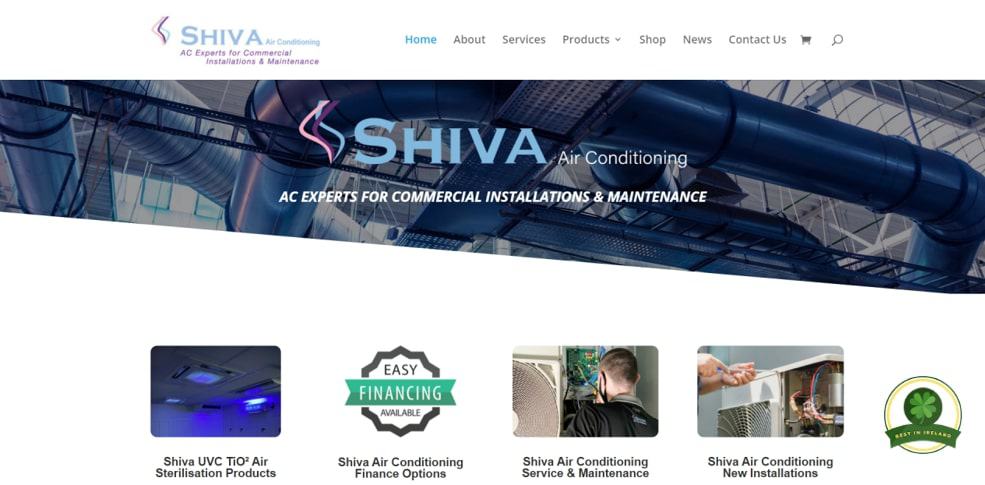 SERVICES
New installations, troubleshooting/fault finding, air conditioning maintenance, comms/server rooms, residential/home office, UVC TiO² Air Sterilisation products, air conditioning survey/design, R22 & R407C replacement, and portable air conditioning
RATES
Callout charge (1st hour & travel incl.):
Normal charge – €130
Contract holder – €80

Engineer hourly rate:
Normal charge – €65
Contract holder – €50

Engineer & apprentice hourly rate:
Normal charge – €95
Contract holder – €85

Out of hours hourly rates (single engineer):

Monday – Thursday (5:00 pm to 7:30 pm):
Normal charge – €85
Contract holder – €65

Friday 3:30 pm to Monday 7:30 am:
Normal charge – €85
Contract holder – €65

Bank holidays/public holidays:
Normal charge – €95
Contract holder – €65
WEBSITE
https://shiva.ie/
ADDRESS
Unit 8, Ballymount Cross Business Park, Ballymount Road Lower, Ballymount, Dublin 24, D24 PYK2
CONTACT DETAILS
(01) 4539118


[email protected]

OPERATING HOURS
8:00 am to 6:00 pm (Monday – Saturday)
9:00 am to 5:00 pm (Sunday)
Looking for AC experts for your home or business? Shiva Air Conditioning offers a wide array of air conditioning services, such as installations, repairs, maintenance, design and more.
They even have a showroom where you can view all their AC models, ranging from standard 4-way cassettes to portable aircons. Also, they are a Toshiba Air Conditioning affiliate, which means they can offer up to 7 years parts and labour warranty.
And if you'd like to have aircon units with air purification features, Shiva developed its own air purification and sterilisation solution that can be fitted to any existing aircon.
Moreover, they offer discounts for clients who are PPM contract holders. Hence, you can save more if you would avail of their services for a longer period of time.
Other perks inclusive of being a contract holder are optional 24/7 breakdown cover and no mileage charges within the Dublin and greater Dublin areas.
On top of this, Shiva offers finance options, one of which is their partnership with Flexifi, allowing customers to spread their payments.
Online shop available
Open 7 days
Showroom available
Extensive air conditioning services
Offers finance options
Discounts and other perks for contract holders 
Pricing info available 
Services focused on air conditioning 
Unclear what other areas aside from Dublin are serviced 
Customer Reviews
Below are some positive sentiments from Shiva Air Conditioning's clients:
"Very innovative company. Brilliant products. Nice people too." -Kevin McDonald
"Very professional company to deal with . Excellent advice , support and sales." -Karl White
"Had our air conditioning units serviced by the guys in Shiva recently excellent work as always!" -Ciaran Larkin
3. Alpha Mechanical Services Ltd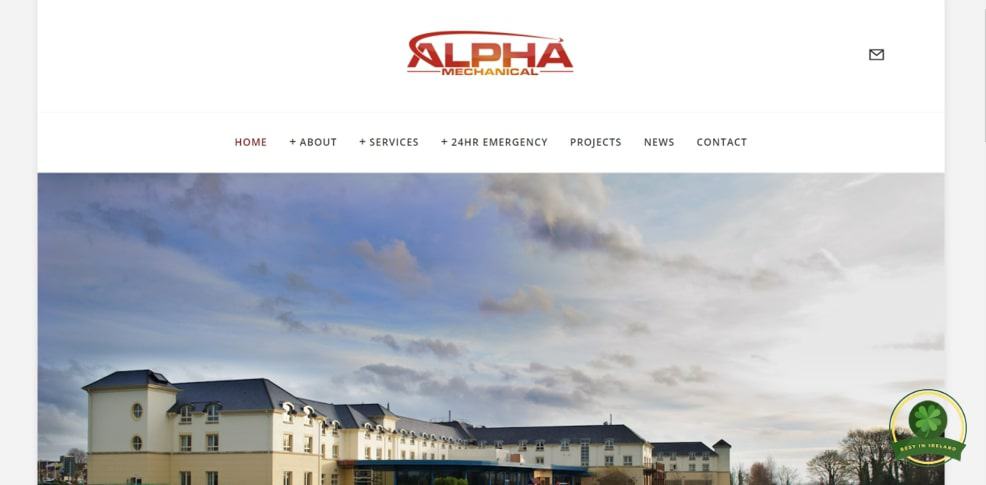 SERVICES
Ventilation, heating, air conditioning, and plumbing
WEBSITE
https://www.alphamech.ie/
ADDRESS
Unit 8, Willsborough Business Centre, Willsborough Industrial Estate, Clonshaugh, Dublin 17
CONTACT DETAILS
353-01-5334276


[email protected]




[email protected]

OPERATING HOURS
8:30 am to 5:00 pm (Monday – Friday)
10:00 am to 5:00 pm (Saturday – Sunday)
Alpha Mechanical Services Ltd is a Dublin and London-based company that boasts of being a full-service commercial, retail, and industrial HVAC mechanical services contractor.
Their portfolio of past projects and the clients they've serviced are proof of the experience they've garnered since being established in 2013. Among their clients, some famous ones include Amazon, Marks & Spencer, Virgin Media, and Bvlgari.
Moreover, we think they stand out among other HVAC service providers since they also offer plumbing services, from design to repair.
In terms of reliability, Alpha operates a 24-hour emergency help desk that can connect clients to Alpha's support engineers 24/7 nationwide.
Plus, they also have an HVAC 24-hour emergency support team that'll carry out different repairs for boilers, pumps, heat exchangers, air conditioning, ventilation, and more.
Offers 24-hour emergency services
Open 7 days 
Also offers plumbing services
Portfolio available
Has serviced big clients
Nationwide service 
May not be suitable for domestic clients
No mention of finance options 
Customer Reviews
These clients testify about the quality of Alpha Mechanical Services Ltd:
"Great company to deal with. Very professional, quality workmanship and fantastic customer service." -Ingrid Healy
"We have been working with Alpha Mechanical for a number of years and over that time we have seen the company grow from strength to strength. Alpha Mechanical are a quality company with very high standards who are moving forward in a hurry…" -Kevin Keogh
4. Carrier Rental Systems
SERVICES
Chillers, air conditioning, boilers, heaters, dehumidifiers, generators, and temperature control emergency planning services
WEBSITE
https://www.carrierrentalsystems.ie/
ADDRESS
Unit 2, Stillorgan Industrial Park, Sandyford, Dublin
CONTACT DETAILS
1800 936 533


[email protected]

OPERATING HOURS
24/7
Familiar with Carrier? The US-based company that specialises in air conditioning, heating, and refrigeration solutions?
They actually operate an HVAC rental service for a diverse list of industries, such as education, hotel, construction, hospital, food, and storage and distribution, to name some.
Hence, if you run a business, this world-famous brand's HVAC rental services might just be what you need. There is a long list of HVAC equipment for hire—chillers, cooling fans, air movers, emergency boilers, refrigerant humidifiers, generators, and so forth.
And although based in Dublin, Carrier's HVAC rental solutions are available nationwide, 24/7.
They promise to charge only fixed monthly costs; hence, you can better manage your budget. The flexibility of their services is also another perk of renting with them.
However, note that Carrier Rental Systems does not offer repair or maintenance on existing HVAC systems but only on their rental systems. Thus, you should only consider them if you're planning to install a new HVAC system or replace an old one.
Nationwide service
Products available 24/7
Fixed monthly costs 
Extensive list of HVAC products 
May not be suitable for domestic clients
No pricing info available 
5. Cross Hire Services
SERVICES
Air conditioning/ventilation, heaters, boilers, chillers, dehumidifiers/dryers, and air purifiers
WEBSITE
https://www.crosshireservices.ie/
ADDRESS
11 Broomhill Rd., Tallaght, Dublin 24, D24 PF20
CONTACT DETAILS
01 404 8770


[email protected]

OPERATING HOURS
9:00 am to 5:00 pm (Monday – Friday)
Founded in 1996, Cross Hire Services is another option if you're after HVAC rental solutions. With a diverse list of HVAC equipment available, their products range from aircon/ventilation to air purifiers.
Furthermore, Cross Hire Services is also competitive in terms of service coverage. They have another office in Cork and operate nationwide as well.
Does your business have other branches overseas? They also extend their hire services in the UK and European countries such as the Netherlands, Germany, Switzerland, and Austria via their partnerships with other businesses.
All Cross Hire Services's technicians are F-Gas and RGII trained, not to mention the other accreditations the company has.
However, we think they lag behind their competitors in some areas, notably in their operating hours, which do not include the weekends.
There's also no mention of providing 24-hour emergency services to their clients, so you might want to inquire about this.
Nationwide service
Another office in Cork 
Experience with multiple sectors 
Hire services extends to Europe
Closed on weekends
No mention of 24-hour emergency services 
Customer Reviews
These clients left great feedback on Cross Hire Services:
"We had a flood in our home on Easter bank holiday weekend, we rang all over the country looking for dehumidifiers to help soak up the water. This company was the only one willing to help. Not only did the owner come in on his day off to get things sorted for us ( bank holiday weekend) he was so genuine. Would 100% recommend doing business with this company." -Andrena Conyard
"A top class company with excellent service i found them very easy to deal with from start to finish and very efficient *****" -Jim Mulchay
"Very helpful & flexible hiring. I was able to return a unit early & receive back the difference." -Sam
6. Airconmech Ltd.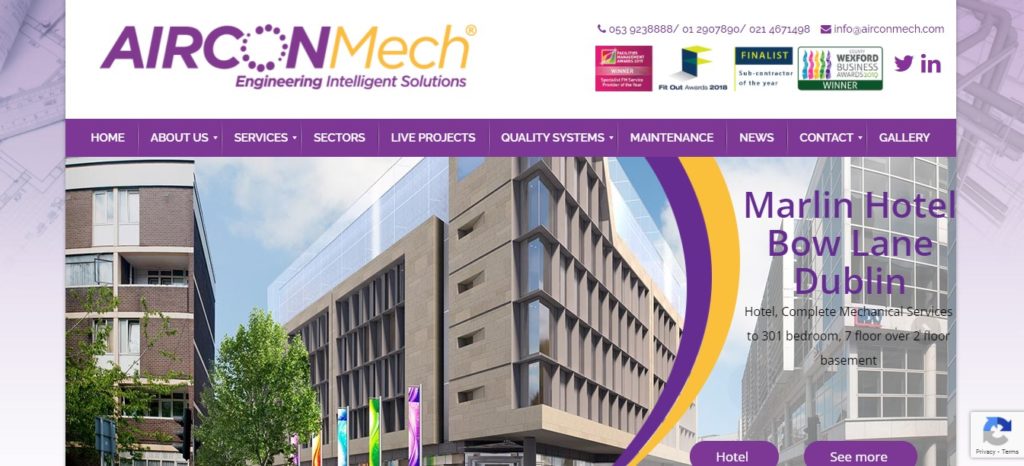 SERVICES
Mechanical Services
Ventilation
Air Conditioning
Plumbing
Fit Out Services
Gas Installations
Sustainable Energy
Fire Protection
Duct Manufacturing
Ventilated Ceilings
Building Management Systems
Process Engineering
Electrical Services
WEBSITE
https://www.airconmech.com/
ADDRESS
Irish Head Office:
Aircon House,
Kilcannon Business Park,
Old Dublin Road,
Enniscorthy,
Co. Wexford

Dublin Office:
4 – 5 Burton Hall Road,
Sandyford,
Dublin 18

Cork Office:
Phoenix House,
Monahan Road,
Cork

Belfast Office:
The Hub,
6, St Colman's Park,
Newry, BT34 2BX

UK Office:
5 Beauchamp Court,
Victors Way,
Barnet,
London, EN5 5TZ.
CONTACT DETAILS
Irish Head Office:
Phone: 053 9238888
Email:

[email protected]

ch.com or

[email protected]



Dublin Office:
Phone: 01 2907890:

Cork Office:
Phone: 021 4671498
OPERATING HOURS
Depends on the location, contact for more information
Airconmech Ltd is a reputable air conditioning company that was founded in 1996.
From the very beginning, they already specialize in the installation and maintenance of heating, ventilation, and air conditioning systems.
Today, they also offer first-class mechanical solutions for most heating problems – from installation to servicing. They have been able to maintain their reputation as a top-rated company due to their excellent customer service.
Airconmech's team of qualified engineers will come to your location and provide a solution that meets your needs.
Years of experience in the industry
 Offers state-of-the-art round value engineering solutions
Extensive range of services
Rates are unavailable online
7. ACS Ventilation Group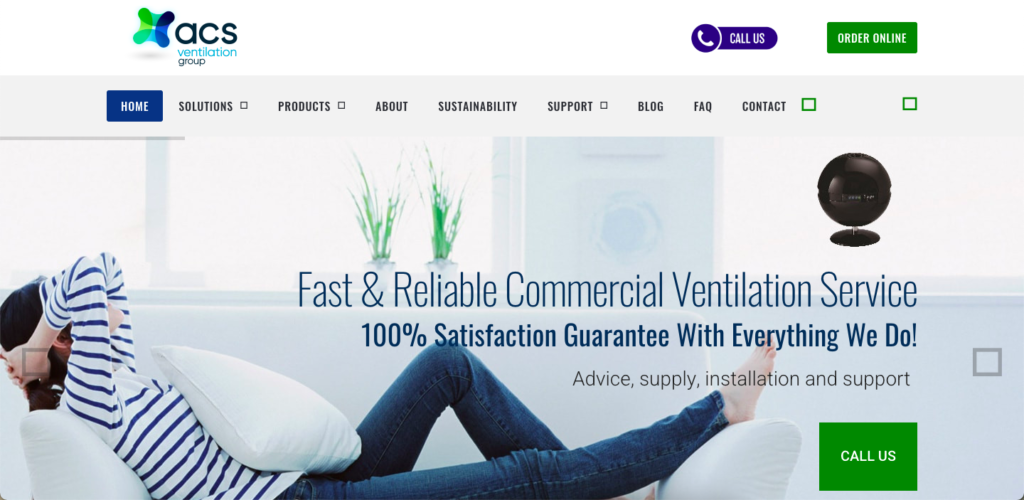 With over a decade of experience, ACS Ventilation Group has grown from being a startup to servicing large corporate clients and big names in the hotel and restaurant industry.
Moreover, they're also rated A+ by the European Commission for EcoKitchen.
What's nice about them is many products they offer. In fact, they have more than 250 products available that can be bought online and more are coming soon.
There are a variety of reasons why we like and recommend ACS Ventilation Group. One is because they have a convenient 24/7 service available all year round.
Another is they offer personalized solutions depending on your sector (data centres, healthcare, leisure facilities, hotel & restaurant, offices & retail, or residential).
What's more is we like how their quotation is free and no obligation.
They also have a commitment to sustainability, so they offer a wide range of sustainable ventilation and grease management products as well.
Our experience, and the experience of many, with them is great and they do neat work. Although, we did come across feedback that says the team was unprofessional but this was an isolated case.
All in all, we think ACS Ventilation Group is one of your best options.
More than ten years of experience
Free no obligation quotation/consultation
Personalized solutions
Operating hours unavailable on website
How to Choose a Good HVAC Service Provider
How do you choose the right company to provide you with the HVAC services you need? Check out the tips below:
1. Know your needs
First, determine the type of HVAC services you require. This will help you narrow down your search to the HVAC companies that provide the particular services you're looking for.
Do you need installation services? Repairs and maintenance? Or are you particularly after a company that provides 24-hour emergency services, especially if you're a business owner?
If it's HVAC rental solutions that you require, some HVAC companies specialise in this.
Meanwhile, if you're on a tight budget, then you may want to specifically look for companies that offer finance options to help you spread your payments.
2. Take note of important details
This means knowing your system's model and the past repairs conducted to it.
Take note of particular problems you're experiencing with your HVAC system, such as which rooms are warmer or needs more coolness, and so on.
3. Warranty
A good HVAC service provider will offer a warranty on parts and labour. This will help ensure you're getting quality services and that they'll be responsible if you spot any problems in the future after they do their work.
Check for insurance coverage as well.
4. Credentials
HVAC services should be carried out by experts. Ask your prospective HVAC company for proof of their training, accreditations, memberships, and so on.
Examples of these are F-Gas certification, RECI certification, EPA certification, RGII registration, and so on.
5. Portfolio
This part is especially useful to larger customers such as commercial and industrial clients.
Some HVAC companies provide a portfolio of their past projects, detailing the work they've done in various sectors as well as the clients who've hired them.
Hence, you'll know about the extent of the company's experience in the industry, particularly, in the sector where you belong.
FAQs about the Best HVAC Service Providers in Dublin
---
And that ends our list of the best HVAC service providers in Dublin! We hope this article has been a great resource.
Know other HVAC companies that deserve to be on this list? Send us a message, so we can take a look at them!
Are pests keeping you up at night? Rid your home of them by calling the experts—see our list of the best pest control companies in Dublin now!