Getting Married? Here Are the Best Hen Party Ideas in Ireland
Calling all maids of honor! The only thing bigger than helping with the wedding is planning the hen party!
Whether you want a luxurious spa weekend or a taste of fine whisky, Ireland has no shortage of things to do! Let's take a look at some of the best hen party ideas that Ireland has to offer!
What are the best luxury hen party ideas in Ireland?
Looking to have a fancy hen party in Ireland? Consider exciting options such as horse riding adventures, indulging in a relaxing spa weekend, enjoying a glamping experience, trying out whiskey tasting sessions, or even embarking on a delightful mini cruise.
Horse Riding at Slieve Aughty Centre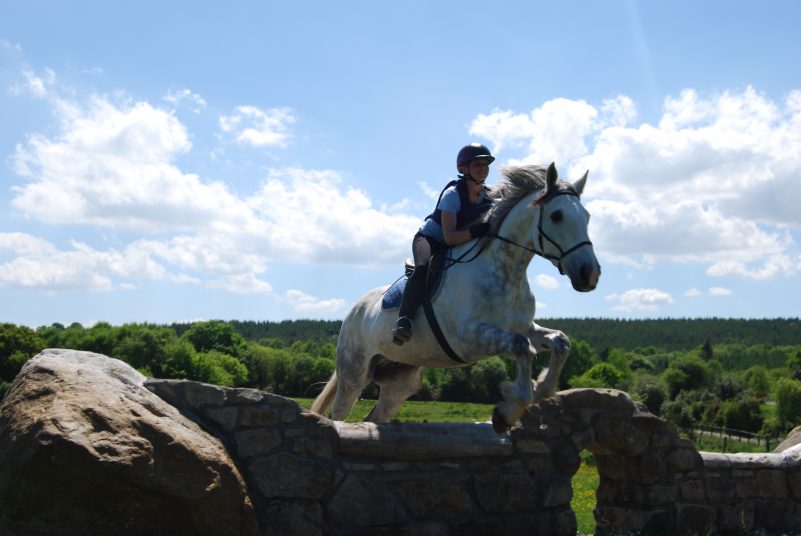 Website: https://slieveaughtycentre.com/ 
Address: Kylebrack, Loughrea, Co. Galway, Ireland
Phone: +353 (090) 974 5246
Email: [email protected] 
Operating hours: 
Sunday – 11 AM to 6 PM
Monday to Tuesday – closed
Wednesday to Saturday – 10 AM to 6 PM
You can experience thrilling horse riding at Slieve Aughty Centre in Galway, with horses and ponies for all levels. So why not join in the fun and explore the countryside with experienced guides?
With more than 25 horses and ponies, everyone can join in, whether they're beginners or experienced riders. You'll explore the stunning Galway countryside, trotting, galloping, and cantering with experienced guides to ensure your safety.
The centre also offers other enjoyable hen party activities to keep everyone in a joyful mood.
Pro tip:

To have an amazing horse riding hen party at the Slieve Aughty Centre in Galway, customise your experience by talking to them beforehand. Wear comfy clothes and good shoes for riding.
Spa Weekend at The Farnham Estate Golf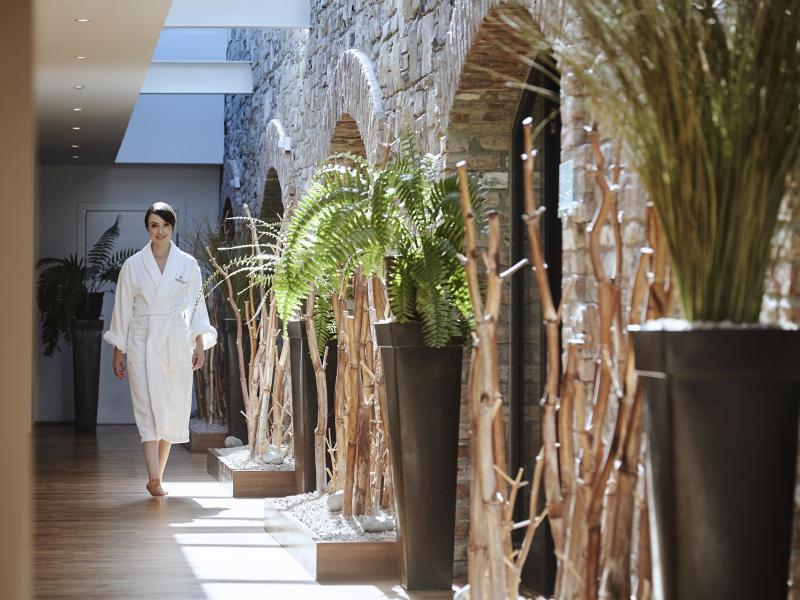 Website: https://www.farnhamestate.ie/ 
Address: Farnham Estate, Cavan, Ireland H12 H6Y8
Phone: + 353 (0) 49 4377700
Email: [email protected] 
The Farnham Estate Golf and Spa Resort, located in Cavan, is a luxurious venue ideal for a hen party spa break. It offers the Girls Night In Hen Party Package, which includes an overnight stay and full access to the spa facilities.
You can enjoy a one-hour spa treatment at the Health Spa or chill out in the indoor/outdoor Infinity Pool and Water Mint Thermal Suite for the ultimate relaxation experience.
In the evening, head on over to the Botanica Restaurant where they'll greet you with a glass of bubbly and serve a delicious dinner that you'll love.
The next morning, don't miss the Super Buffet Breakfast, which is included in the package. It's a yummy and satisfying way to start your day and get you ready for more fun.
Pro tip:

Hydration is crucial during a spa weekend. Drinking plenty of water before, during, and after your treatments helps flush out toxins and keeps your body in a balanced state. Consider enjoying herbal teas or infused water options too.
Glamping at Teapot Lane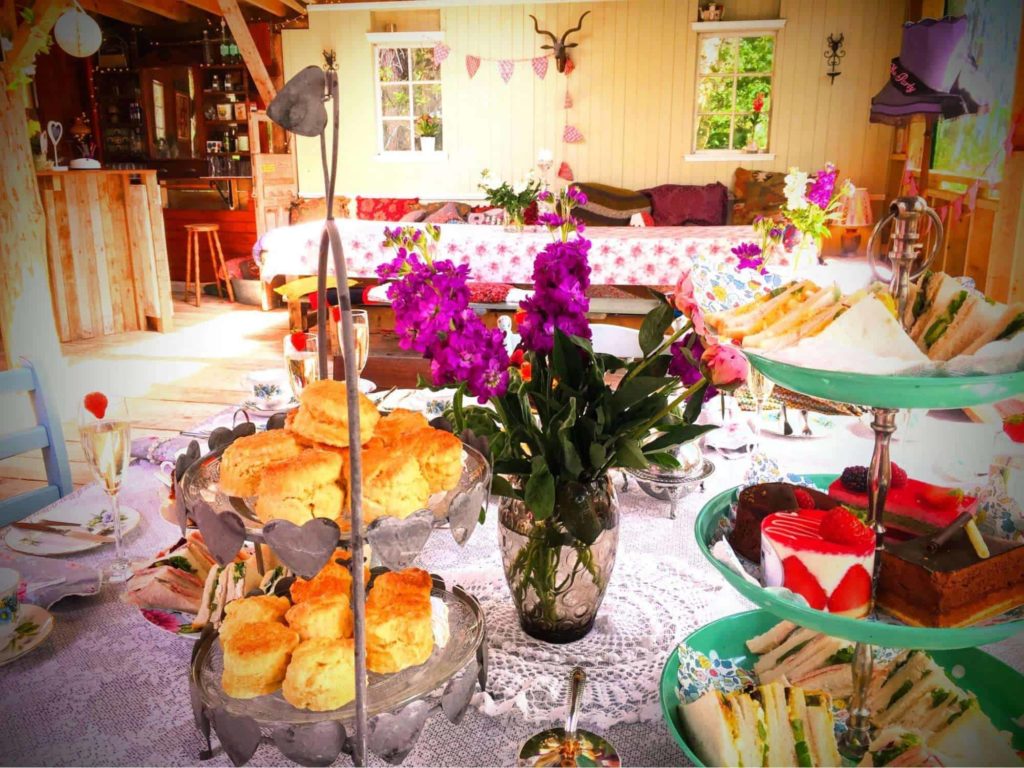 Website: https://www.glampingireland.ie/ 
Address: Teapot Lane Glamping Teapot Lane Mallanyduff Co. Leitrim Post Code: F91 D363
Email: [email protected] 
At Teapot Lane's Glamping, you can have delicious pizzas delivered to your beautiful woodland shelter or sit around the campfire, toast marshmallows, and have a great time with your friends.
You can treat yourselves to a Vintage Tea Party with tasty treats and a glass of Prosecco. You might also want to make flower crowns or relax with a swim in the ocean.
Before you leave, take advantage of the late check-out on Sunday. Relax a little longer, cherish the wonderful memories, and enjoy the last moments of your special celebration.
Pro tip:

Take advantage of the nearby attractions, such as the Donegal Adventure Centre and the town of Sligo. Don't miss out on dining at Anderson's and experiencing the lively atmosphere at Garavogue as well.
Whiskey Tasting in Killarney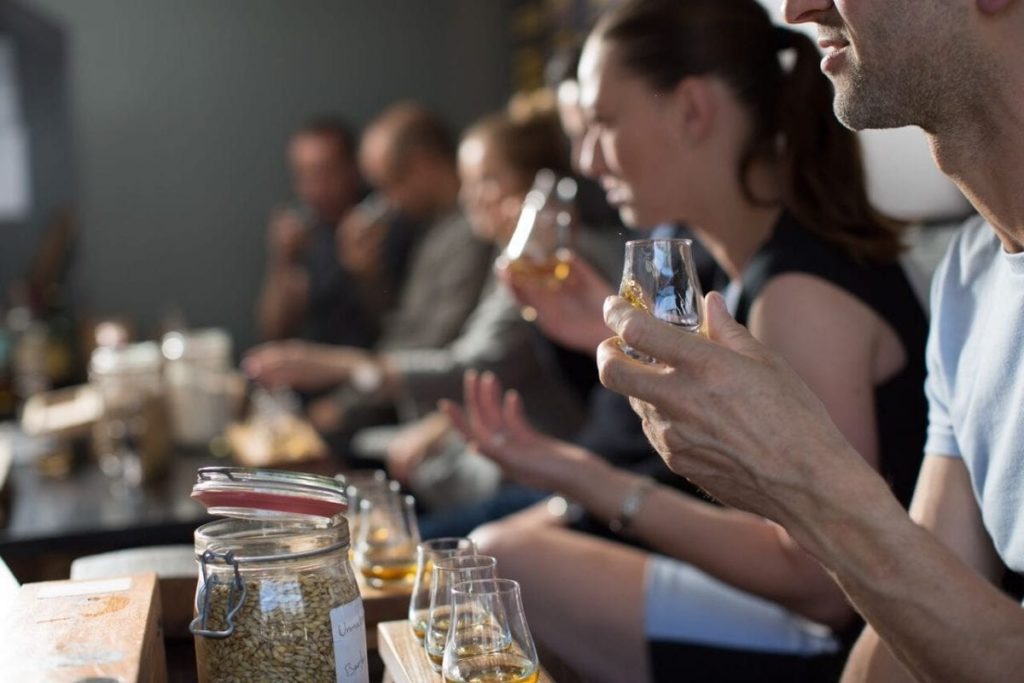 Website: https://www.experienceirishwhiskey.ie/ 
Address: 93 New St, Killarney, Co. Kerry, V93 KXD4, Ireland
Phone: 087 384 3265
Email: [email protected] 
Operating hours: 
Monday to Thursday – 12 PM to 11:30 PM
Friday to Saturday – 12 PM to 12 AM
Sunday – 12:30 PM to 11 PM
Have a fantastic time at the Irish Whiskey Experience in Killarney. The hens will enjoy a fun whiskey masterclass and cocktail class.
At the Irish Whiskey Experience in central Killarney, a friendly whiskey expert will be your guide. You have the opportunity to discover the world of Irish whiskey through captivating videos, where you'll learn about its fascinating history and traditional production methods.
You'll also engage in a sensory perception quiz to test your sense of smell and learn about the ingredients that impact whiskey's appearance and taste. Afterward, you can enjoy a tutored whiskey tasting paired with a traditional Irish farmhouse cheese.
This experience is both fun and educational for you and your friends. So, when you raise a glass of Irish whiskey during your hen party, you're not only enjoying a delightful drink but also savouring a piece of Irish history and craftsmanship that makes it truly special.
Pro tip:

The best way to have a tasting is to start with the lightest whiskey and finish with the richest and most flavorful or smoky one. As the host, it's a good idea to try them yourself first to make sure you have the right order.
Mini Cruise in Carrick-on-Shannon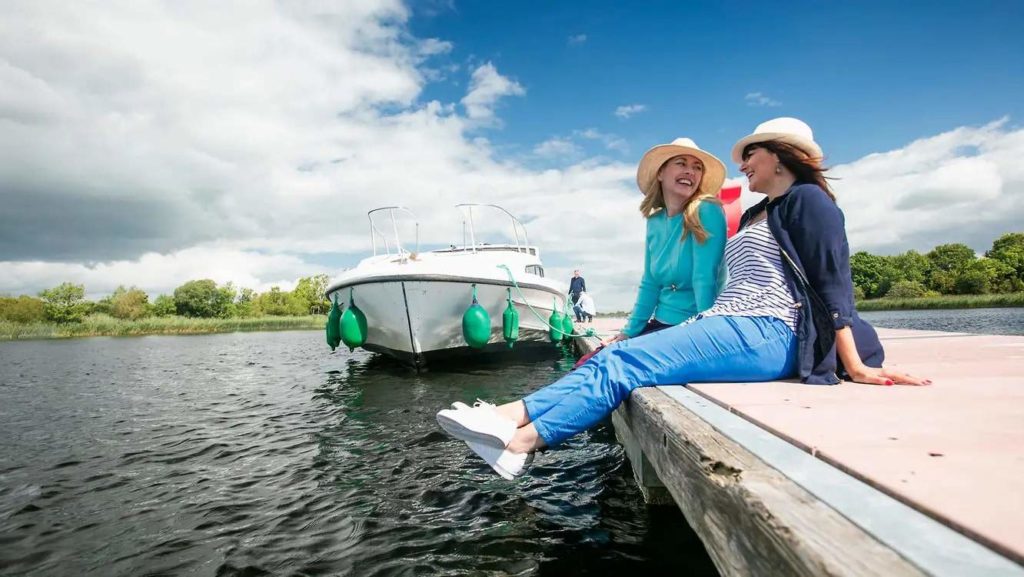 Website: https://www.moonriver.ie/ 
Address: Main St, Townparks, Carrick-On-Shannon, Co. Leitrim, N41 N9W4
Phone: 071 962 1777
Email: [email protected] 
Operating hours: 
Monday to Friday – 9:30 AM to 5:30 PM
Saturday – 10 AM to 5:30 PM
Sunday – 2 PM to 5:30 PM
How about an awesome booze cruise?
With the Moon River Pleasure Cruiser, you can treat your bride-to-be to a delightful experience on a mini-cruise along the scenic Shannon River. We like that they offer special packages for hen parties.
Offering a delightful cruise experience with vibrant live music, it sets the perfect ambiance for an unforgettable event!
Additionally, boasting a fully stocked and licensed bar, the Moon River is an excellent venue to host your hen party, ensuring a fantastic time for all.
The ideal time to book a cruise on the Shannon River in Ireland is during the less busy season, usually between November and February, when you can find better deals and lower prices.
Pro tip:

You may also consider the spring and autumn seasons for good weather and more availability at reasonable prices. Look out for special offers and book on weekdays for potential savings.
What are hen party ideas for women over 40 in Ireland?
For women over 40 in Ireland, some hen party ideas could include enjoying a lovely afternoon tea or taking part in a fun dance class. You could also try going on a treasure hunt, doing karaoke, enjoying arts and crafts, or having a positive and prosecco-filled celebration.
Afternoon Tea Party with Vintage Tea Trips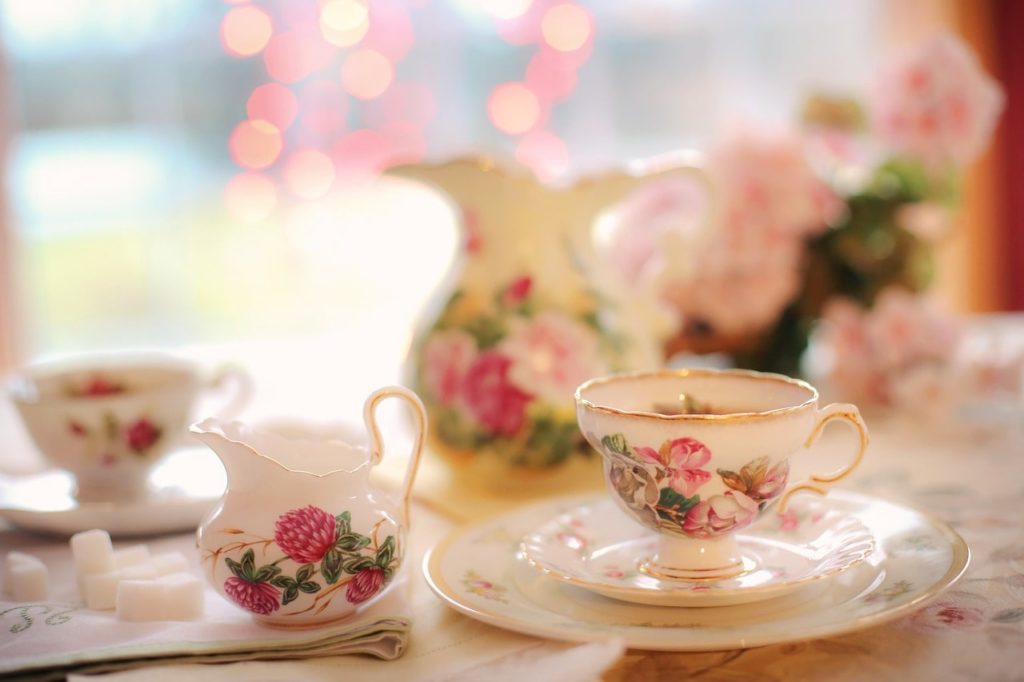 Website: https://www.vintageteatrips.ie/ 
Address: 4 Essex Street East Dublin 8
Phone: 01 255 1777
Email: [email protected] 
Tour Times: Thursday to Monday – 11am, 1:15pm & 3:30pm
Planning a vintage-themed hen party? Treat yourselves to a delightful vintage afternoon tea with Vintage Tea Trips.
This mobile tea party service operates in and around Dublin, offering freshly brewed tea, coffee, dainty sandwiches, pastries, and delicious sweet treats. It's the perfect way to satisfy all the classy ladies in your group!
Once you're comfortably seated, the delightful hosts will regale you with enchanting tales of Dublin's rich history. Don't worry, while this isn't a fully guided tour, there's plenty of time for you and your friends to gossip and catch up on each other's lives.
This is not your ordinary afternoon tea. This is afternoon tea done the Irish way, making your hen party truly memorable.
Pro tip: 

Gift your bride-to-be an Irish-style Afternoon Tea experience with vouchers that last 5 years. Choose between an email voucher or a beautifully illustrated gift card by Rachel Corcoran, deliverable to any address in Ireland for just €3.
Dance and Workout Classes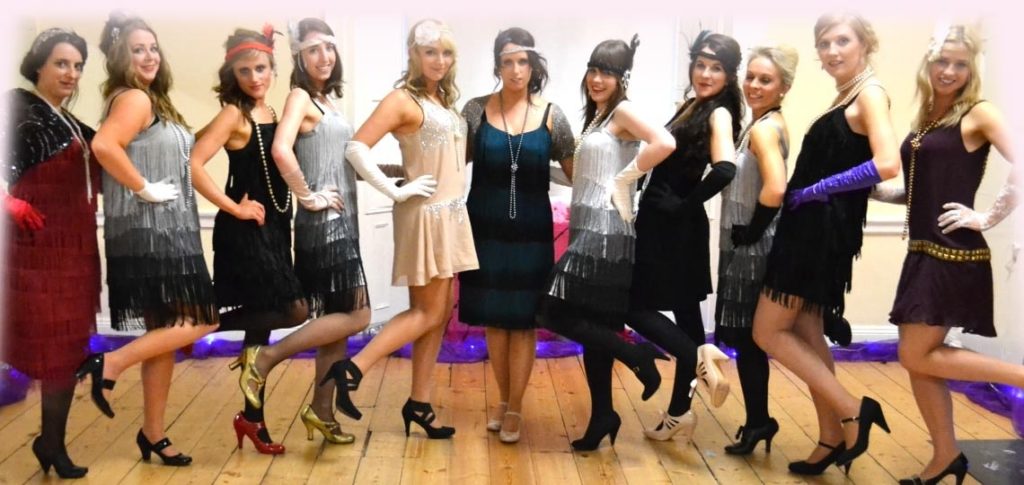 Website: https://www.dancefixireland.com/
Address: Sranea, Glencar, Co. Leitrim, Ireland
Phone: +353 83 176 6870
Email: [email protected] 
Operating hours: Monday to Sunday – Open 24 hours
Want to have a great time and get moving? Start the night with a fun dance class.
Whether you prefer twerking, Charleston, or something different like a 90s HIIT class, there are lots of choices. Best of all, you can find these classes right in the city.
Dance Fix caters to hen parties all over Ireland, both North and South. They can travel to almost any location, so don't hesitate to get in touch with them for your desired destination!
Pro tip:

When organizing a hen party, think about your guests' financial limits and always choose affordable options.
Arts and Crafts Weekends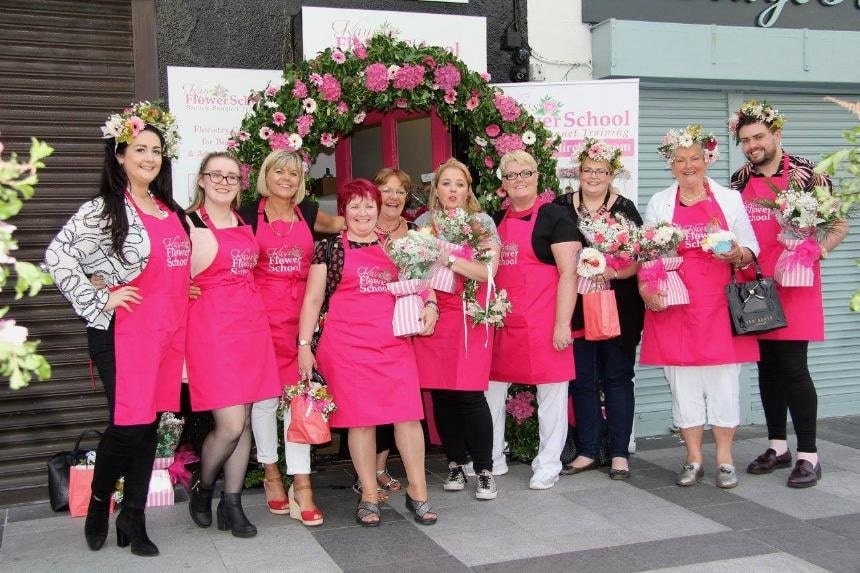 Website: https://www.kaysflowerschool.com/ 
Address: Rialto, Dublin D08X2R4, Ireland
Phone: + 353 87 250 7615
Email: [email protected] 
Operating hours: 
Monday to Friday – 9:30 AM to 3:30 PM
Saturday to Sunday – Closed
Is your bride a DIY Queen? If so, Kay's Flower School is the perfect choice for a memorable hen party.
At Kay's Flower School, you can learn the art of creating beautiful flower crowns, which make for stunning accessories and are a popular choice for bridal parties.
If you're organizing a hen party at Kay's Flower School, keep in mind that a minimum of 20 attendees is required for the flower crown event.
Let your inner artist shine and create unforgettable memories during your arts and crafts-filled hen party.
Pro tip:

Having more guests can lower the costs for each person, which means you can get more bang for your buck. It also adds to the fun atmosphere, making the party even more enjoyable.
Karaoke at Wigwam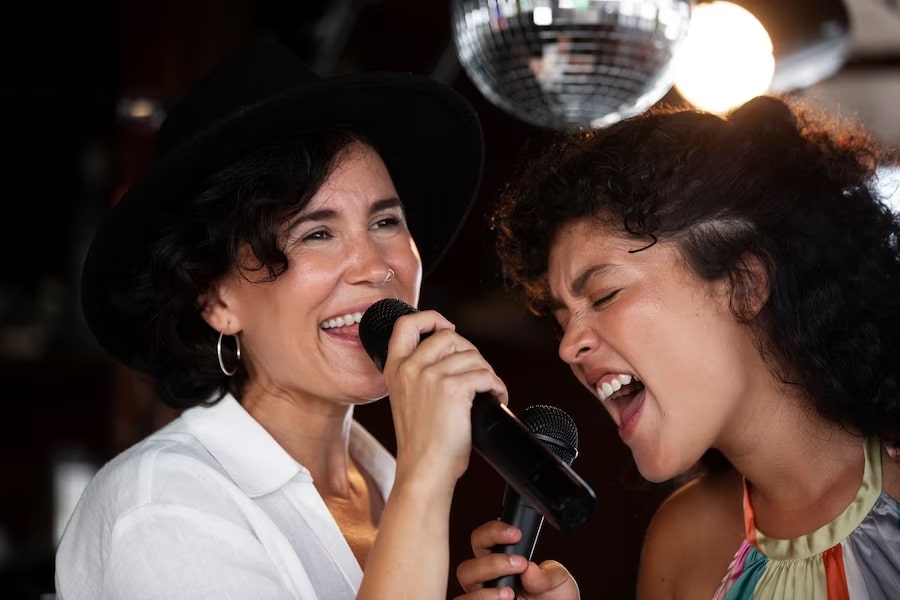 Website: https://wigwamdublin.com/karaoke/ 
Address: 54 Middle Abbey St. Dublin 1
Phone: (01) 8734020
Email: [email protected] 
Operating hours: 
Monday to Tuesday – 12 PM to 11 PM
Wednesday to Thursday – 12 PM to 11:30 PM
Friday to Saturday – 12 PM to 2:30 AM
Sunday – 12 PM to 11:30 PM
If you want a great place for karaoke, try Wigwam. It's a good choice for hen parties, especially if you have a big group and don't want to spend too much money.
The bride-to-be will have the perfect opportunity to take the stage, shine, and impress not only her friends but also everyone at the bar. It's a chance to create a lasting memory and showcase her talents in front of an enthusiastic audience.
Wigwam provides a relaxed and light-hearted atmosphere, ensuring that everyone can let loose and enjoy themselves. It strikes the perfect balance between a fun and energetic experience, without being too wild. 
Pro tip:
Let the staff know in advance if you want to bring snacks or birthday/party cakes. Keep in mind that outside food and drinks are not allowed in the karaoke room.
Note that the room is only available until 9:45 pm on Fridays and Saturdays due to the nightclub. Plan your party accordingly to maximize your time.
Remember to pre-book your hen party at Wingwam Dublin. To confirm your reservation, they require a €20 payment along with your booking enquiry.
Makeup Party with Boudoir Girls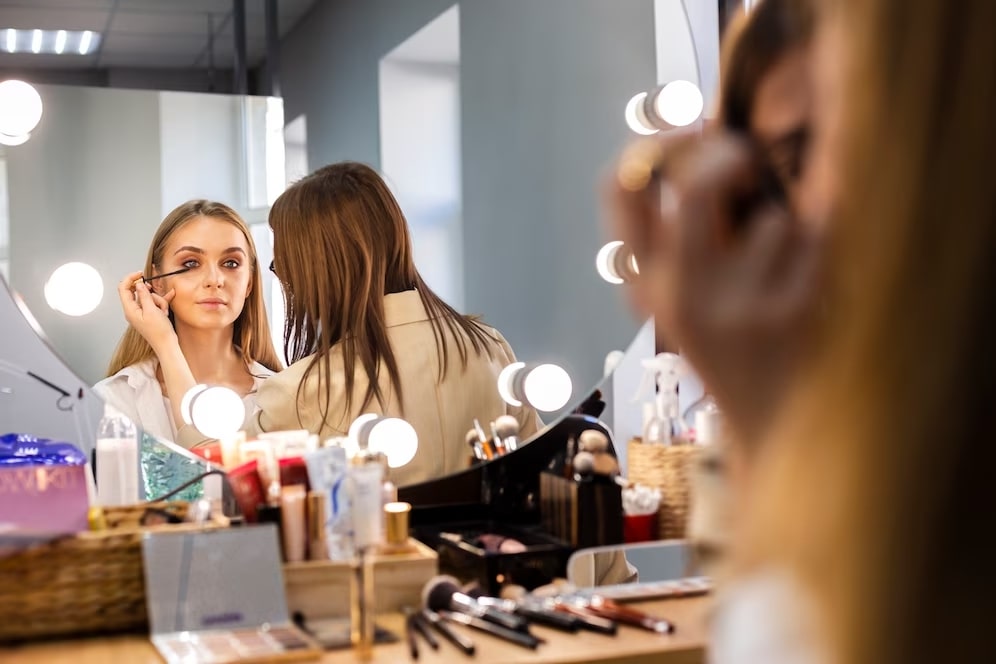 Website: https://www.boudoirgirls.net/ 
Address: Co. Galway, Ireland
Phone: 087 6332611
Email: [email protected] 
Operating hours: 
Monday to Friday – 9 AM to 5:30 PM
Saturday to Sunday – Closed
Another great option for your hen party is a memorable makeover experience with the fabulous Boudoir Girls. It's all about feeling beautiful and having a great time with your closest friends.
Whether you want a fancy red carpet look or something more magical, they can do it all. And don't forget the photo shoot! Strike a pose and capture amazing pictures to remember the day.
So gather your friends, let your inner beauty shine, and have an incredible makeup party experience at your hen party.
Pro tip:

Embrace the vintage pinup vibe by researching classic poses, relax, and enjoy the experience. Expect final edited photos within a week.
What are hen party ideas for small groups in Ireland?
Looking for hen party ideas in Ireland for small groups? Consider a fun-filled day with a treasure and scavenger hunt, a delightful cookery class, or a charming visit to a farm.
Scavenger Hunt with Mystery Trail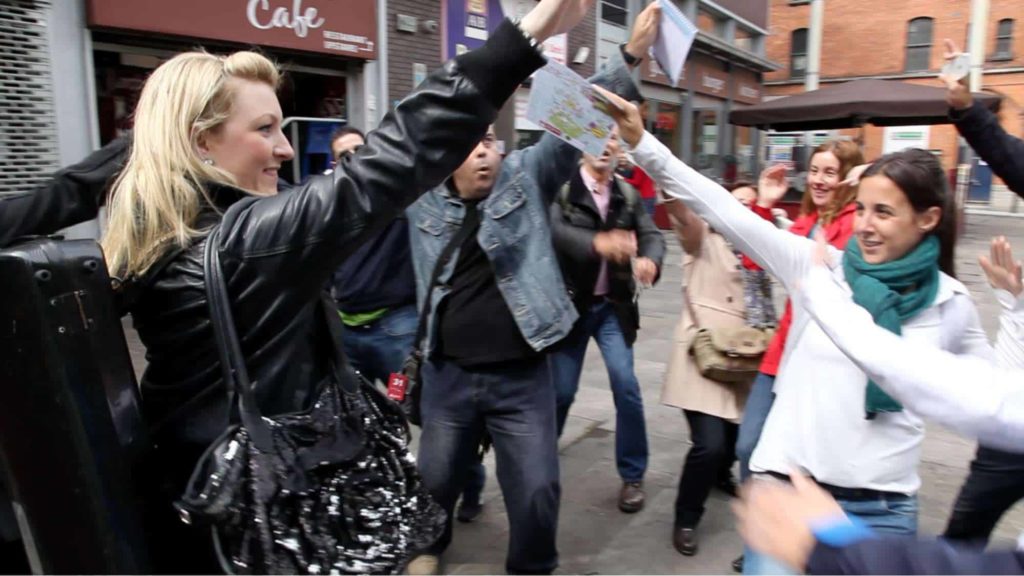 Website: https://www.mysterytrails.ie/ 
Phone:  0874477610 
Email: [email protected] 
Operating hours: Monday to Sunday – 9 AM to 6 PM
Scavenger hunts are a fun activity that brings hens together in teams. Gather your friends, give them a list of clues and a map of the hunt location, grab your camera, and let the adventure begin!
Just make a checklist of things to find during the night, like bar coasters, photos with strangers, or shot glasses. The person who collects the most impressive items wins a prize.
If you don't have time to make your own clues and maps, you can check out Mystery Trails! They can personalise your scavenger hunt specifically for your bridal party!
However, Mystery Trails is a self-guided walk, and the team won't be present to meet you. If you need assistance or encounter difficulties, they have a free text service to help you solve the clues and ensure no trail goes unsolved.
Pro tip:

After purchasing a Mystery Trail, keep an eye on your email inbox, including the junk or spam folder, for the confirmation email after purchasing a Mystery Trail. Don't miss any important communication.
Cooking Classes at Dublin Cookery School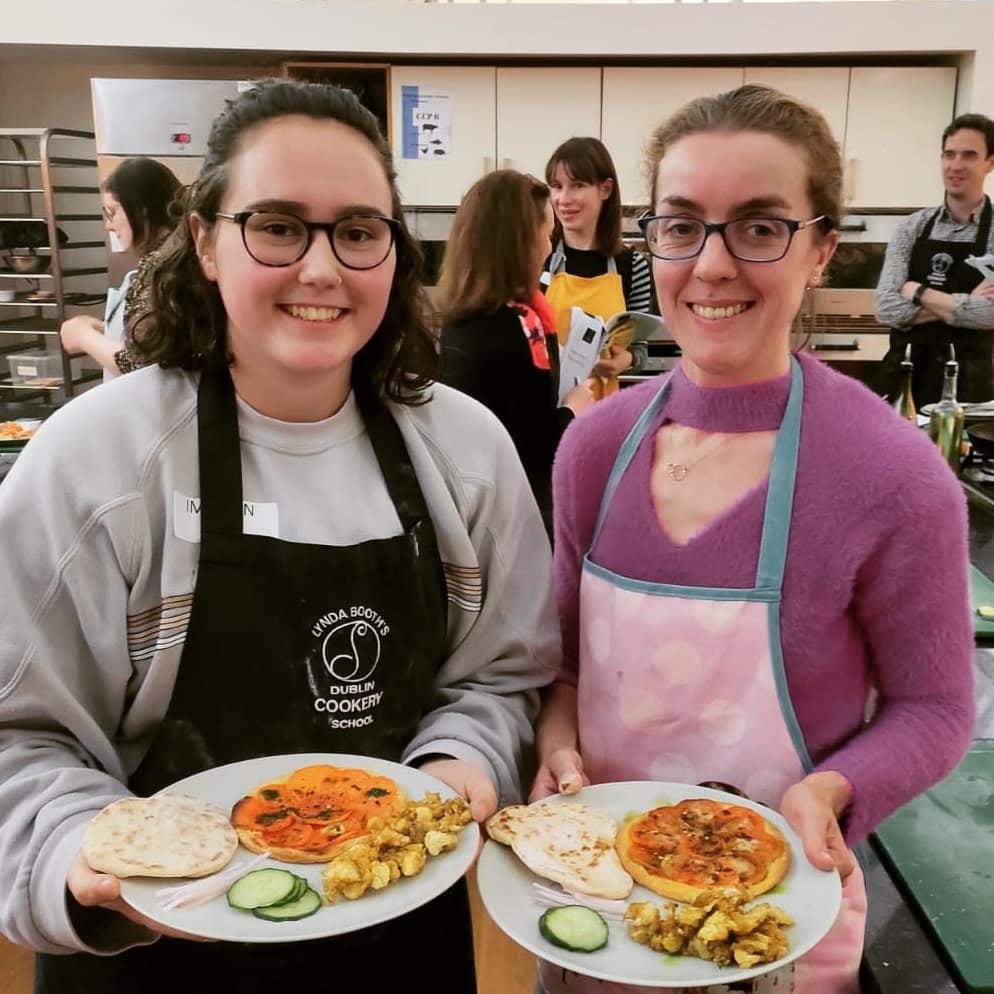 Website: https://www.dublincookeryschool.ie/ 
Address: Dublin Cookery School, 2 Brookfield Terrace, Blackrock, Dublin
Phone: +353 (0)1 2100 555
Email: [email protected] 
Operating hours: 
Monday to Friday – 9:30 AM to 10 PM
Saturday – 9:30 AM to 5 PM
Sunday – Closed
Want to improve your cooking skills while celebrating the bride-to-be at her hen party? The Dublin Cookery School in Cork is one of the best options for savory cookery classes.
At the Dublin Cookery School, you and your friends will have a chance to learn from expert chefs and boost your cooking skills. Whether you're a beginner or have some experience, these classes are designed for everyone.
You'll dive into a hands-on cooking adventure at the school. From making homemade pasta to learning fancy cooking tricks, the classes cover a variety of cuisines and styles.
After the cooking session, you'll have the opportunity to savor the dishes you've prepared. It's a wonderful chance to bond, laugh, and create lasting memories with the bride-to-be.
Pro tip:

Make sure to book your hen party well in advance to secure your preferred date and time. This will also give you ample time to communicate any specific requirements or themes you'd like to incorporate into the event.
Visit Causey Farm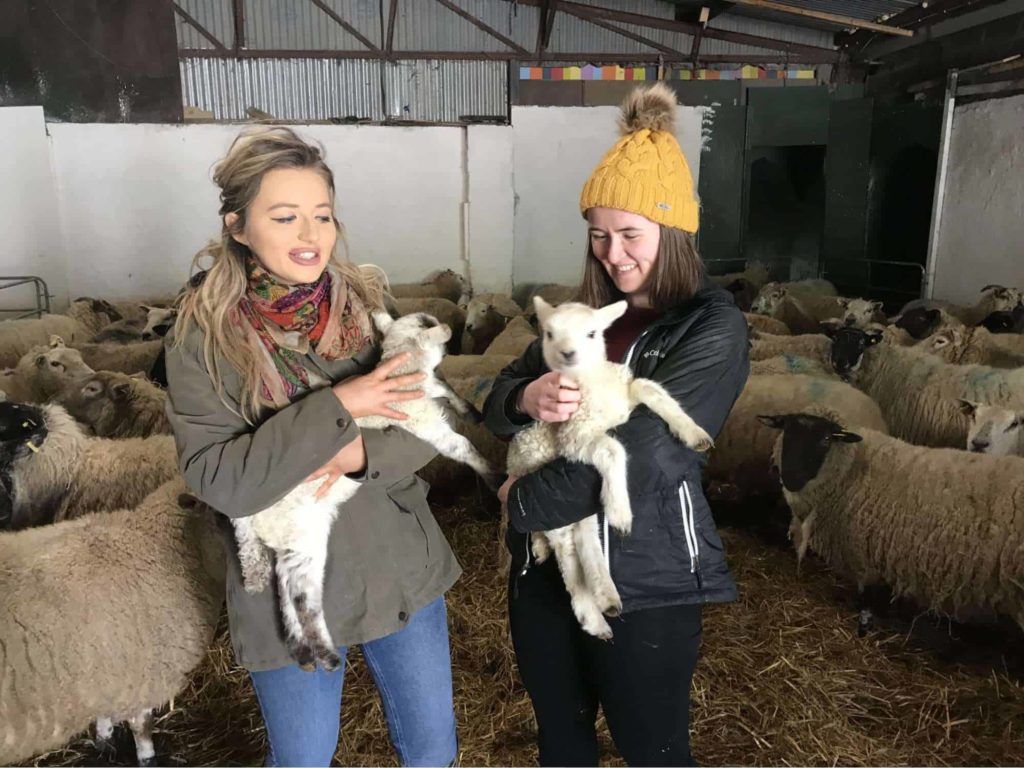 Website: https://www.causey.ie/ 
Address: Girley, Fordstown, Navan Co. Meath, C15 P83R
Phone: +353 46 9434 135
Email: [email protected] 
Operating hours: Monday to Sunday – 9 AM to 6 PM
Have a blast on a farm-filled weekend for your hen party. Enjoy cow-milking, feeding animals, bog-jumping, bread-making, hen chases, and farm treasure trails.
Causey Farm in Co. Meath offer these fun activities, plus the chance to paint the bride's story on a barn wall and learn Irish dancing. Create unforgettable memories for the bride and her friends.
Pro tip:

When organizing a group activity, check out Causey Farm. They're usually open for pre-booked groups from Monday to Saturday between February and November.

Just remember, during the last two weeks of October, they focus on Halloween scares! If you're interested in their seasonal events like Halloween and Christmas, mark your calendars for Sundays.
Popular Dublin Beer Bike Option for Hen Dos
Dublin Pedal Tours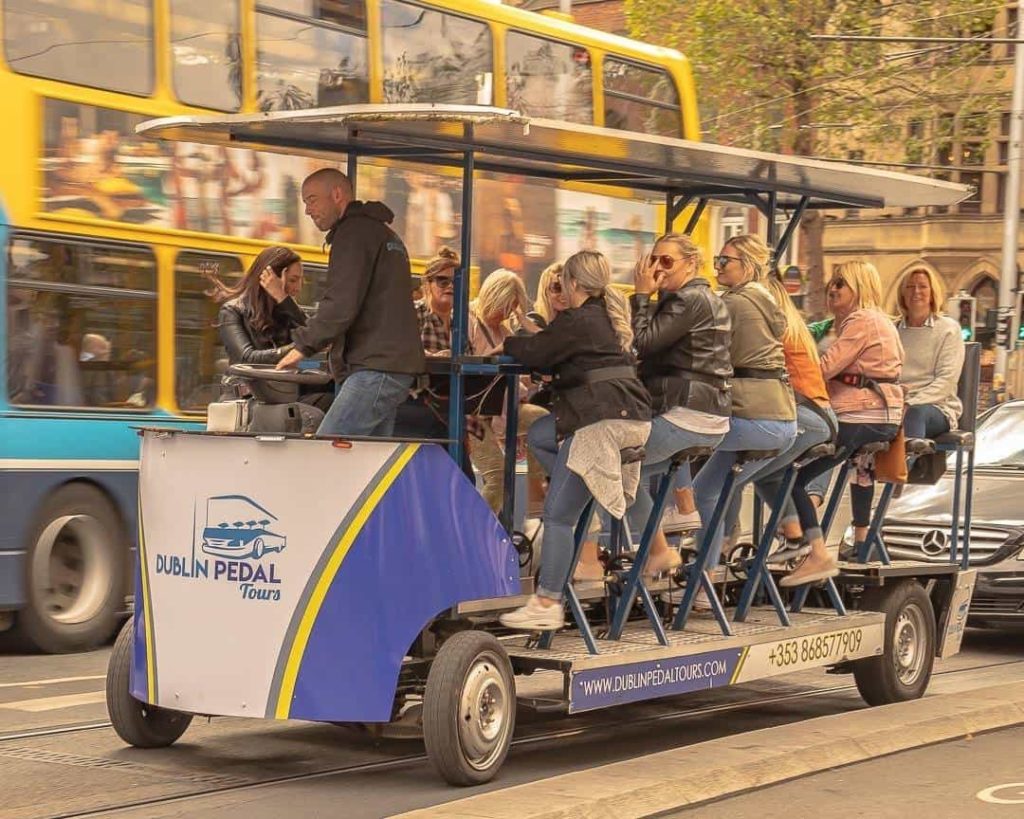 Website: https://dublinpedaltours.com/ 
Address: Princess Street North, Dublin 1
Phone: +353 87-259-9825
Email: [email protected] 
If you're looking for Dublin beer bike options for your hen do, you're in luck because there are popular Pedal Tour Buses available.
They can accommodate up to 16 people and come with an experienced driver for safety. You can pedal around the city, enjoy the sights, and have a fun time with your friends.
The bus has a U-shaped bar, lets you bring your own music, and provides drink holders. Just remember that alcohol is not allowed on board and drinking in
The Pedal Tour Bus offers a unique way to explore Dublin while enjoying your hen party, with designated stops for breaks.
Pro tip:

Before your tour, prepare by creating a lively playlist that suits your group's taste in music. 

Additionally, remember to pack light and bring small bags or leave any bulky bags behind, as they can hinder your pedaling.