Ireland Finds: The Best Gift to Buy to Your Loved Ones
Searching for the ultimate Irish gift that will truly dazzle someone who adores the enchantment of Ireland? Well, your search ends here!
Read this article to discover a list of the best Irish gifts that will surprise and delight any Ireland enthusiast.
What Irish gifts are most popular?
The most popular Irish gifts are traditional Irish clothing like Aran sweaters and jewelry such as Claddagh rings. People with Irish heritage also enjoy family crest gifts, which are often given as popular Irish wedding presents.
Aran Sweaters
Whether it's the warmth they give, the classic style they have, or the connection to Irish heritage, Aran sweaters are a special and wonderful gift to give someone.
Aran sweaters, with their unique patterns and meaningful significance, are a special part of Irish culture, making them thoughtful gifts. These patterns represent the everyday life of the islanders, their surroundings, and their beliefs.
Moreover, the sweaters are made with 100% Merino Wool, which makes them durable and long-lasting as a souvenir from Ireland.
You can buy these stylish sweaters on Aran Island, where they got their name, but these are usually more expensive because they're thicker and sewn by hand. You can also find them at different Aran Sweater Market stores or online.
Claddagh Ring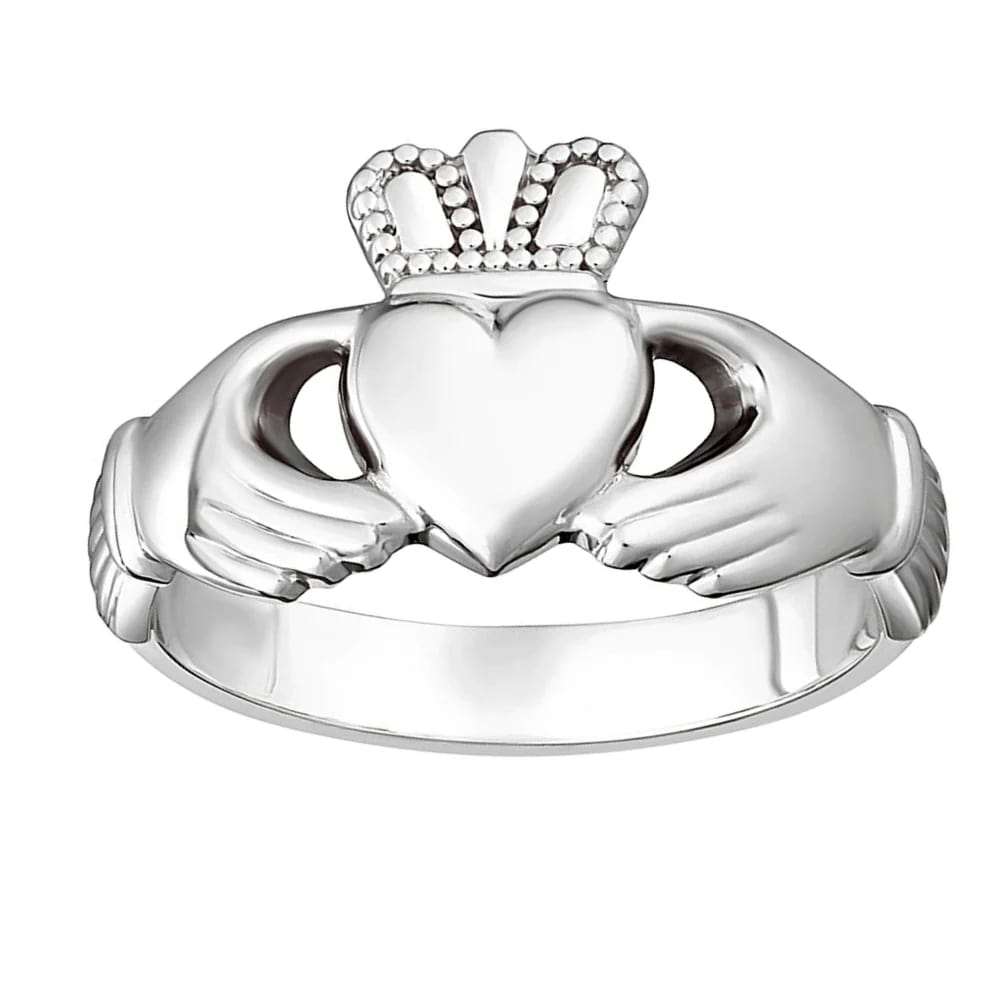 Claddagh rings have been around since the 1600s and are known as one of the most meaningful Irish gifts. They originate from a fishing village called Claddagh, near Galway City.
The name Claddagh comes from the Irish word "cladach," which means a flat stony beach or shore.
The design of the ring includes a heart, a crown, and hands, which represent love, loyalty, and friendship. It's a special way to remember Ireland and make someone you care about happy.
Wearing a Claddagh ring has some interesting traditions. If you're married, it's worn on the left hand with the heart facing inward.
If you're single or not in a serious relationship, the ring is worn with the heart pointing away from your body. If you're in a committed relationship, however, the heart should be pointed toward your body.
Family Crest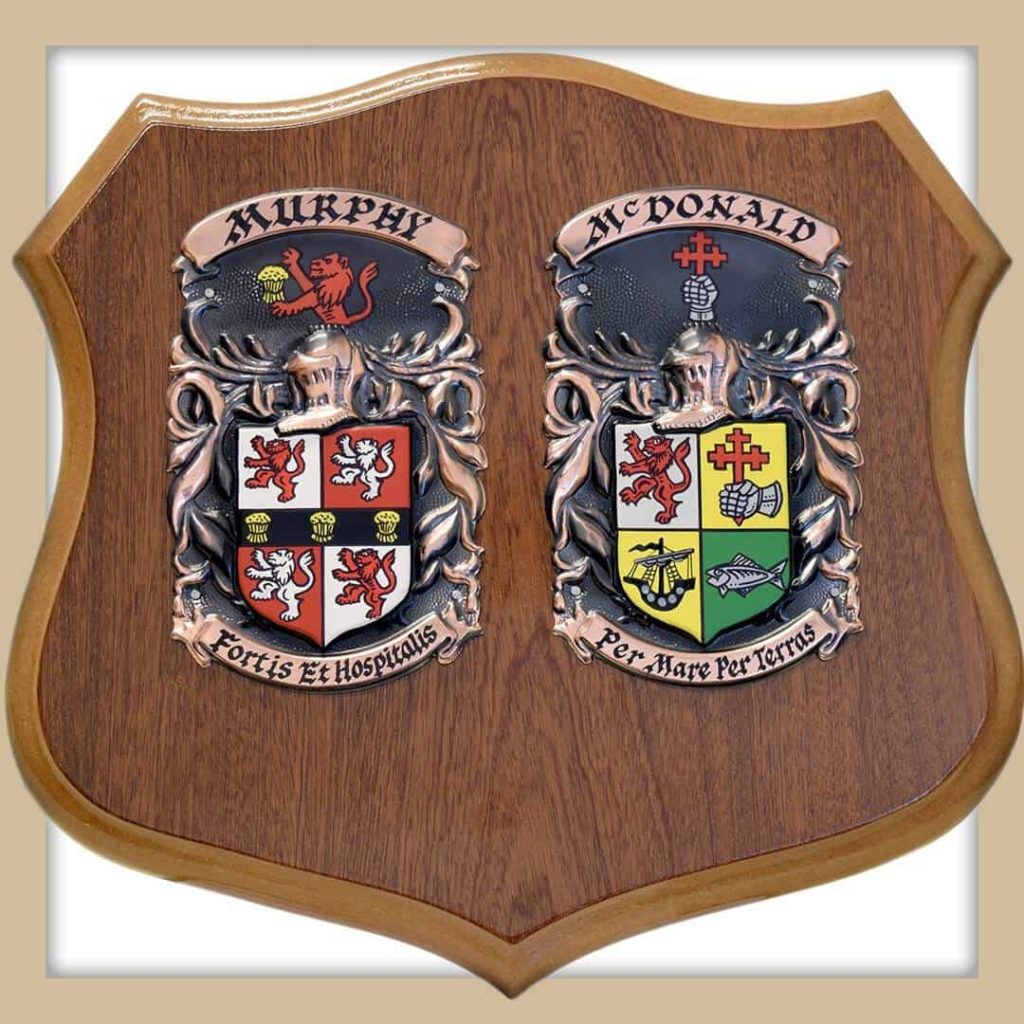 A family crest is a special symbol that represents a family's history and where they come from. It can be found on shields, coins, and important family belongings.
Many people like to display their family crest at home to feel connected to their ancestors. You can find someone's family crest by looking at family records or talking to older family members.
Family crests often have symbols that represent important things about the family, like their job or where they're from.
That's why giving an Irish person their family crest as a gift is a great idea. It shows that you appreciate and celebrate their family history.
What are some iconic Irish gifts?
Iconic Irish gifts include Mullingar Pewter Flask, Connemara Marble, Irish Breakfast Tea, Shamrock Irish Celtic Mug, and Celtic Irish Mini Harp. These gifts symbolize the essence of Irish culture, craftsmanship and traditions.
Mullingar Pewter Flasks
Mullingar Pewter is known for making beautiful and useful Irish pewter gifts. Their products are often connected to Irish and Celtic traditions, allowing people to celebrate their Irish heritage.
These flasks have detailed Celtic designs and important Irish symbols like the Claddagh and shamrock. The Claddagh symbol stands for love, loyalty, and friendship, while the shamrock is a symbol of Ireland and good luck.
One special thing about Mullingar Pewter Flasks is that they're made without lead, which makes them safer for holding food and drinks. This means you can use them without worrying about your health.
Connemara Marble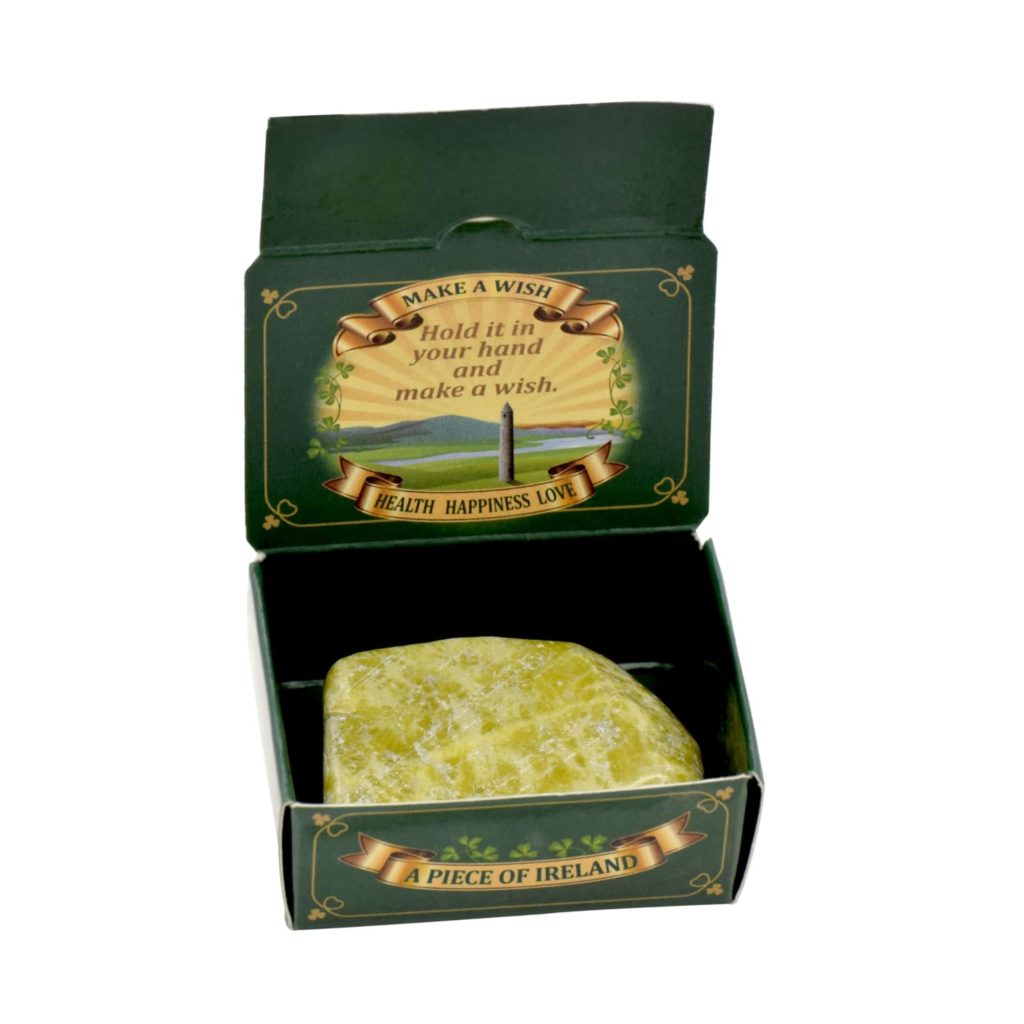 Connemara Marble, also known as "Irish green," is found in the region of Connemara. People love it because of its beautiful green color and how it's used to make jewelry, decorations, and other things.
What makes it even more unique is that it can only be found in Ireland!
You can visit Connemara to see the marble in its natural form or buy jewelry and decorations made with Connemara marble.
Irish Breakfast Tea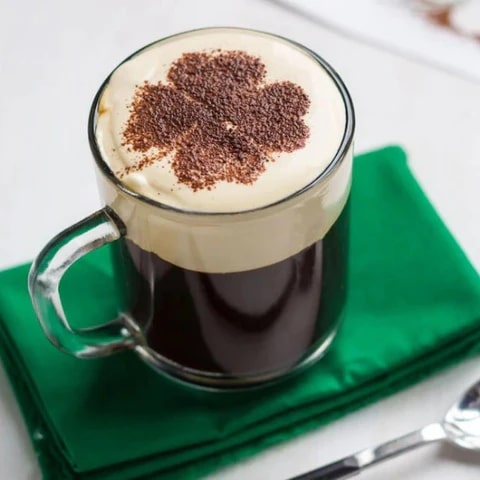 If you want to give a great Irish gift to someone who loves tea or cares about their health, consider Irish Breakfast tea. While tea is often connected to the English, the Irish also love tea and make it really well.
Irish Breakfast tea is different because it uses Assam tea, which is stronger and more flavorful than English breakfast tea. It has a reddish color and tastes a bit like malt.
Not only does Irish Breakfast tea taste good, but it can also have benefits for your health.It may help reduce stress, improve concentration, and boost the immune system, just to name a few.
Shamrock Irish Celtic Mug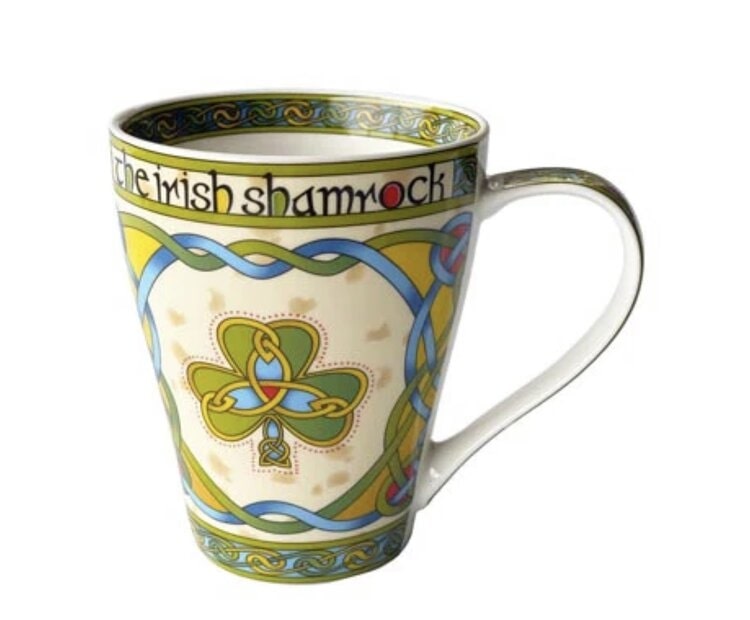 Why not consider giving Shamrock Irish Celtic Mug as a lovely gift for enjoying morning coffee or tea? The Shamrock is a symbol of Ireland and is believed to have magical powers!
St. Patrick, a famous figure in Irish history, used the Shamrock to teach people about God. This mug has a Shamrock design that looks like the ones drawn in ancient Celtic books by monks long ago.
Getting a set of these 'Shamrock Irish Celtic Mugs' is a great gift idea for yourself or someone you care about. It adds a bit of magic and celebrates the traditions of Ireland.
Celtic Irish Mini Harp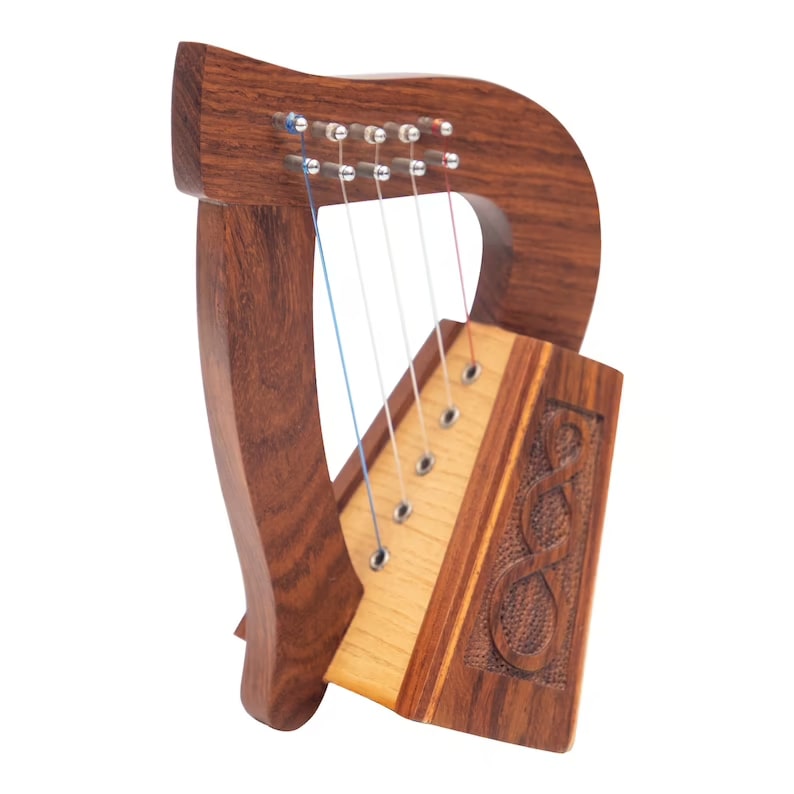 The harp has been the symbol of Ireland since the 13th century.
Now, imagine gifting someone an Irish Mini Harp, a small but fascinating instrument steeped in that long history. Despite its size, it can produce mesmerizing music that captures the spirit of ancient times.
Just like the Celts of old who cherished its enchanting melodies, you can now delight your loved ones with this special gift.
Whether they're walking through bustling Dublin or exploring the stunning landscapes of Ireland, this Irish Mini Harp will fill their hearts with pride and inspiration.
What are unique gifts from Ireland?
Shamrock Seed Packet
The Shamrock Seed Packet is a special Irish gift that represents St. Patrick's Day and the luck of Ireland. It lets you grow your own shamrocks, specifically the Trifolium Dubium Shamrock.
You can use them as a centerpiece or to brighten someone's day. It's a great gift for anyone, even if they're not Irish.
By choosing this gift, you're giving a little extra luck. Maybe they will even find a four-leaf clover among the sprouting shamrocks!
Donegal Tweed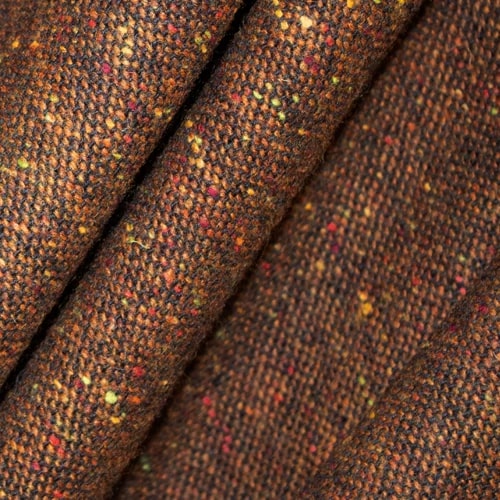 Donegal Tweed is a unique fabric that's famous for its high quality.
Originally made by hand in County Donegal, it's now one of the best fabrics you can find in Ireland and the UK.
People have been making Donegal Tweed for many years, both by hand and using machines. It's commonly used to make caps, suits, vests, and other types of outerwear.
The good news is that you can find products made from Donegal Tweed all over Ireland. You can also buy balls of the fabric itself if you know how to knit or sew.
Waterford Crystal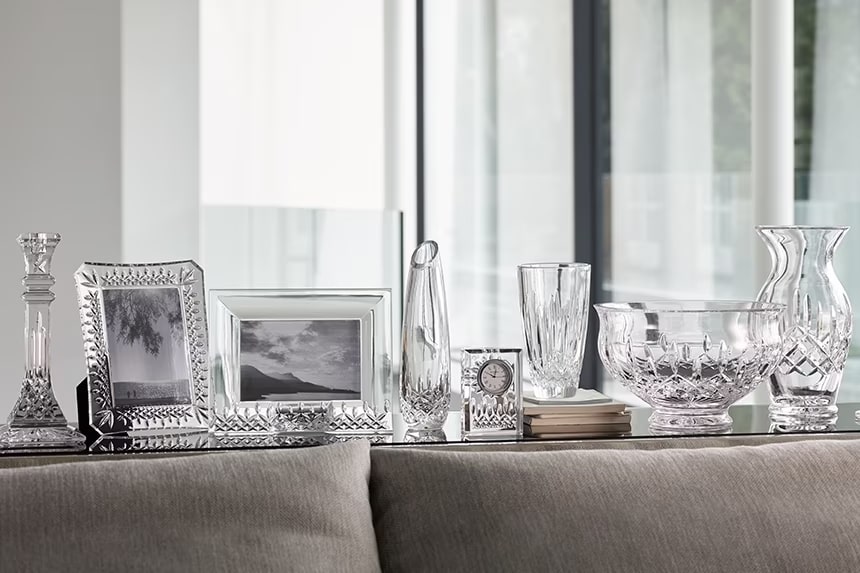 Waterford Crystal is well-known and luxurious. It's often used to make beautiful jewelry and is collected by people who love precious things.
Before you buy the crystal, make sure it's real! Some sellers claim to have crystals of the same quality, but if you want an authentic souvenir from Ireland, look for the Waterford acid stamp.
To do so, hold the crystal up to the light and look for the word "Waterford" written in fancy letters or a small Waterford symbol.
Finding either of these marks proves that the crystal is genuine. You might need a magnifying glass to see the small symbol.
Hand-Poured Guinness Candle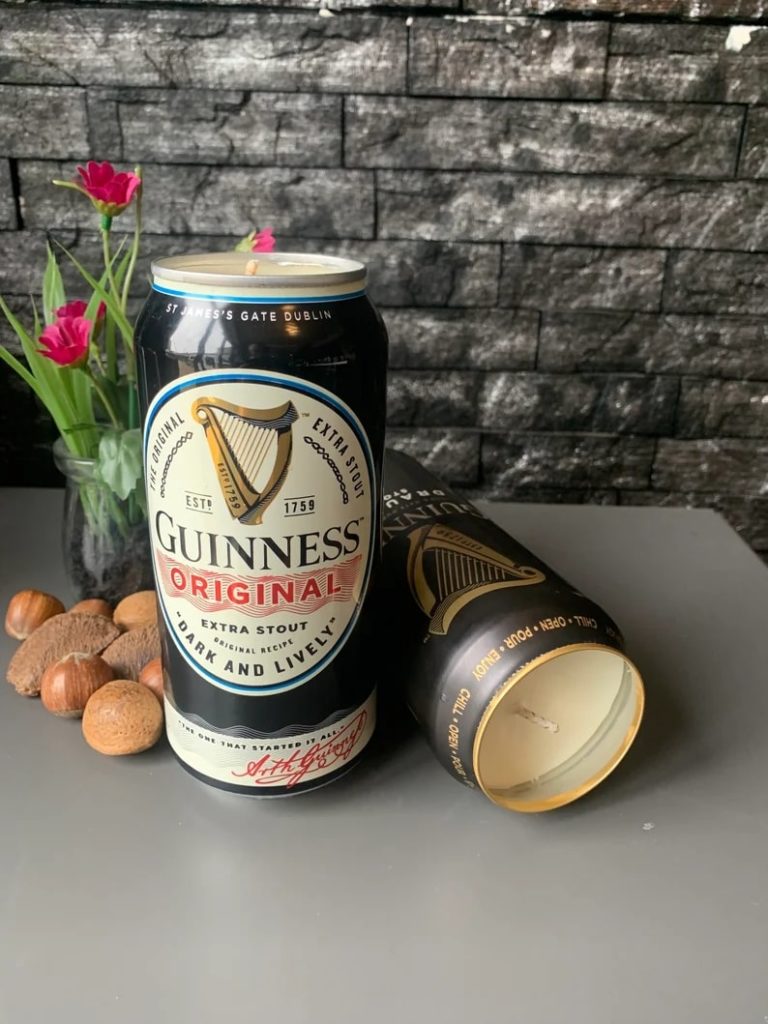 The Hand-Poured Guinness Candle comes in a recycled container, an actual Guinness can. This candle is vegan-friendly, sustainable, and cruelty-free.
It's a great way to display your fondness for Guinness. Your Guinness-loving partner or friend will surely love this candle.
Irish Metal Sign of Murphy's Law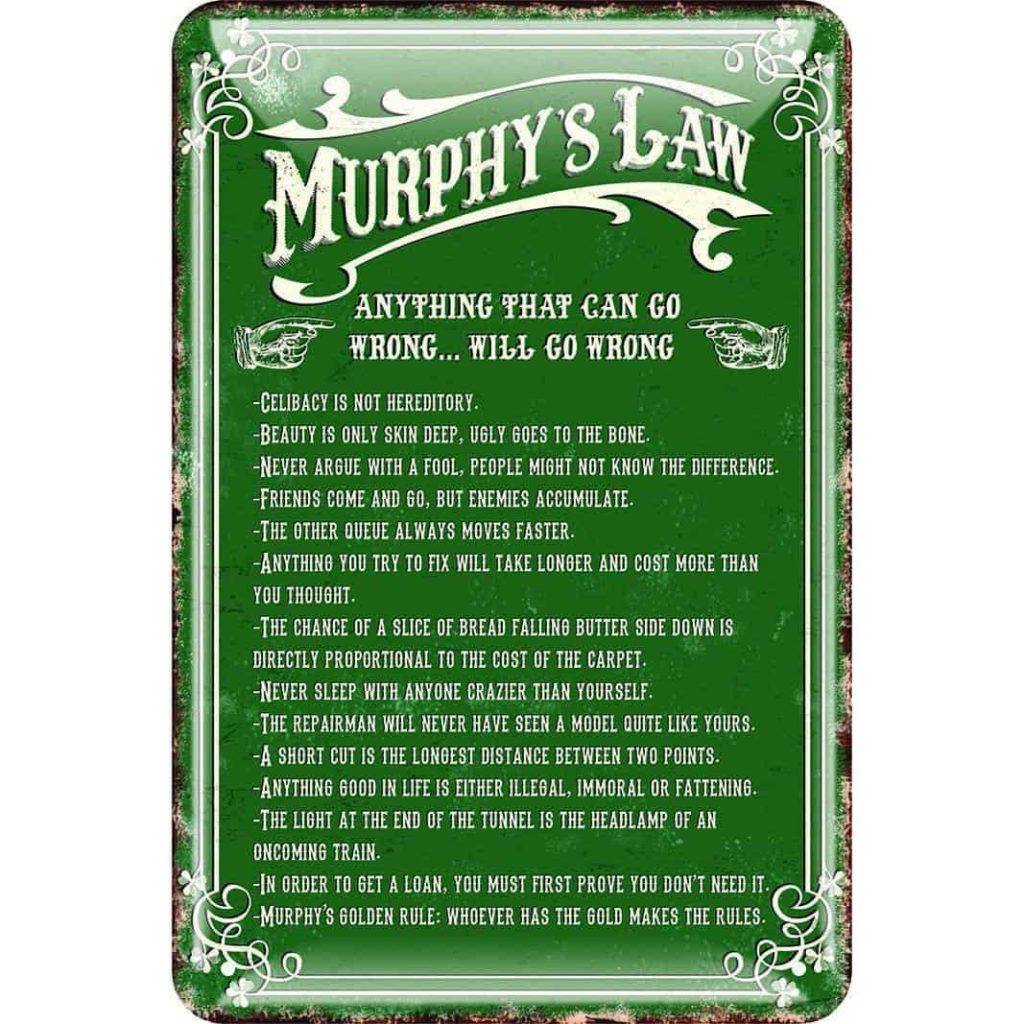 According to Murphy's Law, "Anything that can go wrong will go wrong."
This Irish-themed metal sign, made in Ireland, captures that law with a fun and attractive design. It's a great souvenir that will make you smile.
The sign has a nice font and features funny and silly quotes like "celibacy is not hereditary." Even if you're not a pessimist, it's still a fun present that will bring laughter to those around you.
What are the best Irish Christmas gifts?
For a special Irish Christmas gift, choose the Avoca Throw, Personalized Ogham Name Frame, Belleek Irish Pottery Teapot, customized Irish Pub Sign, or Irish Country Cookbook.
These gifts embody the cozy, sentimental, and culinary traditions of Ireland, making them perfect for spreading holiday joy and celebrating the festive season.
Avoca Throw
Avoca Throw uses luxurious materials like Mohair, Lambswool, and Cashmere. Mohair, in particular, provides a silky soft texture.
Whether you're snuggling up on the couch watching TV or taking a cozy nap at work, the Avoca Throws are the ideal companion. They are also great for outdoor activities like camping or picnics.
Personalised Ogham Name Frame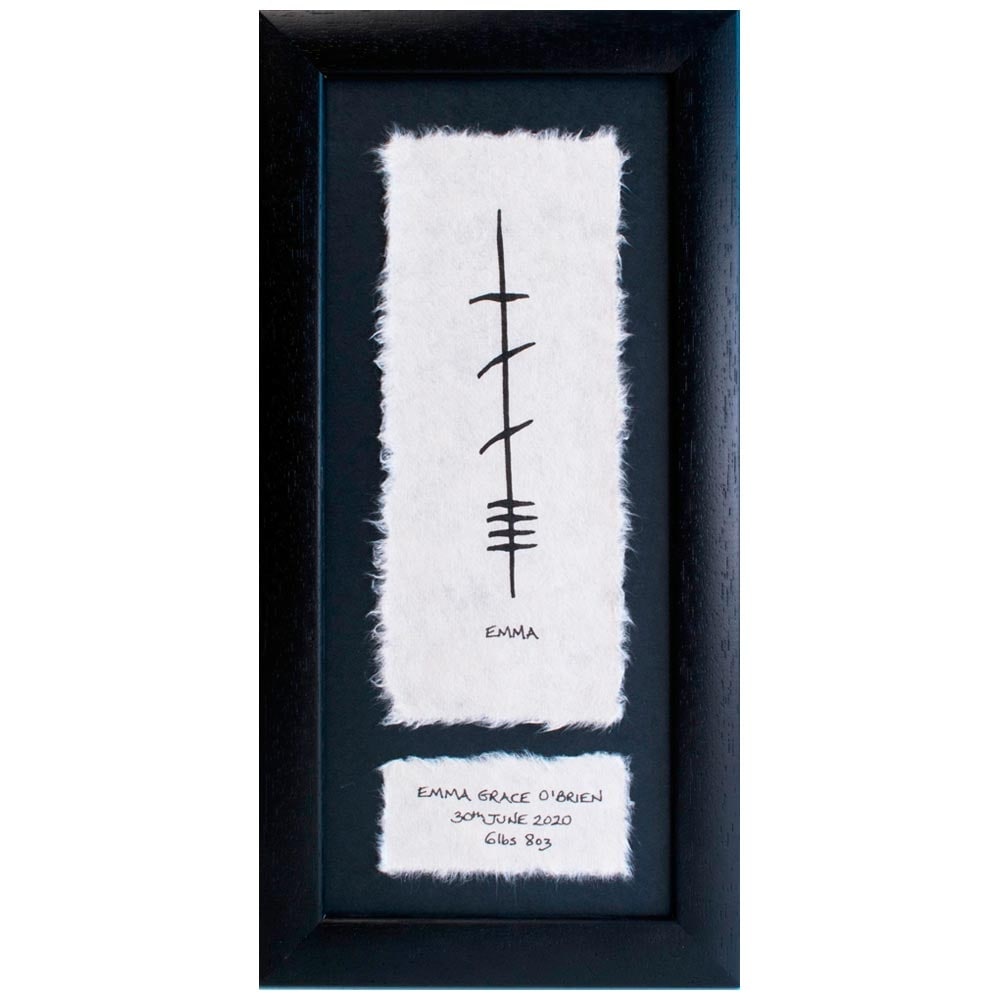 The Ogham alphabet, which dates back to ancient times, is the oldest form of Irish writing. Originally carved on standing stones, it is read from bottom to top, with each letter represented by strokes.
The personalized name frame allows you to have your lucky gift recipient's name written in Ogham.
These prints are meticulously hand-painted and crafted in Ireland, making it a truly beautiful and meaningful Christmas gift idea.
Belleek Irish Pottery Castle Teapot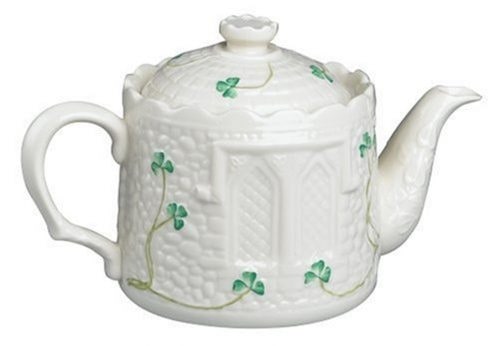 Belleek has been making pottery in Ireland since 1857. They have a special castle teapot with hand-painted shamrock design.
It's perfect for serving Irish tea when you have guests.
Each piece is unique because it's made by hand, with every detail and brush stroke skillfully added to give it an authentic Irish Belleek look and feel.
Personalised Irish Pub Sign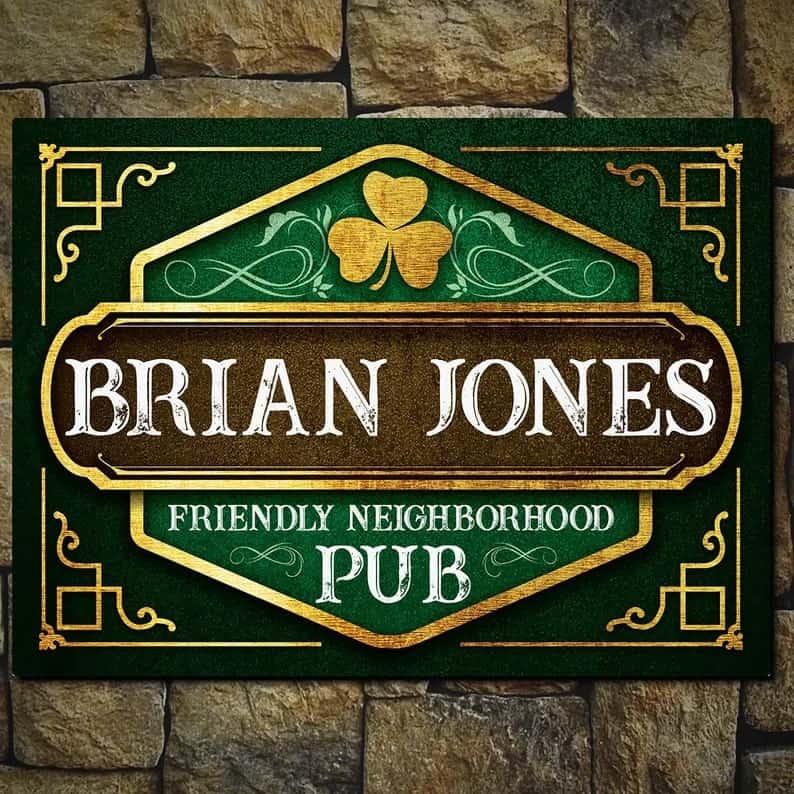 A personalised Irish pub sign is perfect for your home bar, basement, or rec room. It adds a fun touch and completes the look of an Irish pub in your own place.
The best part is that you can customize it completely according to your preferences. You can choose the style, and size, and personalize it with your name, establishment date, or a special place.
It is a great gift idea for the holidays, birthdays, weddings, Christmas, or any other special occasion. It is also a wonderful option for anniversary gifts.
Irish Country Cookbook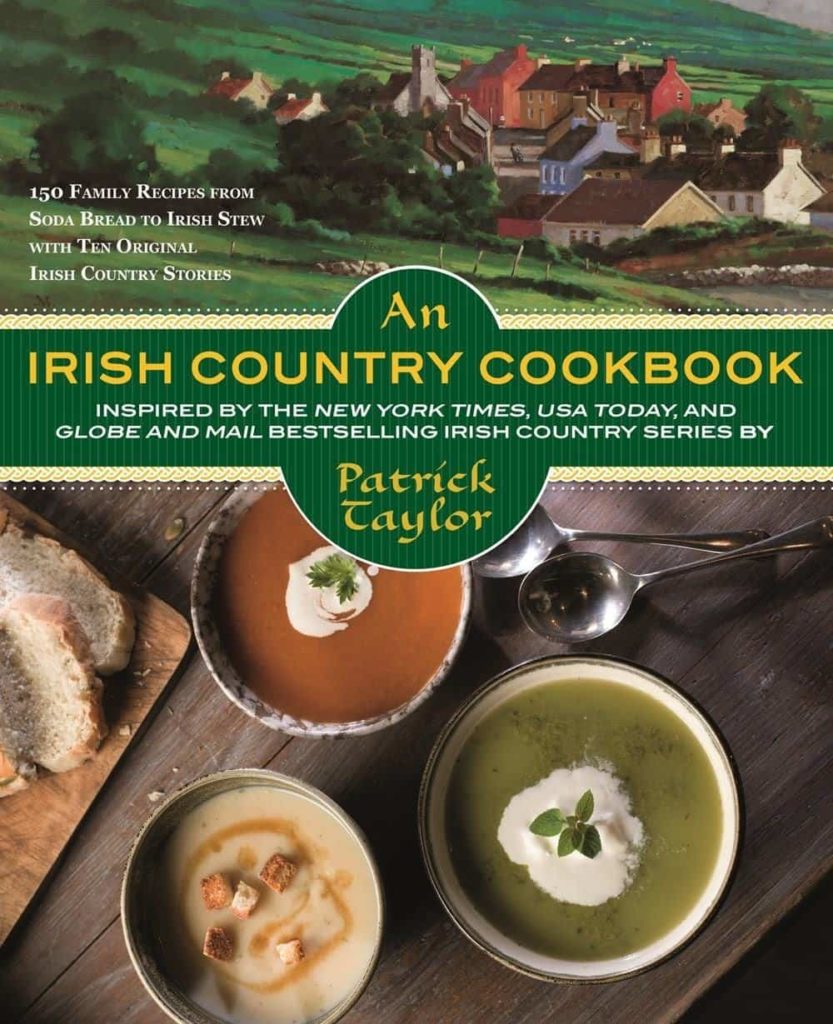 The Irish Country Cookbook is a fantastic present because it features over 140 authentic Irish recipes. From tasty seafood dishes to hearty stews and more, this cookbook allows you to explore the delicious traditional cuisine of Ireland.
Even if you already know some Irish recipes, this cookbook offers new and exciting ones to try. It's perfect for those who love cooking and want to expand their culinary skills.
Not only that, but it's also a wonderful way to bring the flavors of Ireland into your own kitchen. You can enjoy these dishes with your family and friends, creating memorable moments together.