10 Best Flooring Companies in Cork, Ireland
When we talk about interior design, whether it's for your home or business, the flooring is a key element that needs to be carefully considered. You need to make sure that it complements the overall look of your space while staying functional.
This means you have to pay attention to factors such as material, style, and durability to get the perfect option. However, besides choosing the ideal flooring, you also need to hire one of the best flooring companies in Cork to ensure you get the most out of your investment.
Below is an in-depth guide to help you find the best flooring experts in Cork. Besides listing the top options for that, we've provided a guide to choosing flooring materials in case you need that first.
Exploring Your Options for Flooring in Cork
There are different types of flooring in Cork that you can install depending on your preferences and budget. Here are some of the most common ones:
Vinyl Flooring
Vinyl flooring is one of the most popular types of flooring because of its affordability, durability, and variety in design. Although it is stain-resistant and waterproof, it is not scratch-resistant so it is not recommended for high traffic areas.
Laminate Flooring
Laminate flooring is easy to install and maintain, but moisture can make it swell and cause discolouration.
Marble Flooring
Marble flooring is an elegant and durable choice that can boost your property's value. However, it can be expensive to install and maintain.
Ceramic Tiles
A classic choice for flooring, ceramic tiles are usually used for bathrooms and kitchens because they are waterproof and stain-resistant. However, the major downside is that ceramic can be difficult to clean.
Porcelain Tiles
Porcelain tiles are among the toughest options, making them ideal for high traffic areas. However, the downside is that the installation can be costly and tricky.
Engineered Wood Flooring
An affordable and low-maintenance option, engineered wood flooring is made by putting a thin piece of hardwood above plywood. Compared to hardwood flooring, it has a shorter lifespan and is prone to discolouration.
Linoleum Flooring
The best selling point of linoleum flooring is that it is made with renewable materials such as ground cork dust and solidified linseed oil. Although it is durable and low maintenance, it is not water-resistant and is prone to scratches and discolouration.
Cement Screed Flooring
If you are aiming for that modern, industrial look for your home, cement screed is the suitable flooring option for you. However, it is important to note that this tends to be slippery and is not scratch-resistant.
Bamboo Flooring
For an eco-friendly alternative to hardwood flooring, bamboo is the best way to go. However, the disadvantage is that this type of flooring is not waterproof and the designs can be limited.
Hardwood Flooring
You can install strip, plank, or parquet hardwood flooring for that natural look. Although this environmentally-friendly option can increase the value of your property, installation can be expensive and it is prone to damage from moisture, mould, and termites.
The Best Companies for Flooring in Cork
Ready to see the best companies for flooring in Cork? To help you decide, here's a list of reliable flooring companies in the city and what they can offer.
1. O'Flynns Flooring & Joinery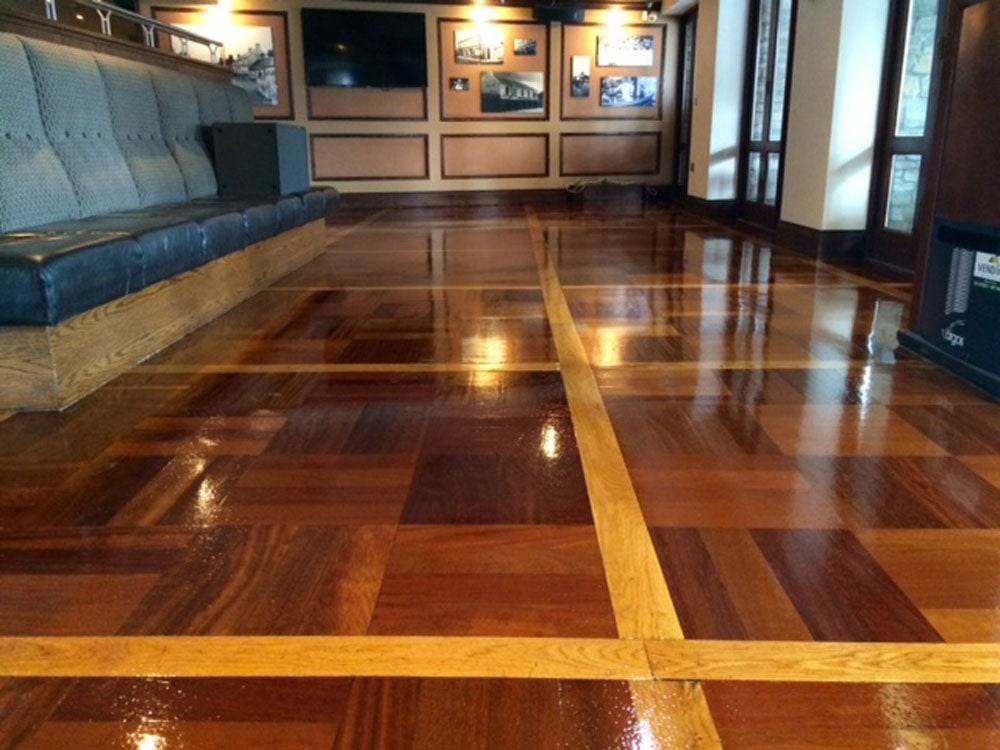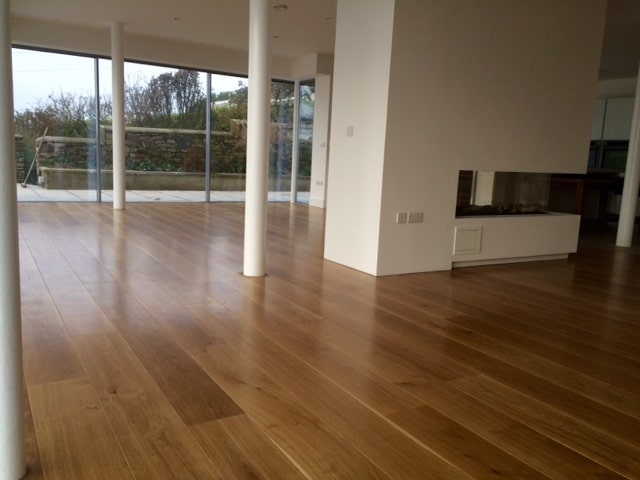 BEST FOR
Hardwood flooring and engineered hardwood floors
PRODUCTS
Floor Cleaning
Floor Refinishing
Floor Sanding and Varnishing
Flooring Installation and Restoration
Laminate Flooring Installation
Custom Flooring
Reclaimed Parquet
Wood Flooring Installation and Repair
Bespoke Joinery
WEBSITE
https://oflynnsflooring.ie/
ADDRESS
Unit 12A St Patricks Woollen Mills, Douglas Cork, Co. Cork
CONTACT DETAILS
+353 21 489 3388

[email protected]

OPERATING HOURS
10am to 1pm (Monday to Saturday)
O'Flynns Flooring & Joinery is a trusted one-stop shop for flooring in Cork, but also serves clients in Ireland and the UK. Their specialisation lies in hardwood flooring and engineered hardwood floors.
Although they offer a wide variety of ready-made flooring that comes in standard sizes, they also run their own workshop and can manufacture tailor-made flooring according to your unique needs.
With their strong understanding of how wood works and a good grasp of diverse architectural tastes, you can expect O'Flynns Flooring & Joinery to meet or even exceed your expectations.
Being in the flooring business for more than two decades, they have established connections from different parts of the world that provide them with beautiful and durable parquet. It's usually taken out of old buildings that are being redeveloped.
Having these reclaimed parquet floors installed can give your space that genuine classic appeal… and is good for the environment too, as you don't need fresh wood for your flooring then.
By the way, their team of flooring experts in Cork can cater to residential and commercial projects of all sizes. Led by a qualified German Parquet Master with 32 years of solid industry experience, O'Flynns Flooring & Joinery is undoubtedly one of the best companies for flooring in Cork, Ireland.
Can work on commercial and residential projects of all sizes
Run their own workshop and manufacture customised floors
Have international contacts they use to source beautiful parquet
Only install floors you buy from them
Customer Reviews
Below are some reviews from their past clients:
"From start to finish these guys know their job from the minute we walked through the door to the delivery of the product we received first class treatment and great advice , we were even given one of the shops samples to take home to see if the floor we chose would suit which it did. awesome people awesome prices I cannot recommend highly enough." -Christian Kyriacou
"O'Flynns have laid engineered wood planks throughout the ground floor of our new house. They were finished onsite and are absolutely stunning. From day one, O'Flynns gave us great advice and provided many options to choose from." -Maria Barry
"I recently had a laminate & hardwood floor installed by O' Flynns Flooring. The floors turned out fantastically & the workmanship is impeccable. All the guys both in-store & on site were great to deal with, incredibly friendly, flexible and professional. Cost was well within my budget, I would highly recommend O' Flynns Flooring to anyone interested in getting a great wood floor done. Thanks a million boys for everything."- Aaron Anderson
2. Tom Gavin Tiles and Flooring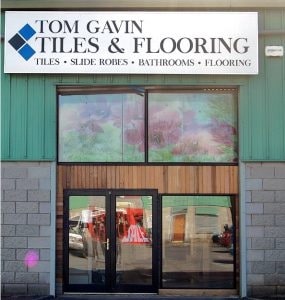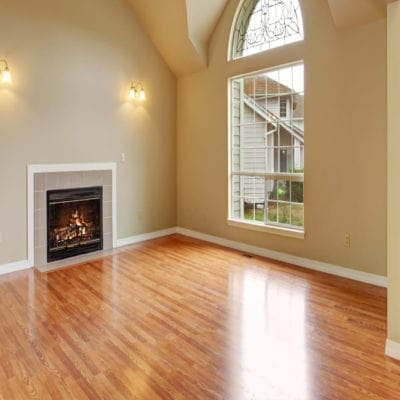 BEST FOR
Bathroom Supply and Fit
PRODUCTS
Flooring Installation
Laminate Flooring Installation
Laminate Flooring Repair
Vinyl Flooring Installation
Vinyl Flooring Repair
Floor Refinishing, Floor Sanding
Sub Flooring Installation
Tiling
Wood Floor Polishing
Wood Floor Refinishing
Wood Floor Repair
Wood Floor Staining
Supply and fit of bathroom wear
Design and fitting of Komandor Wardrobes
WEBSITE
https://tomgavintilesandflooring.com/
ADDRESS
Unit 4, Kilnagleary Business Park, Carrigaline, Cork, P43 Y827, Ireland
CONTACT DETAILS
+353 21 437 4285

[email protected]

OPERATING HOURS
9:30am to 5pm (Monday to Friday) 10am to 4pm (Saturday)
Tom Gavin Tiles and Flooring is a family-owned business running for almost 30 years and one of the best companies for flooring in Cork. They work with timber floors, laminate flooring, luxury vinyl tiles, porcelain tiles, ceramic flooring, and wall tiles.
They have a lovely showroom where you can find their massive selection of 100+ types of tiles and timber floors. These include products from different brands such as Swiss Krono, Junckers, Pergo, and Quickstep Balterio.
While you're there, you can also get expert advice from their team, which is led by Tom Gain. He trained in New York and has been working on residential and commercial flooring in Ireland since 1992.
If your floors are showing signs of wear and tear, Tom Gavin Tiles and Flooring can also restore it through their dust-free sanding and varnish treatment. Their experienced professionals and state-of-the-art equipment will give your flooring a long-lasting finish.
Aside from flooring, homeowners in Cork also hire their team for bathroom design and fitting. Beyond the flooring, they can supply quality bathroom fixtures and furniture to help you achieve the bathroom of your dreams!
Massive showroom with 100+ types of floor tiles from trusted brands
Minimal disruption and inconvenience with their dust-free sanding technique
Can do bathroom renovations beyond flooring
Don't have their own workshop and manufacture their own flooring
Customer Reviews
Here's what past clients have to say about the quality of their service:
"The company was pleasant to deal with. We were happy with the product choice, the price and the floors turned out well." -Fiona Russell
"Tom Gavin, supplied tiles/grout and they supplied and fitted large KOMANDER sliderobes to my home in Cork. They have an excellent showroom and array of tiles available. I would have no hesitation recommending them." -John Leane
"Very Good Service. Had both flooring and tiles installed. Got excellent advice and practical solutions to any problems in design etc."-Scott Gibson
"Thanks for your patience and advice today Tom. Looking forward to receiving the new catalogue. I will be in touch." -Kate Lyons
3. Pentek Installations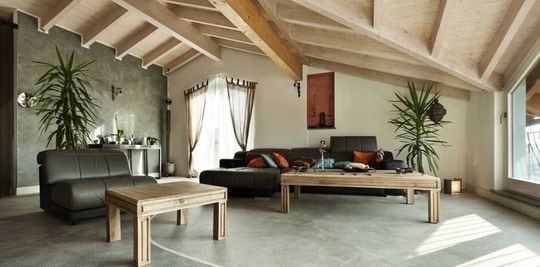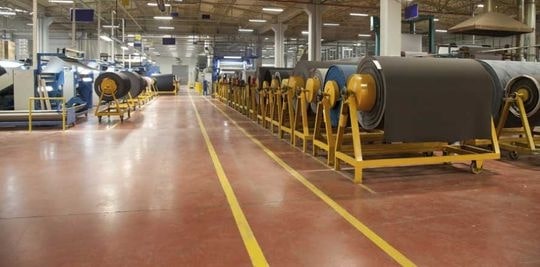 BEST FOR
Resin, epoxy, and polyurethane-based flooring
PRODUCTS
Flooring Installation
Garage Floor Coating
Garage Floor Refinishing
Resin Flooring
Epoxy Flooring
Polyurethane Flooring
Seamless floors
Epoxy Coatings
WEBSITE
http://pentekinstallations.site.fcrmedia.ie/
ADDRESS
The Crow's Nest, Catholic Walk, Barrack Green, Cork, Ireland
CONTACT DETAILS
+353 21 470 0291 +353 21 601 7739

[email protected]

OPERATING HOURS
9am to 5pm (Monday to Friday) 10am to 1pm (Saturday)
Pentek Installations is a reliable family-run business and one of the best flooring companies in Cork. It's the only provider of resin, epoxy, and polyurethane-based flooring in the city, actually.
This flooring option works well for residential, commercial, and industrial use. It's made with minerals and recycled materials sourced locally or overseas.
The resin flooring systems that Pentek Installations offer are not only durable and easy to maintain, but are also seamless and feel warm underfoot. And compared to other flooring solutions that take 2 to 10 days before they're ready to be used, their resin floors are ready 1 to 2 hours after being laid.
They're a friendly bunch, so don't hesitate to get in touch with them or visit their site. There, you can discuss the flooring system that will work best for your needs and fit your budget.
Only company in Ireland that offers this system of flooring
Provides low-maintenance flooring with the fastest turnaround time
Doesn't offer hardwood, vinyl, laminate, and other types of flooring
Customer Reviews
Check out the testimonials of their past clients:
"Pentek Installations completed a floor in my new shop The Gilded Raven, Unit 8, Paul Street, Shopping Center, Cork, at all times Pentek Installations were highly professional and easy to deal with, I couldn't be happier with the end product and I have hesitation in recommending them to anyone considering installing a high end floor whether it be in retail or otherwise, please do not hesitate to visit the shop should you wish to see the floor." -Sharon Riordan
"They have done several jobs for us, both big and small and we are very happy with the service and the finish. His natural toned resin floor, made of local stone is an amzing product and we will be putting it into our retail unit in The English Market." -Toby Simmonds
"Absolutely fantastic service, would highly recommend Luca and his team." -Rob Nagle
4. Wood Flooring Ireland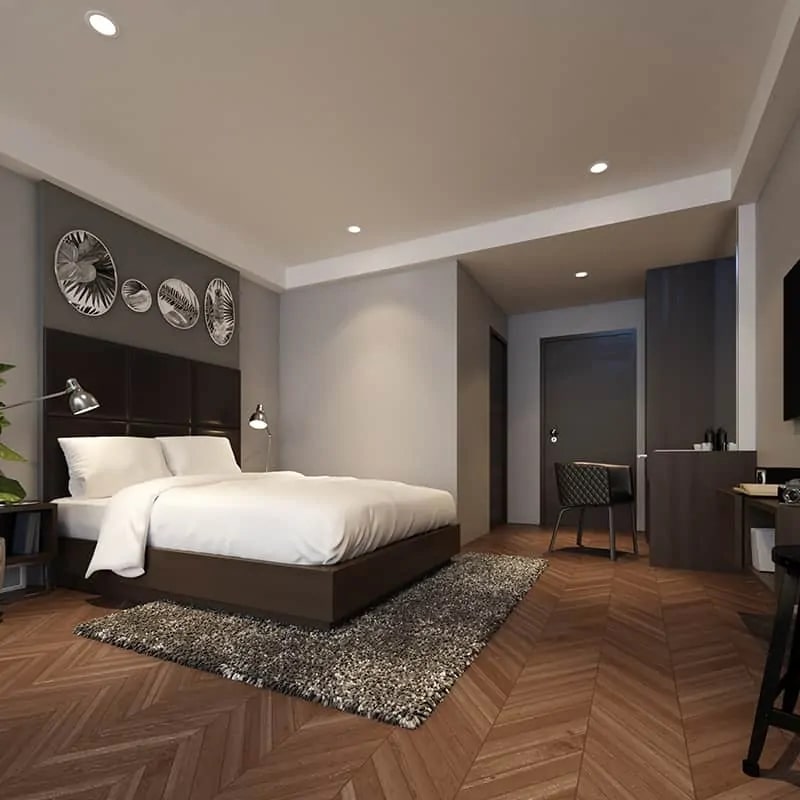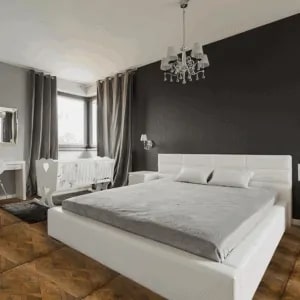 BEST FOR
Premium European Oak and other handmade wood flooring
PRODUCTS
Plank wood flooring
Chevron wood flooring
Herringbone flooring
Versailles panel flooring
WEBSITE
https://woodflooringireland.ie/
ADDRESS
19 Northpoint Business, Park Mallow Road, Cork, Ireland
CONTACT DETAILS
+353 21 462 9913

[email protected]
Wood Flooring Ireland is one of the best companies for flooring in Cork, and it specialises in handmade engineered wood flooring.
This means all their wood flooring products are manufactured onsite and can be customised according to your preferred size, colour, pattern, or style.
When you visit their factory or showroom, you'll find a wide selection of straight plank, Herringbone, Versailles, and Chevron flooring options to choose from. They even have elegant European Oak flooring sourced from the finest forests.
These premium oak products come in three different grades based on the presence of knots that give a natural appearance. They are milled by their own team and treated with eco-friendly finishes.
However, before you get too excited, it is important to note that it may take 6 to 8 weeks after placing your order before your handmade wood planks are ready for installation. That's not unreasonable for their quality, in our opinion.
All flooring options are handmade by their own sawmill team
Eco-friendly finishes
Customisable size, colour, and style
Not advisable for rush projects. Takes 6 to 8 weeks between order placement and fulfillment
Only offers engineered wood flooring
Customer Reviews
Below are some comments from their past clients regarding their service:
"Excellent selection of flooring with staff who are really at the top of their game. They couldn't be more helpful and we got quality flooring at a great price. Their flooring has help make our house a home. Highly recommended." -Michael Cahill
"Good range of timber and timber effect floor products. It's not always clear which is which. But the staff are happy to help." -Sean Foran
"Excellent staff all were very helpful and had great advice for us. They were a pleasure to deal with. Brilliant range of floors I would highly recommend Wood Flooring Ireland." -Colin Connaughton
5. Cork Tile & Wood Flooring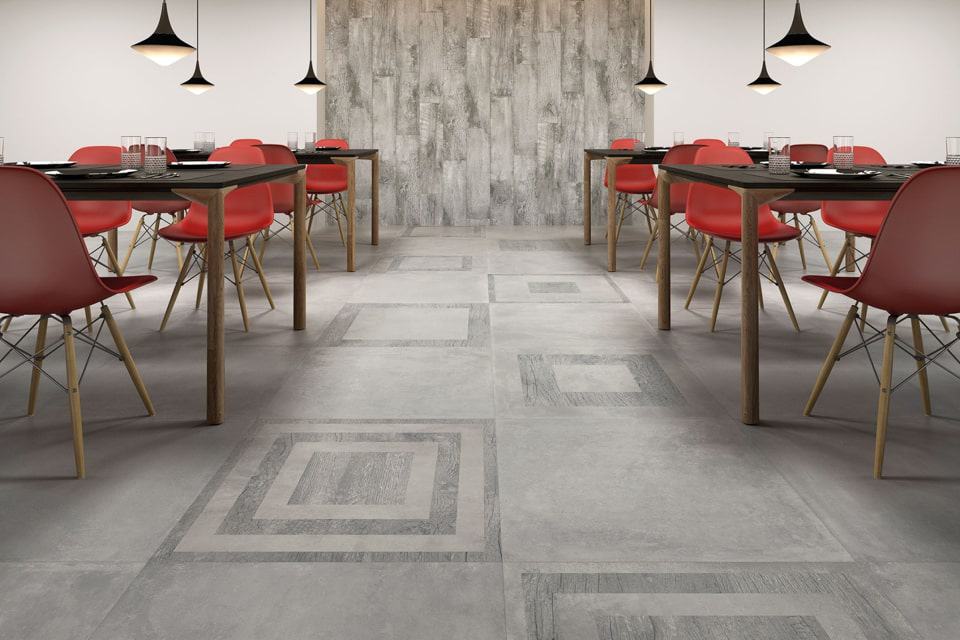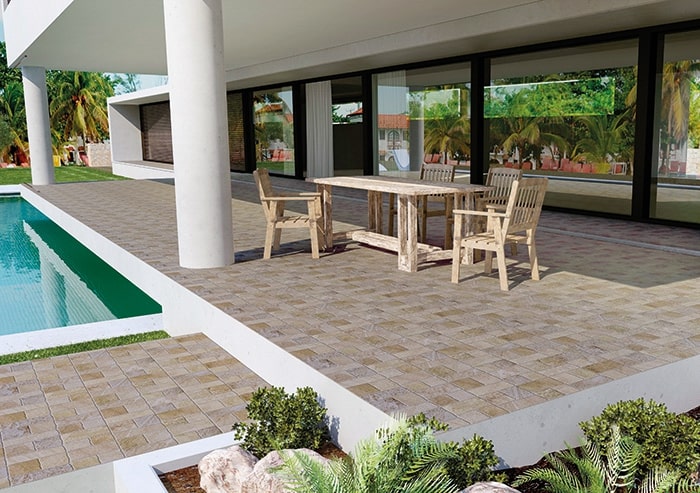 BEST FOR
Floor and Wall Tiles
PRODUCTS
Wall tiles
Floor tiles
Engineered wood flooring
Laminate flooring
Versace ceramics tiles
Wardrobes
Bathroom renovations
WEBSITE
https://www.corktileandwoodflooring.com/
ADDRESS
Unit 2, Kinsale Road Industrial Park, Kinsale Rd Roundabout, Co. Cork, T12 H7Y2, Ireland
CONTACT DETAILS
+353 21 492 9399

[email protected]

OPERATING HOURS
9am to 6pm (Monday to Friday) 9am to 5pm (Saturday) 2pm to 5pm (Sunday)
When it comes to tiles, Cork Tile & Wood Flooring is one of the best companies for flooring in Cork. Their European tiles are not only beautifully crafted, but also long-lasting.
Whether you need quality tiles for your home or business, don't hesitate to contact them. They even do bathroom renovations, and can build sliding or walk-in wardrobes that can be fitted to limited spaces.
You can find their showroom in Kinsale Road Industrial Park, just off the airport roundabout. Here, you can check their vast selection and seek expert advice on the most suitable option from their team.
If you need laminate or engineered wood flooring, Versace ceramic tiles, floor tiles, and wall tiles, locals will tell you to go to Cork Tile & Wood Flooring. The sheer range of products they carry makes them a top option.
Amazing inventory–massive selection in the showroom
Also creates sliding and walk-in wardrobes
After-sales customer service can be improved
Customer Reviews
Read some of the reviews from their past customers below:
"John was great to deal with. Listened to my requirements and showed me exactly what I was looking for. Such a great range of tiles to choose from. Great quality and prices. In love with my shower room. Thanks Guys." -Cara O Neill
"Fantastic service and selection of stock. Staff couldn't do enough for us and gave us the time of day and their opinions when mixing and matching. We priced various different suppliers and found them great value for money. The fitters were neat and tidy and took pride in their work resulting in a fantastic finish." -Shane Rock
"Had 2 bathrooms and all the flooring downstairs replaced recently. Really impressed with the workmanship. The guys were great to deal with while work was going on, As we were living in the house while work was going on. John and Eddie in the shop also were great also. They had some great ideas for the bathrooms and the range of flooring is massive. Couldn't recommend them highly enough." -Anthony Daly
6. Cork Tiling

BEST FOR
Tiling Contractor
PRODUCTS
Stone Cladding
Wet Rooms
Mosaic
Marble
Porcelain
Ceramic
WEBSITE
http://corktiling.ie/
ADDRESS
Bweeng, Co Cork, Ireland
CONTACT DETAILS
Phone: +353 86 30 36 309
Email: [email protected]
OPERATING HOURS
Contact for more details
Cork Tiling is a team of professional tilers in Cork for the domestic and commercial markets, specialising in wet rooms, bathrooms, kitchens and all types of wall and floor tiling. They can provide a complete service, including removing old tiles, rectifying problem substrates and waterproofing wet rooms and shower enclosures.
Having extensive product knowledge in the tiling industry, they will only use the correct materials for your installation.
Cork Tiling offers the consumer a fully guaranteed and top quality finish to any project they undertake.
They provide all aspects of Wall and Floor Tiling completed to a very high standard by a qualified Tiling Specialists. They are also fully trained, insured, and experienced tilers based in Cork.
Can fix and lay all forms of tiles
Have been tiling in Cork and the surrounding areas for over 20 years
Base fees or prices cannot be found online
7. Kellys Carpets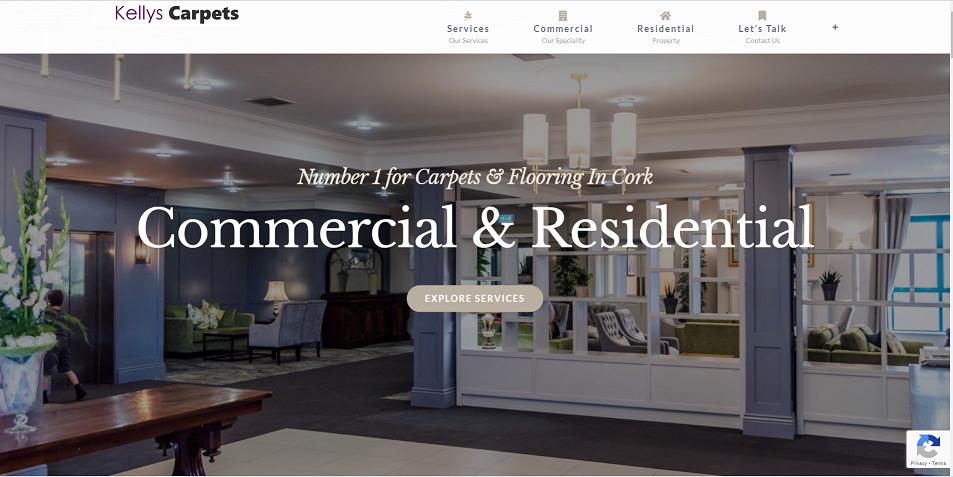 BEST FOR
Carpets and Flooring
PRODUCTS
Curtains
Luxury Vinyl Tiles
Property Services
Cinema
Hotels
Office
Restaurants & Bars
Safety Flooring
Carpets
And More
WEBSITE
https://kellyscarpets.com/
ADDRESS
Unit 5, NOF Commercial Park, Old Mallow Road,
Blackpool, Cork.
CONTACT DETAILS
(021) 4212707
OPERATING HOURS
Monday – Friday: 09:00 – 17:30
Saturday: 10:00 – 16:00
Sunday: CLOSED
Kellys Carpets caters to residential, commercial, and hospitality sectors. They supply and fit carpets, vinyl, laminate, timber flooring and all types of safety flooring.
They also supply all types of window blinds and have years of experience in the carpet trade and are a shop with a difference. Their customers can choose their new floor-covering from their showroom in Blackpool where they have their full product range on display.
Unlike other companies, their quotes also include measurements of the space that you need flooring for. This makes it easier for them to gage out the price and provide you with numbers that are highly accurate.
Free, no-obligation quotes and measurements are available
Their showroom features the latest collections from some of the finest manufacturers and wholesalers available
Customer Reviews
Read some of the reviews from their past customers below:
"I wish Kellys Carpets & Flooring continued success in their business. They did an excellent job in our Apartment. I complement Brendan, Donal and the rest of the team."
"Excellent service from donal & his team,special mention to the blind fitter Paul, fantastic service 👍"
8. Munster Epoxy Flooring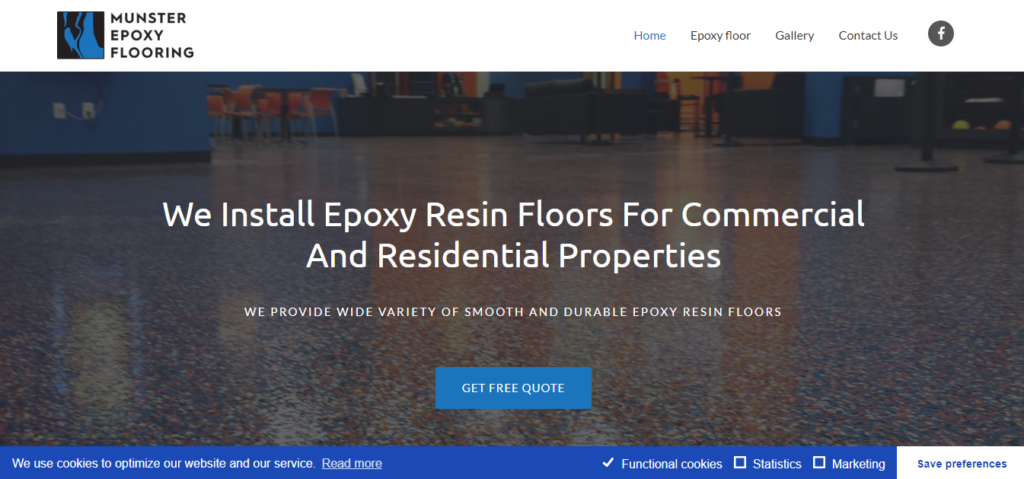 In comparison with other companies, your floors with Munster Epoxy Flooring will have excellent chemical resistance against fats, oil, grease, acids, and other harsh chemicals. It will also have an antimicrobial component to impede the growth of microorganisms. This will provide long-term protection from a broad spectrum of bacteria.
They offer limitless designs and styles that you can choose from to suit your interior design. You can even create your own color scheme!
People like this because their projects are always well done and outstanding. Their services definitely add a pop of design in your house!
Free estimates
Competitive prices
Operation hours are unavailable on their website
Customer Reviews
Read some of the reviews from their past customers below:
"Highly recommend.did a great job."
"Šudas,chaltura bruokuota."
9. Designer Tiles Douglas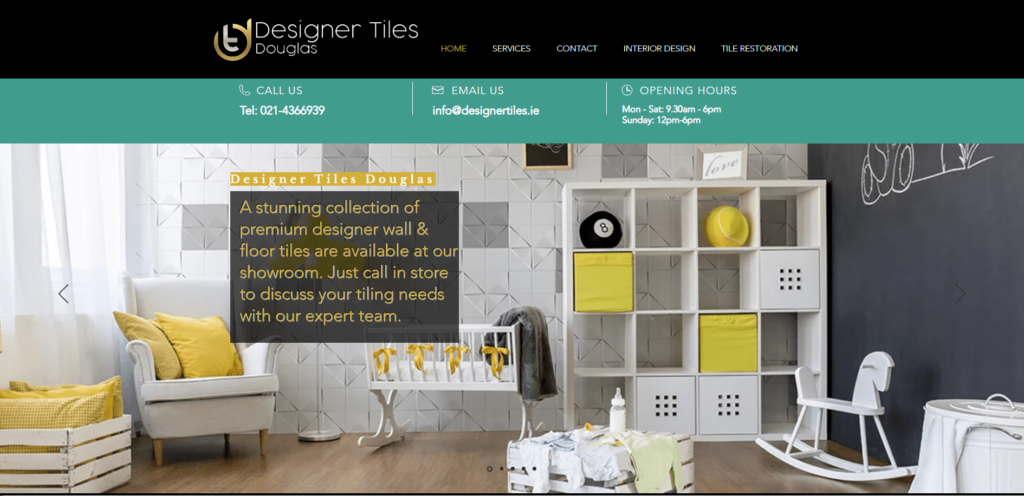 BEST FOR
Premium Flooring
PRODUCTS
High-end, designer tiles for bathrooms, walls, kitchens, floors, and commercial use

WEBSITE
https://www.designertiles.ie/
ADDRESS
Unit 27 St Patrick's Woollen Mills, Douglas, Co. Cork, T12 PTW9, Ireland
CONTACT DETAILS
021-4366939


[email protected]

OPERATING HOURS
Mon – Sat: 9.30am-6pm
Sunday: 12pm-6pm
If you're looking to add a sleeker, high-end touch to your space, Designer Tiles Douglas might be the choice for you. They offer these designer tiles for bathrooms, walls, kitchens, floors, and even for commercial spaces, all while still paying attention to your budget.
They have a pretty hands-on process, too, which means being with the customer in measuring, delivery, and fitting your choice tiles. A plus is that they give very informative advice, whether you avail of their tiles or not.
Their showroom is said to be able to speak for itself with its wide collection of stunning and beautiful tiles. Make sure to check them out if your interior design project peg aligns.
Perfect for high-end projects
Ensures premium quality while considering your budget
Can cater to commercial spaces as well
May not be suitable for those aiming for a more basic look
Customer Reviews
Read some of the reviews from their past customers below:
"Working with Designer Tiles has made my job so much easier. The staff have been extremely helpful in sourcing the exact style tile I was looking for and also there install team have been brilliant to work with. Happy to recommend them and will be using them again."
"Just one word "brilliant". Lots of different tiles so many options, different shapes, colours. Just amazing and very good prices. Very nice staff, very helpful. Definitely you have to go there and you will choose that's for sure."
10. Contract Flooring Supplies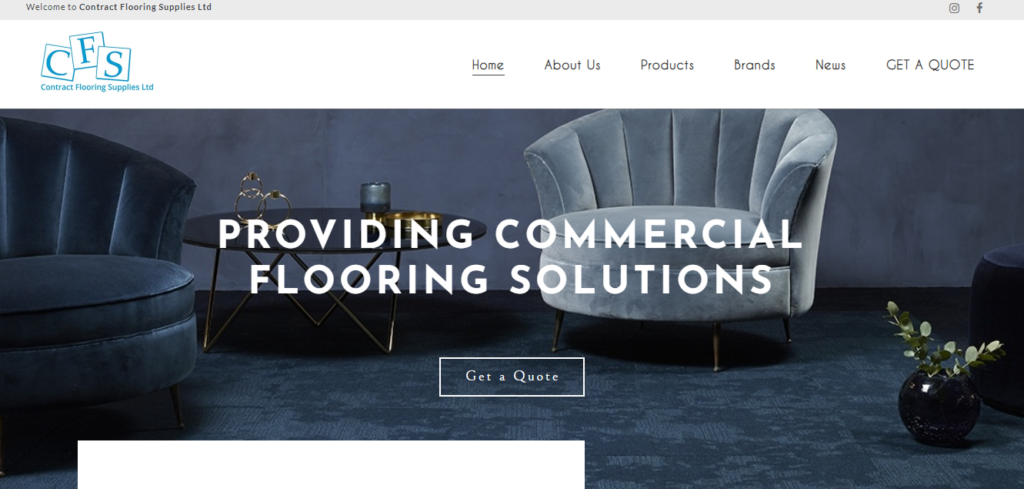 BEST FOR
Commercial Floors
PRODUCTS
Carpet Tiles
Cork Flooring
Entrance Matting
Flotex
Linoleum
Luxury Vinyl Tiles
Safety Flooring
Sports Flooring
Stair Nosings & Floor Trims
Tools & Accessories
Vinyl
Wall Protection
WEBSITE
https://www.contractflooring.ie/
ADDRESS
Unit 233 Holly Road, Western Industrial Estate, Naas Road, Dublin 12.
CONTACT DETAILS
01 4568422 email [email protected]
OPERATING HOURS
8am – 5pm Monday – Friday
Contract Flooring Supplies is a provider of full-time commercial flooring solutions throughout Ireland that is geared to help source professionals in the field. Established back in 1971, they have been in the industry for over 40 years and make it to a point to update their products and services to suit the needs of today's period.
We find it exemplary that they have formed various international partners over the years that supply leading brands when it comes to flooring needs such as Romus and Gerflor among many others.
Another thing we are thrilled about is their team of experienced professionals and staff that clients can readily consult with when choosing what would be the best and most appropriate flooring material to be used for different places and rooms.
They are able to deliver and accommodate international orders in which they have also garnered experience when it comes to handling various industries such as healthcare, leisure, and educational sectors.
Overall, we find their services ideal for just any commercial enterprise in need of quality flooring materials since not only will they be able to consult with a professional but also be able to choose among a wide array of brands that will best suit their preferences.
Accommodates various industry
Experienced technicians
Quality products utilized
Operating hours unavailable
FAQs About the Best Companies for Flooring in Cork
---
The type of flooring you install has a huge impact on the interior design and the value of your property. Also, your decision on which flooring company to hire can make or break the success of your project — so choose wisely!
Have you tried any of the best companies for flooring in Cork in our list? Share your experience with them with us!