The 5 Best Eyelash Extension Salons in Dublin
Want to make your eyes look all dolled up without using mascara or other eye makeup? If so, getting eyelash extensions might be the best option!
You could also look into the best beauty salons in Galway, Cork, and Limerick if any of those cities are closer to the special event you have coming up.
Though if you only want to see the best eyelash extension salons in Dublin, we've got you covered. But first, see why we picked some of our favourites below.
How much do eyelash extensions in Dublin cost?
The cost of getting eyelash extensions varies from salon to salon in Dublin.
Because every person's eyes are different, it's advisable to select a pair that goes with your eye shape, lash length, and lifestyle.
Here are some estimates as your initial reference:
| EYELASH EXTENSION | ESTIMATED FEES |
| --- | --- |
| Consultations | €20 to €30 |
| Full set | €25 to €175 |
How We Picked the Best Eyelash Extension Salons in Dublin
We assessed salons based on the following criteria: 
1. Luxe Dublin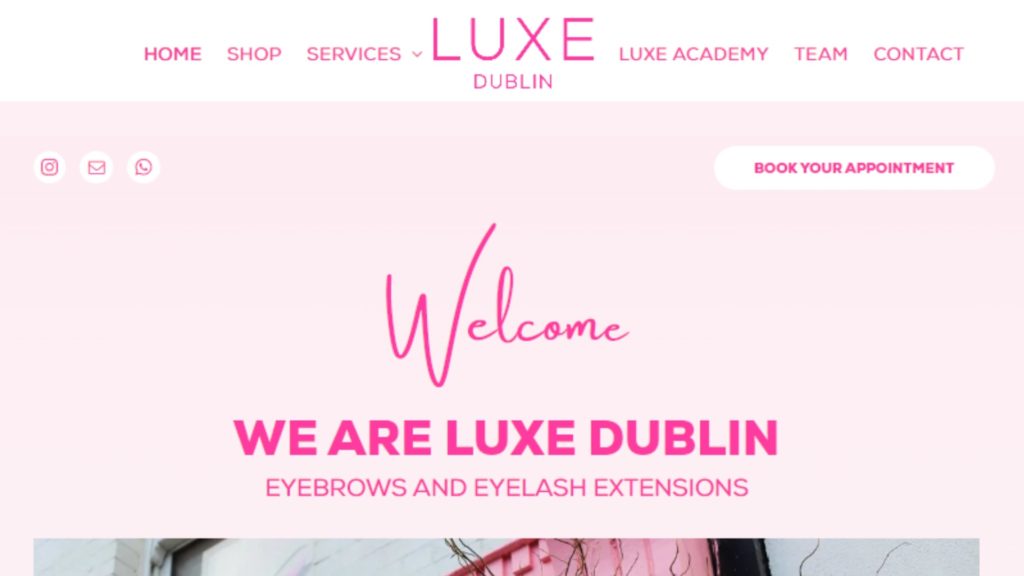 Test
Info
SERVICES

Lashes, Brows, Lip Blush

WEBSITE
https://www.luxedublin.ie/
ADDRESS
114 Terenure Rd N, Terenure, Dublin 6W, Co. Dublin, D6W N966, Ireland
CONTACT DETAILS

PHONE: +353 83 431 3362

OPERATING HOURS

Tuesday - Friday: 10:00 AM - 8:00 PM

Saturday: 9:00 AM - 3:00 PM
| | |
| --- | --- |
| COST | ★★★★☆ (4/5) |
| BOOKING SYSTEM | ★★★★★ (5/5) |
| SERVICES | ★★★★★ (5/5) |
| VARIETY | ★★★★★ (5/5) |
| SUFFICIENCY | ★★★★★ (5/5) |
| COMMUNICATION | ★★★★☆ (4/5) |
| ACCESSIBILITY | ★★★★☆ (4/5) |
| LEVEL OF CARE | ★★★★☆ (4/5) |
Luxe Dublin is one of the top eyelash salons in Dublin that we recommend for natural results.
Using the same fibres as light volume lashes, they offer quality synthetic lashes. Because of this, we think that the natural-looking lashes would also be durable.
We like their pink and cosy boutique as well. Along with this, we think their friendly staff makes their customers feel at ease throughout the service.
Several of the clients we spoke to also praised the aftercare assistance provided by their team. The clients knew what to do to get the best results because they were detail-oriented during their sessions.
We did observe that they have a small team of 3, so at times we feel they can get busy.
Also, note that their online booking occasionally goes under maintenance. This can make it more difficult for potential clients to contact them.
Yet, we appreciate their own line of vegan and handmade beauty goods, which you may order online. This way, customers who want to try DIY lash removal or brow sculpting may do so from the comfort of their homes.
Should you want to give them a try, note that Luxe Dublin is open 5 days a week. This excludes Mondays and Sundays.
Offers natural-looking eyelash extensions
Relaxing space and quality equipment
Available to order vegan and handmade items 
Good aftercare assistance
Has a few staff members
Online reservations may not always work
Customer Reviews
Absolutely excellent
"Ríanna is absolutely excellent, I had lip blushing & am so happy with the results! Ríanna is meticulous & her attention to detail is A1!! Salon is super cute & everyone is so friendly & welcoming." – Jen Ní Dhonnghaile
Love them
"First time here to get my lashes done, Shannon did an amazing job, love them. Such a nice place to go everybody very friendly, have already made my next appointment." – Michelle Kenny
2. The Lash Boutique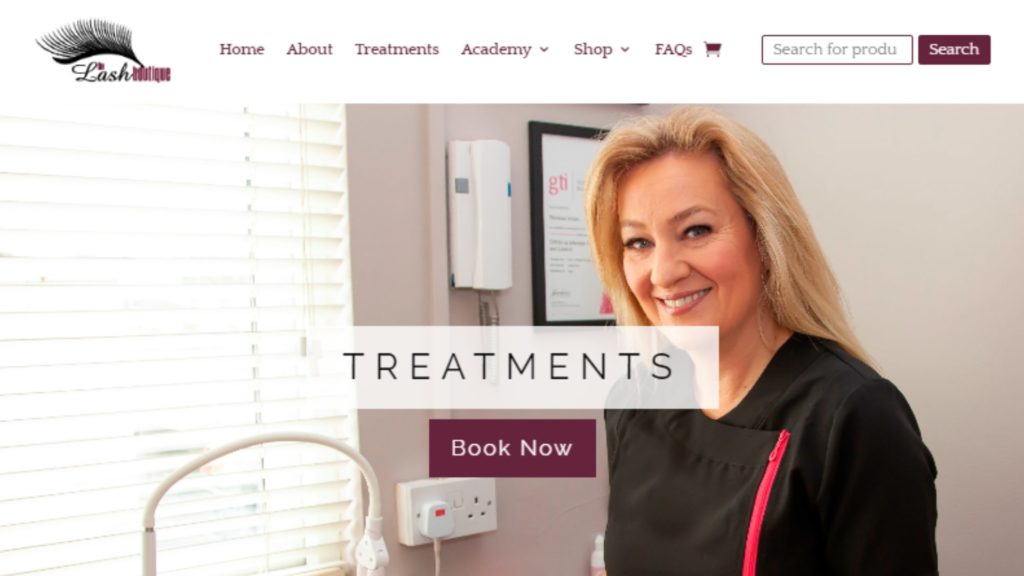 Test
Info
SERVICES

Eyelash Extensions, Pro Magnetics

Eyelash Academy, Online Shop

WEBSITE
https://thelashboutique.ie/
ADDRESS
Newtownpark Clinic, 7 Rockville Rd, Blackrock, Co. Dublin, A94 RC52, Ireland
CONTACT DETAILS

PHONE: +353 86 856 1460

OPERATING HOURS

Monday - Friday: 10:00 AM - 6:00 PM
| | |
| --- | --- |
| COST | ★★★★☆ (4/5) |
| BOOKING SYSTEM | ★★★★★ (5/5) |
| SERVICES | ★★★★★ (5/5) |
| VARIETY | ★★★★★ (5/5) |
| SUFFICIENCY | ★★★★★ (5/5) |
| COMMUNICATION | ★★★★☆ (4/5) |
| ACCESSIBILITY | ★★★★☆ (4/5) |
| LEVEL OF CARE | ★★★★☆ (4/5) |
Another of our favourite eyelash extension salons in Dublin is The Lash Boutique.
We can say right away that they offer comprehensive lash procedures. They have eyelash extensions that you can use to create a variety of lash looks, from subtle to voluminous.
The actual application might cost anything between €25 and €165, and their consulting fee is €20. Yet, we believe this is fairly reasonable because these fees are within the typical range in the city.
Furthermore, we think it's convenient that they offer brow and lip services. To maximise your visit and save more money, we advise checking into their 3-in-1 packages (inclusive of eyebrow tint, eyebrow shaping, and lash tint).
In addition to accepting American Express, Visa, and Mastercard, we value that they accept Stripe payments to give customers more financial flexibility.
However, bear in mind that they only offer lash refills to regulars. If you had an eyelash extension problem at another salon, they're open to a discussion but may not be able to accommodate everything.
Still, we think you can easily book The Lash Boutique since they usually have many open slots – but these are only accessible during the weekdays.
Various lash lengths to pick from
Accepts Stripe flexible payments
Offers many open slots for booking
Charges average rates
Unavailable on weekends
Refills are only for repeat customers
Customer Reviews
Lovely experience
"It is always such a lovely experience to come here in such a relaxed atmosphere with such a skilled technician. Thereasa could not be any nicer, skilled or more professional in what she does, incredible." – Jennifer Coughlan
Incredibly professional
"I had the pleasure of getting lash extensions for my wedding with Theresa. Theresa is incredibly professional and passionate about what she does. Her attention to detail was second to none. The whole process was so relaxing I drifted asleep. I cannot recommend Theresa enough. For anyone thinking about booking – let this review be your sign to go ahead and do it. You won't regret it. A true ⭐️⭐️⭐️⭐️⭐️ experience!!" – Lauraine Mc Dermott
3. The Blink Bar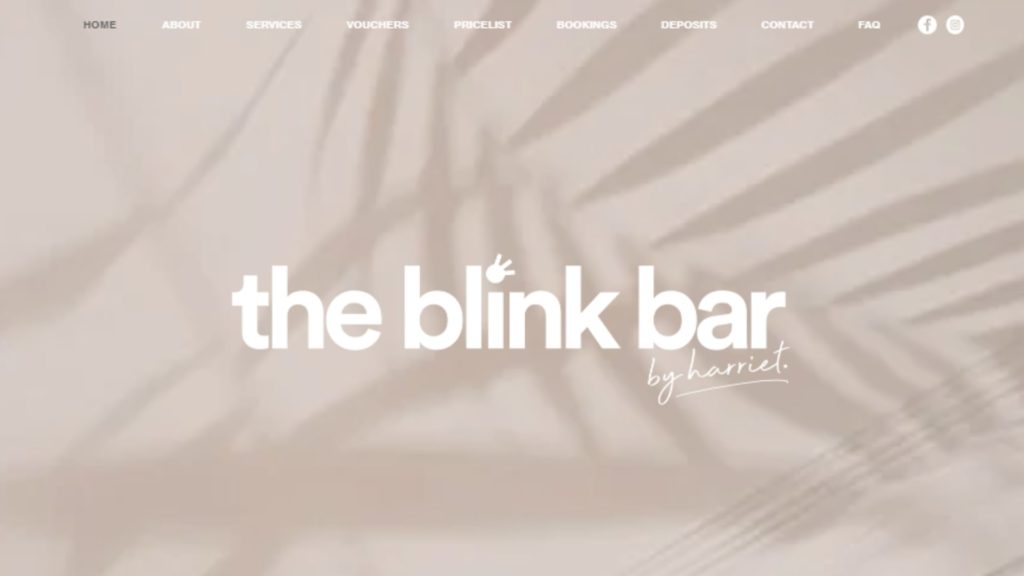 Test
Info
SERVICES

Eyelash Extensions, Lash Lift & Lash Tint

Makeup Application, Bridal Consultations

Brow Shaping, Threading & Waxing

High Definition Brow Tinting

WEBSITE
https://www.theblinkbar.ie/
ADDRESS
10 Ranelagh, Dublin, D06 K8Y2, Ireland
CONTACT DETAILS
OPERATING HOURS

Monday & Friday: 10:00 AM - 6:00 PM
| | |
| --- | --- |
| COST | ★★★★☆ (4/5) |
| BOOKING SYSTEM | ★★★★☆ (4/5) |
| SERVICES | ★★★★☆ (4/5) |
| VARIETY | ★★★★☆ (4/5) |
| SUFFICIENCY | ★★★★☆ (4/5) |
| COMMUNICATION | ★★★★☆ (4/5) |
| ACCESSIBILITY | ★★★☆☆ (3/5) |
| LEVEL OF CARE | ★★★★★ (5/5) |
If you're attending a wedding soon (or having one yourself), we believe The Blink Bar is one of the best salons for getting eyelash extensions in Dublin.
They have some of the broadest selections of eyelashes we've seen in the city! Whole sets of volume lashes, hybrid lashes, partial sets, refills, and removals are all available.
We also find it convenient that this studio offers bridal consultations. This is in addition to their standard beauty procedures like eyelash extensions, makeup, brow shaping, threading, and waxing.
For us, their specialised bridal service can turn their shop into a go-to place for other special occasions too.
Also, we think it's great that clients can select the lash stylist for their sessions. In our opinion, this can make bookings more comfortable if you become a regular.
We applaud them for having team members who are already senior lash stylists as well. For us, this strengthens their salon's credibility over other, newer salons.
But keep in mind that some of their eyelash services cost more than those at other boutiques. Depending on how many you want, their semi-permanent lashes cost between €65 and €120.
If you want a refund, you should also let The Blink Bar know at least 72 hours before you cancel. For them to make accommodations for you, you should adhere to their guidelines because they're rather stringent about it.
Numerous beauty services available
Ideal for special events
Offers consultations for brides
Clients may choose their stylist
Some eyelash options can be pricey
Strict refund policy
Customer Reviews
Lovely place
"Harriet is a true pro. I'm always happy with my lashes, and it's such a lovely space to visit!" – Sarah Dungriffin
Highly recommended
"A little hard to find due to lack of signage but once you do it's like a beauty dream. I wanted mink lashes but hadn't a clue about them. Orla went through my options and was professional and attentive throughout. Would highly recommend." – Kate Forte
4. Christoph Eye Couture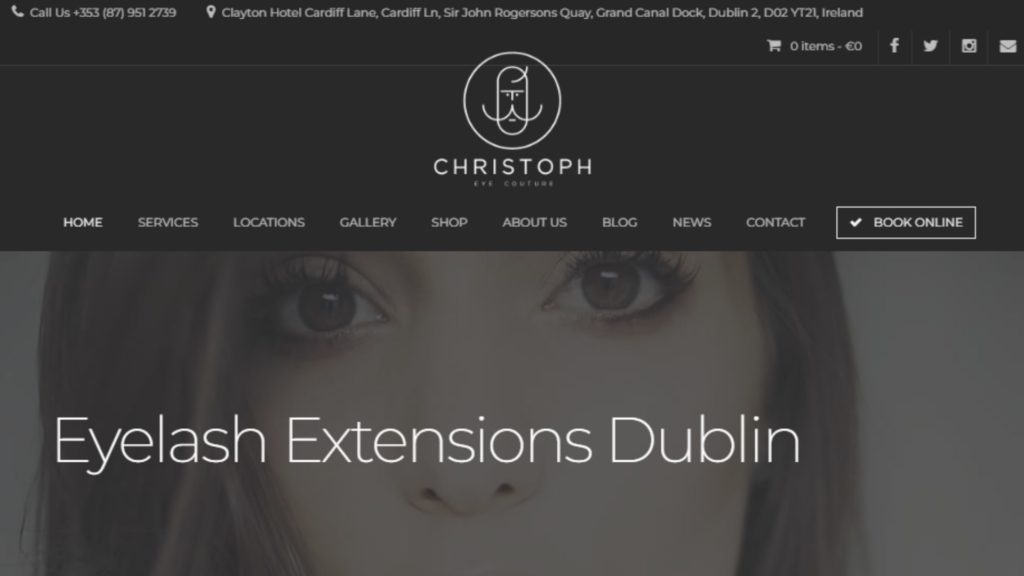 Test
Info
SERVICES

Lash Extensions, Makeup, Training

WEBSITE
https://www.christopheyecouture.com/
ADDRESS
Clayton Hotel, 10-12 Cardiff Ln, Dublin 2, D02 YT21, Ireland
CONTACT DETAILS

PHONE: +353 87 951 2739

OPERATING HOURS

Monday - Tuesday: 12:00 PM - 4:00 PM

Wednesday - Saturday: 10:00 AM - 9:00 PM
| | |
| --- | --- |
| COST | ★★★★☆ (4/5) |
| BOOKING SYSTEM | ★★★★☆ (4/5) |
| SERVICES | ★★★★☆ (4/5) |
| VARIETY | ★★★★☆ (4/5) |
| SUFFICIENCY | ★★★★☆ (4/5) |
| COMMUNICATION | ★★★★☆ (4/5) |
| ACCESSIBILITY | ★★★★☆ (4/5) |
| LEVEL OF CARE | ★★★★☆ (4/5) |
Christoph Eye Couture is on our list of great salons to get eyelash extensions in Dublin because of how well they do custom work.
We thought they had a good range of eyelash extensions, from light to medium to full volume.
When we checked, there were a bunch of open schedules too. For us, it's easy to make an appointment on their website because of the simplicity of their contact form.
But some days have fewer openings than others, so we feel you should make a reservation a week ahead.
Moreover, note that their costs may be a bit higher than others.
They cater to A-list celebrities and specialise in luxurious eyelash extensions. So, we believe their prices are justified for their clientele.
As a result, their pricey services may not be the first choice for many. However, we think you should consider them for special occasions like weddings, anniversaries, and the like.
We also love that there are several communication channels available if you can't book them online. Alternatively, you may book via email, phone call, SMS, or WhatsApp.
For more information, you may reach Christoph Eye Couture 5 days a week, except on weekends. Just keep in mind that they work shorter hours than several other salons in Dublin.
Provides luxury eyelash extensions
Usually accommodates A-list clients
Easy-to-use online booking
May contact them through various channels
Rates can get more expensive than others
Some days have fewer slots
Customer Reviews
Comfortable and durable lashes
"Love getting my lashes done by Christoph, always get a natural enhanced lash look. Lash extensions are comfortable and last ages. Christoph is very professional and skilled. Always easy to relax and listen to music while getting extensions done. Wouldn't go anywhere else." – Niamh Mc Evoy
Natural and high quality
"Super natural and high quality lashes!! I got my lashes redone here after being unhappy with a previous artist and they exceeded expectations! I also love that you are reclined in a chair rather than laying flat on your back, but that is personal preference. Highly recommend" – Katia Bulatov
5. Rochas Beauty Concept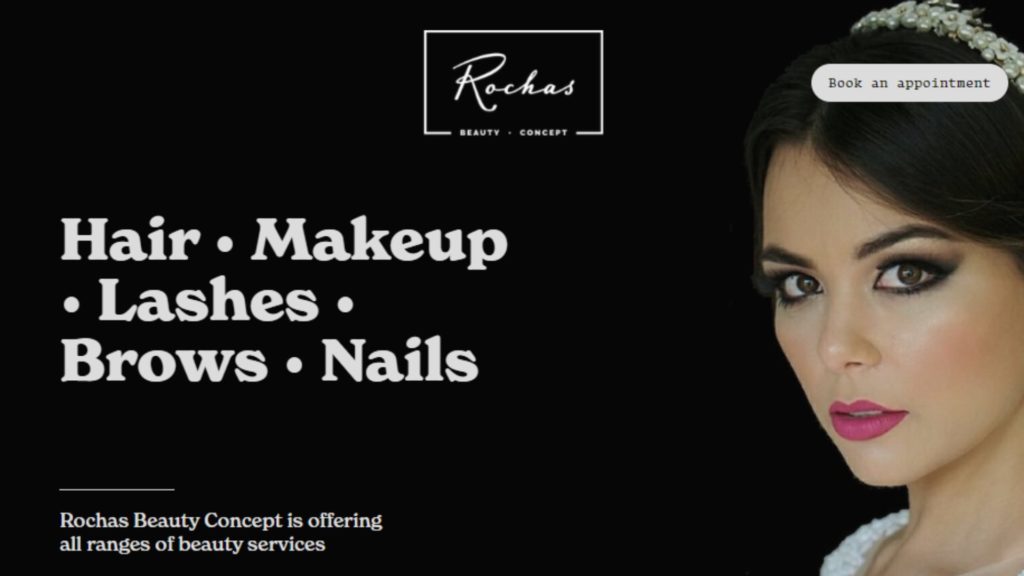 Test
Info
SERVICES

Hair, Makeup, Lashes, Brows, Nails

WEBSITE
https://www.rochasbeauty.com/
ADDRESS
42 Richmond St S, Portobello, Dublin 2, D02 TV08, Ireland
CONTACT DETAILS

PHONE: +353 89 616 4468

OPERATING HOURS

Monday: 11:00 AM - 8:00 PM

Tuesday: 10:00 AM - 8:00 PM

Wednesday - Thursday: 9:00 AM - 8:00 PM

Friday: 8:00 AM - 7:00 PM

Saturday: 8:00 AM - 6:00 PM
| | |
| --- | --- |
| COST | ★★★★★ (5/5) |
| BOOKING SYSTEM | ★★★★☆ (4/5) |
| SERVICES | ★★★★☆ (4/5) |
| VARIETY | ★★★★☆ (4/5) |
| SUFFICIENCY | ★★★★☆ (4/5) |
| COMMUNICATION | ★★★★☆ (4/5) |
| ACCESSIBILITY | ★★★★☆ (4/5) |
| LEVEL OF CARE | ★★★★☆ (4/5) |
Rochas Beauty Concept is a great choice for many different beauty services in addition to lash extensions in Dublin.
They work on the nails, brows, hair, and makeup too! For this reason, we think they're reliable if you want beauty treatments from head to toe.
Currently, there are 6 staff members at this salon. This is more than a couple of others on our list, so we think they can accommodate more clients.
Moreover, we like that their stylists' profiles are uploaded on their website. Before making a decision, we recommend looking through their Instagram accounts to get a sense of their previous work.
They have average fees too! Their service costs seem to be on par with those of other boutiques.
We love the fact that they give discounts now and then as well. Still, some deals are not easily seen or offered at the last minute, so we feel it's better to scan their website before booking.
Also, they provide gift cards you might be interested in. Since customers may customise the voucher's look, we believe this can be a sweet gift for a loved one.
Yet, one of the people we talked to who had eyelash extensions had an allergic reaction to them. If you're worried, make sure to do a patch test with them beforehand.
Except on Saturdays, you may contact Rochas Beauty Concept on other days of the week if you're interested.
Open 6 days a week
Offers comprehensive beauty services
Shows their team's profiles online
Provides discounted fees
Rare instances of client allergic reactions
Unavailable on Sundays
Customer Reviews
Left feeling wonderful
"The team is an amazing and great environment. I am in love with my extension hair 😍 I truly recommend this place it will be worth a lot. You will leave this place feeling wonderful because it happened to me. Now I can not go to another place I already know the best place to take care of beauty 💇‍♀️💅" – Renata Santos
So good
"I love your work, Lilian is always attentive and with an excellence of work that I have never seen congratulations. Lilian you so good." – Leliane Cordeiro de Souza
FAQs About Eyelash Extension in Dublin
---
You're all set! We hope you enjoyed reading about our top eyelash extension salons in Dublin. May you have longer and fuller lashes soon!
If you'd like to read more about beauty-related services, check out our reviews of the best laser hair removal clinics in Dublin next!