The 5 Best Eye Clinics in Dublin
Having good eyesight is a blessing, but due to continued exposure to blue light at work and at home, our eyes get tired resulting in poorer vision.

In case you're planning to have a routine eye check we made a list of the best eye clinics in Dublin for you. We also included their basic information, rates, and some customer reviews to help you decide which clinic to book.
If you're ready, check this out!
How much do eye clinics charge in Dublin?
Getting your eyes checked requires some budgeting if it's not covered by insurance. The rate of services and packages depends on the patients' case and products availed.
Listed below is our estimated services range:
Getting your eyes checked requires some budgeting if it's not covered by insurance. The rate of services and packages depends on the patients' case and products availed.
Listed below is our estimated services range:
| Services | Estimated Average Price |
| --- | --- |
| Full Eye Tests and Consultation | €130.00 - €300.00 |
| Glasses | €15.00 - €200.00 |
| Contact Lenses | €40.00 - €100.00 |
| Laser Eye Surgery | €795.00 - 2,500.00/eye |
| Cataract Surgery | €2,500.00 - €5,400.00/eye |
| Lens Implant/ Replacement | €3,200.00 - €5,200.00/eye |
| Keratoconus Treatment | €1,500.00 - €3,000.00 |
The Best Eye Clinics in Dublin
There are many eye clinics in Dublin, and we want to make sure that you only go to the best. Here's the criteria we used to evaluate the listings in the article:
1. Vista Eye Clinic Ranelagh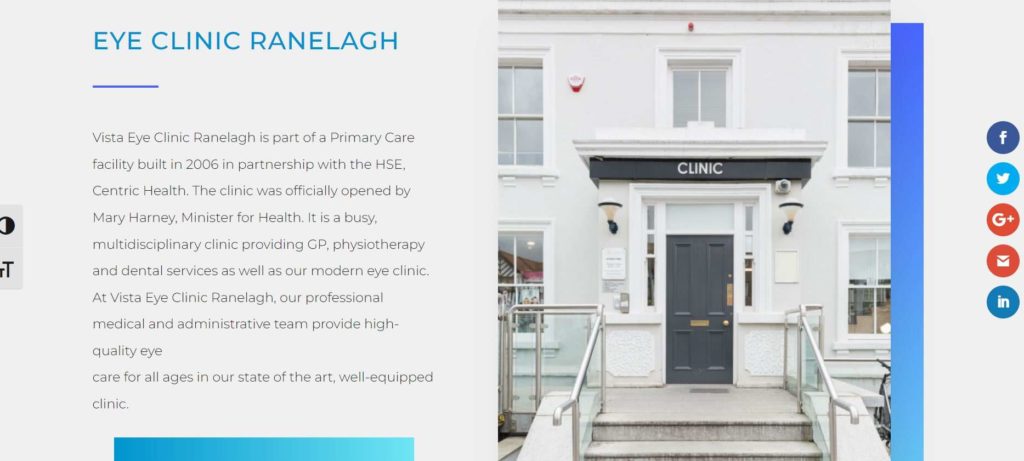 Test
Info
SERVICES

Eye Checkup

Minor Surgery

Glaucoma Diagnosis and Treatment,

Macular Degeneration and Assessment,

YAG Capsulotomy and Glaucoma Laser

Cataract Surgery

Pedia Eye Treatment

Dry Eye Treatment

Cyst Removal

WEBSITE
https://vistaeyeclinic.com
ADDRESS
Sandford Court, 22-26 Sandford Rd, Ranelagh, Dublin 6, Ireland D06 A365
CONTACT DETAILS
+353 149 86920,

[email protected]

OPERATING HOURS

Monday, 9:00 a.m. - 5:00 p.m.

Tuesday to Friday, 8:30 a.m. - 5:00 p.m.
| | |
| --- | --- |
| EXPERTISE | ★★★★★ (5/5) |
| SERVICES RANGE | ★★★★☆ (4/5) |
| ACCESSIBILITY | ★★★★☆ (4/5) |
| COST AND VALUE | ★★★★☆ (4/5) |
With two locations in Ranelagh and Naas, Vista Eye Clinic in Ireland is an eye specialist clinic that offers treatments to basic and complicated eye problems.
Vista Eye Clinic in Ranelagh offers safe and effective full eye checkup, minor surgery, glaucoma diagnosis and treatment, laser treatments, and treatment to dry eyes and pediatric eye concerns.
This clinic is commendable for using the latest technology that is proven safe in diagnosing and managing glaucoma. They also have upgraded optical coherence tomography (OCT) and OCT angiography that's helpful in intravitreal injections.
Also, safety is assured in its cataract surgeries because of its experienced surgeons, and procedures are performed in partner hospitals. Patients are also given pre and post-operation check ups to ensure the retention of significant eyesight results.
Aside from specialists' treatments, we like that Vista Eye Clinic has emergency eye services during daytime in all of its branches. The same trained nurses and eye experts will respond to patients' urgent care needs.
We also appreciate the clinic for putting up services for eye care for children of all ages, and for having its own dry eye treatments using the latest Blephex procedures.
The downsides, however, is the clinic's inattentiveness to calls and the waiting time from clinic arrival to the onset of procedures. Still, waiting doesn't last for hours and the treatment gets done right away and effectively.
Uses latest tech for glaucoma 
Has emergency eye services
Expert eye specialists and surgeons 
Effective cataract surgery
Inattentive to calls
Waiting time during busy hours
Customer Reviews
Quick and effective cyst removal
"Very happy. I felt in safe hands. Most importantly I got rid of a large eyelid cyst I had for 6 months before I decided to book an appointment with this eye clinc. The procedure took 5 minutes. After a couple of hours I removed the bandage and my eye looked just perfect. The cyst was simply vanished. I am extremely grateful to the doctor. Thank you." – Laura Cocchi
Excellent eye specialist
"I have been attending Dr Kevin Tempany at Ranelagh Eye for a few years. Dr Tempany is an excellent eye specialist, highly qualified with very considerable experience across a wide range of eye treatment specialisms. He is most thorough and rigorous in his examinations. He has a very calm, courteous, relaxed and reassuring demeanour and explains each stage of the tests and results to the patient, and places the patient completely at ease throughout. He has brought my eye condition completely under control and has effectively saved my sight. Dr Tempany's Ranelagh Clinic is bright and welcoming and his administrative and support staff are most friendly, efficient and highly motivated and competent." – Eugene Barry
2. Wellington Eye Clinic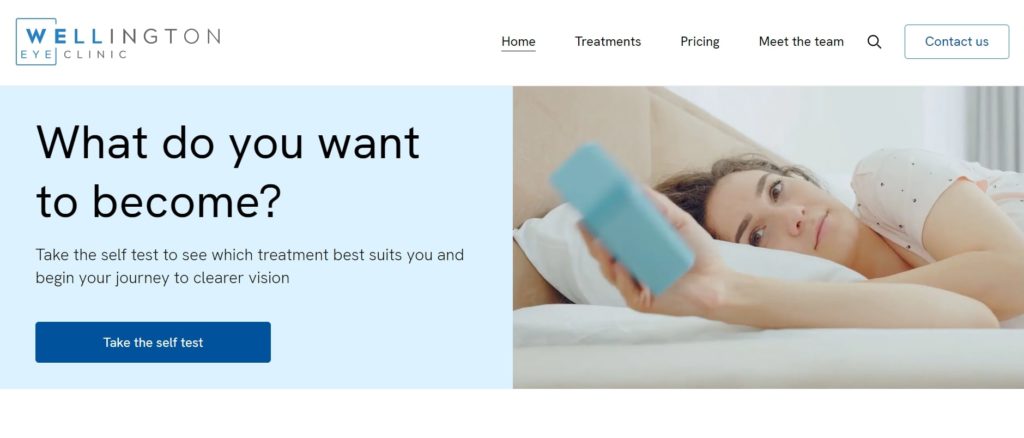 Test
Info
SERVICES

Laser Vision Correctio

Implantable Contact Lens

Custom Lens Replacement,Cataract and Keratoconus Treatments

Myopia Control, Bynocs

Dry Eye Treatment

Cyst Removals

Full Eye Checkup

Laser Treatments

WEBSITE
https://wellingtoneyeclinic.ie/
ADDRESS
Beacon Court, Level 2, Ste 36 Beacon Hall, Sandyford, Dublin, Ireland D18 T8P3
CONTACT DETAILS
+353 129 30470,

[email protected]

OPERATING HOURS

Monday to Thursday, 8:00 a.m. - 6:00 p.m.

Saturday, 8:00 a.m. - 2:30 p.m.
| | |
| --- | --- |
| EXPERTISE | ★★★★★ (5/5) |
| SERVICES RANGE | ★★★★★ (5/5) |
| ACCESSIBILITY | ★★★★☆ (4/5) |
| COST AND VALUE | ★★★★☆ (4/5) |
If you're in search of a one-stop eye clinic that can cover all your needs for great eyesight, then you should consider going to Wellington Eye Clinic at Beacon Court in Sandyford.
We're amazed by the extensive range of services offered by this clinic. It doesn't only have simple eye checkups, it also offers intensive evaluation and treatments for complex eye problems like cysts, glaucoma, cataract and keratoconus.
For vision correction, Wellington Eye Clinic has quick laser treatment options with lesser downtime. Those unfit for this procedure are given an alternative implantable contact lens and custom eye lens replacement.
Another reason that makes this clinic among the best is its use of Bynocs. This new technological platform can treat amblyopia at home, which we think makes it convenient for patients.
To add, it also has its own myopia control program through corneal reshaping and specialty lenses. This is on top of the long-used method of using glasses and corrective lenses.
If you're concerned about the safety of these modern procedures, be assured that this clinic has been operating for 40 years. It also has a 20-member team with more than 170 years of combined experience.
Also, we like the transparency of this clinic through its complete services and price range on its website. However, there's no online consultation services and it's closed on Sundays.
Still, if you're looking for experts, this clinic is worth considering.
Extensive range of eye services
Uses Bynocs for lazy eyes
Staff team has 175-year combined experience
Full service and rates provided online
Closed on Sundays
No online consultation
Customer Reviews
Life-changing procedure
"I had laser eye surgery just over 2 weeks ago and can't believe how quick and painless such a life-changing procedure could be… When I visited Wellington Eye Clinic, they completed the most thorough assessment of my eyes and recommended blended vision – one eye corrected for distance and one for close up work. Dr. Cummings explained the solution and the procedure to me in really simple terms, and filled me with confidence. On the morning of my surgery, I was so well taken care of. A final set of tests and checks on my eyes, followed by a short and painless surgery and then a rest in the lovely recovery room. Just 24 hours after surgery, I was able see well enough to drive, use the small font on my phone, thread a needle, work on my laptop and so much more. I can't recommend Wellington Eye Clinic highly enough. Everybody is so professional and caring at each stage of the process, and I'm delighted with my new vision…" – Jane Hogan
One of the best
"One the best eyes [clinics] in Ireland, excellent service from the beginning to end. Five stars service, great staff, lovely location." – Jose Maria Soto Sellanes
3. Optilase
Test
Info
SERVICES

Eye Checkup and Consultation

Laser Eye Surgery

Lens Implant Surgery

Cataract Surgery

WEBSITE
https://www.optilase.com/
ADDRESS
19 Ely Pl, Dublin 2, Ireland D02 RF44
CONTACT DETAILS
+353 122 38821,

[email protected]

OPERATING HOURS

Monday to Saturday, 9:00 a.m. - 7:00 p.m.

Sunday, 10:00 a.m. - 4:00 p.m.
| | |
| --- | --- |
| EXPERTISE | ★★★★☆ (4/5) |
| SERVICES RANGE | ★★★★☆ (4/5) |
| ACCESSIBILITY | ★★★★★ (5/5) |
| COST AND VALUE | ★★★★☆ (4/5) |
Whether you're having bad eye problems that require laser treatments or just want a minor issue resolved, Optilase Eye Clinic in Dublin 2 can have your eye issues solved.
Optilase Eye Clinic is a family-run business that specializes in laser eye surgery, lens implant surgery, and cataract surgery using modern and effective technology for a fast correction of vision.
What we love about its laser surgery is it utilizes both LASIK for vision correction and LASEK. These are priced lower than other clinics in Dublin.
Also, there are two options for the lens implant, while cataract surgery uses implants of monofocal and multifocal intraocular lens (IOL). If unsure which to avail, you can always book a consultation, especially the first one which is offered for free.
Another reason why this is a go-to place by eyecare patients is its €500 discount for laser surgery and lifetime care guarantee for laser eye surgery. Not only that, but it's working with other insurance groups for discounts.
However, laser surgeries have caused eye dryness according to some of this clinic's patients. Some of them also shared that the quality of service declines after surgery under the lifetime aftercare guarantee.
We still think this clinic is one of the best, though, because it's one of the first private eye clinics in Dublin that has long been into laser treatments.
Instant vision correction results
Offers free consultation
Has €500 discounts for laser surgery
Lifetime care guarantee for laser eye surgery
Post-surgery side effect
Bad aftercare services
Customer Reviews
Guaranteed safe and efficient
"I can honestly say that my laser eye surgery experience with Optilase was life changing. I struggled with glasses and contacts for years before finally making an appointment for a consult. The doctors reassured me of the safety and efficacy of the procedures and made it very easy for me to make the decision to go ahead with the surgery.
The surgery itself was painless, with some mild pain the night after. I noticed results instantly and am still delighted 9 months later with my results – 20/20 vision. The care team at Optilase are incredible and I felt looked after throughout the entire process. I would recommend Optilase to a friend any time, and often do." – Amanda Connolly
Friendly and knowledgeable staff
"I would highly recommend Optilase for laser eye surgery. Felt very comfortable and felt like a VIP all along, from my consultation to surgery and post op appointments. All staff are really friendly and knowledgeable in their individual roles. On surgery day I was made very comfortable and everything was relaxing. Everything talked through with me and no discomfort at all during surgery. In and out of the surgery room in about 5 minutes." – Jason Duffy
4. Prof. William Power Laser Eye Surgery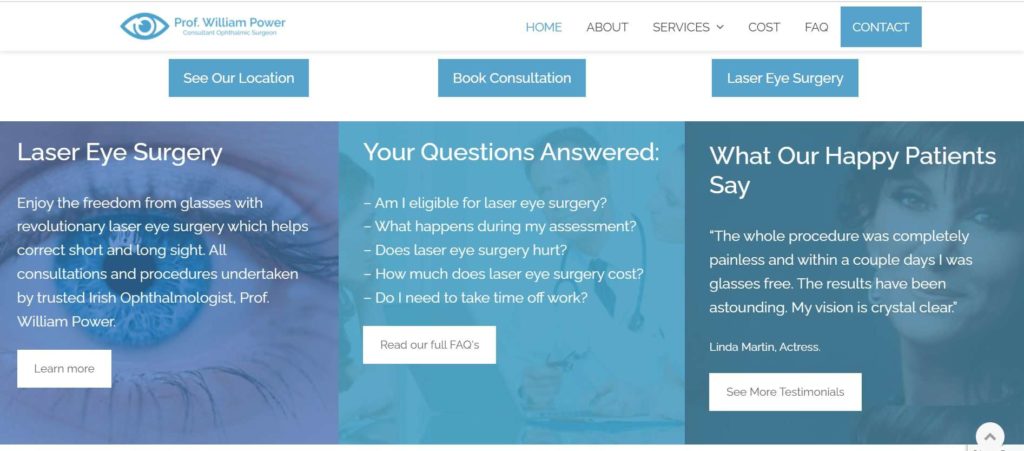 Test
Info
SERVICES

Eye Checkup

Laser Eye Surgery

Lens Implant/Replacement

Cataract Surgery

Keratoconus Treatment

WEBSITE
https://www.billypower.ie/
ADDRESS
Suite 24, Blackrock Clinic, Rock Rd, Dublin, Ireland A94 E4X7
CONTACT DETAILS
+353 127 87038,

[email protected]

OPERATING HOURS

Monday to Friday, 9:00 a.m. - 5:00 p.m.
| | |
| --- | --- |
| EXPERTISE | ★★★★★ (5/5) |
| SERVICES RANGE | ★★★★☆ (4/5) |
| ACCESSIBILITY | ★★★★☆ (4/5) |
| COST AND VALUE | ★★★★☆ (4/5) |
Situated along Rock Road in Dublin, Prof. William Power Laser Eye Surgery is an eye clinic managed by an experienced and renowned eye specialist with over 20 years in the field of ophthalmology.
Prof. William Power, a fellow of eye surgery in top universities, offers services on laser eye surgery, lens implant and replacement, cataract surgery, and Keratoconus treatment.
The laser treatment is among previous patients' top recommendations. This is because of its guaranteed restoration of a 20/20 vision for those having difficulties in wearing glasses and contact lenses.
Also, we like that the clinic offers safe lens implant and replacement using high performing multifocal and extended depth of focus (EDOF) lenses as an alternative to thick glasses.
Because Dr. Power is a trusted expert, his cataract surgery procedures grant patients 95% vision improvement and only a percentage of zero improvement. It's also worth noting that after the lens placement, there's no need for another surgical treatment.
The only issues you might encounter is there's only one doctor in the clinic and patients have to wait for an available slot for appointment. It's also closed on weekends, so you have to be there only on regular working days.
Still, you can have your eye checked because the clinic has long operating hours on weekdays. Bringing your vehicle won't be a problem as there's a parking lot on the site that's also close to bus stops.
Specializes in eye surgery
Long operating hours
Very experienced, world-renowned specialist
Accessible with parking
Has one eye doctor only
Closed on weekends
Customer Reviews
Tremendous success
"I first had laser eye surgery under William Power in 2005, on both eyes. It was a tremendous success and I was told to expect to feel the benefit for 10 years or so. I didn't feel any decline in my eyesight for more than 14 years so I made another appointment with William Power, and earlier this year I had laser corrective surgery on one eye, substantially improving my eyesight once again. I have to say, I hated wearing glasses and this surgery has meant that I don't need to wear them. I hope I get as long out of this eye surgery as I did from the first one." – Barbara Anne Murphy
Effective LASIK procedure
"I had LASIK with Mr Power less than a week ago to correct my myopia and it is one of the best things I ever did! I had been wearing glasses for 24 years so I was very apprehensive and nervous about the procedure. The whole team was so lovely to deal with and reassuring throughout the whole process; Mr Power's nurse even held my hand throughout the procedure which was so kind. The procedure itself was completely painless; it took 10 minutes at most and Mr Power talks you through each step and tells you how long each will take so that it is less daunting. I was able to see as soon as I got up from the table! You're given all of your aftercare instructions, eye drops, etc., once you are done and everything you need to do is explained. I went for a check-up the next morning (to which I drove myself!) and I had better than 20/20 vision; I couldn't believe it! I would definitely recommend Mr Power if you are considering getting LASIK." – Suzanne Scott
5. Optical Express – Hainault House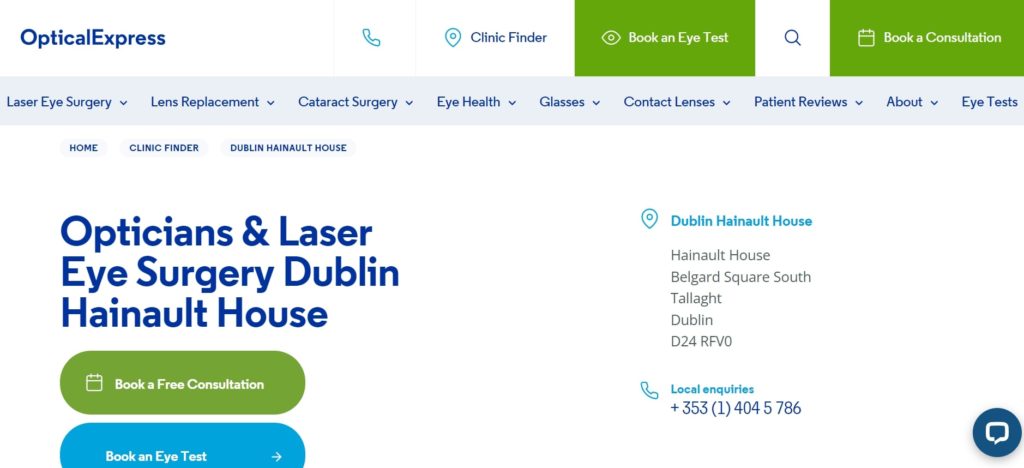 Test
Info
SERVICES

Eye Checkup

Laser Eye Surgery

Lens Replacement

Cataract Surgery

Eye Healthcare

Glasses

Contact Lenses

WEBSITE
https://www.opticalexpress.ie
ADDRESS
Hainault House, Belgard Square S, Tallaght, Dublin, Ireland, D24 RFV0
CONTACT DETAILS
+353 140 45786,

[email protected]

OPERATING HOURS

Monday to Saturday, 9:00 a.m. - 6:00 p.m.

Sunday, 11:00 a.m. - 5:00 p.m.
| | |
| --- | --- |
| EXPERTISE | ★★★★☆ (4/5) |
| SERVICES RANGE | ★★★★★ (5/5) |
| ACCESSIBILITY | ★★★★★ (5/5) |
| COST AND VALUE | ★★★★★ (5/5) |
Optical Express in Tallaght is not just a clinic for eye tests and laser treatments, it's also a shop for a variety of glasses that can be customized for your needs.
What we like most about this clinic is its never-ending relationship with technology. Since it's been operating in Europe for 30 years, Optical Express knows how to use state-of-the art equipment to provide quicker procedures and more detailed eye check.
We also appreciate the clinic's effort in guiding patients throughout their procedures, especially with the laser vision corrections. Starting with the free consultation, patients are provided care and pieces of advice even after the surgery has been completed.
Moreover, we commend the clinic for giving patients a complete iScan report and a well-detailed prescription from the free consultation to address the changes to correct a person's vision.
There's also no need to look for another eyewear shop because it has its own stock of glasses and contact lenses that can be customized based on your eyes' requirements. In fact, the clinic is open daily and has over 100 branches in Ireland and the UK.
If you're to ask us about drawbacks, we could begin with the absence of a lifetime guarantee for its surgical procedures. After the post-surgery care, you're on your own again. The good vision results also do not last long for some clients.
Nonetheless, this is a great clinic for eye care because it houses many experts that have been trained well.
Has complete eyecare package
Effective aftercare programme
Multiple branches
Open daily
Improvements are not long term
No lifetime guarantee
Customer Reviews
You're in good hands
"I got lens replacement, from start to finish the team were so professional. I was happy with assessment process and all the information staff provided. The day of operation I was only there for about three hours in total. The team that dealt with me that day were fantastic. The operation itself was painless and nothing to worry about I was in good hands. It takes little time for your eyes to recover the drops thats were provided take care of that…" – Pat Owens
Service is top class
"Recently had laser eye surgery done by Optical Express and the service is top class, from the moment of the consultation through to the surgery and aftercare is phemoninal, the clinic and equipement are state of the art and couldnt recommend Optical Express enough for the life changing treatment, delighted with the results 20/20 vision. The clinic is in a great location in that its not a long journey to the city centre and parking available. I had a consultation with a competitor but the facilities and the friendly experience by the team dont even come close to Optical Express…" – Niall O Donnell
FAQs about the best eye clinics in Dublin
---
There are multiple ways to correct a person's vision, including basic glasses and contact lenses, laser surgeries, among others. Dublin has many clinics that offer almost all options, and we hope our article was of help.
If you're still looking for other clinics, read the six best opticians in Ireland.
---