Best 8 Drain Cleaning Companies in Dublin
Clogged drainage systems are a common problem in houses and commercial establishments. While some are simple enough to handle, there are blockages in drains that call for the assistance of drain cleaning companies.
In this article, we cover the best drain cleaning companies in Dublin, their services, rates, pros and cons and many more.
But first, let's take a look at the factors that contribute to clogged drains.
How to Choose the Right Drain Cleaning Company?
Take note of a number of things when picking the right drain cleaning company:
1. Years of experience
How long a drain cleaning company has been in service can say a lot about its expertise and customer service.
For instance, workers from a drain cleaning company still new to the industry may take a while to fix whatever drain problems you have. This may then lead to more costs for you if the particular drain cleaning company's rate is per hour.
However, this does not always apply. Always make sure to check customer reviews and see whether they have a high customer satisfaction rate.
2. Operating hours
Problems with drain clogging can happen beyond office hours. Especially if you are a business owner, look for drain cleaning companies that provide emergency 24 hour services.
3. Pricing
While some drain cleaning companies offer fixed rates, others would require you to request a quote. Look for drain cleaning companies that offer free estimates before you commit to hiring one. Some even offer free inspections.
Best Drain Cleaning Companies in Dublin
Now that we're more aware of what causes clogged drains, let's check out Dublin's best drain cleaning companies!
1. Ajax Drains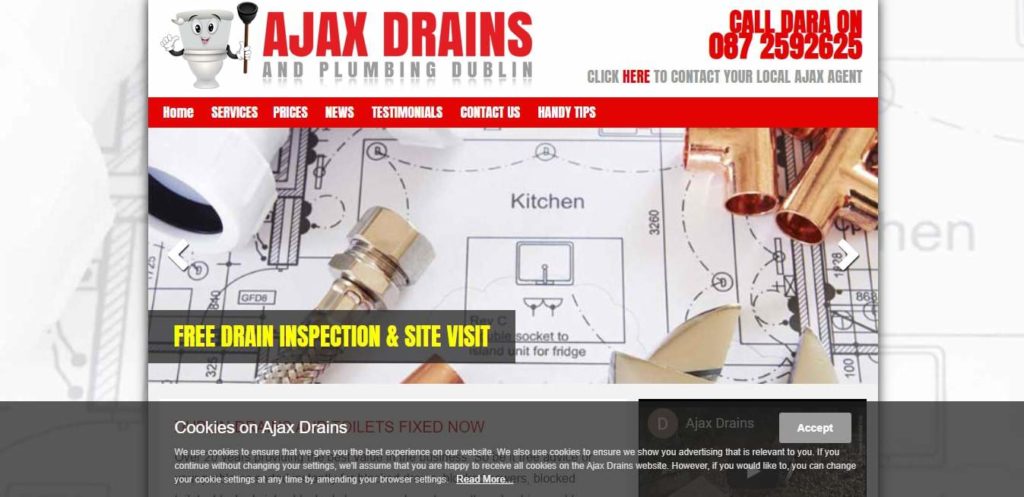 BEST FOR
Drainage and plumbing
SERVICES
Emergency drain clearing, 24 hour plumbing, toilet surgeons, toilet, tap, shower and pump repairs, burst pipe and leak repairs, central heating repairs and maintenance, CCTV survey and reports, attic storage tanks replacement, high pressure water jetting machines for drain clearing, and power washing and cleaning
RATES
8:00 pm to 6:00 pm (Monday – Friday)
First half hour on site = €90.80 (€80 + vat @13.5%)
Next half hour = €45.40 (€40 + vat @13.5%)

6:00 pm to 9:00 pm (all day, saturday, sunday, and bank holidays)
First half hour on site = €113.50 (€100+ vat @13.5%)
Next half hour = €56.75 (€50 + vat @13.5%)

Attic storage tanks replacement – from €500 + VAT
Power washing and cleaning – approx €140 + VAT
WEBSITE
http://www.ajaxdrains.com/
ADDRESS
102 Taney Crescent, Goatstown, Dublin 14
CONTACT DETAILS
087 2592625

[email protected]

OPERATING HOURS
24/7
Ajax Drains has been solving problems such as blocked drains, showers, sewers, toilets and more for more than 20 years now.
While other companies usually use high-pressure water jets to unclog drains, Ajax Drains's workers can do so much more because they're also plumbers. This is particularly helpful when other drainage problems call for other methods plumbers can accomplish.
Aside from their drain clearing services, they also provide attic storage tanks replacement. This service will range from €500 plus VAT and may cost more depending on the size and quantity of tanks.
Meanwhile, their power washing and cleaning service can tidy up homes or businesses' walls, driveways, patios, etc., using high-pressure water jetting machines.
No call out charge
24-hour plumbing services
Free drain inspection and site visit
Higher rates for beyond office hours, weekends, and bank holidays
Does not seem to accept card payments
Customer Reviews
Below are some comments from their happy customers:
"Steven was very friendly and helpful; he was excellent. You've got a good guy there.
Top rating, well nearly top; don't want to give him too big a head! He was easy to deal with, knew what he was doing, friendly and efficient." -David
"Great service. Phoned them in the morning and were there within the same day. Quality of work was excellent and competitively priced. Thoroughly recommended." -Dean Russel
"These guys are great. Stephen is really good and responsive and always sorts the problem. Wouldn't use anyone else." -Margaret Kinane
2. Drain Doctor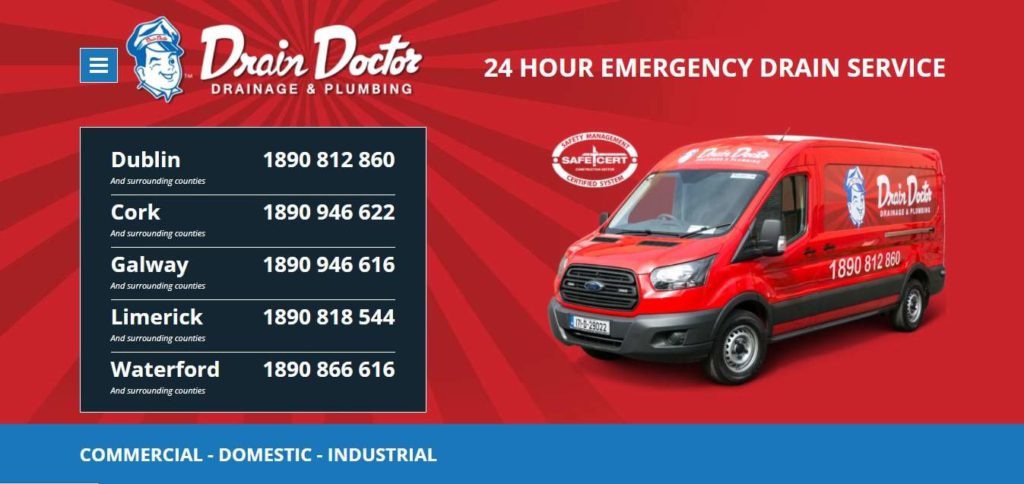 BEST FOR
Accessibility (operates outside of Dublin)
SERVICES
Drain cleaning, unblocking drains, CCTV drain survey, emergency plumber, unblock toilet, drain repair, excavation work, grease traps, gutter cleaning, rodent investigation, septic tanks, and smoke testing
WEBSITE
http://www.thedraindoctor.ie/
ADDRESS
Unit 2 Chestnut Road, Western Industrial Estate, D12 CK4K, Dublin.
CONTACT DETAILS
1890 812 860 01 426 0701


[email protected]

OPERATING HOURS
24/7
Founded in 2000, Drain Doctor services customers all-year-round, holidays included. They pride themselves in being the largest residential and commercial plumbing and drainage organisation in Ireland.
Operating with 21 vehicles to carry out drainage and plumbing work, they provide service in Cork, Galway, Limerick, Waterford, and all its surrounding counties aside from Dublin.
Meanwhile, their unblocking drains services will also solve problems such as slow water draining or bad smells. Other services in this category are grease traps, oil interceptions, CCTV drain survey, as well as toilet unblocking.
Another important service of theirs is rodent investigation. Drain Doctor's pest control department can identify where rats come in from your drains, and make repairs as needed so these pests won't return.
24/7 operation, all-year-round
Operates outside of Dublin
Issues Certificate of Disposal after cleaning process
No call out charge
Caters to domestic, commercial and industrial sectors
Customer Reviews
Check out some rave reviews from their customers:
"Excellent service by Drain Doctor. Rang another well-known drain unblocking company who wanted twice the price for what Drain Doctor charged. The girl on the phone was lovely and very customer service friendly, booked me in no hassles, and as promised they rang me a half hour before the technician arrived. The guy who arrived was really nice and down to earth and had the job done in about 10 minutes. Will definitely be using their service again if ever needed. I would highly recommend." -Gillian Coleman
"Just had Paul from Drain Doctor to clear out a challenging blockage. Absolutely gent and and very professional. Cleared the blockage with no hassle. First time using Drain Doctor and will be using them in the future for any issues. Excellent service!" -Paul Nolan
3. DC Drain Cleaning Ltd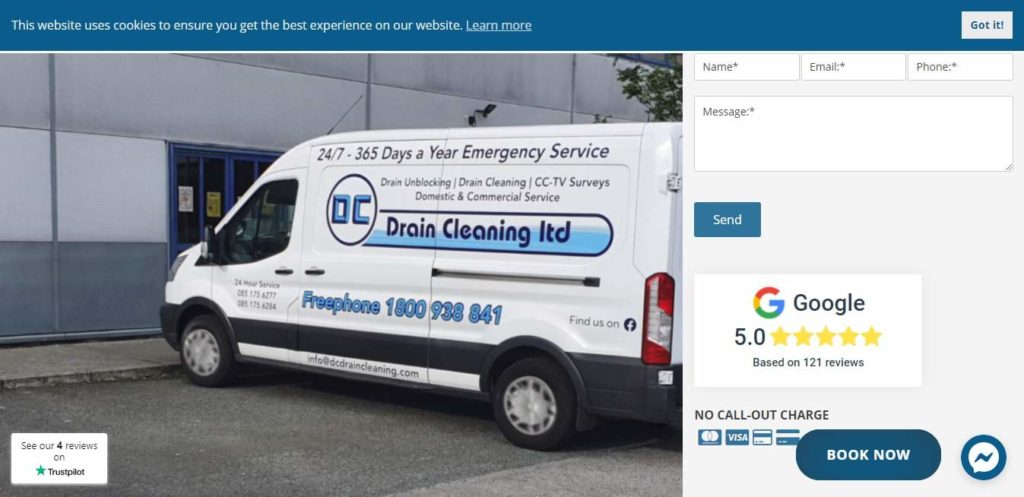 BEST FOR
All-around drainage service
SERVICES
Drain repairs, blocked drains, CCTV drain surveys, tanker services, grease traps, drain unblocking, septic tank and cesspit emptying, overflowing gutters, drain tracing, rat flaps, disinfect service, drain lining/relining, odour investigation, unblocking toilets, unblocking showers and baths, and soil stack cleaning and maintenance
RATES
Drain survey – starts at €100 + VAT
WEBSITE
https://www.dcdraincleaning.com/
ADDRESS
Kylemore Drive, Ballyfermot, Dublin 10
CONTACT DETAILS
(085) 1756284
(085) 1756277
(01) 5880559


[email protected]

OPERATING HOURS
24/7
With more than 15 years of experience, DC Drain Cleaning Ltd's service is showered with multiple rave reviews on Google, so it's no wonder why they are rated 5 stars. They run a customer-first policy and are available 24/7 for all emergency situations.
Their drain cleaning services cover an extensive list from baths, toilets, septic tanks to sinks, culverts, interceptors, and many more.
DC Drain Cleaning Ltd also makes sure to inform customers about everything that needs to be done to solve their problem. A full inspection would be made first, followed by a discussion with the client about the repairs needed.
Any additional work to be done would also be made known to the client before they continue with their service.
DC Drain Cleaning also takes pride in having the cheapest drain survey price in Dublin which starts at €100 + VAT.
No call out fee
Operates outside of Dublin
Accepts credit cards
Customer-first policy
24/7 emergency drain unblocking
May take up to 2 hours max to arrive
Customer Reviews
See how satisfied DC Cleaning Ltd's clients are through their comments:
"A fantastic service. Darren arrived exactly when he said he'd be here. Sorted our problem in jig time and was so happy in his work. He's a lovely fella and put me in good a good mood with his humour. His work was excellent too! I would highly recommend DC Drain Cleaning. Thanks Darren!" -Lisa Freeman
"DC Cleaning Ltd and the lads who came over my place were brilliant, professional, and highly efficient. I rang up this morning as my bathtub was blocked, and they just showed up after lunch doing their job proficiently. I'd definitely recommend to anyone who has issues." -Guillermo Sanchez
"Excellent, professional, and friendly service from Darren. He called out within two hours to clear a blocked drain. Very competitive pricing. He also offered advice on how to prevent future issues. Would highly recommend." -Philip Oliver
4. Greenday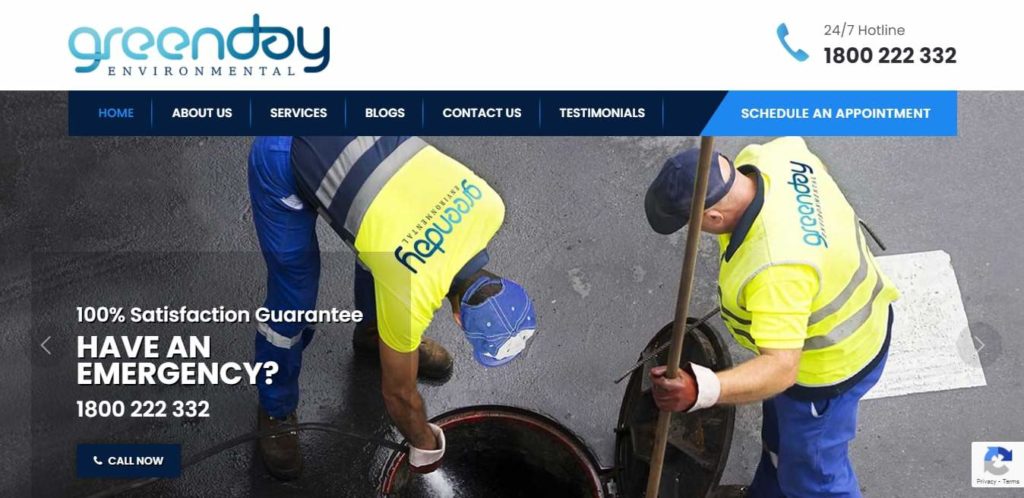 BEST FOR
Large company clients
SERVICES
Drain repair patch repairs, CCTV drain surveying and mapping, drain jetting, cleaning, and unblocking, grease trap sales and service, oil spill management and disposal, pipe relining, odour investigations, grease trap maintenance, grease trap cleaning, rodent investigations, rat blockers, pump maintenance and repairs, 24-hour emergency response units, and drainage system smoke test
WEBSITE
https://www.greenday.ie/
ADDRESS
Unit D4, Citylink Business Park, Old Naas Road, Dublin 12, D12 K263
CONTACT DETAILS
1800 222 332


[email protected]

OPERATING HOURS
24/7
Greenday is another drain cleaning company that is aptly on our list. With more than 30 years of experience under its belt, it has served sectors from pharmaceutical, hospitality, healthcare, and commercial retail units to the domestic market.
One proof of its uniqueness is having created its own in-house training school where they produce their high-quality engineers. Furthermore, they contributed to the establishment of the National Association of Drainage Engineers in Ireland.
Their drain unblocking services cover drains, sinks, toilets, as well as shower drains.
Commercial establishments such as restaurants can especially benefit from their grease trap services which include grease trap supply, installation, and cleaning.
Free estimates and quotes
Operates 24/7
Accepts several modes of payments
Engineers undergo regular workshops and training
Unsure from website how expensive their service may be
No gutter cleaning services
Customer Reviews
Take a look at several reviews from their customers:
"Just to say thank you to Jonathan Glacken for the great job clearing my drain last Monday. Jonathan was able to do in ten minutes what I had failed to do in ten hours using drain rods and clear a pretty nasty blockage. He then sent down a camera to check that everything was ok. All in all, an excellent and efficient job. Thanks again." -Stephen Gordon
"Greenday…. I want to say fantastic work and thanks. Greenday got the job done for us that 'the' other drain company couldn't! Not just for half the price but also with a money back guarantee. Plus there was no let down with incorrect fitting equipment – they had everything to hand to complete the job – first time. We are a group of 8 residential houses who had a blocked sewer for the last 4 months – a 2ft piece of wood. Greenday fixed the problem for us and showed us the proof with their camera. They are one of the most trustworthy and professional companies I've used in a long time and I would highly recommend them – over and above any other drain company. Well done and thanks to Reggie and the boys." -Sandra Neilan
"I would highly recommend Greenday Services. I tried a number of different companies in Dublin, and Greenday were hands down the best. They called to see the problem and offered a solution that made sense. I felt reassured they knew what they were doing. They completed the job to a high standard." George Kavanagh
5. City Drain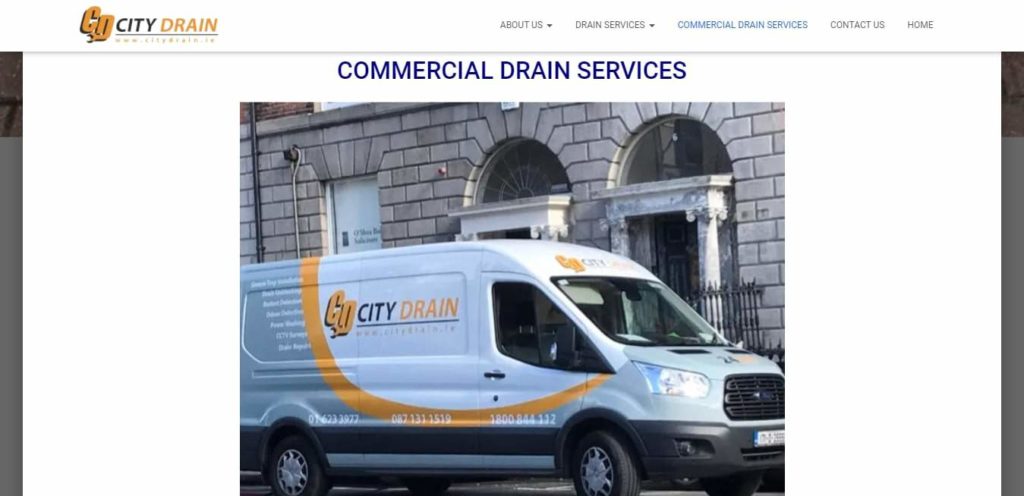 BEST FOR
Commercial and industrial drainage service
SERVICES
Commercial wastewater treatment and pumping systems, drain repairs, septic tanks, unblocking sinks, showers, baths, toilets, drains, drain tracing, drain relining, CCTV surveys, odour tracing, and commercial grease traps
RATES
All for €80 + VAT/hour:
Unblocking drains and sinks
CCTV look see drain surveys
Drain tracing
Rodent detection
Odour detection
Jet power washing
Drain jetting
WEBSITE
https://www.citydrain.ie/
ADDRESS
Unit M2 Ballymount Industrial Estate, Dublin 12
CONTACT DETAILS
1800 844112

[email protected]

OPERATING HOURS
24/7
City Drain is another drain cleaning company that has been around for quite some time. Founded more than 20 years ago, they deliver service mainly to the commercial industry.
Unblocking and clearing all types of clogged drains such as blocked toilets, sewage drains, storm water drains, and clogged sinks are their primary drain services.
They also repair damaged pipe works through their patch relining service using a method known as trench less drain relining. This method enables them to fix pipes without damaging property such as paths and driveways at a more affordable price.
Meanwhile, City Drain's CCTV drain survey allows them to examine pipeworks whose measurements range from 24 mm to 300 mm in diameter.
Customers would be pleased to know that City Drain has a fixed drain cleaning price from €80 per hour + 13.5% of VAT.
City Drain's guarantees that 99% of all drain blockages are washed out within an hour from the moment their technician reaches your area.
Fixed drain cleaning price
30-day call back guarantee on drain and sewer cleaning
No call out fee
Service is centered in Dublin only
Does not seem to accept card payments
Customer Reviews
Take a look at the glowing reviews City Drain has earned from their clients:
"Can't recommend these guys enough, very friendly and helpful people. They've helped us twice and they arrive in no time at all, same day also. Unblocked our pipes when other drainage companies couldn't do the job City Drains could. Thanks guys!" -Rosemary
"Super fast and friendly service. Knowledge and price second to none. Very impressed Customer–I would not hesitate to recommend Gary or Ian for a drain cleaning or sewer problem." -Michael Fleming
"Great service. Arrived within 30 minutes. Very fast, efficient, and reasonably priced too." -Darragh McEvoy
6. Drain Pro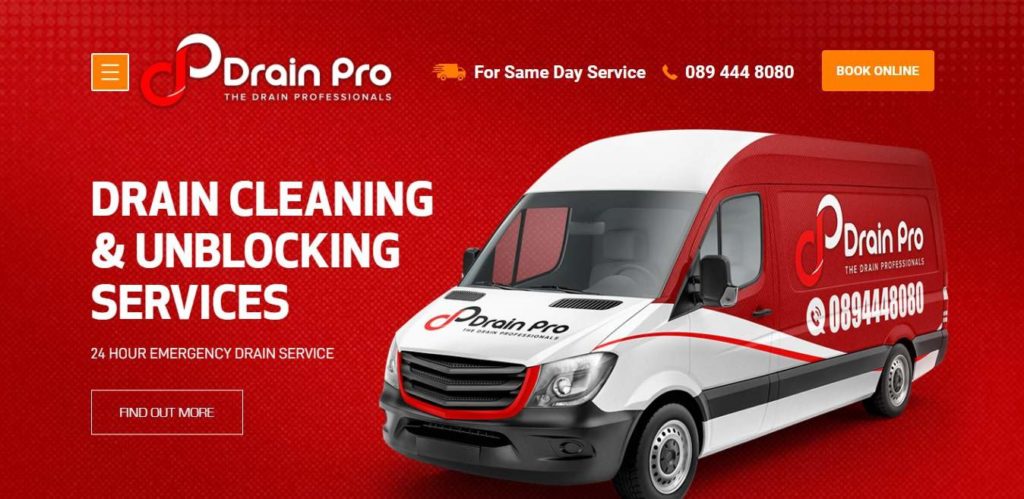 | | |
| --- | --- |
| BEST FOR | Gutter cleaning |
| SERVICES | Gutter cleaning, drain tracing, drain surveys, blocked sinks, drain unblocking, bath unblocking, toilet unblocking, odour tracing, and grease trap cleaning |
| RATES | Blocked toilets cleared package – €89 |
| WEBSITE | https://drainpro.ie/ |
| ADDRESS | 13 Foxborough Rd, Balgaddy, Lucan, Co. Dublin, K78 T043 |
| CONTACT DETAILS | 089 444 8080 |
| OPERATING HOURS | 24/7 |
Another veteran in the field of drain cleaning and relining, Drain Pro's expertise is backed by 20 years of experience.
Aside from their drain cleaning work, homes and commercial establishments alike can benefit from their extensive gutter cleaning services which include their standard gutter service, in and out gutter cleaning, and conservatory cleaning.
They also have multi-storey gutter cleaning for tall 4-storey buildings, as well as commercial gutter cleaning services for supermarkets, schools, and other commercial establishments.
Further, they not only provide cleaning of gutters but for roofs as well, saving them from the damage caused by lichen, moss, algae, etc.
Travel time is included in rates
Usual response time is less than 1 hour
Variety of gutter cleaning services
Does not seem to accept card payments
7. DH Enviro Services Ltd.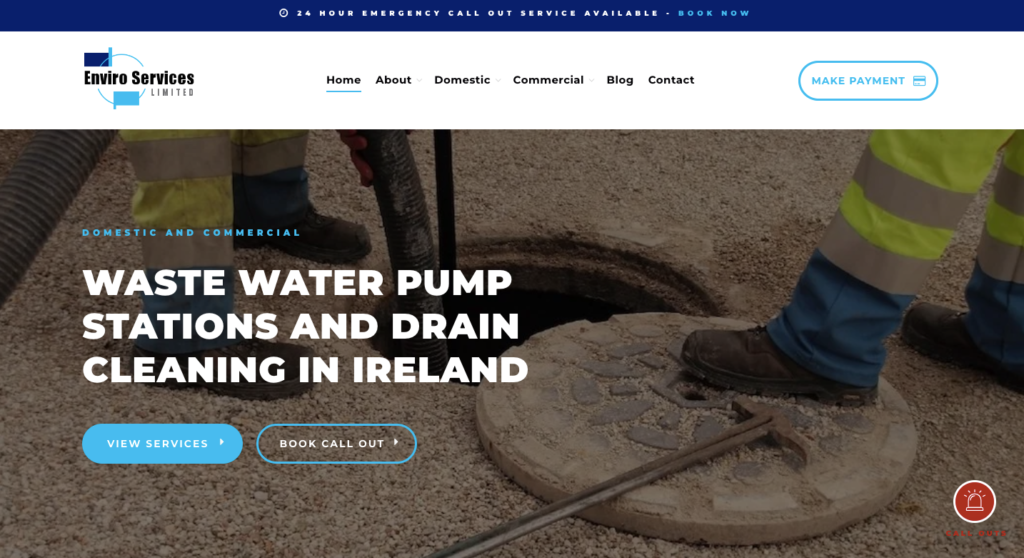 BEST FOR
Waste Water Pump Stations and Drain Cleaning Services
SERVICES
DOMESTIC
Blocked Drains
Drain Cleaning
Drain Jetting
Drain Repairs
CCTV Drain Surveys
Manhole Inspection
Septic Tank Cleaning
High-Pressure Water Jetting

COMMERCIAL
Water pumping station maintenance, cleaning, and pump repair/replacement
Level control design and build as well as parts and replacement, float switches/ultrasonics and full control panel builds
Dial out alarms and remote monitoring
Septic tank maintenance and desludging
Supply and repair of water booster sets
Grease trap maintenance and solutions
Air blowers
Pumps for sewerage and water
Gearboxes and drive belts for package RBC plants
Supply and maintenance of oil and petrol interceptors
Storm water pumping stations
High pressure pipe jetting and unblocking service
Surface jetting and forecourt cleaning, chemical spills
RATES
Contact them for more information
WEBSITE
https://www.enviroservices.ie/
ADDRESS
DH Enviro Services Ltd. PO Box 12872, Dublin 15, Ireland
CONTACT DETAILS
Phone: 01 816 3175
Mobile: 085 808 4601
Email:

[email protected]


Email:

[email protected]

OPERATING HOURS
24/7
DH Enviro Services Ltd. has been servicing Ireland for their drain cleaning needs for 25 years and counting. They are a leading company in the environmental maintenance industry where they cover all aspects of waste water plant maintenance and pumping stations for domestic and commercial clients throughout Ireland.
It is impressive since it has been established for over 18 years while having a broad range of experience covering more than 25 years, they operate a 24-hour Nationwide break-down service and operate a 24-hour on-call service.
Staying in this industry for this long won't be a success without them employing their own engineers that are C2 registered, fully qualified fitters and hold certifications in Environmental Engineering, Environmental Science, Environmental Management, FETAC Certification in Electronics, Safe Pass, Manual Handling, Abrasive Wheels Certification, First Aid and Confined Space Operations.
With their experienced employees and together being customer and performance-driven, they never compromise on the quality of their work or the services provided to their customers. That is why if you have chosen them to clean your drains, you are in safe hands.
Variety of waste water pump stations and drain cleaning

24/7 emergency call-out services
Great customer service
Seems to only accept Paypal
Rates are not available online
Customer Reviews
"McDonalds Restaurants of Ireland have employed Enviro Services Ltd since 2005 for work in a number of our restaurants. We have always found them to be skilled, efficient and diligent in their labour providing an exceptional yet professional service at all times. We would have no reluctance in recommending their services to any other business." – MCDONALDS RESTAURANTS OF IRELAND
"Enviro Services Ltd have maintained our system for a number of years. We have found them to be well equipped to manage our requirements in a cost effective way. We find them to be efficient, prompt and reliable. We have no hesitation in recommending them for future project works." – CARTON HOUSE HOTEL, MAYNOOTH, CO.KILDARE
8. Pump and Drain Services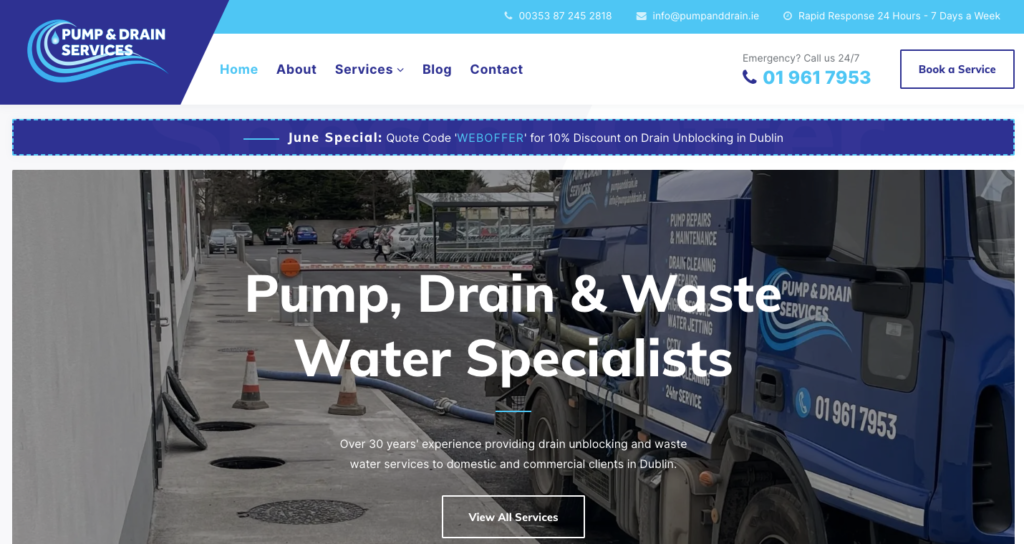 Now we have Pump and Drain Services for our next company.
Whenever we choose a company for our drain cleaning needs, we must see to it that they have the skills and knowledge to perform a thorough top-of-the-line job. This is why we are impressed as we were able to come across Pump & Drain Services.
They are Ireland's leading commercial and residential pump, drain, and drain unblocking company for they have been servicing Ireland and have been in the industry for 30 years.
They provide pump, drainage, and drain unblocking services for many satisfied customers throughout Ireland due to their low rates and extremely quick response times.
Rapid Response 24/7

Competent Service

Nationwide Solutions

Low Rates

Experienced Team

–

over 30 years' experience in the pump and drain unblocking industry
Specific address not available online
Rates are not available online
Customer Reviews
See what great comments Pump and Drain Services' clients have to say about them:
"Had a crew from pump And Drain Services. Very professional services received from the crew. After the works was completed , they sanitised the surrounding area. Highly recommend Pump And Drain Services Ltd and will definitely use them again." – Declan Hannigan
"We have a slightly unusual waste system which has had several different issues recently. Each time, I've called Pump and Drain and they've done an amazing job – quick response times, excellent workmanship, and a real commitment to finding innovative solutions which not only solve our immediate problem but also improve our strange system for the future. As much as I wish we were done, I have no doubt that another part of our system will fail at some point and I will have no hesitation calling Pump and Drain again – I honestly couldn't recommend them enough!" – Michael Whitcher
FAQs About the Best Drain Cleaning Companies in Dublin
---
And that's a wrap for our picks on the best drain cleaning companies in Dublin! We trust that you have found at least one that will suit your needs.
Kindly contact us if we forgot to include other great drainage cleaning companies in Dublin, and we'll check them out!
Want to save electricity by investing in solar panels? Take a look at our list on the best solar panel companies in Ireland!