The 9 Best Digital Marketing Agencies in Cork
Not sure how to sell your product online? You might be using the wrong strategies that prevent you from reaching your goals.
You'll never know how much of a difference a digital marketing agency can make until you actually hire one. With many options available, we're listing down only the best digital marketing agencies in Cork that are worth your time.
Without further ado, let's talk about prices you can expect first.
How much do digital marketing agencies charge?
We know that budget is a primary concern for businesses like yours. Depending on the services you require, the average cost for digital marketing service can range from €500 to €2,000 per month on average.
This includes basic services such as SEO optimisation, basic social media marketing, and monthly reports.
Normally, there's no "one-size-fits-all" solution, as digital marketing agencies will look at different factors before giving you a quote including company size, advertising costs, timeline, among many others.
To give you a benchmark of basic services, we've gathered the following monthly costs in the table below. Take note that costs vary per agency.
| | |
| --- | --- |
| SERVICE | ESTIMATED COSTS |
| Web Design | €500 to €10,000 |
| SEO Optimisation | €500 to €1,500 |
| SEO Audits | €40 to €100 (Per Report) |
| Social Media Management | €200 to €700 |
| PPC | €0.34 to €1.25 (Per Click) |
The Best Digital Marketing Agencies in Cork
Before going further, here's a quick rundown on the criteria we used to come up with this list:
Scope of service, which allows you to get multiple services in one place
Industry experience, to give you peace of mind knowing that you're in capable hands
Client satisfaction, which reflects the quality of the services they offer
Now enough of that, let's head straight to our choices of the top digital marketing agencies in Cork!
1. Digital Funnel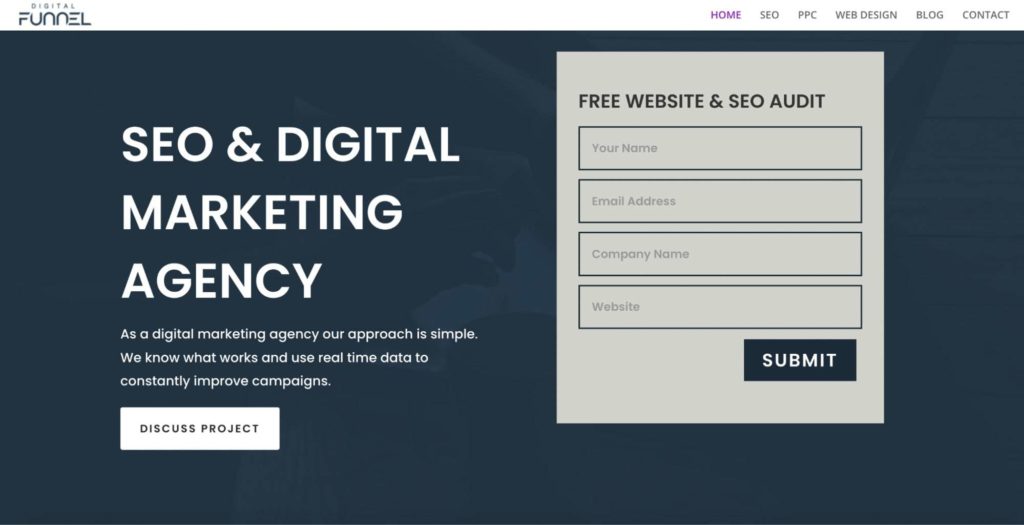 SERVICES
SEO, PPC Google AdWords, WordPress Web Design, Digital Strategy Planning, SEO Audits, SEO Training
WEBSITE
https://www.digitalfunnel.ie/
ADDRESS
Penrose Wharf Business Centre 14 Penrose Wharf, Victorian Quarter, Cork
CONTACT DETAILS
021 2011 993 |

[email protected]

OPERATING HOURS
24/7
Digital Funnel operates with a single goal in mind: to use real-time data in creating effective digital strategies for clients like you. Their data-driven approach is what caught our attention, and it's precisely why they earned a spot here.
Whether it's SEO optimisation or PPC campaign management, they aim to drive big results to small businesses particularly. While the lack of set rates can be a drawback for some, they do try their best to work within their clients' budget—no matter how big or small it is.
That said, they also make a great choice for businesses starting from scratch since they offer web design services too. From what we've heard, it takes about 8 to 12 weeks for them to complete their web design projects.
Otherwise, businesses that are looking to make improvements in their digital strategy can also benefit from this agency. After all, they offer free website and SEO audits for potential clients—and that's a plus for them!
Their services may not be as extensive as other agencies but that also means that they do a pretty good job in the ones that they offer, particularly SEO optimisation, PPC marketing, and web design.
Specialises in SEO, PPC, web design
Free consultation
Free website and SEO audits
Central location
Has an office in Dublin 
Relatively limited services
Rates unavailable online
Customer Reviews
Very efficient, helpful, flexible
"Highly professional and good value SEO and digital marketing services. Ian and his team are very efficient, helpful, and flexible. Their monthly work on SEO has improved our business. We would highly recommend Digital Funnel to prospective clients." —Wisetek Global, Google Reviews
Helpful and efficient
"Very professional team to work with! Ian and his team were very helpful and efficient and really helped with my SEO. I would highly recommend!" —Denis Fleming, Google Reviews
2. Cliq Media & Marketing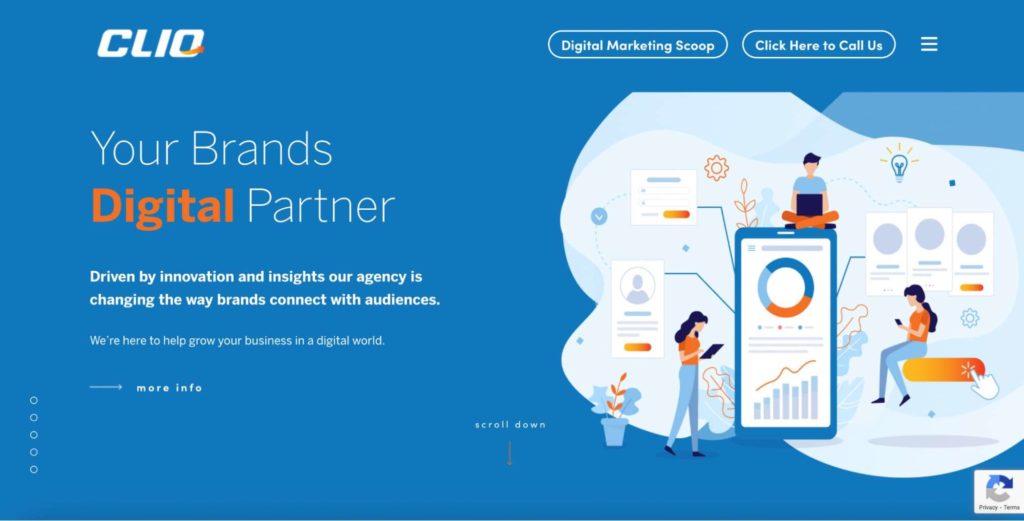 SERVICES
Website Design, Paid Ads, SEO and Analytics, Social Media and Content Creation
WEBSITE
https://cliq.ie/
ADDRESS
First Floor Unit C2 Donnybrook Commercial Centre, Douglas, Cork
CONTACT DETAILS
021 234 8038 |

[email protected]

OPERATING HOURS
Mon to Fri: 9:00 am – 5:30 pm
Cliq has earned the trust of local companies including Sigma Homes, Women's Fitness, and Concierge Cork. This tells us that they do a solid job in handling homegrown brands, seeing that a lot of them have positive ratings online.
And that's not all. In fact, some of their clients have actually won digital marketing awards, and this is quite telling that they indeed practise what they preach.
Their team is relatively small compared to other agencies, though. And we can see that this may mean limited availability, especially since they mostly cater to small and medium-sized enterprises only.
They offer the most common services you can find in a digital marketing agency—SEO, web design, paid ads, and social media management. Whatever you need, their team of experts will do everything from the ground up, from planning to execution.
While you can contact them for a free consultation, we do recommend checking out their case studies online to give you a preliminary idea of what they can offer you.
Ideal for small and medium-sized businesses
Ideal for homegrown brands
Free consultation
Award-winning campaigns
Relatively small team
Rates unavailable online
Customer Reviews
Service is very personal
"We have dealt with Cliq for a number of years now. Initially they took over our Social Media and provided great advice and service. They subsequently took over our pay per click Google Adwords advertising and have done a fantastic job. Their service is very personal which is important for our business to react quickly. Recently they built our new website and again gave great advice and the site is performing really well. I can't recommend Mark and his team highly enough. They are a pleasure to deal with." Sam Crowley, Google Reviews
Made the whole process flawless
"Having dealt with Cliq media on a previous project, when the time came around for a revamp of our website, I knew that Clip were the people I needed to talk to! Mark, Christian and the team could visualise what we were looking for and from start to finish, made the whole process flawless." —Dave Mulvey, Google Reviews
3. SMBclix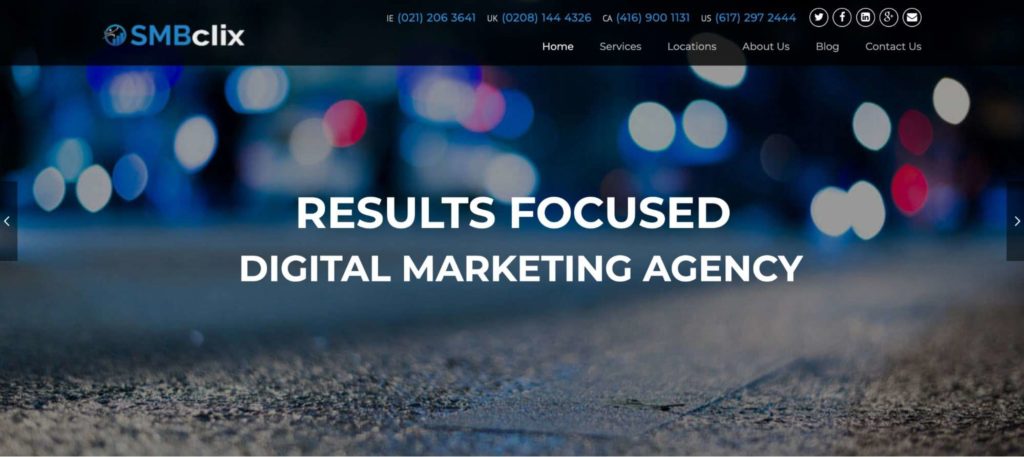 SERVICES
PPC, SEO, Web Design, Content Marketing, Conversion Rate Optimisation, Social Media Management
WEBSITE
https://www.smbclix.com/
ADDRESS
City Quarter, 3rd Floor, Lapp's Quay, Cork
CONTACT DETAILS
021 206 3641 |

[email protected]

OPERATING HOURS
Mon to Fri: 7:00 am – 5:00 pm
Sat: 9:00 am – 12:00 pm
SMBclix may be born and raised in Cork, but they have actually branched out to a few major cities abroad including London, Boston, and Toronto. This tells us that they're a reliable name in the industry, which is why we didn't hesitate to highlight them here.
Their team works locally to cater to North American and European markets. This gives them an edge in creating digital marketing campaigns to suit these markets.
So if you're also thinking about expanding abroad, we highly recommend this agency for that purpose.
Among their services, they specialise in PPC advertising. What we like about them is that they constantly test campaigns to ensure that they're continually improving.
Still, they make a pretty solid choice for businesses that are looking for a wide range of services. Despite being a small team, each member has their own specialisation—be it content writing or web design.
We also like the fact that potential clients can get a free digital marketing review, which includes website analysis and PPC/SEO analysis. This will give you an idea of whether their services are right for you or not.
Wide range of services
Free digital marketing review
Caters to North American and European markets
Open on Saturdays 
Central location
Relatively small team
Rates unavailable online
Customer Reviews
Professional, creative, knowledgeable
"I contacted Micheal following a recommendation. He was most professional, creative and knowledgeable. Delighted with the end result and I receive many compliments on my website. Thanks Micheal!" —Aine Ryle, Google Reviews
Fully transparent
"Top AdWords agency. Micheal and his team help you to understand the ins and outs of online advertising, they're also fully transparent in regards to campaign optimisation and campaign changes. Highly recommended!" —Eoin Hallahan, Google Reviews
4. ePresence Digital Marketing
SERVICES
Digital Marketing Strategy
eCommerce Implementation
Website Design and Development
SEO Services
Digital Advertising (PPC)
Content Marketing
Email Marketing
Social Media Advertising
Web Analytics
WEBSITE
https://epresence.ie/
ADDRESS
Link Road Business Centre, Ballincollig, Cork
CONTACT DETAILS
+353 (0)21 2362901
[email protected]
OPERATING HOURS
ePresence Digital Marketing is an organization that is results-driven to assure that all of its decisions and approaches are geared toward the client's success in the digital market. With innovative and proactive techniques at play, they strive to form long-term relationships with their clients that are grounded on their expertise and the client's collaboration as well.
We find their proactive approach to communication and client involvement to be very comprehensive and adequate so that clients can have a say and control how the business is run and managed whilst being aided by them.
Another thing we find notable is their team that is able to give clients sound and practical advice since they are involved with multiple fields in the industry and employ a conscientious approach to uphold their service integrity as well.
They also offer a High Return On Investment wherein each of their decisions and strategies for the client's company is especially corroborated by their deep understanding of the Irish market.
Overall, with their highly customizable approach and reliable consultation to jumpstart each company, we highly recommend them for clients looking to build a solid foundation and impact online.
Comprehensive packages
Investment-centered approach
Customizable services
Operating hours unavailable
Customer Reviews
Here are some reviews from their clients:
"Excelsys Technologies is a fast growing power electronics company based in Cork. Working with John and the team at ePresence, we have greatly improved our website content and google ranking, resulting in greater relevant traffic to our website. The development of our e-commerce capability by ePresence was professionally managed and executed and the continuous Follow-up service has been excellent." – Dermont Flynn
"Trabolgan Holiday Village have been working with ePresence on various marketing campaigns over the last few months. During this time their team, in particular, Gillian have been a fantastic help and support. They have clearly understood our goals and are focused on achieving the best results from each campaign that we have run and plan to run in the future. They have advised, helped and guided us to ensure that all our campaigns have been a great success." – Deirdre Mannion
5. Finn Media Marketing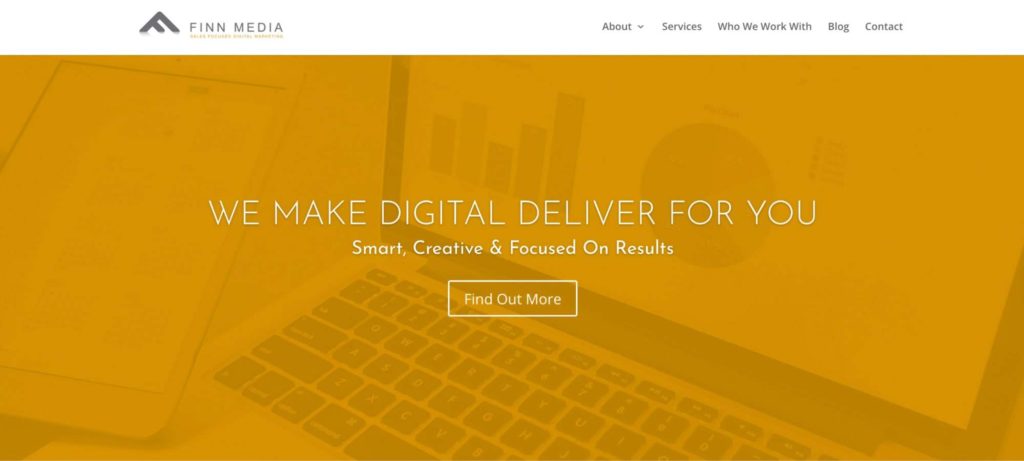 SERVICES
Data Review, SEO Services, Digital Strategy, Google Ads
WEBSITE
https://finnmedia.ie/
ADDRESS
Acorn Business Campus, Mahon Industrial Park, Cork
CONTACT DETAILS
01 685 3388 |

[email protected]

OPERATING HOURS
Mon to Fri: 9:00 am – 5:30 pm
Finn Media has been in the digital marketing industry for 12 years now, helping clients all over Ireland increase their revenue and markets.
Compared to others, this agency has a relatively limited scope of service, focusing on SEO optimisation and Google Ads. Speaking of the latter, they're actually a certified Google Ads partner, which is an indication that they're confident in their expertise in the platform.
You won't find related services that most digital marketing agencies offer, though, such as social media marketing and web design services. This can potentially be a downside to businesses that are looking for several services in one place.
However, the fact that they specialise in very few services tells us that they're particularly knowledgeable about it.
More than anything, we're really impressed by how flexible they are to accommodate clients nationwide. Despite having an office, they can actually meet you at your business location to discuss your options.
They also travel to various areas in Ireland once a month, which really gives you the benefit of seeing them face to face even if you're located outside of Cork.
Google Ads partner
Specialises in SEO and PPC
Services clients nationwide
Meets clients around Cork
Limited set of services
Rates unavailable online
Customer Reviews
Real value for money
"Have worked with Denis @ Finn Media for a number of months on our social media and marketing. We've gained a large customer base quite quickly whilst marketing ourselves to our target audience, the service they have provided has proved a great success to us and has provided us with real value for money. We couldn't recommend Finn Media enough." —Evcore Gym, Google Reviews
Team was only a call away
"Finn media are a pleasure to deal with. They transformed our whole online presence. Hugely increasing our search rankings to be easily found online. Perfected the look of our website. Denis and the team were only an email or call away no matter how small or big a question. Highly recommended." —Adrian Kelleher, Google Reviews
6. Forza Direct Marketing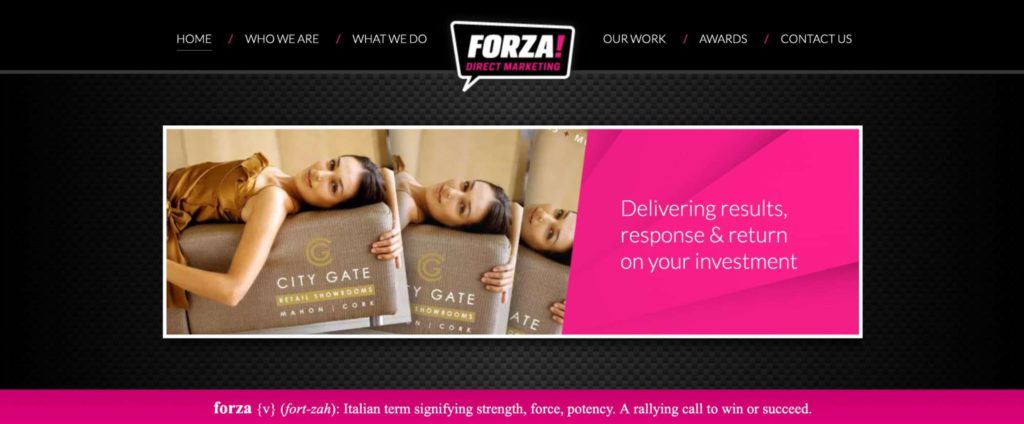 SERVICES
Marketing Consultancy, Direct Marketing, Graphic Design & Creative, Advertising & Copywriting, Brand & Logo Design, Online/Digital Marketing, Web Design, Print Management, Events & Exhibitions, Promotional Products
WEBSITE
https://www.forza.ie/
ADDRESS
Building 1000, Floor 2, City Gate, Mahon, Cork
CONTACT DETAILS
021 240 9022 |

[email protected]

OPERATING HOURS
Mon to Fri: 9:00 am – 5:00 pm
Forza Direct Marketing is a great option to consider if you're looking to marry digital marketing and traditional marketing at the same time. This all-around agency comprises a team of graphic designers, logo designers, content writers, and seasoned marketing experts.
Suffice to say that they're more than your typical digital marketing agency. We love that they're not tied into one specific marketing channel.
This allows them to diversify their strategies—whether through online or offline means—so you can reach your goals. So if convenience is your primary concern, then we can confidently say that this agency can get you everything under one roof.
That said, this makes them an excellent choice for businesses of all sizes. Their wide range of services means that they have plenty of leeway to work on your budget.
While they cater to businesses across various industries, they mostly take pride in their work in real estate marketing.
The only drawback here is that availability may be limited, seeing that their team is relatively small. In that case, we highly recommend consulting with them early, especially if your campaign isn't due any time soon.
Wide range of services
Ideal for businesses of all sizes
Specialises in real estate marketing
Award-winning agency
Limited availability
Closed on weekends
Customer Reviews
Exceptionally creative
"Would highly recommend Ivan, Daniel and the Forza team. Thanks to their knowledge and determination our website looks great and functions really well. Forza are exceptionally creative, professional and efficient in what they do." —Helen O'Sullivan, Google Reviews
Great support service
"Ivan and Olga and the entire team an Forza have been nothing but a great support service, and also a team that advise without expectation for business, which is rare and an admiral commodity in today's commercial world. A good partner and advise team." —Louise Director Yellow Harbour, Google Reviews
7. Noise
SERVICES
Branding
Web Design/Dev
Digital Marketing
Social Media
WEBSITE
https://noisewebdesign.com/
ADDRESS
Ireland
15 South Terrace, Ballintemple, Cork, T12 A0FH, Ireland

USA
7620 Katy Fwy Unit #350, Houston, TX 77024 United States
CONTACT DETAILS
New Business:

[email protected]


General:

[email protected]


Call us: +353 21 431 9524
OPERATING HOURS
Monday to Friday: 9:00 AM – 6:00 PM
Saturday & Sunday: CLOSED
Since 2016, Noise has been providing its creative digital services as they are a creative digital agency based in Cork, Ireland, and Houston, Texas, that specializes in branding, web design, development, and digital marketing across all platforms. Their goal is to assist you in developing, growing, and maintaining genuine connections with your customers.
This agency work with a network of incredible creatives to bring your digital experiences to life. From start-ups to industry titans, they enjoy working with their customers, assisting them in seizing opportunities and finding solutions. They are friends as well as co-conspirators.
They collaborate with forward-thinking businesses to develop refined, impactful, and inspiring brand experiences. They use both creative and technical thinking to deliver solutions that are effective, long-lasting, and inspiring.
Simply put, unlike other agencies, they will not dump you into the internet and leave you to fend for yourself. Noise builds ideas together with their clients, and then they build on those ideas.
Client-focused
Ideal for businesses of all sizes
Customer Reviews
Here are some reviews from their clients:
"Go-to company for all my webdesign, and digital marketing needs. The noise team take the hassle and complexity out of digital marketing and are always on trend. Working with the team could not be any easier, always there to answer any questions or issues I might have. They even let my pup sit in on our meetings." – Nadine Hughes Campbell
"The team at Noise are really easy to work with. Dedicated to achieving the best possible outcomes and results for your creative and marketing needs. Top blokes with a drive and passion for their craft. Can't recommend them highly enough!" – Ciaran Coulstock
8. The Digital Department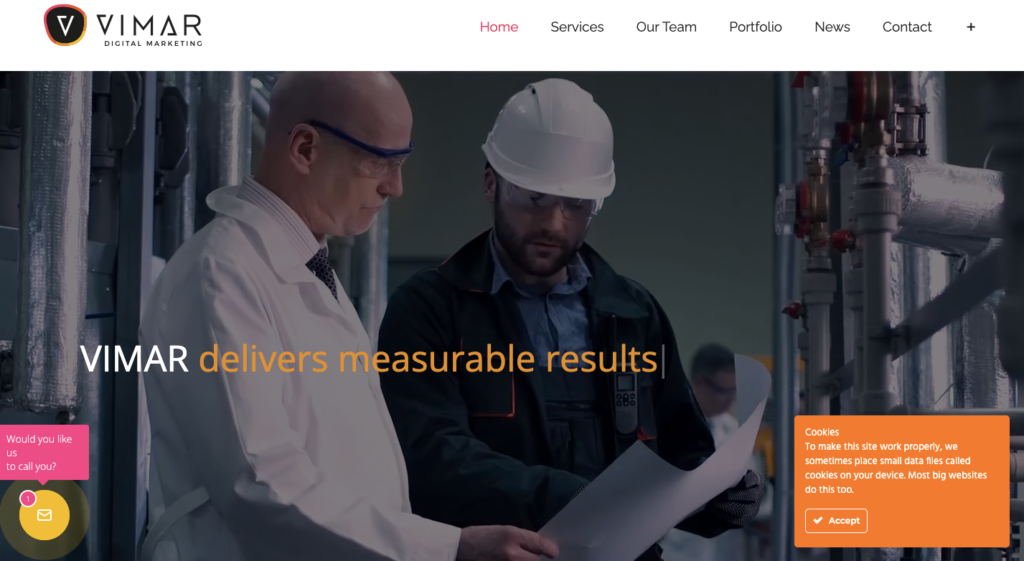 SERVICES
Seo Services
Digital Marketing Services
Social Media
E-mail Marketing
Search Marketing And Lead Generation
Client Referral Program
Marketing Referral Program
WEBSITE
https://www.thedigitaldepartment.ie/
ADDRESS
Unit 5 Emmet House, Barrack Square, Ballincollig, Cork
CONTACT DETAILS
021 240 9045 |

[email protected]

OPERATING HOURS
Monday – Friday: 9:00 AM – 5:30 PM
The Digital Department is an agency that is one of the leading figures in the Cork that offers website development and design solutions along with E-Commerce solutions suitable for any industry. With over 10 years of experience, they have since then completed over 600 projects which says a lot about the diversity of their experience.
We think that their ability to combine and make use of various platforms such as Magneto and WordPress for their websites makes their products to be very flexible in accordance with what the client prefers for their own.
They have a strong foundation and understanding when it comes to marketing and communication which is always employed by their experts so that clients can be ensured that it will produce exemplary results after they are done.
Another thing we find notable is their website wherein clients can easily navigate and even make use of as a resource material should they be interested in learning more about the service that they would like to avail. Clients can also readily book and contact them directly on their website and expect shorter waiting times and comprehensive consultations with them that not only save time but also ensure a progressive one as well.
Furthermore, their past clients have also commended them for their wide scope of programs and services which has made the whole experience easy for them since they were adequately informed and handled professionally all throughout the whole process.
Convenient online booking
Experts in the industry employed
Variety of platforms used
Customer Reviews
Here are some reviews from their clients:
"Alan & his team recently completed our company's website. We are thrilled with the end result. They have created a professional, clean and easy to use site which can take commence and client bookings. Having a wide range of programs, they put a lot of work into the design and system architecture. They were excellent to deal with and have a very creative design team. The whole process was made very easy for us and at each stage of the project, we were kept informed. Highly recommend TDD." – Orla Berkery
"I found the digital department help full very in creating a website that matched my professional image as a company and Alan was always there to sort any worries." – Dermot Wills
9. VIMAR Digital Marketing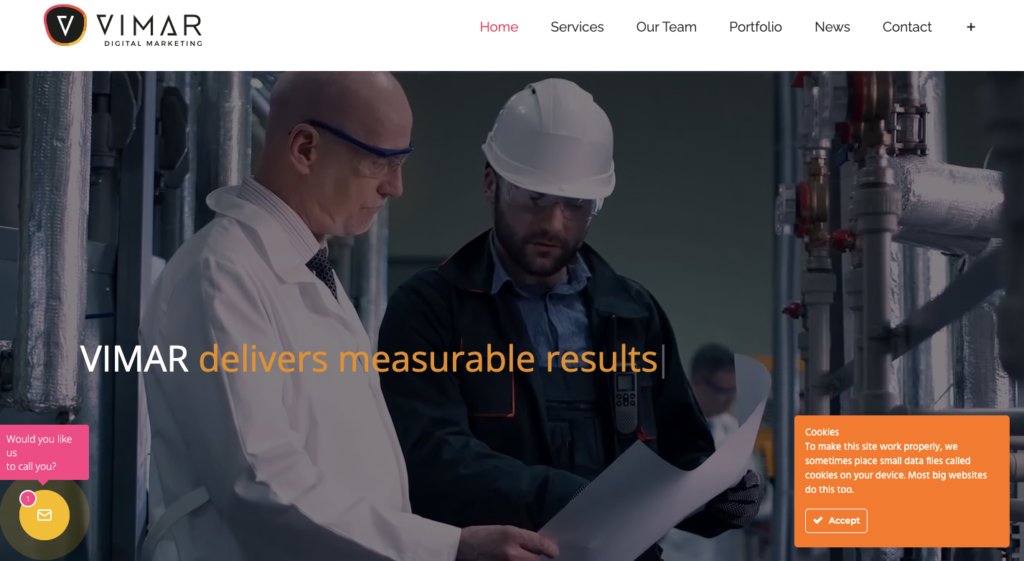 VIMAR Digital Marketing is the next on our list for your go-to marketing agency needs in Cork.
We're amazed at how they're a full-service marketing agency capable of handling all of your digital marketing requirements. This includes web design and development, search engine optimization, social media management, content creation, and online advertising.
In providing you with this full circle marketing agency, their team possesses a diverse set of experiences that combine to provide a comprehensive offering for your company. They are excited about the prospect of contributing to your company's marketing success. Long-term business growth necessitates a thorough examination of your marketing offering.
The services listed above have been meticulously designed to give your company a professional digital marketing presence. A full-circle approach ensures that you develop a marketing strategy that produces results.
Full circle marketing agency
Great customer service
Customer Reviews
Here are some reviews from their clients:
"By far the best website/social media company i have worked with. Designed a great website for me, and once website is live and up and running they don't just forget about you, they are always looking to improve the site and get it up the search engines and make it work for your company. Very responsive to queries and issues also. Very nice people to deal with too, highly recommended to all." – Millers Home and Garden Portlaoise
"The team at Vimar took care of our website (netsupport.ie) and they were a dream to work with. Cannot recommend them enough." – Dave Devery
FAQs about Digital Marketing
More Resources about Digital Marketing Services in Ireland