The 5 Best Dentists in Limerick
Image source: Freepik – pressfoto
Visiting a dentist for treatment might not be the most enjoyable thing in the world, but it sure is needed. Not only is it important, but the confidence from having a bright and even smile is definitely worth the process.
In this article, we're bringing forward our picks for the best dentists in Limerick! Among our choices, you'll find dentists who offer quality dental care for a variety of patients, both young and old.
What's more, we've included plenty of other info that'll add to your knowledge about teeth and tips to finding the right dentist. Let's get started!
Dentist Fees in Limerick
We've already listed in the table below some of our featured clinics' treatments and how much they cost.
Note that it's only a partial list, so if the treatment you need is not included, you may need to check out the clinic's website. Don't worry, we've included the exact link ahead as we discuss each dentist.
CLINIC
TREATMENT
COST
Crescent Dental Limerick
Examination
 
Scale and polish
 
Routine extraction
 
Home whitening
 
Amalgam fillings
€50
 
€60
 
€100
 
€250
 
€90 – €120
3Dental
Initial consultation
 
Dental exam
 
Scale and polish
 
Emergency appointment
 
Simple extraction
Free
 
€40
 
€57
 
€50
 
€80
Victoria House Dental
Exam (incl. x-rays)
 
Exam & cleaning (new patient)
 
Routine extraction
 
Amalgam filling (silver)
 
Root canal treatment
€50
 
€80
 
 
€90
 
€80
 
From €350
Bowe Dental
Initial consultation w/ treatment coordinator
 
6-month braces consultation
 
Comprehensive assessment (incl. all x-rays)
 
Cleaning (hygienist)
 
Amalgam fillings (silver)
€49
 
 
Free
 
 
€120
 
 
€70
 
€100 – €140
Castletroy Dental Clinic
New patient exam
 
Scale & polish
 
Advanced gum treatment
 
Composite fillings (white)
 
Routine extraction
From €40
 
From €70
 
From €100 per visit
 
From €120 – €200
 
From €120 – €180
The Best Dentists in Limerick
Now that you have a better idea about dental fees, let's head straight to our choices for the best dentists in Limerick!
1.   Dr Miriam Quilty – Crescent Dental Limerick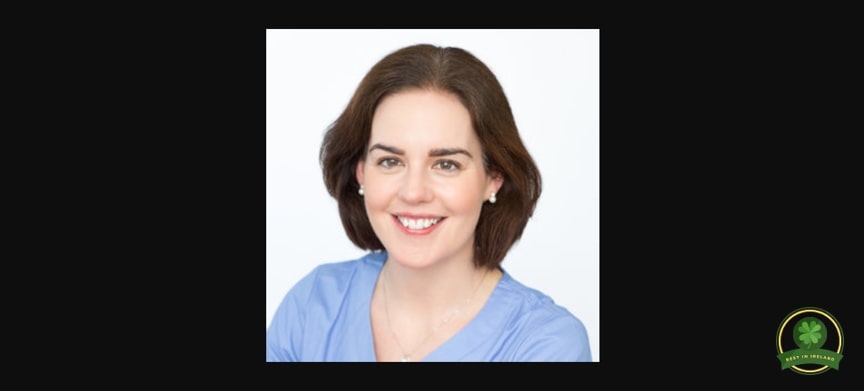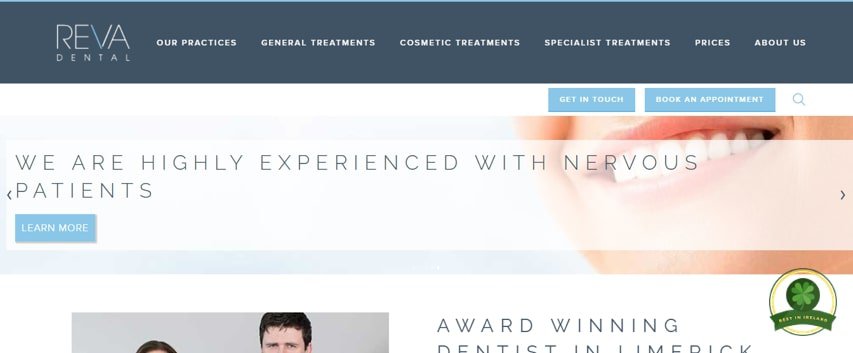 SERVICES
General treatments:
 
General dentistry, dental checkup, dental x-ray, hygienist service, tooth extraction, crowns, bridges, fillings, children's dentistry, fissure sealants, mouthguards, and dentures
 
Cosmetic treatments:
 
Cosmetic dentistry, teeth whitening, and veneers
 
Specialist treatments:
 
Root canal treatments, periodontal treatments, dental implants, orthodontics, 6 Month Smiles, and Invisalign
 
Click here for a complete list of treatment prices.
WEBSITE
https://www.revadental.ie/dentist-limerick
ADDRESS
Dooradoyle House, Dooradoyle Road, Limerick
CONTACT DETAILS
061 484 844


[email protected]

OPERATING HOURS
9:30 am to 5:00 pm (Monday – Tuesday)
9:00 am to 5:00 pm (Wednesday)
9:30 am to 8:00 pm (Thursday)
9:00 am to 5:00 pm (Friday)
9:00 am to 2:00 pm (Saturday)
Dental anxiety is a common problem for patients of all ages. If you're that kind of patient (or your child is), one of the dentists we'd recommend is Dr Miriam Quilty of Crescent Dental Limerick.
Treating nervous patients, both adults and children alike, is one of Dr Quilty's particular specialities. She provides sedation for patients at Crescent Dental and is presently taking up a diploma in conscious sedation at Trinity College Dublin, one of the country's top-ranking universities.
Moreover, another interest of Dr Quilty is orthodontics. She is equipped with postgraduate training (taken in the UK) in both Inman Aligner and Six Month Smiles orthodontic systems.
Aside from Dr Quilty's qualifications, other advantages of seeing her are Crescent Dental's location and clinic features. Crescent Dental is just a 5-minute drive from Limerick City and is situated near the Crescent Shopping Centre.
It also offers free parking and is wheelchair-accessible, making it convenient for vehicle owners and people with disabilities. In addition, it's got two other branches in Meath and Kilkenny.
Open until Saturday
Available beyond office hours
Has free parking
Clinic is disability-friendly
Direct Pay provider for DeCare
Offers emergency service
2 other branches
Closed on Sundays
Shorter clinic hours on Saturdays
Customer Reviews
Dr Quilty's patients have noted not just her gentleness but the quality of her treatments as well. Check them out below:
"Great treatment. I started going here several years ago because the location was convenient. Now having switched job location it is far from convenient but I wouldn't go anywhere else. The attention to detail of this practice in general is brilliant and it really feels like you're their only patient with call backs & follow ups, but I have to say the work performed by Miriam is exceptional. I will be returning with my kids soon to get them used to dental visits in a very relaxing & comforting setting!" -Tony O'Connor
"Very professional service,Miriam is a very gentle dentist, which I appreciate very much as I am an extremely nervous patient." -Margaret Cashman
Amazing dentist!! Miriam is so lovely and a perfectionist." -Susan Sheehan
2.   Dr Paul O'Connell – 3Dental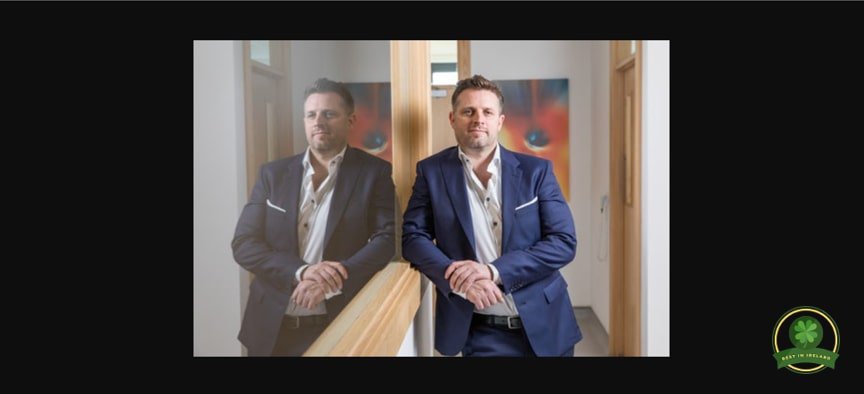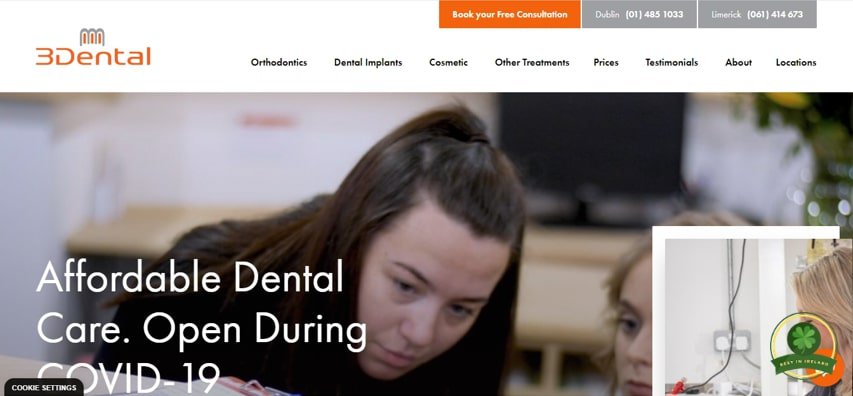 SERVICES
General dentistry:
 
Dental emergencies, routine checkups, white fillings, scale and polish, gum surgery, sedation dentistry, fissure sealants, snoring devices, and teeth grinding
 
Cosmetic dentistry:
 
Dental cosmetic bonding, teeth whitening, crowns, bridges, digital smile design, veneers, and prosthodontics
 
Orthodontics:
 
6 month braces, kids braces, adult braces, and Invisalign
 
Dental surgery:
 
Tooth extractions, bone grafts, sinus lifts, and gingivectomy
 
Dental implants:
 
Dental implants, implant-retained dentures, and Teeth in a Day
 
Endodontic treatments:
 
Root canal treatments and apicectomy
 
Click here for a complete list of treatment prices.
WEBSITE
https://www.3dental.ie/limerick/
ADDRESS
Old Quarter House, Little Ellen St, Limerick, V94 D72V
CONTACT DETAILS
(061) 414 673


[email protected]

OPERATING HOURS
8:00 am to 8:00 pm (Monday – Friday)
9:00 am to 5:00 pm (Saturday)
Dr Paul O'Connell of 3Dental has had extensive training locally and abroad.
Aside from graduating from Trinity College Dublin in 2004, he also gained training in endodontics at Manchester University, among other institutions in the UK.
He has also extended his study at Harley Street, which, according to Top Doctors, is the "go-to place for private cosmetic surgery and dentistry." This area in London is well-known for its concentration of healthcare professionals.
Aside from endodontics, other areas of dentistry Dr O'Connell has had training in include short-term and comprehensive orthodontics and cosmetic dentistry.
In addition, Dr O'Connell's knowledge in medicine is not just limited to dentistry as prior to studying to be a dentist, he first worked as a pharmacist.
However, while he does have knowledge in endodontics, his practice at 3Dental is limited to orthodontics. Moreover, availing of his treatments may be a concern since he practices both in Limerick and 3Dental's branch in Dublin.
But at the same time, this could also be an advantage, if ever you find yourself in Dublin for a visit or other reasons. The best thing to do is to secure first an appointment with 3Dental, which is one of their policies anyway.
Free initial consultation
Offers emergency service
Available beyond office hours
Open until Saturday
Another branch in Dublin
Humm dental partner
Closed on Sundays
Walk-in appointment is subject to availability
Parking charges
Customer Reviews
Want to know what Dr Paul O'Connell's patients think about him and his dental treatments? Read some of them below:
"Paul O'Connell and the 3Dental team are the nicest people you could meet – the level of service I have received there and continue to receive is second to none. I cannot recommend them enough. They have gone above and beyond for me. It is also the most efficient dental practice I have visited, with very accommodating opening hours. I'll be a customer for life :)" -Kevin Koyce
"I can't recommend 3Dental enough! I had wanted braces for years but always worried about the cost involved. I went to 3Dental for a consultation with Dr.Paul and was so happy with the price quoted and also how there was no pressure to go ahead with getting the treatment. . ." -Karen Fennessy
3.   Dr Ruth Scanlon – Victoria House Dental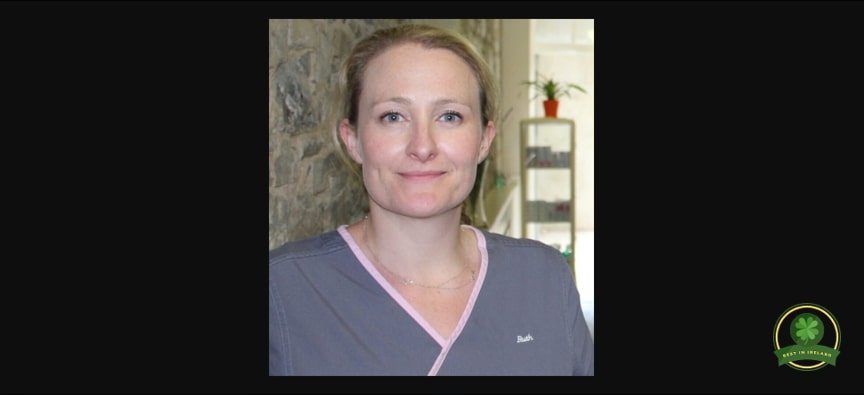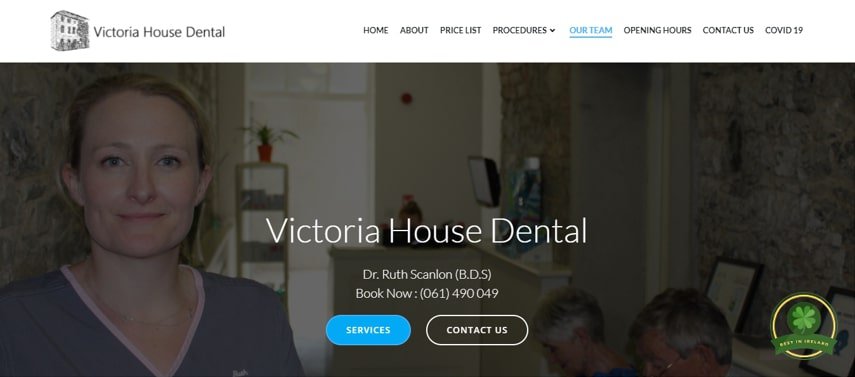 SERVICES
Teeth whitening, crowns, bridges, root canal, veneers, fillings, cleaning, night splint, fissure sealant, and dentures  

Click here for a complete list of treatment prices.
WEBSITE
https://victoriahousedental.ie/
ADDRESS
5 John's Square, Limerick, V94 P2Y7
CONTACT DETAILS
(061) 490 049


[email protected]

OPERATING HOURS
8:30 am to 6:00 pm (Monday, Thursday)
8:30 am to 5:00 pm (Tuesday, Friday)
8:30 am to 1:00 pm (Wednesday)
Dr Ruth Scanlon is a Limerick native and Victoria House Dental's only dentist. She qualified as a dentist from University College Cork.
Before establishing Victoria House Dental in 2016, Dr Scanlon spent years working at the University Hospital Limerick's oral and maxillofacial Department. She also has experience working in private practice and the NHS in Scotland.
Teeth whitening and fillings are her popular treatments. She also conducts root canal treatments and installs crowns, veneers, bridges, among other treatments.
Dr Scanlon also prides herself as a child-friendly dentist, so you might consider bringing your kids to her. She provides oral hygiene instruction and fissure sealants when necessary for kids.
Moreover, Victoria House Dental accepts emergency appointments and Medical Card patients.
On the downside, the availability of Dr Scanlon's clinic is somewhat limited compared to other clinic's we have seen. They're only open until 6:00 pm at the latest and are closed on weekends, making her schedule inconvenient for working patients.
Plus, the treatments she offers are more general compared to other clinics.
Available beyond office hours
Accepts Medical Card patients
All staff are Cardiac First Responders
Short clinic hours
Closed on weekends
Treatments are somewhat limited
Customer Reviews
Judging from some of the feedback from Dr Scanlon's patients, she also has got the know-how to make patients feel at ease:
"I just got out of an appointment with Ruth and Rose of Victoria House Dental and I had the best experience I've ever had with a dentist. I was a very nervous patient until now and I'm so happy to be a patient with them. Thank you so much to Ruth and Rose for being so amazing at their jobs!" -Rebecca Daly
"As a nervous attendee at my previous dentist I must say that from the first moment I was totally at ease. Impeccably clean and professional. I can strongly recommend Ruth and her wonderful team. All covid 19 protocols followed." -John Lawless
"Has always been a wonderful experience and the only time I have ever felt at ease going to the Dentist. Ruth is wonderful and I genuinely look forward getting my teeth cleaned. Exceptional service!" -Helena Grimes
4.   Dr Robert Bowe – Bowe Dental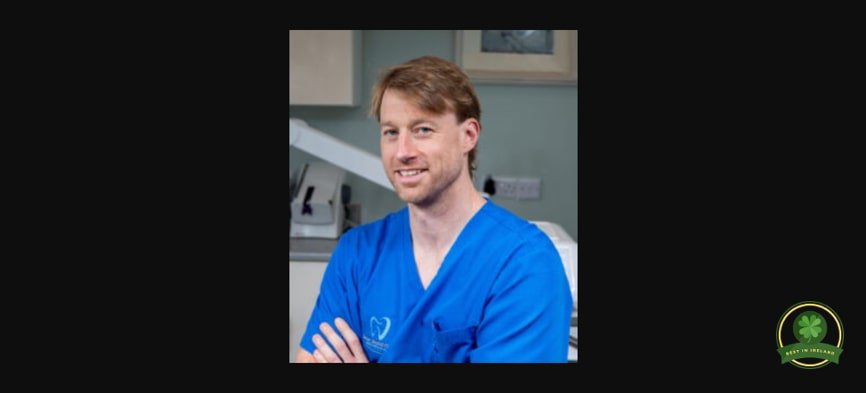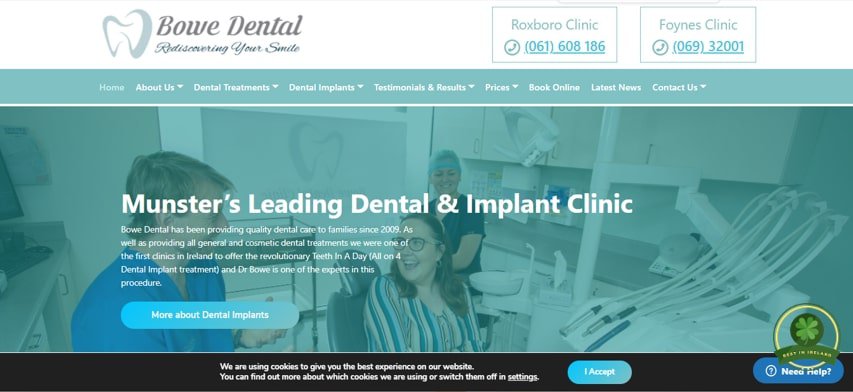 SERVICES
General dental treatments:
 
Checkup and examination, fillings, extractions, sealants, root canal treatments, crowns, and bridges
 
Dental hygienist and dental emergencies
 
Cosmetic dental treatments:
 
Veneers, teeth whitening, and 6-month braces
 
Dental implants
 
Click here for a complete list of treatment prices.
WEBSITE
https://www.bowedentalclinic.ie/
ADDRESS
Unit 7, Q Retail Park, Roxboro, Limerick  

Main St, Foynes, Co. Limerick
CONTACT DETAILS
Roxboro:  
061 608 186


[email protected]

 

Foynes:  
069 32001


[email protected]

OPERATING HOURS
8:30 am to 5:30 pm (Monday – Friday; up to 7:00 pm on Tuesdays)
Dr Robert Bowe established Bowe Dental in 2009 and is another dentist who has obtained extensive training in dentistry.
A graduate of Trinity College Dublin, his experiences include working in both general and paediatric dentistry. Moreover, he is also a dental surgeon, with postgraduate training in oral and maxillofacial surgery.
Meanwhile, Dr Bowe is an ideal dentist for those seeking to replace missing teeth with dental implants. Dr Bowe is one of Bowe Dental's dentists who carry out Teeth in a Day, an implant procedure that allows for the replacement of multiple teeth.
Dr Bowe has been doing this procedure for more than 5 years now and received training in various clinics in Europe, specifically in Portugal, Germany, and the UK.
Another advantage of seeing Dr Bowe is that Bowe Dental has two clinics in Limerick. However, it's unclear from Bowe Dental's website his schedule in both clinics, so inquire first in advance.
Another thing is, their newer clinic in Foynes does not currently offer all the treatments available in their Roxboro clinic. In addition, they're not open on weekends, but at least they're open as late as 7:00 pm on Tuesdays.
Wide service coverage
Available beyond office hours
Offers emergency services
Flexi-Fi partner
Roxboro clinic is 5 min away from centre of Limerick City
Closed on weekends
Beyond office hours on Tuesdays only
Customer Reviews
Two of Dr Robert Bowe's patients who saw him for dental implant procedures had these to say about their experiences:
"Recently had implants put in by Robert and his team at Bowe Dental and I cannot compliment them enough. Everyone at the clinic was very friendly and accommodating. I am over the moon with the work carried out by Robert and feel a lot more confident in my smile. I would highly recommend Bowe Dental Clinic to anyone." -Brian Maher
"Excellent service from initial consultation to finishing. I was worried going in that the work I needed done would be unaffordable, but Rob gave me a detailed breakdown of the cost, and it was well below what I expected. Getting the implants and bridge put in was relatively painless. Robs positive attitude made me forget I was in a dentists chair for it all. He also added a teeth whitening treatment as part of the initial charge. I couldn't have asked for a better final result. Highly recommended if anyone is thinking about implants, to at least go for a consultation." -Joey English
5.   Dr Ruth Murphy – Castletroy Dental Clinic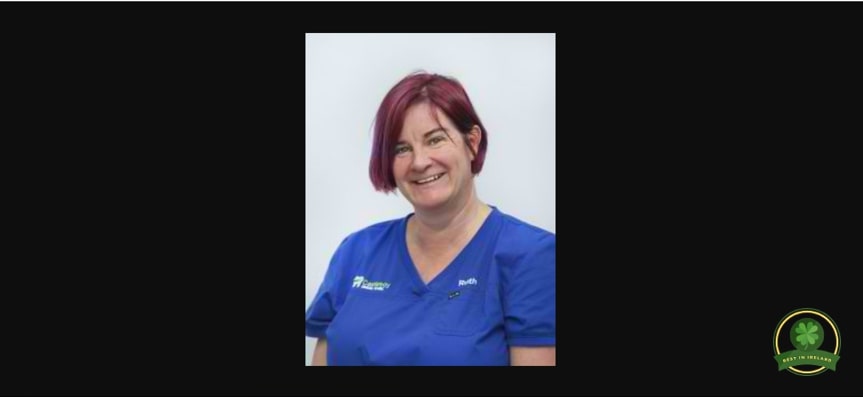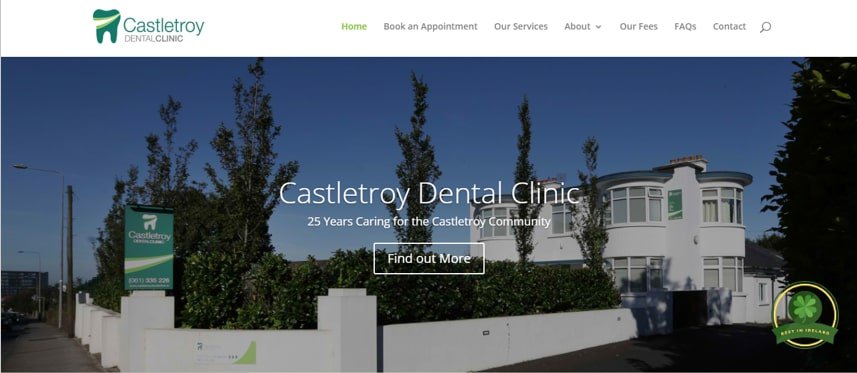 SERVICES
Dental examination, dental x-rays, dental hygiene and gum treatment, fillings, extractions, crowns, bridges, fissure sealants, tooth whitening, root canal treatments, dentures, dental implants, and cosmetic dentistry Click here for a complete list of treatment prices.
WEBSITE
http://castletroydentalclinic.ie/
ADDRESS
Dublin Rd, Glanleam, Castletroy, Co. Limerick, V94 PA66
CONTACT DETAILS
061 335226


[email protected]

OPERATING HOURS
8:00 am to 6:30 pm (Monday)
9:00 am to 6:00 pm (Tuesday
9:00 am to 7:30 pm (Wednesday)
8:00 am to 7:30 pm (Thursday)
8:00 am to 4:00 pm (Friday – Saturday)
Since 1994, Dr Ruth Murphy has been practising dentistry here at Castletroy Dental Clinic for almost 30 years now.
She is a University College Cork graduate, and her dentistry experience also extends to the UK. She has a postgraduate diploma in restorative dentistry taken from Trinity College Dublin.
Recently, she had completed postgraduate training in contemporary restorative dentistry from Birmingham in the UK. Her particular interest lies in cosmetic and restorative dentistry.
Dr Murphy treats patients along with two other dental surgeons and one hygienist at Castletroy. They provide the following treatments: fillings and extractions, crowns and bridges, root canal treatments, dental implants, dentures, teeth whitening, and many more.
While Dr Murphy's clinic has parking space and is only 5 minutes from the Castletroy Town Center and the University of Limerick, we noticed that it has varying clinic hours from Monday to Thursday which can leave some patients a bit confused.
Hence, this is something you'll just need to give more attention to to prevent any inconveniences.
Clinic is near Castletroy Town Centre and UL main campus
Offers cosmetic dentistry
Has parking space
Available beyond office hours
Closed on Sundays
Varying clinic hours
No mention of emergency services
Customer Reviews
Castletroy Dental Clinic has had a patient coming to them for the past 15 years. The fact that this patient has been with the clinic for more than a decade says a great deal about Dr Ruth Murphy and Castletroy Dental Clinic. This is her review:
"I have been attending Castletroy Dental surgery for the past 15 years. It has consistantly been a top class practice. Always friendly, professional with fantastic staff. Thank you Ruth and all the team for manys years of happy service." -Shane Houlihan
How to Choose the Right Dentist
Here are some of the things you need to consider when choosing a dentist. Check them out below:
1. Speciality
If you only need a routine checkup and cleaning, a general dentist would suffice. However, if you require a particular treatment such as dental implants or braces, knowing the speciality of a dentist is important.
For instance, orthodontists specialise in aligning teeth and jaws through braces, retainers, and such. Periodontists deal with the treatment of gum diseases, while endodontists perform root canal treatments, and so on.
2. Clinic hours
A dentist's clinic hours is another important consideration, especially if your treatment lasts for several months.
Even if you like a particular dentist, if your schedules don't match, it's going to be inconvenient for you to have your treatments done with that dentist.
If you're working, look for a dentist who's also available beyond office hours. Moreover, it would be a good idea to check if he or she also accepts emergency appointments, for the future, just in case.
3. Location
Similar to clinic hours, for convenience's sake, pick a dentist whose clinic is not too far from your residence.
Some clinics are even located in malls or shopping centres which can be an advantage since you can shop for groceries or complete other errands after your checkup.
Also, if you don't have your own car, make sure the clinic is located near public transportation.
4. Clinic features
Do you have special needs, such as mobility issues? If so, check if your prospective clinic has disability-friendly features such as wheelchair access.
And if you need to bring your children along with your dentist appointments, inquire if the clinic has facilities or materials to keep kids entertained.
On the other hand, don't forget to inquire about parking space if you're a vehicle owner.
FAQs about the Best Dentists in Limerick
---
And there you have it—our options for the best dentists in Limerick! Hopefully, this list has made it easier for you to pick a dentist.
And if you think we may have missed out on other dentists in this article, just give us a call. We'll take a look ASAP!
Perhaps you're also in need of repairs, particularly for your house's plumbing systems? If so, visit our list for the best plumbers in Limerick!