The 5 Best Coworking Spaces in Cork
Looking for a change of scenery to get your creative juices flowing or maybe a temporary workspace to briefly meet up with co-workers?
We've gone over dozens of coworking spaces in Cork to give you our top picks complete with a cost section, review, pros, and cons. Find your dream workspace from our list of best coworking spaces in Cork!
How Much Do Coworking Spaces Cost in Cork?
It's important to choose a coworking space with a variety of membership or plan options to identify what best fits your budget. Laying down your budget early on will help you filter out coworking spaces that aren't feasible options.
To help you prepare accordingly, we've outlined the rates of the entries we've listed.
Keep in mind that some of our picks may have changed their prices so we recommend that you visit their respective websites.
| COWORKING SPACE | PLAN/MEMBERSHIP | RATE |
| --- | --- | --- |
| Republic of Work | Day Pass | €35 |
| | Company Staff Pass | €999 + VAT Per Month |
| | Flexi | €99 + VAT Per Month |
| | Flexi Unlimited | €199 + VAT Per Month |
| | Resident | €399 + VAT Per Month |
| Plus 10 Coworking | Day/Week Pass | €25 to €90/per person |
| | Lite Member | €140/per person, 2 days a week |
| | Plus Member | €165/per person, 3 days a week |
| | Dedicated Member | €240/per person, 24/7 |
| | Office Suites | Size-dependent, 24/7 |
| Spaces | Coworking Membership | €235/per person, full month |
| | Coworking Membership | €103/per person, 5 days a month |
| | Coworking Membership | €150/per person, 10 days a month |
| Culture Co-working | 1 Hour Hot Desking | €5.00 + VAT, 1 hour |
| | 4 Hours Hot Desking | €15.00 + VAT, 4 hours |
| | 1 Day Hot Desking | €25 + VAT, 1 day |
| | Weekend Membership | €61.50 + VAT, weekend |
| | Monthly Executive Pass | €149.00 + VAT, 10 days a month |
| | Unlimited Monthly Hot Desking Pass | €199.00 + VAT, monthly |
| The Ludgate Hub | Hot Desk | €20, 1 day |
| | Part-Time Membership | €180, 10 days a month |
| | Full-Time Membership | €240, monthly |
| | Daily Pass (Student Study Space) | €12, 1 day |
| | Weekly Pass (Student Study Space) | €60, 5 days a month |
| | Monthly Pass (Student Study Space) | €150 - €200, monthly |
The Best Coworking Spaces in Cork
The best thing about coworking spaces is that they're perfect for short-term use. So, you don't need to sign a lease like a traditional office space would require. Although different from a typical workplace environment, they still offer basic office resources and amenities for you to use.
To help you select the coworking space that best fits your needs, we've handpicked a unique list of coworking spaces according to the following:
Now that we've laid out our criteria, we now present the best coworking spaces in Cork.
1. Republic of Work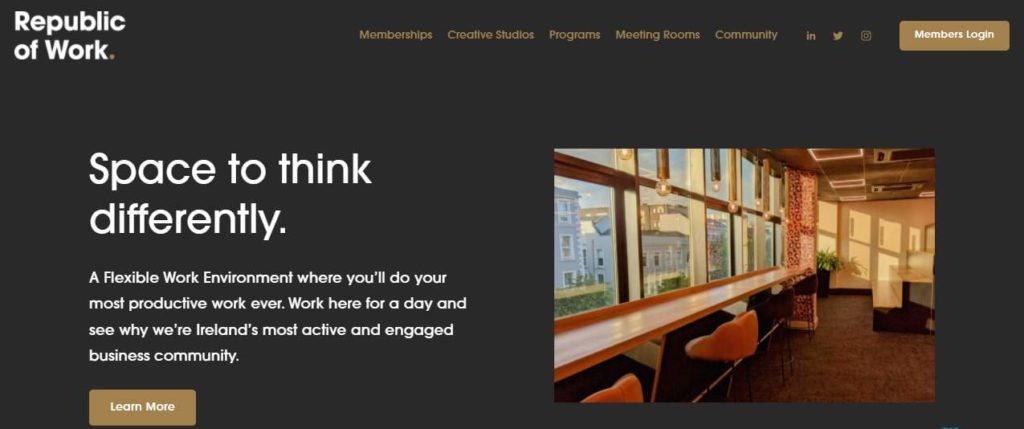 | | |
| --- | --- |
| CRITERIA | RATING |
| AMENITIES | ⭐⭐⭐⭐⭐ (5/5) |
| RATE | ⭐⭐⭐ (3/5) |
| FLEXIBILITY | ⭐⭐⭐ (3/5) |
| ATMOSPHERE | ⭐⭐⭐⭐⭐ (5/5) |
A vibrant and modern coworking space at the heart of Cork, Republic of Work is a large functional space designed to enhance your productivity and establish meaningful networks.
One of the things we like about Republic of Work are their high-tech amenities. Their spacious meeting rooms are equipped with smart technology televisions and interactive whiteboards on top of the usual projectors screens, flip boards, and seating areas.
Inspiring the growth of ideas and creativity, they also boast an exclusive business lounge. As a member, this is a great opportunity to interact and establish connections.
The Republic of Work is definitely admirable for going above and beyond by creating programs to nurture the growth and knowledge of their community. From an exclusive resource library to online sessions on a variety of topics, you will also be able to expand your knowledge and skills.
A unique feature that most coworking spaces don't normally have is a podcast studio which you can rent for €99 on an hourly basis or assemble a personalized package with their add-ons. They boast a fully-equipped recording studio with sound technicians to help you create smooth and crisp recordings.
Aside from the usual speedy Wi-Fi, printing and scanning services as well as storage lockers, the Republic of Work also allows you to use their address for mailing services. This is a great way to perform more secure transactions as you won't need to give out your private home address.
The Republic of Work offers a selection of membership plans depending on your needs all while supplying you with the basics and more. Even with the basic membership plan, Republic of Work allows you to use their other amenities with an additional charge.
The limited short-term membership options may be a turn-off to many. Nonetheless, you will definitely get your money's worth at the Republic of Work as it offers way more perks than simply being an ordinary coworking space.
In case you weren't already sold on this review, you can book a free 30-minute tour of the place on their website too.
Overall, Republic of Work is definitely a premium coworking space option with upscale workspace facilities and exclusive members-only perks. If you don't mind spending more on this multi-purpose coworking space, this is definitely the option for you.
Has a resource library
Hosts events
Has an exclusive business lounge
Mailing services
High-tech equipment
Exclusive perks from partnerships
Can book a 30-minute tour
Closed on weekends regardless of membership type
No free trial
Costly
Customer Reviews
Friendly and accommodative staff
"That was my first experience with a concept of co-working space but it really blew my mind. I wasn't sure in the beginning if it would have everything needed to do my work productively but after Rowan (huge shout out) gave me a really nice tour, showing everything starting from the small booths for informal chats ending on the whole studio to record podcasts I was sure that it will suite my need. After getting a tour, I was in touch with Sarah (once again huge shout out) who made sure that I have all my questions answered and that the formalities are handled. Overall a really positive experience due to the people working in there and the office itself. It is located really close to the city centre so going out to grab a sandwich or do a little walk is not an issue. The space contains everything you might need during your day of work with obviously the most important being coffee and the water during such hot days. Cannot recommend enough. Really hoping to be visiting Cork in the future once again and I will for sure use the facility :)" – Ignacy Ślusarczyk, Google Reviews
Well-equipped facilities
"A peaceful co-working space in the city center of Cork. Very well equipped with rooms for different purposes, offices, events room and an awesome reception on the 3rd floor which also used by people that rent the space for the day. The staff is very kind. Every week the are some events, like talks, taking place in the building. I like the fact that there are coffee machines and water jars all over the place 👍 Definitely a good place to spend time working, the office really makes the difference." – Kzly White, Google Reviews
Excellent educational resources and networking opportunities
"Republic of Work is a great place to work! It's a comfortable, welcoming, and supportive atmosphere, with all you need. All staff are helpful and friendly, and it's an exciting environment with people working in a variety of professions and companies at different levels of development. There are excellent resources, educational opportunities, and networking events available. I highly recommend ROW!" – Cherie Turner, Facebook
2. Plus 10 Coworking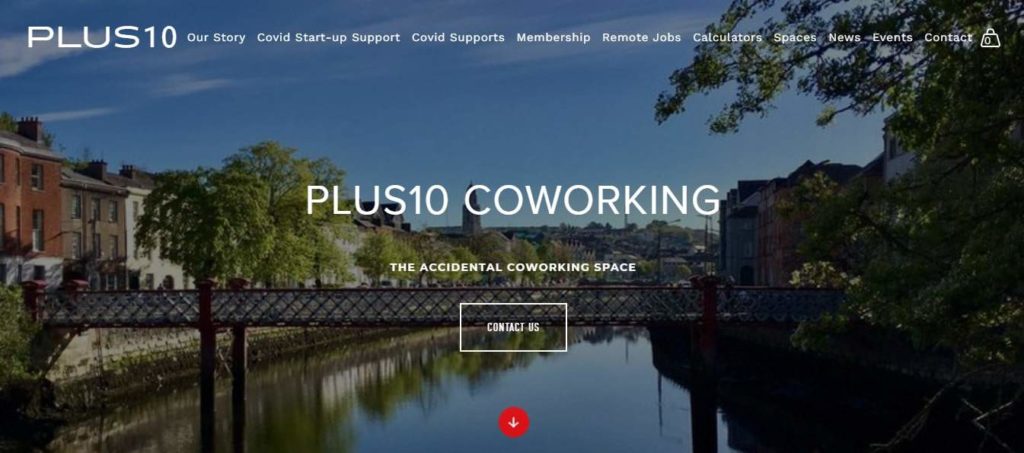 Test
Info
WEBSITE
https://plus10.org/
ADDRESS
2A Drinan St, Sullivans Quay, Cork
CONTACT DETAILS

[email protected]

+353 86 250 0841

OPERATING HOURS

Non-members, Lite Members, Plus Members: 9:00 am to 6:00 pm (Monday-Friday)

Dedicated Members, Office Suites: 24 hours (Everyday)
| | |
| --- | --- |
| CRITERIA | RATING |
| AMENITIES | ⭐⭐⭐⭐ (4/5) |
| RATE | ⭐⭐⭐⭐⭐ (5/5) |
| FLEXIBILITY | ⭐⭐⭐⭐⭐ (5/5) |
| ATMOSPHERE | ⭐⭐⭐⭐ (4/5) |
A creative space dedicated for people to bring their projects to life, Plus 10 Coworking is a membership-based space for work, networking, and productivity.
We'd say that Plus 10 Coworking's strongest point is their wide variety of membership options to cater to your budget and workspace needs. They have day and week passes to 24/7 membership passes.
Even if you're unsure about coworking, they offer a free trial day to see if the setup works for you. Since it's free, you don't have anything to lose since a free day trial lets you experience the coworking environment to make an informed decision before officially committing.
Their day/week passes include the bare minimum such as speedy Wi-Fi, light printing, as well as access to the kitchen and lounge. This is perfect if you're simply looking for a more conducive environment that resembles an office-like space compared to a cafe or library while not being too formal or restrictive either.
On the other hand, their more premium membership options provide you with a dedicated desk, 24-hour access to their facilities, and business services such as mail handling, local phone number, and more! This is the ideal option if you don't have a designated workspace such as an office or at-home workroom.
Although it's a lovely refurbished 17th Century area, Plus 10 has a number of meeting room options with lots of table space. Their recent developments include a kitchen and dining area for all members to use.
Even though Plus 10 Coworking still remains a quaint yet charming coworking space it is a comfortable and quiet coworking space best fit for intimate group projects.
Has a free trial day pass
Professional address, mail handling, and local phone number option
Has affordable rates
Closed on weekends for non-members
Discounts only available for 3-month contracts
Customer Reviews
Comfortable space to focus and get work done
"This work space was such a great location for us to get work done! It is great for group work as the tables provide plenty of space, comfortable seating, and good lighting. It is also quiet enough that it is easy to focus, but we were still able to discuss our projects as a group. The owner is so kind and hospitable! Highly recommend for both individuals and groups who are looking for a quality location to get work done!" – Sarah Koehler, Google Reviews
Spacious desks and helpful staff
"This is a wonderful work space! I spent time there with my study abroad group. Fergus along with every other person I encountered were extremely nice and helpful. We were given a large area of space to use in order to complete projects and it was much more than we could ask for. Along with being given access to a large work space, we were given space for a speaker to come in and give us a talk. My experience there was nothing short of amazing and I would definitely recommend it to anyone who was looking for a place to work!" – Tezeta Gessesse
Attentive and accommodative staff
"I strongly recommend Plus10. I spent two years working remotely from there, the two years I was living in Cork. It was not just a place to work from. Of course, the location is great, it has plenty of desks, the connection is good and fast, and the atmosphere is friendly and professional. But what makes Plus10 special is that the coworkers were like a family to me. Special mention to Fergus, who is always willing to help you with whatever you need. I have worked from other coworking spaces in Ireland and also around Europe and this is so far my favorite one." – M Angeles Martin de la Rosa, Coworker
3. Spaces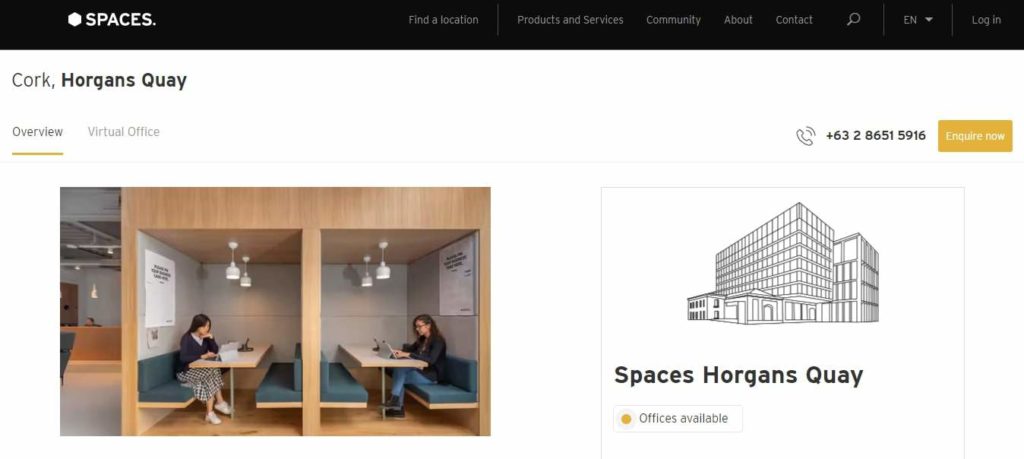 | | |
| --- | --- |
| CRITERIA | RATING |
| AMENITIES | ⭐⭐⭐⭐⭐ (5/5) |
| RATE | ⭐⭐⭐ (3/5) |
| FLEXIBILITY | ⭐⭐⭐⭐⭐ (5/5) |
| ATMOSPHERE | ⭐⭐⭐⭐⭐ (5/5) |
Among all our other entries, Spaces will give you the most office vibes which may even help boost your productivity as if simulating a real office setup.
A convenient thing about Spaces is that it's situated at a premium and accessible area where you can conveniently conduct all your work-related business with ease.
One of the things we like about Spaces is its wide variety of workspace options. Space has any room option you'll be needing from private offices to spacious meeting rooms.
Since they're open 24/7, they have showers to use whenever you need them. Whether you'll be coming from the gym or ending the workday, a shower is a useful amenity not very common in coworking spaces.
The most unique feature of Spaces' membership plan is that if ever you aren't in Cork, your membership is applicable to any of their more than 3000 coworking spaces around the world. This is unlike any other coworking space or plan ever as your contract is flexible enough to be applied worldwide.
Another great thing about Spaces is that they have a community of entrepreneurs that have been flourishing over the years. By attending their events, you'll be given the chance to connect and learn from like-minded professionals.
They also have an on-site café-deli that serves delicious and healthy lunches and coffee so you won't have to go far to enjoy a nutritious and filling meal.
Sadly, Spaces only has a single membership plan option. This can be restrictive for people with a lower budget or those seeking alternative plans.
Unlike the other entries, providing a professional address, mail and telephone handling are add-ons that require extra payment. However, telephone handling is a unique service that no other entry has.
Open 24/7
Has an on-site café-deli
Membership plan applicable to other branches worldwide
Professional address, mail, and telephone handling
Hosts events
Only has one membership plan option
Additional services are add-ons (added cost)
Customer Reviews
People are so helpful
"I have only started working in this location last week and I already love it. The building is amazing, lovely view, great people always smiling and willing to help each other out. I 100% recommend it!" – Gabriela, Coworker
Easy commute from the train station and walk to the main city
"Amazing new office space with lovely views of the River Lee. Lots of flexible workspace options. Super-fast Wi-Fi connection. All modern facilities available including showers. Great location right next to the train station and less than 10 minutes walk to the main part of the city." – Emma Langan, Coworker
Amazing amenities
"Right next to the train station, Spaces has just opened in Cork and has an amazing club area for shared working space, along with private offices, private meeting rooms, and event space. A lovely airy location, with a fantastic fit out." – Kayleigh, Coworker
4. Culture Co-working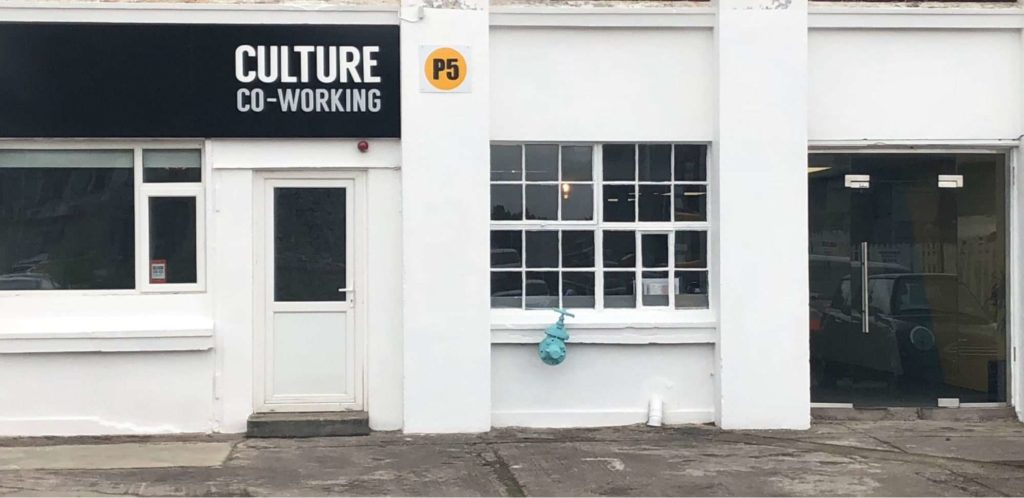 | | |
| --- | --- |
| CRITERIA | RATING |
| AMENITIES | ⭐⭐⭐⭐ (4/5) |
| RATE | ⭐⭐⭐⭐⭐ (5/5) |
| FLEXIBILITY | ⭐⭐⭐⭐⭐ (5/5) |
| ATMOSPHERE | ⭐⭐⭐⭐ (4/5) |
An accessible coworking space based in Marina Commercial Park, Culture Co-working offers a wide variety of affordable and reasonably priced rates for their coworking spaces from brief 1 Hour Hot Desking to a Monthly Hot Desking Pass that gives you unlimited use of their facilities for the month.
Despite having a 1-hour plan, they also generously offer a 1-day free trial. Here, you will be able to experience the coworking arrangements at Culture Co-working and see for yourself if it's to your liking.
Customers rave about their incredibly fast WiFi connection so you won't have to worry about your video calls falling behind either as you're secured with reliable internet that won't lag despite the abundance of customers.
Aside from being near the train station, they also offer free parking and a bike rack. So you don't need to worry about looking for parking elsewhere or paying a fee no matter how long you stay.
On top of that, many of their customers also appreciate the 5-minute walking distance to the Marina Market where you can grab something to eat or simply stretch your legs and get some fresh air before making the quick walk back to work.
The only downside is that their additional services, such as professional mailing, are add-ons. Hence, they require an additional fee on top of your membership plan.
Nonetheless, with things like reliable Internet, free parking, convenient location, accommodative staff, and a wide variety of plans catering to every budget, Culture Co-working gives an overall excellent coworking experience.
All told, we recommend Culture Co-working to anybody in need of a space to be productive.
Open 24/7
Offers a 1-day free trial
Has free parking and bike rack
Offers mail handling
Can host activities and events
Additional services are add-ons
No professional address, local phone, or telephone handling
Customer Reviews
Extremely fast broadband and walking distance to eateries
"Amazing co-working space with extremely fast broadband to host all your virtual meetings or events. A very cozy and comfortable phone booths are available! Great coffee provided too. Many food options available in 5 minutes walking distance @ Marina Market. Highly recommended!" – Pavel Pimshin, Google Reviews
Staff creates a friendly and comfortable environment for everyone
"I was delighted to be able to study at Culture Co-Working for a couple of months this year. The place is great, exactly what I needed to be able to focus better for my upcoming exams. Andrew was very helpful and lovely throughout. He creates a very friendly environment which makes everyone feel very comfortable. The location is ideal with parking right outside the door, some lovely cafes around for coffee and lunch and the Marina walk is right there too for some fresh air during your lunch breaks. Very grateful to have been able to join Culture Co-Working and I will definitely come back if I ever need a space to study or work again. Overall, a very positive experience, I couldn't recommend it more." – Kinga Kretowicz
Amazing atmosphere and lots of free parking
"Bright, modern and fresh. A vibrant atmoshere and lots of space. Free tea, coffee and buscuits too. Nice place to work from and network. Lots of free parking also." – Mike Murphy
5. The Ludgate Hub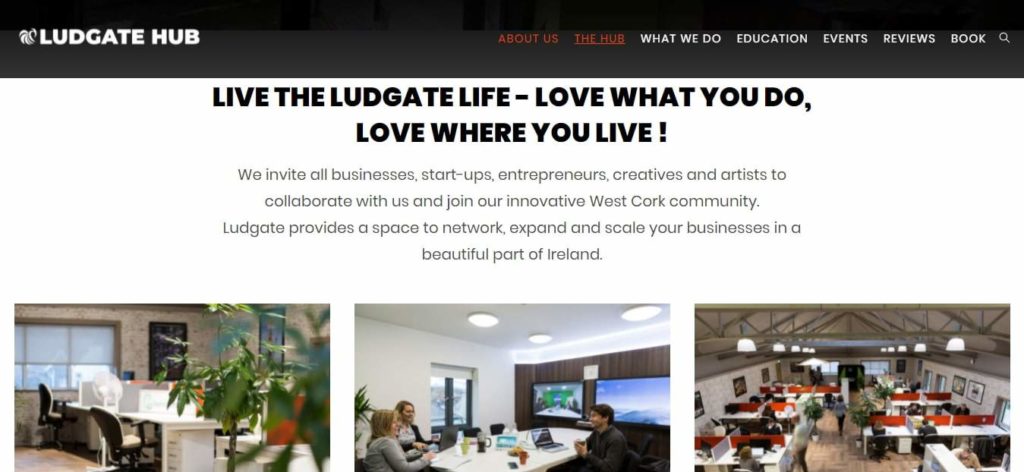 Test
Info
WEBSITE
https://www.ludgate.ie/
ADDRESS
Ludgate Hub, Old Bakery, Townshend Street, Skibbereen, Co. Cork
CONTACT DETAILS
+353 87 190 4174
OPERATING HOURS
9:00 am to 6:00 pm (Monday-Thursday)

9:00 am to 5:00 pm (Friday)
| | |
| --- | --- |
| CRITERIA | RATING |
| AMENITIES | ⭐⭐⭐⭐ (4/5) |
| RATE | ⭐⭐⭐⭐⭐ (5/5) |
| FLEXIBILITY | ⭐⭐⭐⭐ (4/5) |
| ATMOSPHERE | ⭐⭐⭐⭐ (4/5) |
The Ludgate Hub is a digital hub for independent professionals or corporate workers of the West Cork community.
A spacious building that offers fully-furnished office areas along with private meeting rooms and lounges, the Ludgate Hub offers all the basic necessities for your coworking space needs.
One of their greatest assets is their consistent high-speed internet connection, which is more than capable enough to handle everyone's bandwidth needs.
As a digital hub, they boast a proactive community of tech entrepreneurs. This is a great way to network with like-minded individuals and learn from one another.
They also offer free parking so you don't have to worry about looking for a place to park while you grind. You also won't have to worry about any parking fee no matter how long you stay.
A kitchen and dining area is also available if you choose to have some free coffee or to prepare your meals there. You can also bring in meals from eateries in the area.
Not seen in any other coworking space is their Student Packages which offer more affordable rates. Their Student Study Space is a unique concept that offers a study space dedicated only to third-level students.
Overall, if you're in search of a simple yet affordable coworking space that has all your office space basics, the Ludgate Hub gives you just that.
Best for tech entrepreneurs
Free parking
Has a designated Student Study Space
Affordable rates
Has events
Closed on weekends
No free trial
Only offers 24/7 access for full-time members
Customer Reviews
Has all the basics available
"10/10 experience using the 'hot desk' option here for 3 days. Fast internet, nice office layout, private rooms available for calls, option to print and scan, etc. The office manager Elma was a great help with anything I needed. Next time I am working remotely from West Cork I will be reserving a desk here for sure. Thank you, Ludgate Hub!" – Grace Gilmore, Google Reviews
Advanced facilities and diverse groups of people
"State of the art facility for professionals & entrepreneurs who value work life balance away from city life! The building is full of character inspiring creativity! The mix of established SME's & startups across sectors as well as from across the globe is invigorating to spur innovation." – Sorcha Mulligan, Google Reviews
High-speed internet connection and great community of tech entrepreneurs
"This is a top-notch facility. It's got a super-fast fibre internet connection at over 1 terabyte per second. Permanent desk space for community members and temporary space that can be rented by the day (hot desks). Great community of tech entrepreneurs inside. Lots of meeting rooms available, plus kitchen and dining area. It's a great place to get some work done if you're in the area. Highly recommended." – Christopher Mason, Google Reviews
FAQs about Coworking Spaces
---
And those are our top picks for the best coworking spaces in Cork! Whether it be only for the day or maybe even the entire month, you'll surely find a coworking space that fits your workspace needs and budget on our list.
Any other coworking space that you think should be on the list? Share your thoughts and suggestions and we'll be sure to check them out!
Now that you've set up your workspace, what about establishing your online presence? We have a list of the best web design companies in Cork to help get you started!