The 5 Best Contractors in Ireland
Searching for a contractor to build your dream house or upgrade your current space? You'll need the best contractors in Ireland, and in this article, we're featuring just that.
While there are many contractors out there, not all provide a comprehensive list of services for your project. Our picks provide everything you'll need from construction to maintenance services.
What's more, we've also included info on their service costs, FAQs you might have, as well as some tips to aid your search.
Construction Costs in Ireland
The cost of building or renovating a house will depend on several things such as design, labour costs, materials, the size of the building, and other costs such as planning permissions.
Two of our featured choices offer a number of new build and renovation packages. You can see them in the table below.
For our other choices, you'll have to contact them to get a quote for your project.
Note: See contractor websites for more info on what's included in their packages.
CONTRACTOR
PACKAGE
COST
Stone Builders
Silver package:
-Full house renovation (B-rated BER)
-3 Bathrooms
-150mm Xtratherm insulated concrete floor.
-All house standard white sockets & switches
-Painting: Dulux Pure Brilliant White; two coats
-6 months defects liability
From €90,800
Gold Package:
-Full house renovation & 15 SQM extension (A-rated BER)
-3 bathrooms
-Underfloor heating.
-All house standard white sockets & switches
-Fiberglass roof. 1 Velux.
-Heat recovery ventilation
-Painting: Dulux Pure Brilliant White; two coats
-9 months defects liability
From €147,000
Diamond Package:
-Full house renovation & 20 SQM extension (A-rated BER)
-Underfloor heating
-Minimalist aluminium inline sliding door. 25MM interlocks
-Fibreglass roof, large Velux
-All house standard white sockets & switches
-Mechanical heat recovery ventilation Vent-Axia
-Painting: Dulux Pure Brilliant White; two coats
-12 months defects liability
From €165,000
Nϋhaus
Design
-Initial consultation
-Concept
-Design
-Planning

Free
€3,950
€4,950
€4.950
New house build (120 SQM)
-Insulated Kore foundation
-Insulated concrete floor
-uPVC triple glazed – windows and doors
-Internal finishes (walls, ceiling, flooring)
-Underfloor heating
-Renewables – heat pump and heat recovery
€330,000
Extension
-Insulated Kore foundation
-Insulated concrete floor
-Steel structure
-Architectural roof light
-Internal finishes (walls, ceiling, flooring)
-Electrical and Mechanical works
€60,000 (20 SQM)
€70,000 (25 SQM)
Garage conversions (20 SQM)
-Insulated concrete floor
-Velux windows
-uPVC triple glazed – windows and doors
-Drainage system
€43,995
House upgrade (120 SQM)
-House remodelling
-Glazing upgrade – -uPVC – double glazed
-Internal insulation
-Internal finishes (walls, ceiling, flooring)
-Upgrade of electrical & mechanical system
-Painting & floor labour
€190,000
Outroom
-10 SQM
-15 SQM
-20 SQM
-25 SQM

From €24,950
From €32,950
From €36,950
From €39,950
The Best Contractors in Ireland
Without further ado, let's head straight to our recommendations for Ireland's best contractors!
1. Galbraith Construction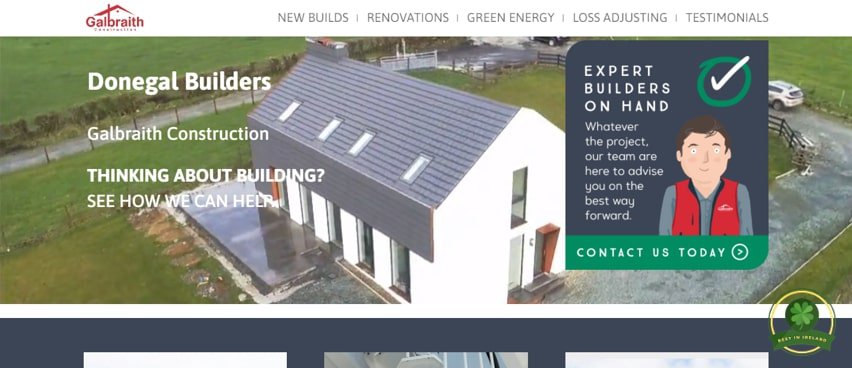 SERVICES
New builds, renovations, green energy, loss adjusting, disability adaptations, and disaster recovery
WEBSITE
https://galbraithconstruction.ie/
ADDRESS
Craigadoes, St. Johnston, Co. Donegal, F93 WP21
CONTACT DETAILS
+353 87 277 5926


[email protected]

OPERATING HOURS
7:30 am to 7:30 pm (Monday – Friday)
8:30 am to 2:30 pm (Saturday)
Based in Donegal, Galbraith Construction gets our approval for being one of the best contractors in Ireland seeing that their services are beneficial to clients in many ways.
To start with, they are a registered contractor with SEAI (Sustainable Energy Authority Ireland). Thus, they can help clients obtain grants for insulation replacement to lessen or prevent heat loss in the home.
They offer different types of insulation for attics and cavity walls, including internal and external wall insulation.
What's more, Galbraith Construction is approved by the Donegal County Council to carry out the Housing Adaptation Grant for People with a Disability on their behalf.
This service can help people with disabilities by installing features in the home such as grab rails, ramps, stairlifts, and more.
They also offer emergency service for situations and disasters such as burst pipes, roofing issues, storm damage, flood damage, and so on.
Not only do they help clients recover from these problems but they also help them on matters concerning insurance claims through their loss adjuster and loss assessor services.
However, while these reasons may encourage you to hire them for your new build or extension project, Galbraith Construction does charge a "nominal" fee to discuss with you the project costs.
This fee will still be refunded should you decide to choose them as your building contractor. So our advice is you give them a call first to know how nominal this fee is.
Online payment available
SEAI registered
Available for emergencies
Offers maintenance services
Provides loss adjuster/loss assessor services
Open until Saturday
Closed on Sundays
Charges a fee for project cost consultation
Customer Reviews
Galbraith Construction has received plenty of 5-star reviews. Check out some of them below:
"Bert and his team did a great job, we are delighted with the end result. He has an excellent all round team of tradesmen and I would highly recommend him for any project." -Joe Kealy
"Very professional company. Bert is a fantastic project manager and deliveres class workmanship." -David Willoughby
"Bert was so helpful with all aspects of the service he offered. It's always nice to find a a professional service in the building game." -Jon Carr
2. Stone Builders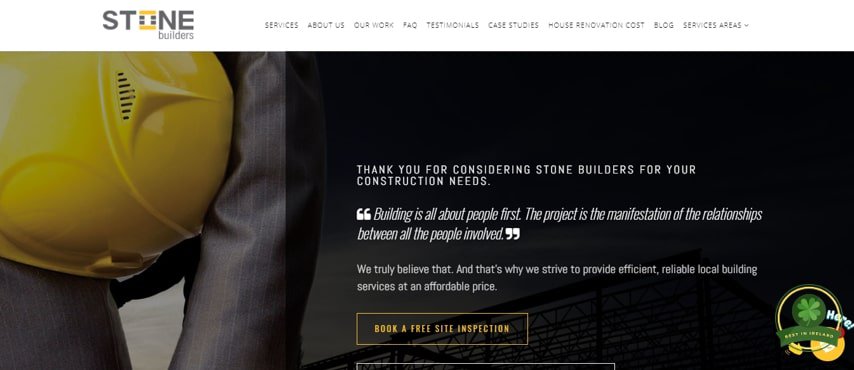 SERVICES
House renovations, home, cottage, two-storey, kitchen, terraced house, and glass extensions, attic conversions, heat recovery ventilation installation, supply and fit patio doors, kitchen refurbishment, kitchen and wardrobe fitters, bricklaying, stonemasonry, carpentry, roofing, deconstruction, and insulated concrete formwork (ICF)
WEBSITE
https://www.stonebuilders.ie/
ADDRESS
51 Bracken Road, Sandyford Business Park Dublin D18 CV48
CONTACT DETAILS
087 34 02 626


[email protected]

OPERATING HOURS
9:00 am to 5:00 pm (Monday – Friday)
9:00 to 12:00 pm (Saturday)
The extent of Stone Builders's construction services makes it a one-stop shop for house renovation and extension needs. They offer a variety of extensions—two-storey extensions, glass extensions, terraced house extensions, and so on.
And from carpentry to stonemasonry, Stone Builders has got the services to beautify homes. They even offer zinc and fibreglass roofing as well as Velux window installation.
Among their services, we found two that are especially worth mentioning. The first one is their deconstruction services for those who require eco-friendly demolition jobs.
The second is their being an insulated concrete formwork (ICF) contractor. Insulated concrete forming is a more modern construction method for better sound, heat, and fire performance of a building.
Another reason we consider them as one of the country's best contractors is their certifications and affiliations.
Stone Builders is a National Guild of Master Craftsmen member which means they've got the connections to a diverse number of tradesmen from plumbers to carpenters. Furthermore, they are also certified installers of Velux and fibreglass.
We also found their method of discussing client project needs systematic and convenient. Aside from a free site inspection, Stone Builders provides a questionnaire for clients to fill out which covers trends, regulations, and expensive/cheaper options.
Open until Saturday
SEAI registered
Certified to install Velux and fibreglass
National Guild of Craftsmen member
Free site inspection
Closed on Sundays
Services are limited to Dublin
Customer Reviews
Let's see what clients have to say about Stone Builders's services:
Stone Builders built an apartment for me and from start to finish they were professional, on time and available for any queries I had relating to the build. I also had an issue months after the build with a water blockage and they came right away to sort that out. I would highly recommend them, Professional from start to finish! John." -Marty McFly
"We worked with Stone Builders for our house renovation and extension project. Adrian, Gabi and the team did a great job and we are very happy with the work. They were responsive, solution oriented and helpful. The output was good quality work in good value. I would definitely recommend them." -Cihan Balkan
3. Nühaus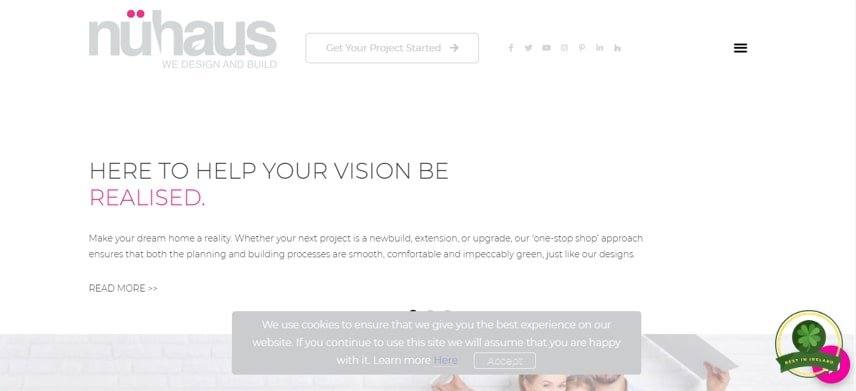 SERVICES
Design, renewable energy, house build, extension, and upgrade, interior, and outrooms
WEBSITE
https://nuhaus.ie/
ADDRESS
721 NW Business Park, Ballycoolen, Dublin, D15 YD30,
CONTACT DETAILS
01 440 2285


[email protected]

OPERATING HOURS
9:00 am to 6:00 pm (Monday – Friday)
Nühaus is a Dublin-based contractor for new houses, house extensions, and house upgrades. They cater to residential, commercial, and industrial clients.
Firstly, we like the convenience of consulting with them for the first time as they do this via video conference, phone, or online meeting. Plus, there's not much pressure to immediately sign a contract with them since this initial consultation is offered for free.
Nühaus is another contractor who's also a member of the SEAI and the National Guild of Master Craftsmen. Hence, they can assist clients who are eligible for grants.
However, we included them on this list mainly because of the completeness of their house building services. They source from a variety of brands and other companies to meet clients' needs such as doors, windows, tiling, renewable technology, and more.
Some of these brands and companies include Kube, Villeroy & Boch, Joule, Kilsaran, to name a few.
They also construct stylish outrooms which is a great way to add more space to your house. And because these rooms are located outside the home, it's an ideal space to use for work, studying, and the like.
On the flip side, while they do claim to service even the commercial and industrial sectors, the gallery on their website doesn't seem to reflect this. If you're planning those type of projects, it'd be best if you contact them first so they can provide you with samples of their work for those.
Free initial consultation
Initial consultation is online or by phone
SEAI registered
National Guild of Craftsmen member
Closed on weekends
No maintenance and emergency services
Customer Reviews
You can find out what clients think about Nühaus's services by reading the comments below:
"Exceptional builders in Dublin, done a fantastic spec right on spec for our home extension. Really high end company amazing work." -Tom Padraig
"When spending such an amount on a home improvement like a house extension I was very cautious I got a real company with some real backing behind it to take on the job incase anything went wrong. From the moment I met Nuhaus at their head quarters in Dublin 15 I knew I had found the right builders to complete my project delighted with the results." -Joe Bradley
"Great looking office, very professional, knowledgeable, and friendly staff." -Jessica Ryan
4. AR Construction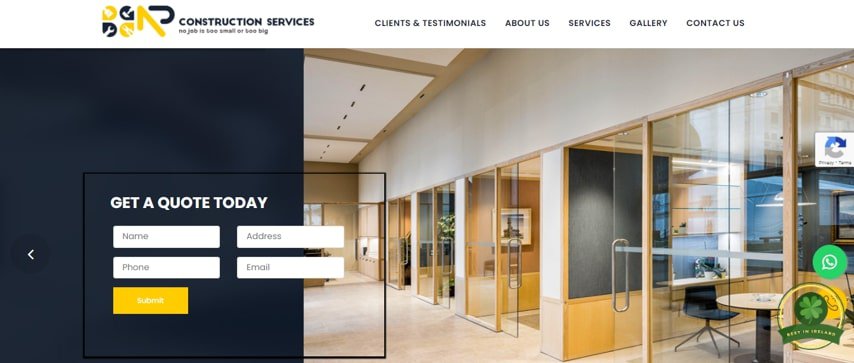 SERVICES
Maintenance, shopfitting, residential and commercial renovation, bathroom and kitchen renovation, tiling and flooring, carpentry, painting and decorating, plastering, and general plumbing works
WEBSITE
https://www.arconstruction.ie/
ADDRESS
513 Glenlara House, Mount Kenneth Place, Limerick City, Co. Limerick, V94 NA48
CONTACT DETAILS
061 550 132
083 835 7426


[email protected]

OPERATING HOURS
8:00 am to 5:00 pm (Monday – Friday)
9:00 am to 1:00 pm (Saturday)
We think AR Construction should be included in this list for mainly 3 things: experience, service coverage, and availability for emergencies.
AR Construction has experience with both residential and commercial sectors. Their commercial clients include restaurants, shopping centres, retail outlets, and so forth.
Moreover, they're another contractor who's also available for emergencies such as leaks and faulty electrics. Plus, they don't just renovate but also provide maintenance services which makes them both a builder and a handyman as well.
Among our choices, AR Construction has got the widest presence in Ireland, operating in all Munster's counties and even as far as Dublin. So although they're based in Limerick, other counties can still tap into their services.
However, what we did find disappointing in AR Construction is that they don't mention renewable energy options in their services as well as any affiliations or certifications of theirs.
Wide service coverage
Available for emergencies
Offers maintenance services
Services residential and commercial clients
Open until Saturday
Closed on Sundays
No mention of renewable energy options
No mention of memberships and certifications
Customer Reviews
Curious about what clients think of them? Take a look at some comments:
"***** 5 STARS ***** plus 5 more from me.Thank you for the amazing refurbishment service guys. My takeaway left spotless and professional manor. Everything is perfectly fitted and done with attention to detail. I am definitely going to highly recommend your company to others. Job well done!" -Satwinder Singh
"Adee has been absolutely fabulous from the start. Great communications, reasonable rates and most importantly great quality of work and utterly reliable.I am definitely going to recommend your company to others. Thank you for helping us." -Waqas Paracha
"AR construction are probably the best company I have ever used. Whether it's carpentry, electrical, plumbing, light building works, they can do it all. Very good for small businesses, and very reasonable." -Pascal King
5. Shawport Civil and Building Contractors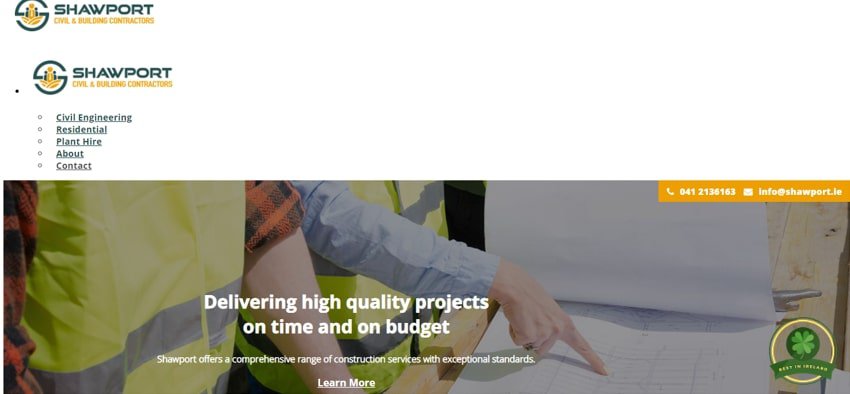 SERVICES
Residential construction, civil engineering, and plant hire
WEBSITE
https://www.shawport.ie/
ADDRESS
Unit 11a Duleek Business Park, Duleek, Co. Meath, A92 H662
CONTACT DETAILS
+353 (0)41 21 36163


[email protected]

OPERATING HOURS
9:00 am to 5:00 pm (Monday – Friday)
Shawport Civil and Building Contractors has almost 20 years of experience in the construction industry.
Looking at their services, we would equally recommend them to both residential and commercial clients. For residential clients, they offer new build services, extensions, renovations, carpentry, roofing, and so on.
On the other hand, the reason why we also think they're ideal for commercial clients is due to their civil engineering and plant hire services.
Their extensive list of civil engineering services includes site development, drainage schemes, utility services installation, septic tank installation, landscaping, and much more.
And perhaps Shawport's most noteworthy characteristic is having multiple types of machinery at their disposal. They also hire out a broad range of machinery and equipment that come with operators.
The types of machinery they provide include 3-tonne to 30-tonne excavators, a teleporter, dump trucks, 6 and 9 site dumpers, among others.
And in terms of service coverage, they not only extend their services in Meath but in Louth, Dublin, and others as well.
Member of Construction Industry Federation
Member of Construction Industry Register Ireland
Safe-T-Cert certified
Services residential and commercial clients
Has multiple machinery and equipment
Wide service coverage
Closed on weekends
No mention of renewable energy options
Customer reviews
Shawport has been employed by other contractors as well. Find out what they have to say:
"Shawport Civil & Building Contractors Ltd recently undertook some complicated groundworks and drainage repair works at our development in central Park in sandy ford. . . The work were undertaken within programme, on budget and our client was delighted with the quality of the work. I would have no hesitation in using Shawport for any future works." -Eoghan Naughton, Collen Construction Ltd.
"We have found them to be professional in all aspects of their work, their employees very capable and qualified for the tasks assigned to them and at all times corporates fully with the project team in promoting safety and awareness in the workplace." -Mort O'Sullivan, SIAC Construction Ltd.
How to Choose the Right Contractor
These tips we've laid out for you below can help you make a better choice for the right contractor.
1. Memberships and certifications
One of the ways to gauge the expertise of a building contractor is by checking if they are a member of a trade organisation.
Furthermore, memberships like these mean they have a wider reach in terms of procuring materials, other tradesmen, and the like.
It's also a good idea to check if a certain contractor is affiliated with the SEAI as they can provide assistance in obtaining grants—if you are eligible, that is.
However, this is not to say that other contractors who are not affiliated with any organisation are immediately unqualified. Nevertheless, this is something good to keep in mind.
2. Range of services
Make sure the contractor you're getting can provide you with all the services needed for your project. Aside from construction, do they also provide painting, renewable energy solutions, among others?
It'd also be a good idea to hire a contractor that also provides emergency and maintenance services so that you can have more peace of mind. Knowing the capabilities and limits of your choice contractor can save you not only time but also money.
3. Sample of past projects
An experienced building contractor should be able to provide you with a portfolio of their past works. This will help you view their finished products, the clients they serve, and other such info.
4. Recommendations
Don't underestimate referrals from friends and family. Obviously, all building contractors will market themselves as the best out there.
Hence, having reliable and trustworthy reviews from other people is important and can really bring you a step closer to finding the right contractor for your building project.
FAQs about the Best Contractors in Ireland
---
And that ends our list of the best contractors in Ireland! Whether you agree or not with our choices, we hope whatever building project you have becomes successful in the end.
If you know of other notable contractors who should have been here as well, please give us a call. We'll check them out straight away!
Tired of the same old look of your garden? We can help with that—take a look at our selections for the best landscaping companies in Ireland!