The 6 Best Construction Companies in Galway
A construction company can help you with almost any kind of project related to building or remodeling your home or office space.
Consulting with a construction company can help ensure that your project runs smoothly and comes in on time and budget, that's why we listed the 5 best construction companies in Galway to make your dream house.
But let's first check how much construction costs in Galway.
How much do construction companies charge in Galway?
Construction costs in Galway, Ireland can vary greatly depending on your location, the size of your project, and who you choose to work with. If you're looking for an estimate, here a quick look:
| Services | Estimated Average Price |
| --- | --- |
| Surveying and Mapping | €200.00 - €700.00 |
| Residential Design and Build | €150.00 - €300.00/ft² |
| Commercial Design and Build | €150.00 - €300.00/ft² |
| Refurbishment | €120.00 - €200.00/ft² |
| Building Demolition | €800,000.00 |
The Best Construction Companies in Galway
When it comes to building a construction company, there are a lot of factors you should consider to make sure you get the best results. That said, here's our criteria:
1. Maveric Contractors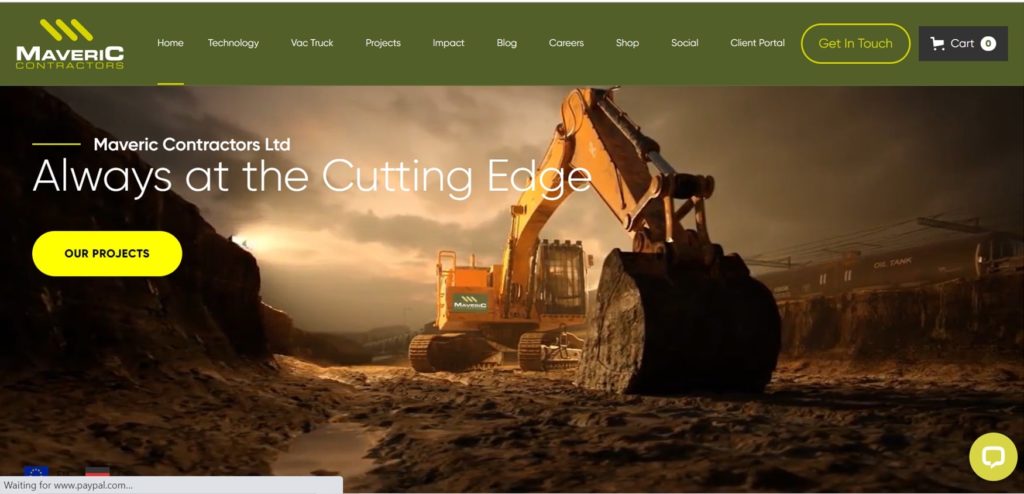 Test
Info
SERVICES
Vacuum Excavator

Survey and Mapping

Earthworks

Highways

Residential Developments

Commercial Buildings

Pharmaceutical Buildings

Data Centers

WEBSITE
https://www.mavericcontractors.com/
ADDRESS
IDA Business Park, Tuam Rd, Galway, Ireland H65 DD72
CONTACT DETAILS

Phone: +353 917 60711

EMAIL: [email protected]

OPERATING HOURS

Monday to Friday, 9:00 a.m. - 5:00 p.m.
| | |
| --- | --- |
| SERVICES | ★★★★★ (5/5) |
| EXPERIENCE | ★★★★★ (5/5) |
| PROJECT TURNAROUND | ★★★★★ (5/5) |
| PRICING AND VALUE | ★★★★☆ (4/5) |
If you're looking for a company that can handle your next construction project, look no further than Maveric Contractors.
This Galway-based firm can do survey and mapping services, earthworks, as well as build highways, residential developments, and commercial buildings.
With 25 years of experience behind them, it's well-versed in complex engineering projects and has an eye for detail.
We like that Maveric Contractors has experience in handling big-scale projects like building roads. So if you need help with that part of your construction project, it can be your go-to company.
Aside from road network development, it's also great with building commercial establishments that require specific designs like data centers and pharmaceuticals.
We like that its engineers understand the specific needs of these structures and are able to meet those needs while still keeping the prices at a fair level. You can even check the cost of its previous projects on its website!
Do note, though, that the prices vary depending on the project and its size. They are not ideal for smaller projects but can handle large ones with ease.
Maveric Contractors was included in this list because it has a strong track record on getting the job done right within the agreed timeline of construction activities.
25 years of experience
Specializes in complex engineering projects
Experienced in building roads
Good with data center construction
Project prices vary
Not ideal for smaller projects
Customer Reviews
Very helpful
"All the employees are lovely! CEO is very helpful. Maveric is an amazing company i would definitely recommend!!" – Tess Mc
Good experience
"Maveric is great and I had a good experience with them." – Sophia Gregory
2. Ward & Burke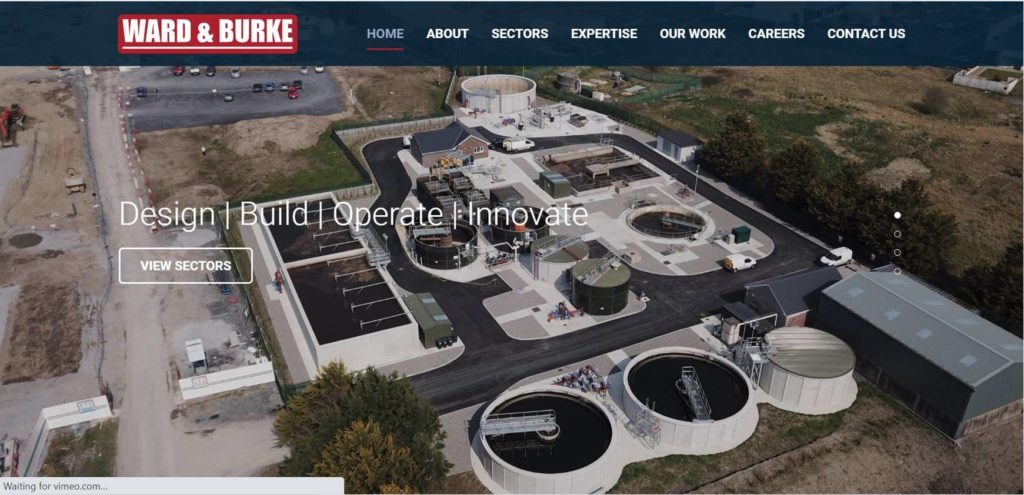 Test
Info
SERVICES

Water and Wastewater Infrastructure Design

Manufacture

Supply

Installation

Commissioning

Operation and Maintenance

Road and Bridge Construction

Mechanical

Electrical

Instrumentation

Control and Automation (MEICA)

Marine Facilities

Energy Facilities

WEBSITE
https://www.wardandburke.com/
ADDRESS
Stradbally East, Kilcolgan, Co. Galway, Ireland H91 W279
CONTACT DETAILS

Phone: +353 913 40100

EMAIL: [email protected]

OPERATING HOURS

Monday to Friday, 8:00 a.m. - 6:00 p.m.
| | |
| --- | --- |
| SERVICES | ★★★★☆ (4/5) |
| EXPERIENCE | ★★★★★ (5/5) |
| PROJECT TURNAROUND | ★★★★★ (5/5) |
| PRICING AND VALUE | ★★★★★ (5/5) |
When you're looking for a company to take on a major project, you want to make sure you're getting someone who is up to the task. That's why we recommend Ward & Burke as your construction services provider in Galway, Ireland.
We're impressed how it can handle whatever you throw at them—and then some! We love how its large-scale projects are not only basic infrastructure, but re those that can help bigger communities have cleaner and more efficient water systems.
Ward & Burke has years of experience working on large-scale projects, including water and wastewater systems, road and bridge construction, as well as mechanical, electrical, instrumentation control systems, marine facilities, and energy facilities.
We also like its full turnkey capability , which allows the company to provide everything you need for a successful project—from design and engineering, through construction, operation, and maintenance.
This firm is also known for its quality workforce. Its employees are highly skilled professionals who know how to get the job done right every time they walk through the door of your business or home.
Also part of its major strengths is the 20 years-long experience it has on building complex projects in Ireland, United Kingdom, US, and even in Canada.
One limitation here is that it doesn't build small-scale projects and residential projects. It's no big deal for us, considering that its expertise is on major communities or bigger projects.
Expert on water and wastewater systems
Great with large-scale complex projects
Competent workforce
Can build energy infrastructures
No residential projects
More on water infrastructure 
Customer Reviews
High quality service
"Jon Barron and the Ward & Burke team are fantastic to deal with. High quality & great Service." – Jamie O Sullivan
Great lads
"A great bunch of lads!" – Steve Dixon
3. Glenman Corporation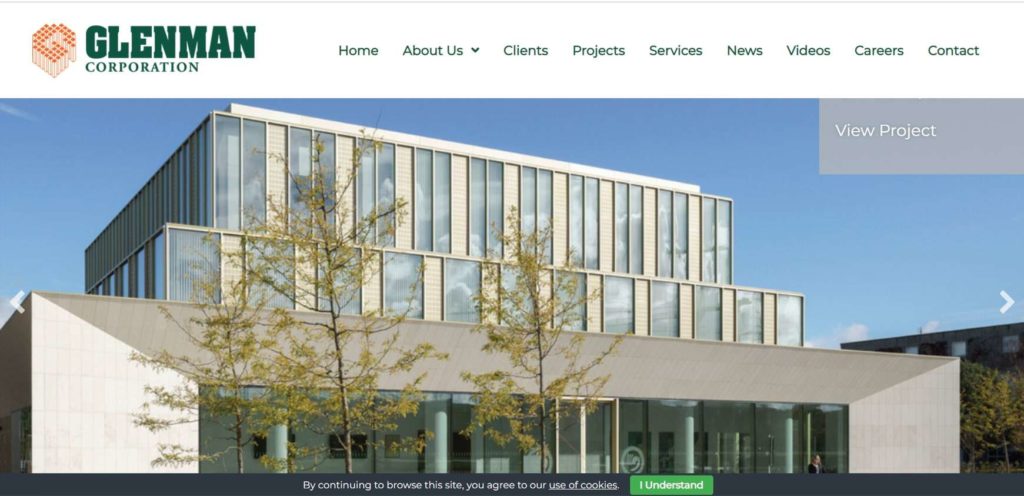 Test
Info
SERVICES

Design Management, Turnkey Projects

Cost Planning, Project Management

Bc(A)R Advice, Value Engineering

Risk Management

Utilities Management

Design And Build

Rapid Build

Traditional Build

Refurbishment

Fit-Out Projects

Conservation

Pscs/ Bc(A)R Management And Coordination

WEBSITE
https://www.glenman.ie/
ADDRESS
Glenman Corporation Ltd., Merrion House, Tuam Road, Galway, Ireland H91PN59
CONTACT DETAILS

Phone: +353 917n80100

EMAIL: [email protected]

OPERATING HOURS

Monday to Thursday, 8:00 a.m. - 5:00 p.m.

Friday, 8:00 a.m. - 4:00 a.m.
| | |
| --- | --- |
| SERVICES | ★★★★☆ (4/5) |
| EXPERIENCE | ★★★★★ (5/5) |
| PROJECT TURNAROUND | ★★★★☆ (4/5) |
| PRICING AND VALUE | ★★★★☆ (4/5) |
If you're looking for a construction company in Galway, Ireland that can help you with all your needs, then 25 year-old Glenman Corporation is the one for you.
We like that it offers a wide range of project management services and a professional team that will make sure that your project is completed on time and within budget.
What sets it apart from smaller construction firms is it's a full-service construction company, providing pre-, during, and post-construction services.
We give high regard to Glenman Corporation for its vast experience in the industry and innovative solutions. In fact, it has been awarded several times for its work, which speaks to the quality of their products and services.
In case you're wondering what it's good at, the majority of its projects are buildings and houses, where for the public or the private sector.
Additionally, it's experienced in turnkey projects, cost planning, project management, Bc(A)R advice, value engineering, risk and utilities management, as well as design and build.
Another great thing about this corporation is its highly professional staff who all have excellent project management skills and have high regard for integrity.
However, it doesn't experience constructing large water systems projects, as well as other complex projects like power facilities.
Still, its reputation for having built homes and buildings for government entities and private citizens makes it worth tapping.
Award winning
Vast project management experience
Full pre, during, and port-construction services
Innovative
Not for water systems 
More on buildings and residential
Customer Reviews
Varied works
"The work is varied and interesting with new challenges to face everyday in the building construction industry." – Des Kirby
Nice company
"nice company, easy going." – Lucas Santos
4. Stewart Construction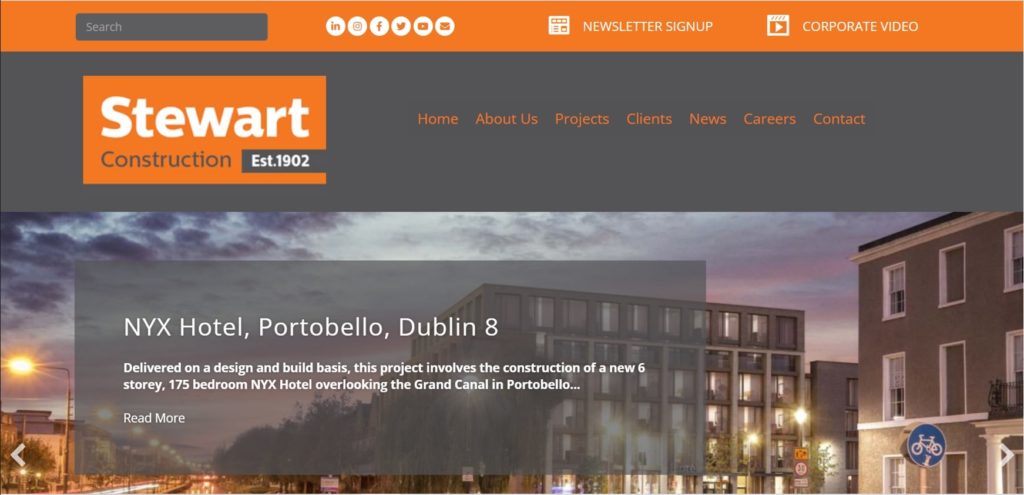 Test
Info
SERVICES

Contracting of Public and Private Projects on Commercial

Industrial

Residential

Healthcare

Data Centers

Conservation

Education

Design Development

Build and Financing

Value Engineering

Safety

Quality

Environmental Management

WEBSITE
https://www.stewart.ie/
ADDRESS
43 Lower Salthill, Galway, Ireland H91 A6Y7
CONTACT DETAILS

Phone: +353 915 24455

EMAIL: [email protected]

OPERATING HOURS

Monday to Friday, 9:00 a.m. - 5:15 a.m.
| | |
| --- | --- |
| SERVICES | ★★★★★ (5/5) |
| EXPERIENCE | ★★★★★ (5/5) |
| PROJECT TURNAROUND | ★★★★★ (5/5) |
| PRICING AND VALUE | ★★★★☆ (4/5) |
Stewart Construction is a great business to work with if you're looking for contractors in Galway, Ireland. It's known for its ability to complete projects on time, within budget, and with high quality.
What we like most about it is it does all kinds of construction, from commercial and industrial projects to healthcare facilities. Also, it has experience on constructing airport hangars and data centers.
Another thing we considered is that it has worked on a lot of different types of projects across many sectors, including education, design development, build and financing, value engineering, as well as safety, environmental management and more.
If you're still unconvinced of its services, take note of the fact that it is known for doing great work with big businesses of different sectors. Not only that, but it's also a popular construction company in building educational institutions across Ireland.
As a bonus point, we like that it's supportive to community programs through sponsoring sports events in Galway.
However, Stewart Construction is not well-known for its work on energy facilities and on bridges and major roads. This is because its focus is mainly on residential and commercial buildings.
But this doesn't discount them from being the best, since it is an award winning firm for its designs on sustainability. It's also the only main contractor to be awarded Deloitte Gold Standard 2017 in Ireland.
Customer Reviews
Project completed
"The project was completed in difficult conditions, to a tight schedule and within budget and we have no hesitation in recommending Stewart Construction for similar projects." – O'Briens Fine Goods
Extremely satisfied
"Extremely satisfied with Stewart Construction's project management of the high quality works & the partnership approach adopted ensuring this project went smoothly with minimal project impact on our patients and staff at all time, the priority focus." – Beacon Hospital Dir. of Facilities and IT SandraMcGreevy
5. Kenny Developments Galway Ltd
Test
Info
SERVICES

Construction of Retail

Residential

Commercial

Large Scale Luxury Student Accommodation

WEBSITE
https://www.kennydevelopments.ie/
ADDRESS
Office 26, Calbro House, Tuam Road, Co. Galway, Ireland H91 YKH4
CONTACT DETAILS

Phone: +353 917 52996

EMAIL: [email protected]

OPERATING HOURS

Monday to Friday, 9:00 a.m. - 5:00 p.m.
| | |
| --- | --- |
| SERVICES | ★★★★☆ (4/5) |
| EXPERIENCE | ★★★★★ (5/5) |
| PROJECT TURNAROUND | ★★★★★ (5/5) |
| PRICING AND VALUE | ★★★★☆ (4/5) |
If you're looking for a construction company that will meet your standards for a dream house, then Kenny Developments Galway Ltd. is the right choice of contractor for you.
Kenny Developments Galway Ltd. has been in the industry since 1978 and has built some of the best residential projects in Galway.
Its expertise is in building luxury houses and they are also known for their modern designs. We appreciate its efforts to meet the highest standards in the industry by providing innovative designs that are both aesthetically pleasing and functional.
We like that it doesn't just focus on building quality homes and developing residential areas, but it is also experienced in constructing commercial establishments of different sizes.
Another thing that attracted us to its services is its bespoke designs. The team understands clients' needs and wants, and then comes up with a plan that matches them perfectly.
Its team is laudable for being professional, friendly and easy to communicate with. If there are any changes needed during the building process, they will inform you immediately to prevent delays.
Do note, though, that Kenny Developments Galway Ltd is not for industrial projects or complex public projects such as hospitals, schools, or production plants. Overall, it's a well recommended construction company in Galway for housing projects.
Meets clients demands
Best for residential projects
Expert on building on luxury houses
Modern designs
Not for complex public projects
Not for industrial projects
Customer Reviews
Quality and efficient
"Great quality and efficient service, all round a great experience." – Ro Mo
Great service
"Professional & great service, an all round pleasure to deal with." – Robert Aston
6. K.V. Arthur and Associates Ltd.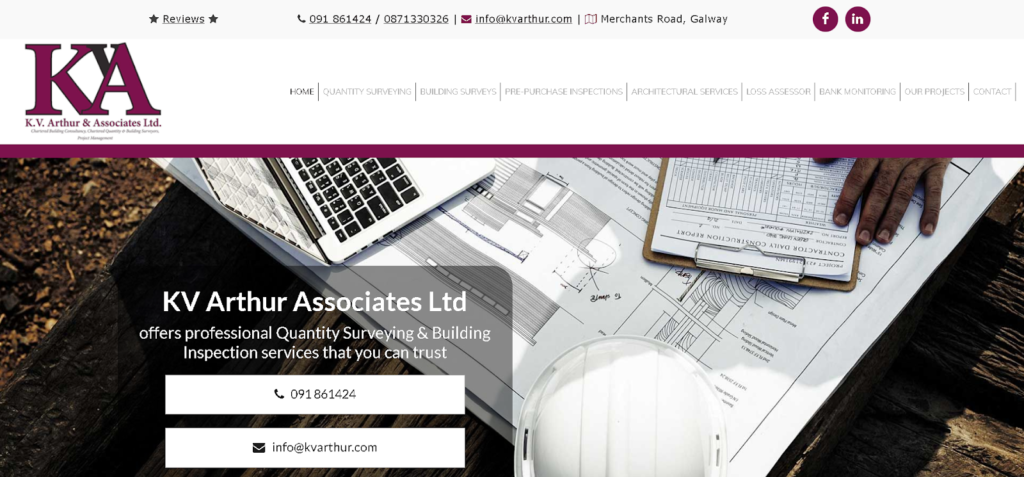 SERVICES
Quantity Surveying
Building Surveys
Pre-purchase inspections
Loss Assessors
Bank Monitoring
Architectural services
WEBSITE
kvarthur.com
ADDRESS
Ross House3rd Floor, Suite 11Merchants RoadGalwayH91 FPK5Ireland
CONTACT DETAILS
Phone:
091 861424
0871330326
Email:
[email protected]
OPERATING HOURS
Monday – Friday, 8:30 AM – 5:30 PM
Saturday, 10:00 AM – 1 PM
| | |
| --- | --- |
| SERVICES | ★★★★☆ (4/5) |
| EXPERIENCE | ★★★★★ (5/5) |
| PROJECT TURNAROUND | ★★★★☆ (4/5) |
| PRICING AND VALUE | ★★★★★ (5/5) |
KV Arthur Associates Ltd, a Galway-based inspection and surveying business founded in 2012 with years of industry expertise, provides professional quantity surveying, building inspection, bank monitoring, architectural services, and loss assessment services to customers throughout Ireland.
Their years of expertise, along with a desire for perfection, ensures that they provide all of their clients with dependable, unbiased, and efficient services. In addition to dealing with private individuals, they provide commercial and industrial services to keep your business running smoothly. As members of a number of Irish accrediting organizations, you can be confident that when you engage KV Arthur Associates Ltd, you will receive unbiased, professional, and high-quality service every time.
As one of the leading companies to provide construction companies, they excel on their building surveys. They are fully capable of checking your property thoroughly to find any flaws or damage that has to be repaired. KV Arthur Associates Ltd's professional team of Chartered Surveyors is specially trained in the process of identifying and analyzing property faults or deficiencies, as well as advising specific remedies when necessary.
They can also serve as expert witnesses in court and create extensive reports for management businesses and building agents. Their team works to discover cracks, mold, mildew, condensation, damp penetration, poor workmanship, structural difficulties, and other issues with their building inspection services.
Great attention to detail
Experienced surveyors
Reasonable rates
Customer Reviews
He was a pleasure to deal with throughout the very quick process
"Myself and my partner are first time buyers and when looking for someone to conduct a pre-purchase survey, we came across Kenneth's glowing reviews online. I'm delighted to say that he did not disappoint. He was a pleasure to deal with throughout the very quick process, and he responded to emails promptly. I would recommend Kenneth to anyone in the Galway area – great, efficient service at a very reasonable price." – Roisin Murphy
I highly recommend Kenneth for your survey work.
"I was fortunate to work with Kenneth on the survey of a property in Galway. He was very responsive to my inquiry and was able to complete the survey ahead of schedule. He sent a thorough report and was willing to answer any questions. Kenneth then spent an additional hour to walk me through the property and answer all my questions. I highly recommend Kenneth for your survey work." – David Hurley
FAQs about the best construction companies in Ireland
---
If you're about to embark on a monumental project, it's probably a good idea to get some help from people who know what they're doing. Construction companies can make sure that your project is going to be a success and not just a headache.
For more information on construction services, take a look at our the 6 best construction companies in Ireland.
---