The 7 Best Colleges in Dublin
Fresh outta high school and excited to commence your college life? While there are many things to prepare for as you enter into higher education, choosing what college to study in should be at the top of your list.
Hopefully, this article can help you because we're featuring the best colleges in Dublin! Aside from our choices, we have some FAQs you may have in mind and even a couple of tips to help you further in your search.
But before we head over to our recommendations, you can first take a look at some annual fees you'll need to pay as a student.
College Fees in Dublin
The table below gives you an idea of how much it'll cost you to study your desired course.
Note: see college websites for other info regarding tuition and other fees.
COLLEGE
FACULTY
FEES PER YEAR
Trinity College Dublin
Arts, Humanities, and Social Sciences

Engineering, Mathematics, and Science

Health Sciences
€1,381 – €9,550


€5,681 – €7,332


€4,773 – €13,000
University College Dublin
All
€5,880 – €21,110
Dublin City University



Business School

Institute of Education

Faculty of Computing and Engineering

Faculty of Humanities and Social Sciences

Faculty of Science and Health
(EU status fee)

€5,922 – €6,250

€5,607 – €6,679

€5,607 – €7,295


€5,607 – €6,679


€6,250 – €11,300

Note: almost all courses have a student contribution fee worth €3,043 per annum.
Technological University of Dublin
Humanities, Arts, and Tourism

Business

Engineering, Architecture, and Built Environment

Science and Health
€13,500 – €14,500


€13,500

€14,500


€13,500 – €14,500
Royal College of Surgeons in Ireland
All
All RCSI Undergraduate degree programmes are covered under the
Irish Government's Free Fees Initiative. (For eligible students only.)

€3,890 – total non-tuition cost
Royal Irish Academy of Music
BMusPerf (Instrumental)





BMusPerf (Vocal)




Diploma in Music Teaching and Performance


Diploma in Conducting





Diploma in Community and Group Music Teaching
Course fee
€3,000 per annum
Course fee (non-EU/EEA)
€19,000 per annum

Course fee
€3,000 per annum
Course fee (non-EU/EEA)
€19,000 per annum

Course fee
€7,500
Course fee (non-EU/EEA)
€16,000

Course fee
€7,000
Course fee (non-EU/EEA)
€15,000

Course fee
€1,995
Course fee (non-EU/EEA)
€4,450
The Best Colleges in Dublin
Now that we've got that out of the way, it's time now to see our picks for Dublin's best colleges!
1. Trinity College Dublin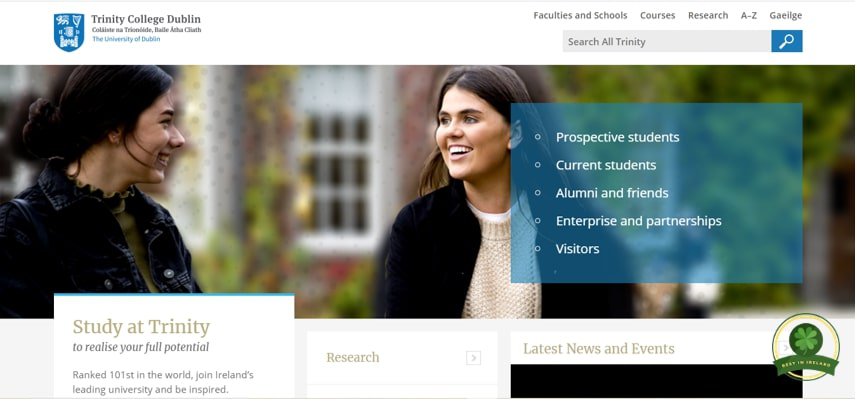 COURSES
Undergraduate, postgraduate, online, and evening and short courses
WEBSITE
https://www.tcd.ie/
ADDRESS
College Green, Dublin 2 D02 PN40
CONTACT DETAILS
+353 1 896 1000

General admission queries:

+353 (0)1 896 4500


[email protected]



General queries from international students:

+353 (0)1 896 4507


[email protected]
Established way back in 1592 by royal charter, Trinity College Dublin (TCD) is clearly one of Dublin and Ireland's top colleges as assessed by institutions such as Top Universities and Times Higher Education. It is the country's oldest university and has an area of about 51 acres (including the Trinity Technology and Enterprise Campus).
As expected, TCD offers an extensive number of undergraduate courses under 3 faculties, namely, Arts, Humanities, and Social Sciences; Science, Technology, Engineering, and Mathematics; and Health Sciences.
They even have a dual BA programme which allows students to study abroad in the US in partnership with Columbia University. Moreover, there are more than 170 societies and sports clubs students can join.
Meanwhile, you can also complete your postgraduate degree under the said 3 faculties, and can even accomplish more courses online through TCD's online education offerings. What's more, you can even further your learning via their evening and short courses.
Fees are payable online
Offers scholarship
Offers accommodation
No parking facilities for student residents on campus
Customer Reviews
Take a look at what people have to say about TCD:
"One of the most iconic universities in the world! Amazing architecture, great selection of subjects to study, world-class faculty and state-of-the-art facilities. TCD is the go-to university if you want to have world-class education and decide to study in Ireland. It is very well reputed in Research and is well recognized and respected in the industry." -ARUN Thundyill Saseendran
"Trinity College Dublin is located right in the heart of a vibrant European capital city. Even better, the Business School is housed in a new, zero-carbon building on the centuries-old campus (TCD was founded in 1592!). . . Really, this unique, very-old-meets-very-new combination makes TCD a fantastic place to study for a postgraduate business degree." -Michelle
2. University College Dublin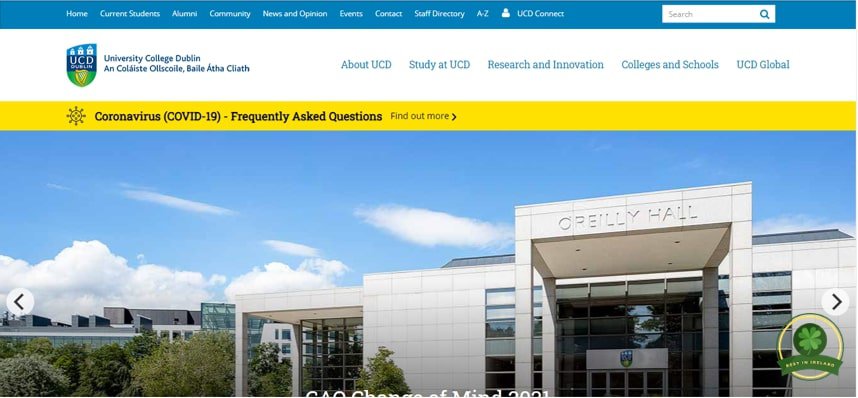 COURSES
Undergraduate, postgraduate, and online courses
WEBSITE
https://www.ucd.ie/
ADDRESS
Belfield, Dublin 4
CONTACT DETAILS
+353 1 716 7777

Undergraduate admissions:

http://www.ucd.ie/askus
+353 1 716 8500 (non-EU applicants)
University College Dublin (UCD) not only boasts of being a research-intensive global university but also as the most international university in the country. As a university with 400 partner universities for student exchange and 8,500 international students, it's an ideal choice not only for Irish but non-Irish students as well.
Founded in 1854, UCD's courses are distributed across 6 colleges: College of Arts and Humanities; Business; Engineering and Architecture; Health and Agricultural Sciences; Science; and Social Science and Law. UCD also offers postgraduate courses, research programmes, and online courses.
And in terms of campus area, UCD's main Belfield campus is located within a parkland that spans 133 hectares. It's just 4 kilometres from Dublin's city centre and houses landscapes such as lakes and woodland walks aside from a variety of sports and fitness facilities such as tennis courts, gym courts, a 50-metre swimming pool, etc.
Another great thing about studying here is that you can live near the campus through UCD's wide array of accommodation options which you can find in Belgrove, Blackrock, and Merville, among others. These residences feature a number of amenities such as Wi-Fi, support and maintenance team, laundry facilities, and more.
Offers accommodation
Offers scholarship
Wi-Fi is available on entire campus
Large number of international students
Large campus area
Some amenities are unavailable in some residences
Customer Reviews
Below are some great sentiments from UCD's students:
"I am so happy I decided to study abroad at UCD because I absolutely loved my experience and feel I grew tremendously while being there! Academically, I felt very challenged because I was able enroll in courses otherwise not offered by my university. I explored entirely new topics in power engineering and renewable energy that ultimately helped me broaden my passion for sustainability. . ." -Taylor
"The MSc in Finance offered at UCD Smurfit School of Business was a life-changing experience for me. The program allowed me to acquire a knowledge base in the area of finance and investments that I use every day in the investment industry. Complementing this enriching academic experience is a diverse student body, with students enrolling from all over the world. . ." -Richard
3. Dublin City University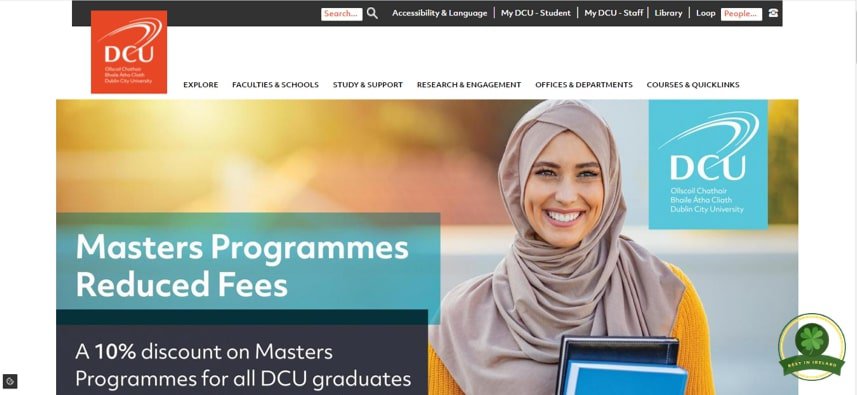 COURSES
Undergraduate and postgraduate courses
WEBSITE
https://www.dcu.ie/
ADDRESS
DCU Glasnevin Campus, Dublin 9

DCU All Hallows Campus, Dublin 9

DCU St Patrick's Campus, Dublin 9
CONTACT DETAILS
Glasnevin campus:

+353 (1) 700 5000

All Hallows campus:

+353 (1) 700 5800

St Patrick's campus:

+353 (1) 884 2000

Main reception:

+353 (1) 700 5000
Aside from being included in Top Universities's top 500 best universities in the world, another noteworthy characteristic of Dublin City University (DCU) is their being a designated autism-friendly university.
DCU also extends their disability and learning support services for other students with a disability such as those who are blind/partially blind, have speech and language difficulties, dyslexia, ADHD, among others.
DCU is made up of 3 academic campuses, which are DCU Glasnevin, DCU All Hallows, and DCU St Patrick's. DCU's courses are spread across the respective schools under the faculties of Humanities and Social Sciences; Science and Health; Engineering and Computing; and the Institute of Education.
Other perks of finishing your degree here include the various scholarships they offer as well as their accommodations covering over 1,400 rooms for undergrad, postgrad, and international students.
On top of that, DCU also houses a number of services and facilities such as language translation services, inter faith centre, university sports complex, and more.
Offers accommodation
Disability-friendly student services
Offers scholarships
Disability-friendly university
Courses such as veterinary and agriculture are not offered
Cooking utensils and beddings (pillows, duvet, etc.) not included in accommodation
Customer Reviews
Below are some great reviews about Dublin City University:
". . . Dublin City University had such a thriving campus and the classes were engaging and thought-provoking. I highly recommend Ireland to anyone who wants to travel abroad. It really is the perfect place to start." -JaMonet
"My postgraduate experience at DCU has been exceptional so far! My studies in the field of International Relations has been enhanced by being in the heart of Dublin. The MA programme encourages an integrative approach to learning which has helped me to network with prominent international humanitarian organizations. My first semester lectures have challenged me in impressive ways. . ." -Lauren
4. Technological University of Dublin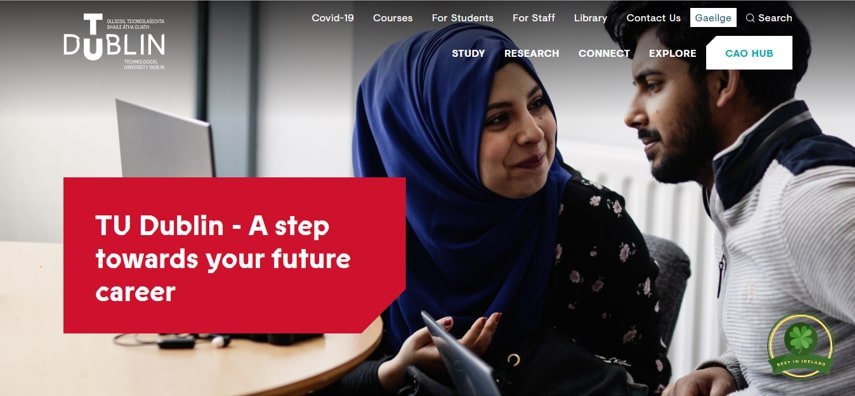 COURSES
Undergraduate and postgraduate courses and apprenticeships
WEBSITE
https://www.tudublin.ie/
ADDRESS
Grangegorman (Flagship campus):

Park House Grangegorman, 191 North Circular Road
D07 EWV4

Tallaght:

Dublin 24, D24 FKT9

Blanchardstown:

Dublin 15, D15 YV78

Aungier Street:

Dublin 2, D02 HW71

Bolton Street:

Dublin 1, D01 K822
CONTACT DETAILS
Grangegorman (Flagship campus):

+353 1 220 5000

Tallaght:

+353 1 404 2000

Blanchardstown:

+353 1 885 1000

Aungier Street:

+353 1 220 5000

Bolton Street:

+353 1 220 5000

General inquiries:



[email protected]
Technological University of Dublin (TU Dublin) was formally established last 2019 and has 5 campuses across Dublin, with Grangegorman as its main campus. It belongs to Ireland's top 10 best universities and ranks among the best 1000 universities worldwide according to Top Universities.
TU Dublin has a comprehensive list of undergraduate and postgraduate courses classified under 12 subjects. These subjects are Music and Drama; Data Analytics and Mathematics; Art, Media, and Design, Environment; and Engineering, to name some.
Students can also avail of multiple scholarships offered by TU Dublin in both academics and sports. Moreover, one of this university's noteworthy offers is their apprenticeship programs where you can acquire a host of skills and training in brick and stone laying, metal fabrication, painting and decorating, plumbing, and many more.
Furthermore, TU Dublin has almost 3,000 international students who come from more than 100 countries. International students are offered over 200 programmes and can obtain a degree from the foundation level up to PhD.
Offers apprenticeships
Offers scholarships
Has disability support services
No on-campus accommodation
Customer Reviews
Take a look at what students have to say about studying here at TU Dublin:
"The small class numbers are great and it is easy to make friends and socialise. It is also beneficial as tutors know you by name and communication between students and lecturers is great. I also enjoyed the content of the course as it focused on health through nutrition. Additionally, the course has a heavy emphasis on environmental sustainability which I found interesting…" -Anonymous
"Loved my 3 years on the 4th floor, great college, best years of my life." -Keysar Soze
"Excellent college. Great, although a little dated, facilities. Been to 5 colleges in Dublin and this beats the rest for experience and quality. High standard of lecturers and labs are good. Campus on Angier St across the road is more modern but this campus has aged well." -Dave Davis
5. Royal College of Surgeons in Ireland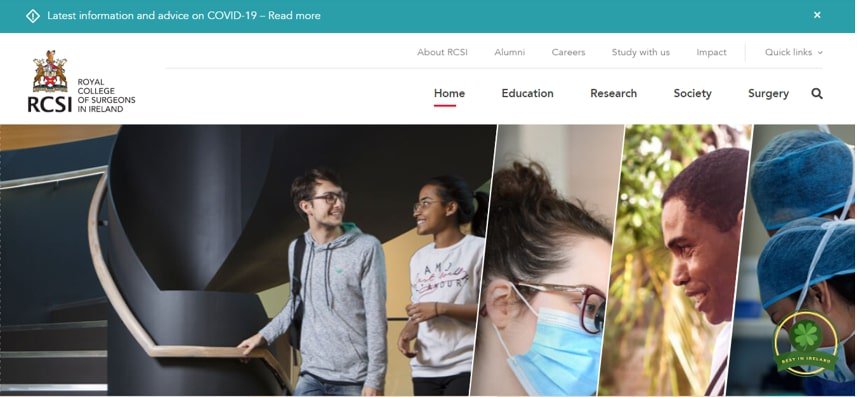 The Royal College of Surgeons in Ireland (RCSI) has kept its spot in Times Higher Education's rankings for the top 250 universities worldwide in the last 6 years. Hence, this makes it one of Dublin's best colleges, specifically for aspiring health professionals.
RSCI was founded in 1784 to be the national training body for surgery in Ireland and boasts of having the country's largest medical school in its Faculty of Medicine and Sciences. This Faculty also includes the Schools of Pharmacy and Biomolecular Sciences, Physiotherapy, and Nursing and Midwifery.
Furthermore, RSCI also houses other faculties such as faculties in Dentistry, Radiology, as well as Sports and Exercise Medicine. Of course, this college also extends its training to higher levels in its postgraduate and continuous professional development (CPD) courses, with various areas of interests ranging from ophthalmology to population health.
RSCI offers on-campus accommodations in Mercer Court and New Mill. Additionally, RSCI extends a number of scholarships and bursaries to students who aspire to study medicine, physiotherapy, and pharmacy at the undergraduate level.
Offers multiple scholarships
Offers accommodation
Offers free transport from Dublin Airport for all students
Has other campuses outside Ireland
Currently no financial loans/scholarships available for non-EU students
Course selection limited to health sciences
Customer Reviews
Read what students have to say about RSCI:
". . .I found RCSI is enjoyable studying environment, where a very excellent academic support the students received. My sincere thanks to the supportive supervisor to my study, was so helpful and patience in providing structured guidance. I received human care during the stressed time to accomplish all study requirements. . ." -Fatema
"One of the best institutes I've ever attended and has now the opportunity to work for." -Ishaan Jawaran
"I have loved every minute of my education here. Vibrant place steeped in history and excellence in the health sciences. Good university." -Melissa Fowler
6. Royal Irish Academy of Music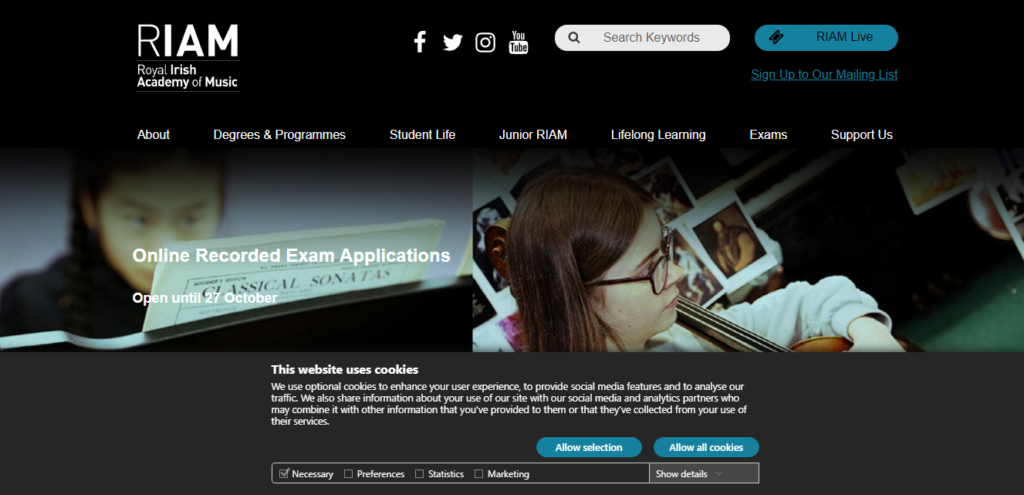 COURSES
Undergraduate, postgraduate, online, performing opportunities., competitions, scholarships
WEBSITE
https://www.riam.ie/
ADDRESS
Ceol Acadamh Ríoga na hÉireann, 36-38 Westland Row, Dublin
CONTACT DETAILS
Tel: +353 (1) 6325300.
Email:

[email protected]
Royal Irish Academy of Music is a school that specializes in all fields related to music such as conducting, performing, making use of various instruments, and teaching among others. Founded back in 1848, it has since then undergone numerous and prestigious recognitions and has then become the Royal Irish Academy of Music by royal command due to its successful petition for the Queen to become its patron.
Recently it has since then launched a new approach that is to be followed and prioritized up until the year 2023 which is the RIAM 175 Strategic Plan. Here the academy strives to eradicate barriers and promote an inclusive environment where everybody benefits from their new teaching and recruitment style as well as for further development of their premises in Westland Row.
The academy also pays close attention and strives to look out for the well-being and promote each unique quality that is possessed by their different departments such as their administration, faculty, staff, and students. They also strive to teach the field of music into what is relevant in today's time and are determined to enforce an organizational model that will promote this positive change among the people included in their academy.
We recommend this academy for you if your interests lie in the Music field in general as they offer prestigious and complete courses of almost each music course and program possible along with some discounts should you be eligible for scholarships and the like.
Offers scholarships
Complete and comprehensive music courses
Patroned by the Queen
Courses are only limited to music-related courses
7.   Dorset College Dublin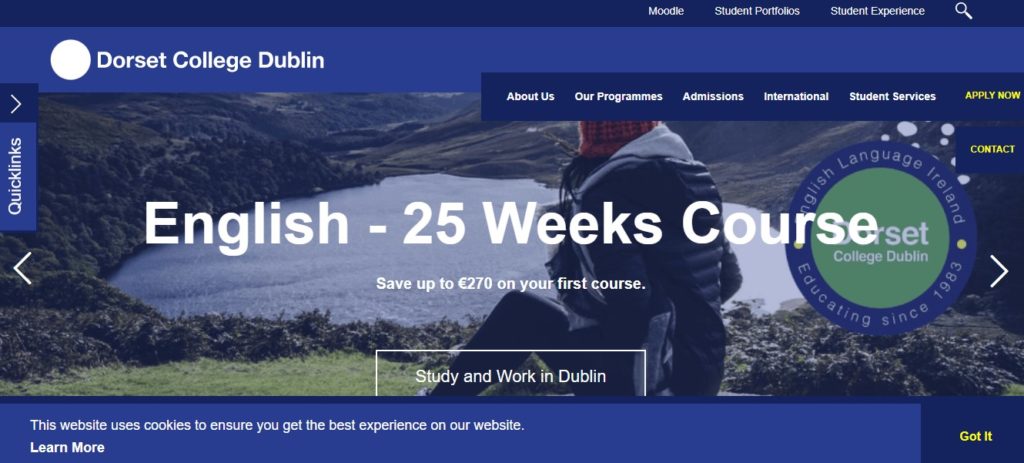 Dorset College Dublin was established in 1983 and is an independent third-level institution.
In comparison to other campuses', they offer a learning environment where students can take academic, professional, or even short course opportunities with a professional pathway to shape their future.
With their diverse learning community, your child will gain more connections and knowledge that will help them ace their program. What makes them stand out is the fact that they have a highly qualified and industry-experienced team of professors and staff that will support and prepare their students for the challenges they may encounter in the near future.
Aside from these, they are in partnership with global businesses. They are able to provide their graduates with opportunities like no other.
Can pay online
May book a study room
Offers international study
Rates are not on their website
How to Choose the Right College
The tips below can help you gain more insight in selecting the right college for you:
1. Location
A college's location is important for several reasons. A college that's located in a more rural area is usually smaller and may not have as much variety of programmes and extracurricular activities to choose from compared to city colleges.
Moreover, a college that's near your residence can save you money from having to pay rent for accommodation. But if you're willing to move far from home to study, be prepared for homesickness and the adjustment of living away from familiar people.
2. Scholarships
Of course, tuition fees and other costs are something you need to definitely consider. That's why you should be on the lookout for colleges that offer scholarships and bursaries, especially for student athletes and honour students.
3. Forte
Aside from the overall academic reputation of a college, take note of what particular course a college majors in. For instance, some colleges are known for the expertise of their faculty in engineering, medicine, and so on.
4. Support services
Are you a student with special needs or need certain support services? If you have a certain health condition, it's a good idea to check out a college's support services for students like you.
Having this kind of aid can better help you succeed as a student and ease some of the stress of college life.
FAQs about the Best Colleges in Dublin
---
And that's a wrap for our list of the best colleges in Dublin! Again, we sincerely hope this article has provided you with useful info with regard to your search.
On the other hand, if you know of other noteworthy colleges that should have been included here, please let us know. We'll check them out ASAP!
Have kids or younger siblings who need to enrol soon? We also have a list for that—see our top picks for the best private schools in Dublin!