The 5 Best Car Financing Firms in Ireland
Thinking about buying a new car or replacing the one you already have? You've come to the right place because we've got good news for you.
You don't have to wait for months to get the car of your dreams with the help of the best car financing firms in Ireland! We've done all the research for you to give you the best and lowest rates available in the market today.
In this guide, you'll also find answers to things you may be wondering about car financing. Without further ado, allow us to first give you an overview of our entries' interest rates.
Comparison of Interest Rates
If you're planning on getting a loan to finance your car, you can either get one through your dealership or bank. There are pros and cons to using either option, which we'll discuss below, but bear in mind that there are no standard interest rates for each one.
We can agree that the least fun part about purchasing a car is seeing your bank account balance go down. It's important to shop around for the best interest rates available before jumping into your purchase.
To help you out, here's a quick summary of the best interest rates we can find. Note that the rates below are subject to their respective lender's terms and conditions.
| | |
| --- | --- |
| COMPANY/BANK | INTEREST RATE |
| Vendor Finance | Starting at 7.5% APR |
| AIB (Green Personal Loan) | 6.25% to 6.4% APR |
| KBC Bank | 6.3% APR (fixed) |
| Permanent TSB (Cash Secured Loan) | 6.4% to 8% APR |
| Bank of Ireland (Consumer Hire Purchase) | 6.75% APR (fixed) |
The Best Car Financing Firms in Ireland
Now that we've given you an idea of what rates to expect, here's our curated list of the best car financing firms in Ireland!
1.   Vendor Finance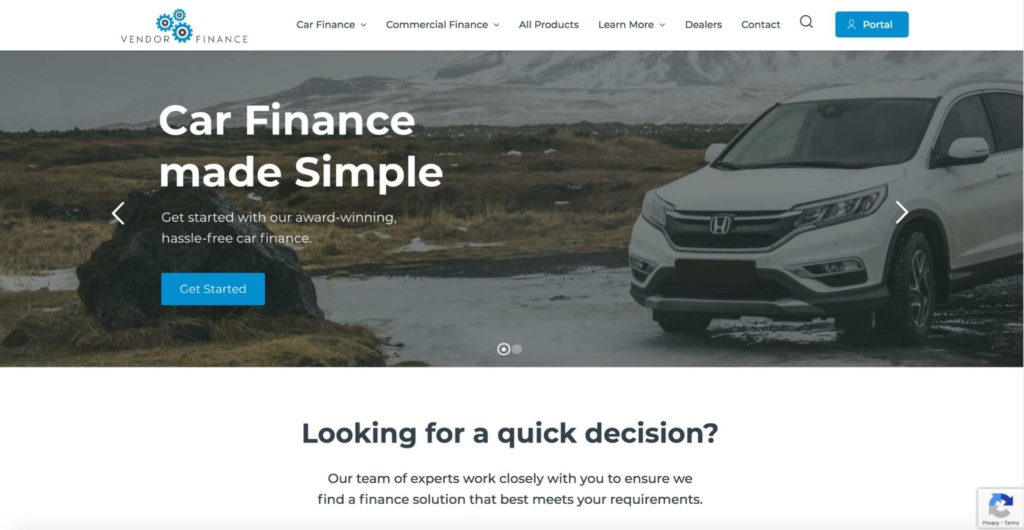 SERVICES
Car finance, other related services
WEBSITE
https://vendorfinance.ie/
ADDRESS
Vendor Finance Ireland Ltd. St. Vincent's Business Centre, Unit 2 Finisklin Rd, Cartron, Sligo
CONTACT DETAILS
071 931 0137


[email protected]

OPERATING HOURS
Monday to Friday 8:00 am to 5:00 pm
We're kicking things off with Vendor Finance. Customers often get the impression that Vendor Finance is a lender when in fact, they're actually a finance broker.
This simply means that they work with a number of lenders to give you interest rates starting at 7.5%. The rate that you'll be offered will depend on a couple of factors, such as the amount you wish to borrow and the repayment term.
Vendor Finance's services are for you if you're looking for a quick solution to your financing needs. You only need to complete their online application form before they can provide different finance options for you to choose from—no need to pay their office a visit!
Once that's done, you can expect a decision to arrive within a day to a few days at the latest. Furthermore, customers also don't have to pay a separate fee because Vendor Finance receives a commission directly from the lender.
Convenient online application portal
No service fees
Online calculator available
Relatively quick lender decision
No limitations on car dealers
Only has one physical location
Relatively high interest rates
2.   AIB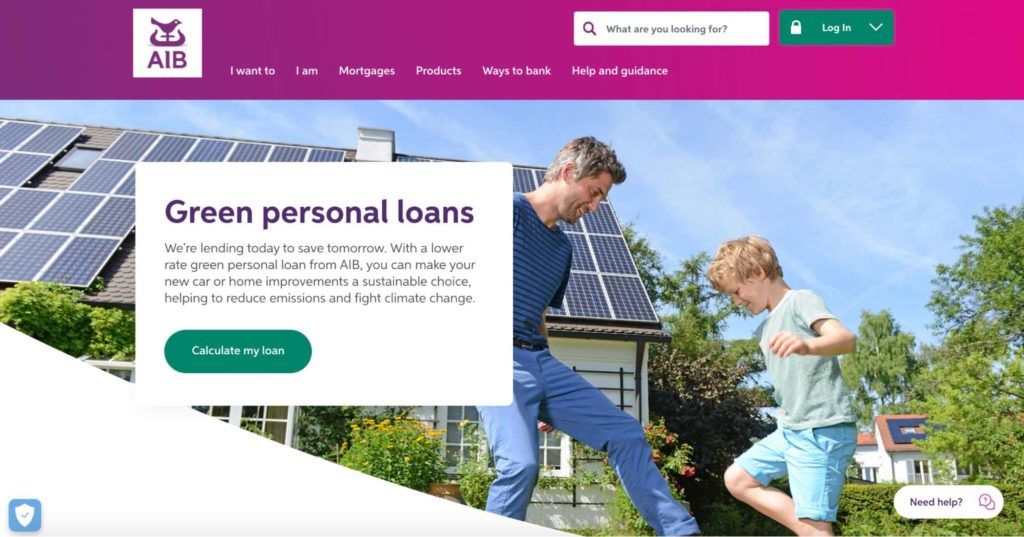 You can help the environment and get low interest rates with AIB's Green Personal Loan. This is the option for you if you plan on purchasing an electric car.
Apart from vehicles, this loan also provides you with the flexibility of purchasing other green initiatives such as sustainable home improvement systems. They offer one of the most competitive interest rates in the market today at 6.25% to 6.4% APR.
Contrary to regular car loans with 5-year payment terms, your green loan may be extendable up to 10 years. Remember that you'd have to submit proof that the car you're purchasing is, in fact, a green initiative.
If you have an existing account with AIB, you can file for your application conveniently online. A decision on your loan will move quicker too since the bank already knows your credit rating.
Ideal for electric cars
Convenient online application portal
Online calculator available
Relatively quick lender decision for existing members
Low interest rates
Process can take longer for non-AIB clients
Not suitable for petrol-powered vehicles
Documentation fees apply
No evening customer support
3.   KBC Bank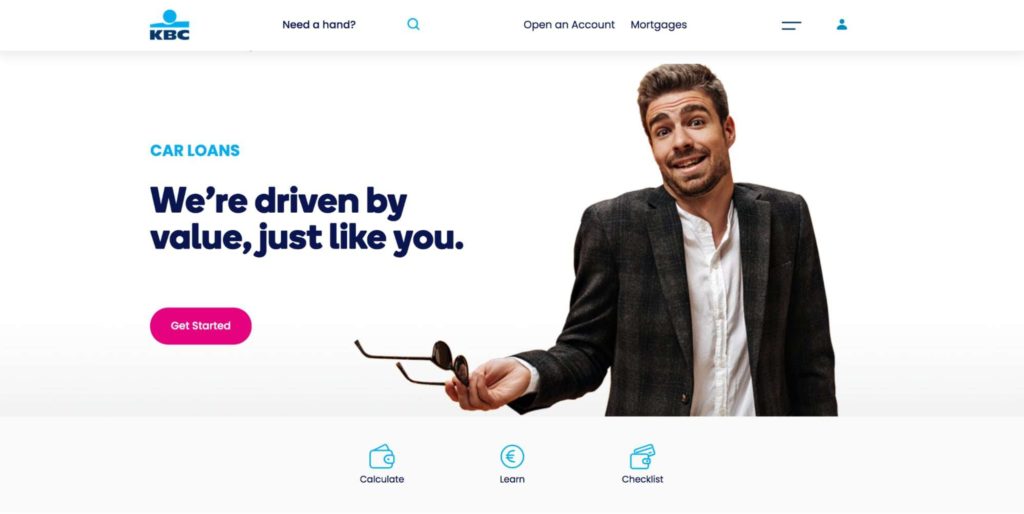 | | |
| --- | --- |
| SERVICES | Car loans, other related services |
| WEBSITE | https://www.kbc.ie/loans/car-loans |
| ADDRESS | Nearest branch available here |
| CONTACT DETAILS | 1800 93 92 44 |
| OPERATING HOURS | Monday to Friday 8:00 am to 11:00 pm |
Existing holders of a KBC current account can enjoy a fixed interest rate of 6.3% for loans above €10,000. For car loans, you can borrow for as little as €5,000 to a maximum of €50,000 payable up to 5 years.
You may still get a loan if you plan to borrow an amount below €10,000, subject to a higher interest rate. Under certain conditions, KBC also allows you the flexibility of repaying your loan early without extra charges, which you may find on their website.
Furthermore, you won't be charged any extra fees for setting up your loan, which you can easily do in a hub nearest you or through the KBC app. If you have concerns, their customer support line is available for you until late hours of the day, seven days a week.
And if you aren't an account holder, you may be pleased to know that there are different current accounts to choose from. Before proceeding, however, check out this important PSA from KBC.
Ideal for KBC current account holders
Convenient online application portal
Online calculator available
Low interest rates
Long customer service hours
Discounted interest rates only apply to new loan applications
Higher interest rates for loans below €10,000
4.   Permanent TSB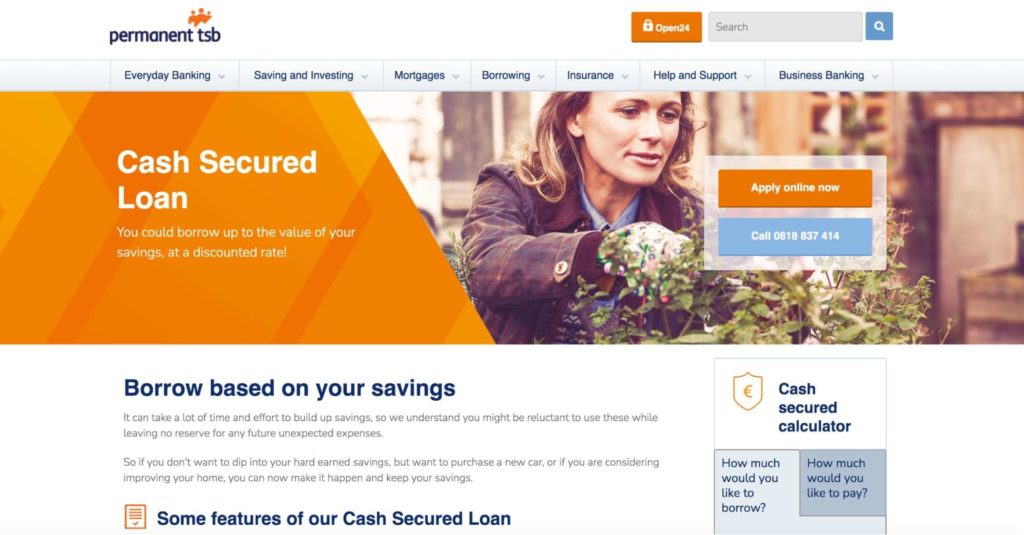 Major banks, such as Permanent TSB, offer car loans as a separate product. As an alternative, we recommend taking Permanent TSB's Cash Secured Loan instead.
The process allows you to borrow an amount up to the value of your current savings, leaving the money on your savings account untouched. This is a good option for those who prefer to keep their savings for future use or for other purposes.
And because your savings will remain unaffected, this means that you can also continue earning interest rates. With this loan, you aren't restricted to a particular purpose, meaning that you can use it to purchase a new car.
Take note that the interest rate will depend on the amount you'll borrow, which can range from 6.4% to 8% APR payable over 5 years. Rates are subject to change but they're strikingly lower than Permanent TSB's car loan interest rates.
Ideal for holders of Permanent TSB's savings accounts
Convenient online application portal
Flexible loan purpose
Online calculator available
Low interest rates
No weekend customer support
Not suitable for non-customers of Permanent TSB
Deposit account is used as collateral
No withdrawals permitted for deposit accounts
5.   Bank of Ireland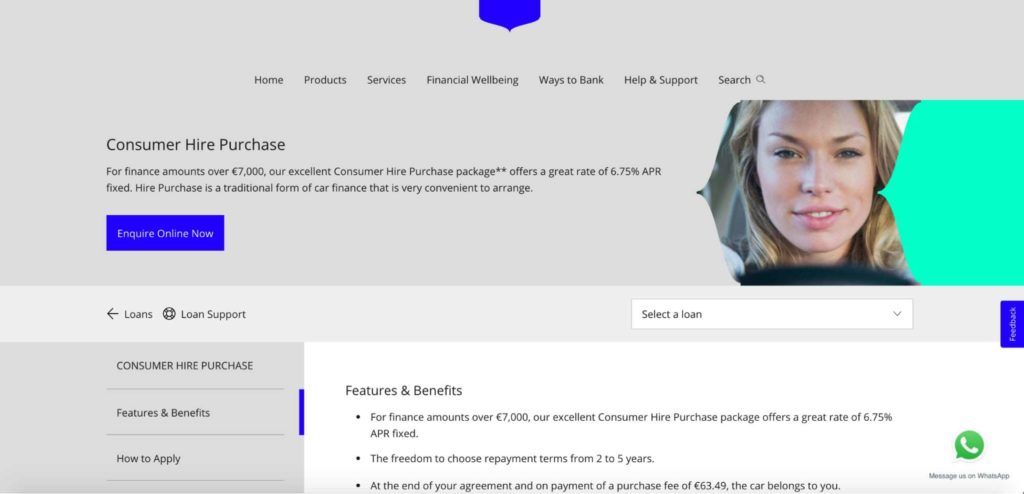 Under the Bank of Ireland, you have the option to get a car loan or a hire purchase, which allows you to pay for your car in instalments under a fixed interest rate. The key difference with a hire purchase is that the car only becomes yours when all repayments are made.
This also means that interest rates are locked in at the time of the agreement and are guaranteed to stay the same throughout the repayment period. In this case, the Bank of Ireland offers a fixed rate of 6.75% payable between 2 to 5 years.
A word of caution, though: Remember that your car can be repossessed if payments are not complied with. Moreover, corresponding documentation and purchase fees apply.
We'd also like to note that only amounts above €7,000 are eligible for this type of loan. Existing customers of the Bank of Ireland can apply in a breeze through their online portal.
Ideal for existing Bank of Ireland customers
Convenient online application portal
Low and fixed interest rates
Flexibility in repayment terms
Extra fees apply
Possibilities of car repossession
No weekend customer support
FAQs about Car Financing
---
And those are the best car financing firms in Ireland! We hope that our guide pushed you one step closer to your dream car.
Think we missed other good firms or deals on our list? Send us a message and we'll look right into it!
You can also check out our list of the best mortgage brokers in Dublin if you're on the market for a new house.