The 5 Best Plumbers in Limerick
In need of repairs to your home's plumbing systems or installations for heating and other plumbing work? For sure, it's best to leave these jobs to the pros and that's why we came up with this list.
In this article, we're featuring the best plumbers in Limerick! Aside from their services, pros and cons, and other features, we've also included a number of other info—FAQs you might have about plumbing and tips to aid you in your search.
That being said, if you're more interested to know more about plumber service costs first, we've listed those down right below, so keep on reading!
Plumber Service Costs in Ireland
Some plumbers have a fixed fee for certain services while some charge per hour. Take note that hourly rates are higher for out-of-office hours.
The table below lists a number of estimated costs concerning plumber hourly rates and other services.
SERVICE
ESTIMATED COSTS
Hourly rate
–       Monday to Friday, office hours
–       Monday to Friday, out-of-office hours
–       Saturday to Sunday, office hours
–       Saturday to Sunday, out-of-office hours

€70 – €100
€115 – €120
 
€115 – €130
€125 – €140
Gas boiler
€70 – €100
Power flush (depends on the number of radiators)
€450 – €980
The Best Plumbers in Limerick
Now that you're more informed about plumber fees, let's get straight to the point: our top choices for Limerick's best plumbers!
1.   Murphy Plumbing Services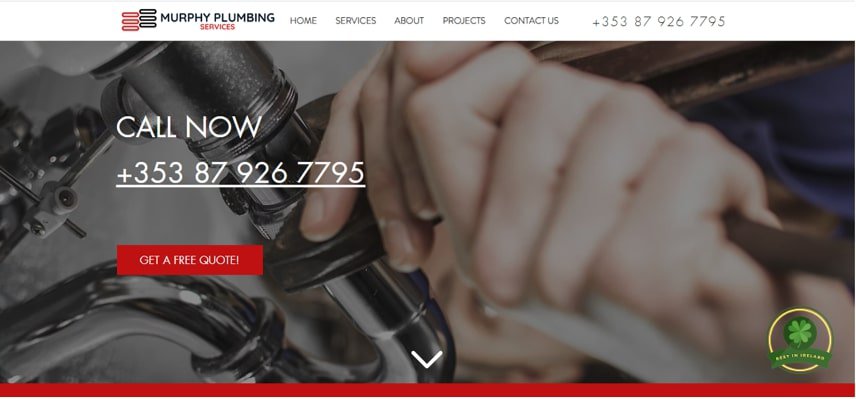 SERVICES
New homes, bathroom renovations, air to water heat pumps, underfloor heating, oil boilers, thermodynamic solar panels, heat pump cylinders, solid fuel, and general maintenance
WEBSITE
https://www.murphyplumbing.ie/
ADDRESS
Newcastle West, Limerick
CONTACT DETAILS
+353 87 926 7795


[email protected]

OPERATING HOURS
8:00 am to 6:00 pm (Monday – Friday)
Murphy Plumbing Services was founded in 2018 by Brian Murphy who first worked as a foreman plumber for a large plumbing company in Munster before setting up his own practice.
What makes Murphy Plumbing Services one of the best plumbers is its wide service coverage. They provide their services not only in Limerick City but also in the entire county and even parts of County Kerry.
You can tap into their services for general maintenance regarding leaking pipes, malfunctioning showers, etc. We also like that their services are not just centred on bathroom renovations and other minimal plumbing services because they can take on full new house designs.
You can see these services straight from their website where before-and-after photos of their projects have been uploaded. You can also view more of their work from their social media page.
And as with our other choices in this list, Murphy Plumbing Services also offers heating services such as underfloor heating and oil boiler services. Other options for heating they provide include thermodynamic solar panels which are not dependent on direct sunshine, in case you're hesitant of using one because of the minimal sun in Ireland.
Free quote
Services entire Co. Limerick plus other areas
Closed on weekends
Doesn't offer payment in instalments
Customer Reviews
See some great comments from Murphy Plumbing Services' satisfied clients:
"Excellent plumber – very reliable and reasonably priced as well." -Catherine Kavanagh
"Great service, will do his best to get out to you day or night" -Mark Darcy
"Very punctual, very good, highly recommend them." -Annette Fitzgerald
2.   BB Plumbing and Heating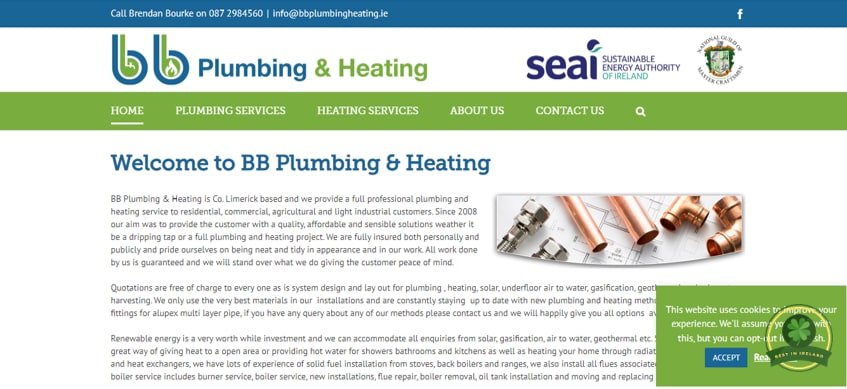 SERVICES
Plumbing, bathroom and wet room installation, heating, solar energy, solid fuel, heating upgrades and repairs, and oil boiler service
WEBSITE
https://www.bbplumbing.ie/
ADDRESS
Kilbreedy, Kildimo, Co. Limerick
CONTACT DETAILS
087 2984560


[email protected]

OPERATING HOURS
8:00 am to 5:00 pm (Monday – Friday)
BB Plumbing and Heating is on our list as this plumber services not only the residential sector but also commercial, agricultural, and light industrial clients.
Its founder, Brendan Bourke, boasts of having worked as a plumber in other countries aside from Ireland such as Germany, UK, and Italy before founding his company in 2008.
BB Plumbing and Heating is a member of the National Guild of Master Craftsmen and accredited with the Sustainable Energy Authority of Ireland (SEAI). It's always a good idea to get a plumber that's accredited with respected organisations as this provides a better guarantee for their service.
Some of their plumbing services include dripping taps, kitchen, utility, and bathroom repiping, rainwater harvesting, to name a few. Moreover, you can also expect a wide range of heating services from them which range from oil boiler services to heating upgrades and repairs.
Additionally, BB Plumbing and Heating welcomes all enquiries for solar, geothermal, gasification, and more. This means you can have more than one option for renewable energy sources.
Free quote
Free layout and system design for plumbing, heating, etc.
National Guild of Craftsmen member
SEAI accredited
Services multiple sectors
Closed on weekends
No mention of availability for emergency cases
3.   Myplumber.ie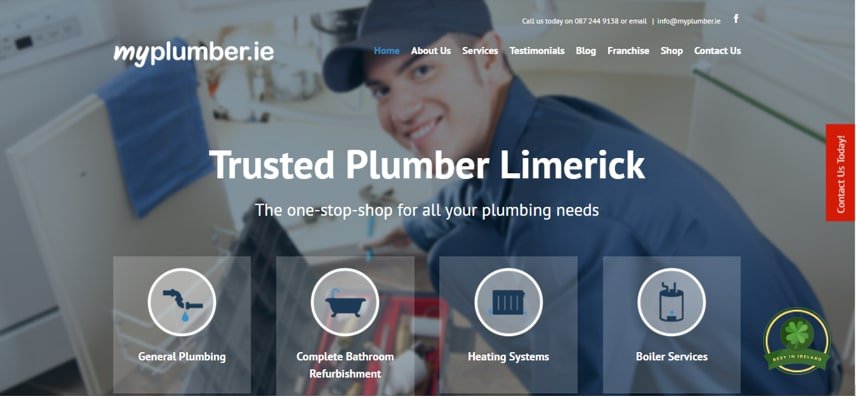 SERVICES
General plumbing, complete bathroom refurbishment, heating systems, and boiler services
WEBSITE
https://www.myplumber.ie/
ADDRESS
Cragbeg, Clarina, Co. Limerick
CONTACT DETAILS
087 244 9138


[email protected]

OPERATING HOURS
9:00 am to 5:30 am (Monday – Friday)
Myplumber.ie is noteworthy for its accreditations with multiple organisations, namely, the SEAI, Register of Gas Installers (RGII), Association of Plumbing and Heating Contractors Ireland (APHCI), and Oil Firing Technical Association (OFTEC).
These are primary proof of this plumber's technical know-how and service. Memberships and accreditations like these are important because plumbing and heating services can seriously damage houses and hurt members if done the wrong way.
Aside from their general plumbing services, Myplumber.ie also renders full health checks on clients' boilers as well as full boiler commissioning, installation of heating controls, and the like. Plus, you can call them for emergency plumbing situations.
Moreover, they are also one of the few plumbers to offer plumbing supplies.
On the flip side, from what we've seen, Myplumber.ie's heating services seem to be focused on boiler systems. In other words, there are not many options as regards this service.
Free quote and inspection
Offers emergency plumbing services
Multiple accreditations
Offers plumbing supplies
Heating services seem limited
Closed on weekends
Customer Reviews
See what Myplumber.ie's happy customers have to say about their services:
"I recently called upon the services of MyPlumber.ie to install and fit a new washing machine. I called Eugene on Wednesday morning to say it was on the way and like clock-work himself and another lad arrived within a few minutes of the delivery to install it. They came back the following morning to fix a couple of other bits they had noticed just to make sure I wouldn't have any issues with taps and drains in the future. Absolutely top-notch service, so quick and efficient and what I liked most is the lads gave the washing machine a good clean before leaving to save me a job… Highly recommend Eugene and the lads from MyPlumber.ie and will be using them again in future!" -Susan Humphreys
"I could not recommend Eugene and his team highly enough. They provide an excellent and very prompt service." -Daniel Ivess
4.   T.P. Gas Services
SERVICES
Complete bathroom installations, power flush heating systems, complete heating systems, electrical heating controls, gas boilers, gas fires, replacement of gun barrel pipework, air to water heat pumps, thermodynamic hot water panels, and underfloor heating
WEBSITE
https://www.tpgasservices.com/
ADDRESS
Unit 14, Ashbourne Business Park, Dock Road, Limerick V94 F82R
CONTACT DETAILS
061 455 575


[email protected]

OPERATING HOURS
8:00 am to 5:00 pm (Monday – Thursday)
8:00 am to 4:00 pm (Friday)
Money-wise, T.P. Gas Services is one of our top picks as they offer flexible payments to clients through Humm by Flexi-Fi. Plus, clients can also avail of grants from the government through the SEAI Better Energy Homes Scheme.
More importantly, they provide 24-hour emergency plumbing repair. Burst pipes, underfloor leaks, heating breakdown—these are just some of the problems they respond to.
T.P. Gas Services has over 30 years of experience servicing residential, commercial, and industrial clients, including Limerick City and County Council, AXA Insurance, Adare Manor, among others. These services range from site surveys and audits to repairs to all types of mechanical installations.
T.P. Gas Services are RGII and SEAI accredited tradesmen. Concerning their plumbing services, they offer complete bathroom installations—from plumbing down to tiling, plastering, and so on.
However, their most noteworthy service is probably in their power flush for heating systems. From what we've seen, they're the only plumber to explicitly offer this service which consists of deep cleaning of heating systems, enabling it to last longer and function better.
Offers emergency plumbing services
Free quote
RGII and SEAI accredited
Services multiple sectors
Offers payment options through Flexi-Fi
Offers grants via SEAI
Closed on weekends
Does not offer solid fuel service
Customer Reviews
Check out a number of rave reviews from their customers:
"We had a Thermodynamic Water system installed and a Boiler / Heating revamp (pressurised system and removal of legacy system tanking & pumps). From start to finish, all at TP were excellent and highly professional, on time, accurate and very tidy. Can't recommend them highly enough." -Pete Joslin
"First of all, phone customer service is amazing, very patient and let you speak your problem, rarely nowadays you can find that kinda phone service. Secondly, Engineer Ronan that was on site, he was so professional that could recognize the problem straight away from entering to the area, and value for the charges is amazing as he tested and found the source of the problem, saving us trouble of breaking wall and replacing parts! AMAZING, recommended to everyone!" -tom6699
5.   Professional Plumbing Solutions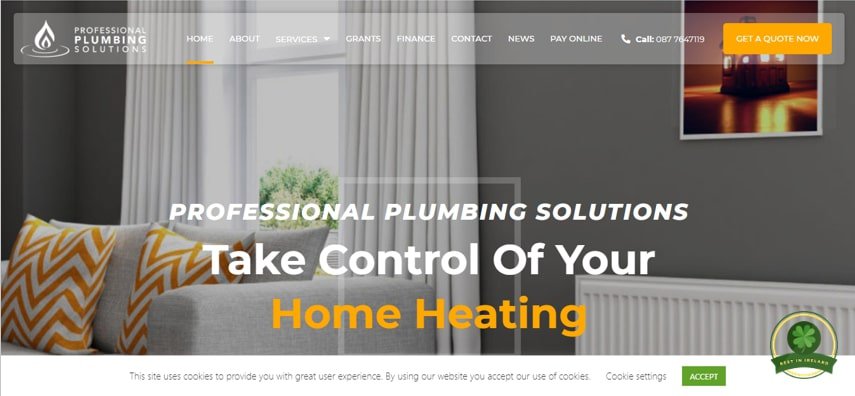 SERVICES
Gas boilers, oil boilers, heat pumps, 24/7 hot water heat pump, heating controls, and new builds and home retrofits
WEBSITE
https://professionalplumbing.ie/
ADDRESS
Ballinagarde, Ballyneety, Co. Limerick.
CONTACT DETAILS
087 7647119


[email protected]

OPERATING HOURS
8:00 am to 5:00 pm (Monday – Friday)
Founded in 2005, Professional Plumbing Solutions is a notable plumber in Limerick for a couple of reasons. Compared to our other picks, they have the widest service coverage, operating in Clare, Tipperary, North Cork, and other areas aside from Limerick.
They also have a sister company, Professional Mechanical Solutions, that services commercial and industrial clients. Such info says something about Professional Plumbing Solutions' manpower to provide service for multiple sectors and areas.
Ease of payment is another good feature of theirs—they also offer instalment payment via Humm, and clients can even pay them online on their website. Plus, you can contact them for special offers regarding SEAI grant packages.
With regard to their services, their heating control (temperature control for the house) and home retrofits (house energy retrofit) are a standout for us. On the downside though, Professional Plumbing Solutions makes no mention of their availability for emergency plumbing cases—an important feature for plumbers.
Widest service coverage on list
Special offers on SEAI grant packages
Free quote
Offers payment options through Flexi-Fi
Offers online payment
No mention of availability for emergency cases
Closed on weekends
Customer Reviews
Take a look at several comments from Professional Plumbing Solutions' clients:
"Looked for a quote for gas boiler and shower replacement. Was happy with the price Cathal gave me. His crew came and installed boiler and shower for me. Very professional, punctual and easy to deal with. Excellent service, I highly recommend." -Darren Mc Inerney
"Excellent service, extremely professional and efficient, would definitely use this company again. 10 out of 10 rating." -Sandra Hannan
"Fitted a new oil boiler for me and I couldn't recommend them enough. Highly professional and cleaned up everything when they were finished, very good price as well compared to other companies." -John Dunne
How to Choose the Right Plumber
To better select the right plumber, you can follow the tips we've got for you below:
1. Emergency service
While nobody wants to be disturbed by a plumbing or heating issue in the middle of the night, such instances can't be helped sometimes.
Hence, it's always a good idea to check with your plumber if they provide service during out-of-office hours. This will ensure you can rely on the same people to maintain and fix your plumbing systems at all times.
2. Qualified
Of course, the quality of the service a plumber provides should be on top of your list. While this may be difficult to gauge at first, you can check if a certain plumber is accredited with a respected body or organisation for tradesmen.
Another way to check this is through online reviews as well as referrals from friends and family.
3. Warranty
Make sure to confirm with your prospective plumber if they offer warranties for the work. This will ensure you get your money's worth out of their service.
4. Relevant experience
Another factor to consider is a plumber's expertise in a particular sector. For instance, if you're a business owner, make sure the plumber you're hiring has experience with commercial establishments.
FAQs about the Best Plumbers in Limerick
---
And that's a wrap for our list featuring the best plumbers in Limerick! Hopefully, our review has helped you in any way.
And if you know of other great plumbers who should have landed on our list as well, kindly contact us. We'll give them a look straight away!
Know someone in Dublin who also needs plumbing services? We have a similar list for Dublin residents—share with them our picks for the best plumbers in Dublin!