Top 4 Birthday Party Services in Dublin
Who doesn't love a birthday party?
Birthday parties can be a lot of fun but they can also be very stressful to plan. Because of this, some people need a little help from professional planners.
In this article, we explore the best birthday party services in Dublin who can help make the occasion stress-free and exciting for everyone.
How much do birthday party packages cost?
Birthday party package prices depend on the inclusions they have to offer. It considers the decorations, facilities, favors food, duration and any special equipment listed in the package.
We listed down below some prices of different birthday party packages we found in the area.
BUSINESS/SERVICE
PACKAGE DETAILS
PRICES
Zero Latency
Raven Packages for Kids, Up to 8
€ 250
Leisure Plex

Bowling Family Game Special, 2 Adults + 2 Kids or 1 Adult + 3 Kids, 1 Game, Monday to Thursday

Zoo Playland, Family of 4 Children, Monday to Thursday

€ 32

€ 34

Go Kids Go
Birthday Party, Monday to Thursday, per child
€ 15.50
Funky Monkeys
Themed Parties, Monday to Thursday, per child
€ 16.5
Kidspace Playcentre
Lego Party Package, per head
€ 22
Top Birthday Party Services in Dublin
We assessed the packages based on the following criteria:
1. Zero Latency Dublin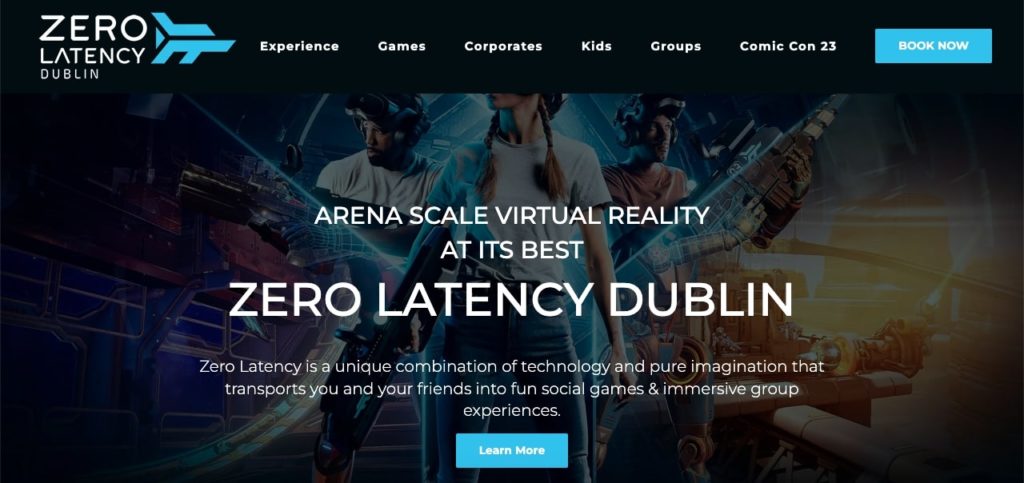 Test
Info
SERVICES

Matrix and Meeting Rooms

VR Gaming, Arcade

Private Party Rooms

Kids Activities

WEBSITE
https://zerolatencyvr.ie/
ADDRESS
21 Maple Ave, Sandyford, Dublin
CONTACT DETAILS

PHONE: 01 293 4785

OPERATING HOURS

Tuesday to Sunday: 11:00 AM to 10:00 PM
| | |
| --- | --- |
| Packages | ★★★★★(5/5) |
| Variety | ★★★★★(5/5) |
| Inclusions | ★★★★☆(4/5) |
| Facilities | ★★★★★(5/5) |
| Price | ★★★★☆(4/5) |
| Customer feedback | ★★★★★(5/5) |
| Convenience | ★★★★★(5/5) |
| Overall experience | ★★★★★(5/5) |
Zero Latency Dublin bundles an immersive experience backed by high quality VR technology that is great fun for all ages.
We think customers will really enjoy their time here because of the state of the art equipment and substantial spaces they have. Their VR rooms are sizable enough to accommodate larger groups.
Beyond this, they also have rooms with arcade games, a pool table, speedy internet service and more. We like that Zero Latency Dublin puts visitors at ease and comfort with all of their amenities.
Their selection of VR games is also great because they include both more competitive games and environmentally immersive experiences as well. We like that they really use the full capabilities of the headset to cater to a wide variety of preferences.
On top of this, they also have other gaming equipment including the Xbox and Nintendo Switch to spread the fun around.
Because of the popularity of competitive video gaming amongst friends, this experience makes a wonderful option the next time you're looking to plan a birthday party.
They have the Raven Party Packages for kids which can accommodate different sizes of groups. We highly suggest checking out their websites before reserving as they have rules on deposit and payment.
Take note as well that these packages do not include food and drinks so it would be best to plan those arrangements ahead or coordinate with Zero Latency Dublin.
If you're planning a birthday party for a group looking to experience something immersive or in the realm of gaming, they are definitely one of the top choices in the area.
Their facility capacity can have 50 people at a time 
Parties can last up to 2 to 3 hours
Have gaming consoles and state of the art VR technology, that have a variety of capabilities
Can also be a great option for different types of parties, from stag to corporate
Slightly pricier packages 
Payment in full needed a week before the party
Customer Reviews
No One was Disappointed
It was an amazing experience. We had been here with a gang of 8 and to be honest, not even even a single person was left disappointed. The staff were really good and the VR experience was extravagant. I wish they had a bigger pitch to accommodate more people but I wouldn't even consider that to be a let down. If you're planning to visit, make sure you are 4+ headcount cos it'll really be fun to experience this with a larger crowd. -Amal Baiju
Exceeded our Expectations
An amazing experience! We celebrate our daughter's birthday and she was so happy for the whole VR Experience! The staff was so friendly and exceeded our expectations. #Cian was the guy! He was in every little detail, he was very helpful and always trying to make everyone feeling amazing. I would highly recommend this place! -Marcela Cardenas
2. Leisureplex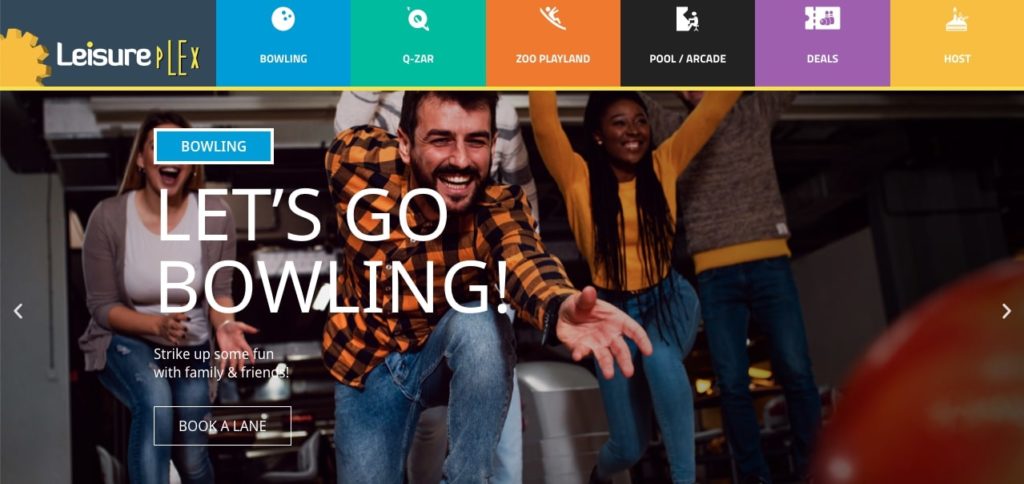 Test
Info
SERVICES

Bowling, Quasar, Zoo Playland

Corporate Packages and Parties

Pool and Arcade

WEBSITE
https://leisureplex.ie/
ADDRESS

Charlestown Shopping Centre, St. Margaret's Road, Dublin 11

Leisureplex Coolock, Malahide Road, Coolock, Dublin 17

Leisureplex Blanchardstown, Blanchardstown Shopping Centre, Dublin 15

Leisureplex Tallaght, Village Green Centre, Tallaght, Dublin 24

CONTACT DETAILS

Blanchardstown 01 822 3030

Charlestown 01 864 2642

Tallaght 01 459 9411

Coolock 01 848 5722

OPERATING HOURS

Coolock

Sunday to Thursday: 10:00 AM to 10:00 PM

Friday to Saturday: 10:00 AM to 11:00 PM




Tallaght, Charlestown, Blanchardstown

Everyday: 10:00 AM to 10:00 PM
| | |
| --- | --- |
| Packages | ★★★★★(5/5) |
| Variety | ★★★★★(5/5) |
| Inclusions | ★★★★☆(4/5) |
| Facilities | ★★★☆☆(3/5) |
| Price | ★★★★★(5/5) |
| Customer feedback | ★★★★★(5/5) |
| Convenience | ★★★★★(5/5) |
| Overall experience | ★★★★☆(4/5) |
With various types of classic family fun activities available, Leisureplex is an excellent option for its prices and customizable packages.
They're able to host a whole range of different types of parties which include, reunions, office parties and of course birthdays. We think customers will really like the more laid back and oldschool atmosphere they have, complete with jukeboxes and neon lights.
What makes them a great place for birthday parties is that they are able to customize packages per person.
With the wide range of activities they have and even the catering they offer, Leisureplex makes it very convenient for you to pick and choose only those you will avail of.
Moreover, they have some great deals on mixing up different activities like bowling and quasar. If you're looking for a birthday party on a budget, you may want to see what they have to offer.
Their activities include a great selection of bowling, a soft playland area and a pool/arcade area.
Keep in mind that their Q Zar activity is only available in their Blanchardstown branch but nonetheless, we find their options to be fun for all ages and families.
If you're going for a more retro-themed birthday with classic games and fun competitive games to play with your friends, check out Leisureplex and their selection.
Four available branches 
Party packages are customizable to suit the features and size
Have a great range of activities from bowling to arcade games
Affordable prices and deals
Q Zar activity is only available in their Blanchardstown branch
Some customer complaints on maintenance and booking
Customer Reviews
Children were Supervised Very Well
Recently, I had a birthday celebration for my son. From start to finish the staff where brilliant. The children were supervised and looked after very well. Just want to say thank you. -Monica Grogan
Wide Variety of Areas for Children
Absolutely great place for children to enjoy indoor play. The indoor zoo is a lovely one for children under 6 and with a wide variety of areas for children above the heights restriction. Ample parking space. Great value for money. Each slot at the zoo playground is about 3 hours. -Abosede Grace Ogunsanya
3. Go Kids Go!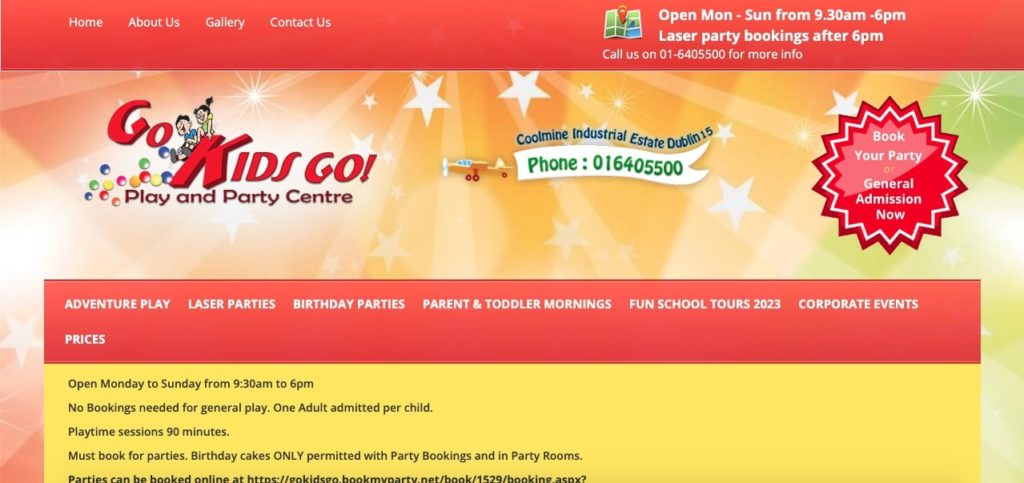 Test
Info
SERVICES

Laser Parties, Birthday Parties

Parent and Toddler Mornings

School Tours, Corporate Events

Indoor Adventure Play

WEBSITE
http://www.gokidsgo.ie/
ADDRESS
Porters Rd, Coolmine Industrial Estate, Dublin 15
CONTACT DETAILS

PHONE: 01-6405500

OPERATING HOURS
Everyday: 9:30 AM to 6:00 PM
| | |
| --- | --- |
| Packages | ★★★★★(5/5) |
| Variety | ★★★★★(5/5) |
| Inclusions | ★★★★★(5/5) |
| Facilities | ★★★★★(5/5) |
| Price | ★★★★☆(4/5) |
| Customer feedback | ★★★★★(5/5) |
| Convenience | ★★★★★(5/5) |
| Overall experience | ★★★★☆(4/5) |
Go Kids Go! Provides a lot of different add-ons and features that will really engage with young ones celebrating their birthdays.
Past customers have really enjoyed their birthday experiences with their kids here, citing the excellent attitude and service of the staff. This makes them a very popular attraction especially with their different family oriented events.
We really like how engaged and experienced the facility is with handling young kids and attending to parents. They host activities like school tours and parent and toddler mornings.
In terms of their birthday parties, we really like that the package they offer has a lot of features and inclusions to make it worthwhile. This includes a goody bag, themed private party space, food options and activity time for the kids.
We appreciate that their facilities make the kids' activity time especially engaging. Go Kids Go! has areas like indoor adventure play with rope bridges, slides, as well as a disco room and sports pitch.
There is something for everybody here and we highly recommend them if you have energetic young ones with different interests.
Keep in mind that they charge a minimum of 8 birthday participants even if the party of children is less. On top of this, make sure to consider the schedule for their laser party option as it is only available from 6 PM onwards.
If you're looking for party options with a versatile selection of add ons and facilities, Go Kids Go! is the perfect place to start.
Great customer feedback for the staff's customer service
Have different areas available for different younger age ranges 
Available private party rooms
Wide range of different types of add ons
They charge a minimum of 8 children even if customers book for less  
Laser party is only available for booking after 6 PM
Customer Reviews
Enjoyable Experience,
Had laser party for my 10 year old son before Christmas. It was fantastic. The staff were amazing, so helpful and friendly. Everyone had a very enjoyable experience. -Ger McCartney
Made Her Day so Special
Just had our daughters birthday party at Go Kids go! And what a great experience. Lovely friendly staff, great fun, great for all ages! Thank you everyone you made her day so special -Joanne Crowley
4. Funky Monkeys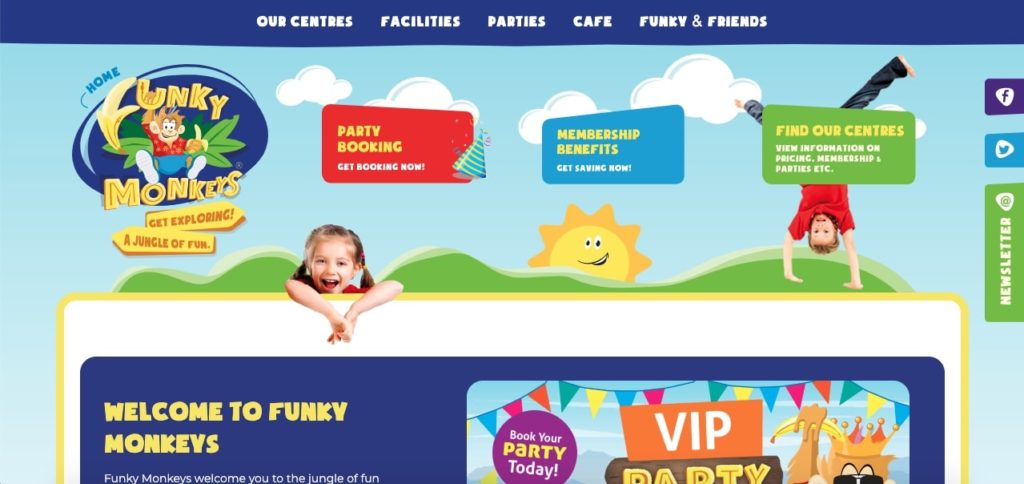 Test
Info
SERVICES

Party Packages, Cafe

Soft Play Facilities

WEBSITE
https://funkymonkeys.co/
ADDRESS

Unit 29A, Citywest Shopping Centre, Dublin 24

Unit 4, Levels 3 & 4 (Next Door to Rainforest Golf), Dundrum Retail & Office Park, Dundrum, Dublin 16

Clarehall Shopping Centre, Malahide Road,, Dublin 17

CONTACT DETAILS

PHONE: Citywest (01) 466 1934, Dundrum (01) 296 0217, Clarehall 0818 88 2502

OPERATING HOURS
Everyday: 9:30 AM to 6:00 PM
| | |
| --- | --- |
| Packages | ★★★★★(5/5) |
| Variety | ★★★★★(5/5) |
| Inclusions | ★★★★☆(4/5) |
| Facilities | ★★★★☆(4/5) |
| Price | ★★★★★(5/5) |
| Customer feedback | ★★★★★(5/5) |
| Convenience | ★★★★★(5/5) |
| Overall experience | ★★★★☆(4/5) |
Funky Monkeys offers an impressive range of themed birthday party packages that are thoroughly designed and creative.
They have multiple branches available throughout Dublin, from Citywest to Dundrum to Clarehall. This makes them a more accessible place to various residents in different areas.
We think that they're one of the best themed kid's indoor play areas, because they even have their own cast of animal characters. This makes for a more immersive experience that kids would want to return to even during non birthday occasions.
We were also impressed that they have a cafe to facilitate and accommodate parents and guardians. In addition to their fun indoor facilities, we like that they considered the adults in regards to the experience in their space as a whole.
What's probably most impressive about them is they have multiple birthday package tiers available for different party types. This includes a VIP package and themed packages like princess or disco.
Customers will like that for each birthday they experience within Funky Monkeys, there are different activities and themes to try out.
These packages also come with a substantial set of features which includes food, a vip return pass, party games, and accessories to wear.
However, we do find the food menu to be a bit limiting and on top of this, self catering within their premises for birthday parties is not allowed.
We do advise you to carefully consider their menu when planning a party here. Aside from this, all in all Funky Monkeys makes for some great themed birthday parties that also considers the comfort of the adults and guardians.
Multiple branches available
Fun and well themed facilities with a lot of different activities
Have different party packages available, with different themes and some great features 
Also has a cafe available for parents and guardians
Cannot self cater for a children's birthday
Certain party packages require a minimum amount of children
Customer Reviews
Spacious with Lots to Do
I highly recommend Funky Monkeys for a birthday party. The kids loved the play area, seems to be very diverse and spacious with lots to do. We were cared for by a personal assistant who was very helpful and kind, she went above and beyond to make things run smoothly for us. Great choice of food and drinks for the kids and really good quality coffee for adults. Can't think of a single improvement that could be made, it was a perfect party. -K8
Attentive Service
Had my daughter's birthday party here and they couldn't do enough for us, the girls there were amazing and so attentive to all of us! You couldn't ask for anything more! Would definitely recommend for a party or even just a afternoon out with the kids! -Lisa Sweeney
FAQs about Birthday Parties
---
There are so many exciting and colorful options out there to make your birthday a truly special day. We hope our list helps out in planning your next party and if you would like to read more, we also have an article on the best stores for party supplies in Ireland.