Top Water Activities to Try in Cork
Ever wondered about the water activities in Cork?
If you're an enthusiast of aquatic adventures, Cork has a lot to offer. From the tranquil waters of its lakes to the rugged coastline along the Wild Atlantic Way, Cork has an array of water-related experiences that cater to all interests and skill levels.
In this article, we'll explore the awesome water activities you can enjoy in Cork.
What water activities can you do in Cork?
Cork offers a diverse range of water activities, including kayaking, sailing, windsurfing, kitesurfing, SUP (stand-up paddleboarding), fishing, freediving, and wakeboarding.
Additionally, visitors can enjoy snorkelling, aquapark adventures, boat tours, and captivating whale-watching experiences in the area's picturesque waters.
Kayaking with Atlantic Sea Kayaking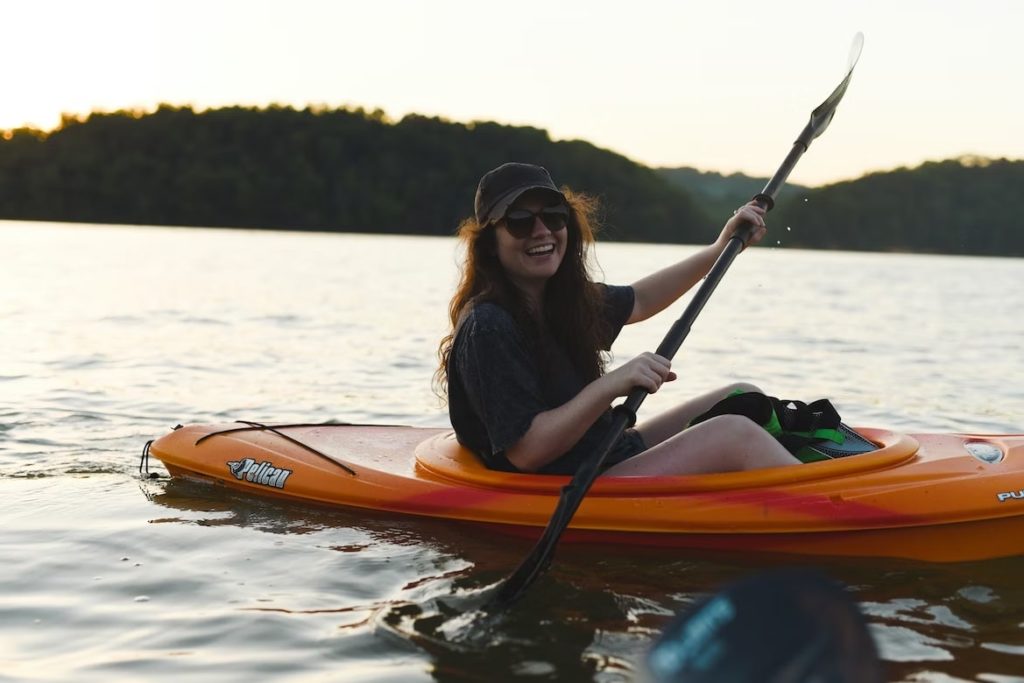 Website: https://www.atlanticseakayaking.com/
Address: Atlantic Sea Kayaking, Skibbereen, West Cork, Ireland
Phone: (028) 21058
Address: [email protected] 
With Atlantic Sea Kayaking, you can expect top-notch equipment and expert guides who are knowledgeable about the area and its wildlife. They provide a range of kayaking tours, suitable for beginners and experienced paddlers alike.
Kayaking lets you discover secret coves and private beaches, only reachable by kayak. You can paddle through tranquil waters, surrounded by stunning cliffs and lush greenery, creating a truly immersive experience in nature.
Additionally, there are tours that let you experience the beauty of the landscape at different times of the day. During these tours, you'll be able to paddle under the vibrant sunset or the tranquil moonlight with stars overhead.
At Atlantic Sea Kayaking, safety comes first, providing all essential safety gear such as life jackets and helmets. Their experienced guides will ensure your kayaking is safe and fun, giving you instructions and guidance during the tour.
Pro Tip:

The best time to book with Atlantic Sea Kayaking is during its night-time kayaking tours from April to October, when you can witness the enchanting bioluminescence phenomenon caused by living organisms emitting light in the water.
Sailing with Sail Cork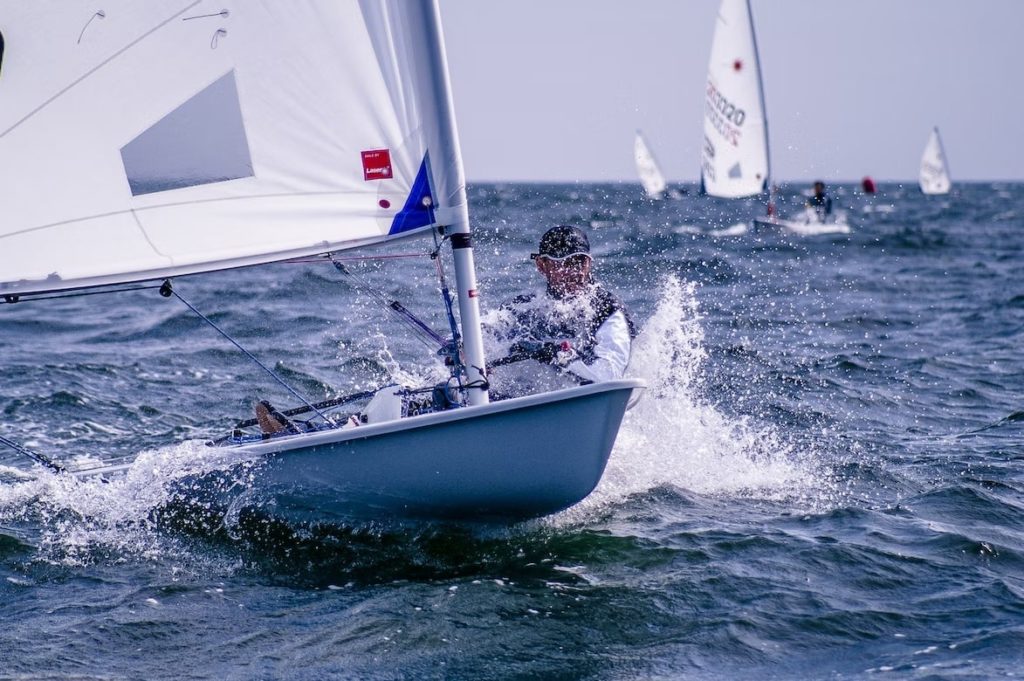 Website: https://sailcork.com/
Addres: East Hill, Cobh, Co. Cork, Ireland, P24Y309
Phone: +353 21 4811237
Email: [email protected]
Sailing in Cork lets you explore its diverse waters, from the vast Atlantic Ocean to the tranquil Celtic Sea and charming Cork Harbour, with options for all experience levels.
Sail Cork in Cobh is a renowned sailing school and club in Cork, offering a superb sailing experience along the scenic coastline for sailors. They provide a diverse fleet of well-maintained boats for various preferences, offering both lessons and rentals.
Sail Cork has skilled, passionate instructors who foster a friendly, supportive, and welcoming learning environment for sailing enthusiasts, ensuring an enjoyable and rewarding experience.
Pro Tip:

Take advantage of Sail Cork's navigation courses to learn chart, compass, and GPS usage for safer and efficient sailing trips, avoiding hazards and finding optimal routes.
Windsurfing with Gecko Adventures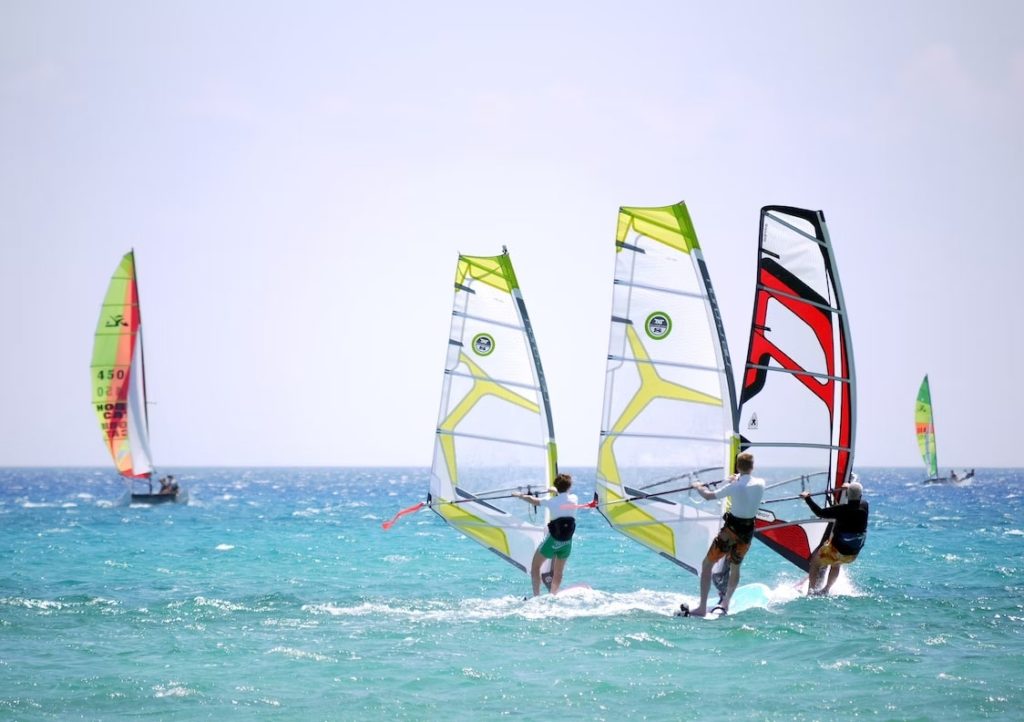 Website: https://geckoadventures.ie/
Addres: Gecko Adventures Training and Adventure Centre is based in Courtmacsherry, Co. Cork, Ireland
Phone: (+353) 83 897 6392
Email: [email protected] 
Gecko Adventures offers all the gear, lessons, and skilled instructors you need to windsurf, which is a fantastic blend of sailing and surfing, a thrilling experience along the windy coast.
The basics of windsurfing are simple: you need to balance on the board, hold the sail in the right position, steer with your feet and body, and use the wind to move forward. However, mastering windsurfing takes practice, patience, and passion.
The thrill of windsurfing comes from being able to control your speed, direction, and maneuvers on the water, and feeling the connection between yourself, the board, the sail, and the wind.
Pro Tip:

For new windsurfers, choosing a location with consistent summer winds is ideal. Check the wind speed and direction of your destination, aiming for beginner-friendly conditions like 7-18 knots.
Kitesurfing at Kites Sport Centre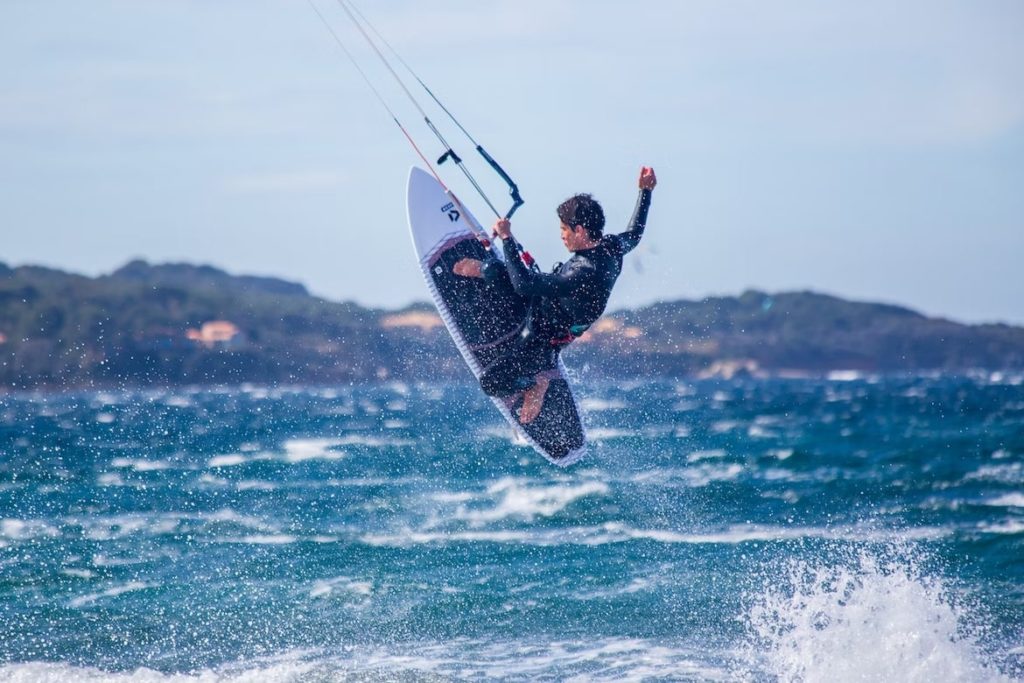 Website: https://www.kitesportcentre.com/kitesurfing-lessons/
Address: 7 Ash Rd, Carrigtohill, Cork, T45 KX22, Ireland
Phone: +353 87 765 6317
Email: [email protected]
At Kites Sports Centre in Inchydoney Beach, you can try kitesurfing, a thrilling water sport combining surfing with flying a big kite.
Kitesurfing isn't just about gliding on water; it's a thrilling adventure that lets you do jumps, tricks, and go really fast while using the wind and water.
With Kites Sports Centre, you can receive expert guidance and instruction from experienced instructors to master the basics and advance your kitesurfing techniques. 
Pro Tip:

The initial challenge for kitesurfing beginners is building confidence in using kiting equipment, often eased by a skilled instructor. Overcoming the fear of starting can also be a major obstacle.
Stand Up Paddleboarding with Cork City SUP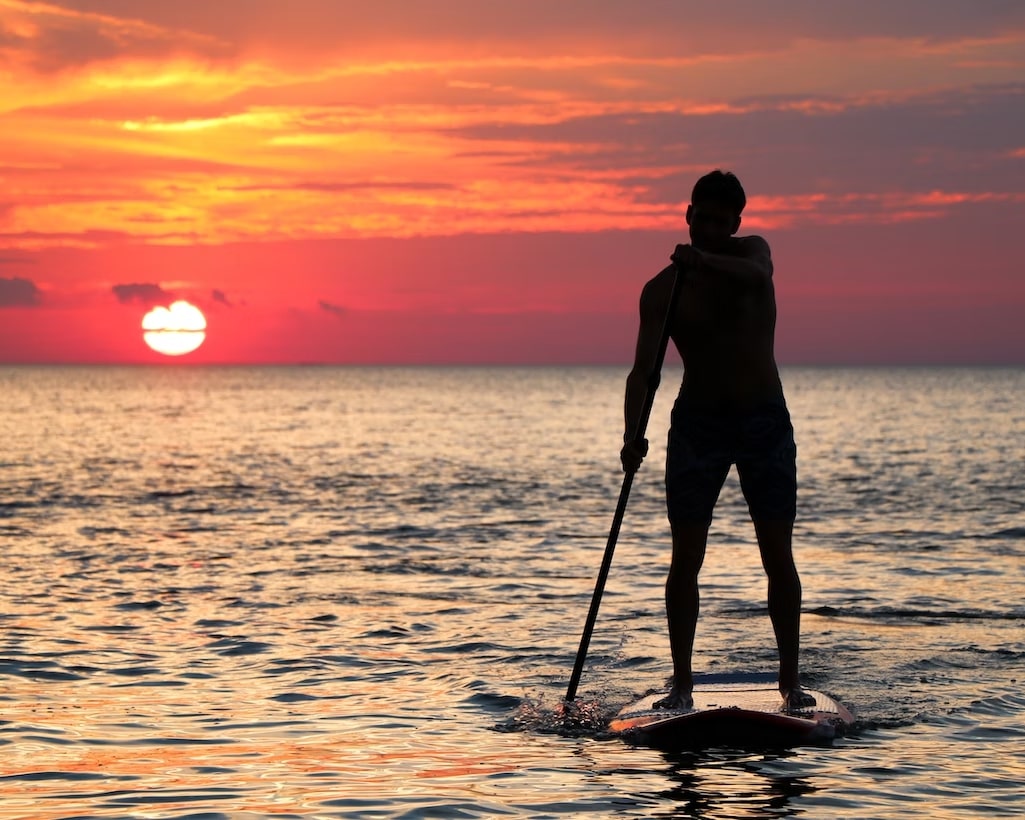 Website: https://corkcitysup.ie/
Phone: +353 86 259 7688
Cork City SUP provides the perfect introduction to stand-up paddleboarding (SUP), a serene water sport where you stand on a wide board and propel yourself using a paddle.
SUP is accessible for everyone, regardless of age or skill level, requiring only a board, paddle, leash, and buoyancy aid. It begins with mastering balance and control on calm waters before exploring various styles like touring, racing, surfing, or yoga.
Cork City SUP caters to all skill levels with boards, instruction, and guided tours that showcase landmarks like Shandon Bells and City Hall.
Pro Tip:

Maintain momentum by paddling as soon as you stand up on the paddle board, and continue moving to make balancing easier. To pause without losing balance, either keep the paddle in the water or rest it on the board.

Stay relaxed and flexible on your board, letting your knees respond to the water's movement, especially in waves or wake. Prioritize enjoyment and take breaks if needed by kneeling or sitting on the board.
Freediving with Oceans of Discovery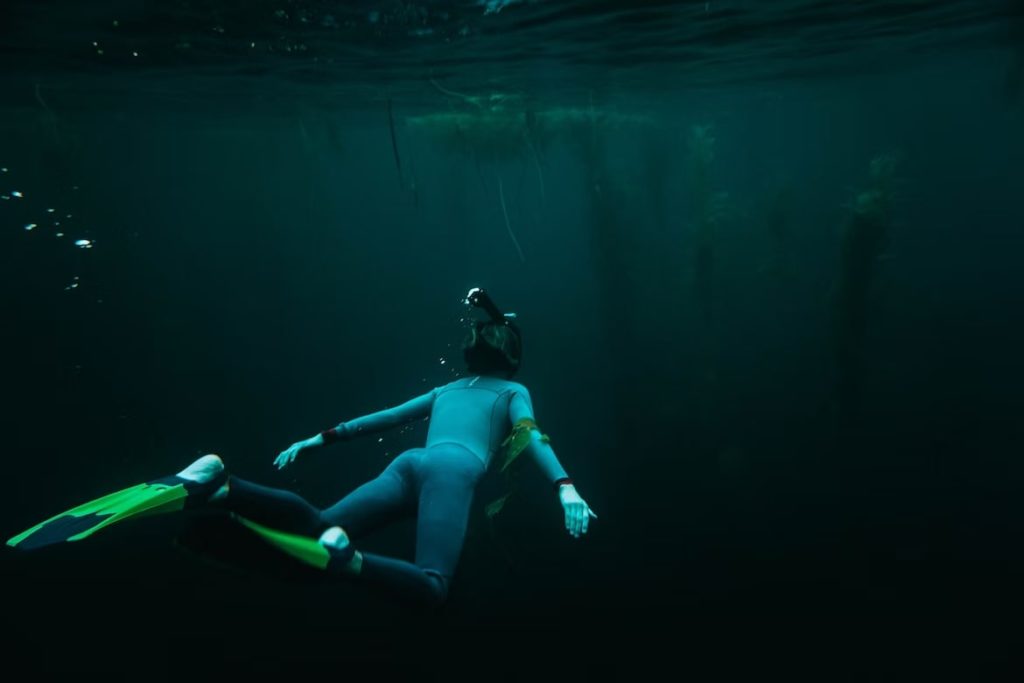 Website: https://www.oceansofdiscovery.ie/try-freediving-experience
Address: Oceans of Discovery, Fountainstown, Co.Cork, Ireland
Phone: 0861536812
Email: [email protected] 
Freediving with Oceans of Discovery in Cork offers an exciting and unique way to explore the underwater world.
With expert instruction and top-quality equipment, you can learn the art of freediving and immerse yourself in the beauty and mystery of the sea.
Their guided coastal trips allow you to discover vibrant corals, diverse fish species, and fascinating marine creatures, creating unforgettable memories.
Whether you're a beginner or an experienced freediver, Oceans of Discovery provides the perfect opportunity to connect with nature and yourself in the tranquil waters of Cork.
Pro Tip:

Always have a skilled buddy when freediving to ensure safety, matching your level or better, who understands safety protocols and can assist in emergencies.

To optimize freediving, avoid diving within 3-4 hours after a full meal or 1-2 hours after a light snack due to digestion's impact on breath hold.

Stay hydrated to counter the risks of dehydration, which hinders equalization, oxygen transport, breath-holding ability, and increases blackout risk; carry water during training and drink it after each dive.
Wakeboarding at Ballyhass Mallow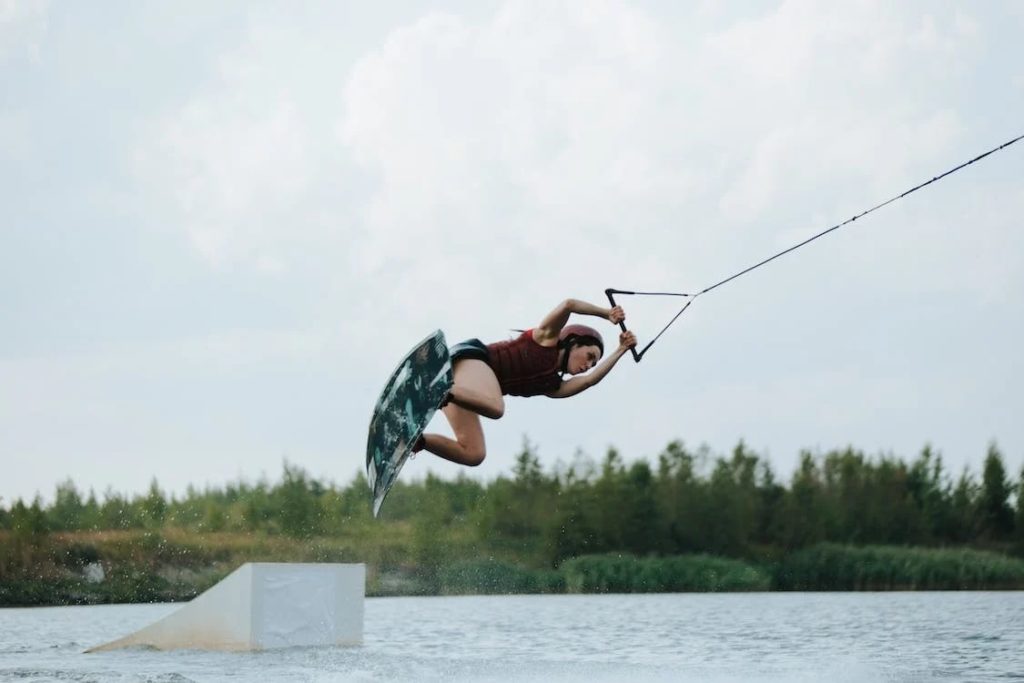 Website: https://www.ballyhass.ie/activity/wakepark-east-mallow/
Address: Cecilstown, Mallow, Co. Cork, P51 N990, Ireland
Phone: +353 22 27773
Email: [email protected] 
At Ballyhass in Mallow, you can enjoy a fantastic wakeboarding experience with high-quality equipment and skilled instructors. The courses available cater to both beginners and advanced riders, enabling progress at their own pace.
Wakeboarding involves using a wakeboard towed by a boat for exciting jumps, spins, and tricks on the water's wake. It provides an exhilarating way to relish the water, wind, and test your abilities.
Wakeboarding with Ballyhass offers you a fun and adventurous way to enjoy the water and the wind. Whether you're seeking a relaxing ride or an extreme challenge, you can find a wakeboarding experience that suits your mood and interests.
Pro Tip:

Your wakeboarding performance is influenced by the foot you lead with; if your current choice is uncomfortable, try switching to improve. Experiment with both feet to determine your optimal stance.

When starting wakeboarding, begin at a slower pace with the boat during launch for an easier start. Once up, signal the boat to speed up for a smoother ride.
Fishing at Various Spots in Cork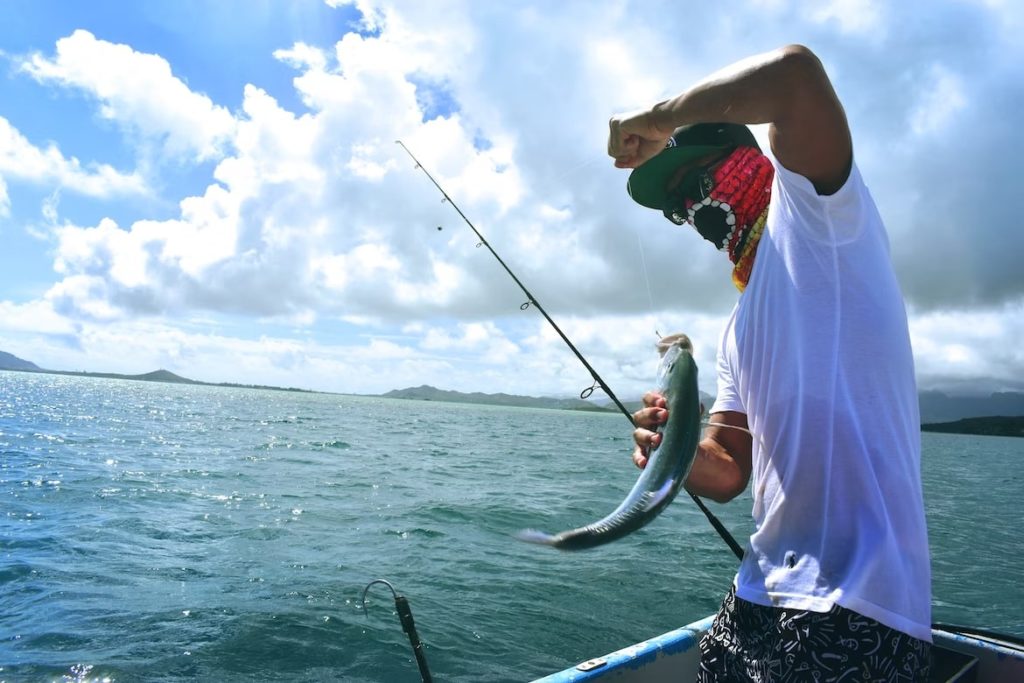 Fishing is a water activity that involves catching fish with a rod, a reel, a line, and a hook. It's a relaxing and enjoyable way to spend time outdoors, learn new skills, and have fun with friends or family.
Cork is an ideal place for fishing, as it has a variety of fishing opportunities in its rivers, lakes, or coastal waters. You can fish for different types of fish, such as salmon, trout, bass, mackerel, cod, and more.
Popular spots for shore fishing in Cork include Ballycotton Bay, Courtmacsherry Bay, and Youghal Beach, while for deep-sea fishing, Kinsale Harbour, Baltimore Harbour, and Bantry Bay are the go-to destinations.
In Cork, you can find fishing charters and tours like Cork Fishing Adventures that offer guided fishing experiences, providing equipment, boats, licenses, and expert advice.
Pro Tip:

Selecting the appropriate bait and gear is crucial for successful fishing. Match your bait to the targeted species and use quality gear suitable for the fishing environment, whether it's freshwater or saltwater.

To catch more fish in Cork, focus on timing. Learn when your target species are active during the year and be aware of tide schedules, as tides impact saltwater fishing success.

Respect Cork's environment by fishing responsibly within catch limits, cleaning up waste, and embracing "leave no trace" principles to preserve its natural allure and ensure fishing for generations to come.
Enjoying the Aquapark at Ballyhass Coachford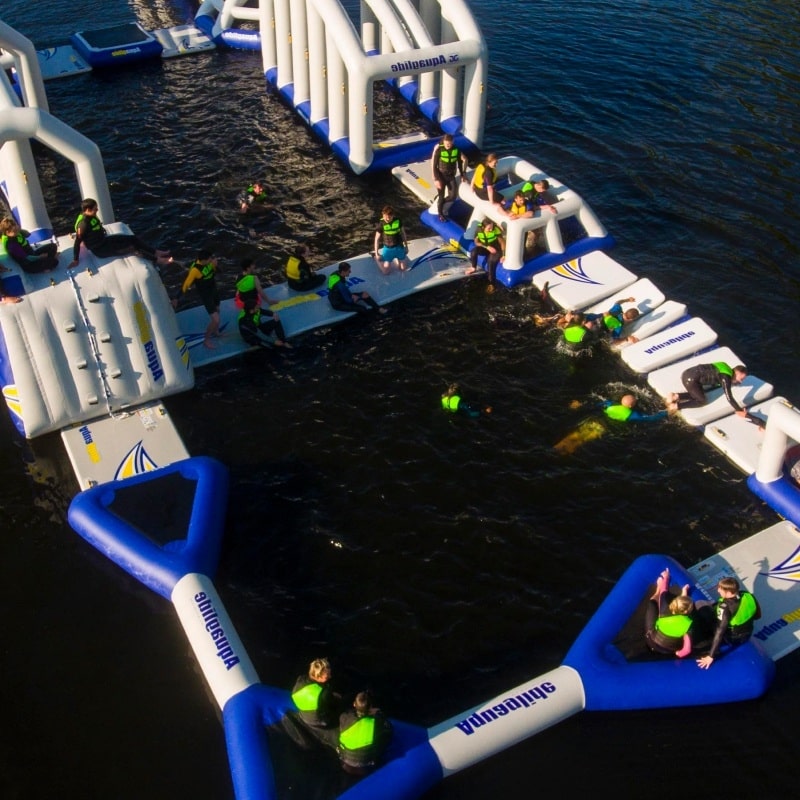 Website: https://www.ballyhass.ie/activity/aquapark-coachford/
Address: Lee Valley Harbour, Carhoo Upper, Carrigadrohid, Co. Cork, P12 AN29, Ireland
Phone: +353 22 27773
Email: [email protected] 
Ballyhass Aquapark offers an adrenaline-pumping aquapark adventure that takes place on inflatable water parks located in the water. These parks resemble large playgrounds, complete with slides, trampolines, swings, obstacles, and more.
At Ballyhass Aquapark, you can enjoy a physically active experience while basking in the sun and water. This thrilling activity allows you to bounce, splash, climb, and slide, providing a fun and challenging experience for you and your friends.
With a capacity to accommodate up to 100 people at a time, Ballyhass Aquapark is a spacious facility that offers sessions, rentals, and parties. They prioritize safety by providing essential safety equipment, lifeguards, and changing facilities.
Pro Tip:

Dress suitably for outdoor activities in the sun to avoid sunburn, heat stroke, and dehydration. Wear water shoes, a hat, loose clothing, sunglasses, and closely watch children's sun exposure.
Snorkeling with Aquaventures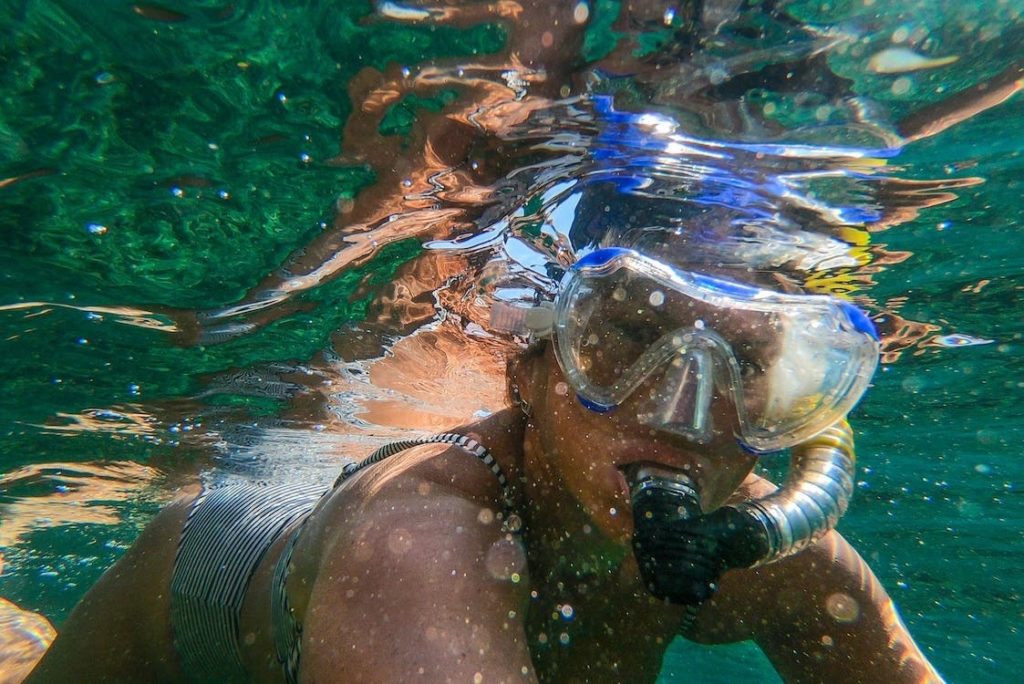 Website: https://aquaventures.ie/snorkelling-go-it-alone-trip/
Address: The Stone House, Baltimore P81 VP77, Co. Cork, Ireland
Phone: +353 87 796 1456
Email: [email protected]
Snorkelling with Aquaventures in Cork is a wonderful way to experience the marine life and scenery of Ireland's south coast.
Aquaventures offers professional instruction, top-notch equipment, and exciting trips for snorkelling enthusiasts of all levels. Whether you prefer to go snorkelling on your own or join a group, they provide guided experiences led by experienced staff.
You can choose from different locations based on weather and tides, like Lough Hyne Nature Reserve, Trafraska Cove, or Murphy's Cove. Each spot has its own beauty, ensuring a memorable snorkeling adventure.
During your snorkelling adventure, you'll have the opportunity to encounter a diverse range of marine plants and animals. Seaweeds, starfish, crabs, fish, and seals are just a few examples of the fascinating creatures you can expect to see. 
Pro Tip:

Ensure a perfect snorkeling mask fit by placing it over your eyes, securing the strap around the widest part of your head, and testing the fit by pressing it to your face and breathing gently through your nose.

Clear your snorkel mask by using baby shampoo or defogging gel to prevent fogging and ensure better visibility underwater.
Taking Boat Tours with Cork Harbour Cruises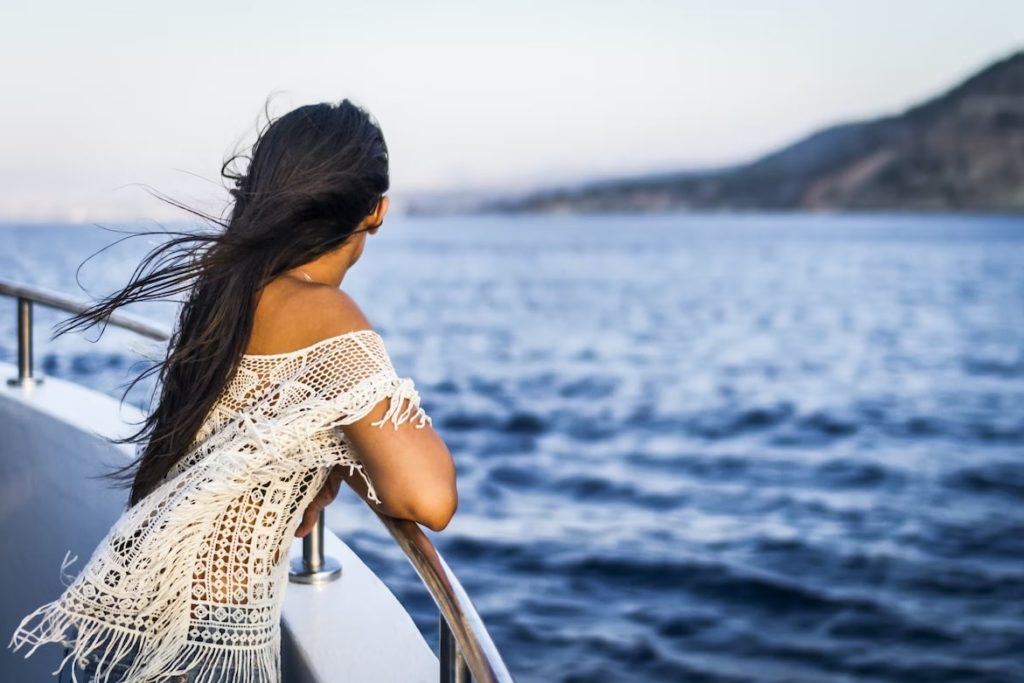 Website: https://corkharbourcruises.com/ 
Address: Custom House Quay, Centre, Cork, Ireland
Phone: +353 (0)87 9544140
Email: [email protected] 
Taking boat tours with Cork Harbour Cruises is a truly unforgettable experience. It offers a unique opportunity to explore the stunning beauty of Cork Harbour from the water.
The tours take you on a journey through the second largest natural harbor in the world, passing by picturesque fishing villages, historic forts, and charming lighthouses.
Along the way, you have the chance to spot a variety of wildlife, including seals, dolphins, and a wide array of bird species.
The boat tours also provide stunning views of the vibrant city of Cork and its iconic landmarks, such as St. Finbarr's Cathedral and Blackrock Castle.
Pro Tip:

Have a great time admiring Cork Harbour's stunning sights, including Cobh Cathedral, Spike Island Prison, and more, while learning about their history from the knowledgeable crew.
Going Whale Watching with Cork Whale Watch
Website: https://corkwhalewatch.com/
Address: Colin Barnes, Cork Whale Watch, Inane, Castletownshend, Skibbereen, Co. Cork P81V960
Phone: +353 (0)86 3273226
Email: [email protected] 
One of the most unique and amazing things you can do in Ireland is to go whale watching in Cork. You can see different kinds of whales, such as humpbacks, fins, minkes, and even orcas, depending on the season and the weather.
With Cork Whale Watch, experiencing the thrill of watching whales, a popular activity that often ranks high on "things to do before you die" lists, is easier to do than you might realize.
With experienced guides and a commitment to conservation, they provide memorable and educational experiences for nature enthusiasts of all ages.
Pro Tip:

Want to make the most of your whale watching adventure in Cork? Remember, the timing of your visit plays a significant role in the whales you might encounter. 

For a chance to spot Minke and Fin Whales, plan your visit from early summer onwards.

From August to January, the playful Humpback Whales often join the spectacle.

Keep in mind, Killer Whales and Long-Finned Pilot Whales can surprise you throughout the year, but sightings of these remarkable creatures are more rare compared to others.