Irish Guitar Makers: A Guide to the Best Brands
Ireland is a country with a rich musical heritage and culture, and one of the most popular instruments in Irish music is the guitar.
Whether it's for playing traditional tunes, folk songs, or modern styles, there are many talented and skilled guitar makers in Ireland who create beautiful and high-quality instruments.
Some of the best Irish guitar makers are Emerald Guitars, Lowden Guitarshttps, Ciarán McNally Guitars, and John Moriarty Guitars.
In this article, we'll explore the history and features of these brands, and why they are special and different from other guitars.
Fun Facts about Irish Guitars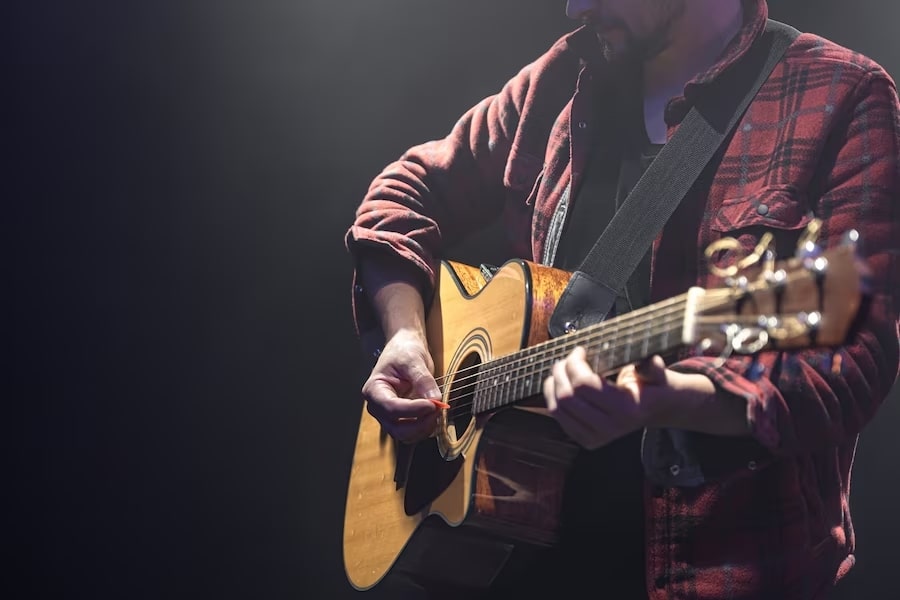 Here are some fun facts about the history and styles of this versatile and expressive instrument:
The guitar is not traditional in Irish music but has become widely accepted in modern sessions.
Celtic guitar likely began in America with Irish immigrants in the late 1840s, who learned chords and strummed along with old Irish songs.
Irish backing tends to use chord voicings up and down the neck, rather than basic first or second position chords.
In the 1960s, British guitarist Davy Graham invented DADGAD tuning inspired by the oud, and Doc Watson popularized flat picked Celtic guitar styles.
The folk boom of the 1960s led many acoustic guitarists to explore fingerpicking styles, resulting in experimentation with Celtic and English folk music.
Well-known Brands of Irish Guitars
Cork Guitars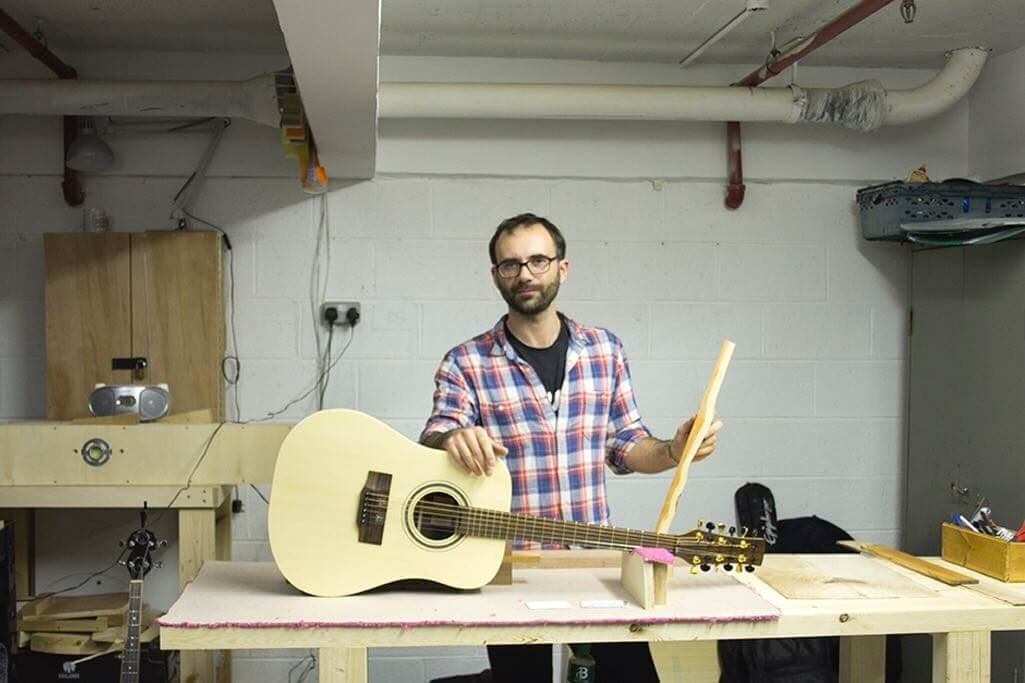 Website: http://corkguitars.ie/
Phone: +353 86 84 98 180
Email: [email protected] 
Cork Guitars is a small workshop in Cork city that specializes in making custom electric guitars, basses and other stringed instruments.
The founder, Brian Leach, is a talented craftsman and musician who makes unique and beautiful instruments. He learned his craft at St. John's Central College Cork in 2017.
Cork Guitars offers custom electric guitars, basses and other stringed instruments that are tailored to the customer's needs and tastes.
They use high-quality craftsmanship and materials to create instruments that are pleasing and sonically outstanding. They also provide repairs, setups and modifications for existing instruments to enhance their functionality and appearance.
Pro Tip:

To get the best out of your Cork Guitar, try using a low-gain input on your amp and adjusting your pickup height to suit your playing style.
McNally Guitars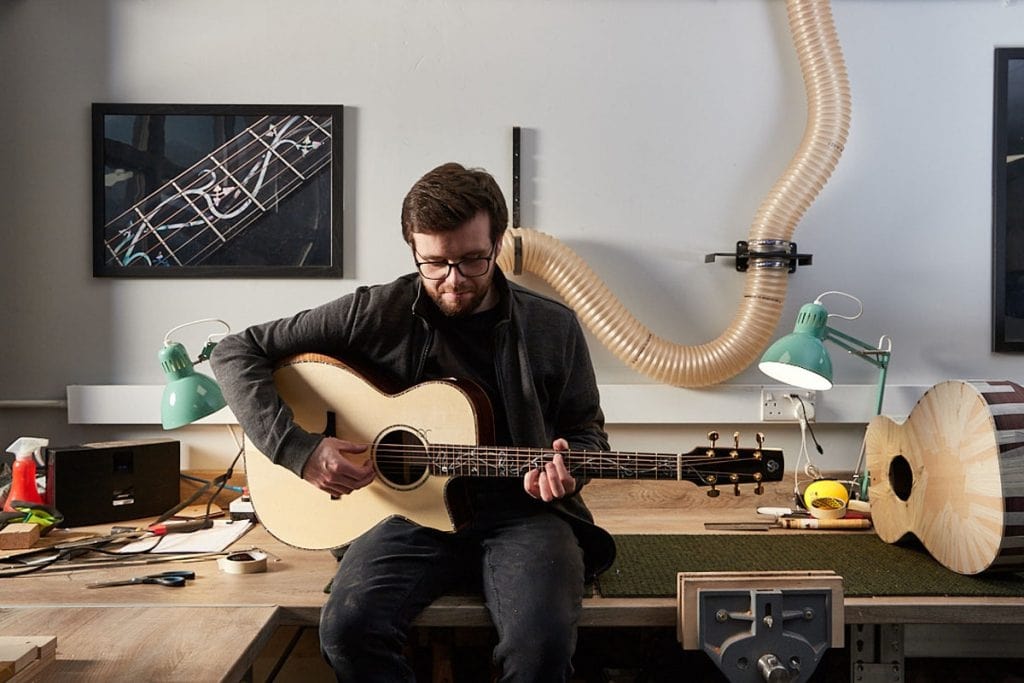 Website: https://mcnallyguitars.com/
Address: Unit 2A, Bluestone Business Park, Craigavon, Armagh, BT65 5HU
Phone: +44 (0) 2838349811
Email: [email protected] 
McNally Guitars are made by Ciaran McNally, a young and talented luthier from Dublin. He started making guitars when he was a teenager, and he studied at two guitar making colleges in Ireland and England.
He also worked for two famous guitar companies, Avalon and Lowden, where he learned from the best. He then set up his own workshop in 2014, where he makes acoustic guitars, mandolins, bouzoukis and other instruments.
His guitars are a blend of American and Celtic styles. They have American-inspired body shapes, but they also have Celtic decorations, such as knotwork and harps. They have a warm and rich tone, but they also have a clear and strong sound.
The versatility of McNally Guitars allows them to excel in various music styles and genres. Ciaran's passion, skill, and experience as a luthier shine through in each instrument, making them truly special and unique creations.
Pro Tip:

Experimenting with different playing styles and techniques is essential to getting the best out of your McNally Guitar, as these instruments are highly versatile and responsive.
Conan Kilcoyne Guitars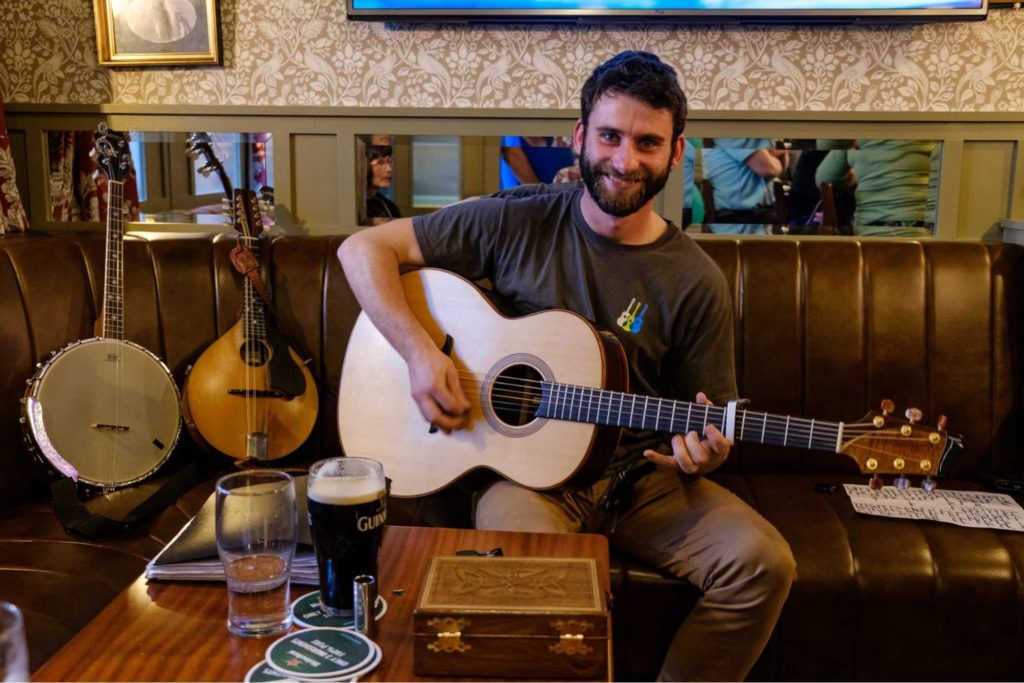 Website: https://www.conankilcoyne.com/ 
Conan Kilcoyne Guitars, born from a lifelong passion for music and craftsmanship, is the brainchild of Conan Kilcoyne himself – a talented luthier, musician, and instructor based in Mulranny, Co. Mayo.
Conan is inspired by Celtic art and culture to make guitars. He uses traditional techniques and materials to produce finely designed, handcrafted guitars that appeal to musicians and collectors.
Each guitar he creates is a testament to his profound knowledge, skill, and years of experience, making them truly special and treasured possessions for musicians.
Committed to preserving musical heritage, Conan Kilcoyne Guitars offers comprehensive instrument repair and restoration services, ensuring that these beautiful instruments can continue to bring joy for generations to come.
Pro Tip:

Enroll in Conan Kilcoyne Music Lessons to learn how to play guitar or improve your skills with a professional and experienced teacher. He offers online and in-person lessons for all levels and styles of guitar playing.
John Moriarty Guitars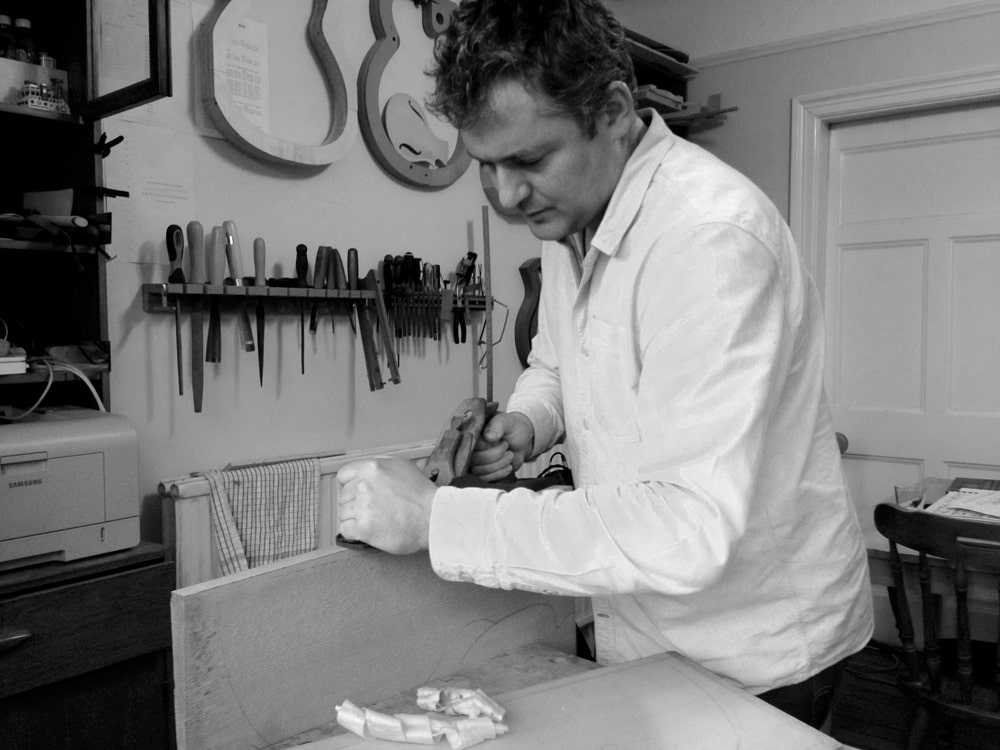 Website: https://archtop.ie/
Address: 22 Fitzgerald Park, Dun Laoghaire, County Dublin, A96VF98
Phone: +353 (0)87 973 6850
Email: [email protected]
John Moriarty is a guitar-builder with a practical approach, constantly refining his designs to ensure functionality. His archtop guitars stand out for their fully acoustic sound, free from the usual 'bark' found in inferior instruments.
He also understands the importance of optimizing sound when amplified with magnetic pickups. Precision is key in his repairs and setups, as he works with specific measurements and reference points.
His guitar-making journey is a fusion of his passions for visual design and music, nurtured during his studies at the National College Of Art And Design in Dublin.
John's guitars have gained recognition in the industry, and he has showcased them at prestigious events like the Healdsburg International Guitar Festival and the Holy Grail Guitar show in Berlin.
Pro Tip:

You can try a John Moriarty guitar before buying it by either visiting his workshop by appointment or attending one of his events or exhibitions where he showcases his guitars.
NOTEKASE™ Instruments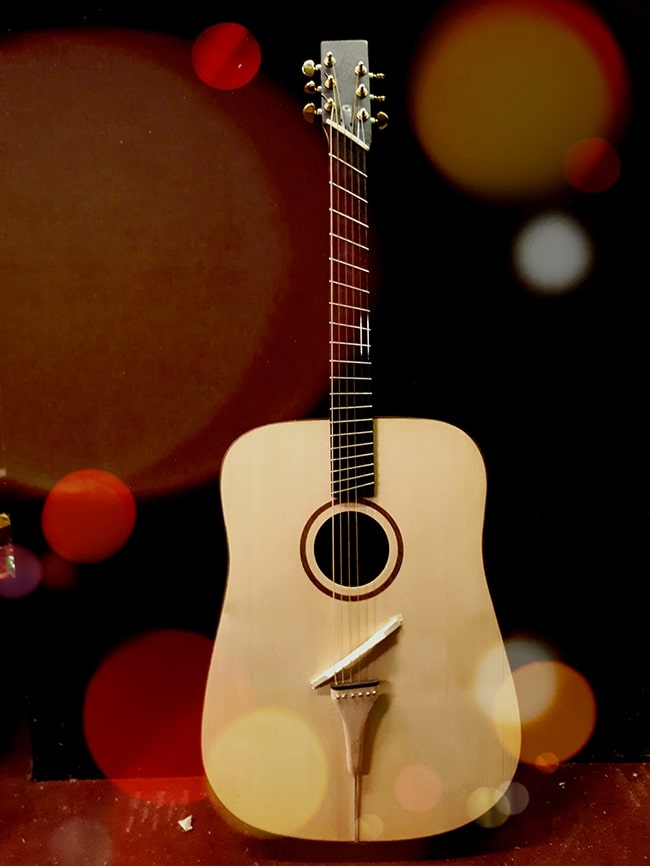 Website: https://notekase.com/ 
Iain Maclean, a structural engineer, luthier, and musician, created the Notekase guitar, a unique instrument that folds into a case.
The patented Tuck & Roll technology allows the guitar to collapse and expand effortlessly with a single action. Maclean uses fine tonewoods, ensuring concert-quality tone, volume, and playability in his guitars.
Known as TARDIS (Tuck And Roll Dreadnought Internal Storage) guitars, they appear larger on the inside than on the outside. These guitars cater to modern travelers, fitting in overhead compartments or doubling as suitcases.
Remarkably, they can be restored to their original shape and sound within seconds. Combining engineering, musical, and creative skills, Maclean's guitars stand as innovative and practical masterpieces.
Pro Tip:

Keep your NOTEKASE™ Guitar safe by storing it in its original case when you're not playing. This will protect its special materials and unique design, ensuring it stays in great shape for future musical adventures.
Emerald Guitars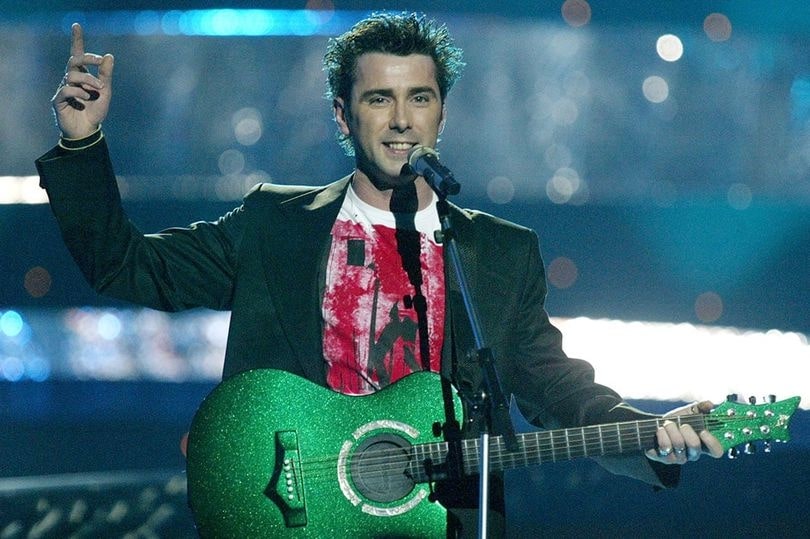 Website: https://emeraldguitars.com/ 
Address: Emerald Guitars, Cavanacaw, St Johnston F93 XP82, Lifford, County Donegal
Phone: 00353 7491 48183
Email: [email protected] 
Founded by Alistair Hay, Emerald Guitars crafts custom guitars and other instruments using a special material. Alistair chose to follow his passion for guitar-making after putting his idea into action and creating his first acoustic guitar.
Their guitars stand out with their unique use of carbon fiber instead of wood, making them strong, lightweight, and resilient to environmental factors. This material enables creative designs, vibrant colors, and enhances sound projection and resonance.
Emerald Guitars began offering a wide range of models, from standard to harp guitar, and you can customize your own guitar online. They are beautiful, functional, inspiring, and fun to play, and have been praised and featured by many musicians and media.
Pro Tip:

If you want a versatile and comfortable dreadnought guitar, check out the X20 model, which has an ergonomic shape, a contoured fretboard end and a pinless bridge. It also comes with different wood veneers and pickup options.
Lowden Guitars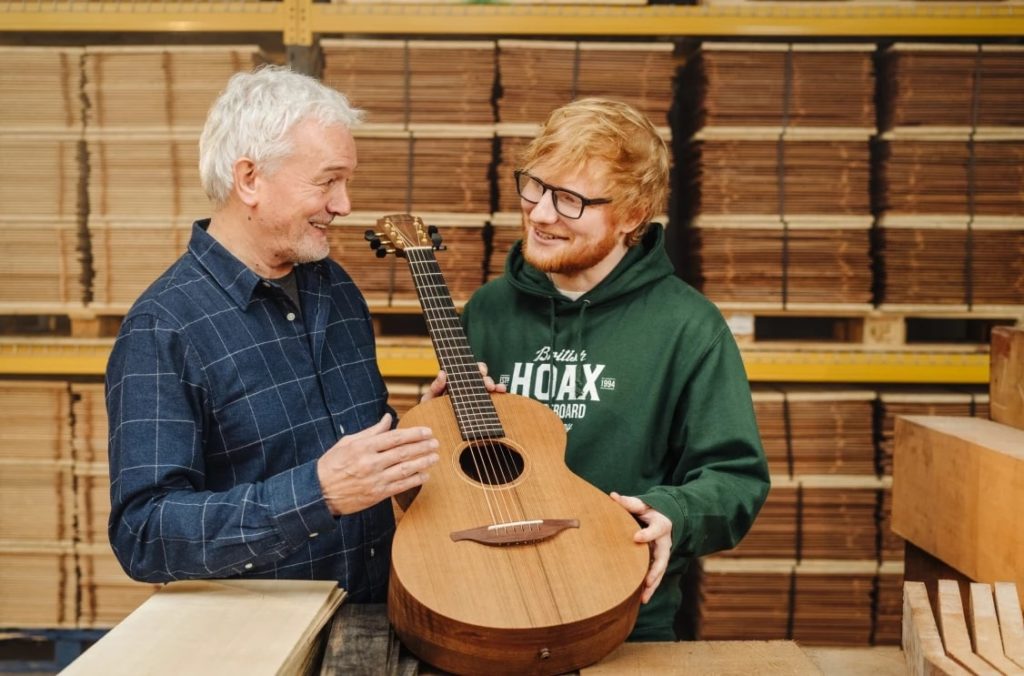 Website: https://lowdenguitars.com/
Address: George Lowden Guitars Ltd, 114 Saintfield Road, Saintfield, BT24 7JS, Northern Ireland
Phone: +44 (0)28 44 61 91 61
Lowden Guitars is a renowned company that crafts superb and innovative guitars and ukuleles. George Lowden, the founder, earned recognition among musicians and guitar enthusiasts, who praised his guitars for their warm, rich, and responsive tone.
Back in 1985, George worked with Takamine Guitars in Japan for five years, but then he returned to Ireland and started his own workshop in Downpatrick. Now, George and his skilled team make about 1000 guitars every year.
He uses a special hand carving method called Dolphin bracing, which shapes each brace to match the guitar's body shape, creating a unique and sensitive sound for every Lowden Acoustic Guitar.
Lowden Guitars have also been endorsed and played by some of the most influential artists in the world, such as Ed Sheeran, Eric Clapton, and many more. They suit a wide range of genres and styles, from folk to rock to jazz.
Pro Tip:

Lowden Guitars are known for their clarity, balance, and responsiveness. Experiment with fingerpicking, strumming, and various playing techniques to harness the full potential of your guitar's distinctive attributes.