Waterford's Top Serene Beach Spots
Are you looking for a tranquil beach escape in the beautiful county of Waterford?
Well, you're in luck because Waterford has many breathtaking places to visit.
In this post, we'll share with you some of the most serene beach spots in Waterford that will make you feel like you're in paradise.
Where are the best quiet beaches in Waterford?
If you're looking for a peaceful and relaxing getaway, you should check out Benvoy, Annestown, Kilmurrin, Clonea, Woodstown, Ballymacaw, and Ardmore Beaches. These are all stunning and serene places to enjoy the sand and sea. 
Benvoy Beach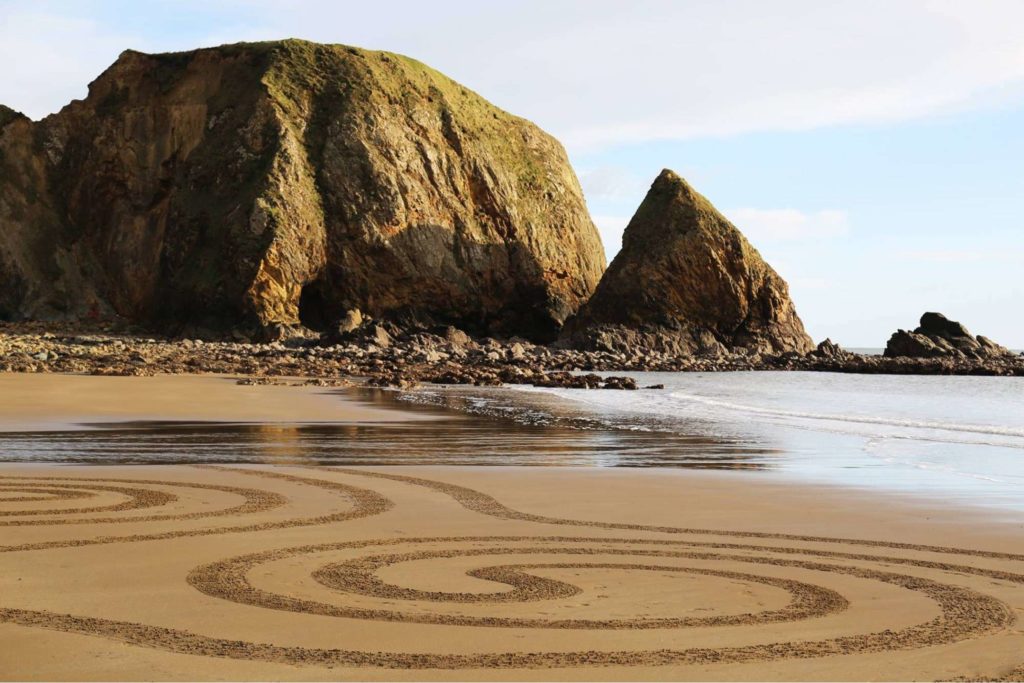 With numerous beaches to choose from along The Copper Coast, Benvoy Beach stands out as a hidden gem.
You may not encounter anyone else on your way to the beach, which opens up to a small parking area at the bottom.
Benvoy Beach boasts stunning views of cliffs and rocks, and it's an ideal spot for a refreshing dip. Its secluded and peaceful atmosphere may be the reason why nuns from Tramore used to be brought here for a swim in the past.
Pro Tip:
The turnoff to Benvoy Beach can be easily missed as it is sharp. Once you find it, proceed down a narrow lane that opens up at the bottom
There is limited parking available at the beach, so it's advisable to arrive early or plan your visit during less busy times.
Annestown Beach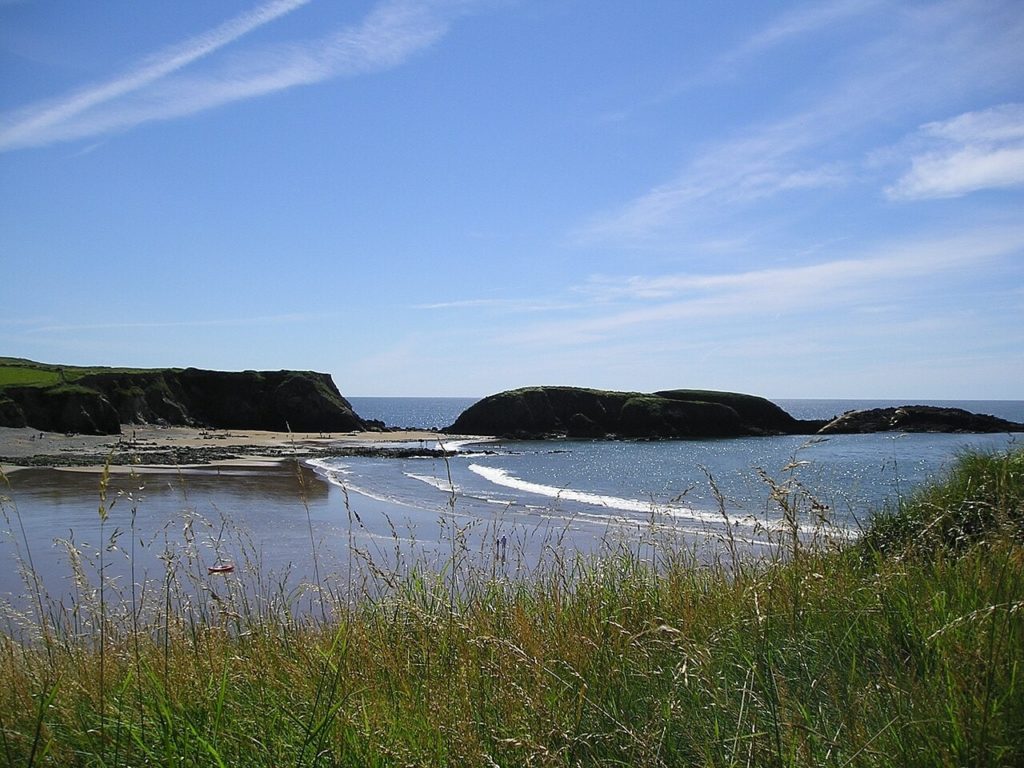 Located about 10km away from Tramore, Annestown Beach is known as River's Ends due to its position where the Anne River meets the sea. This charming cove attracts many swimmers due to its shallow waters.
It is one of the best surfing spots in the region, but only when there are large swells and waves, as the cove has very shallow water. Otherwise, it's a peaceful and secluded beach, ideal for families and visitors who want to enjoy some quality time without too many crowds.
The beach also has some a variety of wildlife that make it more interesting, such as sea arches and islands that can be explored at low tide. 
Pro Tip:
Adjacent to the beach, there's a convenient car park for visitors to utilize, as well as an intriguing old Lime Kiln to explore. 
It's important to note that the area's cliffs can be hazardous, so it's advisable not to venture alone and instead have an experienced guide accompany you for safety.
Kilmurrin Beach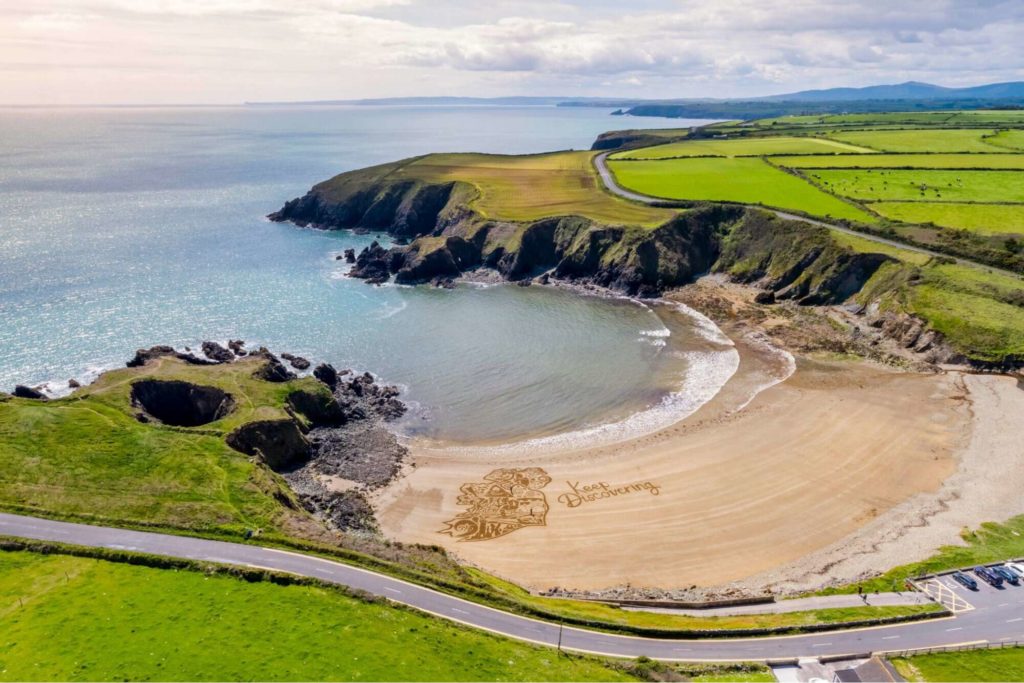 Kilmurrin Beach, located approximately 30 minutes from Waterford City, is a hidden gem among the Copper Coast beaches. Despite its tiny strip of sand during high tide, the cove boasts clear waters and a picturesque horseshoe shape.
If you gaze out towards the sea on the right, you'll spot a captivating hole in the rocks. During low tide, the sandy shore reveals rock pools at both ends.
You'll also see a huge sand art, spanning 120ft by 200ft, created by the environmental artist Sean Corcoran to celebrate the June Bank Holiday and the country's reopening.
While it's usually not too crowded, it attracts more visitors during summer. The calm and crystal-clear water offers ideal conditions for swimming.
Pro Tip:
During the summer, an ice cream van makes regular appearances, but apart from that, you'll need to bring your own picnic if you wish to dine. 
Kilmurrin Beach's beauty transcends the need for good weather, so make the most of your time here regardless of the conditions.
Clonea Beach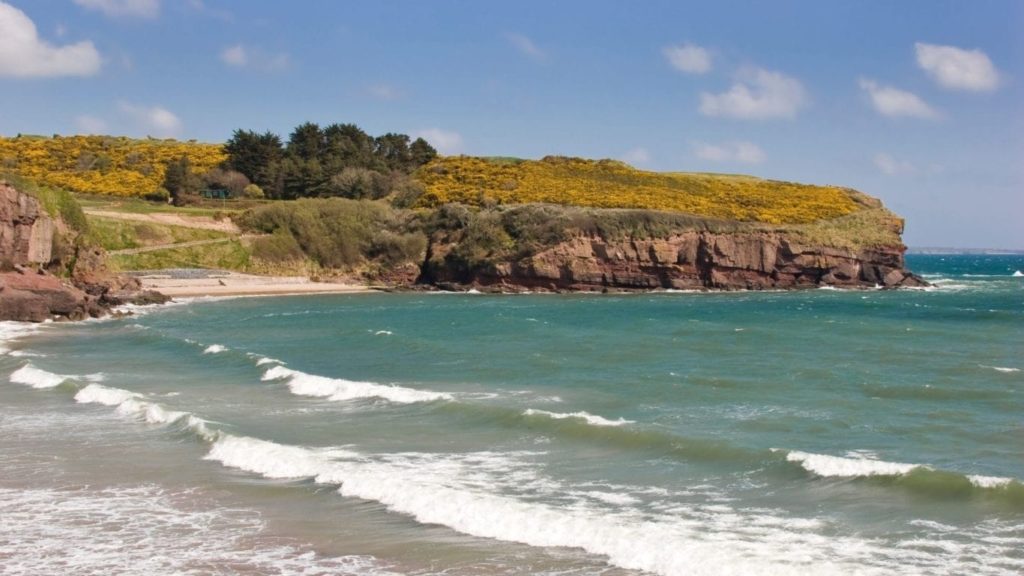 Clonea Beach is a long and wide sandy beach near Dungarvan, County Waterford. It has a Blue Flag status, which means it has high standards of water quality and environmental management.
Clonea Beach offers beautiful views of the coastline and the nearby mountains. It's also close to the Waterford Greenway, a scenic cycling and walking route that connects Dungarvan with Waterford City.
This expansive beach offers plenty of space, even during busy days. With its shallow waters, it is a safe spot for swimming and engaging in various water sports that are popular in the area.
Pro Tip:
A convenient feature of this place is the small shop that offers fast food and ice cream – it's a unique experience to enjoy fish and chips on the beach.
You can enjoy both the beach and the Waterford Greenway on your walk. The greenway is a scenic route that goes along the coast and passes behind the sandy shore.
Woodstown Beach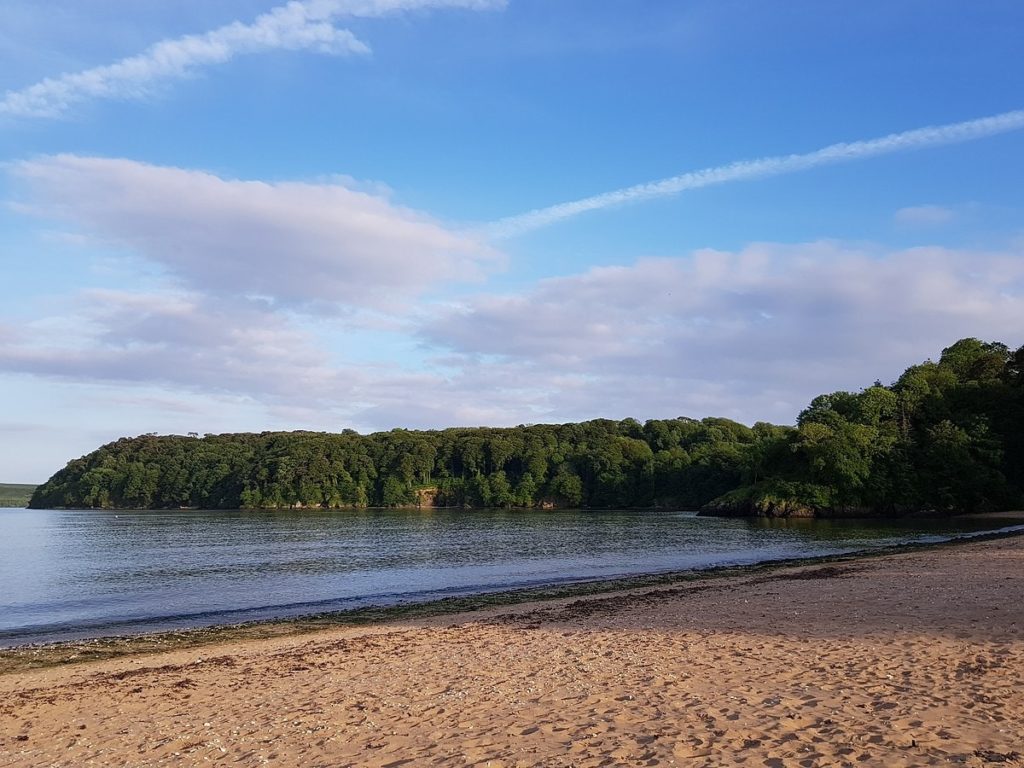 Woodstown Beach is a beautiful sandy beach that lies about 12km from Waterford City. A private forest surrounds it and overlooks the estuary formed by the Suir, Nore, and Barrow rivers.
The beach is dog-friendly and suitable for swimming, picnics, and walks. It can extend for a kilometer depending on the tide, revealing a flat and spacious area.
Woodstown Beach is a popular destination for families and friends who want to enjoy the natural scenery and relax. 
Pro Tip:

Besides the amazing scenery, tourists can also check out the nearby ancient Harristown passage tomb. Or, they can grab a bite to eat at a local restaurant with a great view.
Ballymacaw Beach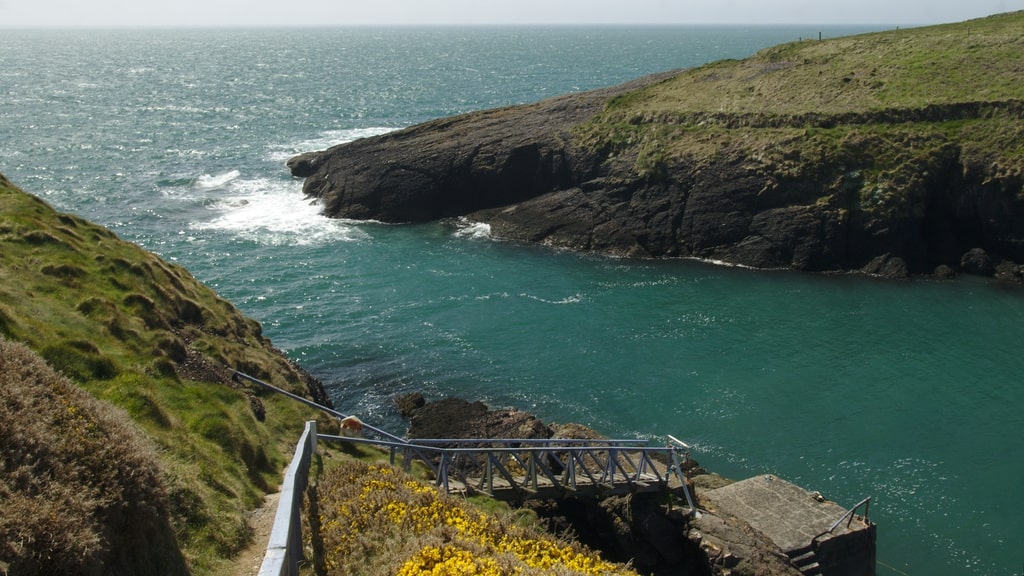 Ballymacaw is a beautiful and secluded cove that needs to be better-marked and widely known. But if you manage to find it, it's definitely worth the effort.
The cove, protected by small, rocky cliffs on both sides, offers access to the water through a rough ramp leading to a small, stony beach. The water here gradually gets deeper, making it safe for kids.
Alternatively, you can take the rough path to the left of the bridge, which will lead you to a small pier where you can get into the clear and deep water, even when the tide is low.
Pro Tip:

The beach is mostly made up of stones, not sand, and it can get covered when the tide is high. So bring only a few buckets and spades. 
Ardmore Beach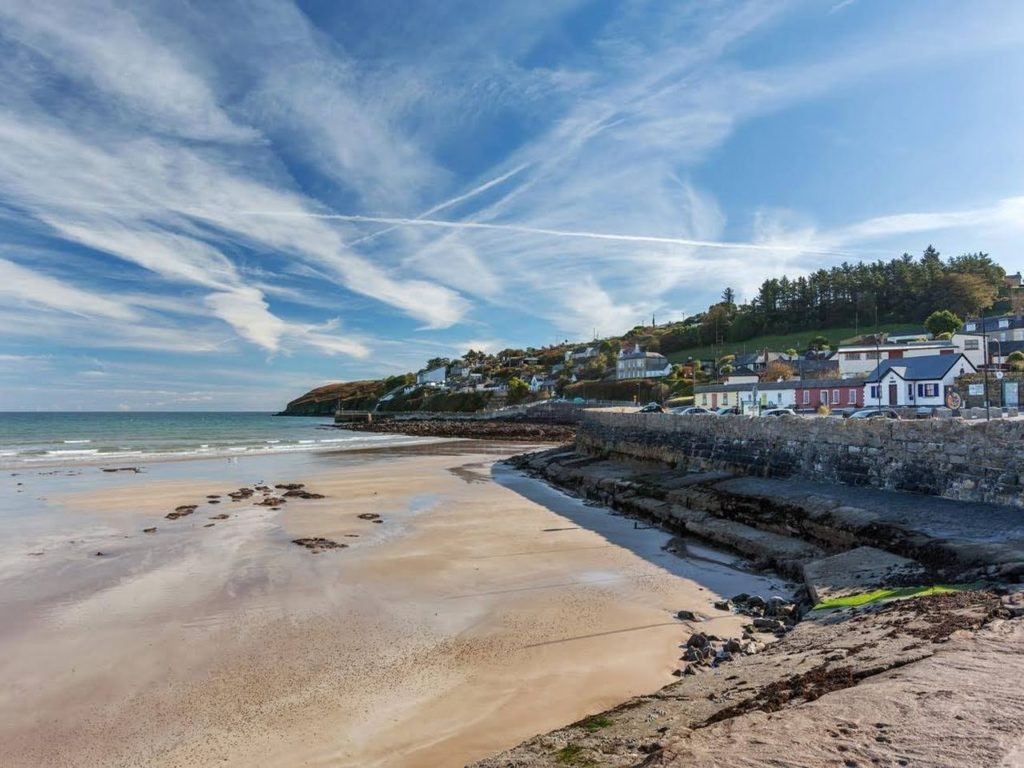 Ardmore Beach stretches for a mile along the coast, offering a scenic view of the green fields and the ancient Cathedral and Round Tower that date back to the 12th Century.
The beach is ideal for families who want to enjoy swimming and sunbathing, as well as for adventurers who like to try different watersports such as kayaking, canoeing and sea-paddling.
Ardmore Beach is a great place to visit if you want to experience the beauty and culture of Ireland's Ancient East.
Pro Tip:
Ardmore, the oldest Christian settlement in Ireland founded by St. Declan before St. Patrick, offers a scenic walk along cliffs with impressive ruins of the Cathedral and Round Tower, showcasing Ardmore's heritage.
Spoil your taste buds with a fancy meal and a stunning view at The Cliff House Restaurant, the only Michelin-starred eatery in Waterford.